Spaghetti Squash Lasagna is loaded with protein and is a delicious low carb alternative to traditional lasagna. It makes healthy eating easy!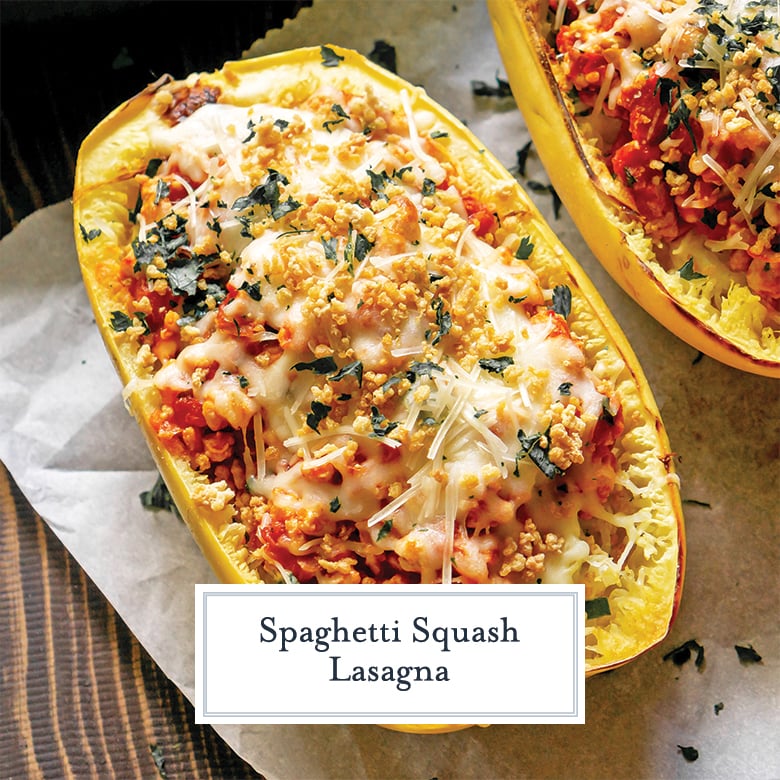 Spaghetti Squash Lasagna Recipe
This is one of those recipes that once you read and make it once, you won't really need the recipe again because it's that easy! To be honest, these are my favorite kinds of recipes.
Subbing spaghetti squash for pasta is one of my favorite ways to cut some carbs out from a meal. So I've been thinking about some of my favorite pasta dinners that I can make with spaghetti squash instead.
A spaghetti squash lasagna was one of the first things that came to mind because I LOVE a good lasagna (who doesn't?), but I struggle with how many carbs are in it and the idea that I will be eating lasagna for days (or until it's gone).
Don't get me wrong, it's a great family meal or weekly meal prep but sometimes we just need something a little healthier around here!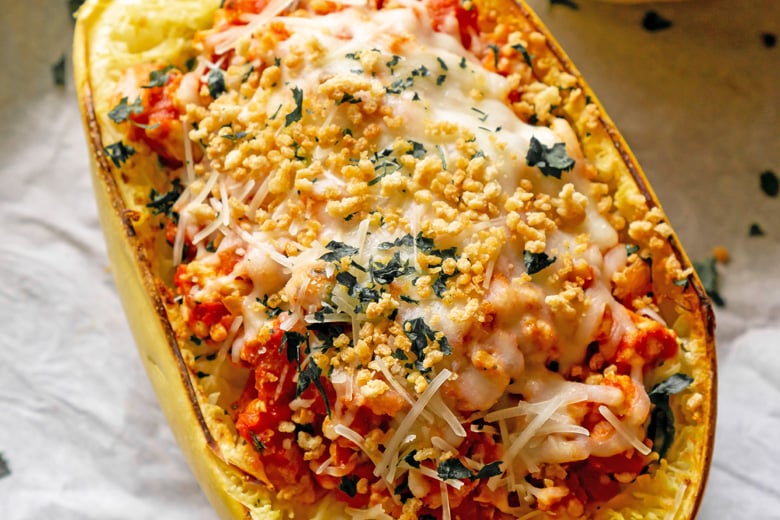 Ingredients For Spaghetti Squash Lasagna
A good handful of ingredients make up this Spaghetti Squash Lasagna recipe, but that's what makes it sooo flavorful! Ingredients are below, and you can find the measurements in the recipe card at the bottom of this post.
spaghetti squash
ricotta cheese
parmesan cheese
Italian seasoning
garlic powder
lemon juice
spinach
yellow onion
garlic
ground turkey, ground beef or chicken work too!
tomato basil marinara sauce
shredded mozzarella cheese
fresh basil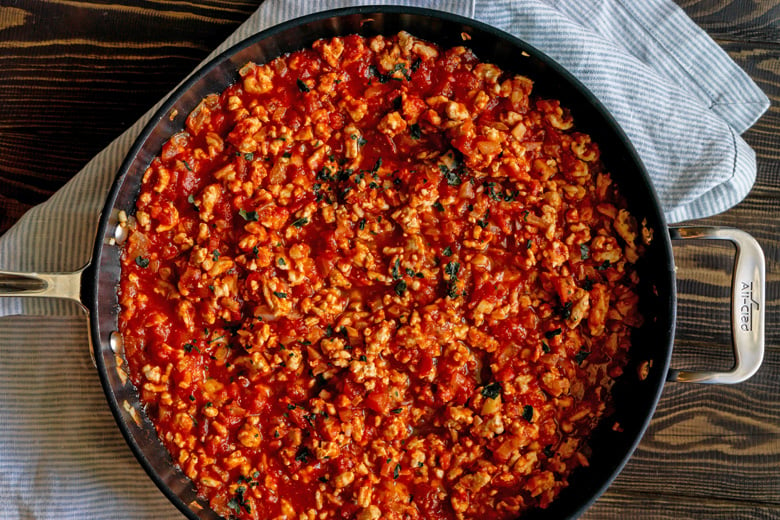 I like to top my spaghetti squash lasagna boats with a toasted lemony panko. It's honestly my favorite part because crunchy textures are the best! Here's what you'll need to make it:
panko bread crumbs
lemon zest
olive oil
The panko is optional, but also totally necessary because it's SO good and in my opinion, ties everything together!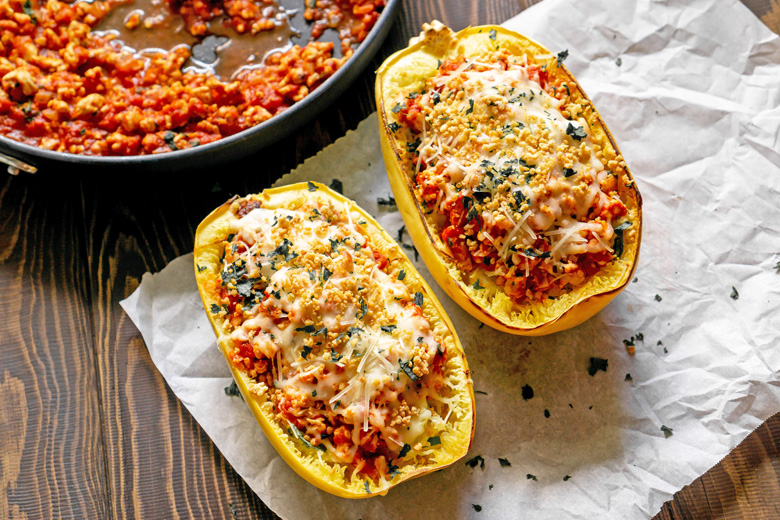 I usually toast the panko in the same pan I use to make the meat sauce so that I don't have to dirty another pan.
The lemony panko is so good on pastas too, like this Tomato Ricotta Pesto Pasta.
How To Make Spaghetti Squash Lasagna
Spaghetti Squash Lasagna is one of those things you only need to make once to memorize. I say that about very few recipes, but I feel like most of us have a pretty good idea of how to make lasagna and could probably do it with our eyes closed!
This low carb lasagna isn't much different. It's pretty simple and straight forward and only uses one pan, a mixing bowl and a baking sheet, so you won't be left with many dirty dishes!
1. Prepare the squash and preheat the oven to 400° F. Using a fork or a sharp knife, carefully poke holes around the outside of the spaghetti squash. Pop it in the microwave for 5 minutes, then slice it in half lengthwise, scoop out the seeds and discard.
2. Bake the spaghetti squash. Spritz the inside of the spaghetti squash with a thin layer of olive oil, and place each half cut side down on a baking sheet and bake for 30-35 minutes or until you can easily pull the strands with a fork.
3. Prepare the spaghetti squash lasagna filling. In a large mixing bowl, mix the ricotta cheese, parmesan cheese, Italian seasoning, and lemon juice.
4. Prepare the meat sauce. heat a large pan on medium-high heat and sauté the garlic and onion until the onion begins to soften. Then add the ground turkey (or ground meat of your choice) and cook for 6-8 minutes or until fully cooked. Add the marinara sauce, season with salt and pepper to taste, and simmer for 5-10 minutes.
5. Pull the spaghetti squash strands. Remove the squash from the oven, flip it over and let it cool for 5 minutes. Then pull at the strands with a fork and place them in the mixing bowl with the filling. Add the spinach, and toss everything together until it's fully combined.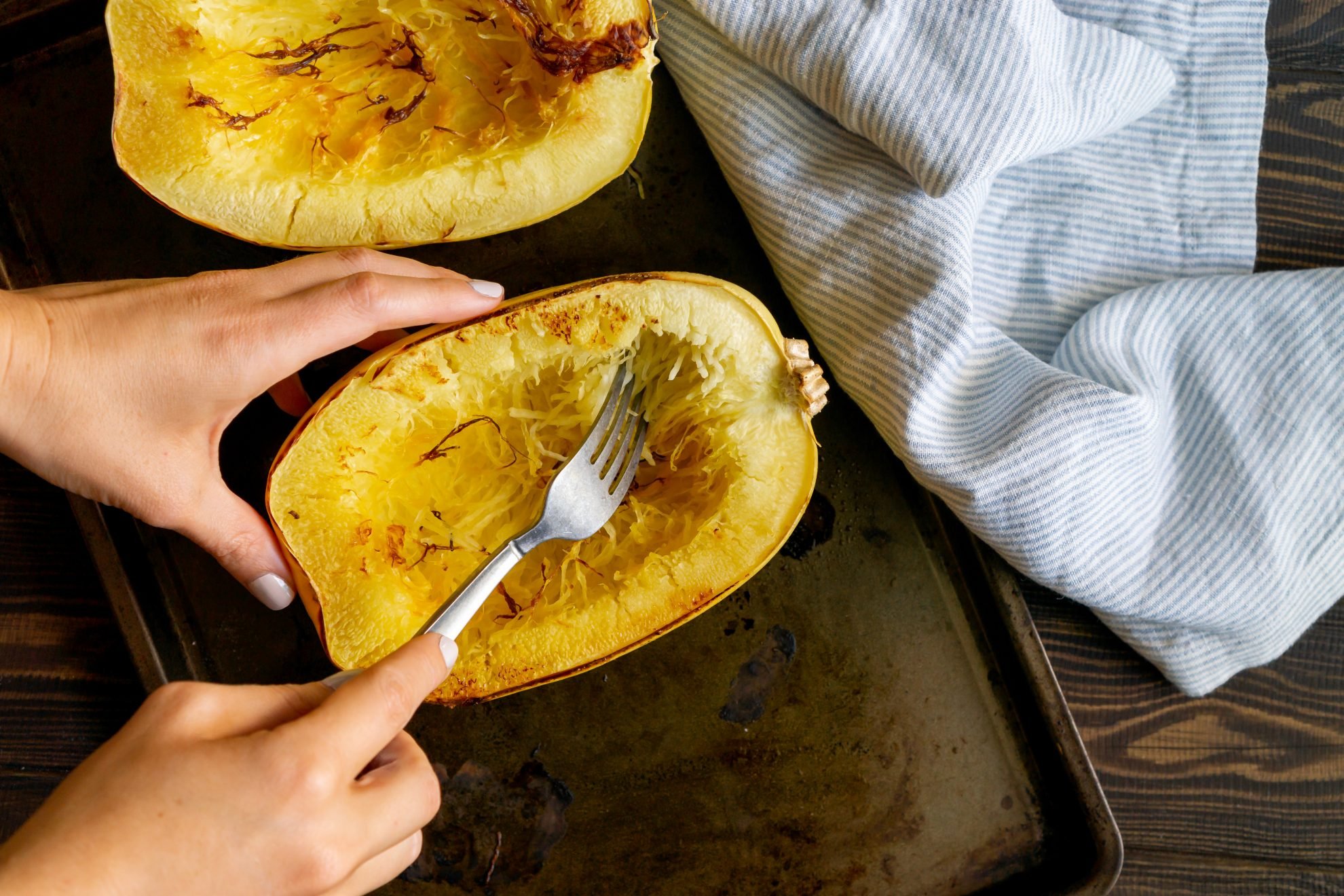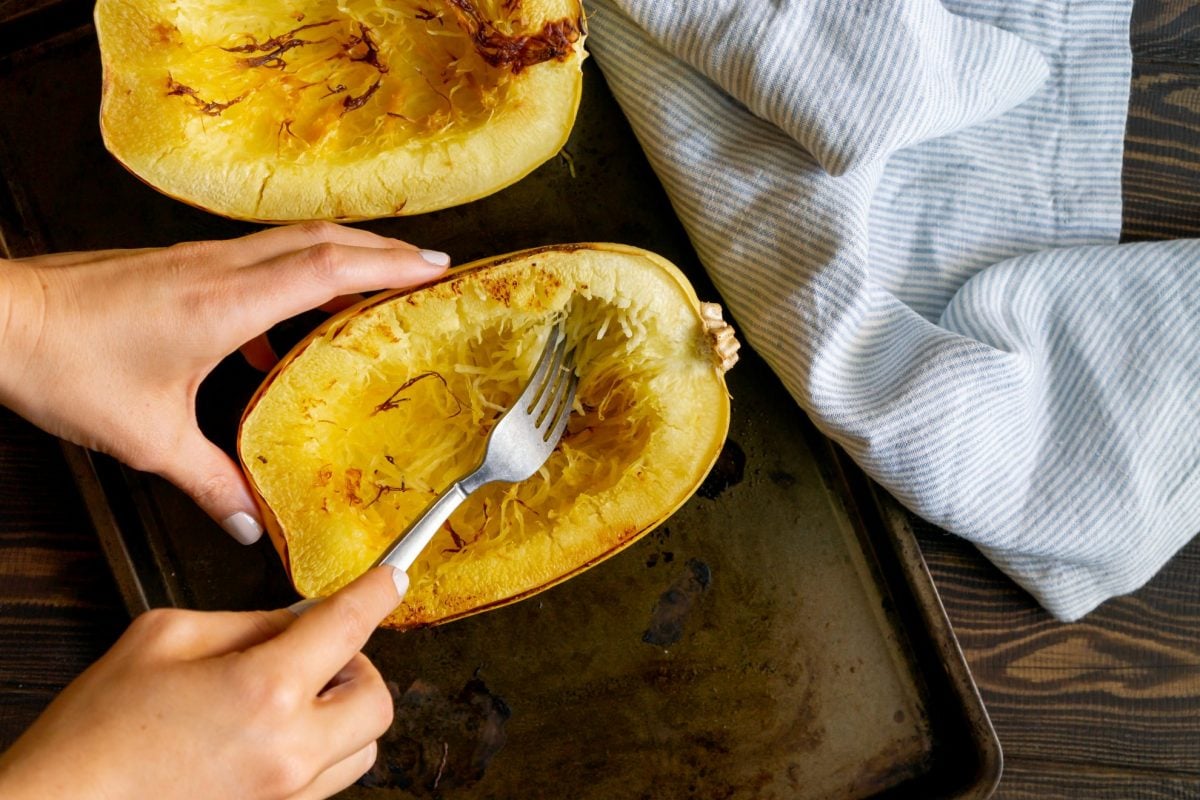 6. Put it all together! Add the spaghetti squash filling back into the "boats", divide the meat sauce between each one, top them with mozzarella cheese, and bake for 10 minutes or until the cheese is melted and bubbly. Garnish with fresh chopped basil and toasted panko, and serve.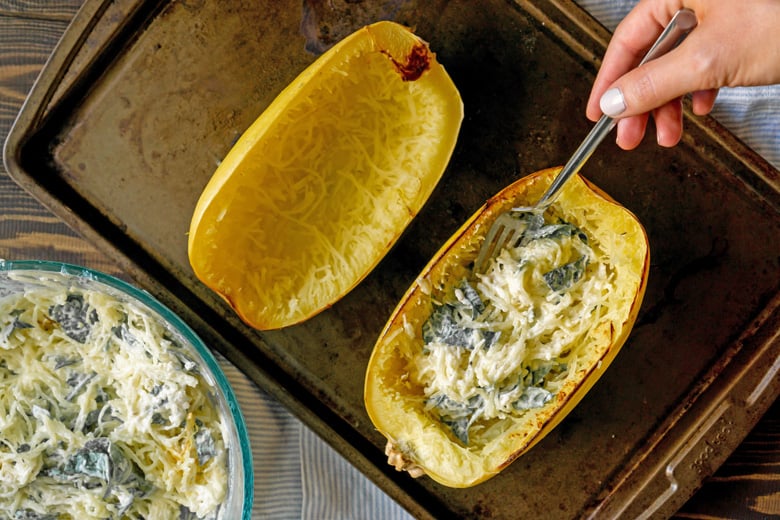 Note: I like to prepare the spaghetti squash lasagna filling, meat sauce, and lemony panko while the squash is in the oven. That way everything can be ready around the same time. It helps to cut down on the total time spent!
Fun fact: Did you know spaghetti squash strands actually grow in a circle? When you slice the spaghetti squash in half horizontally, you will get longer strands that are more spaghetti-like.
I like to cut the squash horizontally when I don't plan on using the shell of the spaghetti squash as a vessel for holding my entire meal. When making spaghetti squash boats, it's best to slice them lengthwise so they don't roll over. I think they look prettier this way, too!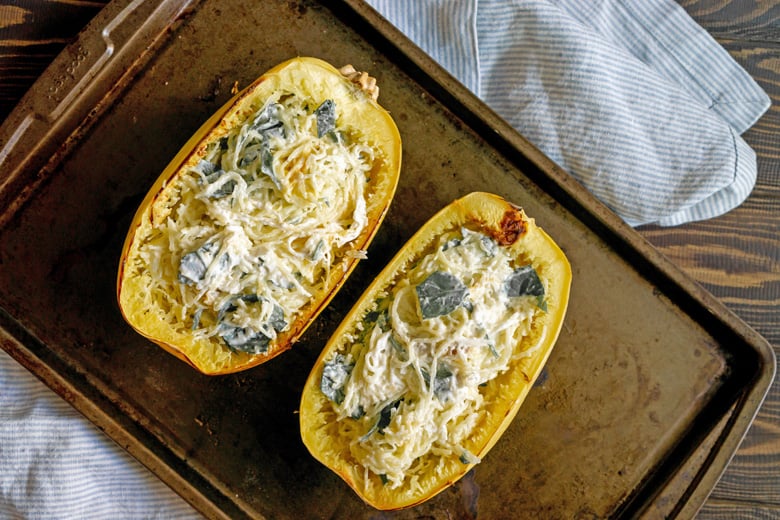 Alternative Cooking Methods and Freezing
If you prefer, you can cook spaghetti squash in the microwave. Since spaghetti squash acquires most of its flavor from other elements in the dish, I don't think there is much of a difference between roasting it and making it in the microwave.
When it comes to freexing spaghetti squash, I prefer to eat it fresh. But if you'd like to, you can freeze it by placing the cooked spaghetti squash strands in freezer-safe zipper bags for up to eight months.
Helpful Tools
Meat chopper – this handy tool makes breaking up any type of ground meat super easy. It's the only tool I use for the ground beef in this spaghetti squash boat recipe!
Baking sheet – this is what I use to roast my squash in the oven.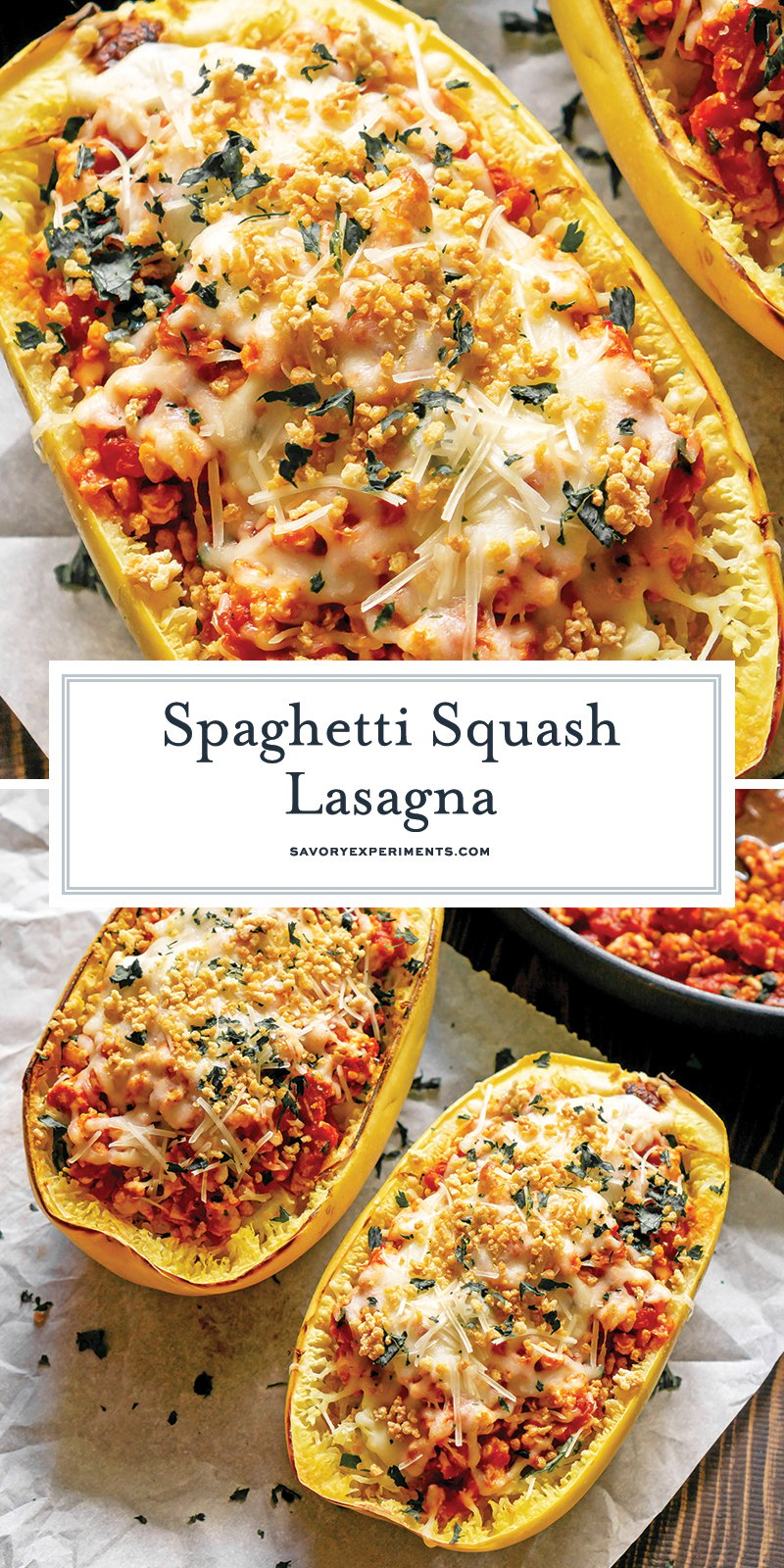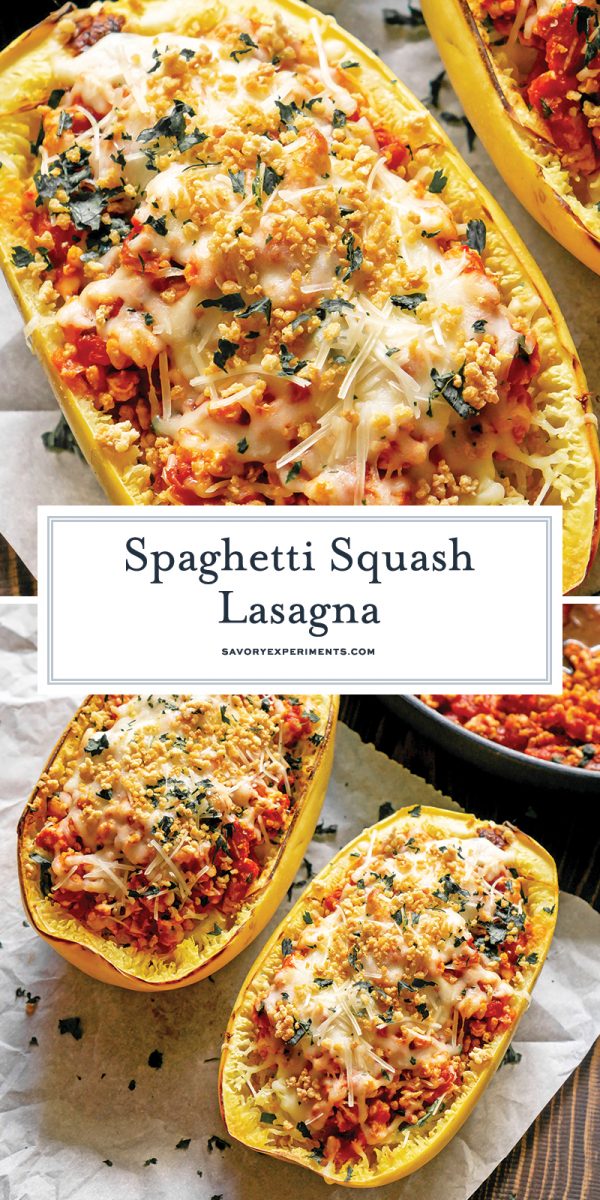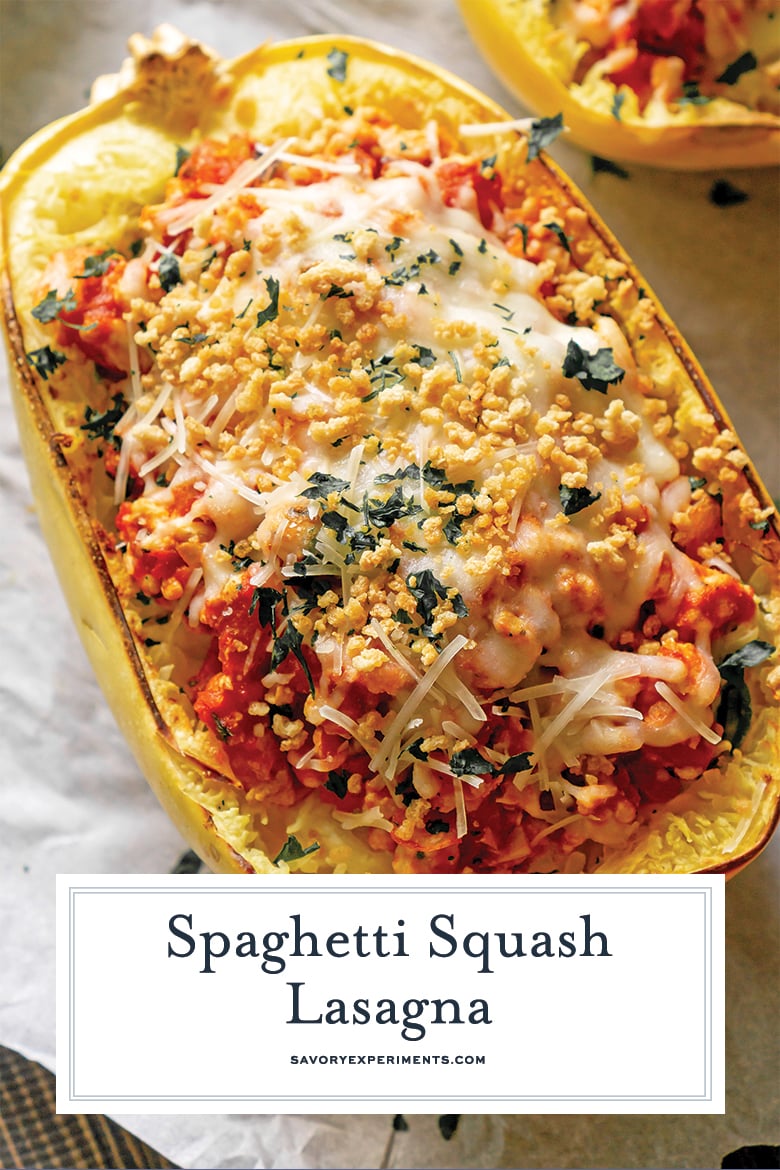 CONNECT WITH SAVORY EXPERIMENTS!

Be sure to follow me on social media, so you never miss a post!

Facebook | Twitter | Youtube
Pinterest | Instagram

Get our FREE 8 Day E-Course on How to Be a Better Home Cook. Sign up HERE!