Taco Spaghetti Squash Boats are stuffed with ground chicken, diced tomatoes, avocado, and lots of cheese! They have tons of flavor and are so easy to make.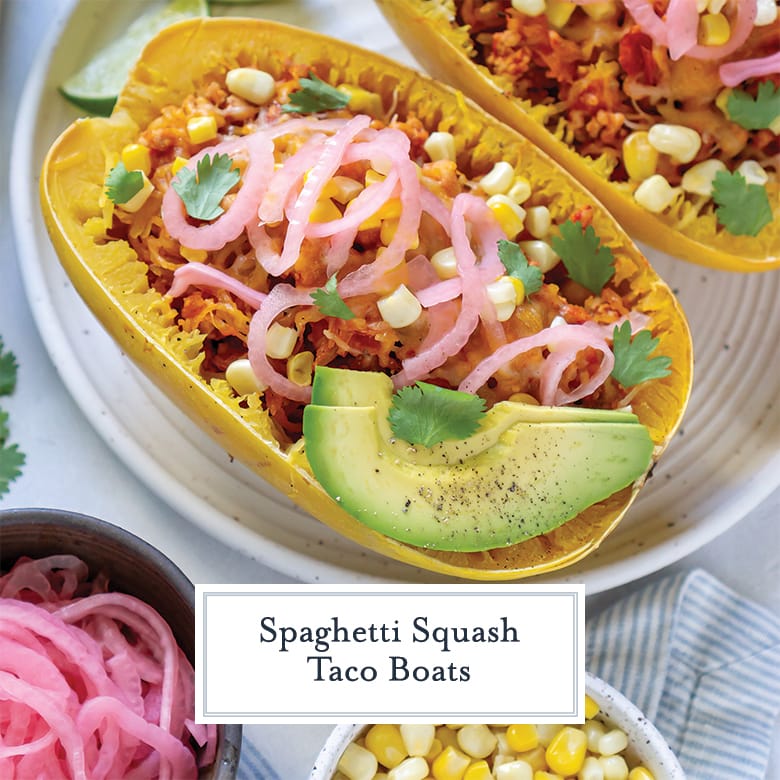 Spaghetti squash recipes are the best thing ever because you can put almost anything in it and it will be delicious.
Today I'm showing you how to turn this incredible veggie into a TACO!!
Taco Spaghetti Squash Recipe
I have so much fun cooking with spaghetti squash. It's like a blank canvas for whatever flavors you want to add.
I've made Spaghetti Squash With Scallops, Spaghetti Squash Lasagna, and I've even made spaghetti squash in the microwave!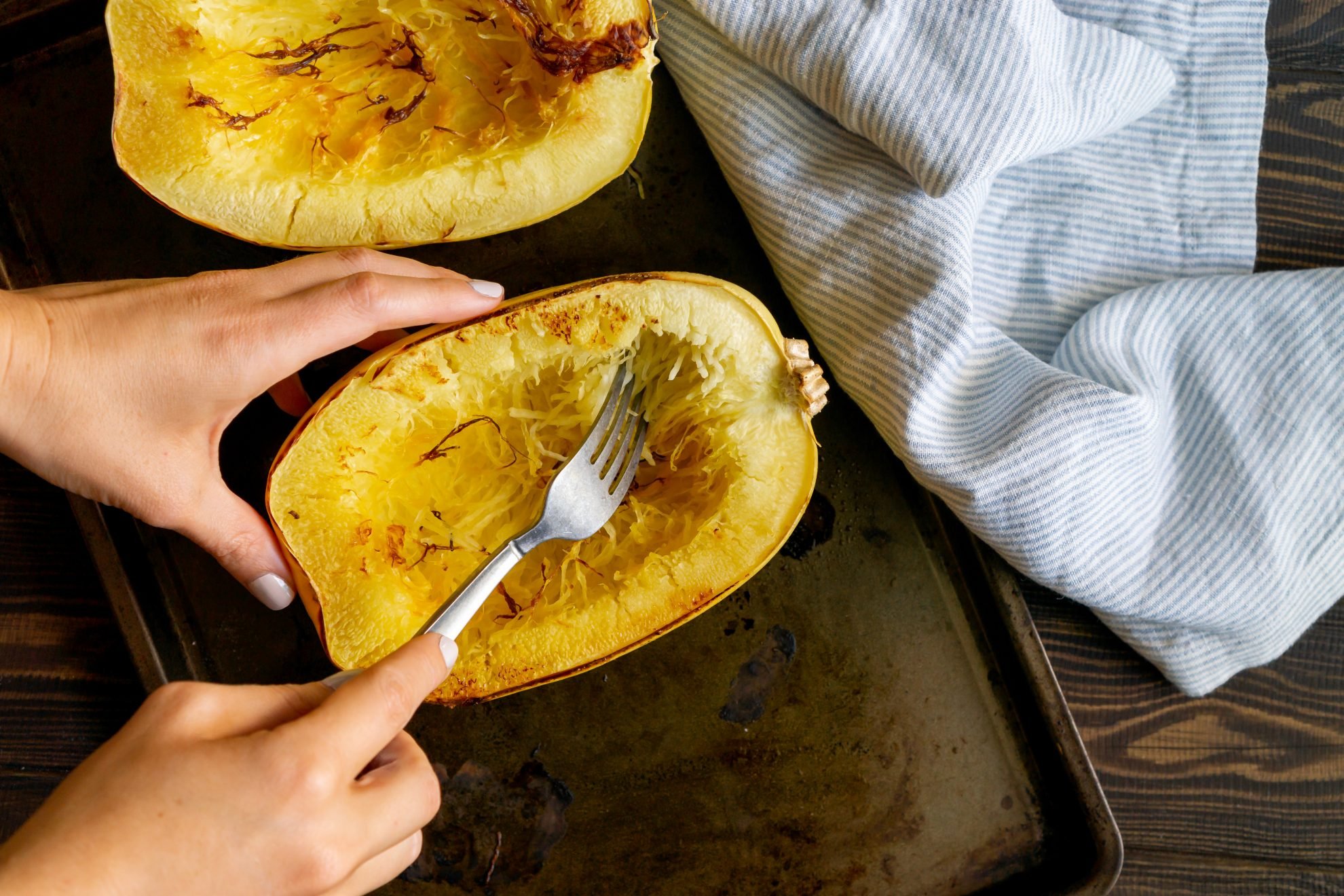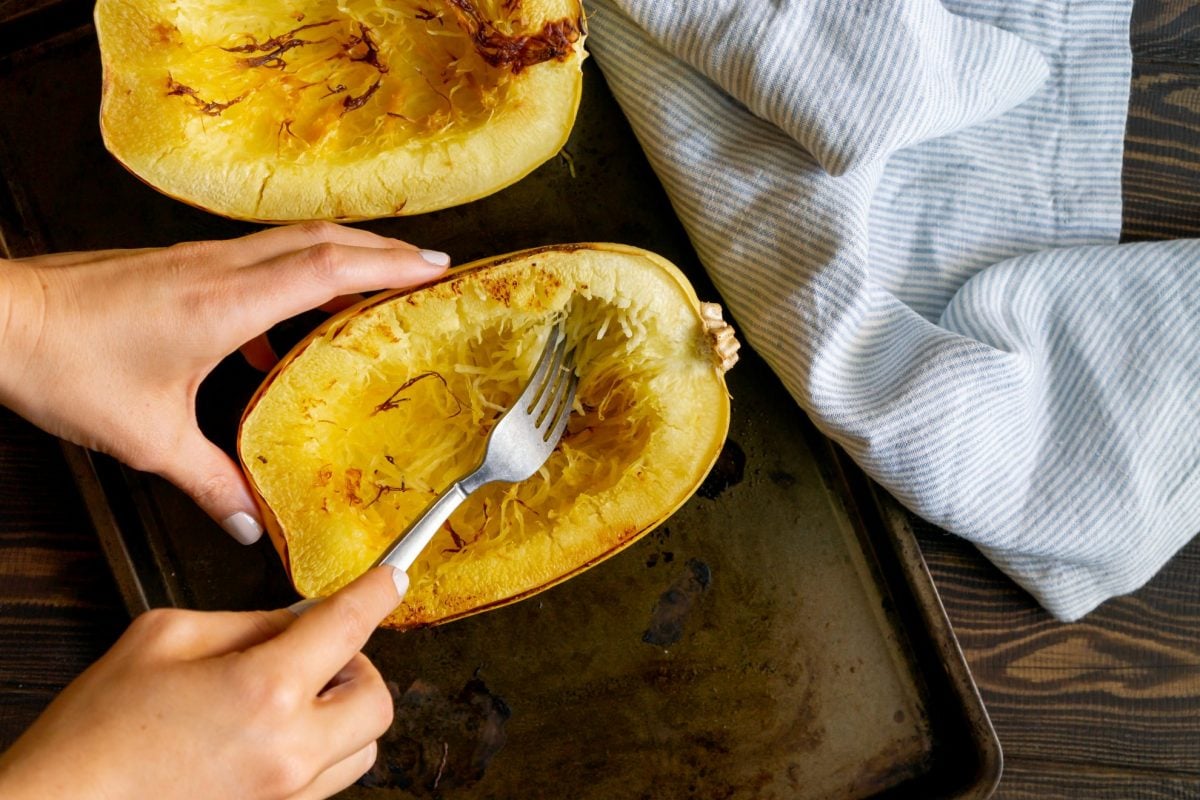 If you loved my Spaghetti Squash Lasagna, you're going to love these Taco Boats.
It's honestly one of my favorite low-carb pasta alternatives. Zoodles are ok but they get mushy and they really aren't great the next day.
These low carb tacos might be one of the best spaghetti squash recipes out there. They are so fun to make (just like normal tacos) and you can fill/top them with whatever you like!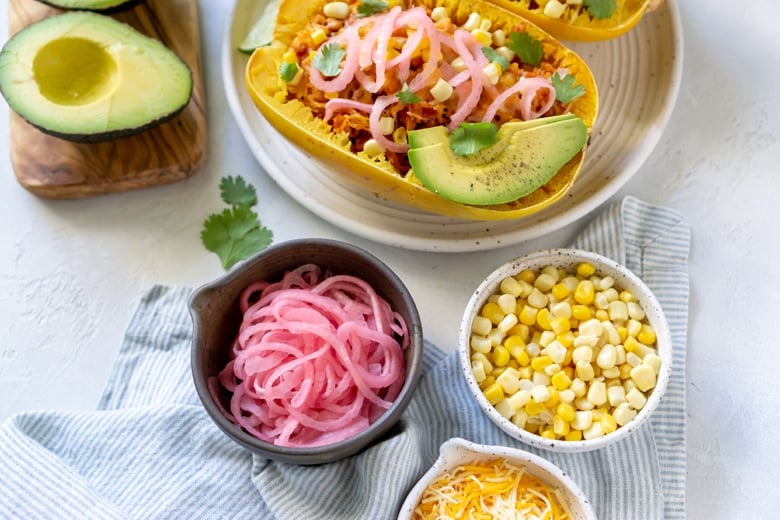 What is Spaghetti Squash?
Spaghetti squash is a yellow colored vegetable typically harvested in early fall. When cooked, the inside of the squash can be shredded into long, thin strands similar to a thin pasta, and can be used in similar ways.
It can be cooked a few different ways, but in this recipe, we roast it in the oven. You can also make spaghetti squash in the microwave if you're short on time!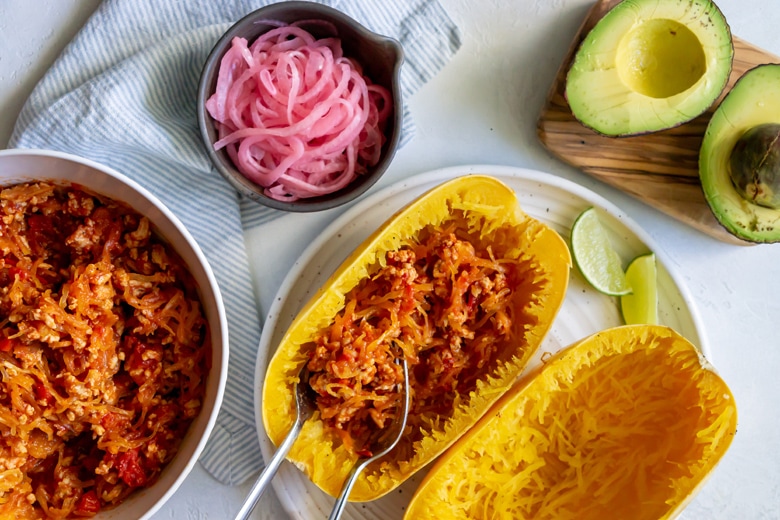 Although spaghetti squash boats are cut lengthwise for easy serving, the spaghetti squash strands actually grow in a circle so if you want a longer "noodle", slice it in half on the short edge.
You don't have to serve them "boat style" but it makes a nice presentation, and it's a dish you don't have to clean! Just toss it.
Ingredients
I don't know about you, but I have a hard time following a recipe if there's too many ingredients. So when I'm working on a recipe, I try my best to make it with less than 10 ingredients.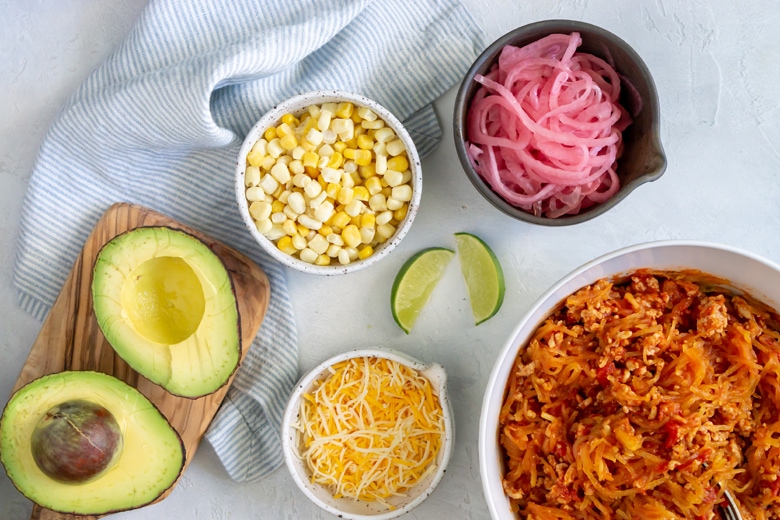 I feel like 10 is the sweet spot. Not too many where it's overwhelming, but not too few where it lacks flavor.
Here's what you'll need for these taco boats:
spaghetti squash
ground chicken (or ground beef/ground turkey)
taco seasoning (or straight chili powder)
diced tomatoes
yellow onion
finely shredded taco cheese
Of course, you'll have to add your toppings too but those are all up to your discretion!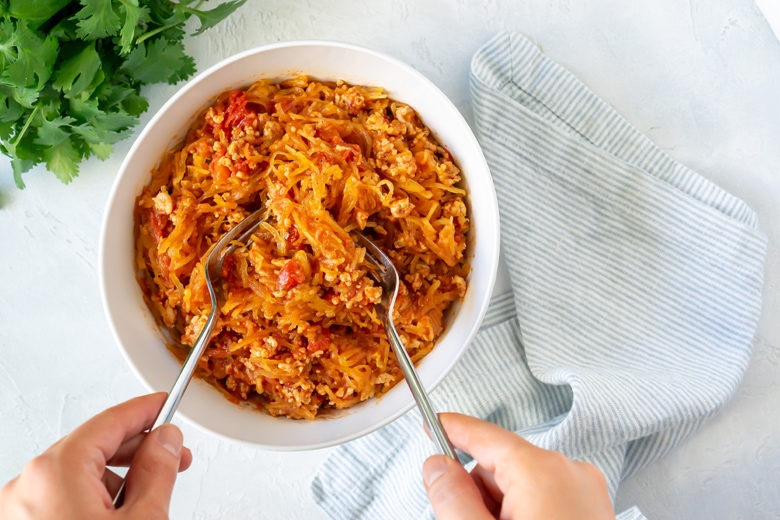 I love adding black beans and bell peppers, but here is what I topped these with:
corn
avocado
fresh cilantro
pickled onions
lime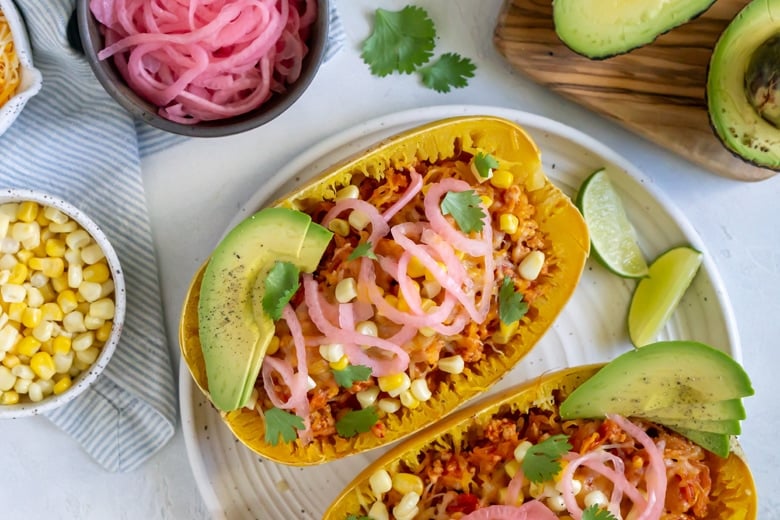 How to Make Taco Spaghetti Squash Boats

1. Prep the spaghetti squash. Preheat the oven to 400° F. Using a sharp knife, carefully poke holes around the spaghetti squash and microwave it for 5 minutes.
Let it cool for 5 minutes before carefully slicing it open lengthwise (it will be very hot!). Scoop out the seeds and dispose.
2. Cook the spaghetti squash. Place the spaghetti squash flesh side down on a rimmed baking sheet with 1/4 cup of water and bake for 25-30 minutes.
Remove the spaghetti squash from the oven, flip it over and let it cool for a few minutes before using a fork to pull the strands from the squash boats. Transfer the spaghetti squash strands to a mixing bowl and set aside.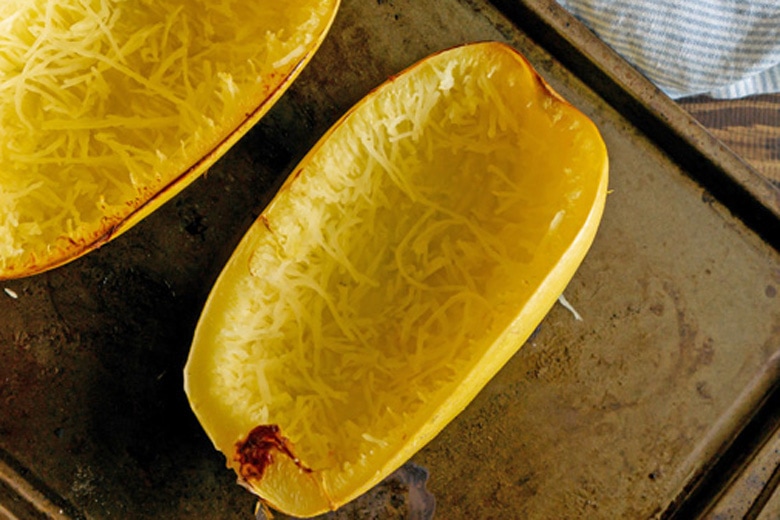 3. Cook the chicken. While the squash is baking, heat a large non-stick skillet on medium-high heat with 1 tbsp of olive oil. Add the onion and ground chicken to the skillet.
Cook until the chicken has browned and is fully cooked and no longer pink, crumbling it as you go, drain the excess fat. Sprinkle the taco seasoning over the meat mixture.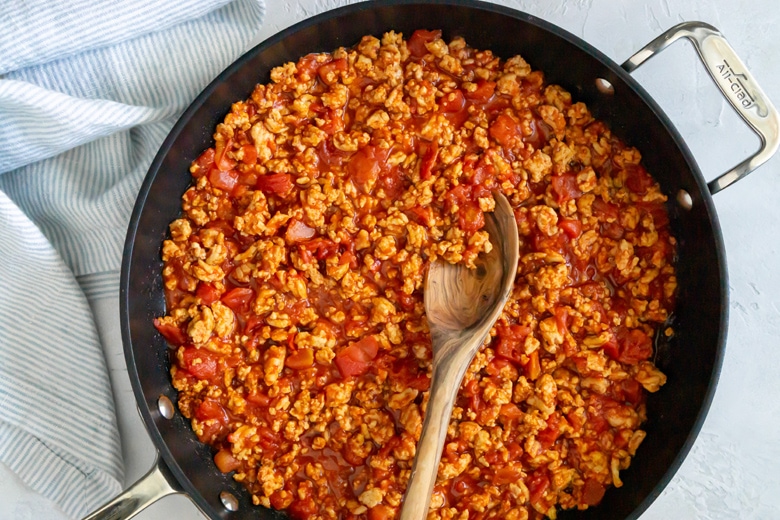 4. Stuff the squash boats. Add the diced tomatoes to the skillet with the chicken, reduce the heat to medium-low and mix until fully combined and tomatoes are warm.
Transfer the ground chicken and tomatoes to the large mixing bowl with the squash strands. Toss until fully combined and divide the mixture between both squash boats.
Divide the shredded cheese between each squash halve and bake for 5-10 minutes, or until the cheese is melted.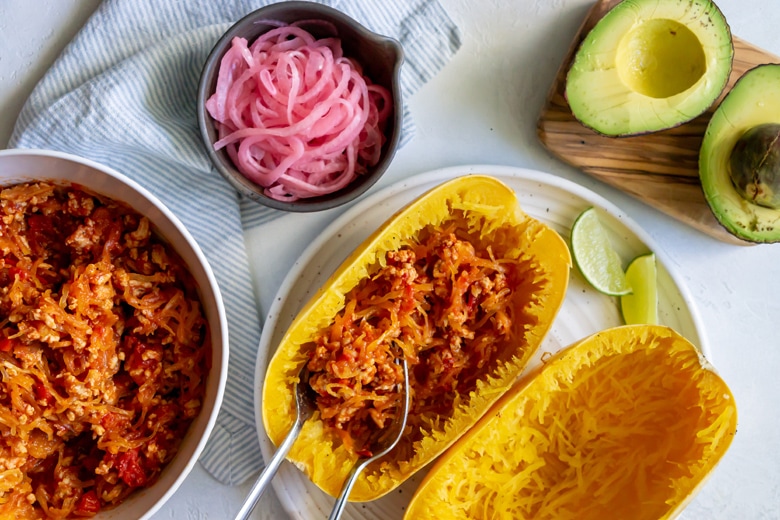 Add your favorite toppings, and of course salt and pepper, and serve! I topped mine with corn, pickled onions, cilantro, avocado, and a squeeze of lime juice, but top with more cheese, queso sauce, pinto beans, guacamole or anything else your heart desires!
Spaghetti Squash Size
You might feel like bigger is better, but trust me, in this case it's not. These little things have so many squash strands inside them. A 2 lb squash has about 3-4 cups of spaghetti squash strands in it!
I recommend grabbing a smaller one that's about 2-3 lbs. It will cook faster and won't look quite so overwhelming when you serve it.
Storage & Freezing
Leftover taco boats can be stored in the fridge for up to 3 days. You can even make it ahead and then just heat it up when ready to eat.
If you want to freeze your spaghetti squash, follow the instructions listed in this post to roast it, then transfer the noodles to freezer-safe bags or containers.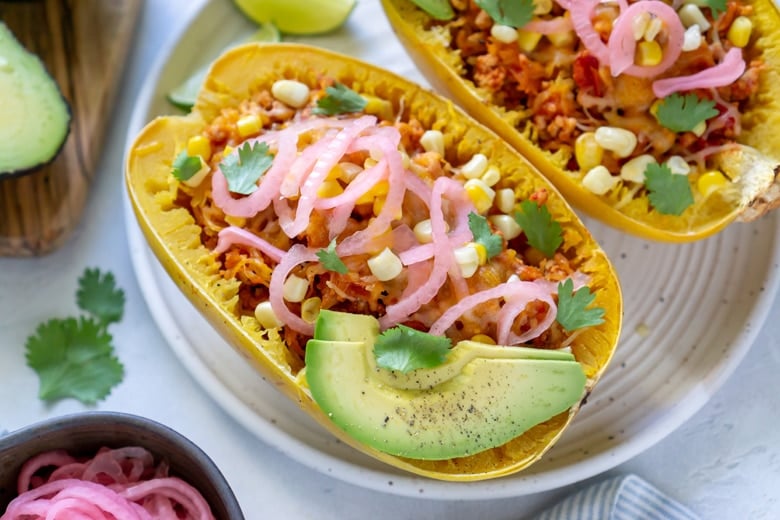 Squeeze out as much air as possible to avoid freezer burn. Cooked spaghetti squash should last about eight months in the freezer.
Spaghetti Squash vs. Butternut Squash
There is a big difference between spaghetti squash and butternut squash! The spaghetti squash has a stringy texture, which makes it a great low-carb pasta replacement.
Butternut squash is smooth and creamy. It doesn't form a stringy texture, so it can't be used in place of spaghetti squash.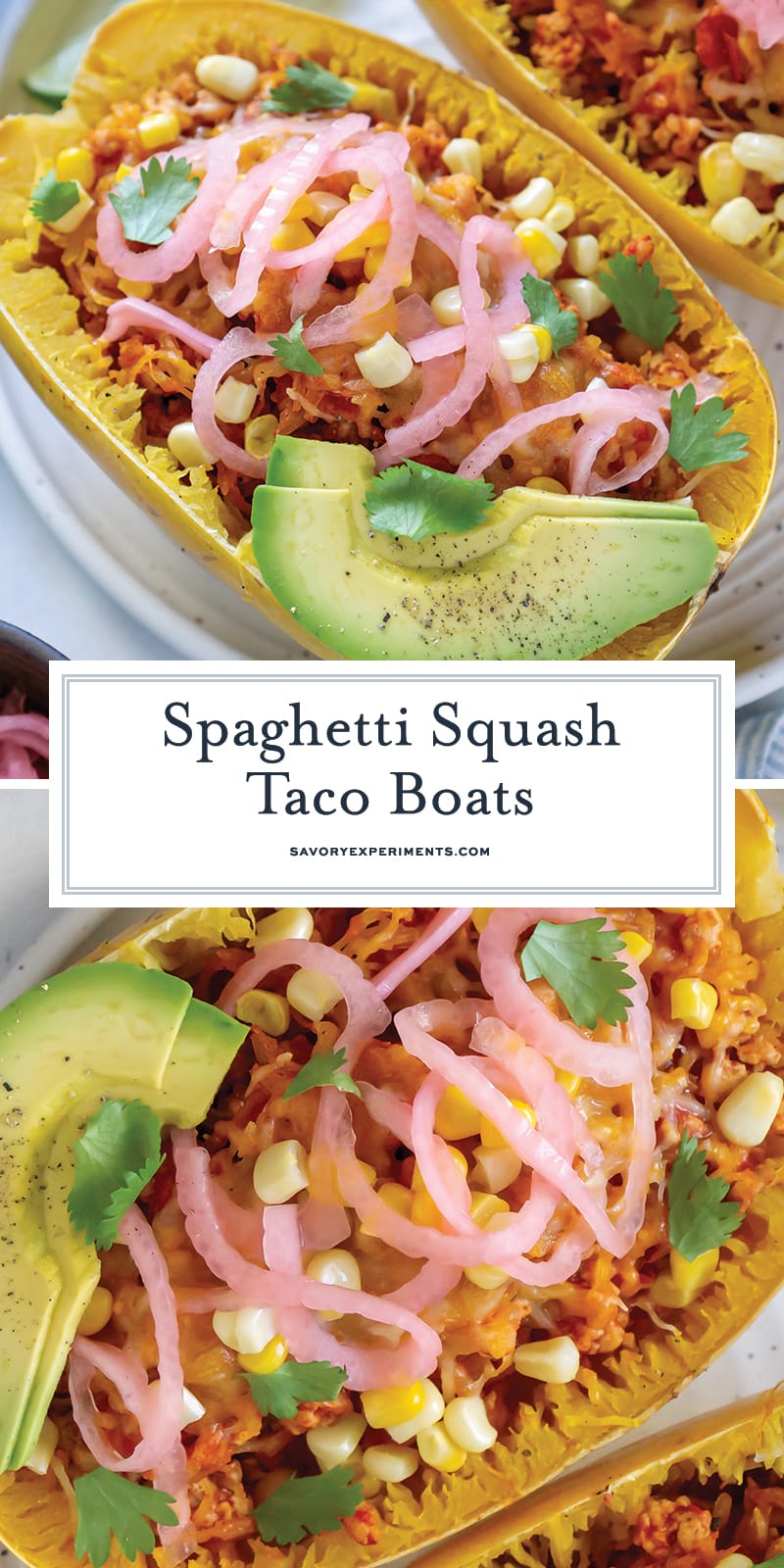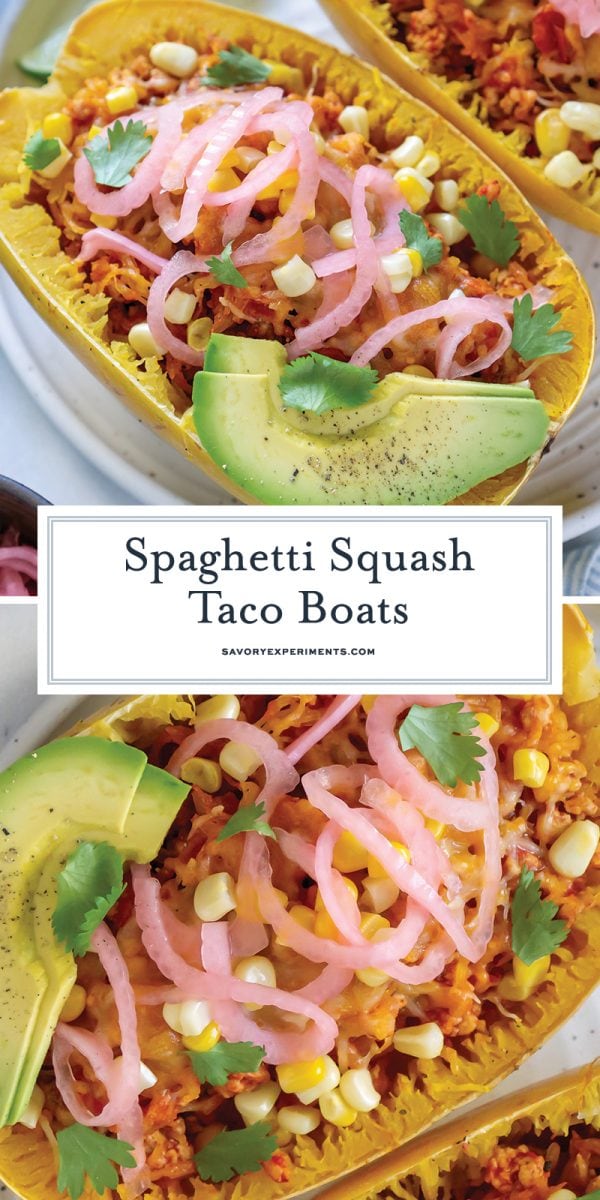 Love tacos? Here are even more great ideas: