This Mexican Cauliflower Rice was the cauliflower rice recipe that finally got me on the cauliflower rice bandwagon. It's now one of my favorite healthy rice options. I don't really know what took me so long.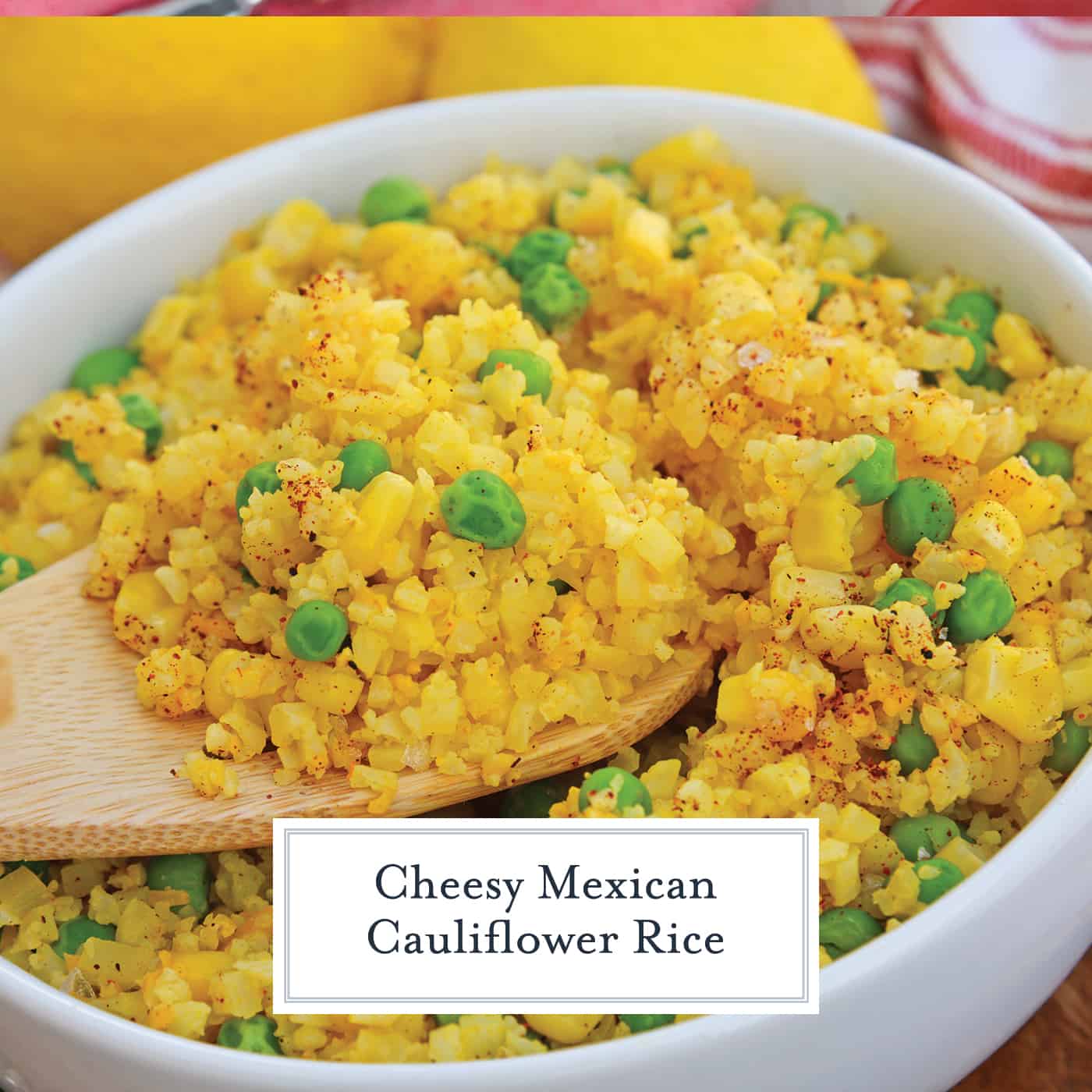 Mexican Cauliflower Rice is a healthy cauli-rice with zesty spices, shredded cheese, and a twist of lemon. The perfect low-carb Mexican side dish for any meal!
Have you had cauliflower rice? While I was hesitant to try it at first I have to say, I was pleasantly surprised. When cooked just right, riced cauliflower really does look, feel and taste like white rice.
The bonus, of course, being that it is lower in carbs than regular rice AND it ups your veggie intake.
Cauliflower rice has the same health benefits as cauliflower and is, therefore, a much healthier option to traditional white rice, before the addition of corn and peas. Lots of fiber and lots of Vitamin B in each serving.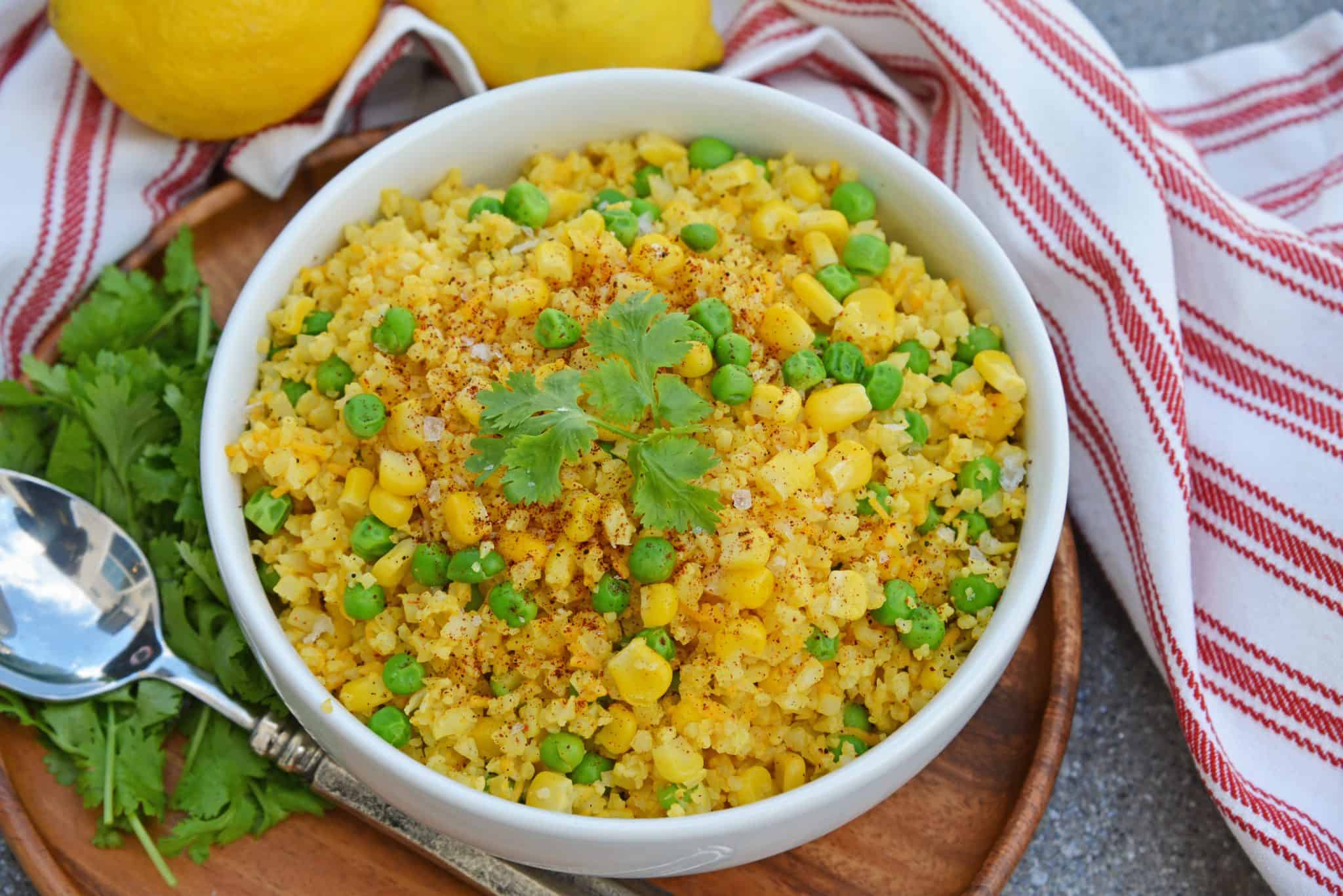 That said, I will share this with you. After ricing my own cauliflower from scratch once, I will never do it again. I'm not afraid of challenges in the kitchen once in a while but I also like to keep things simple when possible.
In my opinion, it is a major pain in the butt and challenging to get to the perfect texture. If you have the time and patience, by all means, but it is not for me.
Now I buy it frozen and I've never had an issue! Since it isn't like regular rice, soaking up liquid for flavor, you don't really lose much by buying it frozen.
Once out of the package, all it needs is a quick cook and some sprucing up in terms of flavor. Let's face it, any plain cauliflower rice recipe is pretty tasteless and boring, just like (in my opinion anyway) regular white rice.
This Mexican Cauliflower Rice is the exact opposite of tasteless and boring and all you need are a few extra ingredients. It's seasoned with spices that you likely already have in your cupboard, especially if you're a fan of Mexican food, along with a few added veggies.
And, of course, I added cheddar cheese, the most important ingredient in this cheesy cauliflower rice recipe, because I just couldn't help myself. Plus, it's delicious.
Even with the cheese, Mexican Cauliflower Rice is a healthy side dish.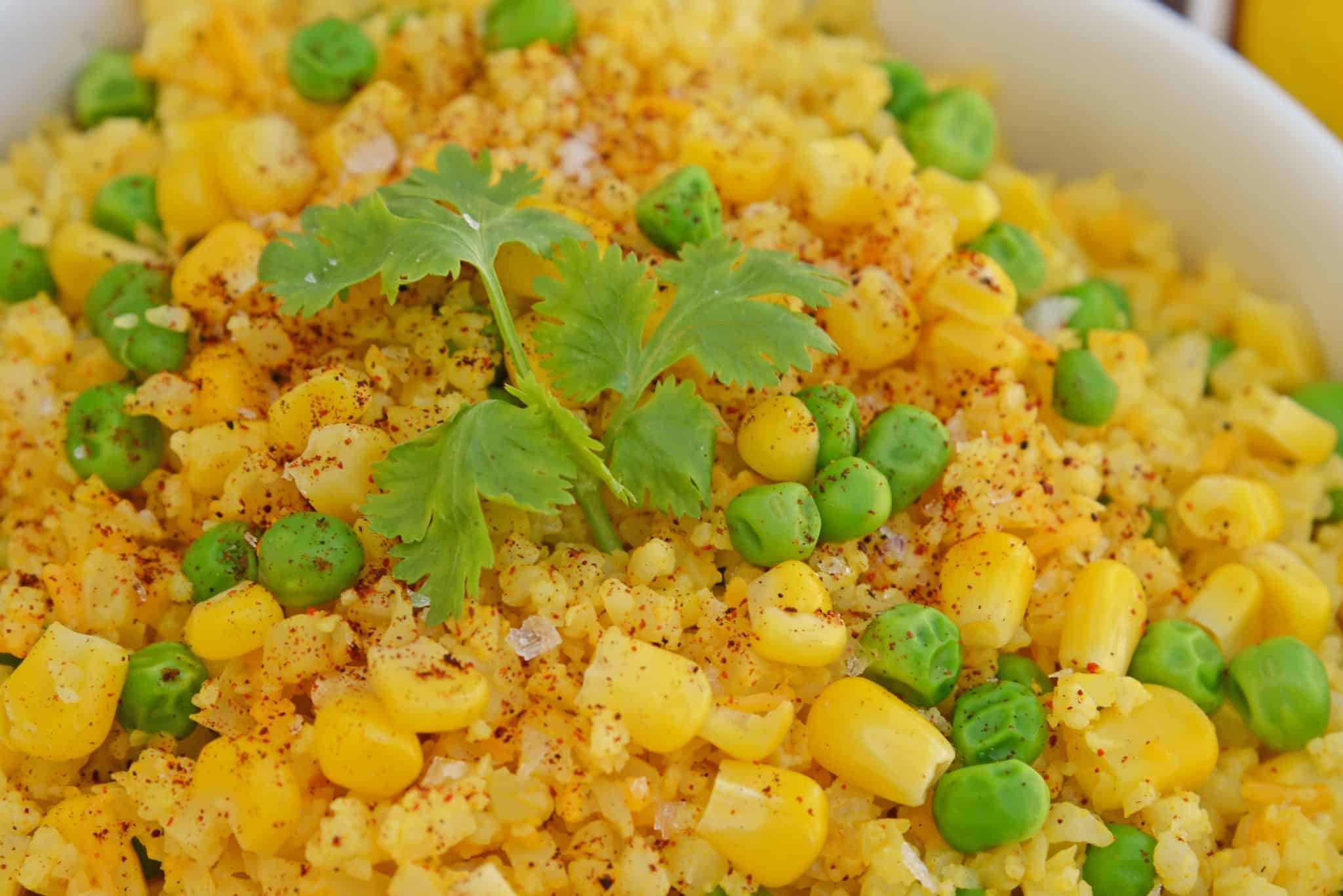 This is a great side dish for Mexican night but can also be served as a side dish to chicken or steak any night of the week. Even people who don't like cauliflower eat it up because it truly does taste like cheesy white rice.
This Mexican Cauliflower Rice recipe is one of my favorite ways to sneak veggies into a meal which is great for those with picky palates who might not like the idea of vegetables. I am not naming names here, but you know the group I am talking about.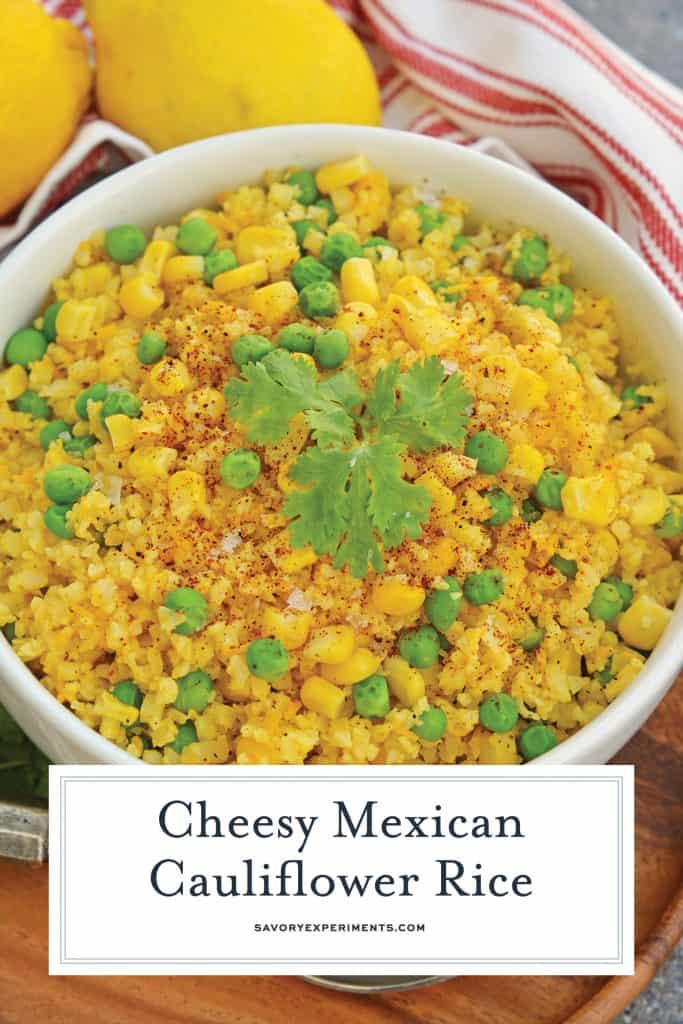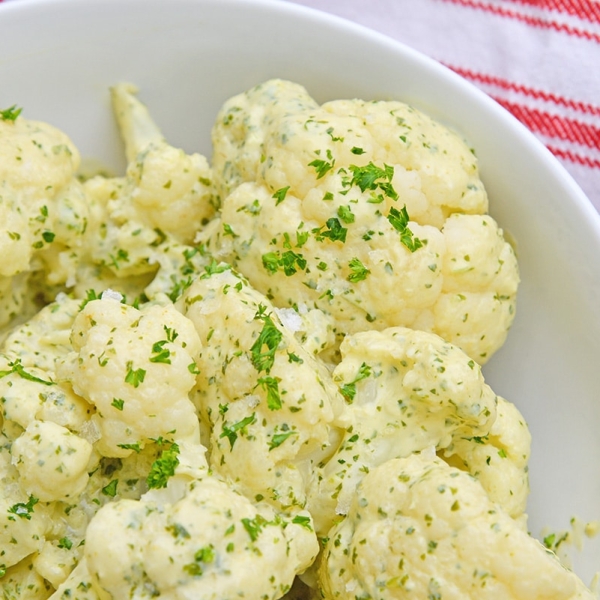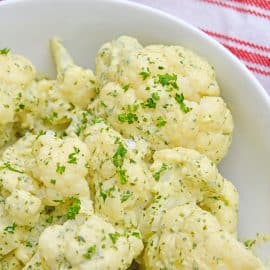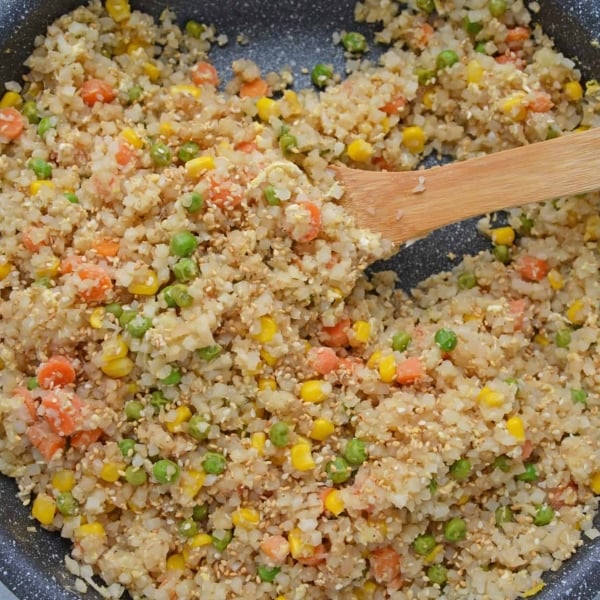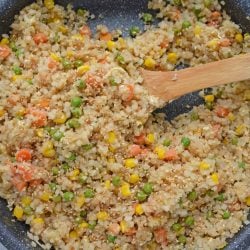 Cauliflower Fried Rice
If you've ever wondered how to make Cauliflower Fried Rice, look no further! This cauliflower fried rice recipe is the perfect way to cut down on carbs!
See The Recipe!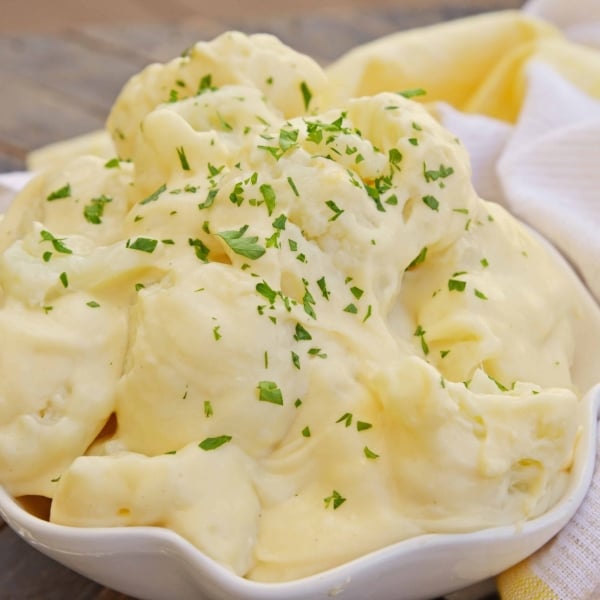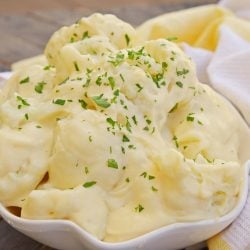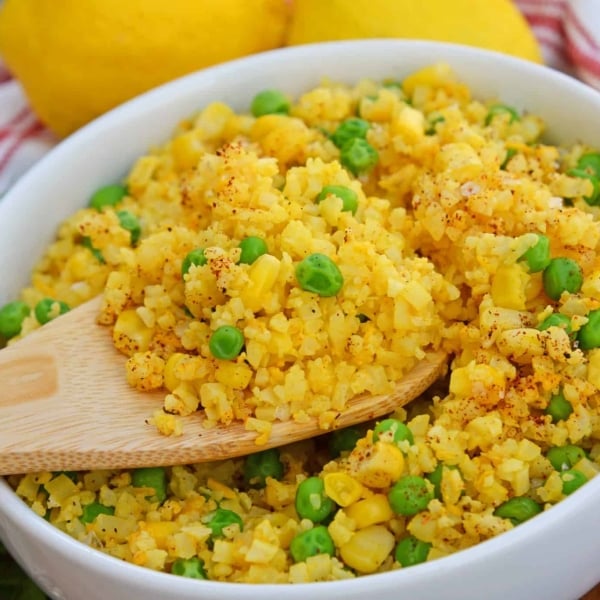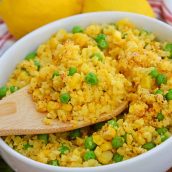 Mexican Cauliflower Rice
Mexican Cauliflower Rice is a healthy cauli-rice with zesty spices, shredded cheese and a twist of lemon. The perfect low-carb Mexican side dish!
Instructions
In a small bowl, combine garlic powder, turmeric, fine sea salt and coriander. Set aside.

Toss cooked cauliflower rice with vegetable oil and lemon juice.

Add dry spice mix, tossing to coat.

Toss in cheddar cheese cooked peas and corn. Try to toss the mixture instead of stirring to prevent the mixture from getting mushy.

If you've tried this recipe, come back and let us know how it was!
Nutrition
Calories:
244
kcal
,
Carbohydrates:
20
g
,
Protein:
12
g
,
Fat:
13
g
,
Saturated Fat:
8
g
,
Cholesterol:
29
mg
,
Sodium:
504
mg
,
Potassium:
558
mg
,
Fiber:
5
g
,
Sugar:
6
g
,
Vitamin A:
660
IU
,
Vitamin C:
77.4
mg
,
Calcium:
239
mg
,
Iron:
1.5
mg