Have you jumped on the cauliflower rice train yet? This Cauliflower Fried Rice recipe is the best way to enjoy it!
If you've ever wondered how to make Cauliflower Fried Rice, look no further. This cauliflower fried rice recipe is the perfect way to cut down on carbs!
Cauliflower is one of those vegetables that can be used in SO many ways. Turn it into a pizza crust, a healthy low-carb version of "mashed potatoes" and "mac and cheese" or even a vegetable version of "wings!" So amazing, right?
One of my new favorite ways to use cauliflower is to turn it into "rice." It's a delicious way to cut out carbs, but still enjoy all of the carb-heavy foods that you love.
Plus, it's a great way to add in some extra veggies to your diet, especially if you are trying to hide them from unsuspecting kiddos or hubbies.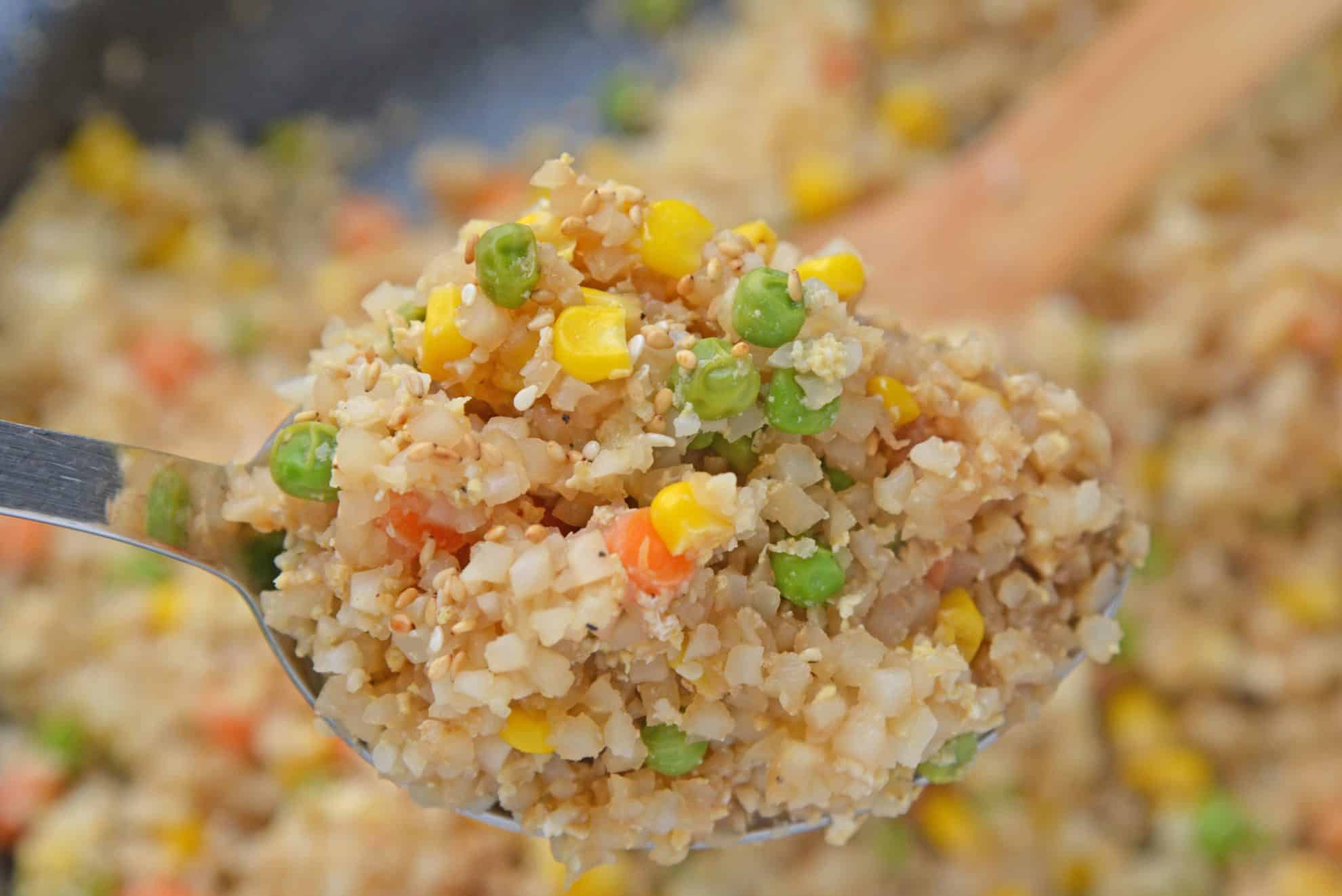 On it's own cauliflower rice doesn't taste exactly like regular rice. But as long as it's seasoned properly, you won't even be able to tell a difference. The texture is nearly identical.
Riced cauliflower isn't actually rice, nor riced. It is simply minced cauliflower and when cooked takes on the shape, size and texture of white rice, making it a great carb substitution for keto and other low carb diets.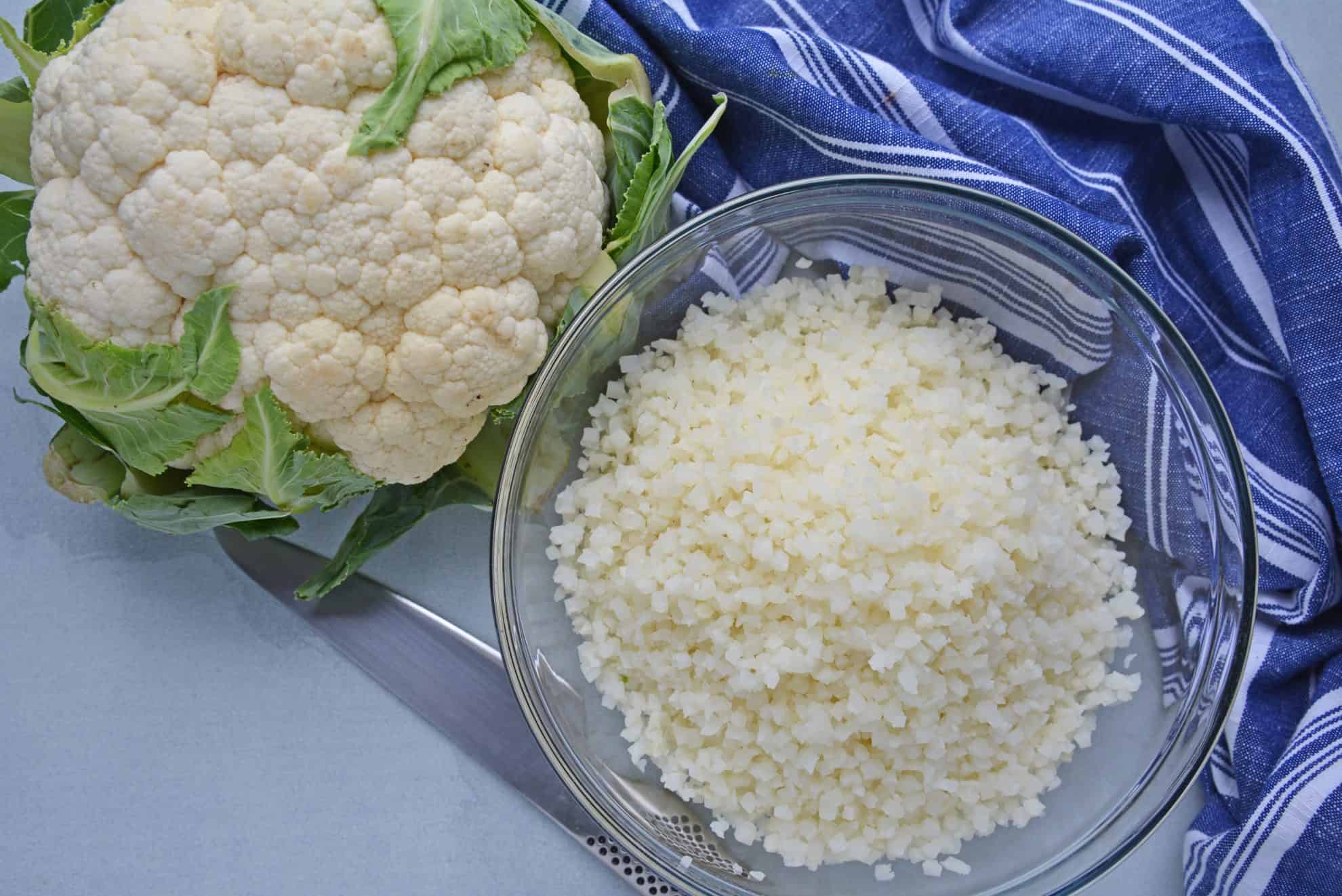 Most people think the time it takes to make cauliflower rice is tedious or that you are actually ricing the cauliflower, as in using a ricer, but that isn't true.
The riced cauliflower portion of the recipe will take longer than the fried rice part, but the good news is that you have many options to get you there. Here are your options and there are pros and cons to all three:
Homemade riced cauliflower
Minced cauliflower in the produce section
Frozen cauliflower rice in the frozen food section
Homemade riced cauliflower is actually pretty easy, but is a little more time consuming than the other two alternatives. It is also the cheapest.
Buying one large head of cauliflower will cost about $2 and give a yield of approximately 4-6 cups.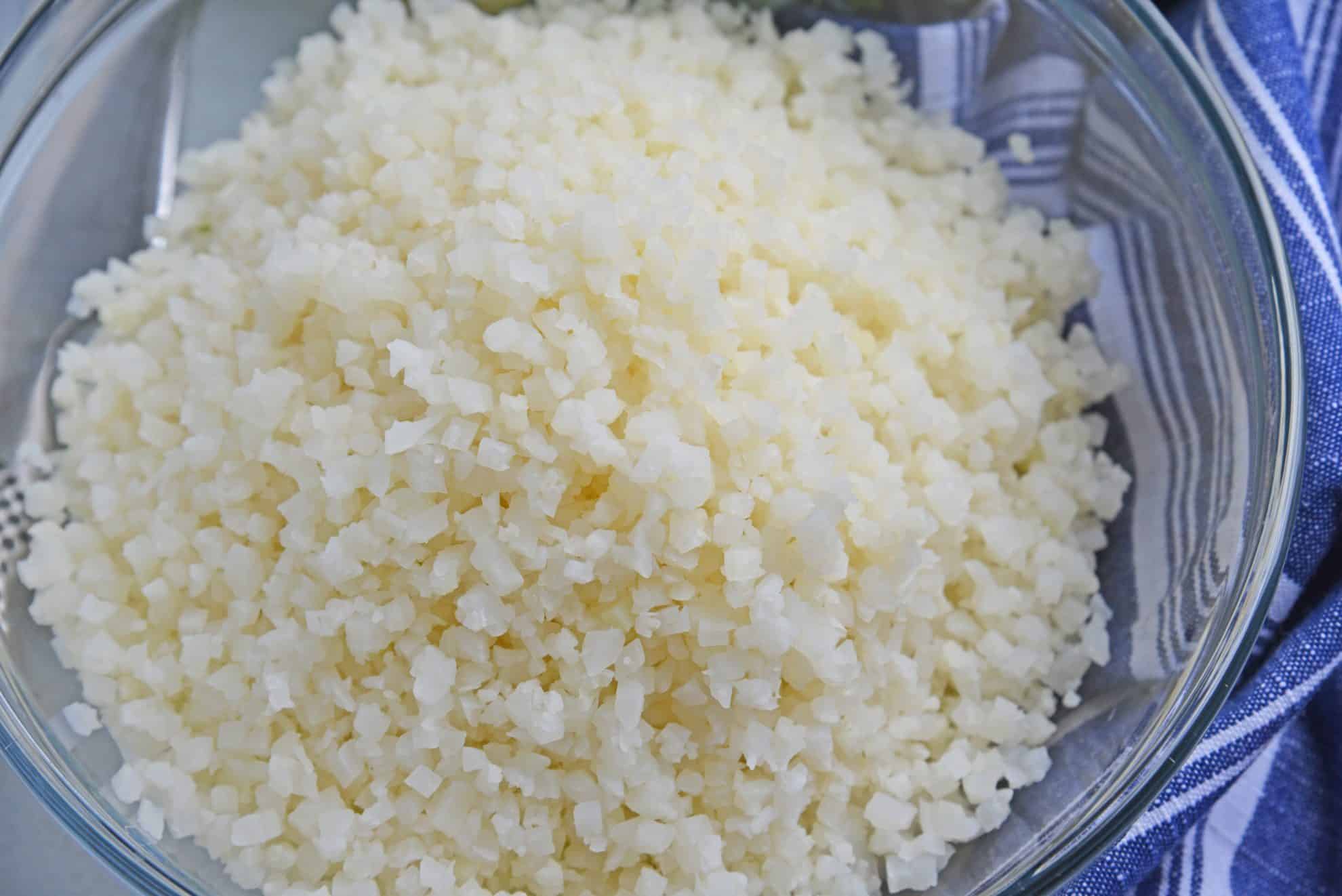 You'll be using the whole head of cauliflower, including the truck with very little waste. The downside is that you really need to have a large food processor. Or a really strong arm capable of doing a lot of chopping.
Here is how to make cauliflower rice:
Trim the nubby ends of the cauliflower florets and any pieces that are brown and yucky. Remove green leaves. Make sure your cauliflower is dry.
Cut cauliflower, including stem, into large chunks about 2 x 2 inches.
Place into a large food processor. You might have to work in batches depending on the size of your cauliflower.
Pulse several times until the cauliflower is finely minced and resembles rice.
To cook, place into a large skillet with about 2 teaspoons of olive oil. Saute until slightly softened. You want the raw cauliflower to be al dente, for lack of better words. Slightly cooked and taunt, but not over cooked and mushy.
Add it to any recipe that calls for riced cauliflower including my Cauliflower Fried Rice!
If you buy minced cauliflower in the produce section, it skips the step of chopping and using the food processor, but you'll be paying for the convenience. My store sells 1 1/2 – 2 cup containers for $7.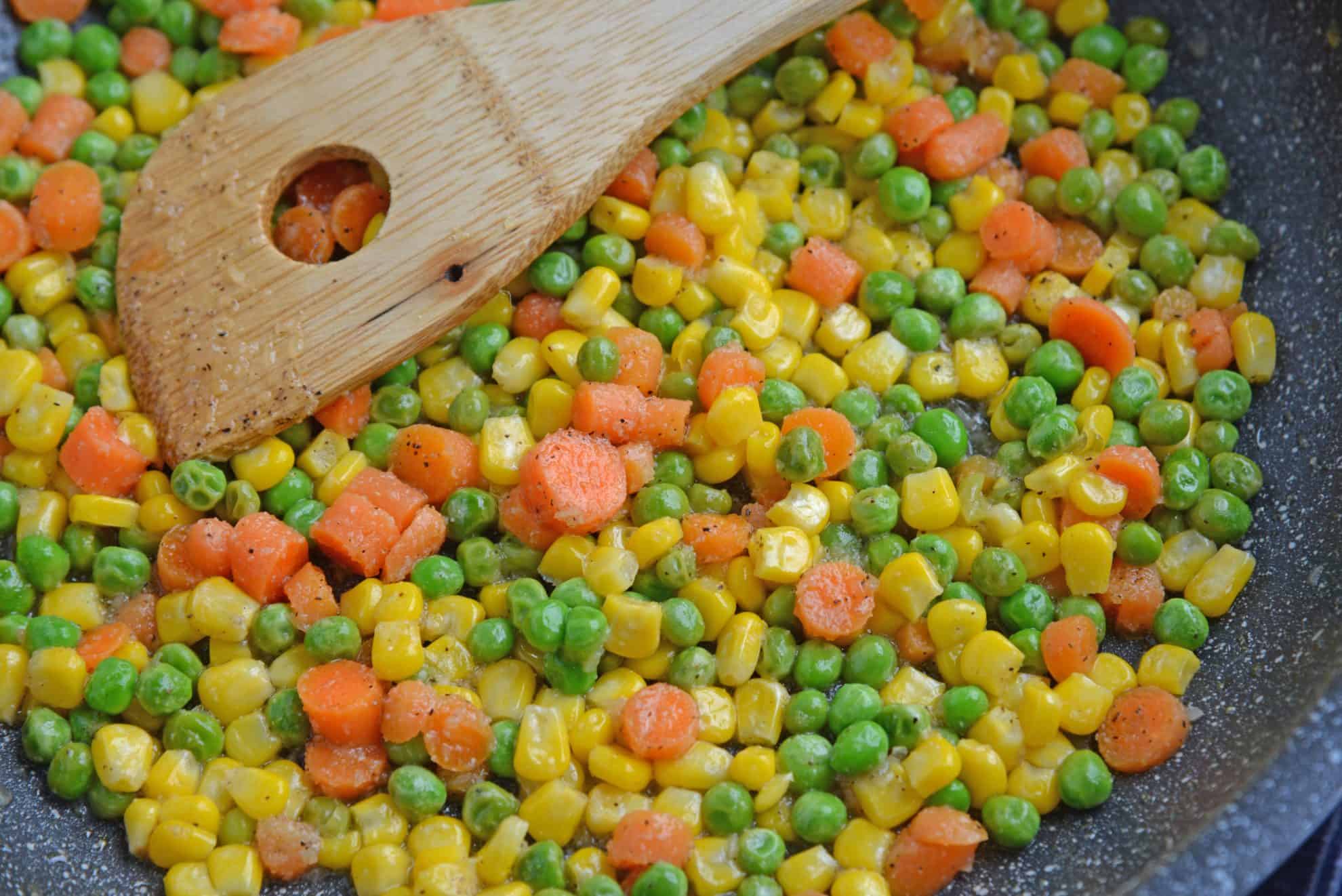 That is a huge rip off and I don't even know if the cauliflower is fresh. If you do use this option, skip right to step #5 in my instructions above on how to make riced cauliflower.
The last option is honestly my favorite option and the one I use the most. Frozen cauliflower rice.
PRO TIP: Frozen vegetables are a great and cheaper alternative to fresh vegetables. Often frozen nearly after harvesting, the nutrients are frozen in place and often have more than fresh produce since they start diminished the moment they are picked and it can take a week or two to even hit your grocery store floor.

You are also less likely to waste produce when it is frozen and you can use it on an "as needed" basis.
Don't dis it until you try it! You skip steps 1-5 and go straight to #6. Follow the instructions on the bag for cooking. I use the microwave option for perfect cauliflower rice in just minutes.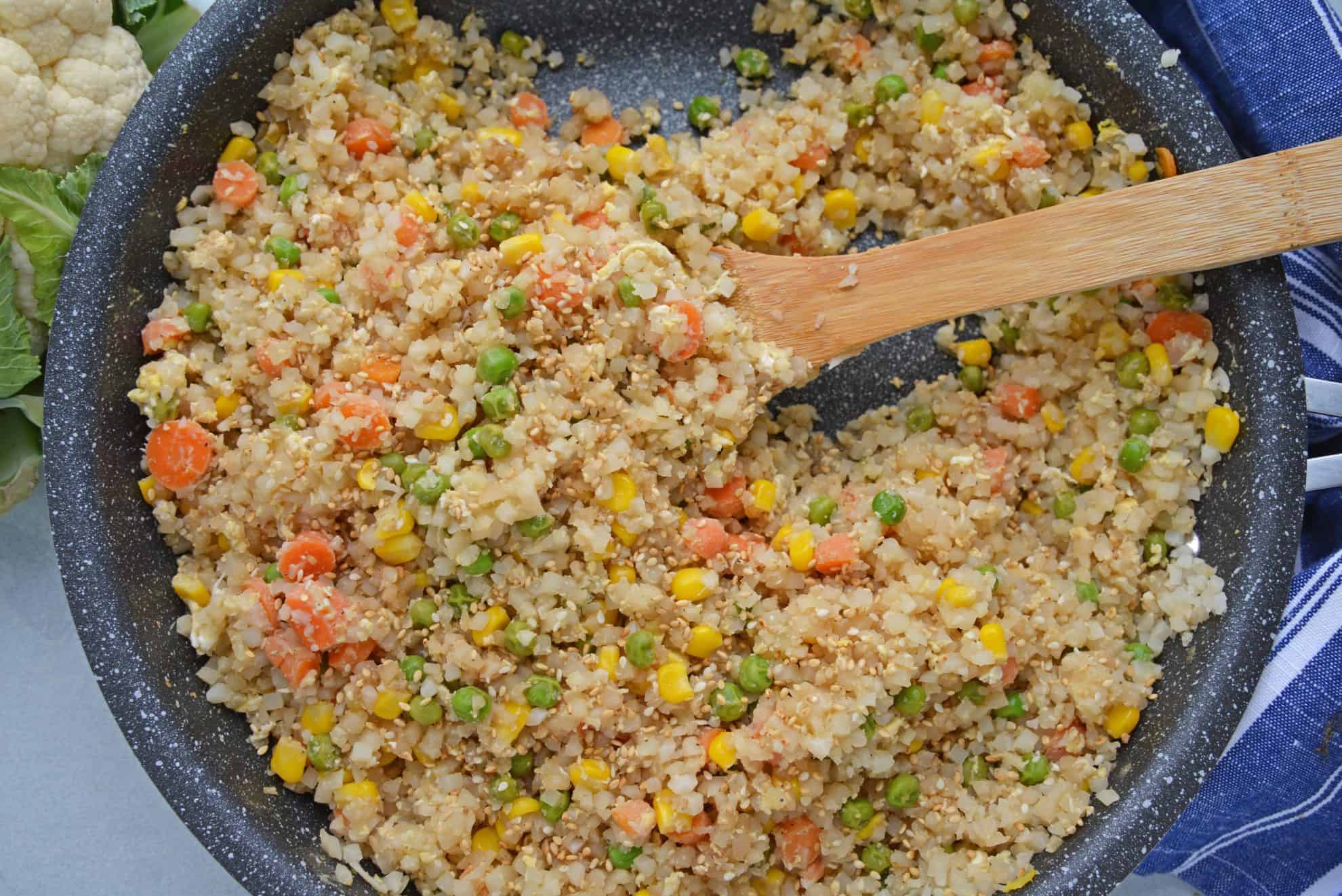 After you actually make cauliflower rice, then you'll be onto making a pretty typical fried rice recipe. You'll use the cooked cauliflower, add the eggs, finely chopped chopped ginger and onion, soy sauce and sesame oil and then quickly cook. You can top with green onions (scallions), if desired.
And then ta-da, you'll have a fabulous side dish or entree. Scroll on down to see how to add protein and make this a well rounded one dish meal!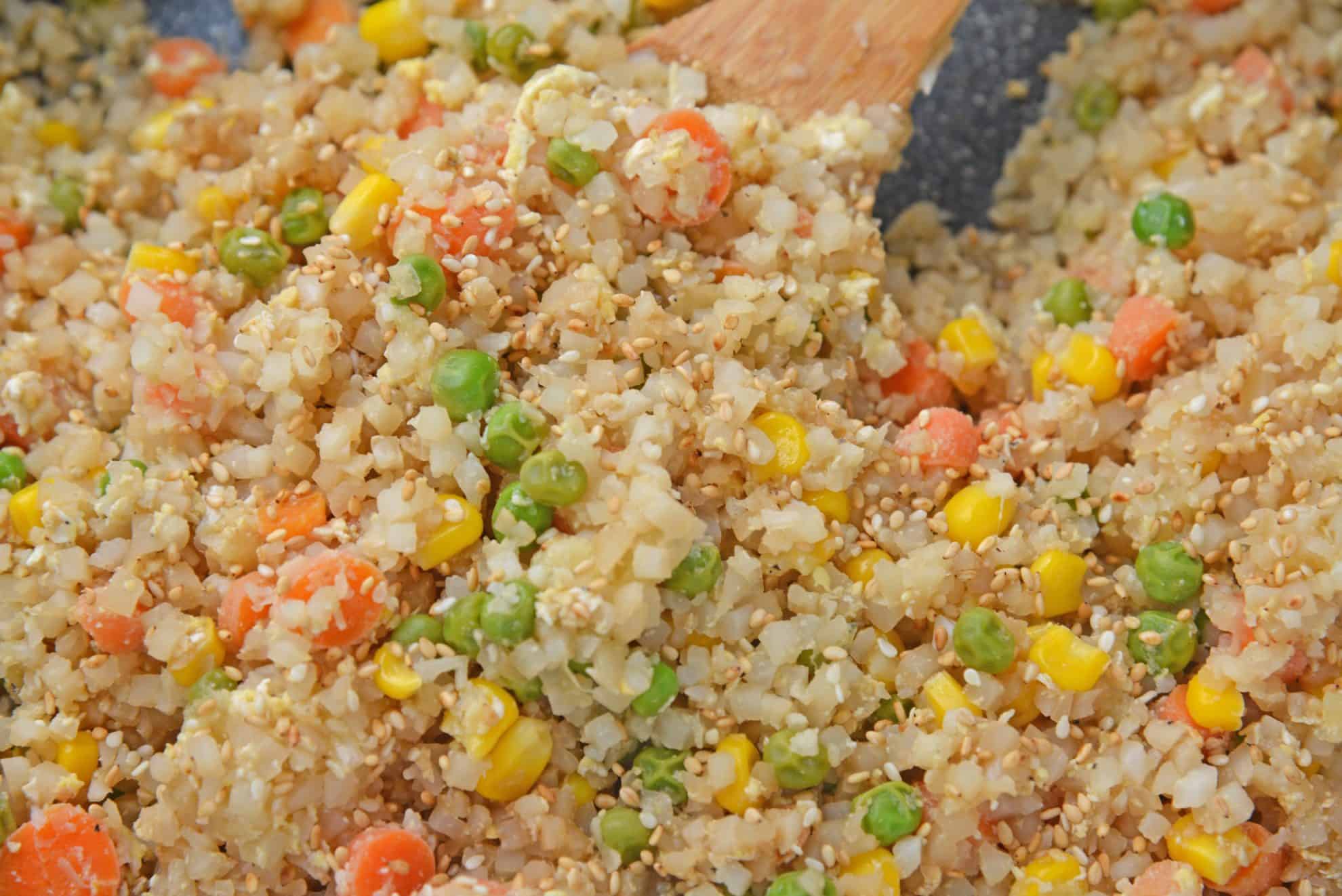 Questions you might have about how to make Cauliflower Fried Rice:
Is cauliflower rice healthy? Yes! Cauliflower is a vegetable, and in this case you are swapping out regular rice (a carb) for cauliflower, which is definitely a healthy choice.
Can I omit the peas? You can omit any ingredients you wish. This is a very forgiving recipe as long as you don't overcook the one main ingredient: cauliflower.
Can I add vegetables? Sure! Add as many as you'd like. Honestly, most of my recipes are made with what is available in the kitchen that day, like many households run.
I didn't have and onions or scallions, which are two items I'd usually include. Cauliflower rice tasted fine without either. Other great additions are bell peppers, broccoli and even greens beans.
Is cauliflower fried rice gluten free? This one is tricky and I am not an expert, but I do know that many soy sauces contain gluten. If you are living a gluten free lifestyle, I am sure you've already identified a gluten free soy sauce and are using it. In that case, yes, this is a gluten free cauliflower fried rice recipe.
Is cauliflower fried rice keto friendly? Yes! In fact I think one of the reasons people started ricing cauliflower in the first place was to fill the void that carb-tastic rice left in their soul. The same reason why people loved mashed cauliflower when they can't have mashed potatoes.
Can I freeze cauliflower fried rice? Yes, you can! In fact, you can even buy it frozen at many grocery stores. This is especially helpful because a head of cauliflower makes quite a bit "rice."
All you have to do is put the extra rice in a plastic bag that is sealed tightly, and throw it in the freezer! It's as simple as that. To reheat the frozen cauliflower rice, just steam on the stove the same as you would a head of cauliflower.
What can I substitute for sesame oil? Whether you don't have it on hand, don't care for the taste or just don't want to buy it (it can be pricey), most recipes are easily substituted with vegetable, canola or blended oils.
You will lose a little flavor as these variations don't have as much, but you can make up for it with other seasonings. Taste as you go!
What is a good substitute for rice vinegar? Apple cider vinegar, with a slightly sweet taste, is the best substitution for rice vinegar.
Can I make this into shrimp fried rice? You can make this cauliflower fried recipe into any type of fried rice recipe you want! Shrimp fried rice, pork fried rice or chicken fried rice! Simply add cooked protein during step #4.

Check out these other easy cauliflower recipes: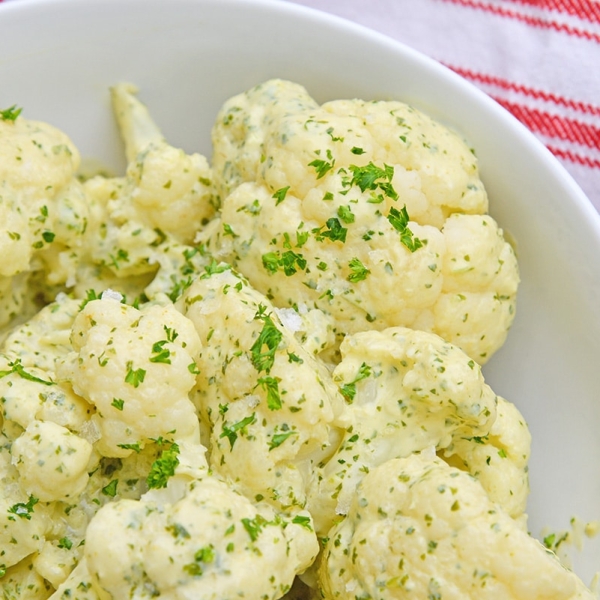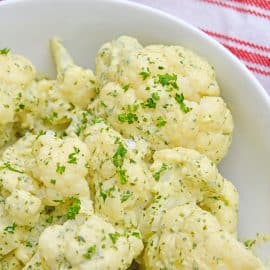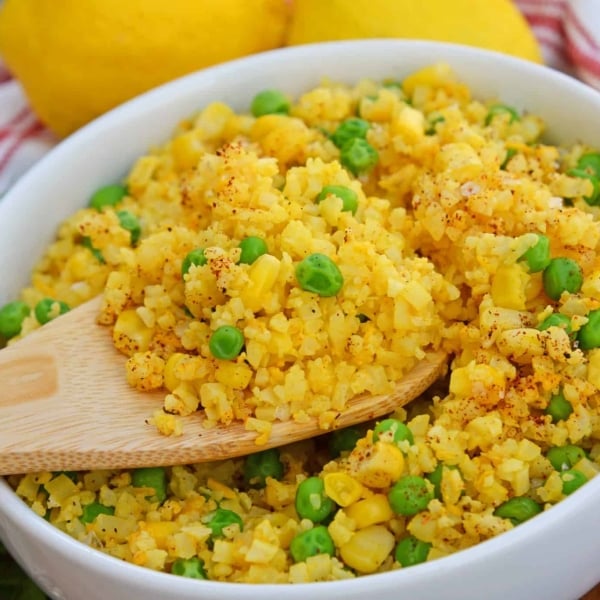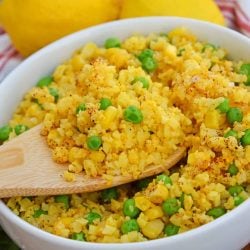 Tools for making Cauliflower Fried Rice:
Heavy Bottom Frying Pan– this will be one of your most used kitchen tools. Having something that is heavy bottom will distribute heat better and prevent burning whether you are using an electric or gas range.
Wood cutting board – wood won't dull your knives like plastic and if treated properly, has natural antimicrobial properties.
Good knife – Global is my favorite! They are worth the price, I promise. I am kind of obsessed with them and store them tucked away so no one else can use them. Including hubby. Hands off my good stuff!
Micrograter– A small kitchen utensil you find you use a lot more than you expected!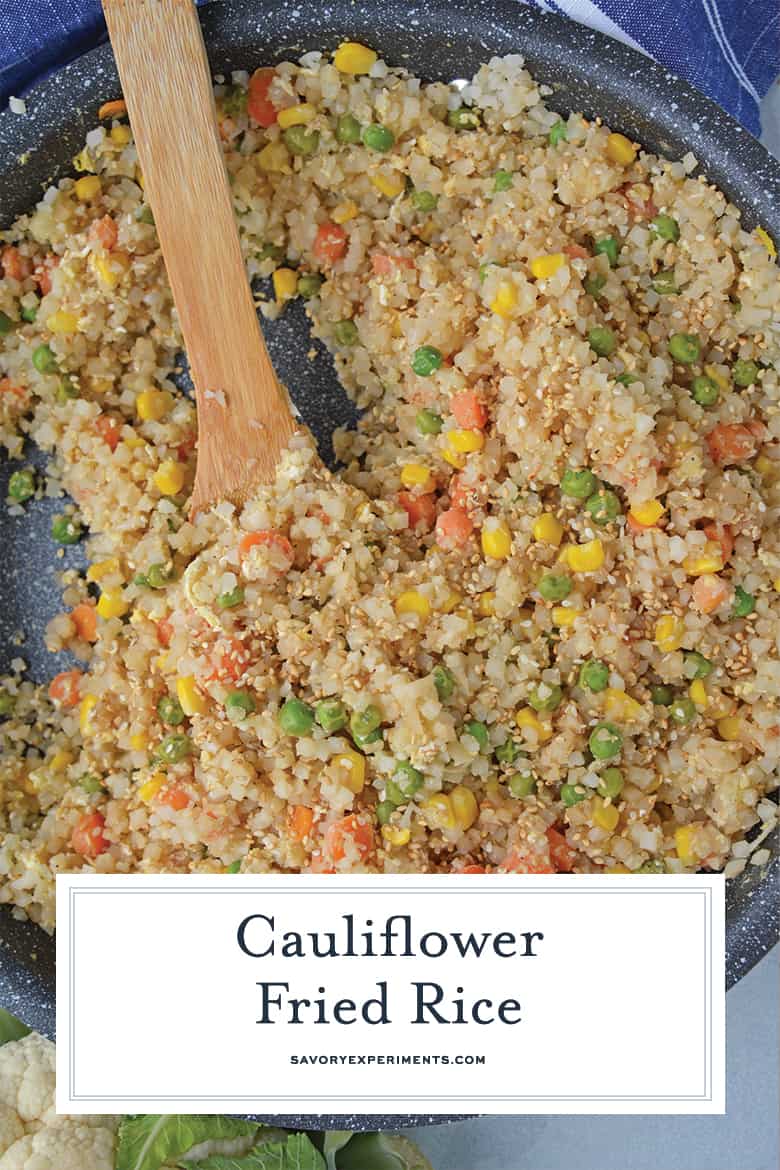 Also try our classic Restaurant Style Fried Rice and Pineapple Fried Rice!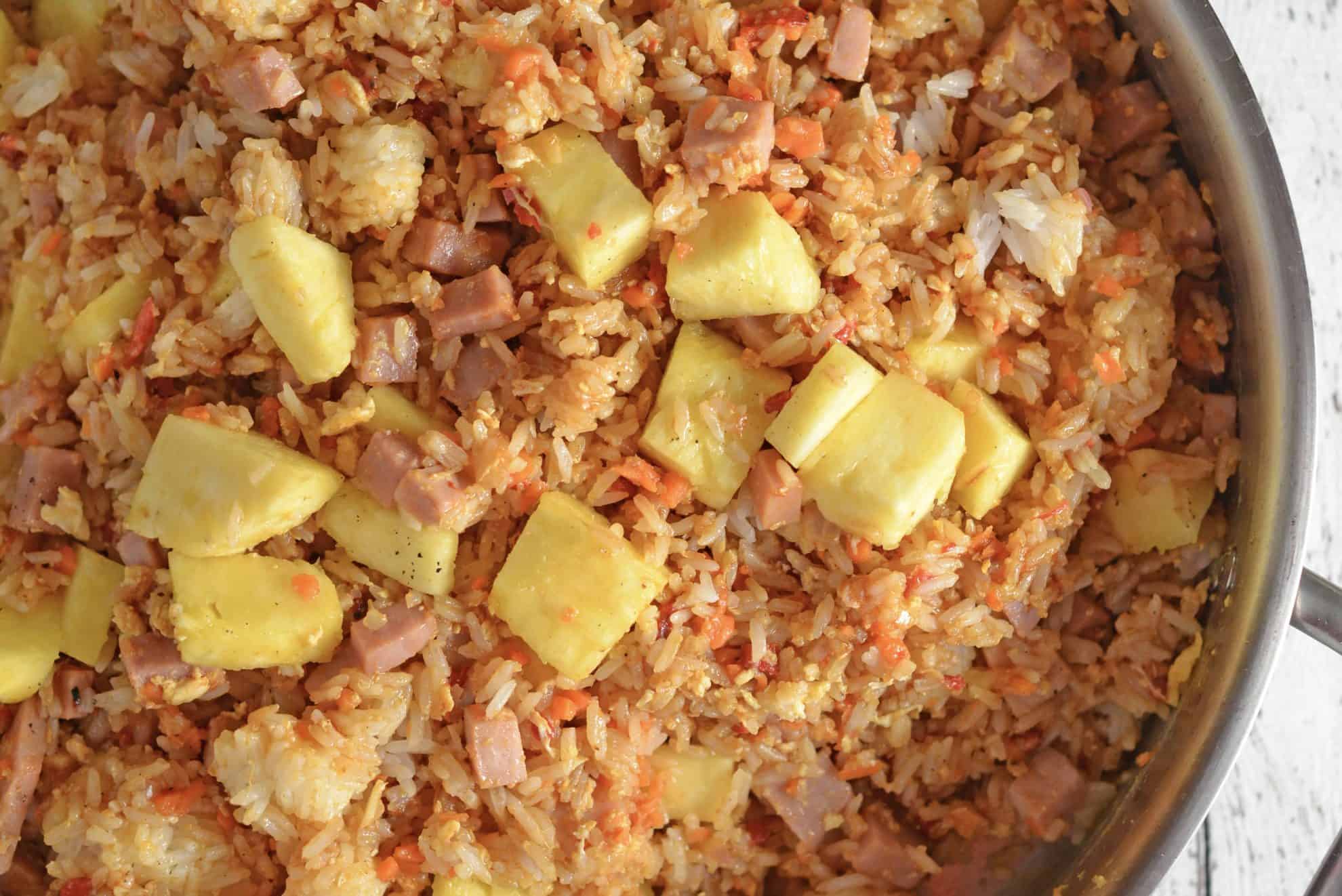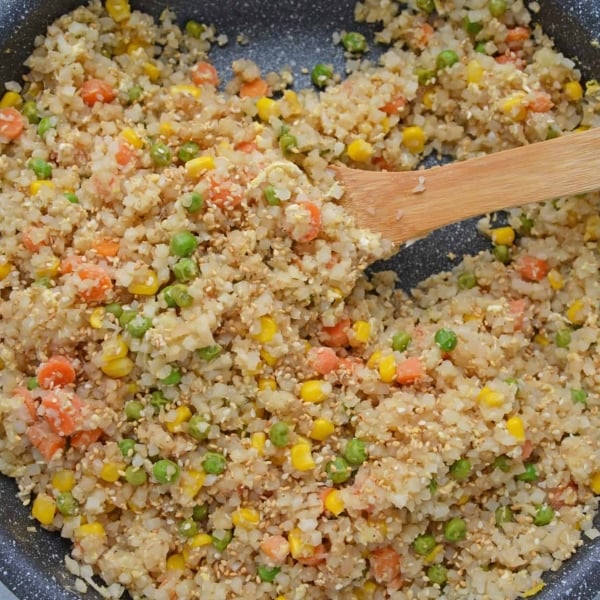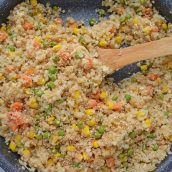 Cauliflower Fried Rice
If you've ever wondered how to make Cauliflower Fried Rice, look no further! This cauliflower fried rice recipe is the perfect way to cut down on carbs!
Instructions
In a large skillet, heat sesame oil. Add carrots (if raw), sauteing for 2-3 minutes or until they start to soften.

Add frozen peas, frozen corn, fresh ginger, garlic and rice vinegar. Stir for 3-4 minutes.

Stir in eggs, stirring constantly so they break apart and don't just become fried eggs.

When eggs are cooked, approximately 2 minutes, add cauliflower rice and soy sauce. Gently toss to combine. Don't stir or you run the risk of your cauliflower getting mushy.

Give it a taste test and season with salt and pepper as needed (if needed at all). Top with sesame seeds for garnish.

If you've tried this recipe, come back and let us know how it was!
Nutrition
Calories:
153
kcal
,
Carbohydrates:
19
g
,
Protein:
10
g
,
Fat:
6
g
,
Saturated Fat:
1
g
,
Cholesterol:
82
mg
,
Sodium:
903
mg
,
Potassium:
705
mg
,
Fiber:
6
g
,
Sugar:
5
g
,
Vitamin A:
2930
IU
,
Vitamin C:
87
mg
,
Calcium:
80
mg
,
Iron:
2.1
mg