Baked Spaghetti Squash Marinara is a healthier alternative to pasta and with this super tasty marinara sauce, it is sure to be a delicious family favorite.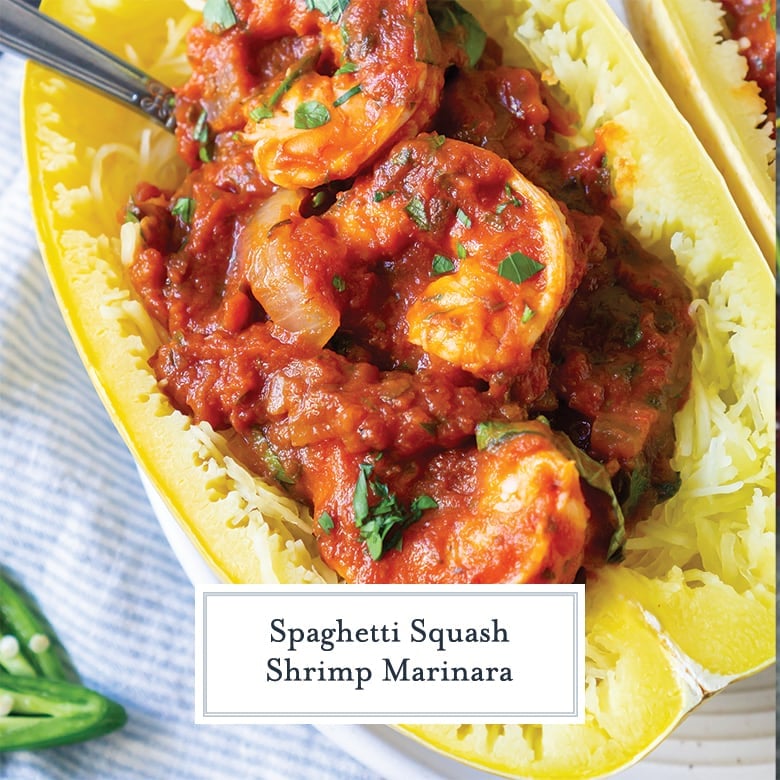 While spaghetti squash is fairly tasteless on its own, this Baked Spaghetti Squash Marinara Recipe absorbs all the flavors it is paired with making it mouthwatering.
What is Spaghetti Squash?
Spaghetti squash is a yellow colored vegetable typically harvested in early fall. When cooked, the inside of the squash can be shredded into long, thin strands similar to a thin pasta, and can be used in similar ways.
It can be cooked a few different ways, but in this recipe, we roast it in the oven. You can also make spaghetti squash in the microwave if you're short on time!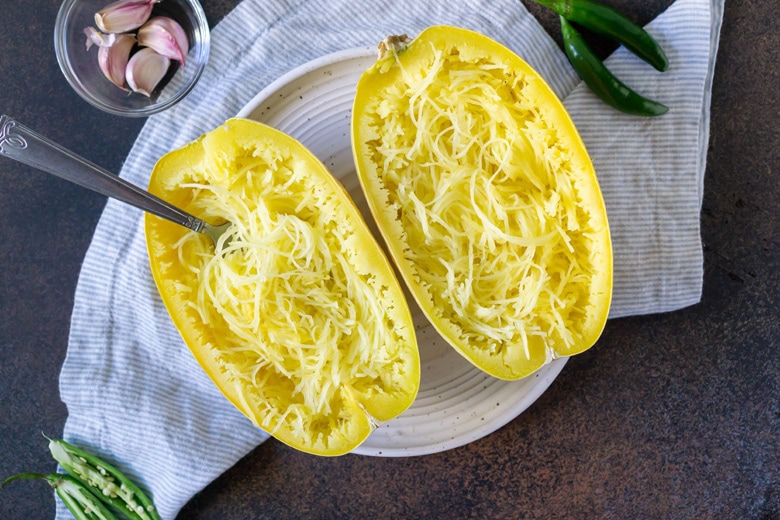 Although spaghetti squash boats are cut lengthwise for easy serving, the spaghetti squash strands actually grow in a circle so if you want a longer "noodle", slice it in half on the short edge.
You don't have to serve them "boat style" but it makes a nice presentation, and it's a dish you don't have to clean! Just toss it.
Alternative for Carbs
Seriously. Spaghetti squash is the answer to those of us who crave those carbs! The only problem is convincing hubby of the same.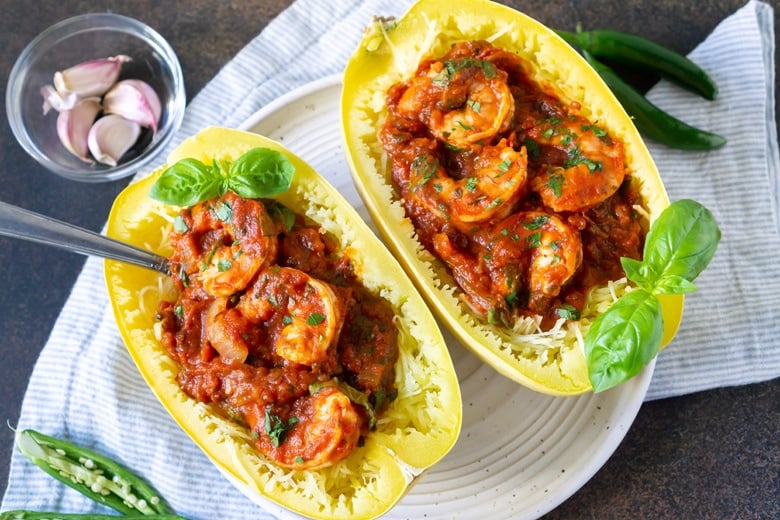 Hubby: What's for dinner?
Me: Spaghetti Squash with marinara and shrimp.
Hubby: I don't get it, so what is the main meal?
Me: The squash.
Hubby: Squash is a side.
Me: Explains how a spaghetti squash is used…..
Hubby: No way! Seriously? And it looks and tastes just like pasta? I don't believe you.

*Later that afternoon while hubby is out watching football with his friends, all via text message*
Hubby: Do you mind if 4 more people come over for dinner? They don't believe what you said about this whole squash/pasta thing either.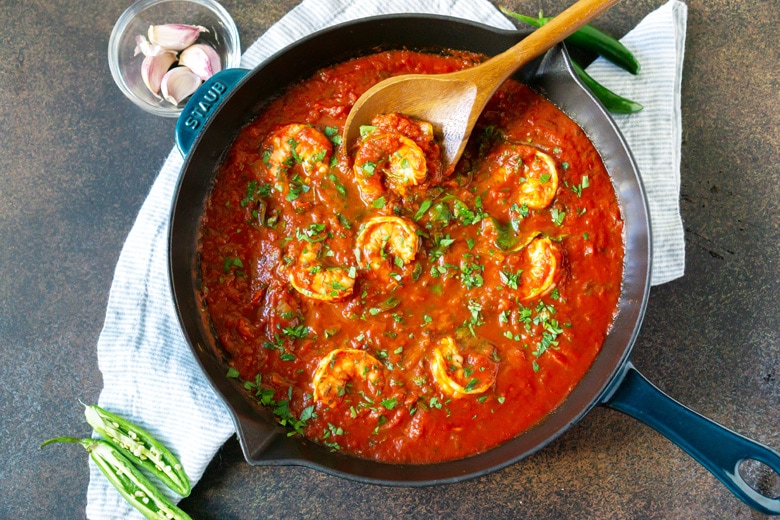 And here it began and I proved to a table of six men that spaghetti squash does indeed taste like real pasta. In the end, all guests were impressed with the texture and taste of spaghetti squash!
Spaghetti Squash Sauce
There are many sauces you can use and since it is a blank slate, nearly all of them will work. The trick is making sure your sauce has enough flavor to make the whole dish flavorful.
This marinara sauce is perfect- tomato goodness but with a hint of pizzazz from anchovies (yes, I just said anchovies) and serrano pepper. Neither element is overpowering and the final sauce was still mild enough that my 1 and 3 year old ate it.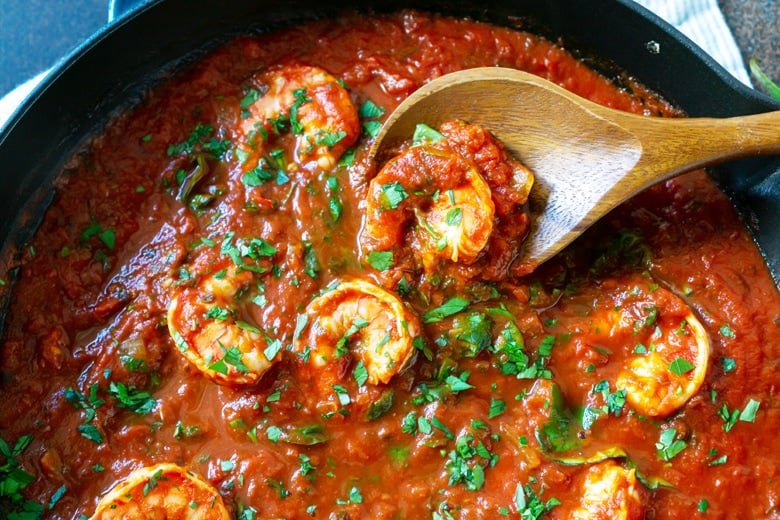 Anchovies have a bad reputation but are actually pretty tasty. They have a little zing and brine to them. They are what gives Caesar dressing its unique taste. If you are really opposed, feel free to omit them.
Same can be done with the serrano pepper or use a pepper that rates lower on the Scoville Scale.
How to Roast Spaghetti Squash
Place cut side up, on a large rimmed baking sheet seasoned with sea salt and pepper. Roast at 400 degrees for 45- 60 minutes, or until spaghetti squash is is fork tender. This is for an extra large squash. Smaller squash might only need 25-30 minutes. Check periodically for doneness.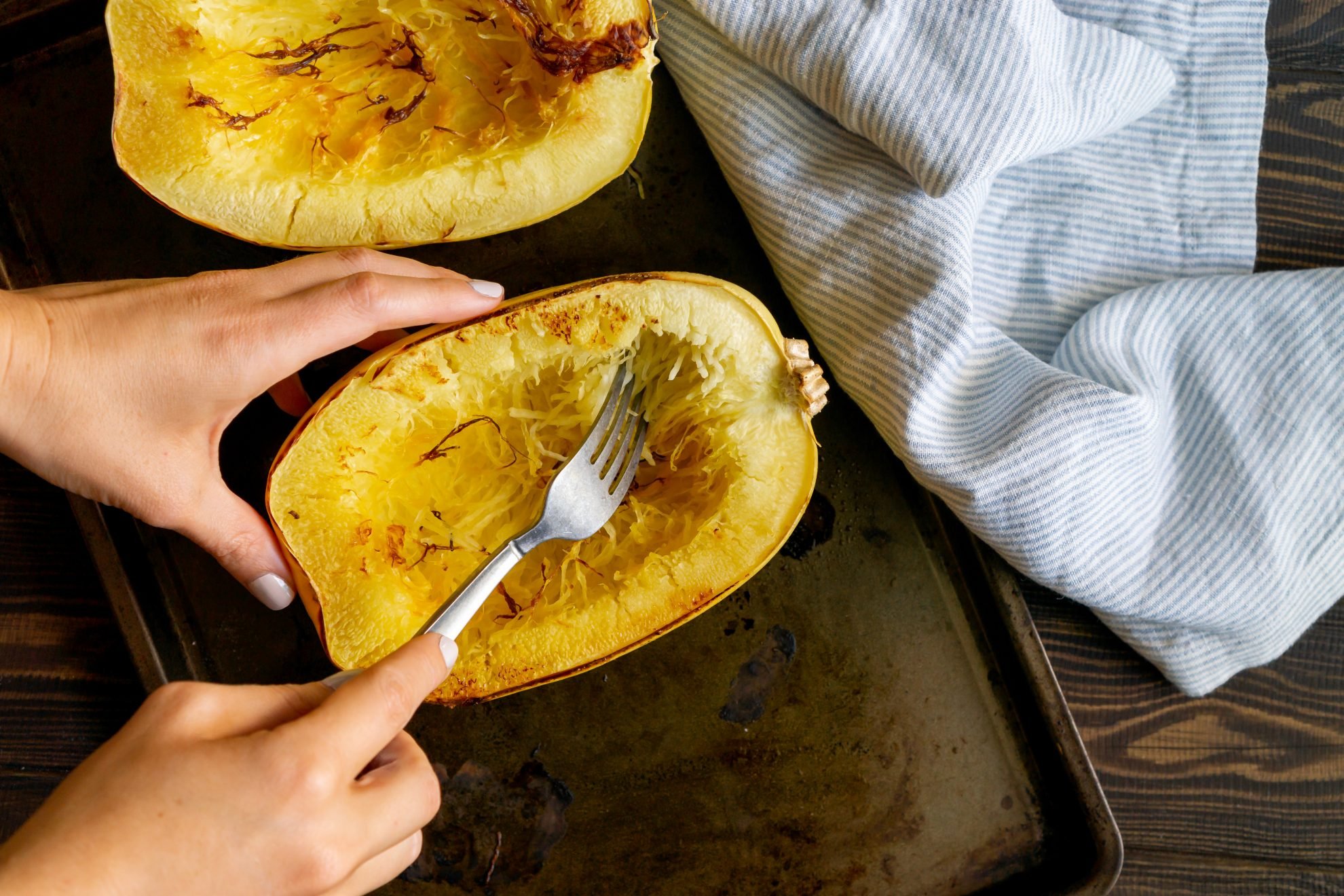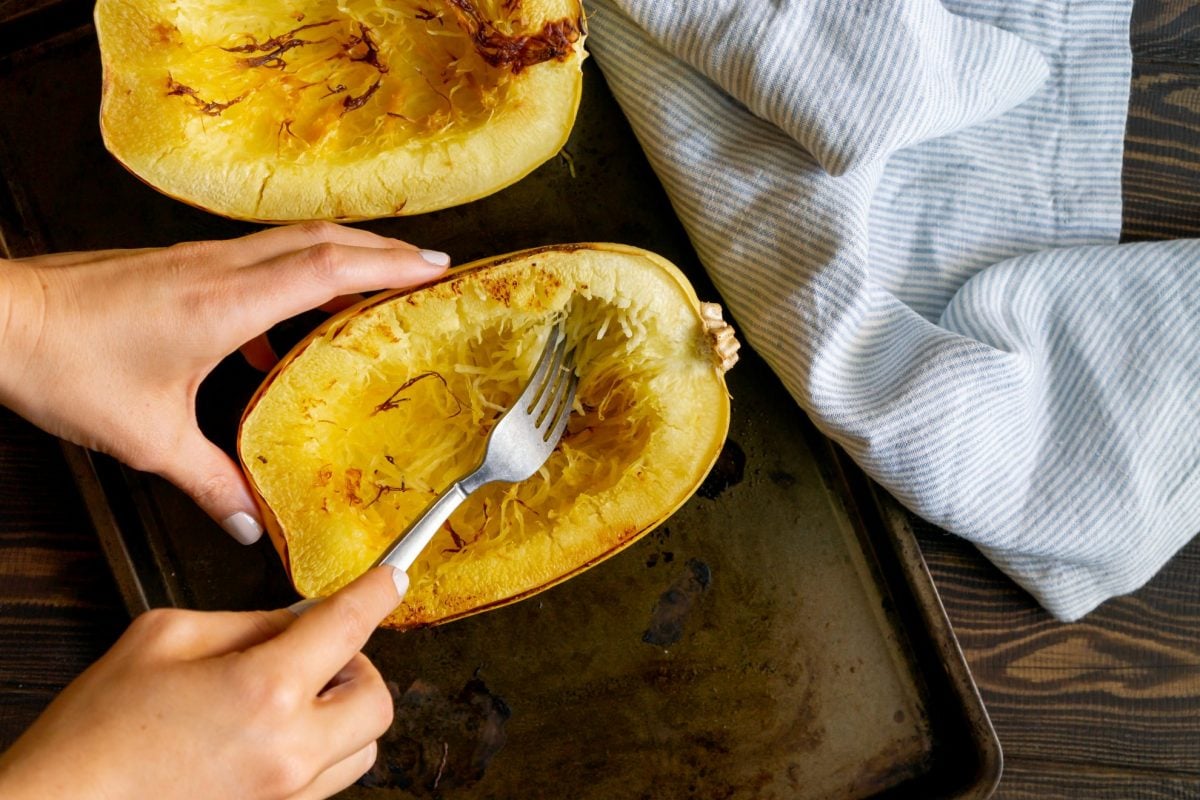 Remove the spaghetti squash from the oven and let it cool for a few minutes before using a fork to pull the strands from the squash boats.
Instant Pot Spaghetti Squash
If you are short on time, this can also be made in the Instant Pot, but it will lose a little flavor and char that you get from the oven. On the flip side, it stays super juicy.
Pierce the spaghetti squash all over with a knife making sure it goes all the way through the thick walls. This helps it vent and no explode.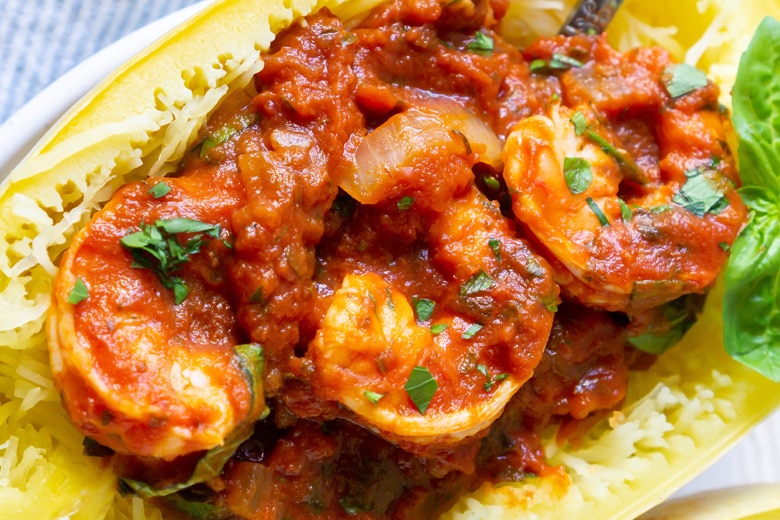 Place it on the trivet and add 1 cup of water. Cook on manual high pressure for 15 minutes for a 3-pound squash. For a smaller squash, cook for 12 minutes and a large squash, 18 minutes.
How Much Spaghetti Squash Do I Need?
The sizes of spaghetti squash vary greatly, so it is hard to judge how many you will need to serve your guests.
Generally one medium size will be enough for 2 people. A larger squash can feed 3-4.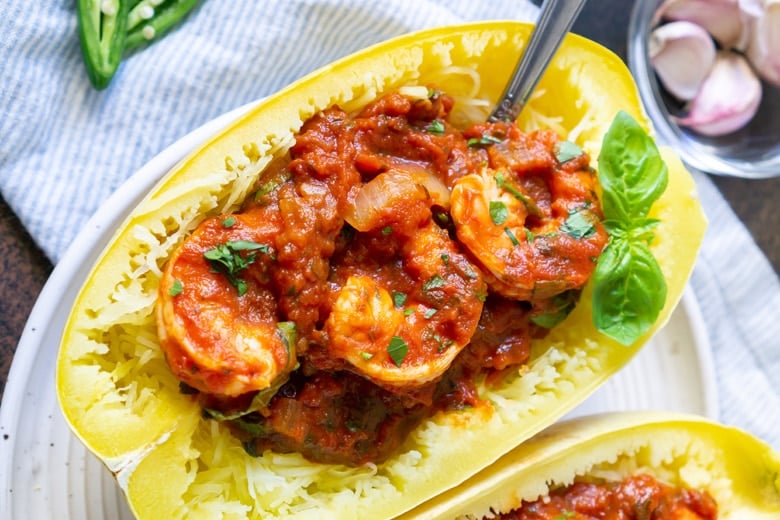 Health Benefits
If you're wondering what the nutrition facts are, there is only 42 calories per cup, and it's very low in fat. It's mostly made up of water weight, which may be why it barely has any calories.
Spaghetti squash fills you up without there being a lot of calories or fat. The perfect substitute for low carb diets and those who crave pasta like I do. Of course nothing will ever actually beat freshly made pasta, but it is close enough. Ha!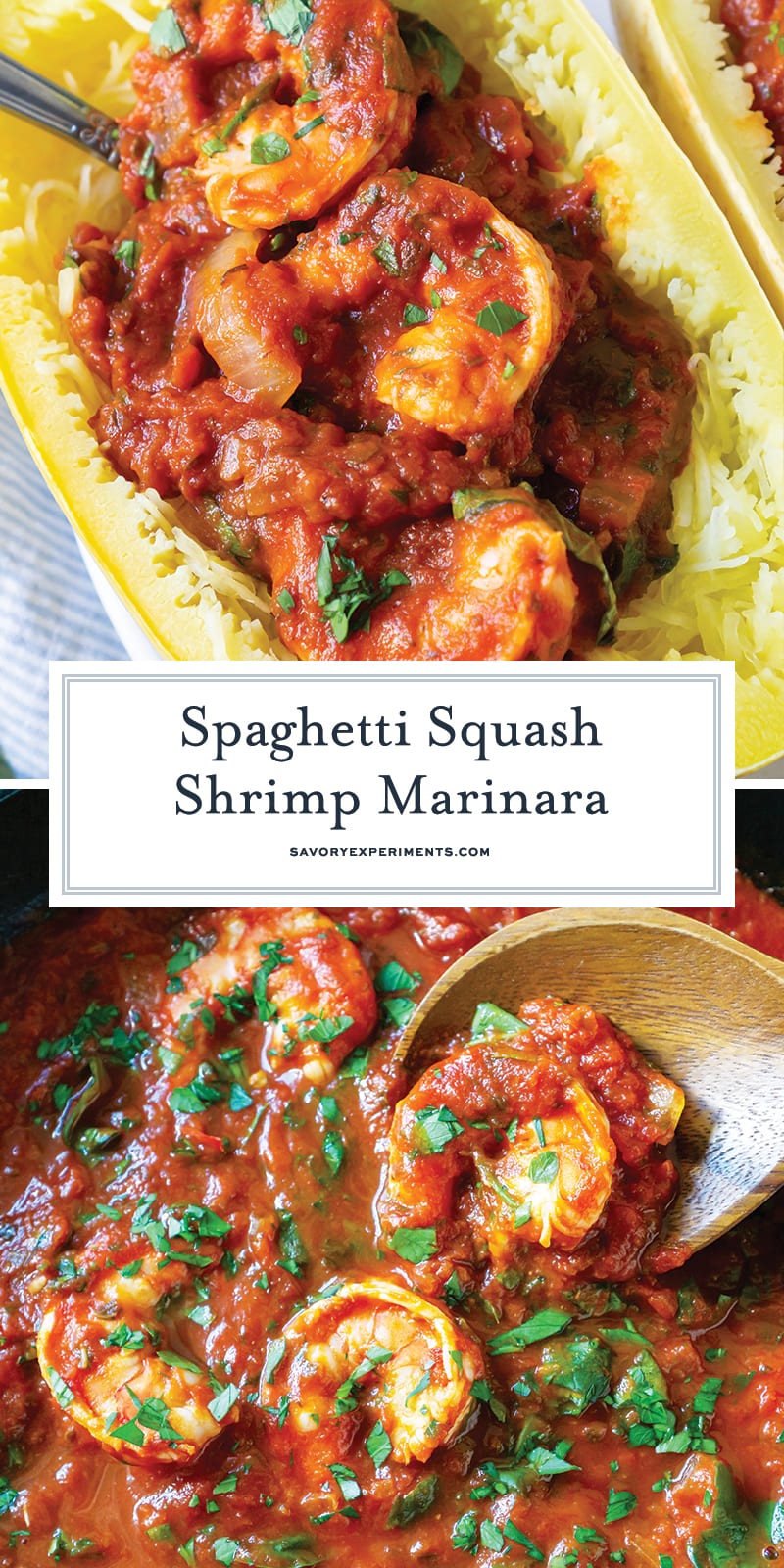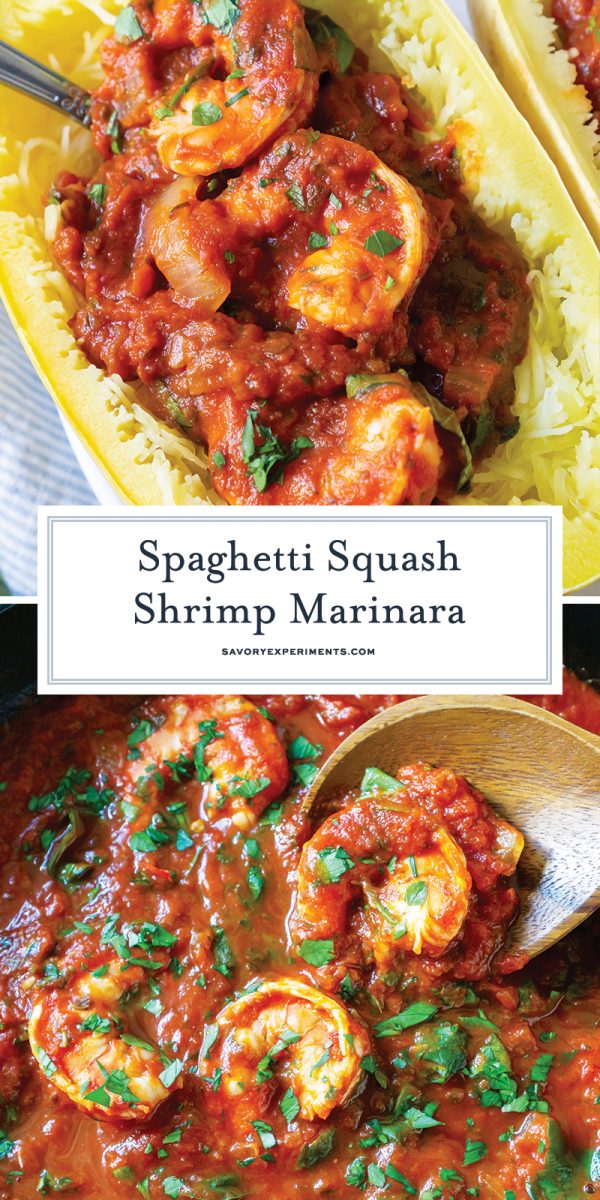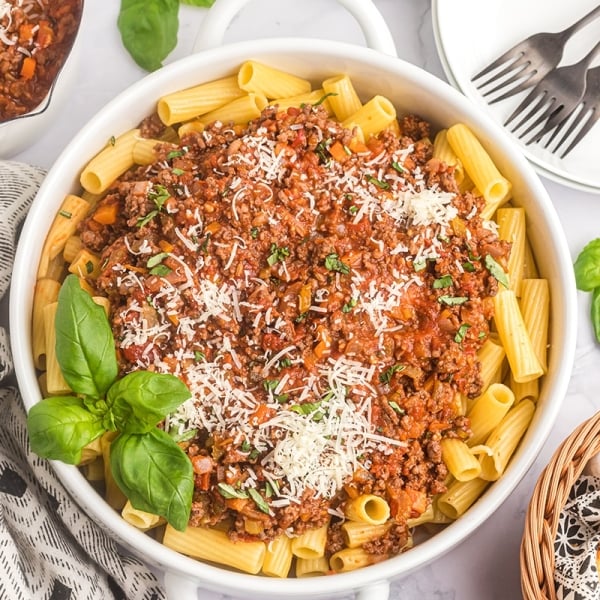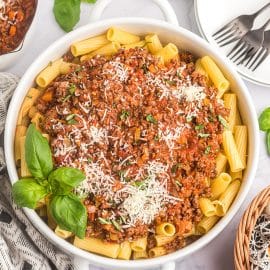 Bolognese Sauce
Bolognese Sauce is a classic Italian sauce. Ground meat and coarsely chopped vegetables give this Bolognese recipe a rich and hearty taste that serves well over pasta and in lasagna.
See The Recipe!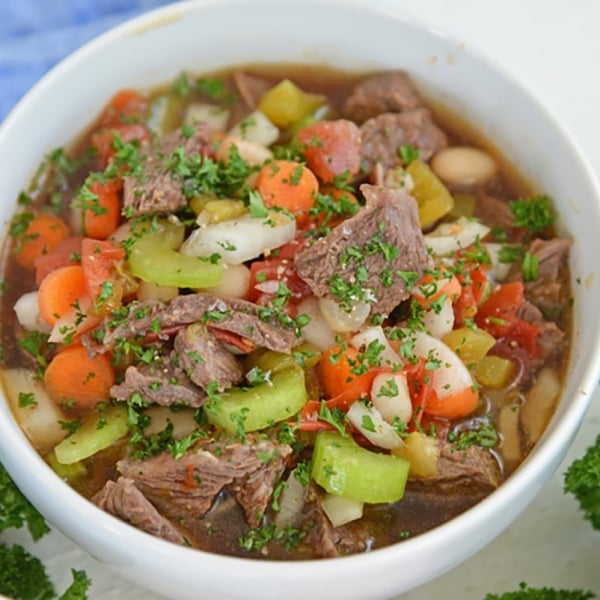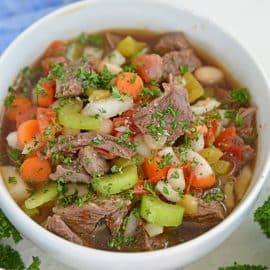 Short Rib Soup
Mildly hot short rib soup is sure to warm your soul and your belly. Tender pieces of beef with veggies and southwest flavors.
See The Recipe!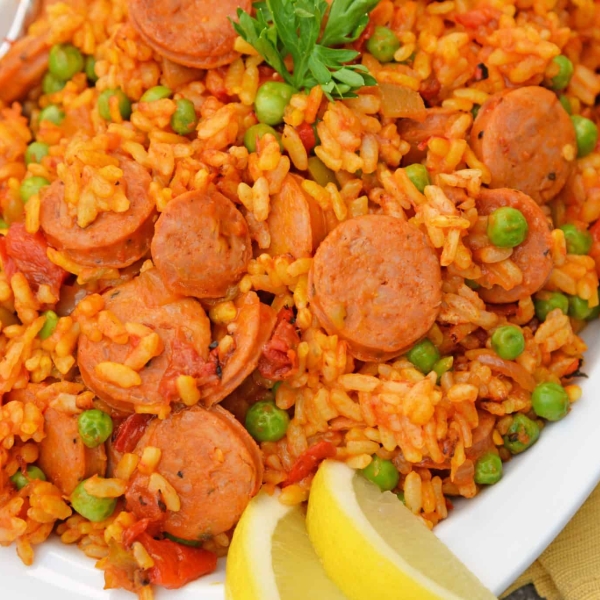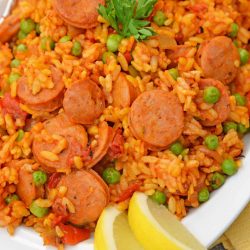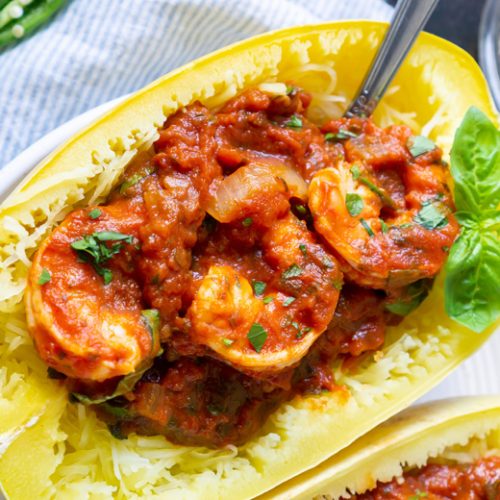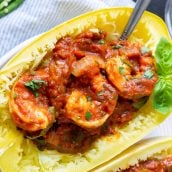 Spaghetti Squash Marinara with Shrimp
Spaghetti Squash with Chunky Roasted Marinara and Shrimp is a healthy way to eat pasta and tomato sauce.
Instructions
Preheat oven to 400 degrees. Cut spaghetti squash in half, remove seeds and membranes, baste with 1 tablespoon extra virgin olive oil on cut sides and inside.

Place cut side up, on a large rimmed baking sheet. Season with sea salt and pepper. Roast for 45- 60 minutes, or until spaghetti squash is is fork tender. It might only take 25-30 minutes for a smaller squash.

In a large skillet, heat 3 tablespoons olive oil over medium-high heat. Add anchovy fillets. They will literally melt into the olive oil. Add garlic, onions and serrano chile. Lower heat to medium and saute until onions are soft and opaque.

Halve plum tomatoes, adding to mixture along with any liquid in the can and red wine, stir and heat for 2-3 minutes. Simmer for 15 minutes so liquid can reduce. Add parsley, basil and sugar, continue to heat over low.

Add shrimp, spooning sauce over them to cook and keep moist. Heat for 5-6 minutes or until shrimp turn pink and tails curl slightly.

Spaghetti squash should be about done. Crispy skins should separate from meaty interior easily. From the oven you can knock the exterior and it should sound hollow. Remove from oven.

Set up a cooling rack over baking sheet. Using a fork, rake out interior pulp of spaghetti squash. It should resemble pasta strands. Put raked pulp onto cooling rack to allow excess liquid to drain off.

Fork a pile of spaghetti squash onto a plate, followed by roasted marinara and top with shrimp. Garnish with freshly grated Parmesan if desired.

If you've tried this recipe, come back to let us know how it went in the comments or ratings.
Notes
Chiles can have oils that will burn your finger tips. Unfortunately you won't be able to tell if the oils are hot until you start working with the pepper. To avoid tender finger tips or *gasp* accidentally touching your eye, coat hands in olive oil, fashion plastic sandwich baggies into gloves or use powder-free latex gloves. If you do end up with sore fingers, soak them in milk or cream, the higher the fat content the better.
Nutrition
Calories:
504
kcal
,
Carbohydrates:
55
g
,
Protein:
29
g
,
Fat:
18
g
,
Saturated Fat:
2
g
,
Cholesterol:
286
mg
,
Sodium:
1259
mg
,
Potassium:
1163
mg
,
Fiber:
10
g
,
Sugar:
28
g
,
Vitamin A:
1300
IU
,
Vitamin C:
44.4
mg
,
Calcium:
369
mg
,
Iron:
6.6
mg