When your taste buds are craving something crispy and tender, this Salmon Croquette Recipe needs to be put on your menu. This is one hearty meal that is oh-so-full of flavor!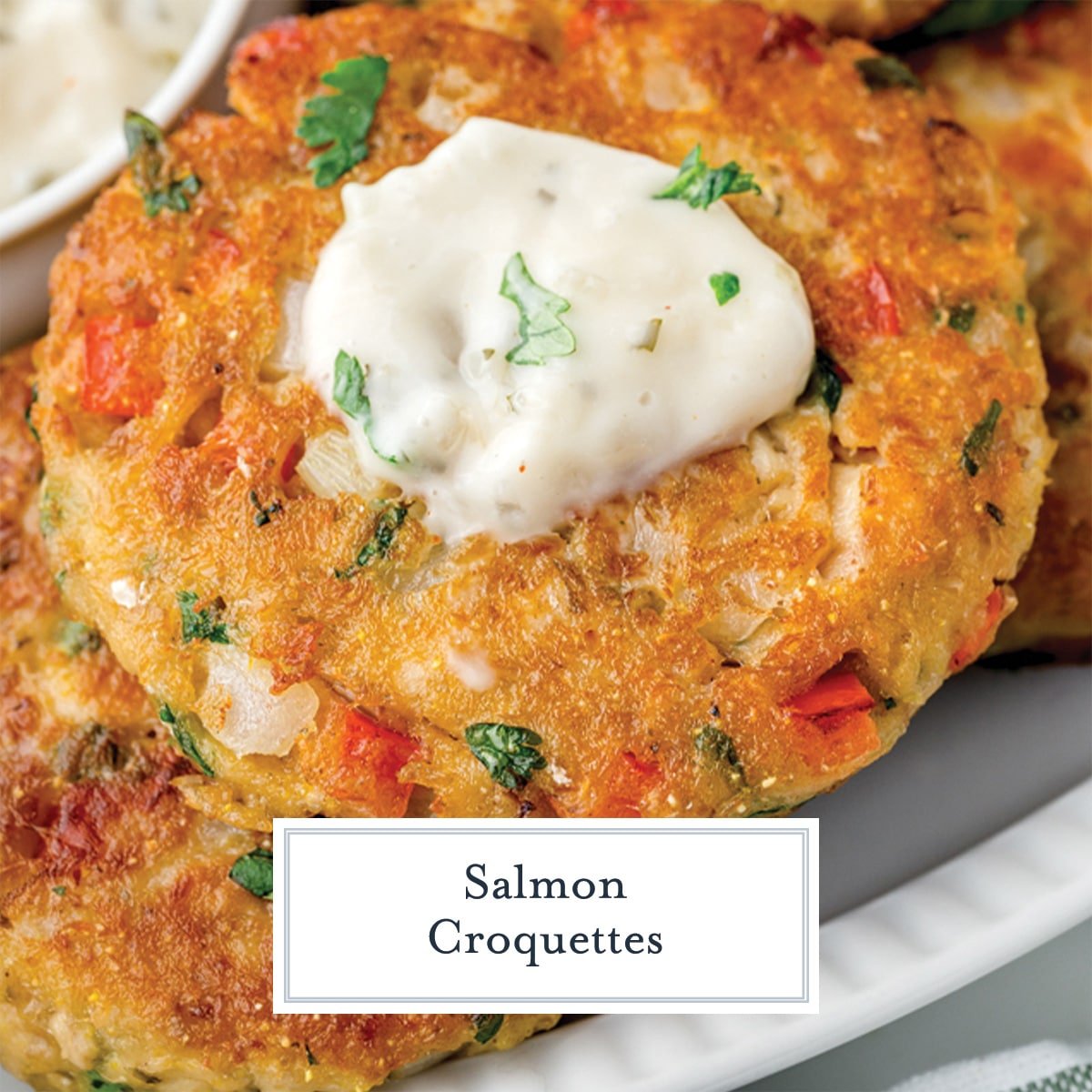 Salmon Croquettes are a southern classic. Full of salmon, peppers, onions and seasoning, this versatile dish is sure to be loved by all! This is a great recipe for busy weeknights, but fancy enough for holidays and special events.
What are Salmon Croquettes?
Some might even refer to them as salmon cakes or a salmon patty, like a crab cake, but with salmon! A salmon burger, but without the bun.
Like crab cakes, seasoning is everything for Salmon Croquettes. This recipe uses a blend of garlic, cilantro (my secret ingredient!), seasoned salt and Worcestershire sauce and is then pan fried for a nice brown crisp.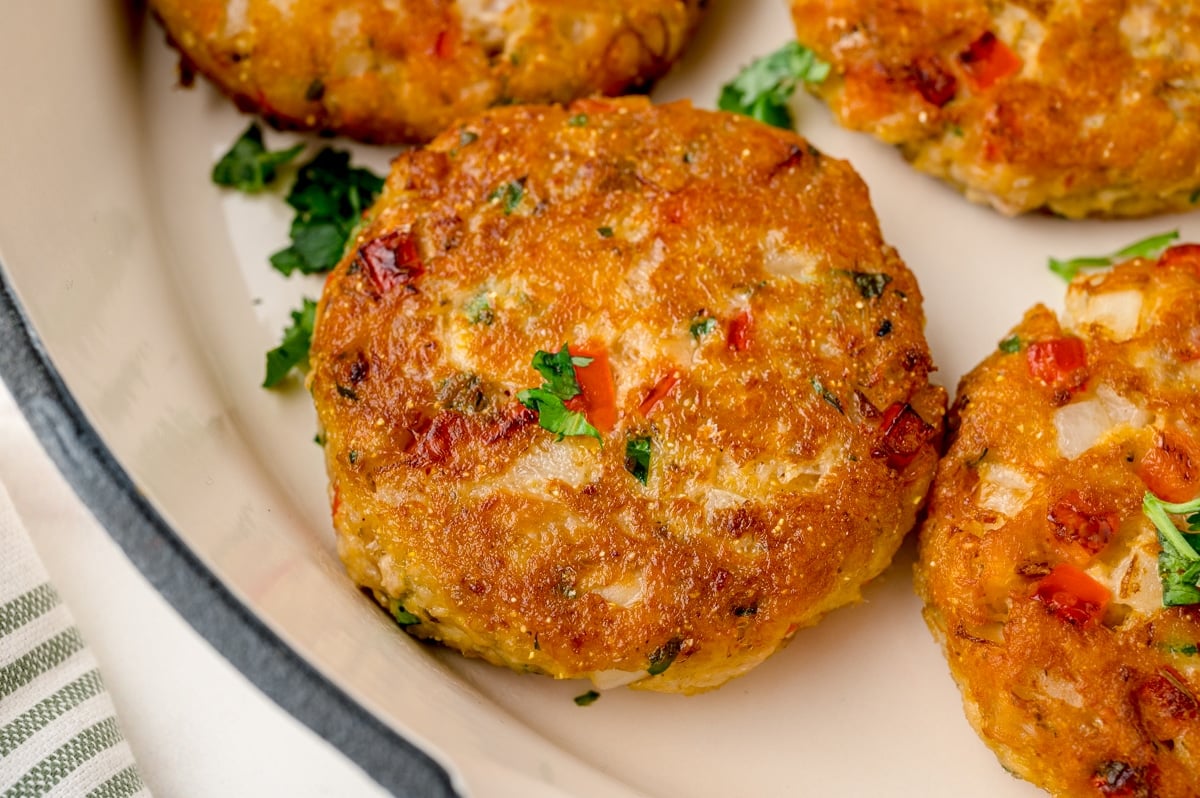 Salmon croquettes can be served as an entree, side dish or appetizer. If serving as an appetizer, I suggest making them slightly smaller in size.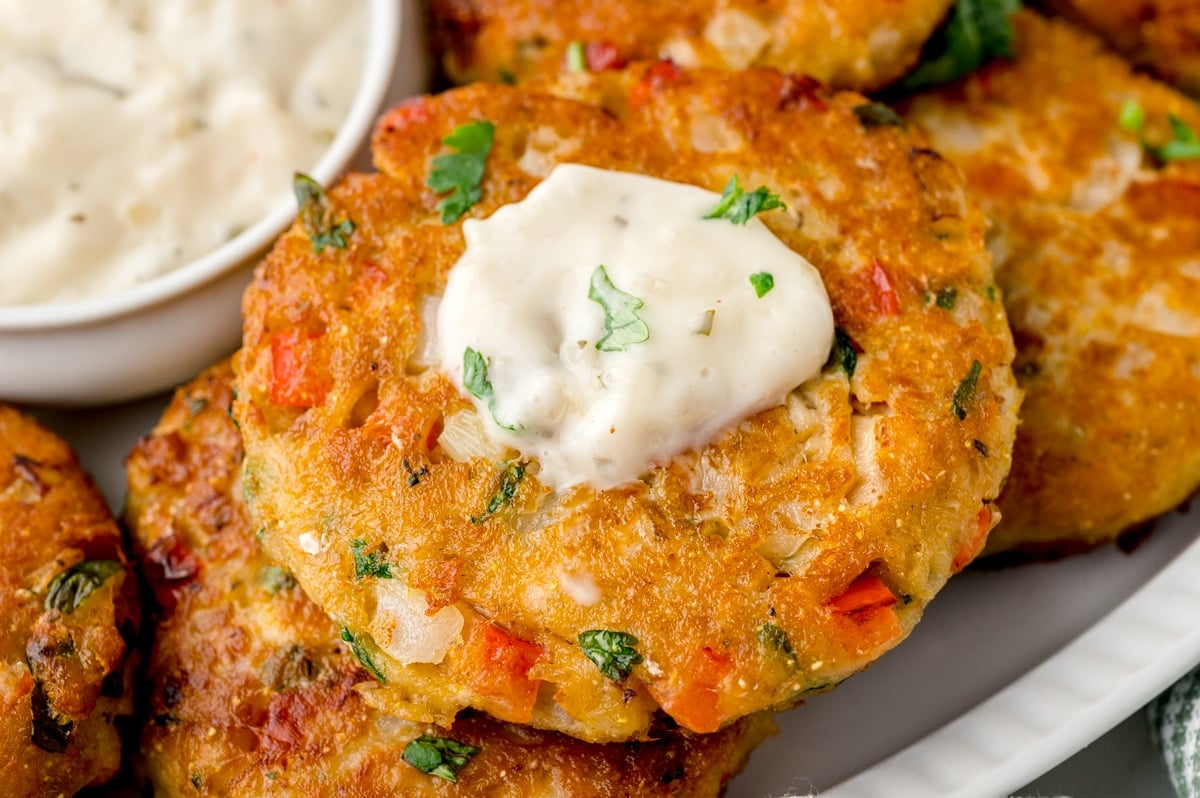 Salmon patties are also great with your favorite dipping sauce. There are many homemade sauce options available, but here are some of my favorites:
Use this Sriracha Sour Cream Sauce for zest and tang.
Homemade Tartar Sauce is another option for this beautiful salmon creation.
Add fresh lemon juice with wedges or slices.
If you have kids, ketchup is probably a viable option as a dip for these Salmon Croquettes.
And of course, Spicy Cocktail Sauce or remoulade are always an option.
Plain Greek yogurt is also a great and healthier option.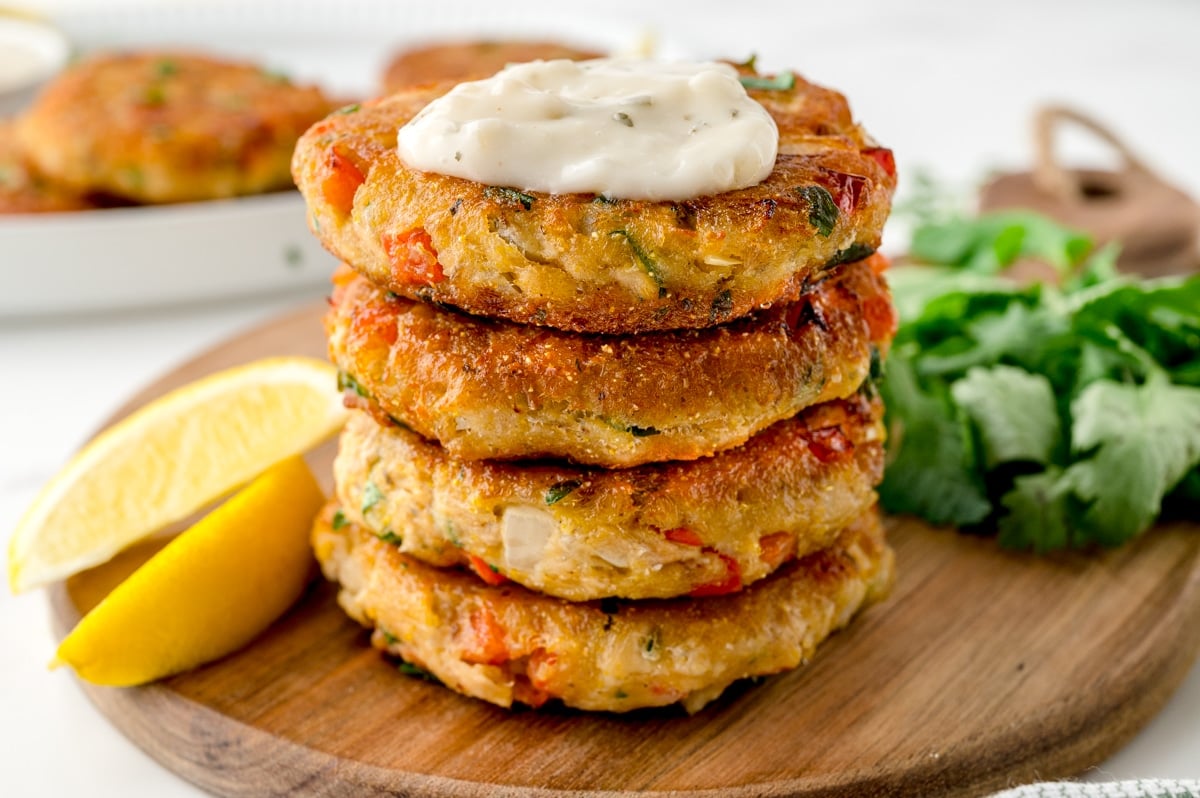 Simple Ingredients
The ingredients for this salmon croquettes recipe are pretty simple and some are easily omitted or swapped.
All-purpose flour– Or other flour alternative to make them gluten-free.
Yellow Cornmeal- I like the texture of yellow cornmeal, but white cornmeal or even cracker crumbs, like saltine crackers or club crackers, can be used. I highly recommend giving them a quick whirl in the food processor for a fine crumb.
Canned salmon- Fresh salmon and leftovers can also be used, it just needs to be cooked. Farm raised can be a tad fattier compared to wild salmon fillets and may require more binder (flour or cornmeal).
Veggies– Red bell pepper and sweet onion- but feel free to use red onion, yellow pepper or green pepper. As long as they are finely minced to blend into the mixture, it is fine. Carrots and celery are also welcome.
Large Egg– To help it all bind together.
Worcestershire sauce– For complexity and depth of flavor, a little goes a long way.
Seasoned salt– Using a seasoned salt adds a little more of a flavor profile than just salt, although that is totally acceptable. Use a coarse kosher salt if going the plain route. Old Bay seasoning is another option for some east coast flare.
Ground black pepper– Freshly grinding packs the most punch. For a less peppery route, opt for ground white pepper.
Garlic powder– More subtle than fresh garlic, but still complements. Onion powder can also be swapped.
Mayonnaise– Another binder. I've tried this with sour cream and plain Greek yogurt and while both give a nice tang, they create a fragile product since they don't have egg to help bind.
Cilantro– Our secret ingredient- this gives unexpected flavor and oodles of it. If someone doesn't care for cilantro, omit it or use flat parsley (Italian Parsley) or other fresh herbs like rosemary, thyme or fresh dill.
Oil for frying – Our original recipe, and many others, call for olive oil to pan fry, but this has a lower smoke point that other neutral oils like canola, peanut or vegetable oil.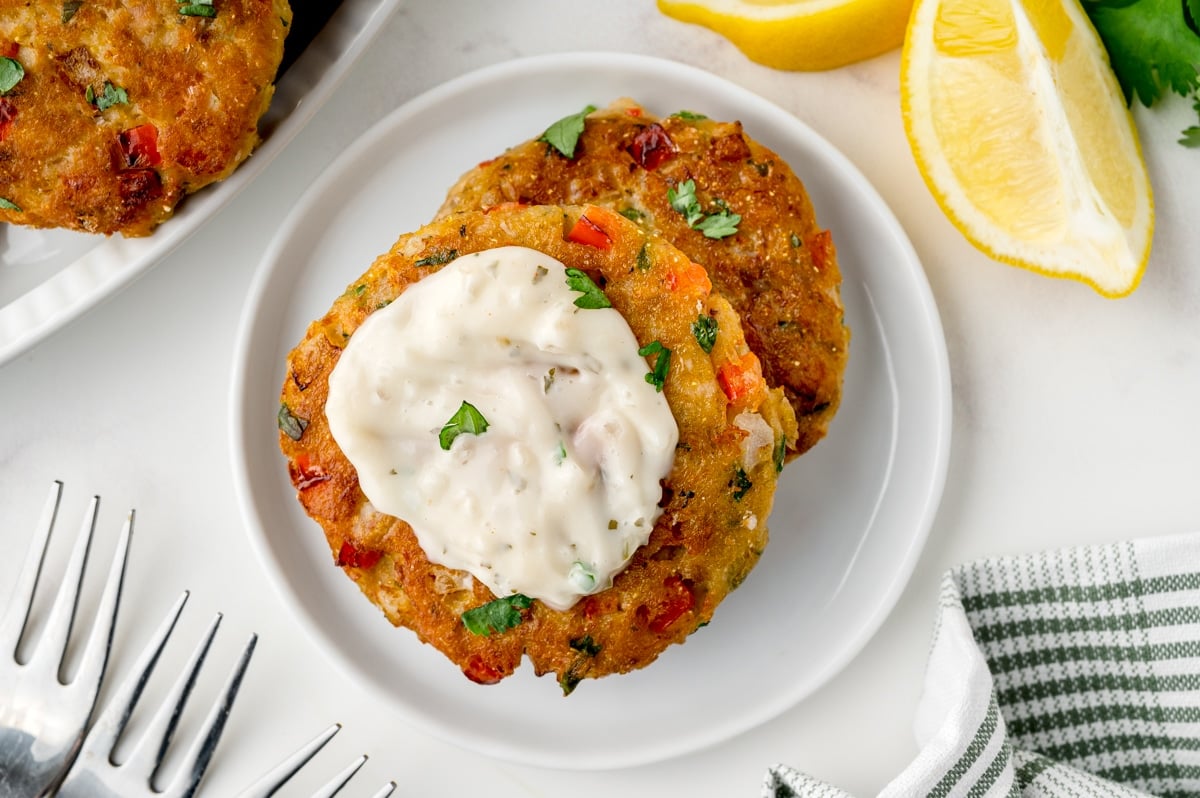 Add crushed red pepper flakes or diced jalapenos for more heat and great flavor. A dab of Dijon mustard adds acidity and grated lemon zest, brightness.
How to Cook Salmon Croquettes
Are you ready to jump to the recipe for fried salmon patties and start the process of cooking this delicious meal for your family?
Gather Ingredients. Gather all the ingredients for the salmon mixture. I like to measure my ingredients out beforehand, that way everything is ready and all I have to do is dump into bowls.
Mix Dry Ingredients. In a large bowl, whisk together the flour and cornmeal so it is evenly combined and you will avoid overmixing when the wet ingredients are added.
Make Salmon Cake Mixture. Add the bell peppers, sweet onion, seasonings, Worcestershire sauce, mayonnaise, cilantro, and egg. You will want to mix until well combined.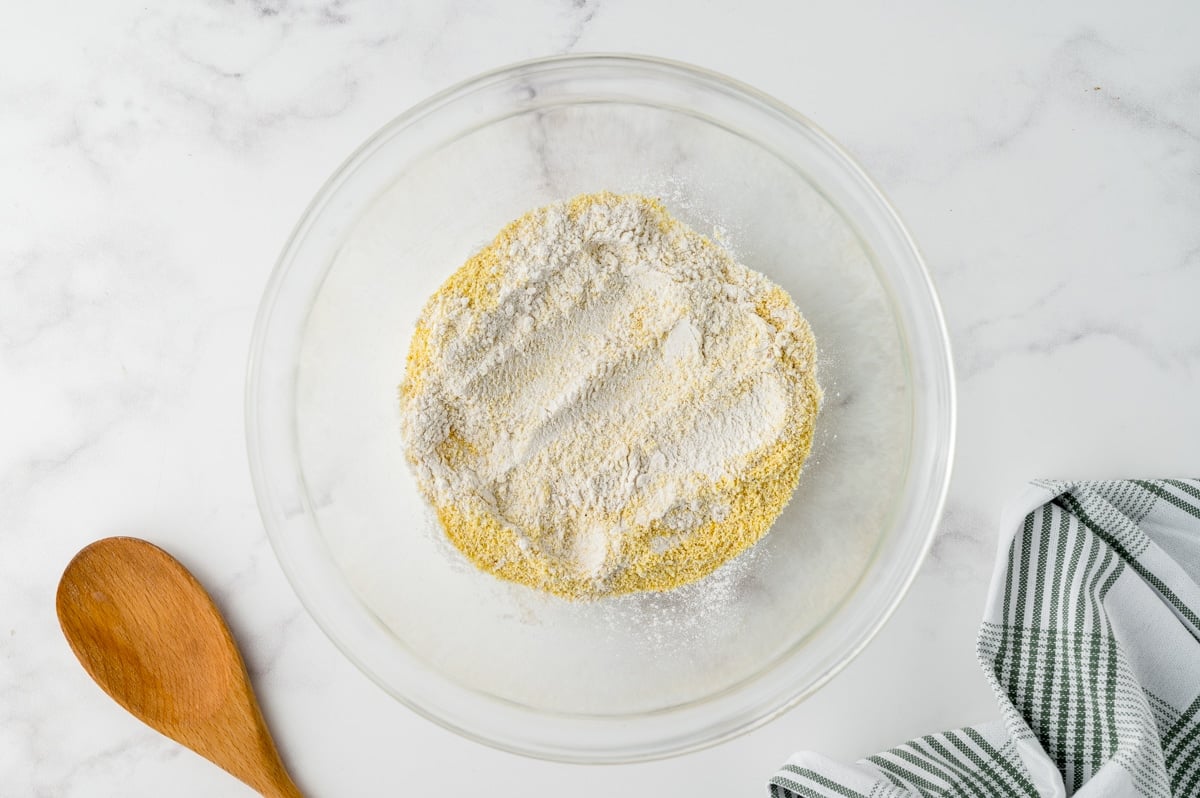 Form Patties. From there, you can shape into about 6-8 patties. Heat oil in a large skillet over medium-high heat.
Cook. Once the skillet is hot, go ahead and cook the patties for 2-3 minutes on each side, or until they are a golden brown color. They will be fragile, so using a fish spatula is best for the delicate nature.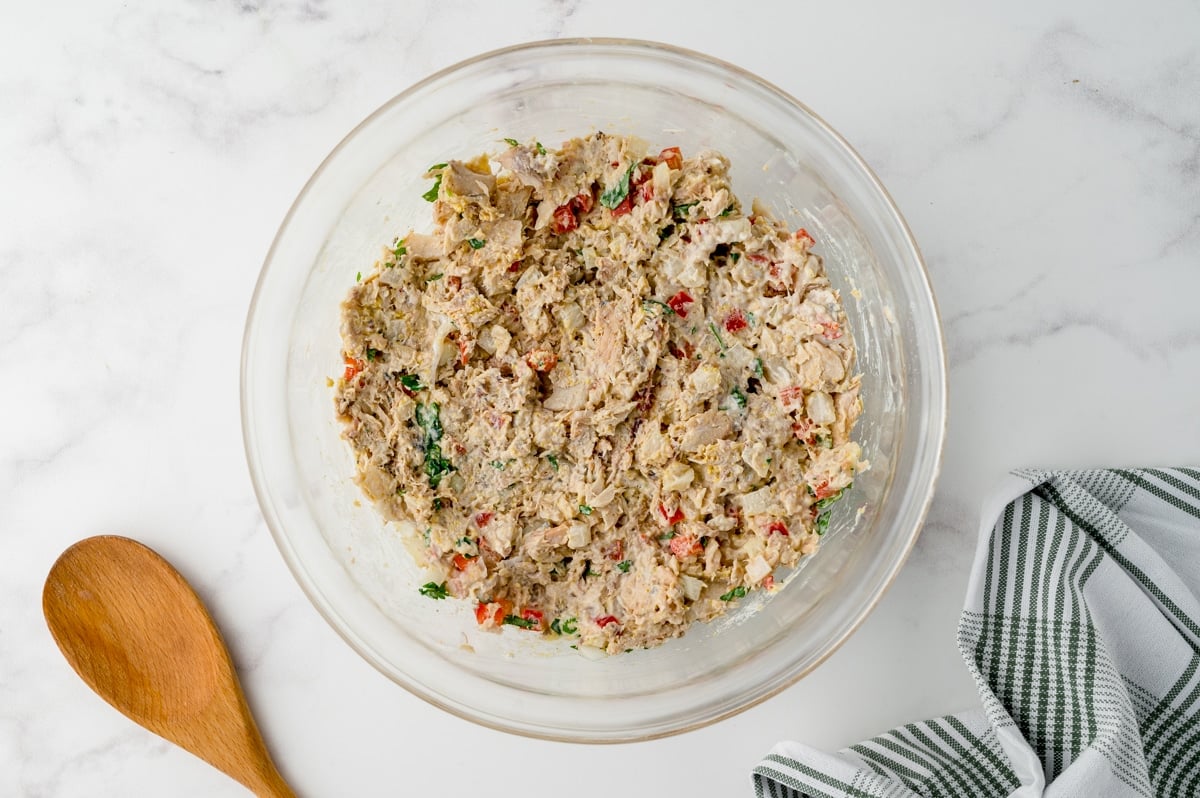 Serve. Remove them to a paper towel lined plate or a warm oven until you are ready to serve. Serve the salmon croquettes while they are warm and don't forget your favorite sauce!
Salmon cakes can be made year-round. Because salmon is such an affordable protein, you may find that you really enjoy cooking with it. Let us know what you think of this recipe.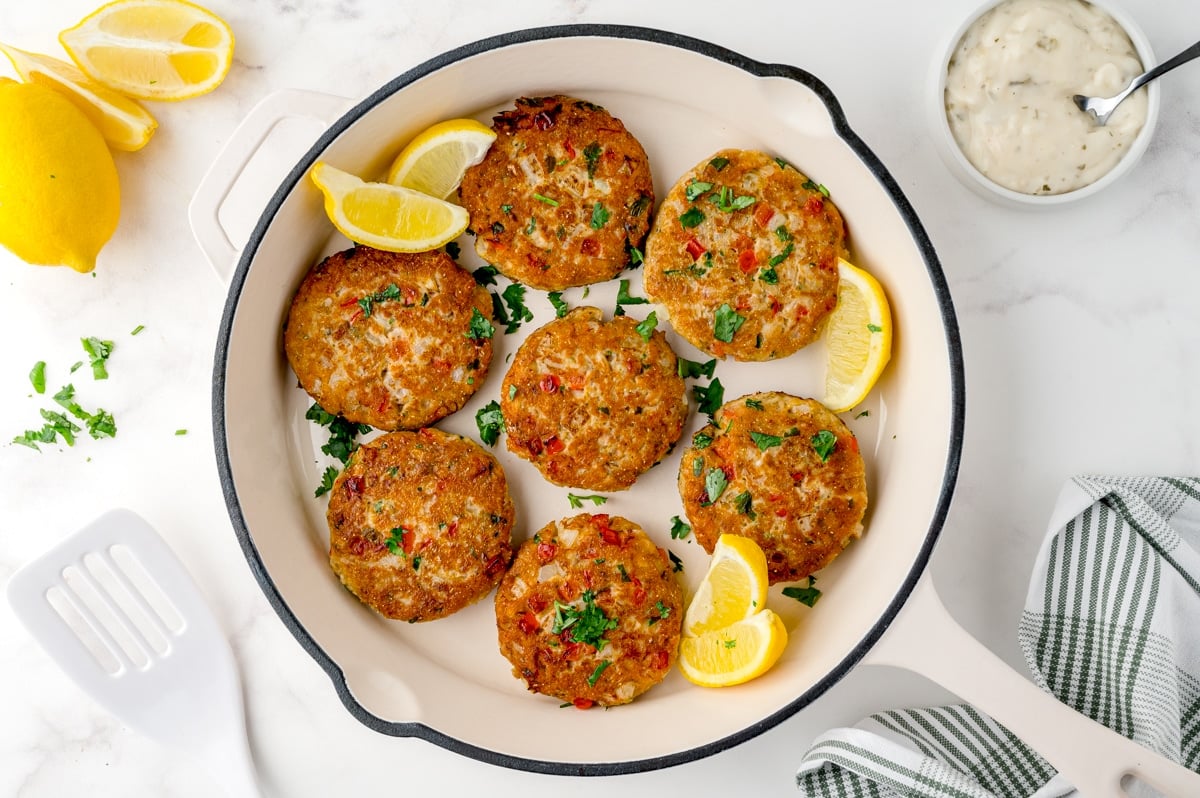 Can I use fresh salmon?
You can use canned salmon or fresh salmon, the choice is yours. I've made this recipe with both types and they have both turned out delicious.
If you use fresh salmon, make sure to cook it before you add it to the recipe. Baking it for 10-15 minutes at 350°F should do the trick. Make sure the fibers easily separate with a fork and you are ready to go!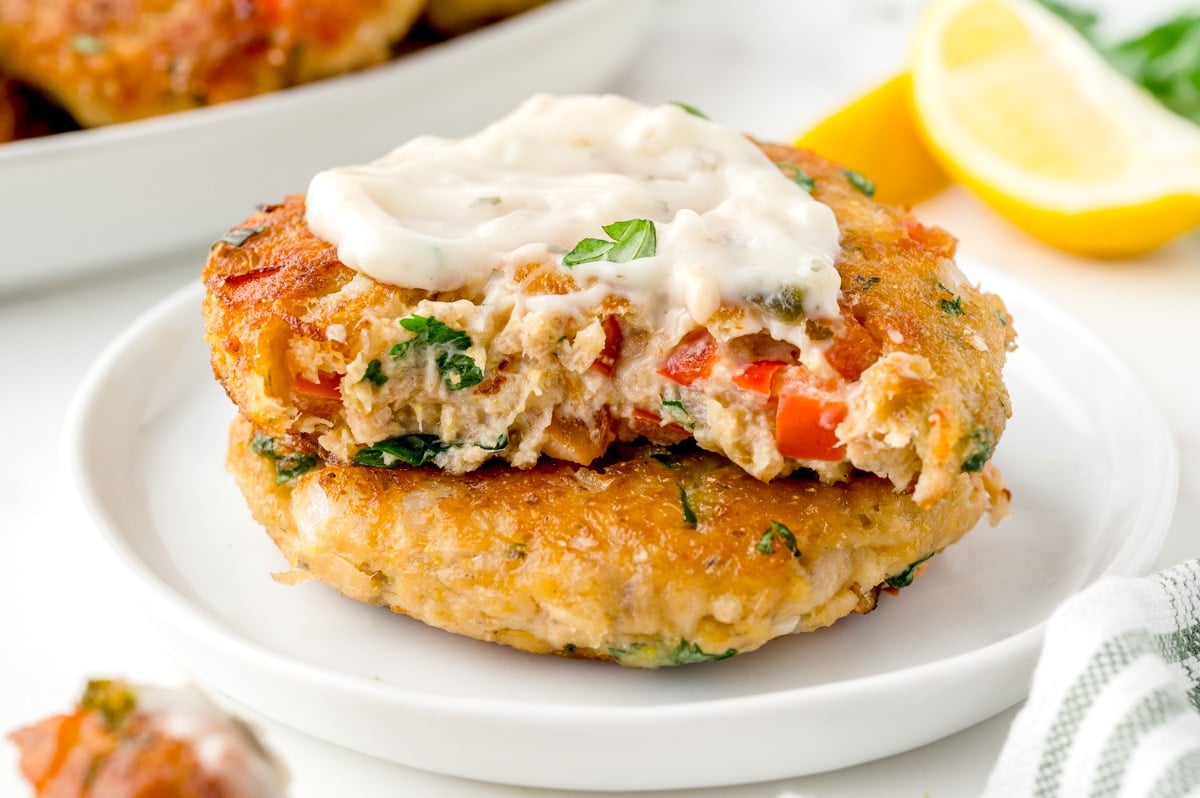 What are the best sides to serve with salmon croquettes?
They are super versatile, so basically anything goes, but here are my favorites.
Side salad – doesn't a green salad go with almost anything? My kale salad is always a favorite.
Side of potatoes – whether the potatoes are baked, fried, or made into fries, this is an excellent option. Try my Cheesy Slow Cooker Potatoes!
Sauteed veggies – take what veggies you have on hand and sautee them with salt, pepper, and olive oil. So yummy!
Surf & Turf- or make it a surf and turf with a tenderloin or eye of round roast.
Dipping Sauces- Yum yum sauce, horseradish sauce, aioli sauce, garlic butter sauce, crab cake sauce and even cocktail sauce are all good picks. As is a dollop of plain Greek yogurt, sour cream or hot sauce.
Pasta– A side of linguine or instant pot mac and cheese.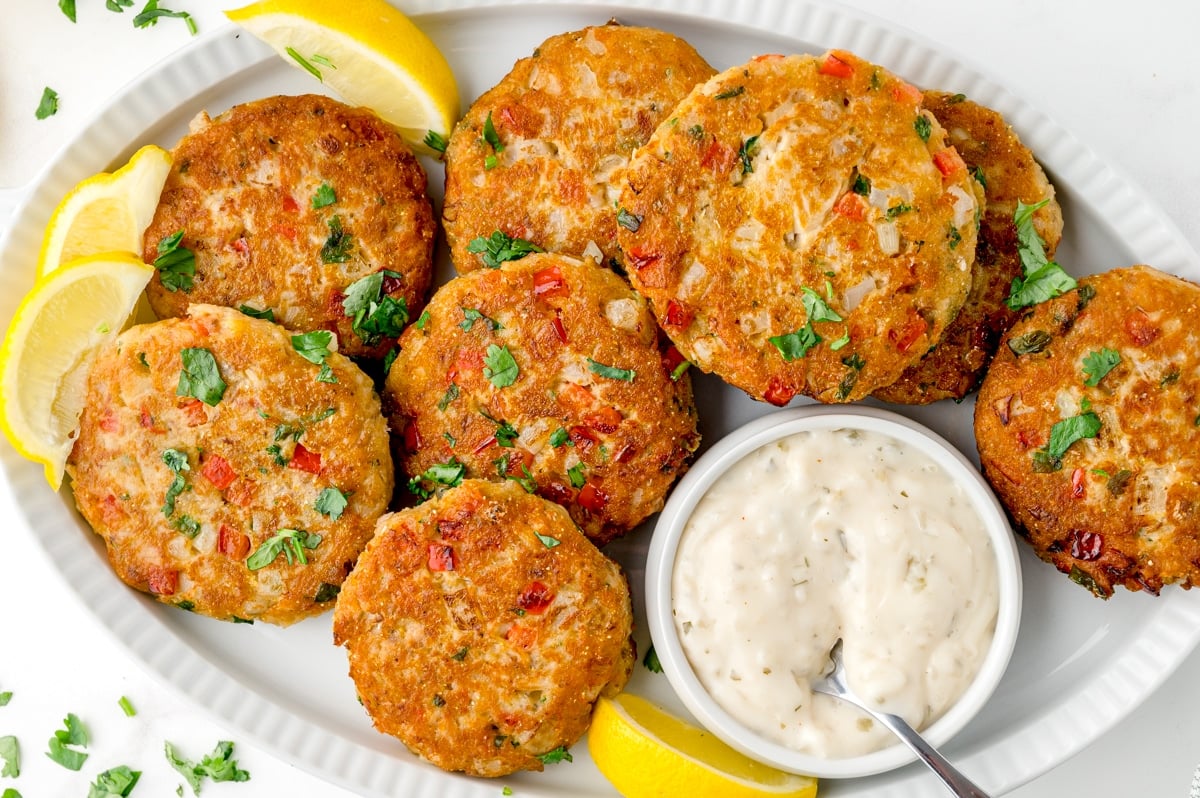 Can I freeze salmon cakes?
You can! Make sure they are cooked so they hold together better. Wrap them individually in freezer paper, aluminum foil or plastic wrap. They can stay frozen for up to 6 months.
Can I make salmon cakes ahead of time?
Yep. Either form them and place them in the fridge until you are ready to cook or you can cook them and reheat when ready to serve. Leftover salmon cakes can be stored in an airtight container for up to 3 days.
I suggest reheating them in a skillet over medium heat or for 2-3 minutes in an Air Fryer. My husband would even argue that they are better the next day.
Where did salmon croquettes originate from?
If you looked at the word "croquettes" and guessed that it was French, you are correct! They were originally made using beef, and then other variations arose like chicken, salmon and even vegetarian. They were originally made to use up leftover meat pieces, and then became widely popular!
Some folks also call them fish cakes, because really any flaky fish can be swapped in. Next time we are trying them with red snapper. It's a great way to use up leftovers.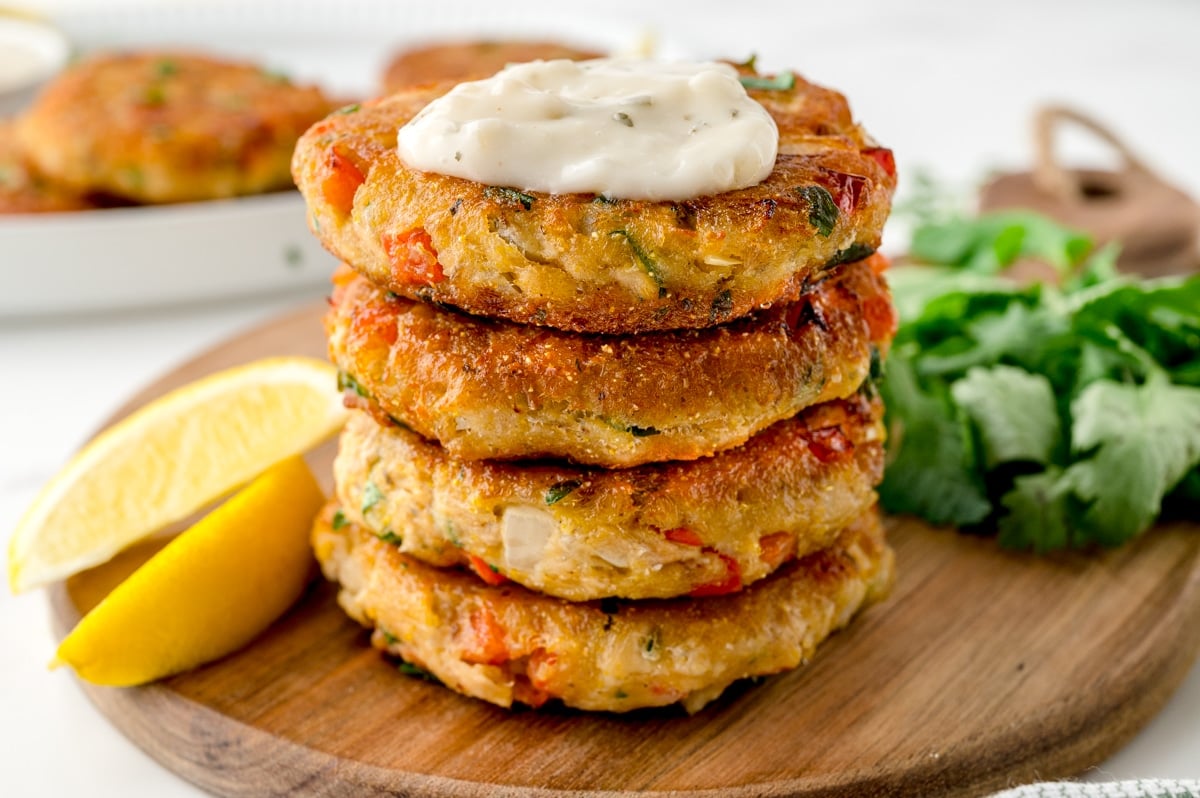 Is canned salmon cooked?
Yes, it is! Canned salmon is just like canned chicken or tuna; it's already cooked and all you have to do is drain the liquid and you're ready to go! canned salmon can vary in color- some is more grayish while others red and some pink. All are good!
What can I substitute for cilantro?
For some, cilantro tastes like soap or dirt. In fact, it is a traceable DNA trait. If you fall into this category, omit the cilantro and replace it with flat leaf parsley.
What can I garnish them with?
My favorites are with chopped cilantro, curly parsley but also scallions (green onions) or chives. A dusting of smoked paprika works well too.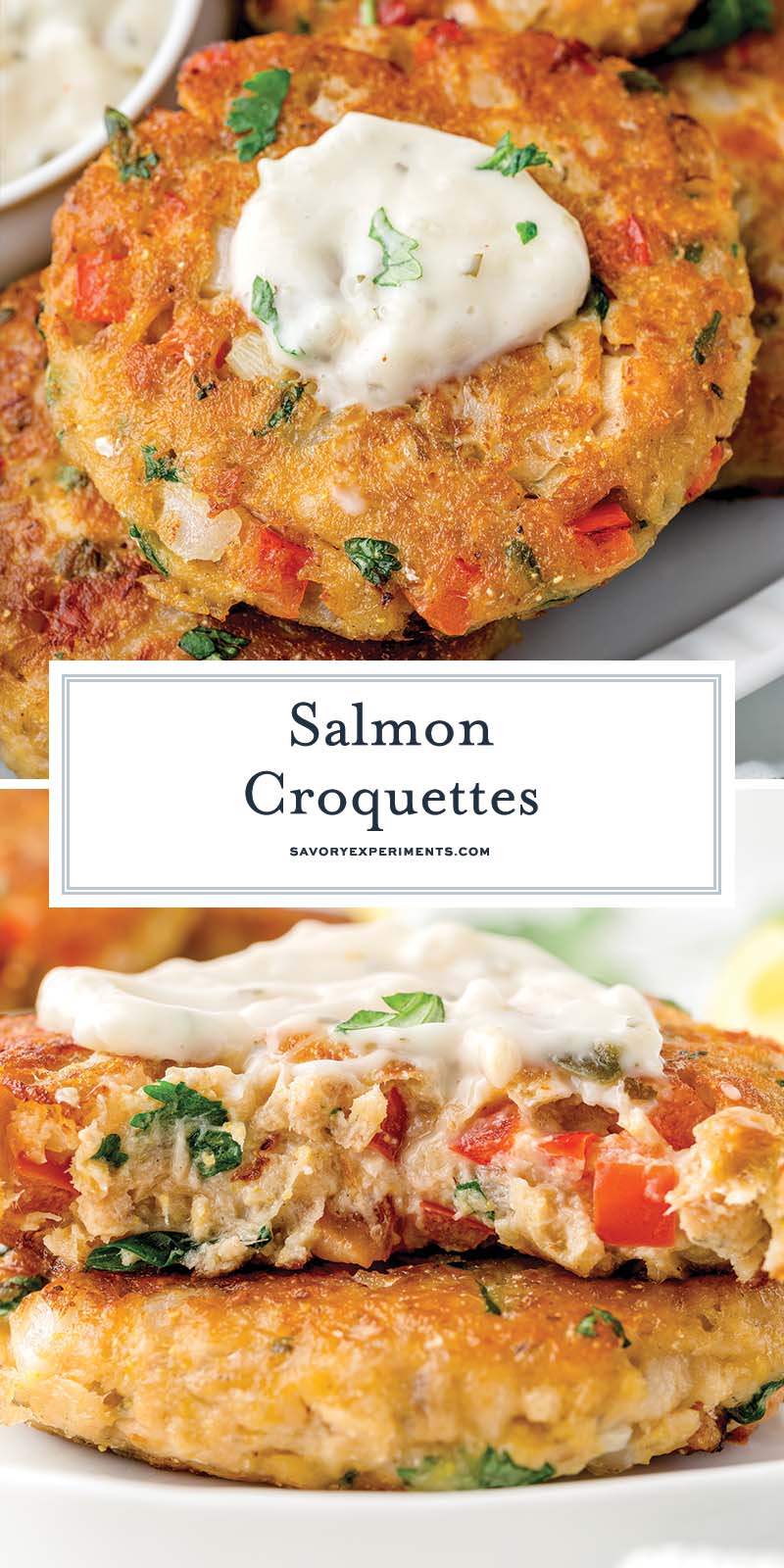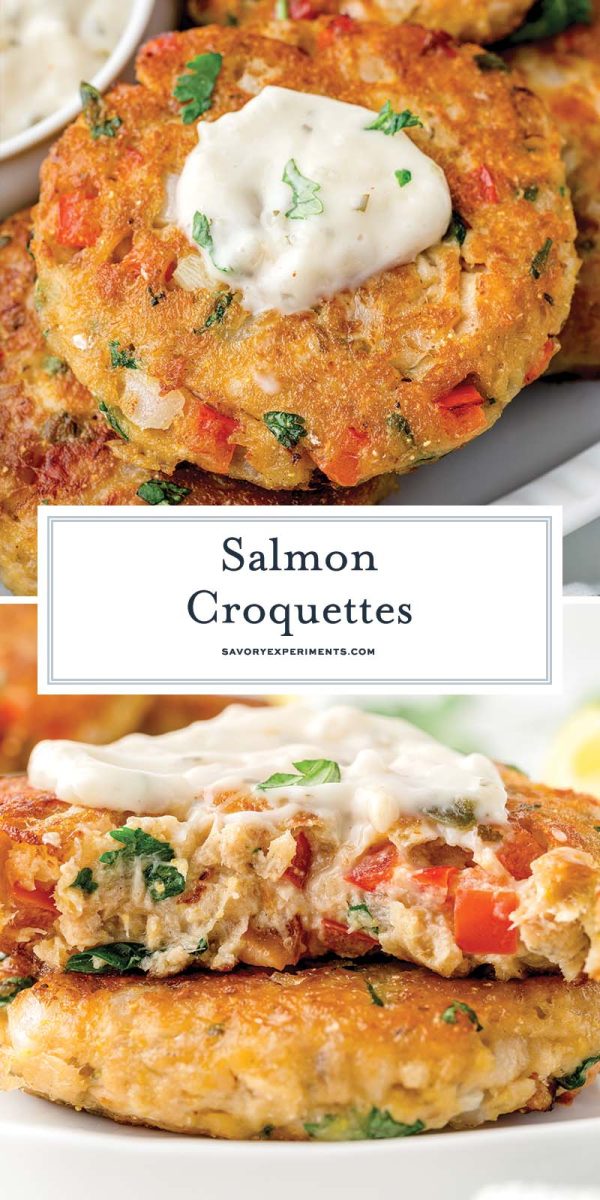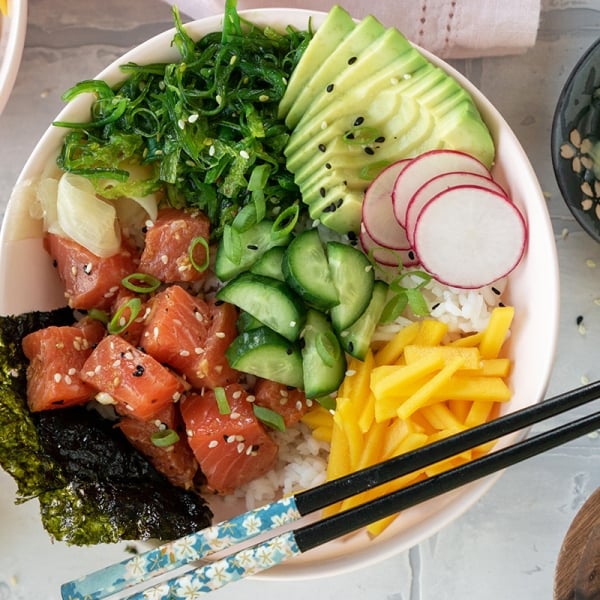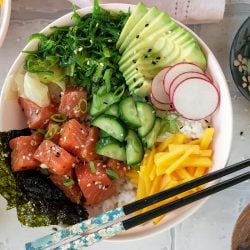 Salmon Poke Bowls
Celebrate Fish Fridays with this irresistible Salmon Poke Bowl recipe. This Hawaiian-inspired dinner is the perfect healthy meal for two!
See The Recipe!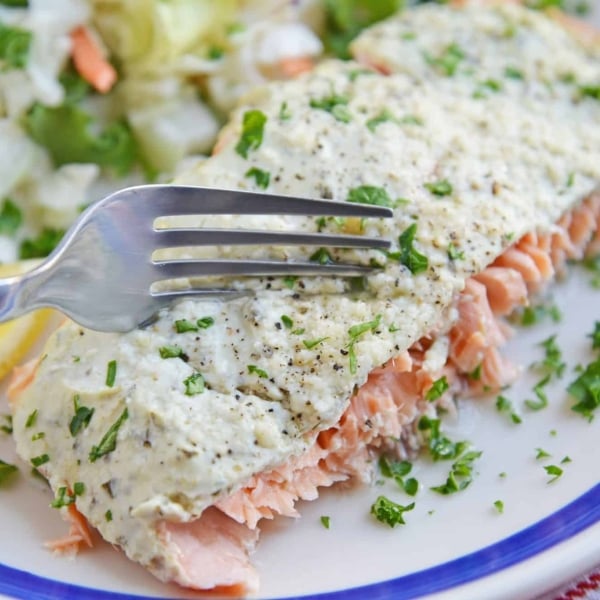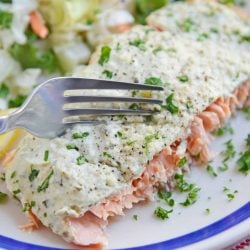 Pesto Salmon
This Pesto Salmon recipe is the best way to make baked salmon. With only 5 ingredients including Greek yogurt and homemade pesto, it will be your new favorite.
See The Recipe!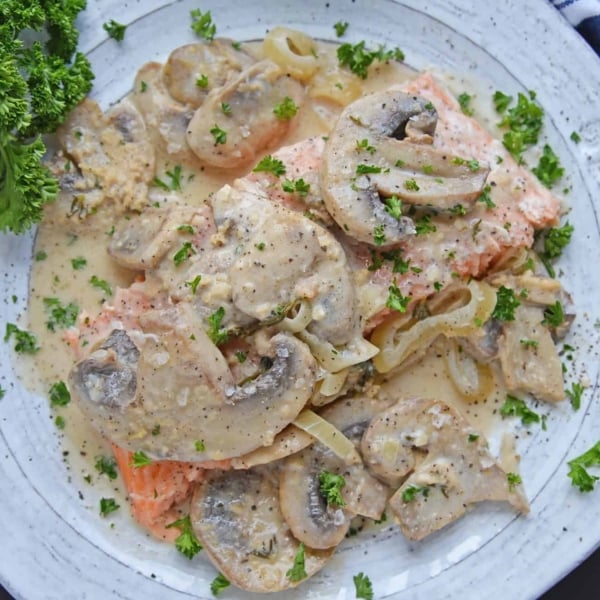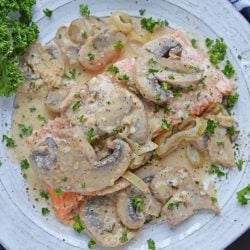 Salmon cakes care about to become your new best friend. For dinners, appetizers and to take to parties. They are delicious!
More Favorites from Savory Experiments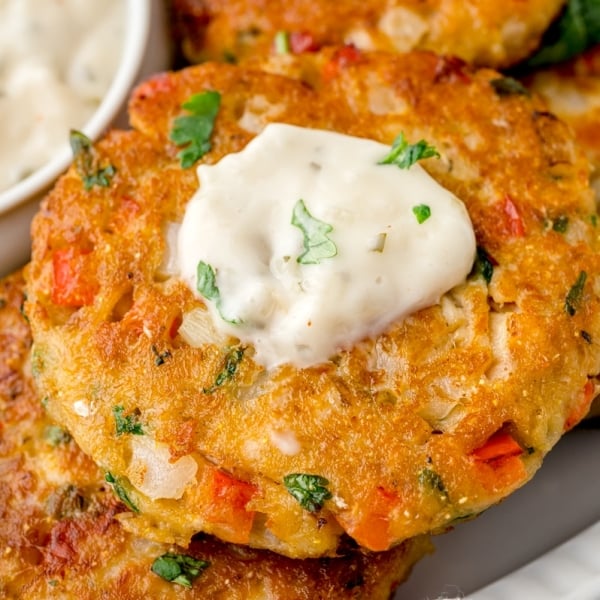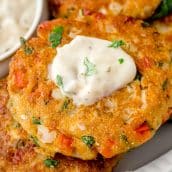 Southern Salmon Croquettes Recipe
Salmon Croquettes are a southern classic! Full of salmon, peppers, onions and seasoning, this versatile dish is sure to be loved by all!
Instructions
In a large bowl whisk together flour and cornmeal.

Add salmon, bell peppers, sweet onion, seasonings, Worcestershire sauce, mayonnaise, cilantro and egg. Mix until well combined.

Shape into about 6-8 patties. Heat oil in large skillet over medium high heat.

Once skillet is hot cook patties for 2-3 minutes on each side or until they are a golden brown color.

Serve immediately with your favorite dipping sauce.

If you've tried this recipe, come back and let us know how it was in the comments or star ratings!
Nutrition
Calories:
186
kcal
,
Carbohydrates:
12
g
,
Protein:
15
g
,
Fat:
9
g
,
Saturated Fat:
2
g
,
Cholesterol:
68
mg
,
Sodium:
410
mg
,
Potassium:
258
mg
,
Fiber:
1
g
,
Sugar:
1
g
,
Vitamin A:
564
IU
,
Vitamin C:
20
mg
,
Calcium:
156
mg
,
Iron:
1
mg