Salmon is easily one of my favorite seafood dishes, and this Pesto Salmon is the absolute best. With Greek yogurt, pesto, salt and parmesan, you can't go wrong.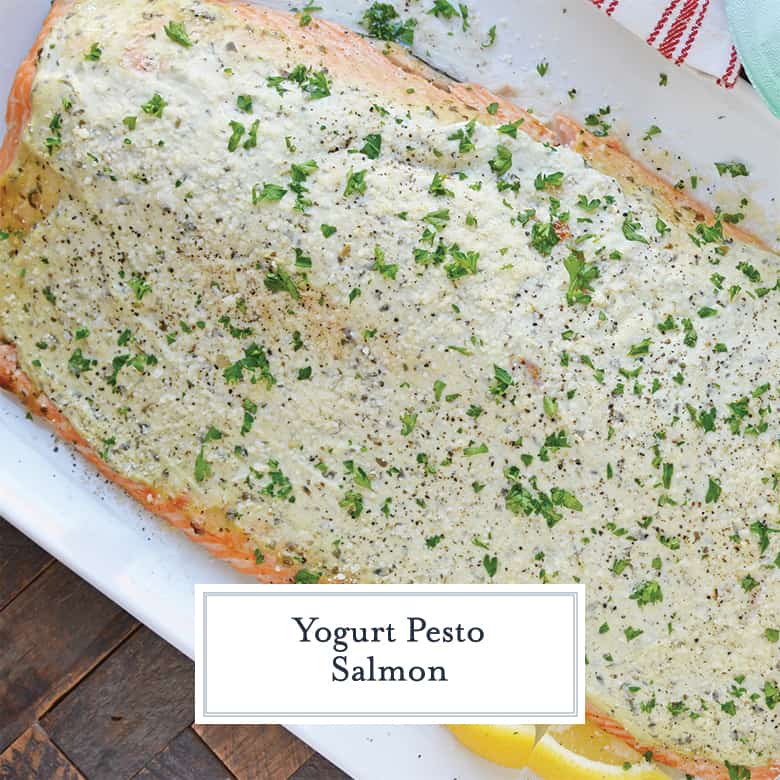 This Pesto Salmon recipe is the best way to make baked salmon. With only 5 ingredients including Greek yogurt and homemade pesto, it will be your new favorite.
Have you heard about my latest obsession with greek yogurt? I use this stuff for everything…. marinades, toppings, sour cream substitute, mayo substitute, dips and salad dressing.
It is slightly acidic and provides loads of moisture helping to keep meat, fish and seafood flavorful and tender. You can blend nearly any flavor profile into plain yogurt.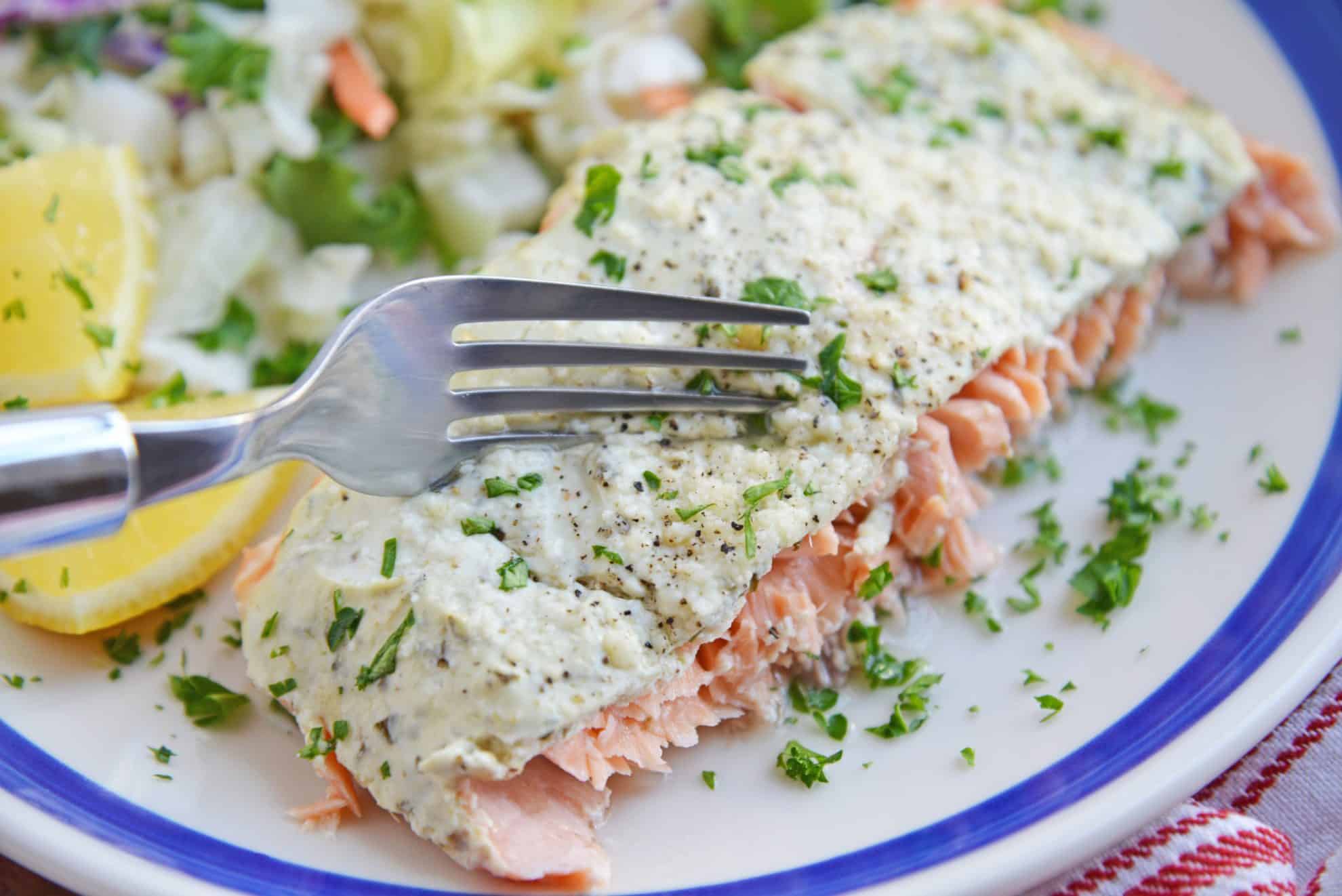 Just make sure it is greek yogurt, not regular yogurt. It is much thicker and will hold tight to your pesto salmon fillets better than regular.
PRO TIP: Line your baking sheet or baking dish with parchment paper for even easier clean up!
What is the difference between greek yogurt and regular yogurt? Greek yogurt is strained three times, so it contains less liquid and has a thicker consistency and stronger flavors compared to regular yogurt. Because of the concentration, it also packs more protein per serving.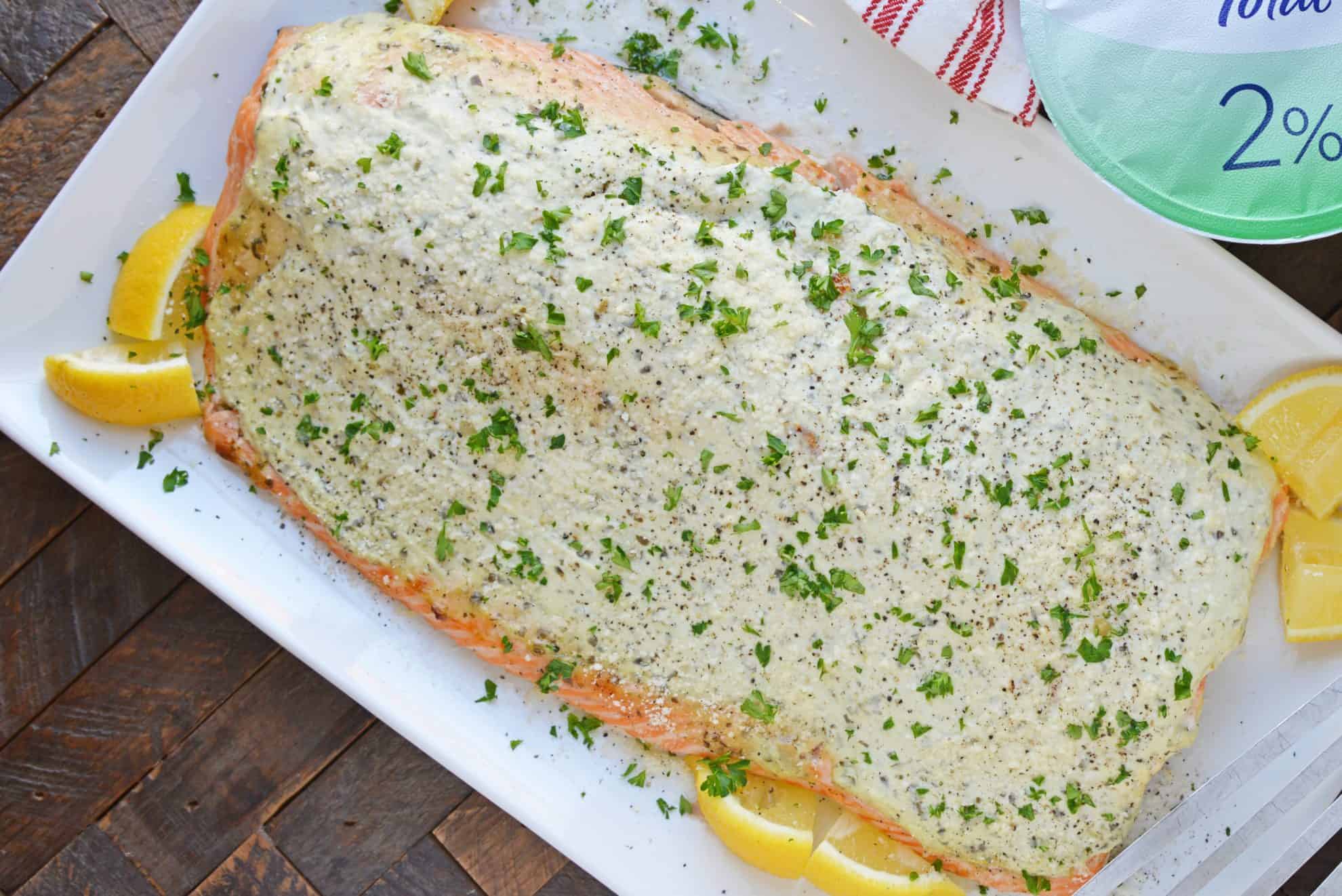 Now that we've discussed yogurt, let's get on to the salmon! One of the reasons I love salmon so much it that it has many health benefits; most of all it is packed with omega 3 fatty acids.
PRO TIP: You can use a baking dish instead of a rimmed baking sheet, however it creates a steaming effect and can take a few additional minutes to cook.
In addition, it has been linked to lower cholesterol, reducing the chance of heart attacks, aiding in the building of muscle and it is tasty! Keep in mind that cooking times for salmon will vary greatly from fillet to fillet.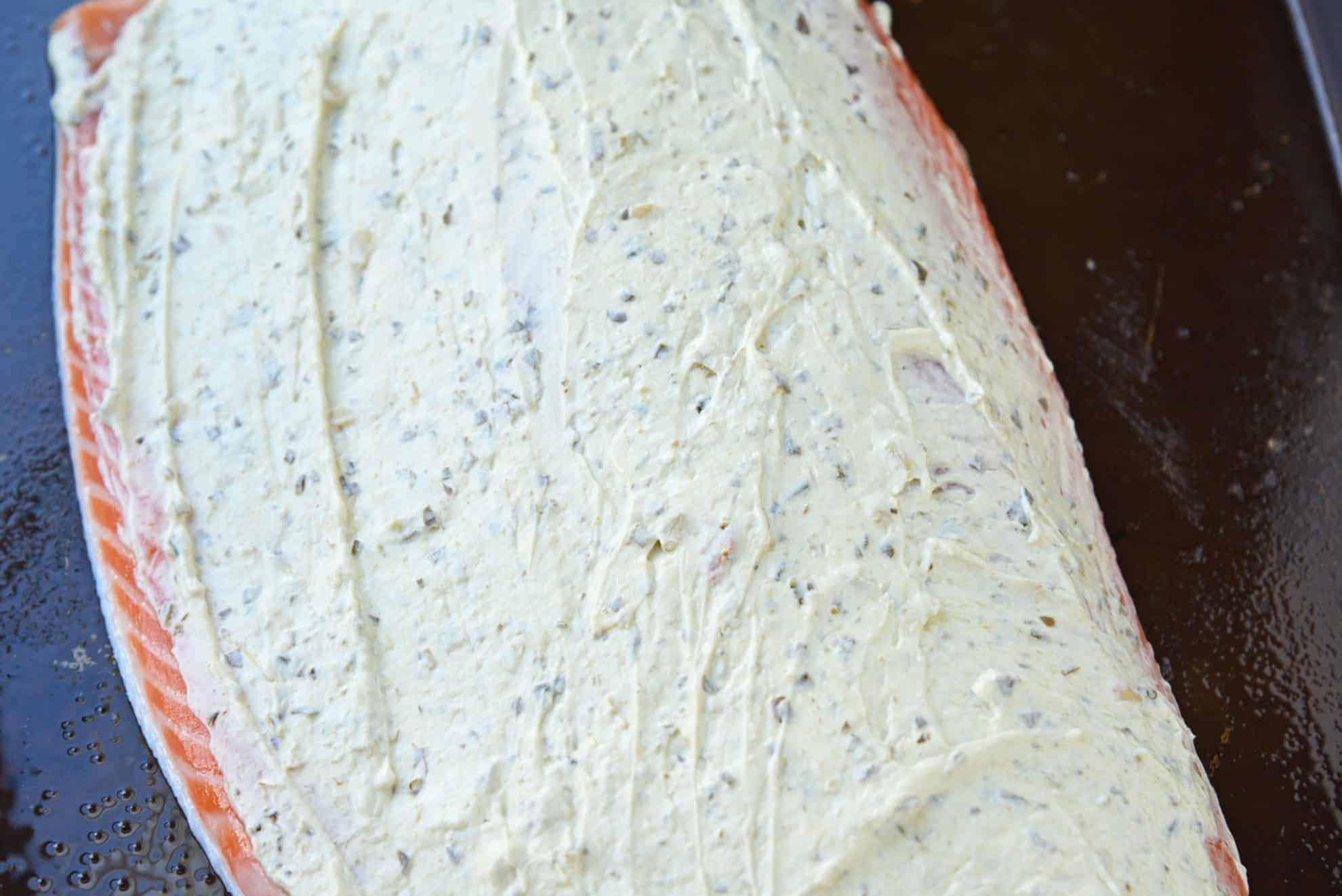 Instead of slathering my pesto salmon fillets with homemade basil pesto, I mixed it with Parmesan cheese and Greek yogurt for elevated texture and flavor. Some folks also enjoy adding a little melted butter or even lemon juice, but I find a simple salt and pepper with pesto is tasty enough.
I like to make homemade pesto, but feel free to use a jarred version. You can also add toasted pine nuts as a lovely finish. I thought I had some, but realized I was all out when I got to that stage. Oops!

If you aren't sure how long to bake salmon, then I'll give you a few tips:
Always make sure your salmon internal temperature is 145 degrees Fahrenheit at the thickest part of the fillet. Use a meat thermometer to check. 
If it flakes easily with a fork that means it's ready!
There's no need to flip your salmon while it's cooking.
There are 3 things to look for to know if your salmon fillet is ready: firm, flaky, and non-transparent!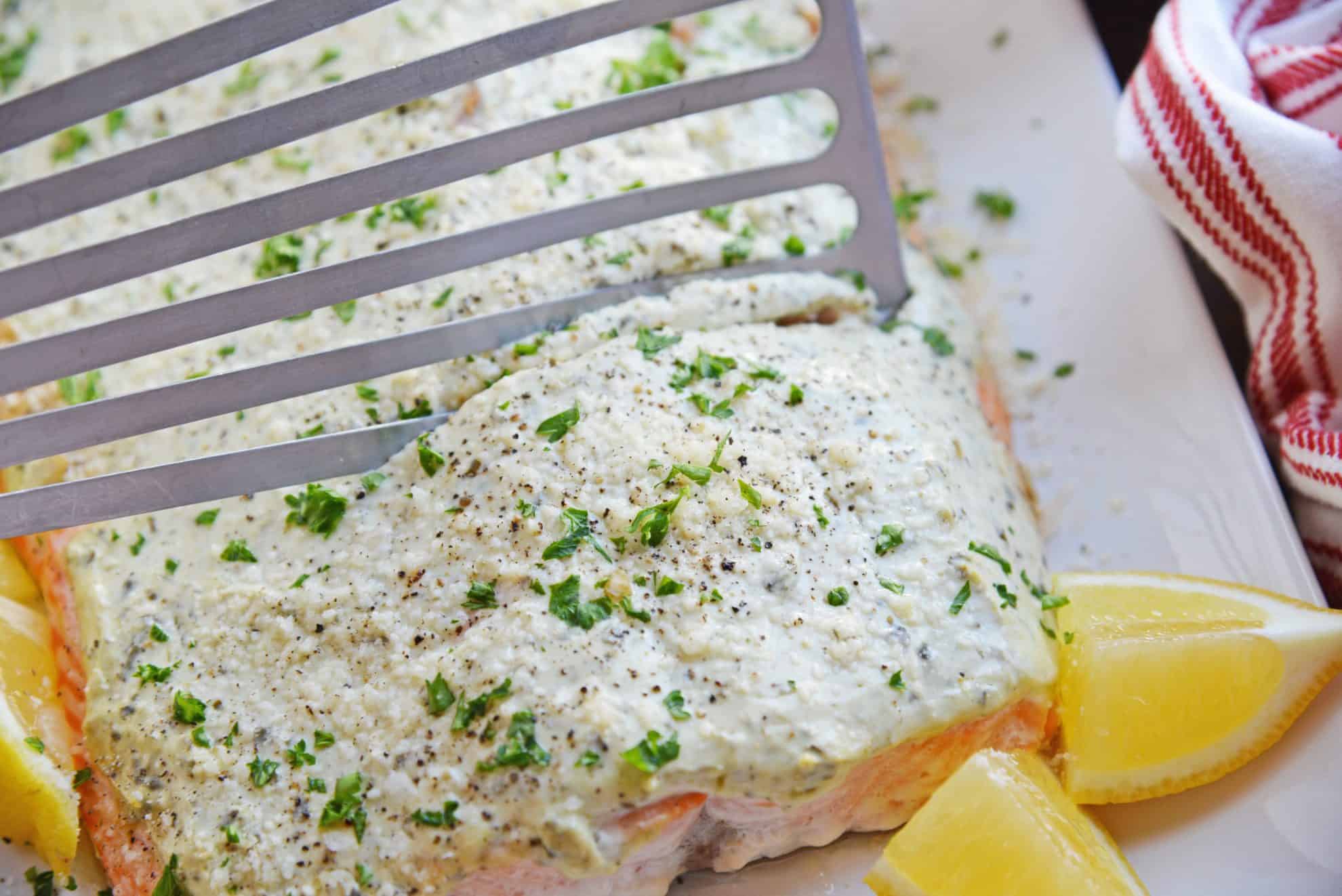 Questions you might have about how to make pesto salmon:
How do I buy salmon? Salmon should look moist and smell a little fishy (because it is fish) but not overly fishy. It should "smell like the sea".
How long do I bake salmon? Experts recommend 8-10 minutes per pound at 350 degrees, but a whole fillet will take a little longer. If you are baking a whole fillet with a thinner end, prevent it from drying out and cooking too fast by seasoning it and then flipping it under so it is all about the same thickness.
For individual fillets that are less than 1 inch thickness at 350 degrees: Rare: 4 to 5 minutes. Medium-rare: 5 to 7 minutes. Medium: 6 to 8 minutes. Medium-well: 8 to 9 minutes. Well-done: 10 minutes.
Can salmon be eaten rare? Yes, it can. Salmon can be eaten raw as it is in many sushi rolls. You do need to make sure it was handled properly and kept at the right temperture before eating it below 145 degrees. Always be cautious of eating undercooked or raw meats.
How much salmon should I plan for per person? Four to 6 ounces per person is a good amount. While a whole fillet looks impressive, it is easier to get similar size pieces if you get individual fillets. It also cooks faster and more evenly.
Can I freeze salmon? Raw salmon can be frozen and in all honesty, has probably previously been frozen before you even bought it. Freezing fish isn't the worst thing, in fact it is known to kill some bacteria that could possibly be harmful. (Not all bacteria and you still need to make sure it is handled and cooked properly).
Can you bake frozen salmon? You can, I suppose, but I wouldn't recommend it. It will not cook evenly. I would let it thaw first.
What is the difference between farm raised and wild caught salmon? Farm raised salmon is raised in a container and controlled environment while wild caught is caught out on the open sea.
Some feel that sustainable, farm raised salmon is the more responsible approach to eating seafood since it isn't depleting the natural population. Salmon consumption has increased significantly within the past two decades after the extreme health benefits were revealed.
Experts claim that the health benefits between farm raised and wild caught salmon are the same, however farm raised aren't nearly as active, as they kept in smaller aquariums and don't get as much daily exercise. Size, genetics and breeding practices vary from farm to farm.
Farm raised salmon with be rosy-orange, while wild caught salmon is a deeper pink or red. Some feel the flavor of wild caught is better and more flavorful. For those who don't care for fish as much or are new to salmon, farm raised might be a good gradual step to eating fish.
Wild caught tends to be a little more expensive and might look a little rougher.
What is the white stuff that comes out of salmon? The white stuff is called albumin and is harmless. In fact, it is a protein that is also found in eggs (the whites) and milk. It separates from the other molecules when heat is added to the food.
Every piece of salmon will have a different amount of the white stuff, but you can reduce how much comes out if it really bothers you. Simply cook your salmon less aggressively at a lower temperature for a longer amount of time.
Do I have to use basil pesto? Nope! You can use whatever flavor of pesto you want, roasted red pepper, lemon artichoke or any other you enjoy.

If you liked this baked salmon recipe, check out these other great salmon dishes:
Ranch Salmon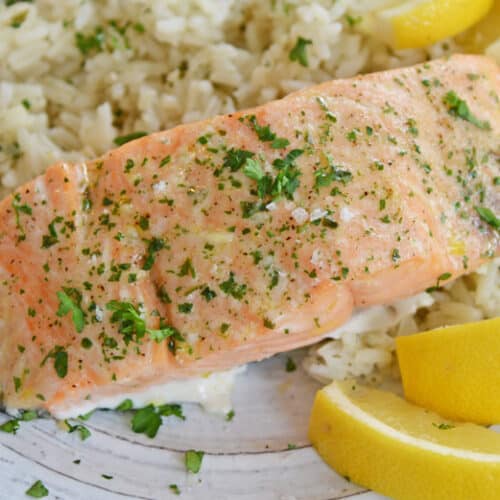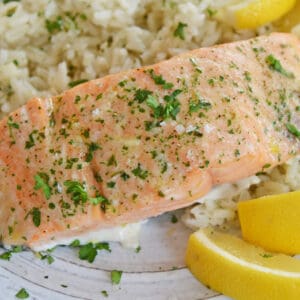 Looking for an simple weeknight meal with minimal ingredients? This easy Ranch Salmon is it!
Spicy Cedar Plank Salmon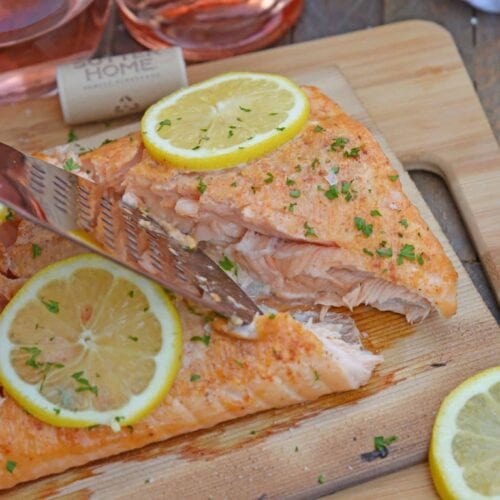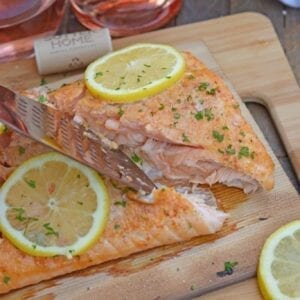 Spicy Cedar Plank Salmon is an easy grilled salmon recipe using a spicy salmon glaze. Perfect for a hot summer night and pairing with a crisp, sweet wine.
Tools for making baked salmon:
Mixing Bowls– make sure to check out my article on Using the Right Mixing Bowl, you'd be surprised how many people aren't!
Rimmed Baking Sheet– another kitchen staple! You'll use this for prep work, roasting and much more. I have 7 at my house.
Whisks– I buy whisks in multiple sizes. You never know which one you will need.
This Pesto Salmon recipe is the best way to make baked salmon. With only 5 ingredients including Greek yogurt and homemade pesto, it will be your new favorite.
CONNECT WITH SAVORY EXPERIMENTS!

Be sure to follow me on social media, so you never miss a post!

Facebook | Twitter | Youtube
Pinterest | Instagram
Get our FREE 8 Day E-Course on How to Be a Better Home Cook. Sign up HERE!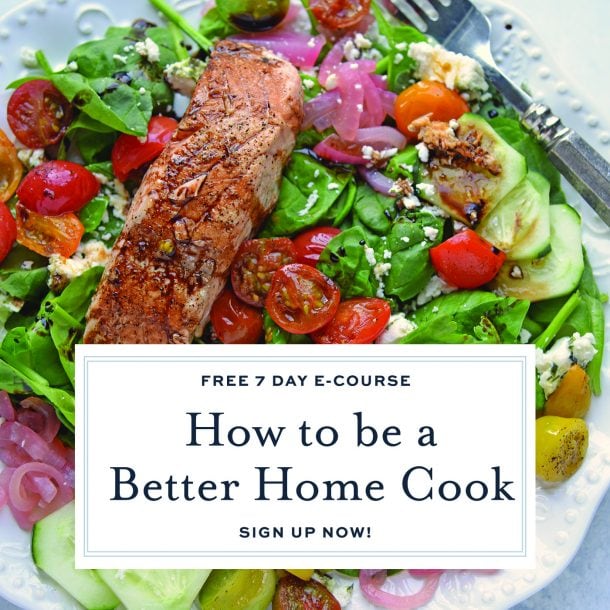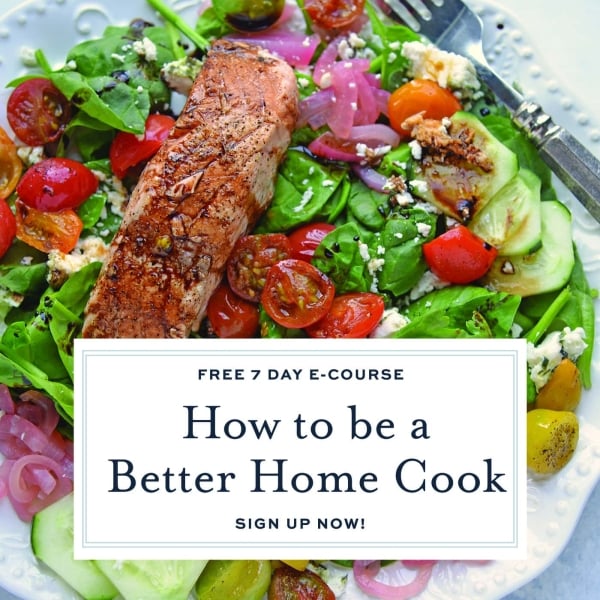 Pesto Salmon
This Pesto Salmon recipe is the best way to make baked salmon. With only 5 ingredients including Greek yogurt and homemade pesto, it will be your new favorite.
Instructions
Preheat oven to 350 degrees. Prepare a rimmed baking sheet with aluminum foil. Coat with cooking spray.

Dab tops of salmon fillets with a paper towel to dry. Place on rimmed baking sheet with about an inch separation from each other.

In a small bowl, combine plain Greek yogurt with pesto sauce, Kosher salt and Parmesan cheese.

Slather each salmon fillet with yogurt mixture.

Bake for approximately 12-15 minutes. The exact time with vary depending on the thickness of your salmon. You can check to see if it is done by gently touching with the edge of a fork. If if comes apart, then it is done.

Remove and allow to sit for 3-4 minutes before serving.

If you've tried this recipe, come back and let us know how it was!
Nutrition
Calories:
229
kcal
|
Carbohydrates:
2
g
|
Protein:
29
g
|
Fat:
11
g
|
Saturated Fat:
2
g
|
Cholesterol:
67
mg
|
Sodium:
759
mg
|
Potassium:
626
mg
|
Fiber:
1
g
|
Sugar:
2
g
|
Vitamin A:
215
IU
|
Calcium:
110
mg
|
Iron:
0.9
mg