If you like the combination of sweet and spicy, you are going to love this Sweet Sriracha Sour Cream. It's the perfect condiment to add a little spice to your meal.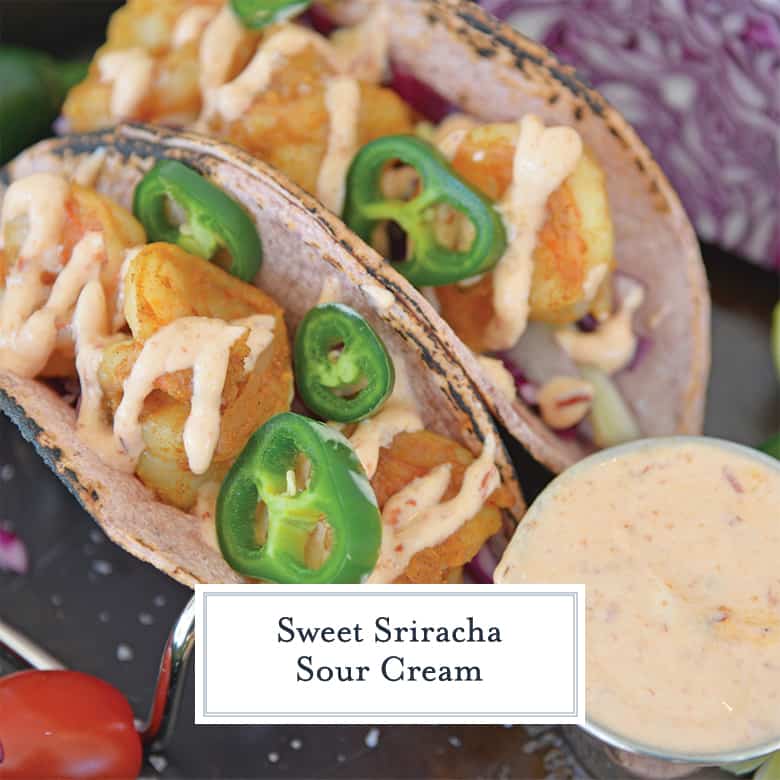 When it comes to homemade sauce, this Sweet Sriracha Sour Cream is the best. Perfectly sweet and spicy, and tastes great on tacos, nachos and more!
Some recipes come from unexpected places. For my Sweet Sriracha Sour Cream, it was an afterthought.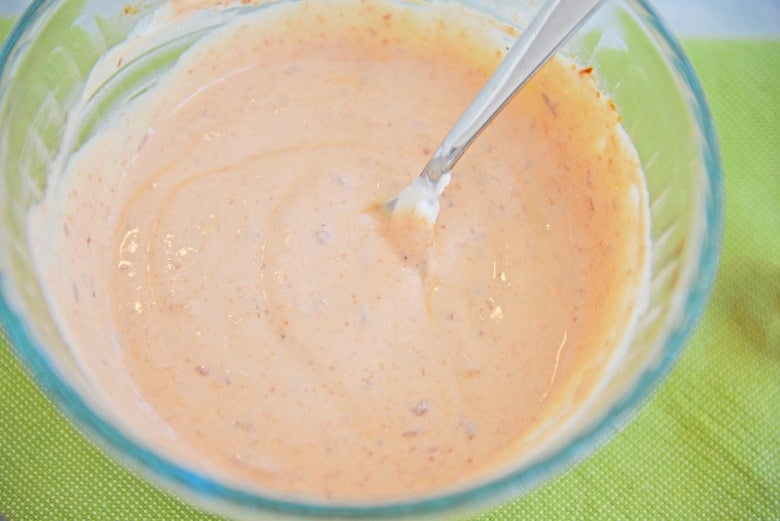 I needed something to balance out my Shrimp Tacos. I couldn't decide what flavor profile to go for, so I opted for sweet and spicy. The best of both worlds!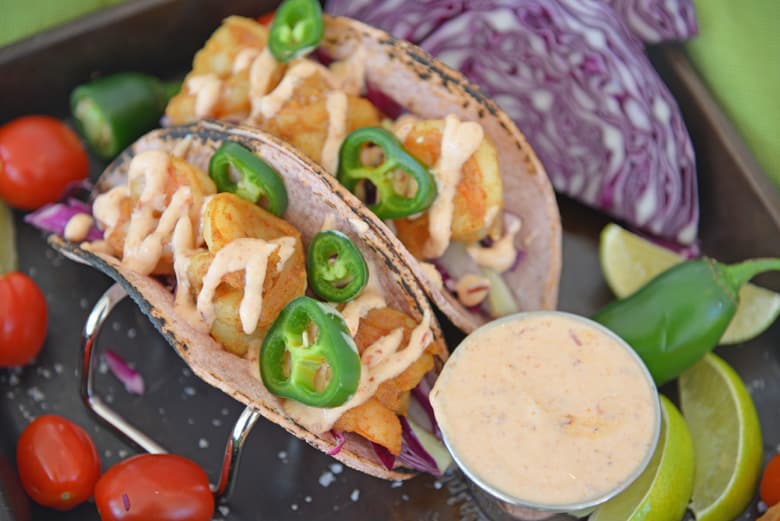 While my tacos are clearly a Mexican inspiration, Sriracha is most widely known as an Asian sauce. But since fusions are all the rage these days, it totally works.
What is Sriracha? Sriracha is a type of hot sauce or chili sauce made from a paste of chili peppers, distilled vinegar, garlic, sugar, and salt.

It is sometimes called Cock Sauce, coming from the rooster on the label.
Kind of like a Mexican Yum Yum sauce. If you've never had Yum Yum, it is the white-pinkish sauce served at many hibachi restaurants alongside chicken and seafood.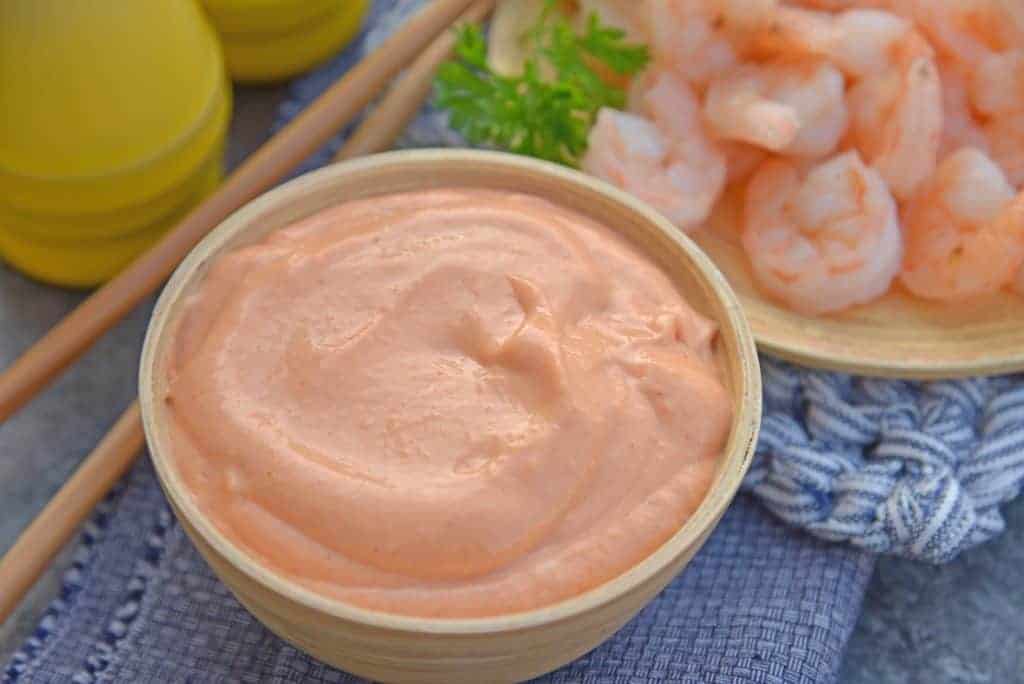 While Sriracha is the most popular, you can use any spicy chile sauce or chile garlic sauce for this recipe. I would aim to use one with body and texture rather than a thinner hot sauce like Franks.
FUN FACT: What is agave nectar? Agave nectar is actually a syrup consistency of 56% fructose. It comes from the agave plant, the same plant that makes delicious tequila.
I also suggest a full bodied (also known as full fat) sour cream. Low fat sour cream is thin and won't hold shape as well. After adding both chile sauce and agave nectar, it thins out even more and won't stick to your food as well.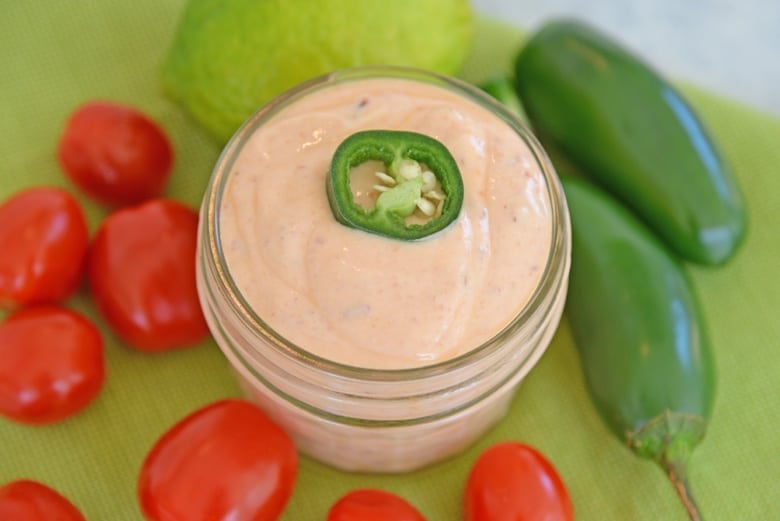 Finally, the last ingredient, agave nectar. Agave nectar is actually a syrup, opposed to nectar, and comes in both a light and dark variety, sometimes called amber. Either can be used.
This batch of Sweet Sriracha Sour Cream was destined for shrimp tacos on taco Tuesday, but it would also taste delicious on:
Basically any recipe that calls for sour cream…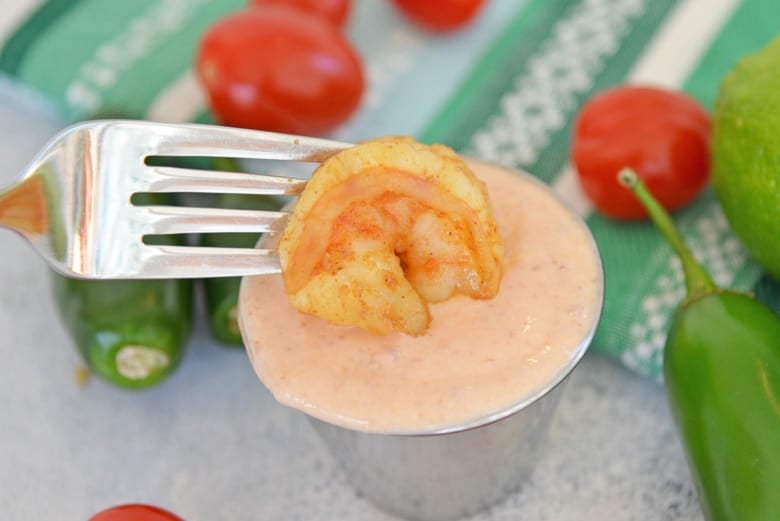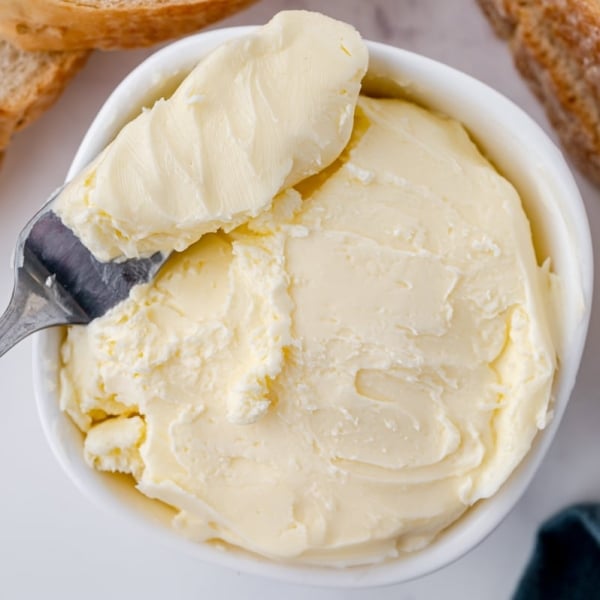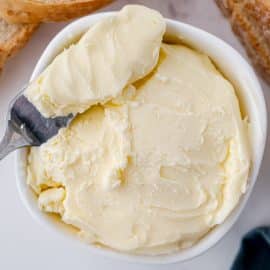 Blender Mayonnaise
Do you know how easy it is to make homemade mayonnaise? SO EASY! Make my blender mayonnaise with 3 ingredients and 3 minutes today!
See The Recipe!
Questions you may have about how to make this Sriracha Sour Cream:
You can substitute Greek yogurt for sour cream? You sure can! In fact, this is one of my favorite substitutions for flavor, texture and the calorie-saving benefits.
How long does it last? Like most sauces, about a week in the fridge chilled.
What is a substitute for Sriracha? Hot sauce, chili paste, sambal oelek, tabasco are the best bets, but for this recipe, sambal oelek or another chile garlic sauce (both thicker) are your best bets.
Can I freeze Sweet Sriracha sour cream? It is not advisable to freeze sour cream.
Can I make this sauce ahead of time? Sure! In fact, making it at least a few hours before allows the flavors to marry. You can make it up to 48 hours in advance, just make sure to give it a quick stir to loosen it up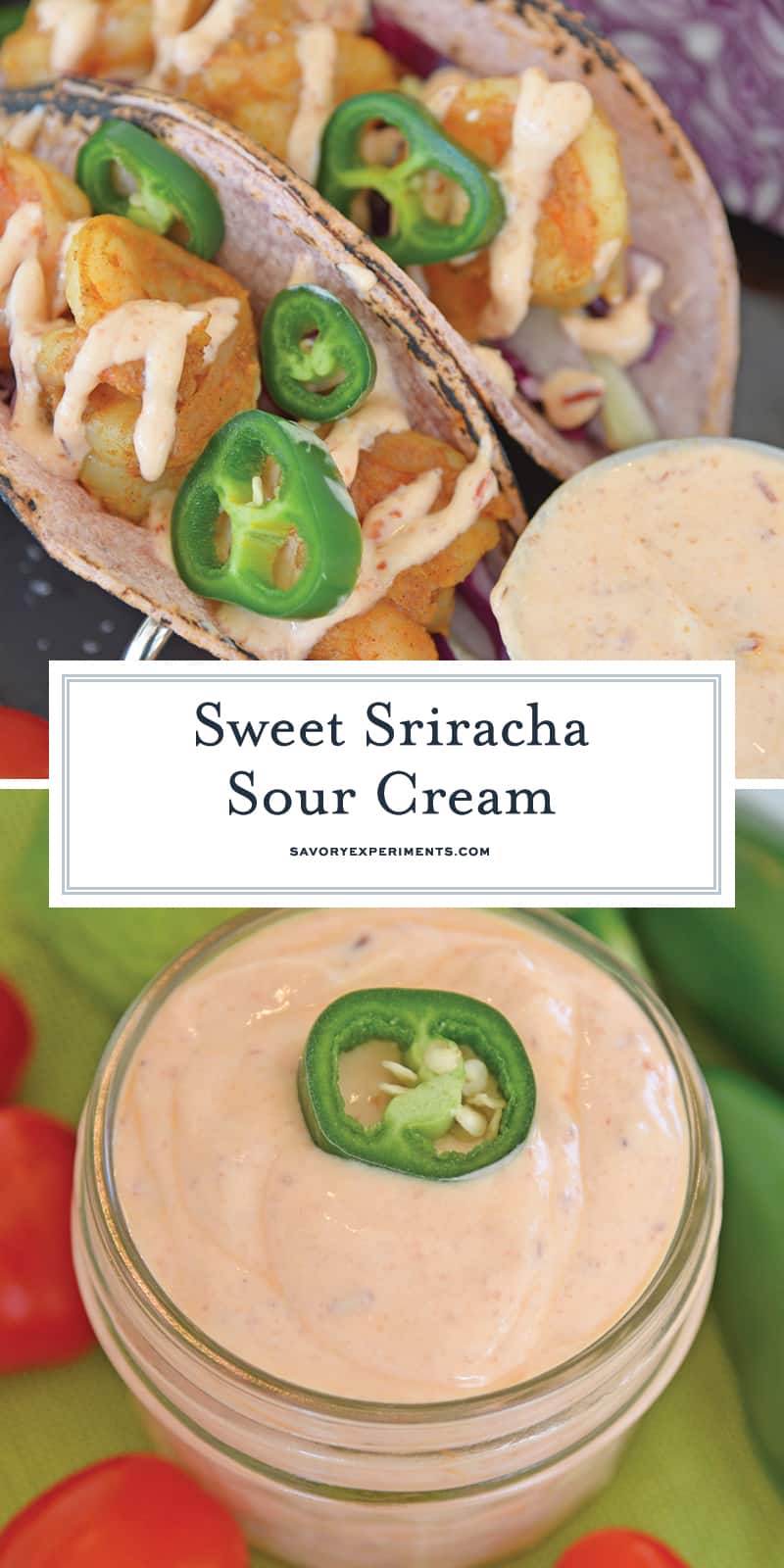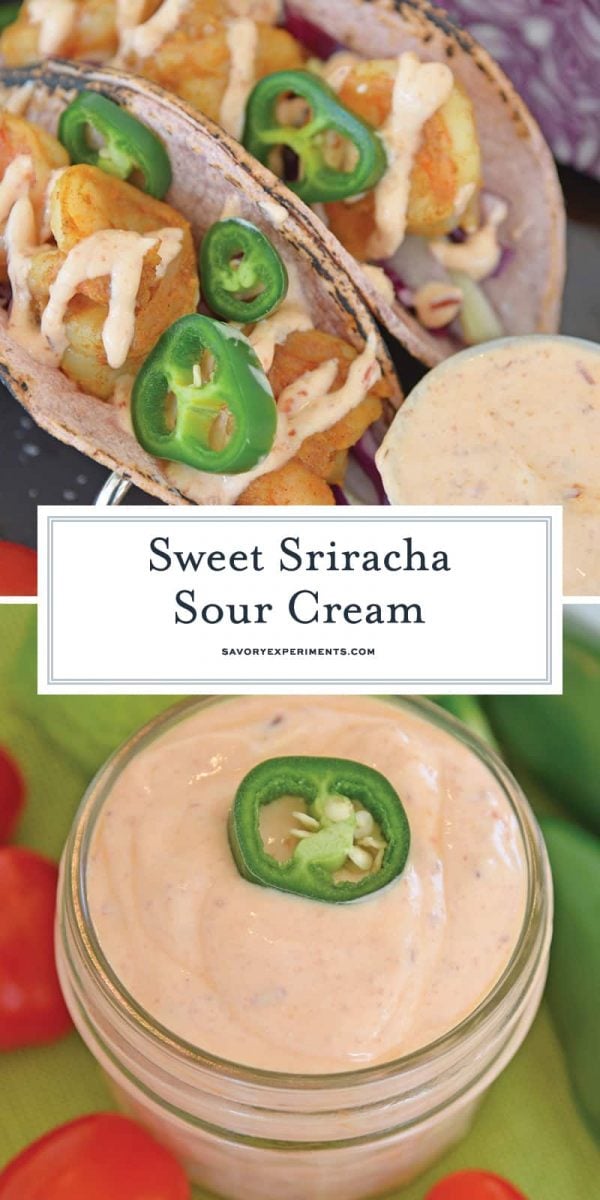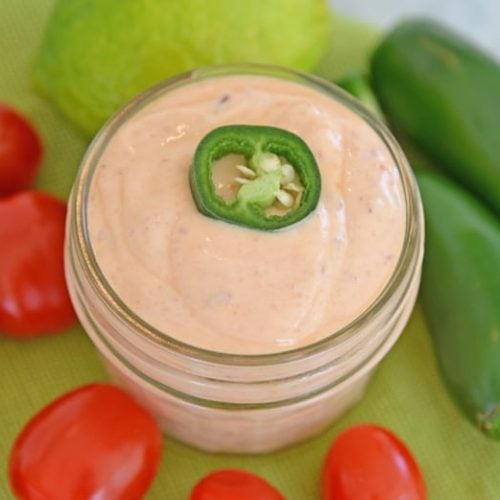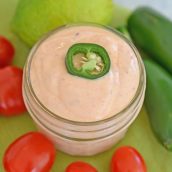 Sweet Sriracha Sour Cream
When it comes to homemade sauce, this Sweet Sriracha Sour Cream is the best! Perfectly sweet and spicy, and tastes great on tacos
Ingredients
2

tablespoons

hot chile sauce (Sriracha)

½

cup

sour cream or plain Greek yogurt

1

tablespoon

agave nectar or honey
Instructions
Combine hot chile sauce, sour cream and agave nectar in a small bowl. Whisk until combined.

Cover and chill until ready to use.

If you've tried this recipe, come back and let us know how it was!
Nutrition
Calories:
290
kcal
,
Carbohydrates:
20
g
,
Protein:
3
g
,
Fat:
23
g
,
Saturated Fat:
13
g
,
Cholesterol:
60
mg
,
Sodium:
780
mg
,
Potassium:
200
mg
,
Sugar:
18
g
,
Vitamin A:
716
IU
,
Vitamin C:
20
mg
,
Calcium:
127
mg
,
Iron:
1
mg