Sushi night has never been so easy- basically a deconstructed sushi roll in a bowl, they are a delicious poke bowl! Made with sushi-grade salmon, white rice, fresh cucumber, creamy avocado, and fresh mango, these poke bowls are a perfectly easy DIY sushi night at home.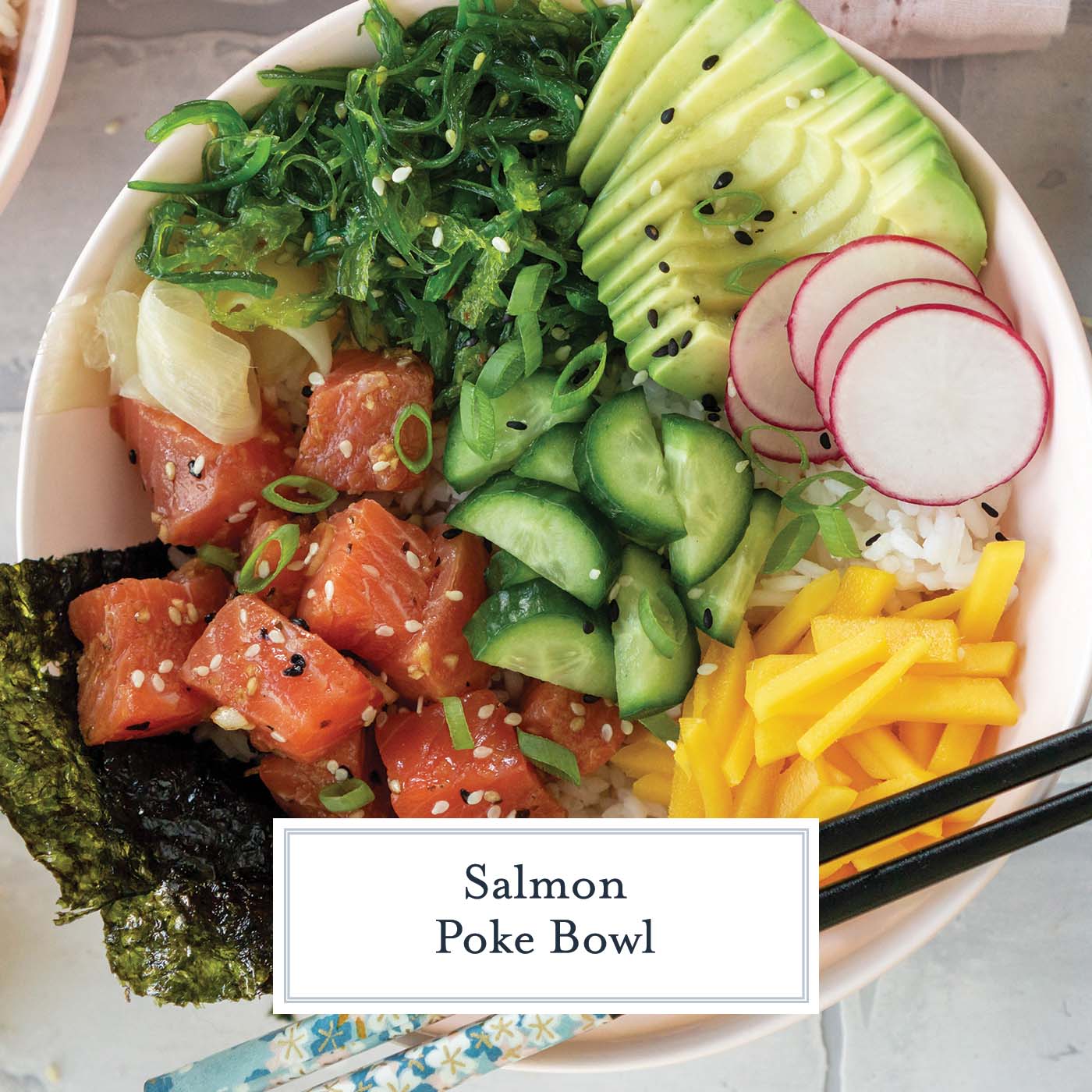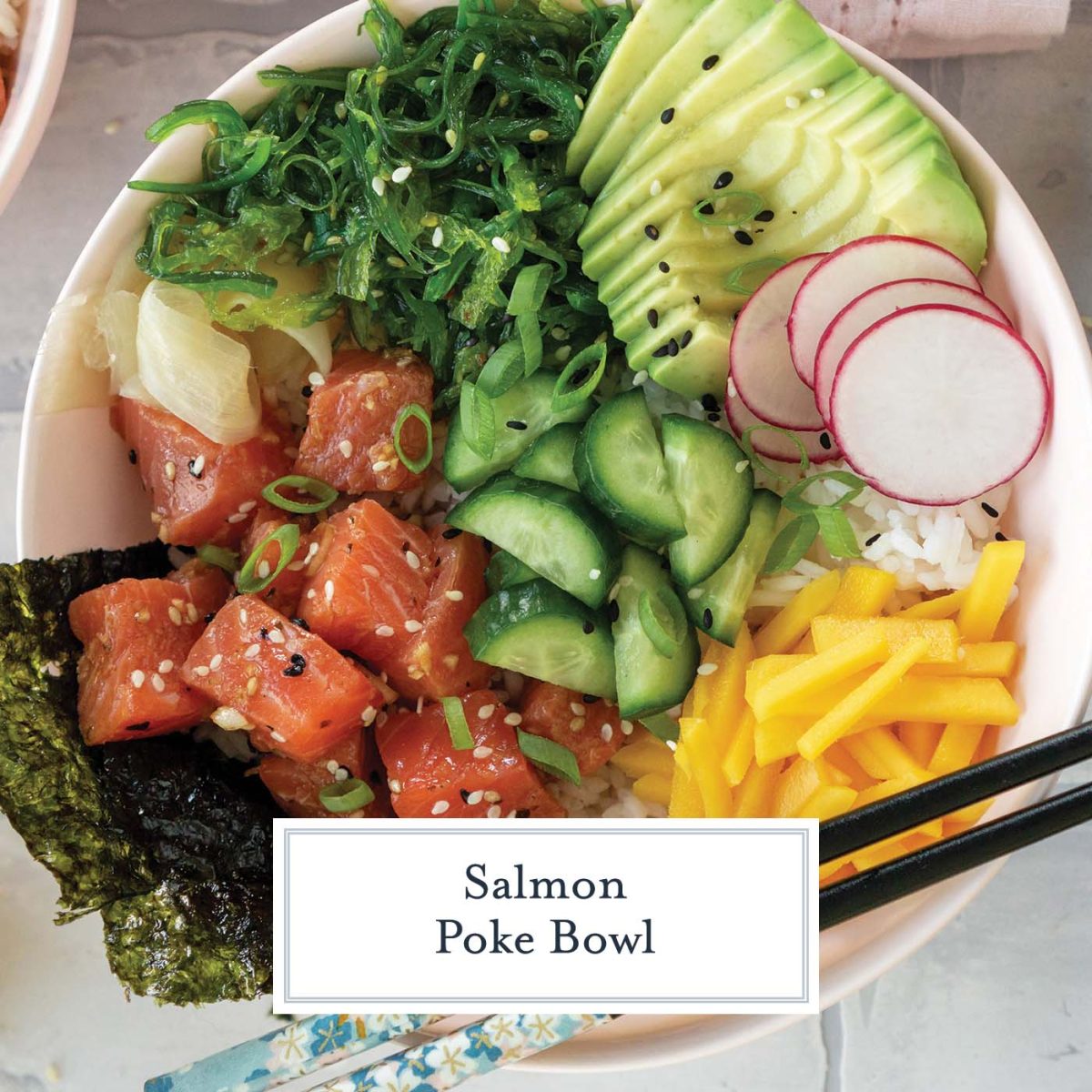 Salmon Poke
Have you ever had a poke bowl (pronounced "poh-KAY bowl")? If not, get ready to fall in love, because you are in for a treat!
Poke is diced raw fish (salmon, tuna, white fish) served either as an appetizer or a main course. This dish is native to Hawaiian cuisine, but traditional forms are Japanese and called poké/poki.
"Poke" literally means "cut into pieces" which I have always found interesting because the name refers to the slices or cubes of raw fish that are served in a bowl along with rice, dressing, vegetables, and seasonings. It is most often served using tuna or salmon.but you might also see cooked version with shrimp or just plain veggies with a poke sauce.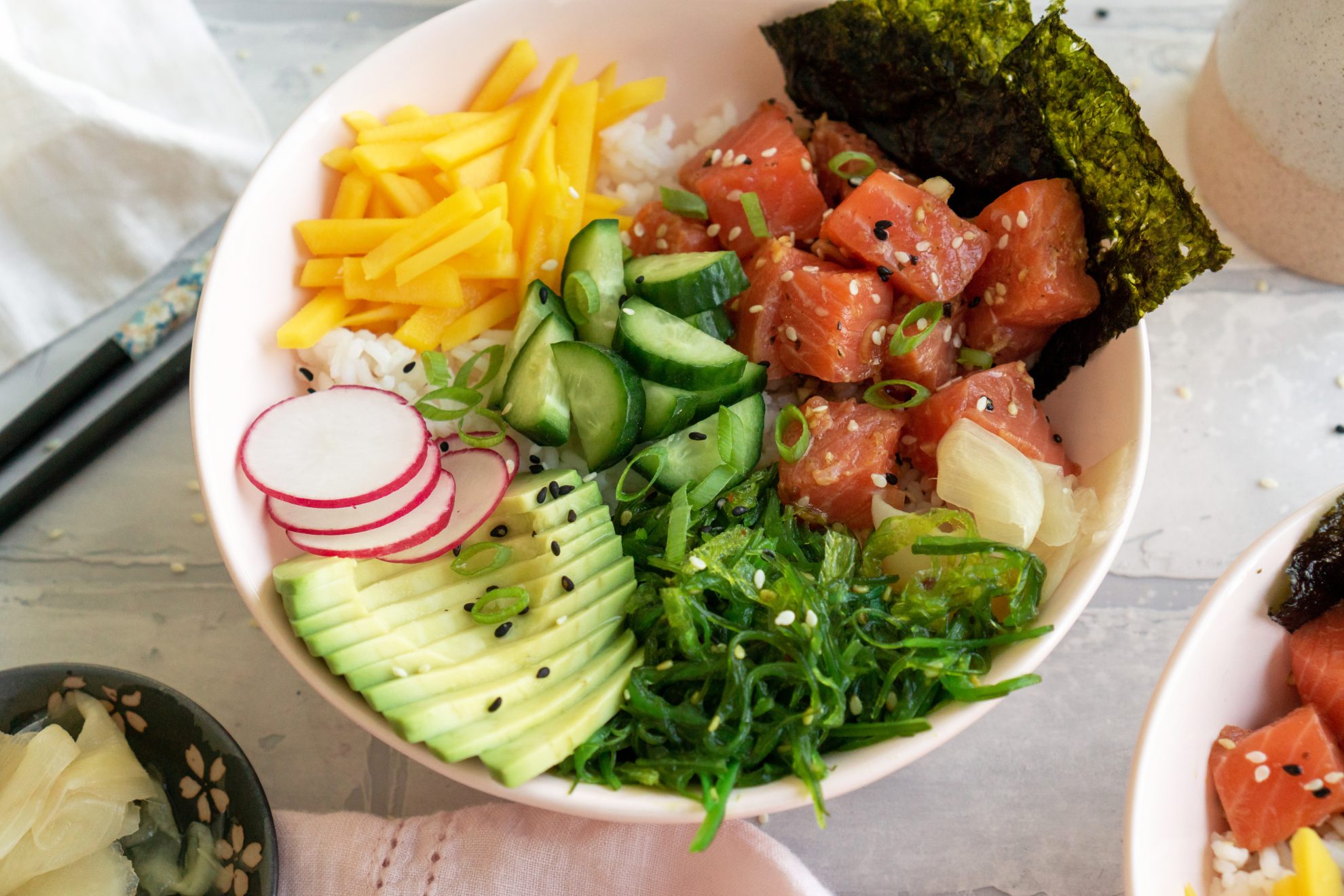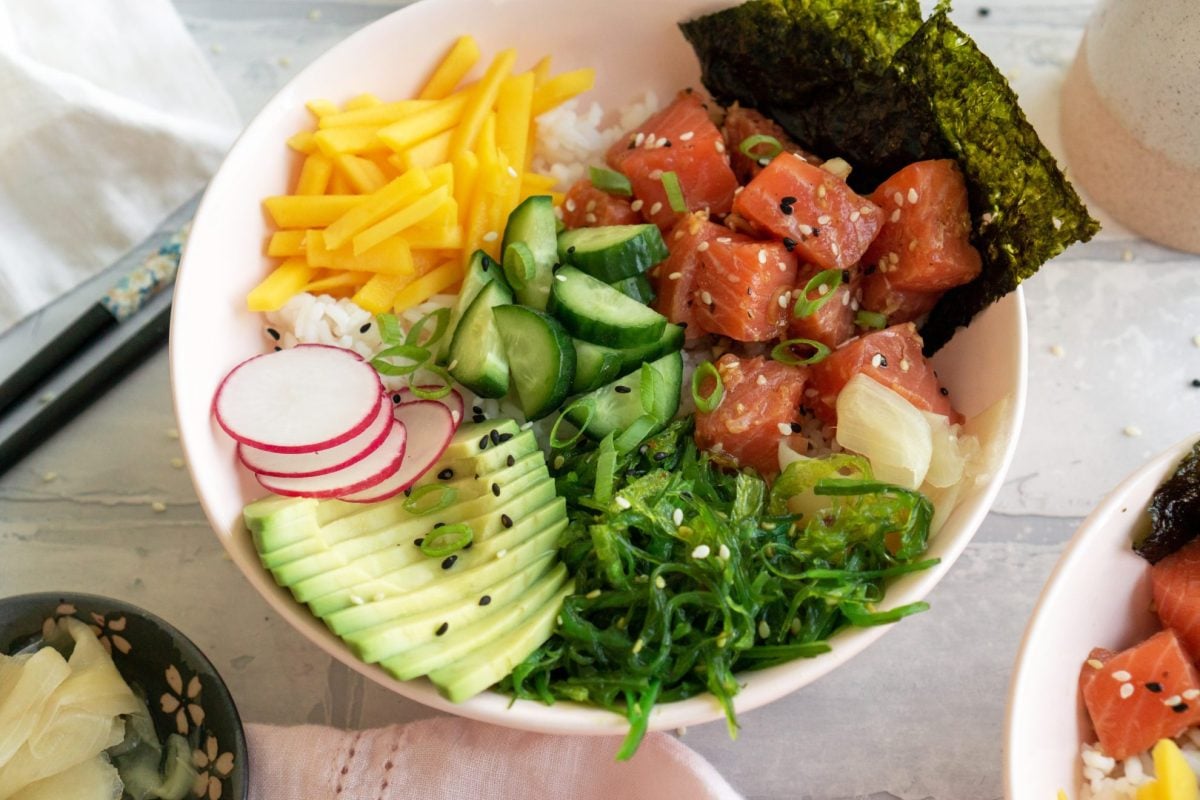 Poke Bowl Ingredients
Below you will find the ingredients to make both the bowl and the poke sauce/poke dressing. The fun thing about these is that you can easily customize them.
Follow this recipe exactly or use it as a guide and add some of your favorite mix-ins!
Poke bowls
Fish: you can't make a poke bowl without delicious fresh fish / sushi-grade fish. In this recipe, I used sushi-grade salmon. However, you can use sushi-grade tuna as well.
Rice: whether you use sushi rice, short-grain white rice, brown rice, jasmine rice, or gluten-free cauliflower rice, rice is an essential ingredient as it is the base ingredient for your bowl. Black rice is also fun, if you can find it. Check out an Asian grocery store or order it online.
Toppings: dress up your bowl with delicious toppings like English cucumbers, radishes, green onion, avocados, seaweed salad and mangos. Seaweed salad can be found already prepared in the sushi section of your grocery store. The dried seaweed sheets are in the International food aisle near Asian cuisine. We also included some jarred pickled ginger.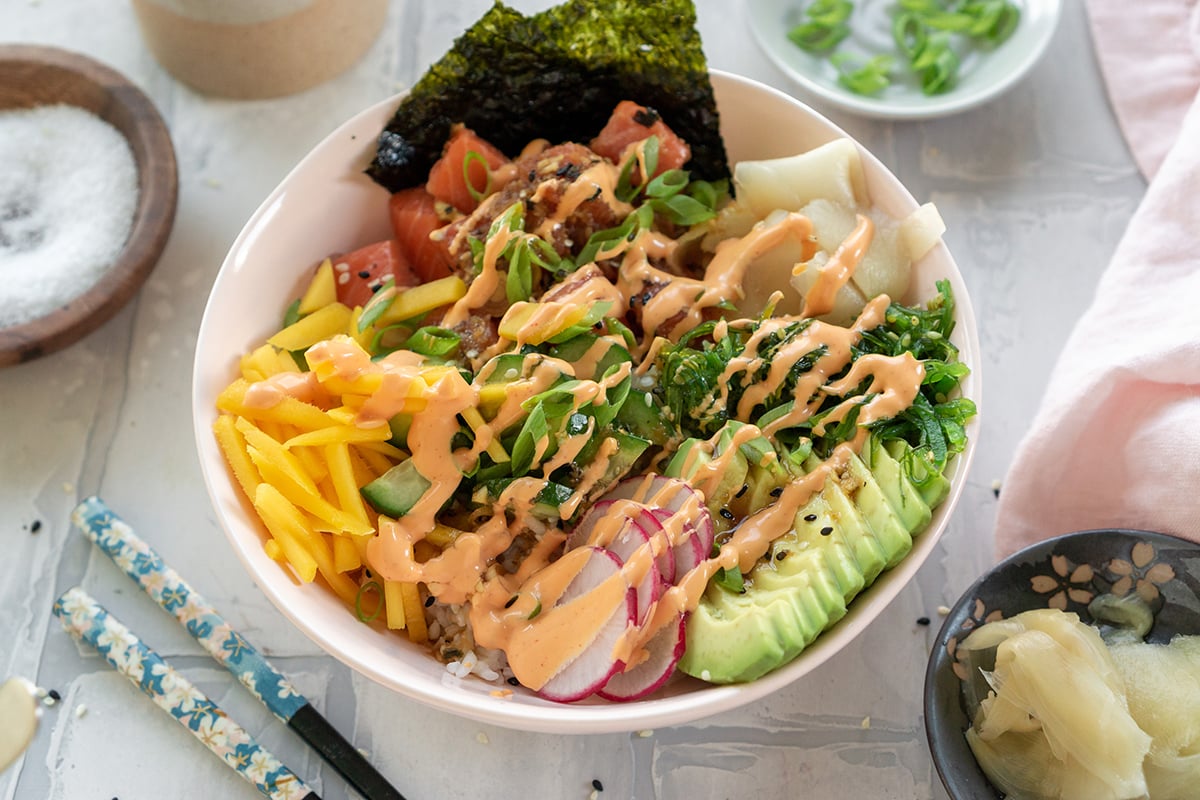 Poke bowl sauce
Wet ingredients: low sodium soy sauce, lemon juice, toasted sesame oil, mirin, and rice wine vinegar (or just rice vinegar).
Herbs and spices: garlic, ginger, and scallions.
Pro Tip! Make a vegan poke bowl by swapping fish with tofu!
Picking the Right Salmon
When consuming raw fish, it is extremely important to know and understand what you are buying, preparing, and eating.

That said, I like using high quality Sockeye salmon also known as red salmon for my salmon poke bowls.
Sockeye salmon is best for sushi and poke because their flesh is bright orange and the flavor is incredibly rich. Most importantly, it is safe to eat raw.
"Sushi grade salmon" or fish is the term given to fish that shows it is safe to prepare and eat raw. You will see this term or phrase used on restaurant menus and grocery store packaging.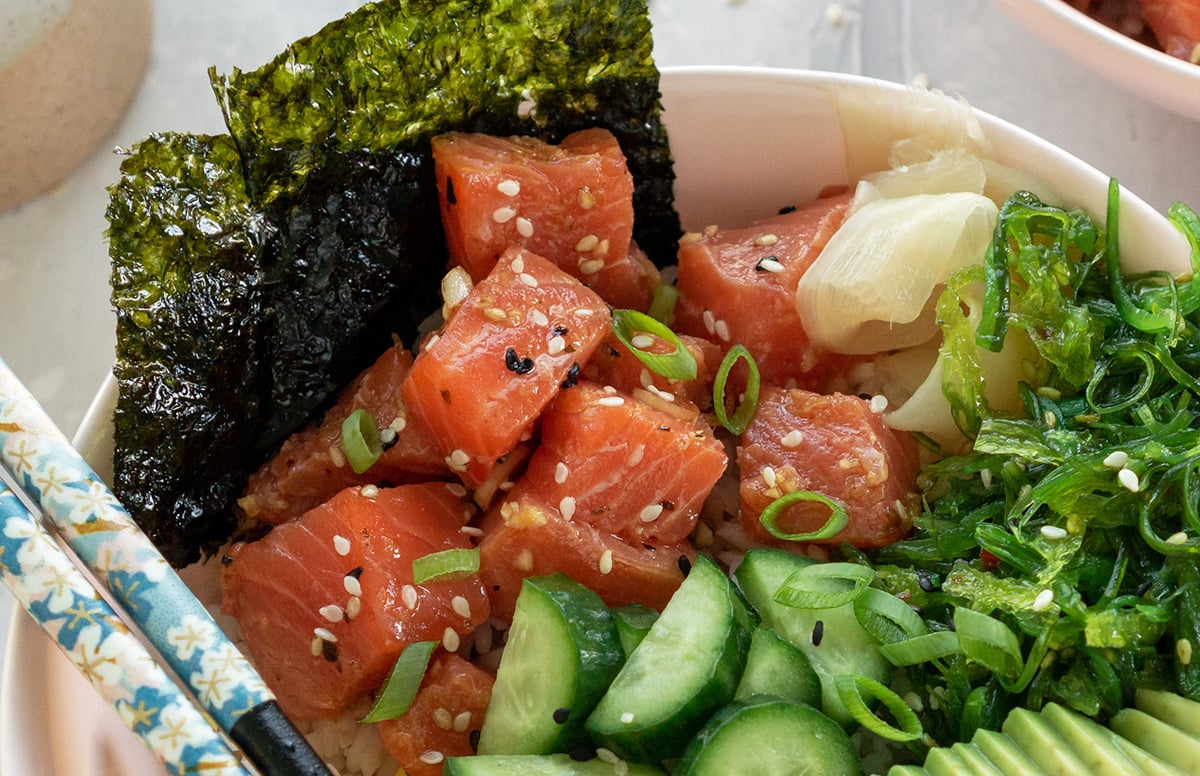 So what makes it "sushi grade"? This is really important because believe it or not, even though all fish you buy at the store is safe to eat, not all of it is safe to eat raw!
Sushi-grade fish is caught very quickly … sorry in advance for the details … bled upon capture, gutted really quickly after, and iced thoroughly.
Because salmon is a known parasitic fish, it is frozen at 0°F for 7 days or flash-frozen at -35°F for 15 hours. This kills off germs or bacteria. In fact, many sushi restaurants will freeze all of their fish unless it is literally caught and served same day, like in Tokyo.
Where to find sushi grade salmon
If you are lucky enough to live near a fish market, I recommend starting there. However, a fish market is not required and doesn't always carry sushi grade fish. Make sure you always ask if it's sushi grade before purchasing, no matter where you are.
You can usually find sushi-grade salmon in a high-end grocery store, a local grocery store with a fish counter, and sometimes in the freezer section near the fish and seafood.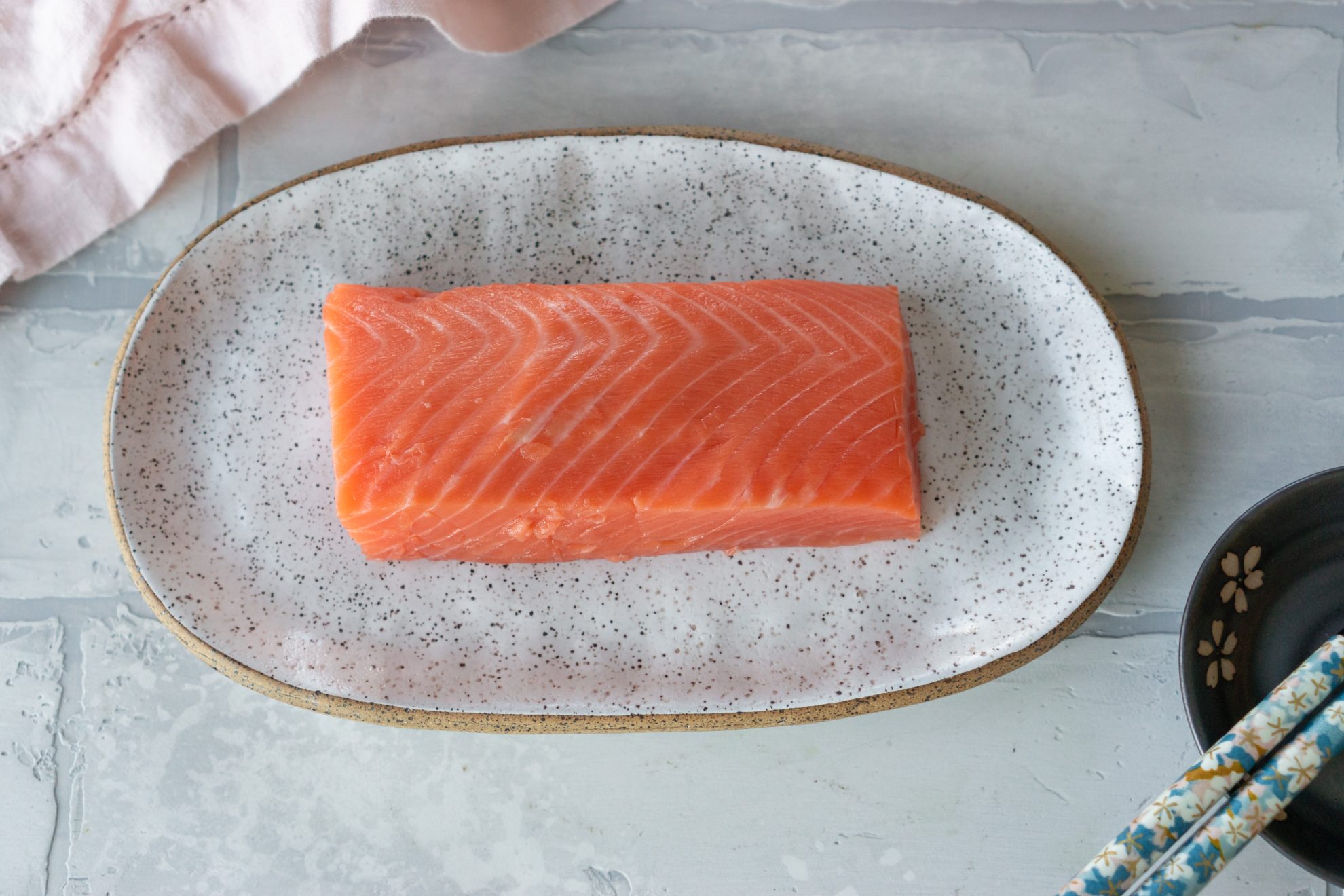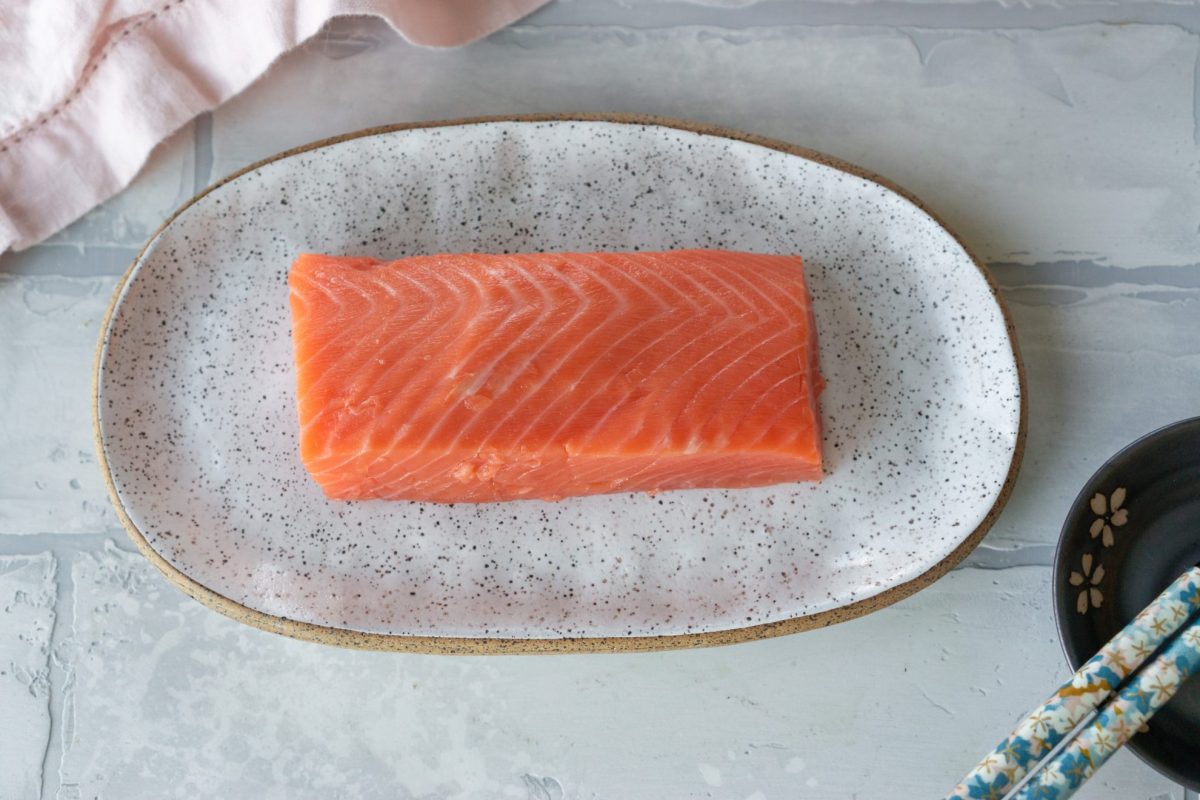 If you are shopping at your local Whole Foods or Wegmans you will notice they carry a variety of sushi-grade fish. You can find the fish skinned, cut into rectangular pieces, and packaged in boxes; which I love because it makes prepping these bowls really easy!
I've noticed the sushi grade fish is with the sushi and not the seafood counter in my local stores.
How to Make a Poke Bowl with Salmon
Marinate the salmon. Combine all poke bowl sauce ingredients and the white parts of the green onions together in a large mixing bowl. Cube the salmon, making sure to go against the grain, just like with meat and marinate in the poke sauce. Toss to combine and marinate for 15-45 minutes, no longer than 1 hour. Longer marinating times can result in tough fish. If you are planning to use the poke sauce as your dressing, set aside half and toss the other half with the salmon.
Cook the rice. Meanwhile, cook the rice according to package instructions. The rice can be prepared ahead of time and served as warm rice or cold.
Prepare the salmon. Remove the salmon from the marinade and don't dab it dry, let the sauce stick to it. Discard marinade. Do not use this as your dressing.
Assemble the bowls. Divide the cooked rice between bowls and divide up your desired toppings.
Dress It. If you've reserved the poke sauce, use this as your dressing. Otherwise, we've used a spicy aioli (sriracha aioli). Wasabi aioli is another good pick!

Can I use regular salmon for poke?
No! I cannot stress this enough. Do not use regular salmon for your salmon poke bowls or sushi at home. You MUST use sushi grade salmon. The last thing you want to do is get sick from eating salmon that is not suitable to eat raw.
Sushi grade salmon will always be marked as such. However, if you have questions about the quality of salmon you are looking at, ask someone at the fish counter or an employee in the store.
Let them know you are going to prepare and eat it raw and they will point you in the right direction.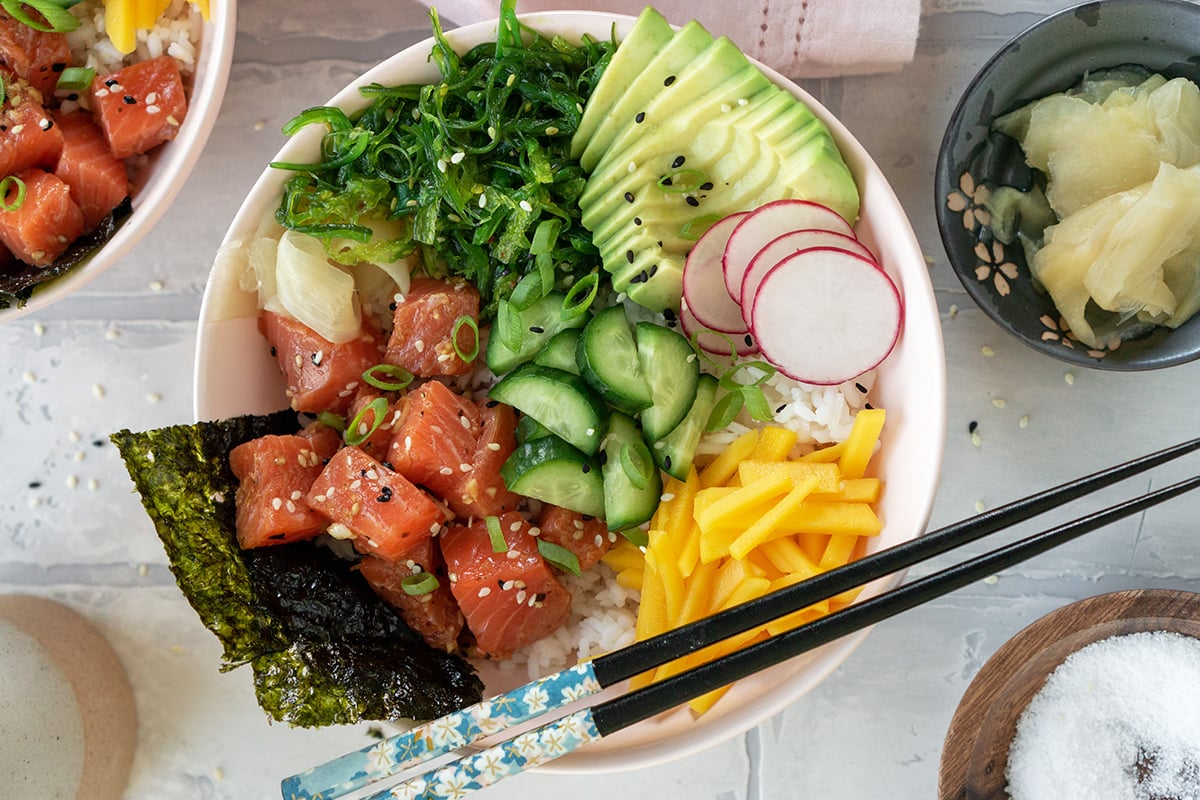 Cooked Salmon
If you are still uneasy with raw fish or uncertain if it is sushi grade, simply use cooked salmon. All of the flavors of a poke bowl without the worry.
Follow the recipe for marinating the fish and then take it out of the marinade and toss it into a hot skillet, searing on all sides. This will take about 4-5 minutes. Salmon does not have to be fully cooked to be considered "cooked" and in fact, we suggest not going over 130°F.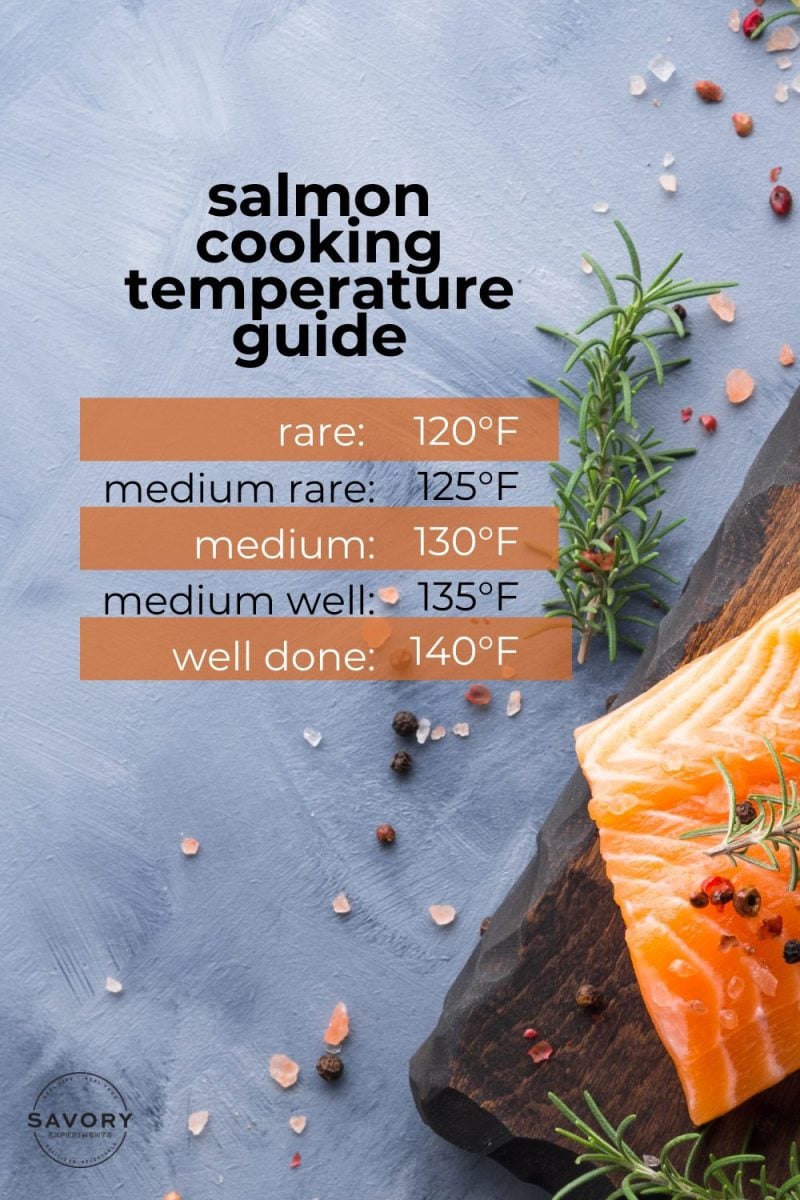 What is usually in a poke bowl?
Although you can find a lot of variety in this Hawaiian dish, they usually consist of the same basic ingredients like rice, with protein choices of tuna, tofu, salmon, and a number of toppings.
Poke bowl sauces are also an essential part of the dish and typically consist of wasabi mayo, spicy mayo, sriracha sauce, eel sauce, sesame oil, and more!
Toppings for your Poke Bowl
Looking to add or change things up? The best part of this easy recipe is the variety of toppings. No two bowls will ever be the same if you consider some of these other delicious toppings:
Pro Tip! You can also change up your grains and go with something a little healthier like quinoa or mixed greens.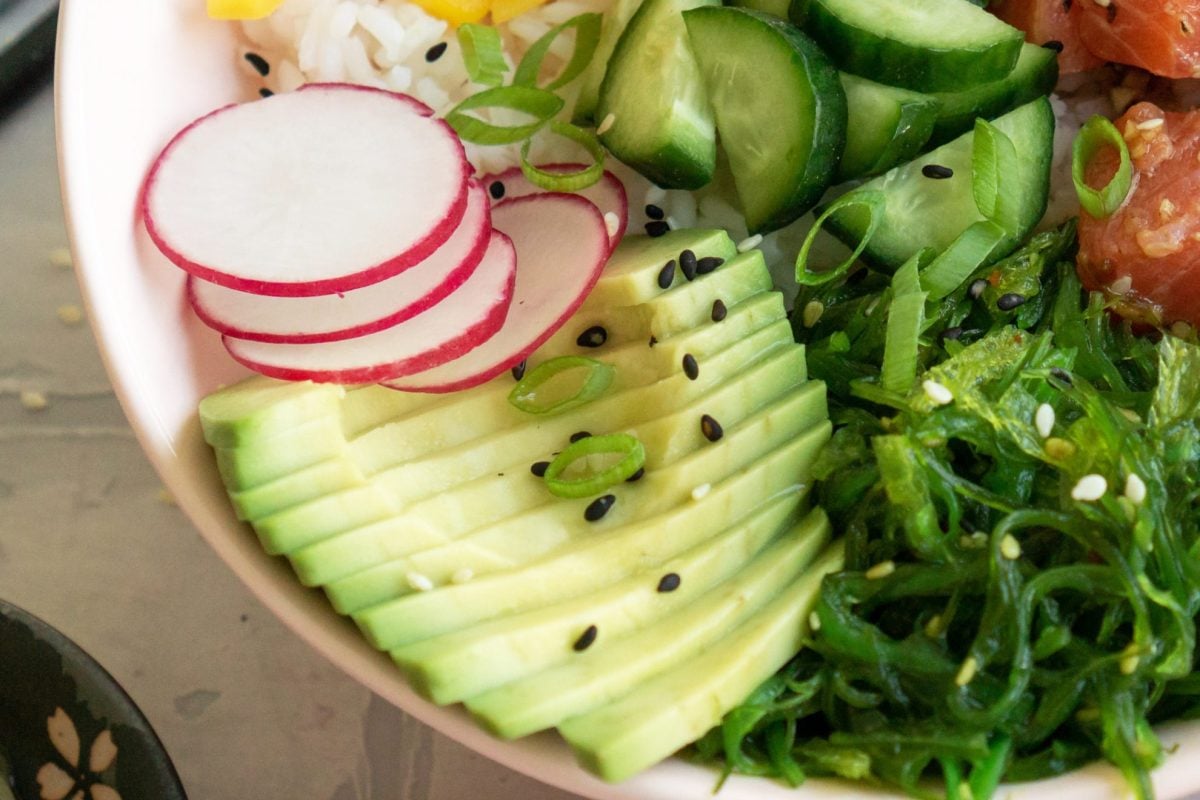 Are poke bowls healthier than sushi?
Possibly, it really depends on what you are adding to your bowl, the serving size and what sushi rolls you are comparing them against.
By the time you are done loading up your bowl, it might actually be higher in calories than your typical sushi roll.
The difference between a bowl and a roll is overall you will get better overall nutritional value, health benefits, and fewer empty carbs out of a bowl compared to eating roll after roll.
I like to balance my salmon poke bowls with a small amount of rice and a larger portion of mixed greens and raw vegetables.
Storage & Make Ahead
Because we are dealing with raw fish, it is highly suggested that you eat the entire dish. You can make it ahead, but only up to a few hours. Leftovers should be put immediately in an airtight container in the refrigerator and enjoyed within 12 hours.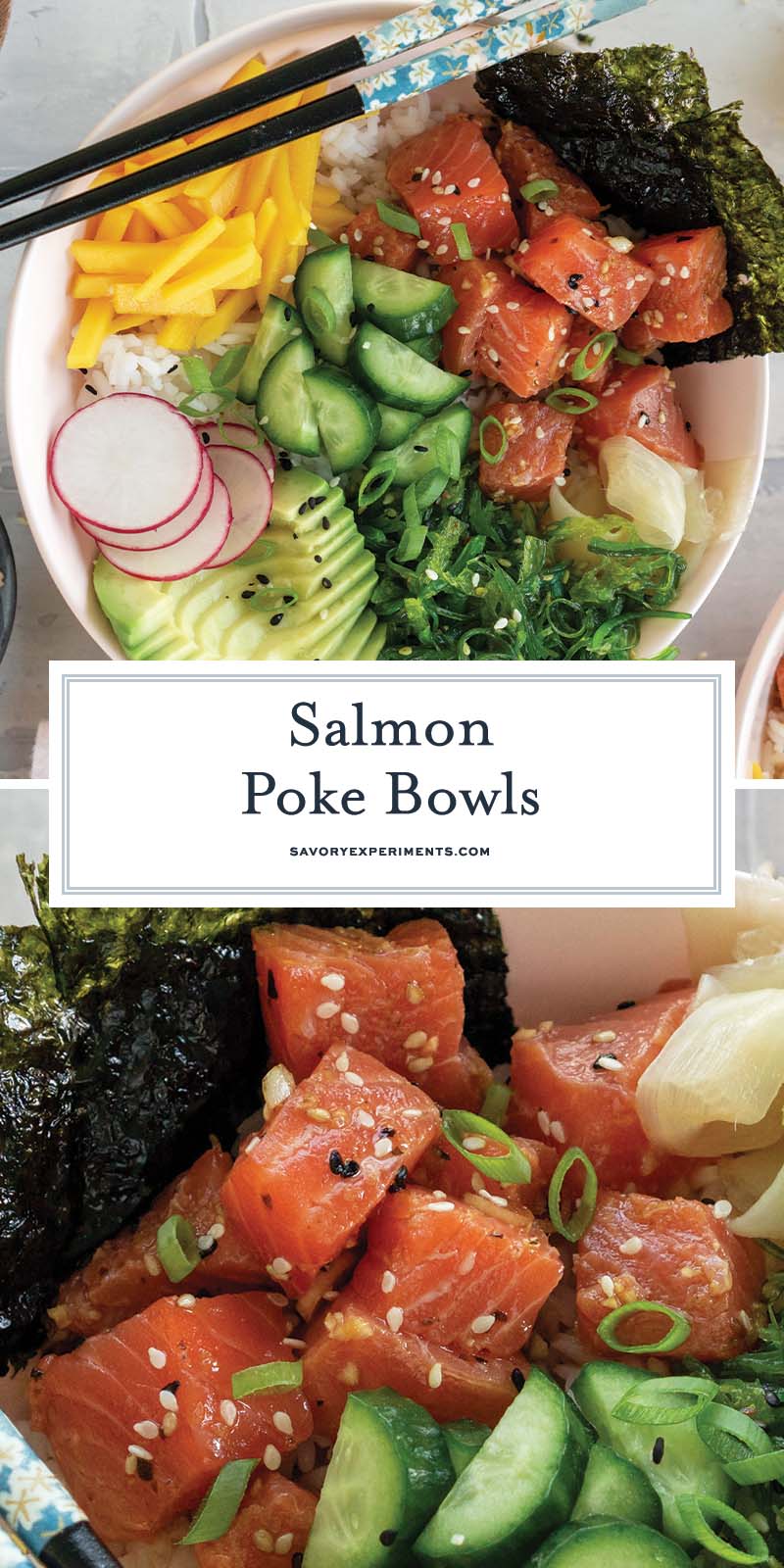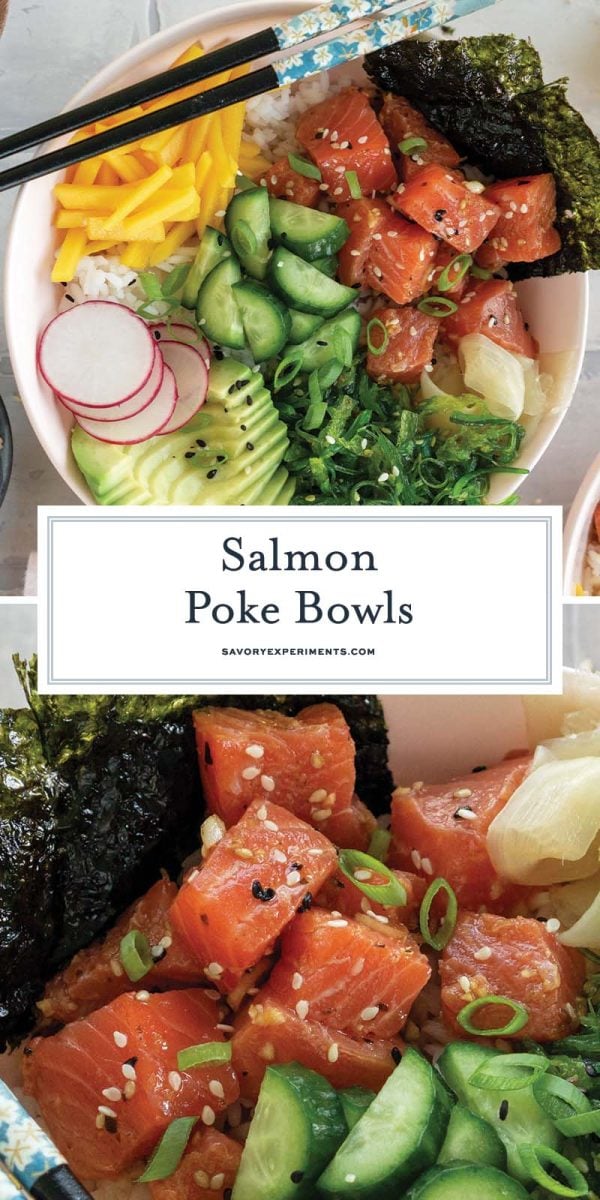 More salmon recipes: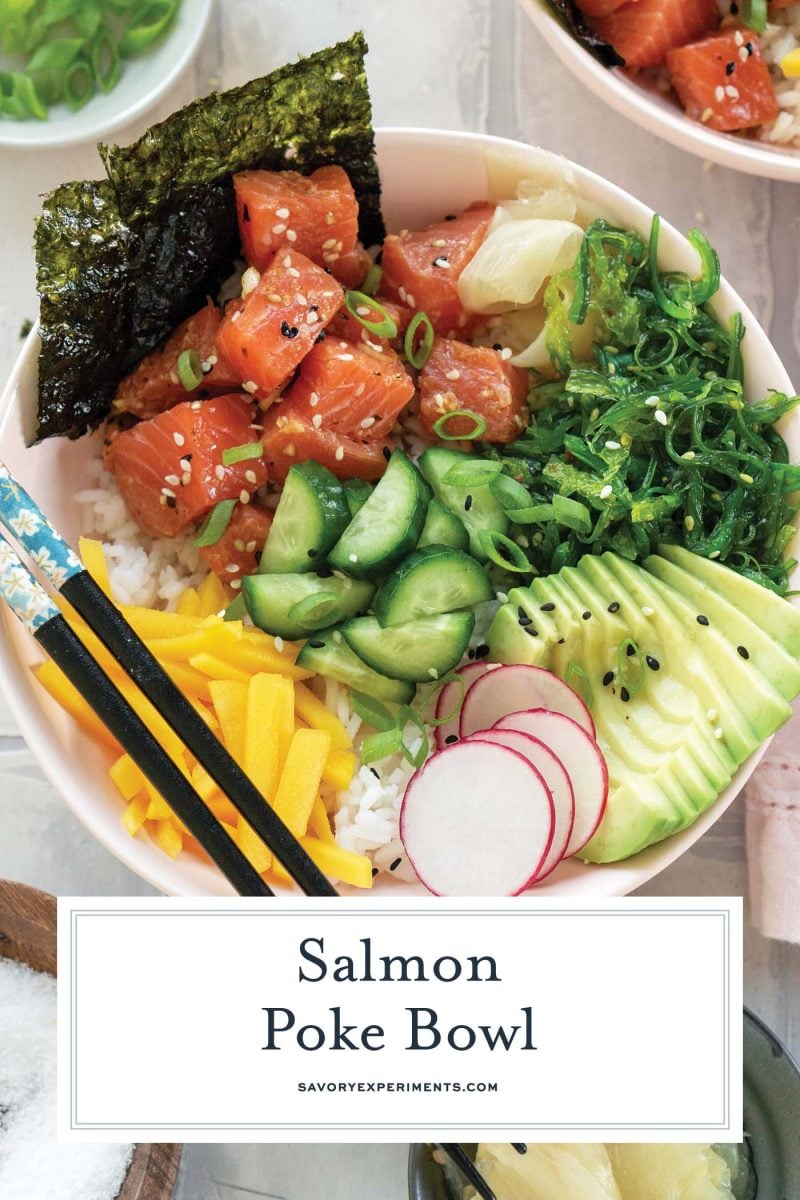 More Favorites from Savory Experiments