If you're looking for easy salmon recipes, look no further than this Lemon Pepper Salmon. It's one of my favorite fish recipes and makes an easy weeknight meal as well as a special dinner for guests.
Lemon Pepper Salmon is one of the classic healthy salmon recipes. But, did you know it's also easy? Like stupid easy.
Salmon Baked on a Sheet Pan
Salmon is one of my favorite types of fish to cook and to eat. Not only do I love the flavor, salmon offers many health benefits, like Omega 3s, and is high in protein.
It's one of my favorite proteins when I'm looking for something light but also filling and also for easy clean up.
Salmon is great for cooking on a sheet pan covered with aluminum foil or parchment paper.
Some recipes have you wrap the whole piece of fish in aluminum foil, but this steams the fish and I find it cooks better to a medium temperature when just baked.
Lemon Pepper Topping
The outcome of a dish really does depend on the quality of ingredients… and one of my easy tips. You can easily make a lemon pepper salmon with a lemon-pepper seasoning out of a jar using dehydrated lemon zest and black pepper that was milled a year ago, or you can use fresh ingredients.
My Lemon Pepper Salmon recipe uses fresh lemon slices to keep your salmon moist, lemon zest to give it the citrus flavors you crave, freshly ground black pepper and coarse Kosher salt.
PRO TIP: Fresh lemon juice packs more flavor than bottled lemon juice. Lemon juice starts to lose potency the moment it is juiced.
Using zest instead of juice keeps the salmon filets dry, which allows other seasonings to stick better and packs more punch. I also highly recommend grinding fresh black peppercorns.
You will be amazed by the difference in flavor from a freshly ground black pepper to a pre-ground pepper. You'll never go back.
How to Make Lemon Pepper Salmon
What I love about this Lemon Pepper Salmon is that it is a one pan dish that is easy enough to make for dinner any night of the week. There's not a lot of prep involved and you can have a healthy dinner on the table in less than 30 minutes
However, it also looks pretty enough to present to guests. Every time I've served this to a dinner guest, they've loved it.
Step #1– Prepare your baking sheet and line the bottom with thin lemon slices. This adds flavor while preventing your salmon from drying out.
Step #2– Add salmon over lemon slices and season with zest, freshly ground pepper and kosher salt.
Step #3– Bake for about 15 minutes. The time will greatly depend on how thick your salmon filets are and what degree of doneness you prefer.
PRO TIP: If you have a piece of salmon with a thin end or tail, simply fold it over and under the large piece so it appears to be a uniform thickness the whole way across.
Step #4– Salmon is done when it starts to flake easily with a fork. Salmon is recommended to be cooked at 145 degrees, which is well done, but most chefs will pick a medium doneness which is around 125 degrees.
What to Serve with Salmon
Add veggies straight to the baking sheet making it a sheet pan meal. These are my favorites:
Sliced zucchini
Asparagus
Green Beans
Tomato halves
Broccoli
Cauliflower
Or just serve it with a nice green salad and herb dressing. Other favorites include:
Ranch Pasta Salad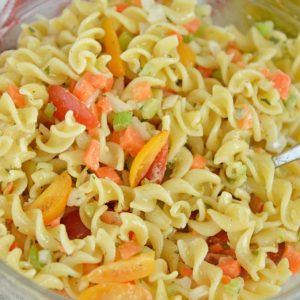 You won't go back to regular pasta salad after you've tried this delicious Ranch Pasta Salad recipe! It's easy to make with simple ingredients!
Asiago Asparagus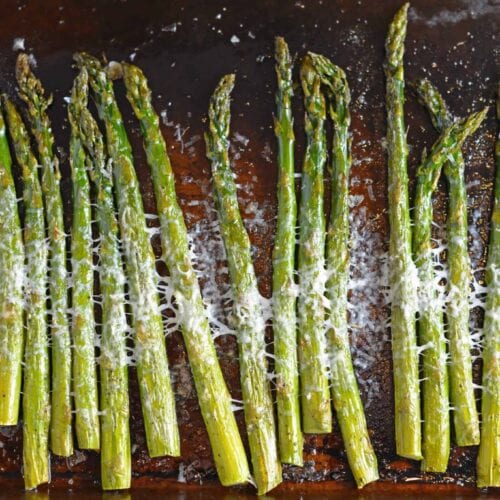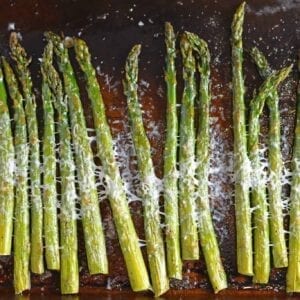 This delicious Asiago Asparagus is a quick and easy roasted asparagus recipe requiring only 4 ingredients and 15 minutes to prepare.
Crunchy Broccoli Slaw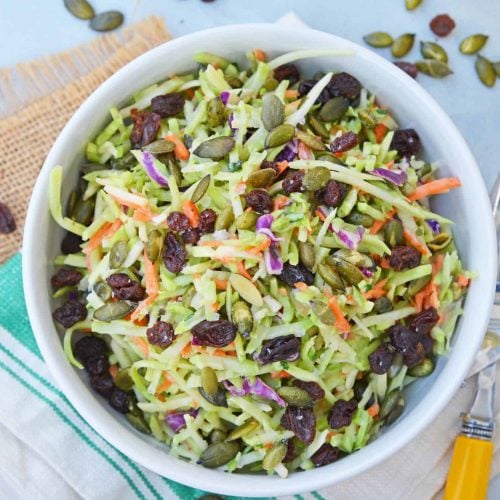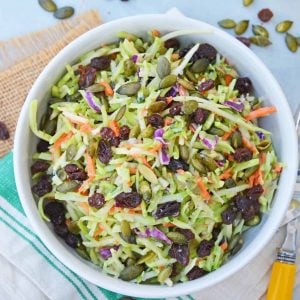 This Crunchy Broccoli Slaw Salad is made with a bagged broccoli slaw and a few extra ingredients for a quick, easy and tasty side salad!
White Stuff
Oh, the white stuff. It is called albumin. It is totally harmless and actually protein. As the salmon cooks, the fibers squeeze tighter and squeeze out this protein. I also use the appearance of albumin to know my salmon is almost or already done.
It is hard to tell which pieces will have it and which won't, but generally speaking, wild caught salmon has less while farm raised salmon has more.
Wild caught salmon is more lean and has less nutrients, but farm raised is actually better for the environment because it is sustainable. Look for US or Canada based salmon to make sure yours was raised with strict guidelines and parameters.
Wild caught is also more expensive and typically harder to find, but also a deeper color of magenta. If you are keeping a Whole30 diet, you'll need to find wild caught salmon.
This pale pink is a farm raised salmon and what you'll generally find in grocery stores and restaurants.
What You'll Need
Digital Thermometer– No, it isn't "cheating". Every chef has one on their lapel. It is the only reliable way to tell doneness for both enjoyment and food safety reasons.
Rimmed Baking Sheets – I really like this thick, industrial gauge baking sheets. You'll find this type in professional kitchens and are less likely to warp. Also, super cheap and they come in a variety of sizes. I have one of each!
Fish Spatula– Fish spatulas are just longer so they can easily pick up a whole fish fillet. I use them for much more than just fish.
Ranch Salmon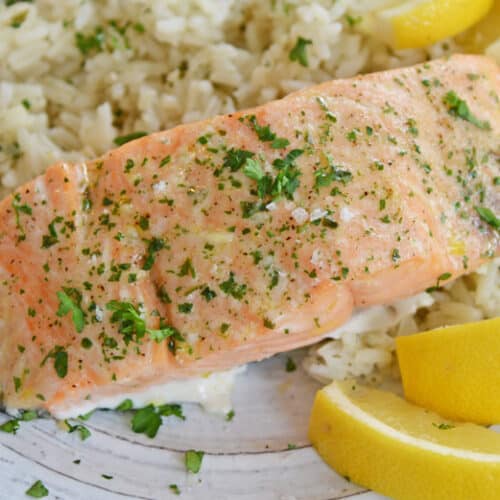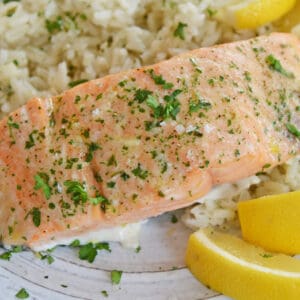 Looking for an simple weeknight meal with minimal ingredients? This easy Ranch Salmon is it!
Lemon Dill Salmon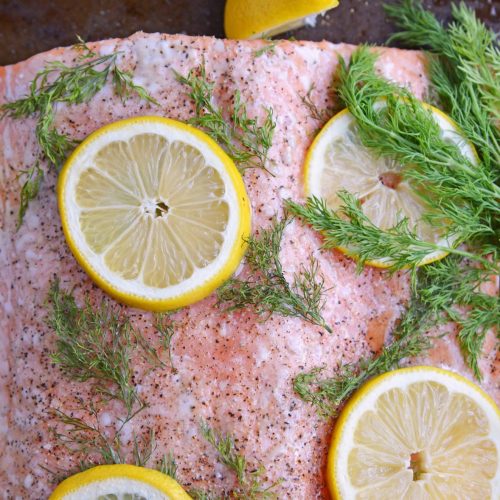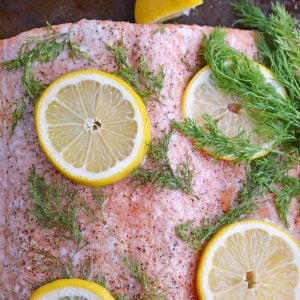 This Lemon Dill Salmon is easy, healthy, and delicious. Baked salmon full of fresh, citrusy flavor is ready in just 15 minutes!
Pesto Salmon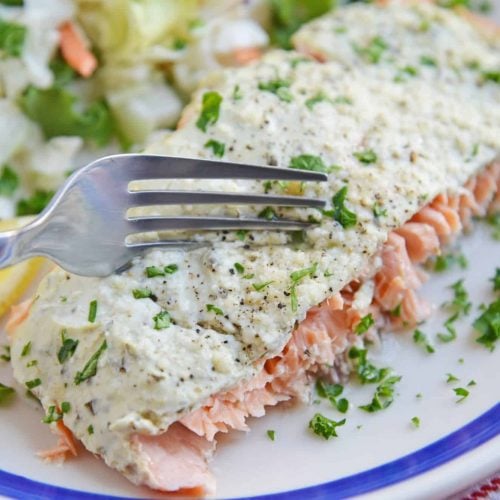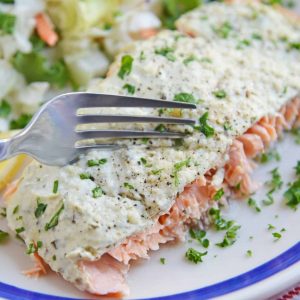 This Pesto Salmon recipe is the best way to make baked salmon. With only 5 ingredients including Greek yogurt and homemade pesto, it will be your new favorite.
CONNECT WITH SAVORY EXPERIMENTS!

Be sure to follow me on social media, so you never miss a post!

Facebook | Twitter | Youtube
Pinterest | Instagram
Get our FREE 8 Day E-Course on How to Be a Better Home Cook. Sign up HERE!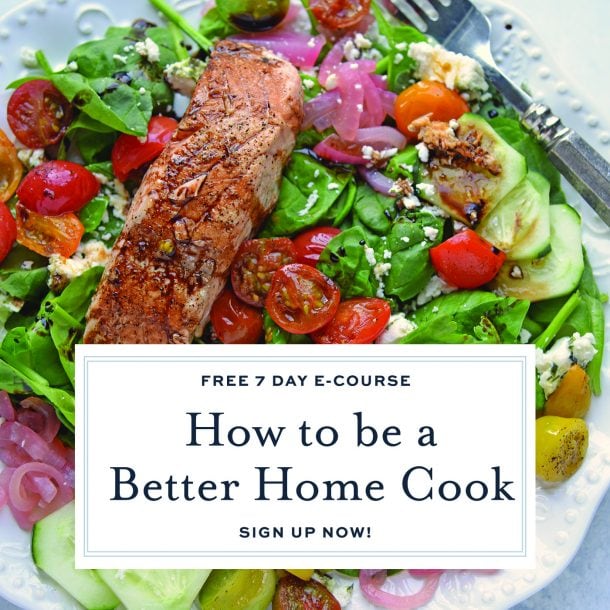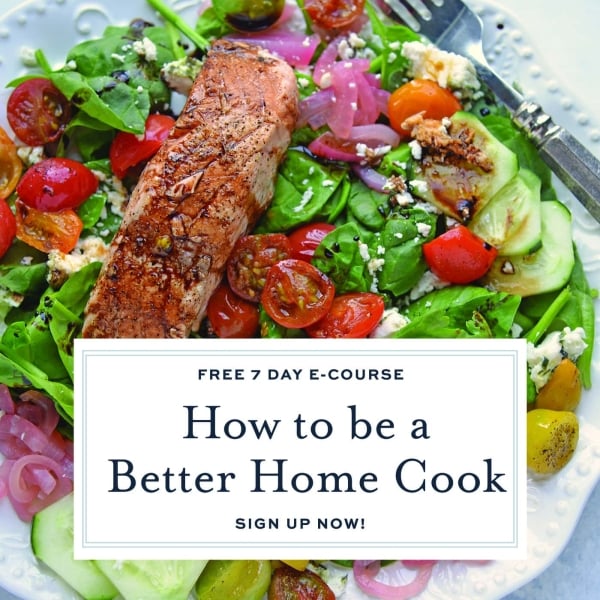 Lemon Pepper Salmon
Lemon Pepper Salmon is one of the classic healthy salmon recipes. But, did you know it's also an easy salmon recipe? Even when using fresh ingredients, Lemon Pepper Salmon is a light and easy salmon recipe!
Instructions
Preheat oven to 350 degrees. Line a rimmed baking sheet with aluminum foil.

Zest one lemon, set zest aside.

Thinly cut lemons into slices and line the bottom of the baking sheet.

Place salmon filets on top of lemon slices.

Season with lemon zest, Kosher salt, ground black pepper and fresh parsley.

Bake for 12-15 minutes, depending on how thick your salmon filets are.

Remove and allow to sit for 2-3 minutes before serving.

If you've tried this recipe, come back and let us know how it was!
Nutrition
Calories:
193
kcal
|
Carbohydrates:
10
g
|
Protein:
23
g
|
Fat:
7
g
|
Saturated Fat:
1
g
|
Cholesterol:
62
mg
|
Sodium:
633
mg
|
Potassium:
704
mg
|
Fiber:
3
g
|
Sugar:
2
g
|
Vitamin A:
45
IU
|
Vitamin C:
57.3
mg
|
Calcium:
42
mg
|
Iron:
1.5
mg