Tilapia is one of those fish that doesn't taste too fishy and even non-seafood lovers enjoy. It is also easy to prepare and pretty healthy, in the traditional sense at least, especially this easy Parmesan Crusted Tilapia!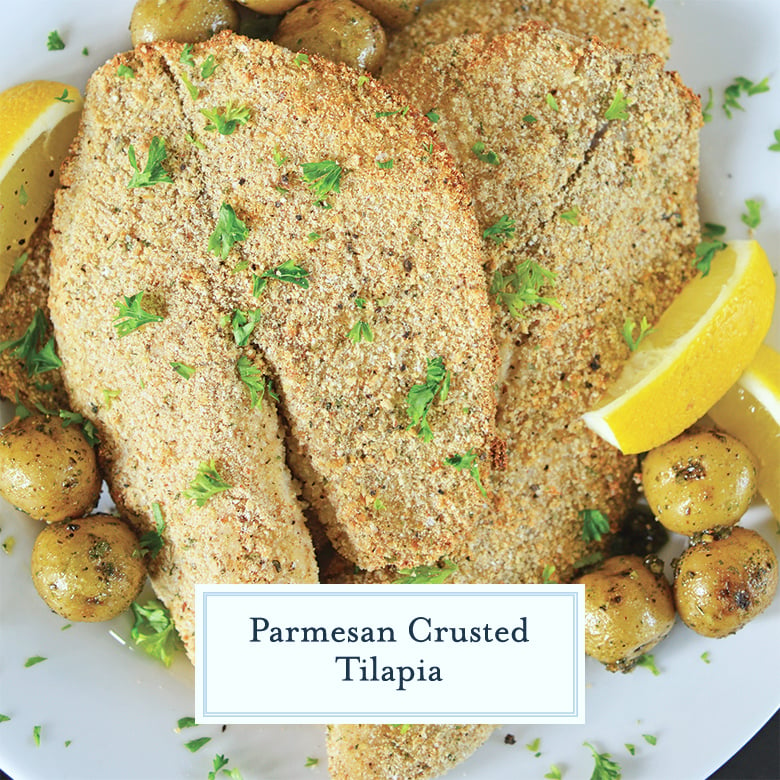 Tilapia Fish
What is tilapia? Some don't even think it is a real fish, but it is! However tilapia isn't just one species of fish, it actually refers to over 100 different species of freshwater white fish that all have the same characteristics.
Most are fairly thin, small and have very little to offer as far as taste. Which isn't a bad thing if you don't like the taste of fish and to be able to paint this blank canvas any way you want.
Think of tilapia as the tofu of fish.
Breaded Baked Tilapia
This recipe started as one I tried out of a Cooking Light magazine in my college days. Since I didn't grow up eating much fish, I was determined to try a few at home and this was easy and also didn't require a laundry list of ingredients.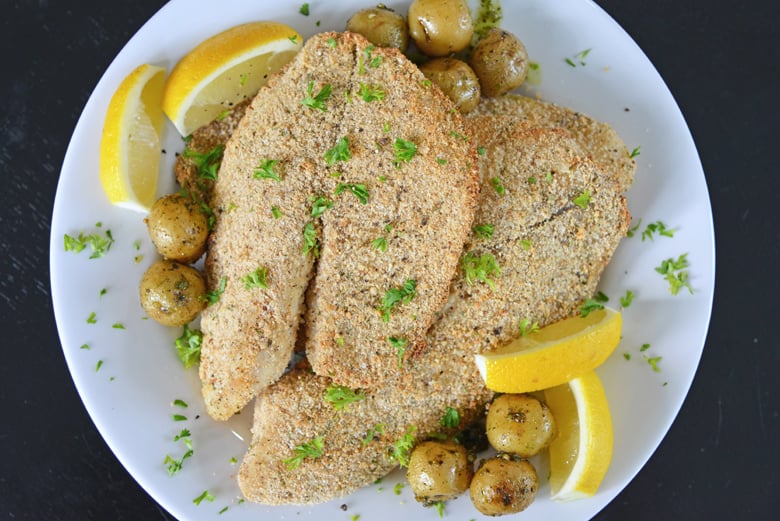 Little did I know, the same characteristics that appealed to me in college would also appeal to me over 20 years later as a working mom. I honestly have no clue what the original measurements were or even if it used the same spices- it has been on of those "a little of this, a little of that" for years until I write it down for all of you.
Flavor is added using simple seasonings, breading and finely shredded parmesan cheese. Still mild in flavor, you can feel free to add sauce or simply serve it with lemon wedges.
Tilapia in the Oven
Due to tilapia being a thin fish and not as hearty as others, cooking it in the oven or in a frying pan are good bets. You can do it on the grill, but it needs to be in a pan, not directly on the grates or in a fish basket.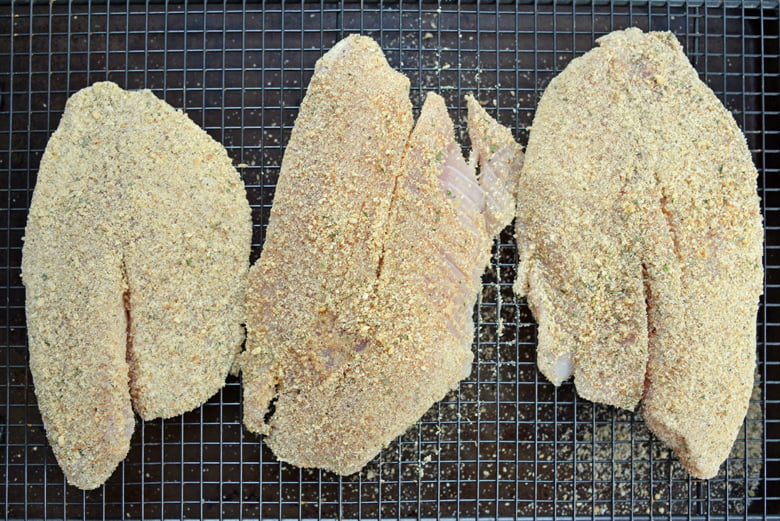 How long you'll need to bake your parmesan crusted tilapia really depends on the thickness of your fish. A thicker fillet will need closer to 18-20 minutes, but smaller only about 12-15 at 350 degrees.
Since it is so thin, check for doneness by using a fork to see if it easily flakes instead of taking an internal temperature.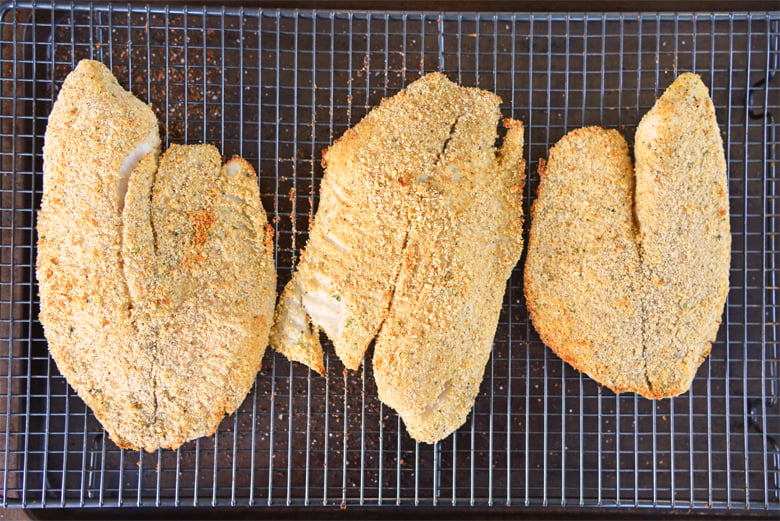 Parmesan Crusted Tilapia Recipe
This recipe is so simple easy. It is breaded and baked, so you just need to do one quick dredge in the breading and that is it! No need to do a flour and egg dip.
I used seasoned bread crumbs so they already have Italian seasoning in them, but you can use plain (and add Italian seasoning) or panko. Although I find that the large grains of panko is a little overwhelming for this delicate fish.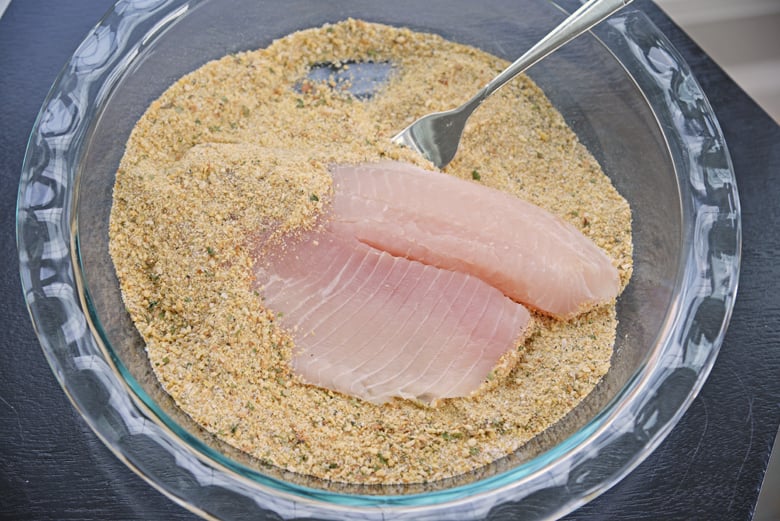 You can even use cracker crumbs like Ritz or saltine. If you do use a salted cracker, omit additional Kosher salt.
I like to place mine on an elevated rack, like a broiler pan or oven safe cooling rack. This ensures the hot air circulates evenly around the whole fish and the bottom will get just a crispy as the top. If you don't have one, feel free to put it directly on the baking sheet or baking dish.
Then you bake it and serve. That is it!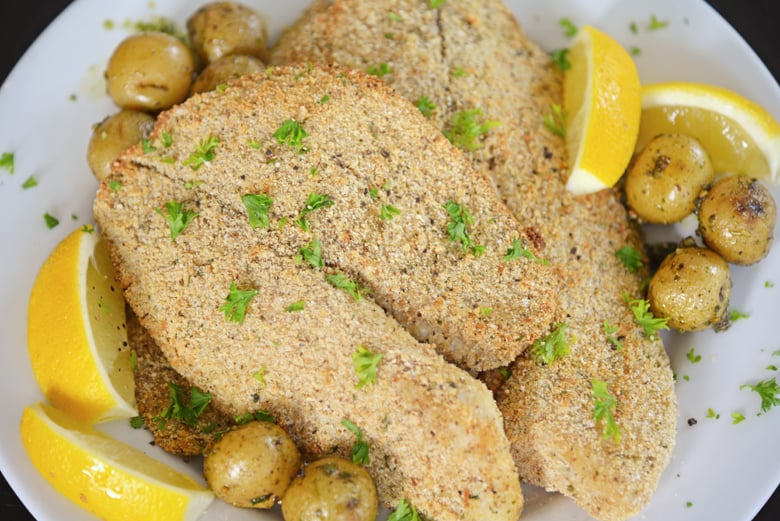 Parmesan Crusted Tilapia Fish Tacos
This baked tilapia recipe is also perfect for making fish tacos. They are the excellent blend of crunchy and fresh.
Pair with my favorite pico de gallo, pineapple salsa or just vinegar coleslaw and a few fresh jalapeno slices for the perfect taco.
Bake tilapia as directed and then cut into strips for easy wrapping in tortillas. We even have more fish taco ideas!
What to Serve with Parmesan Crusted Tilapia
Anything, really. This recipe is so tasty, but also fairly simple so it can blend with so many flavors. I do like having a starch and a veggie, so here are my best picks.
For starches, either potatoes or rice are good picks, but this fish also tastes great on a bed of pasta with alfredo sauce. Try my Almond Rice Pilaf or Balsamic Roasted Veggies too.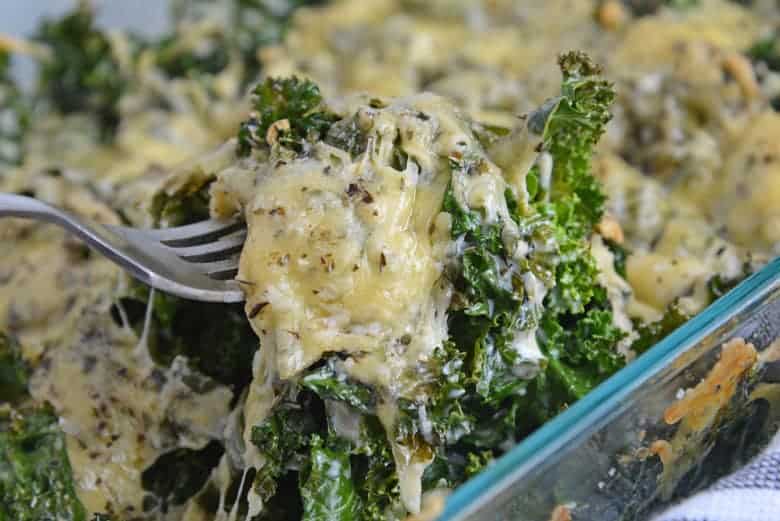 Also go for green with cheesy baked kale, roast broccolini or even a nice leafy salad with ranch dressing.
Storage & Freezing
I don't recommend making this recipe ahead of time. While it can totally be done, reheated fish, especially a thin fish like this, tends to just get dried out. The crispy breading will never crunch up the same either.
I also don't recommend breading them ahead of time. You can, however, prepare the breading and then dredge and bake when you are ready to eat.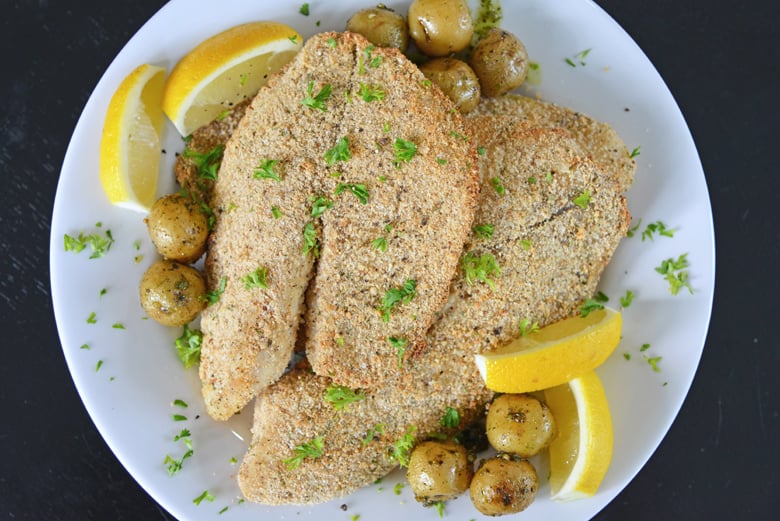 Leftovers can be stored in an airtight container for up to 3 days in the fridge. I do not recommend freezing this fish after it is cooked.
Chances are it was previously frozen and shouldn't be refrozen. It will also be rubbery and dry when thawed and cooked again.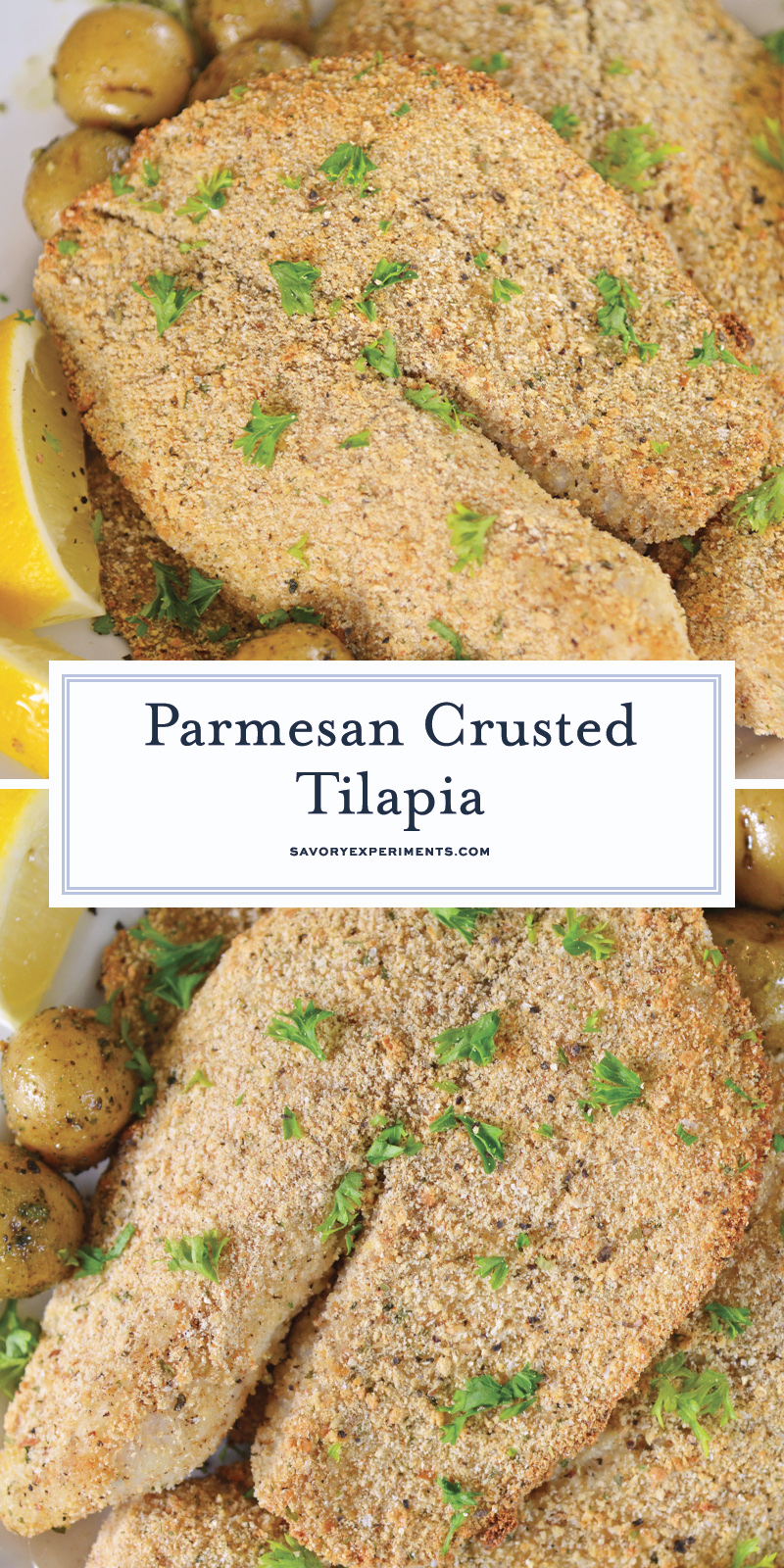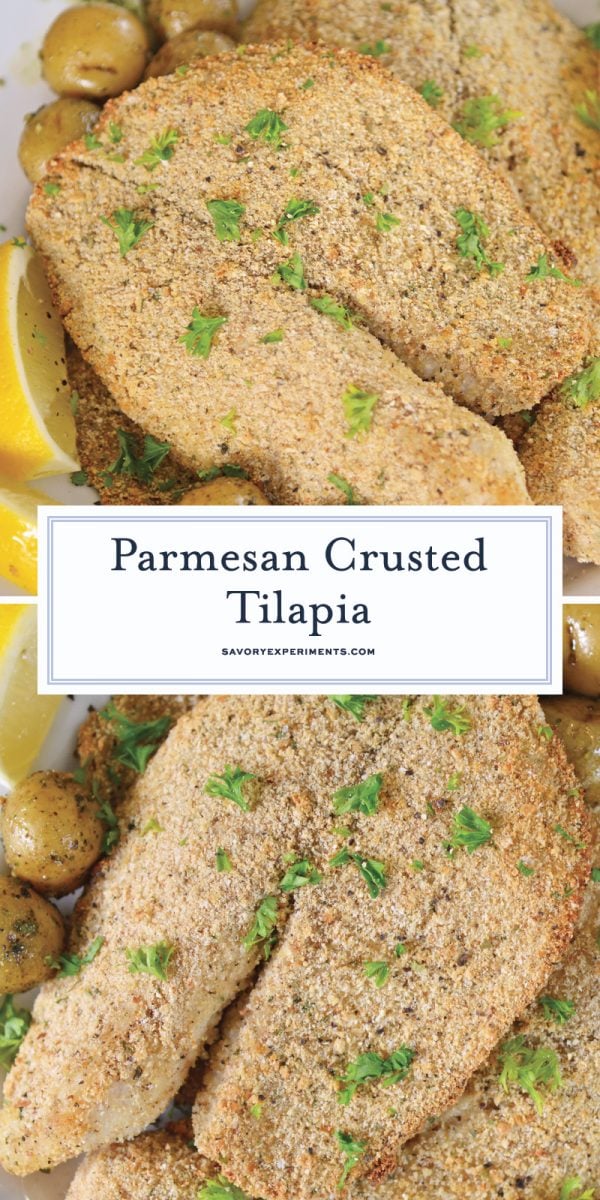 More seafood recipes you will love: