If you find yourself unable to use an entire bottle of tartar sauce before the expiration date, making some homemade tartar sauce might just be the solution.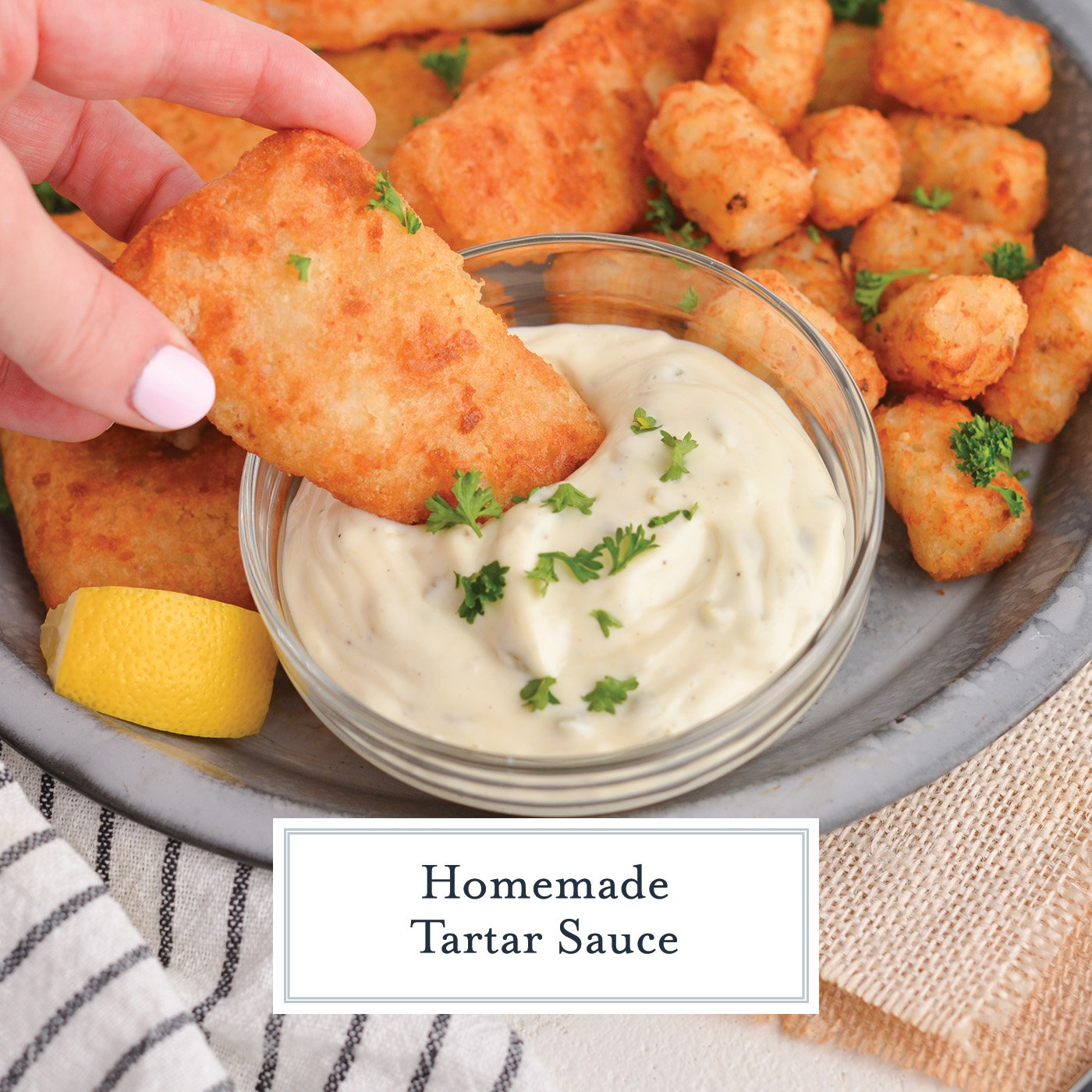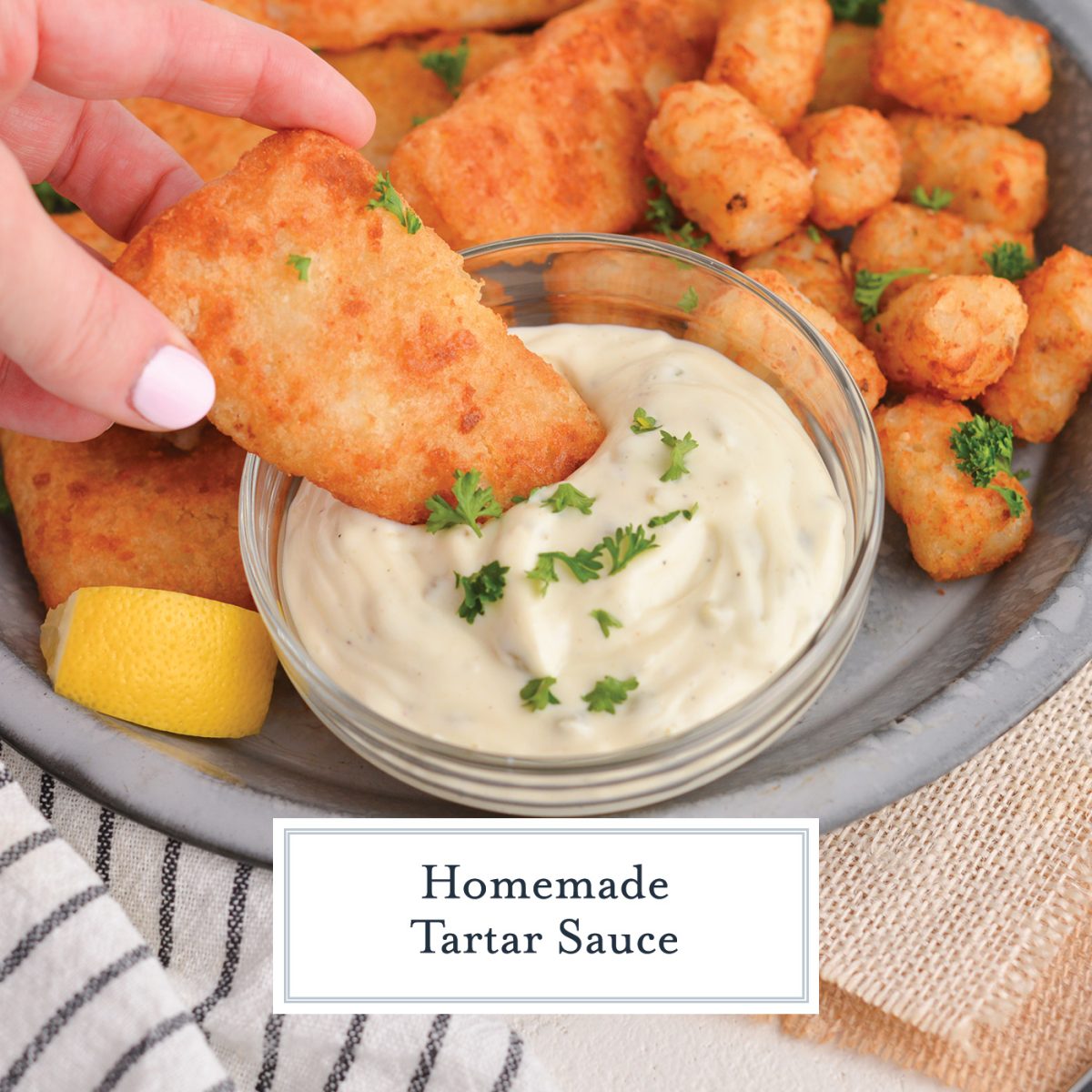 Tartar sauce is a must-have for nearly any dish with seafood or fish. Why buy it from the store when you can make this tasty homemade tartar sauce in seconds with just a handful of ingredients?
This tartar sauce recipe is easy to whip up just hours before dinner and tastes better than anything you'll find in the store!
What is Tartar Sauce?
Tartar sauce. It's a condiment pretty high on the "love it or absolutely hate it list". Either you think it belongs with nearly every fish or seafood dish you make, or you don't even want it in the house. It is a mayo base with some sort of pickles and mustard.
As a child, ketchup was the only thing that belonged anywhere near my fish sticks but as an adult, I've grown to love and appreciate tartar sauce (and also remoulade and cocktail sauce, but that is another story).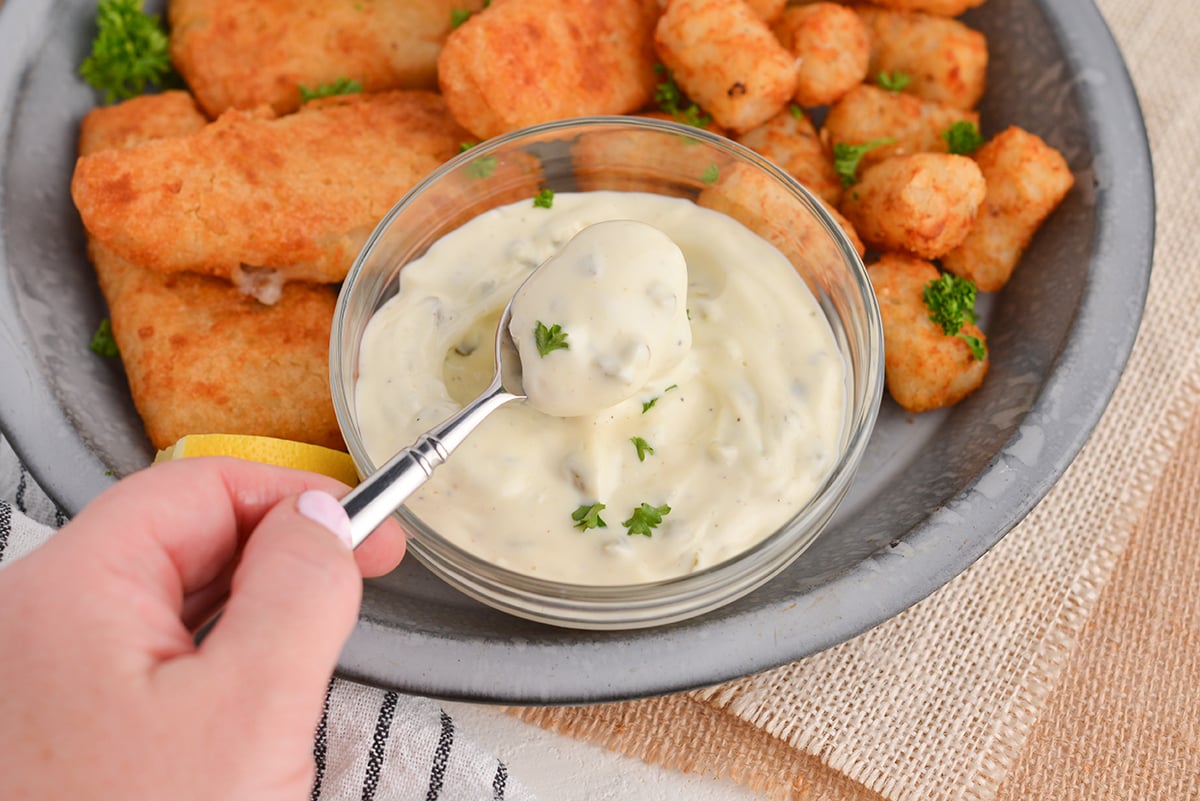 What's In Tartar Sauce?
The ingredient list is pretty short and quite frankly, probably items you already have in the fridge.
Mayonnaise- Homemade or store bought. I haven't experimented making this recipe with plain yogurt base, but it is possible.
Pickles or cornichons- Minced super small, these are the little green bits. Customize your sauce by using speciality pickles like habanero honey or bread and butter.
White wine vinegar- This is our secret ingredient and serves two purposes. In addition to mustard, it gives a slightly acidic and "wow" factor to this famous dipping sauce. It also thins it our a tad for a better dippable consistency. Sometimes straight mayo can be a little too thick.
Dijon mustard– For this sauce I use a smooth Dijon, but coarse can also add interest and texture. Experiment with other varieties and use a basic yellow mustard if that is all you happen to have.
Coarse kosher salt– Salt brings out the natural flavors in all of the ingredients.
Ground black pepper– Or opt for white pepper if you'd prefer a less peppery taste.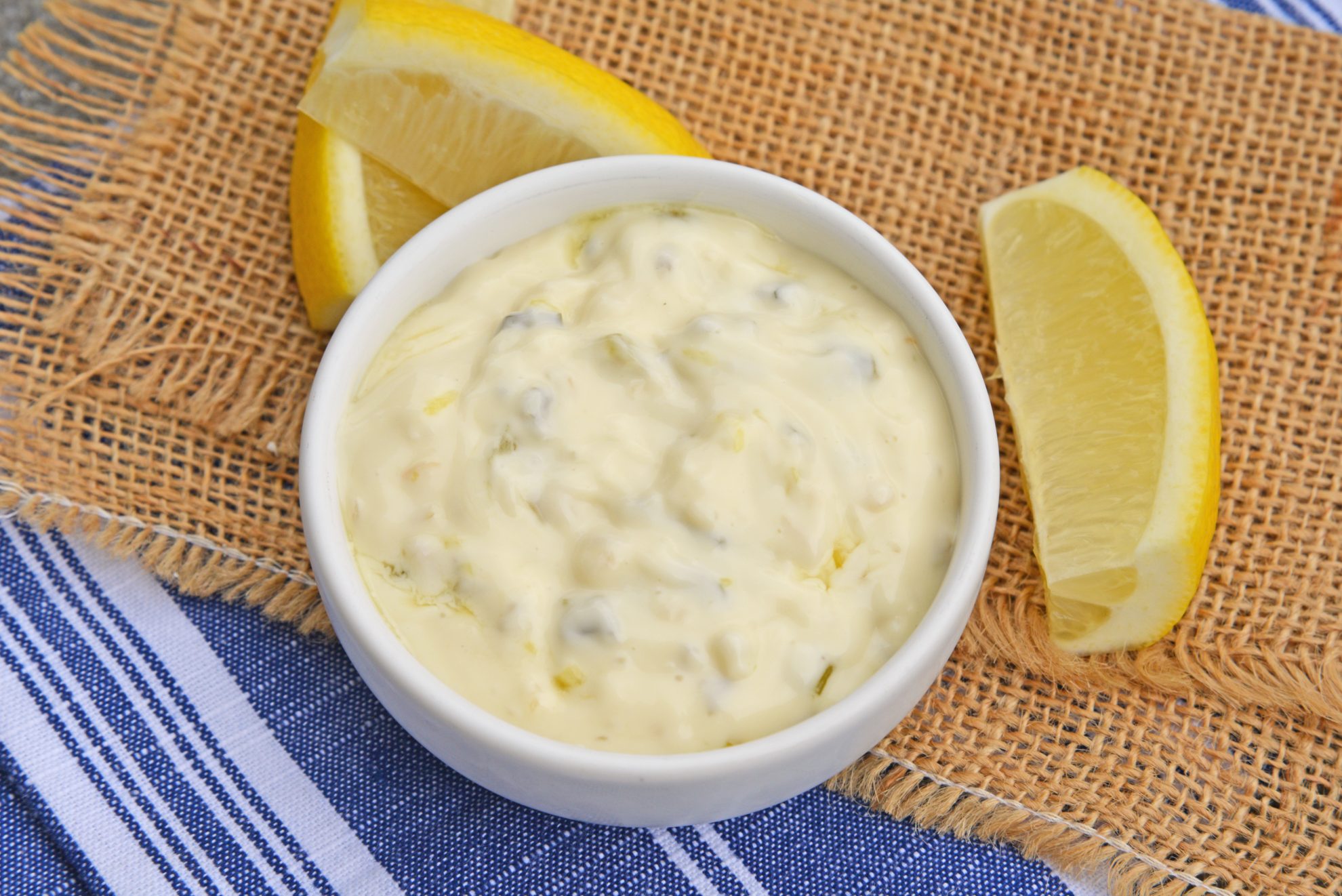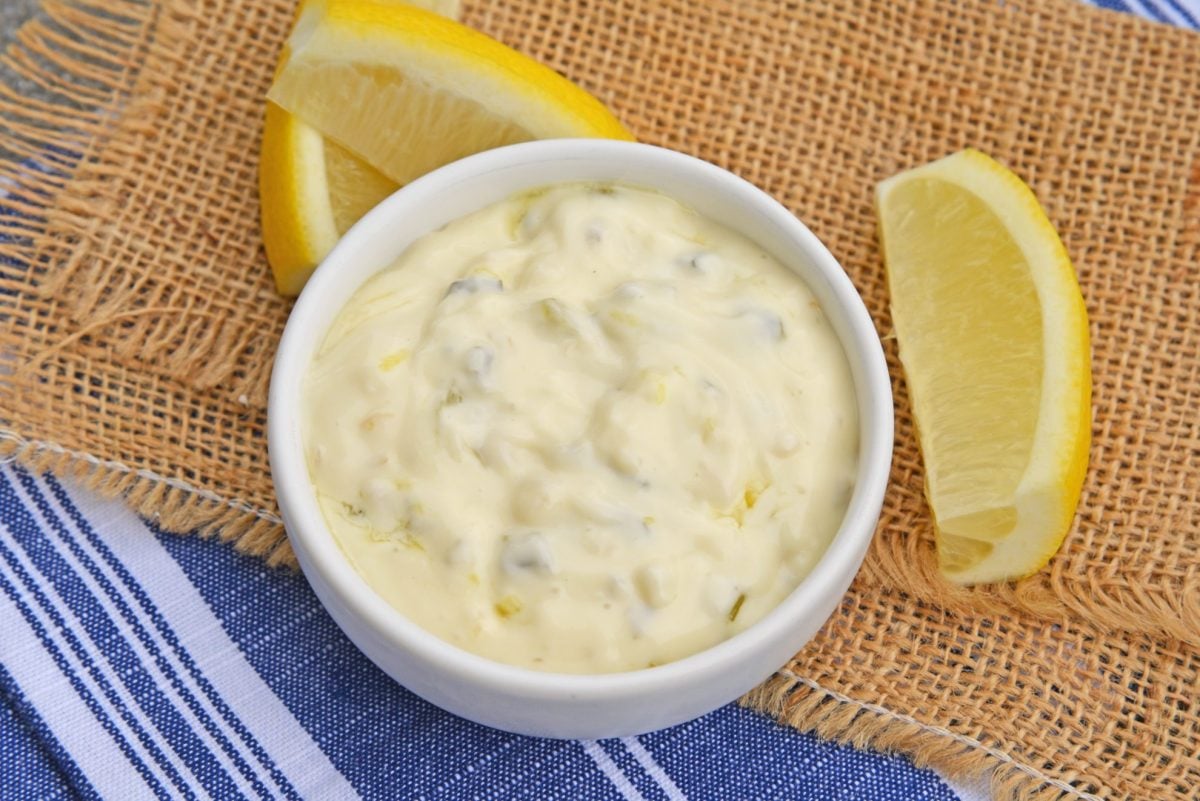 To make it, simply combine in a bowl and whisk! You can also give it a few blitzes in a mini food processor, but don't let it whirl too long or the pickles bits will pulverize and be non-existent.
Like most sauces, tartar sauce will taste even better if the flavors have time to marry. You can eat it right after making, but if you happen to have an hour or more, let it sit in the fridge for a bit.
History of tartar sauce
The sauce and its name have been found in cookbooks since the 19th century. The name derives from the French sauce tartare, same as beef tartare and the such.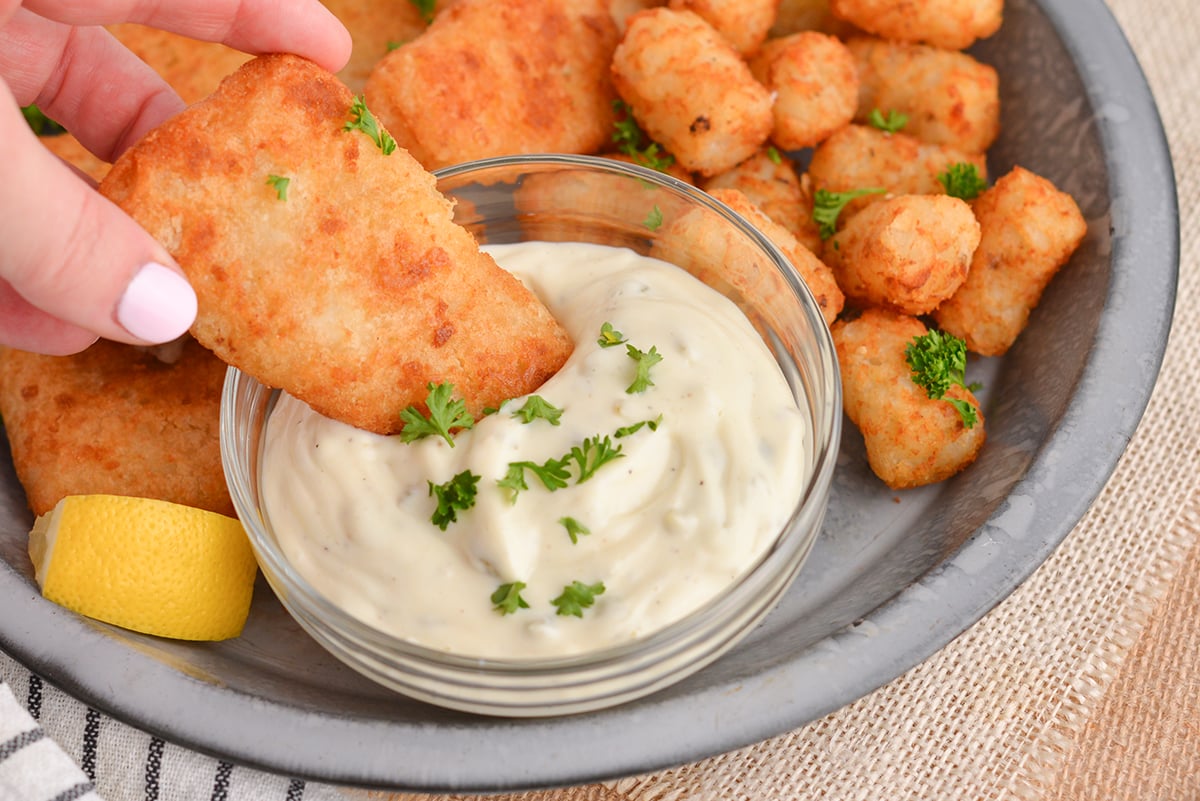 You can also find a similar sauce with different names throughout England and Turkey, so the actual origins of the sauce itself are unknown. The original variations used finely chopped capers and dill instead of dill pickles or gherkins.
I like adding those additional ingredients for dinners like battered fish fingers to give the meal even more added flavor.
Variations
This sauce is super easy to customize, adding more or less of the flavors you love or can do without. Here are my favorite add-ins to pair perfectly with whatever dish you plan to serve it alongside.
minced capers
hot sauce
parsley
pimento (minced roasted red peppers)
dill relish
sweet pickle relish
fresh dill weed or dried dill
pickle juice
green onions (scallions)
lemon juice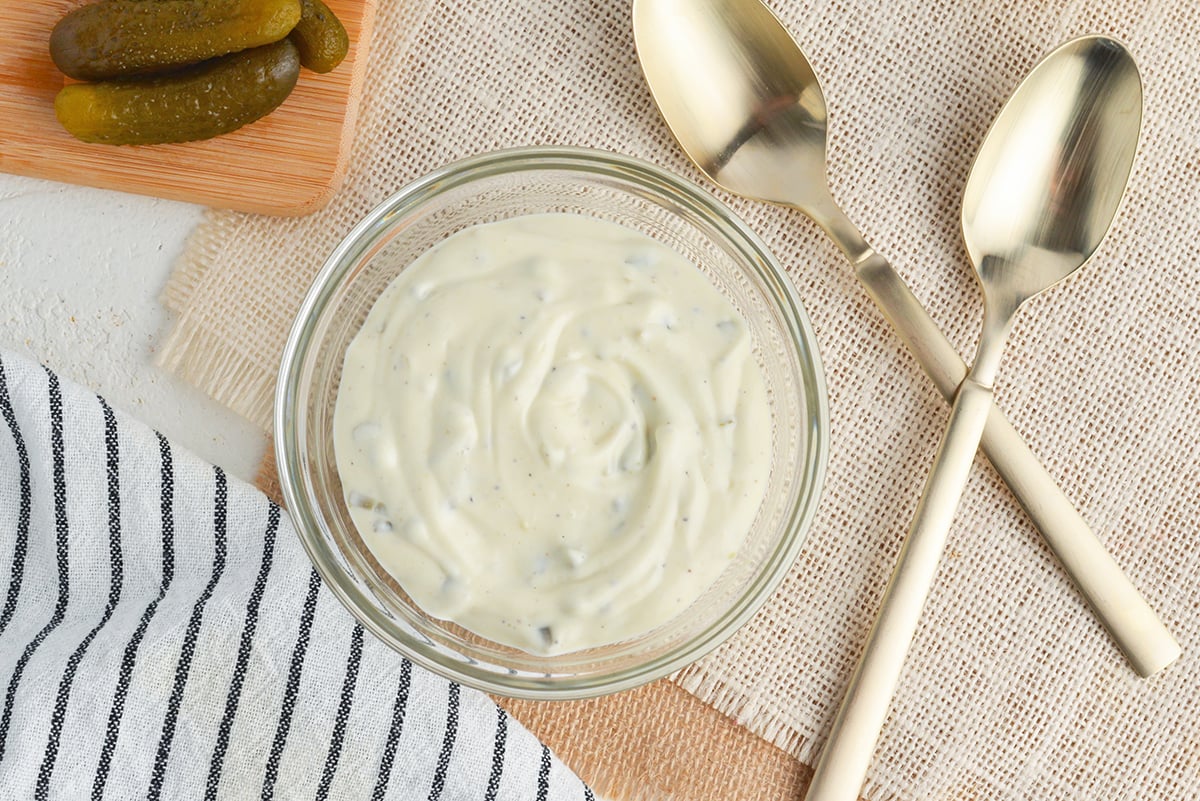 What Does Tartar Sauce Go With?
The correct answer is just about anything you want! It is traditionally served with seafood and fish, but here are a few more ideas.
Make Ahead & Storage
Can I make tartar sauce ahead of time? Sure! This condiment is perfect made in advance. I would say about 24 hours, keep it chilled until ready to serve and then give it a quick stir before serving.
Store in an airtight container for up to a week. Stir well before using.
Can I freeze tartar sauce? I do not recommend freezing any mayonnaise based foods.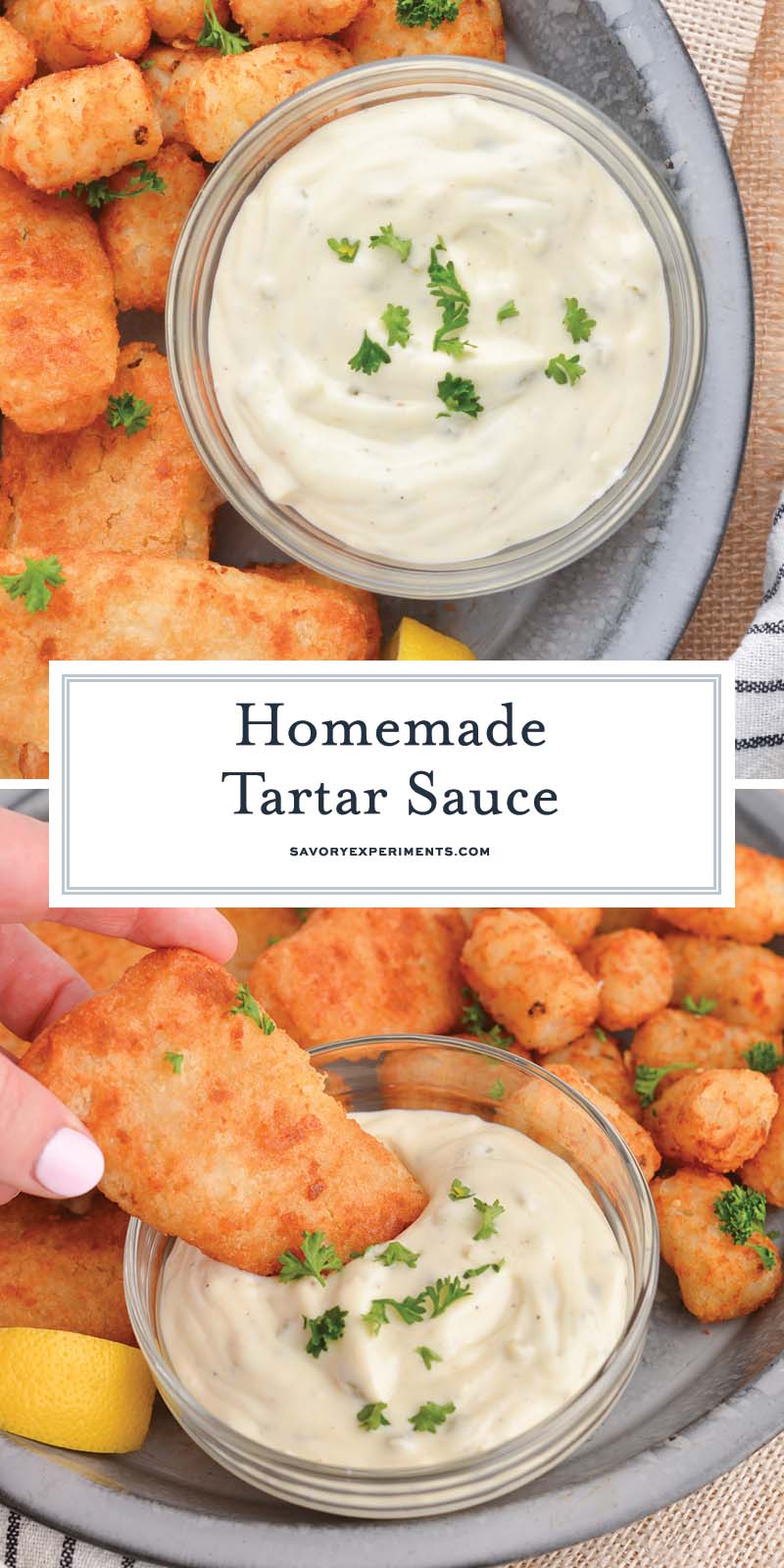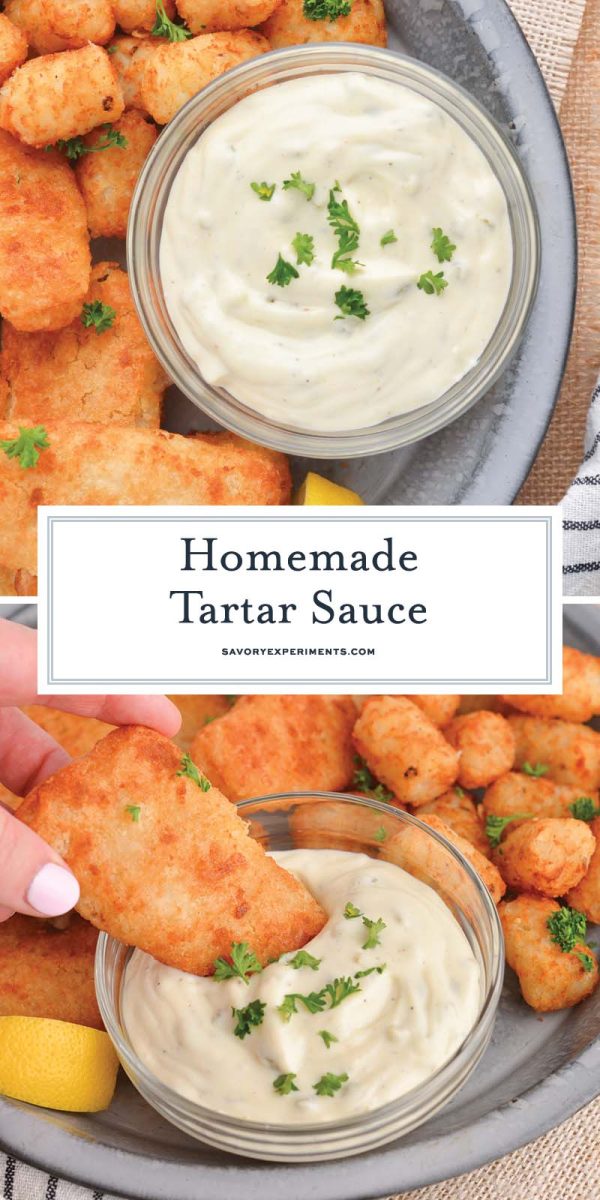 More easy recipes: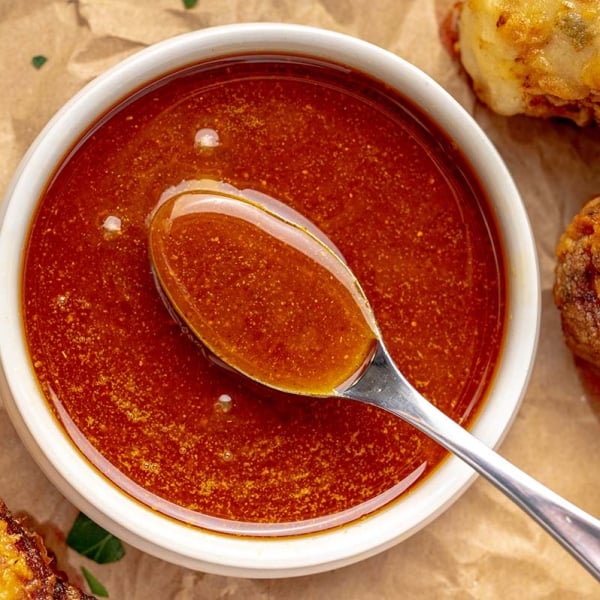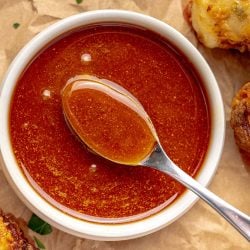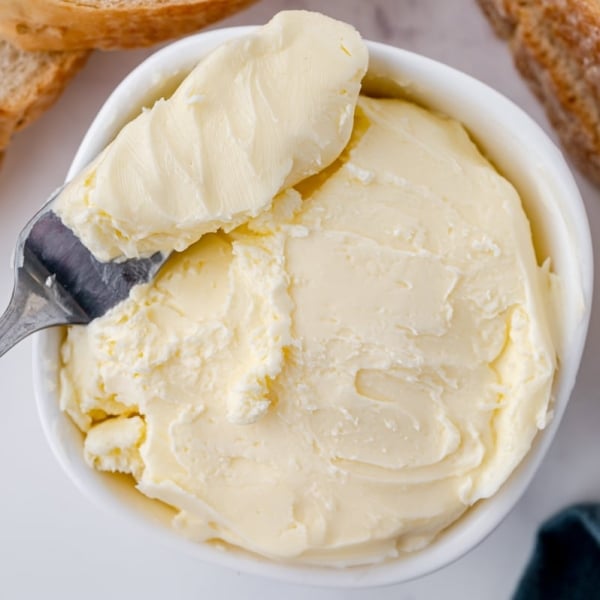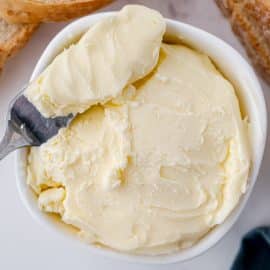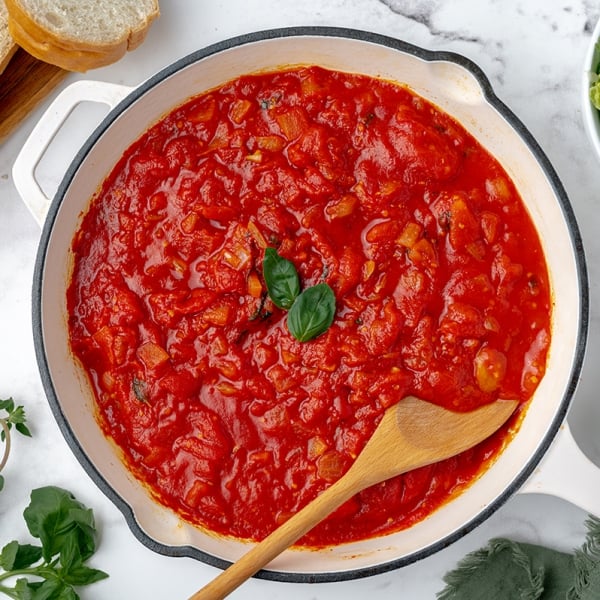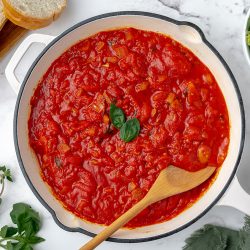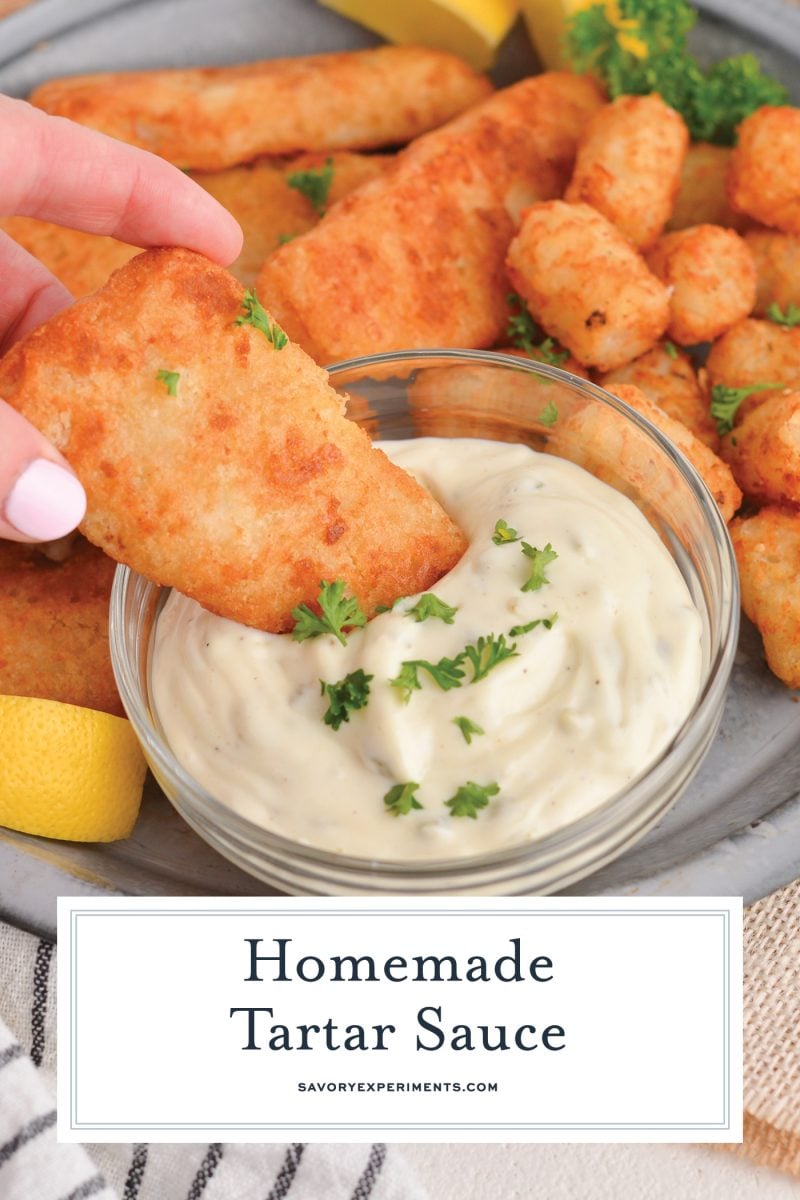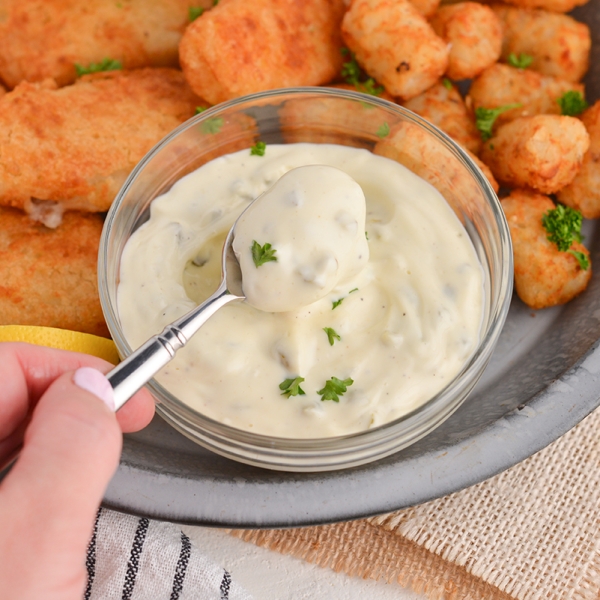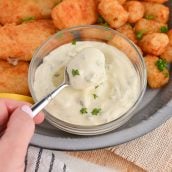 Homemade Tartar Sauce
Tartar sauce is a must-have for nearly any dish with seafood or fish. Why buy it from the store when you can make this tasty homemade tartar sauce in seconds with just a handful of ingredients?
Instructions
Combine the mayonnaise, pickles, vinegar, mustard, salt and pepper in a small bowl. Whisk until combined.

Cover and refrigerate until ready to serve.

If you've tried this recipe, come back and let us know how it was the comment or star ratings!
Notes
To add some pizzazz to your Tartar Sauce, consider adding:
minced capers
hot sauce
parsley
pimento (minced roasted red peppers)
Nutrition
Calories:
192
kcal
,
Fat:
21
g
,
Saturated Fat:
3
g
,
Cholesterol:
11
mg
,
Sodium:
256
mg
,
Vitamin A:
30
IU
,
Calcium:
3
mg
,
Iron:
0.1
mg