If you find yourself unable to use an entire bottle of tartar sauce before the expiration date, making some homemade tartar sauce might just be the solution.
Tartar sauce is a must-have for nearly any dish with seafood or fish. Why buy it from the store when you can make this tasty homemade tartar sauce in seconds with just a handful of ingredients?
This tartar sauce recipe is easy to whip up just hours before dinner and tastes better than anything you'll find in the store!
Tartar sauce. It's a condiment pretty high on the "love it or absolutely hate it list". Either you think it belongs with nearly every fish or seafood dish you make, or you don't even want it in the house.
As a child, ketchup was the only thing that belonged anywhere near my fish sticks but as an adult, I've grown to love and appreciate tartar sauce (and also remoulade, but that is another story).
Speaking of fish sticks.. want to hear a funny fact about me? For some reason, I associate fish sticks with inclement weather and being stuck inside.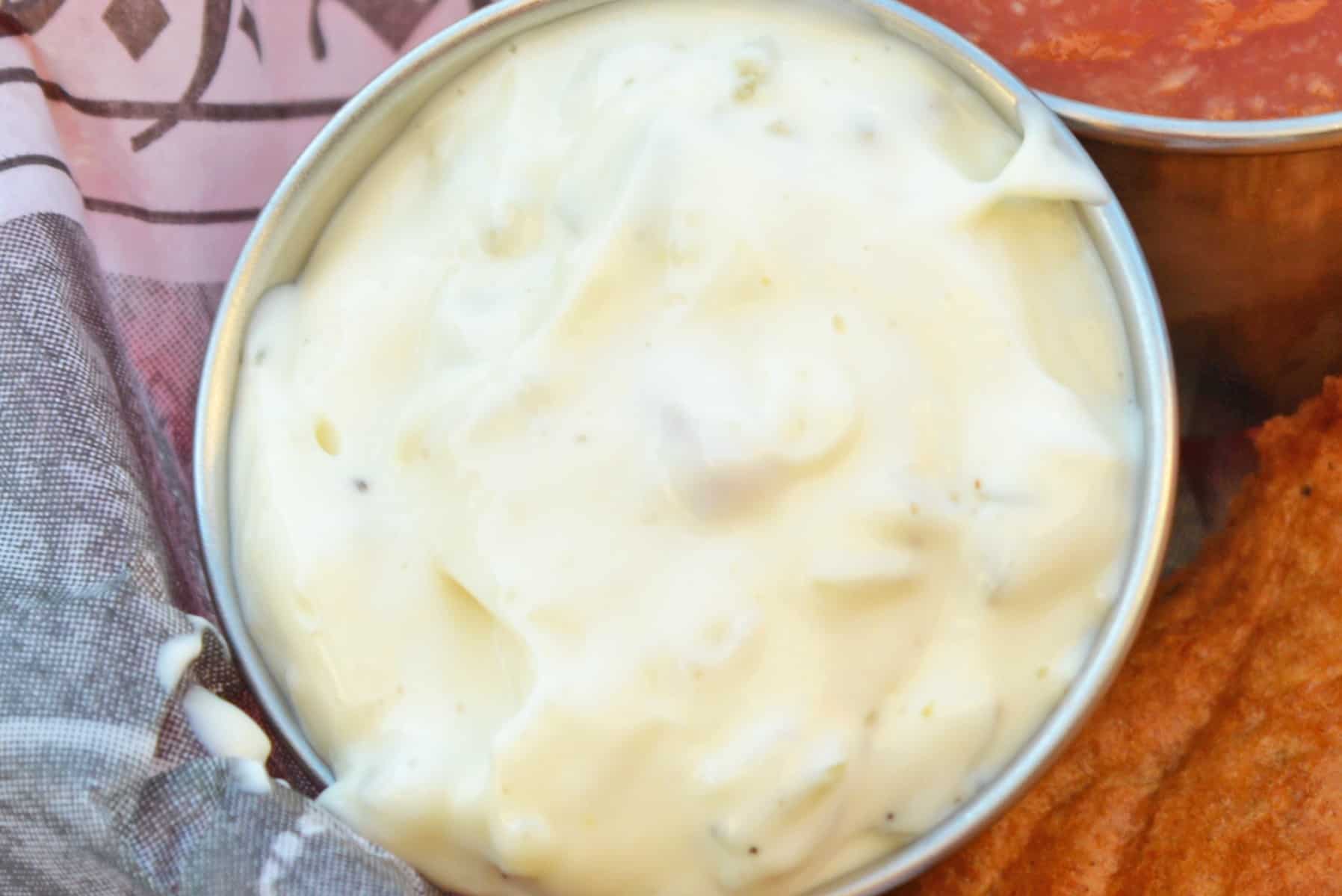 So the running joke in my house is going to the store for the "essentials" before a snow storm or hurricane always includes fish sticks.
And quite frankly, that is the only time I eat them. LOL. It is weird, I am aware of that. Nostalgia I suppose.
Or, at least, I've grown to love and appreciate homemade tartar sauce. The store bought versions have nothing on this customizable homemade tartar sauce recipe.
Figuring out how to make tartar sauce was pretty simple. This super easy recipe is actually fairly standard, though I did add a few options for making it with a bit more "pizazz", like adding minced capers or hot sauce to the recipe.
History of tartar sauce
The sauce and its name have been found in cookbooks since the 19th century. The name derives from the French sauce tartare, same as beef tartare and the such.
You can also find a similar sauce with different names throughout England and Turkey, so the actual origins of the sauce itself are unknown.
The original variations used finely chopped capers and dill instead of dill pickles or gherkins.
I like adding those additional ingredients for dinners like battered fish fingers to give the meal even more added flavor.
One thing I love about making a homemade tartar sauce recipe is that you can make as little or as much of it as you need.
This great recipe makes 4 servings, which is generally just enough to go with tonight's fish dinner but can easily be doubled or tripled to accommodate for more servings.
It also means that if you only need tartar sauce every few months, you won't be throwing half a bottle out because you didn't finish it before the expiration date.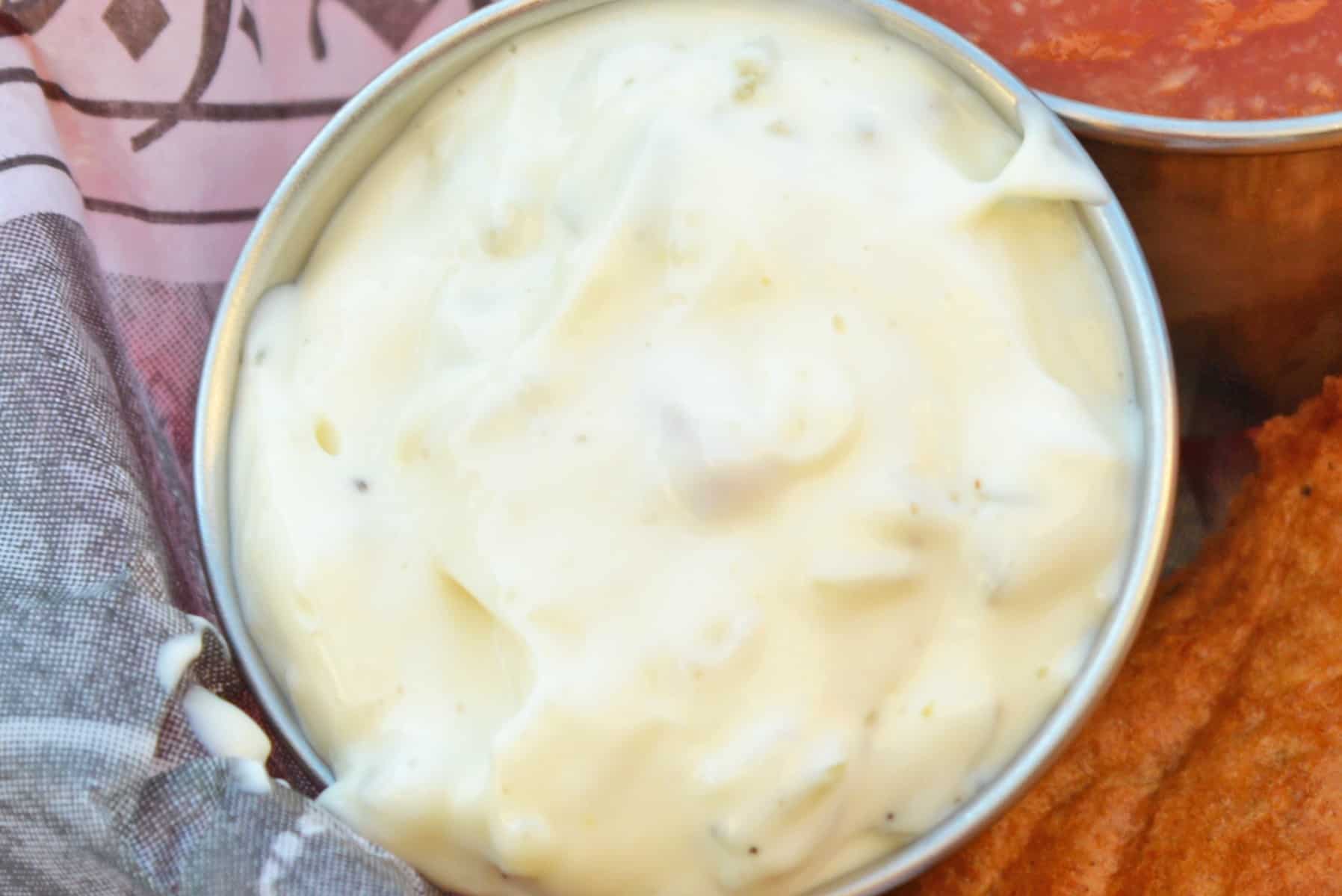 While tartar sauce is typically served with fish, if you're a real tartar sauce fan it can go on so much more. Basically anything fried, from fried shrimp to onion rings, can be dipped in this homemade tartar sauce.
It also tastes delicious with some non-fried seafood and fish dishes.
I experimented with several different recipes in my quest to find the best tartar sauce recipe and I can definitely say this is the best one by far!
Since you like this homemade tartar sauce, you may also like these other easy condiment recipes:
Homemade Butter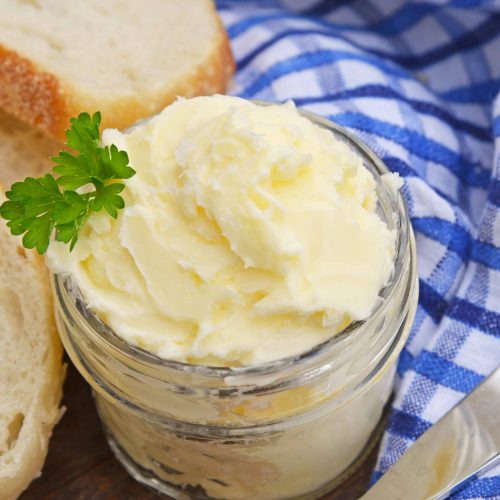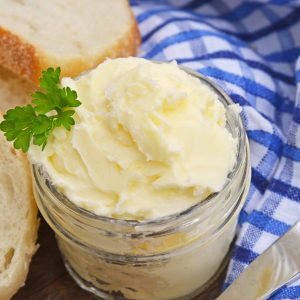 This Homemade Butter Recipe is ready in just 5 minutes using your blender, heavy cream, ice water and salt. You'll wonder why you never made butter at home before!
Blender Mayonnaise
Do you know how easy it is to make homemade mayonnaise? SO EASY! Make my blender mayonnaise with 3 ingredients and 3 minutes today! 
Tools For Making Tartar Sauce:
Mini Food Processor– I use this thing daily! It is by far my most used kitchen appliance, it is small and I throw all the parts into the dishwasher, well except the base and cord, of course!
Questions you might have about how to make tartar sauce:
Can I make tartar sauce ahead of time? Sure! This condiment is perfect made in advance. I would say about 24 hours, keep it chilled until ready to serve and then give it a quick stir before serving.
Can I freeze tartar sauce? I do not recommend freezing any mayonnaise based foods.
What variations can I add to my tartar sauce? To add some pizzazz , consider adding these tartar sauce ingredients:
minced capers
hot sauce
parsley
pimento (minced roasted red peppers)
dill relish
sweet pickle relish
fresh dill weed or dried dill
pickle juice
green onions (scallions)
lemon juice
Does tartar sauce have raw egg? If it is made with mayonnaise, then yes.
Is tartar sauce gluten-free? My version of tartar sauce is gluten free, but make sure to check each individual ingredient, as different companies may use different ingredients.
Is tartar sauce spicy? Generally speaking, no. However the presence of Dijon mustard and vinegar gives it a zingy flavor. If you are looking for a spicy tartar sauce, then just adds a few dabs of hot sauce.
Does tartar sauce have dairy? My recipe does not contain any dairy. For some reason people think eggs (mayo) are dairy. They are not.
With just 6 main ingredients, this homemade tartar sauce recipe can be made in just minutes. You'll never buy tartar sauce at the store again!
CONNECT WITH SAVORY EXPERIMENTS!

Be sure to follow me on social media, so you never miss a post!

Facebook | Twitter | Youtube
Pinterest | Instagram
Get our FREE 8 Day E-Course on How to Be a Better Home Cook. Sign up HERE!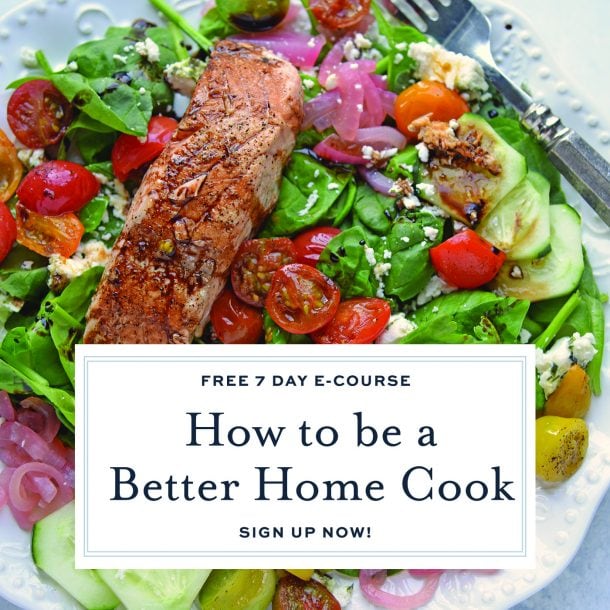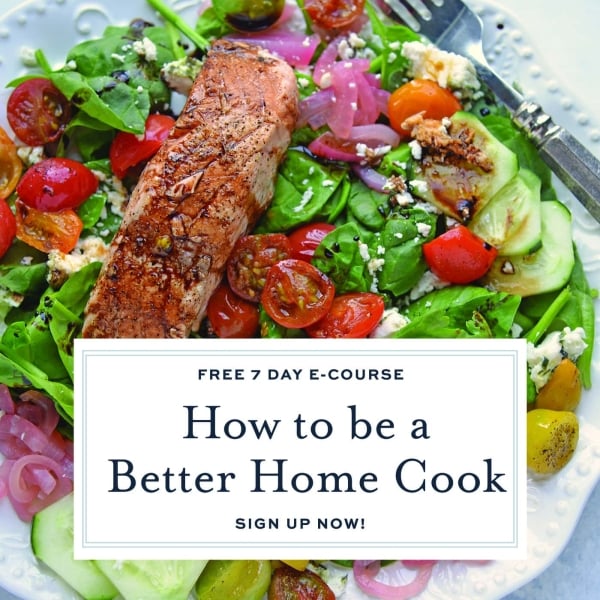 Homemade Tartar Sauce
Tartar sauce is a must-have for nearly any dish with seafood or fish. Why buy it from the store when you can make this tasty homemade tartar sauce in seconds with just a handful of ingredients?
Instructions
Combine all ingredients in a small food processor and blend to desired consistency.

Refrigerate until ready to serve.

If you've tried this recipe, come back and let us know how it was!
Notes
To add some pizzazz to your Tartar Sauce, consider adding: 
minced capers
hot sauce
parsley
pimento (minced roasted red peppers) 
Nutrition
Calories:
192
kcal
|
Fat:
21
g
|
Saturated Fat:
3
g
|
Cholesterol:
11
mg
|
Sodium:
256
mg
|
Vitamin A:
30
IU
|
Calcium:
3
mg
|
Iron:
0.1
mg