Making Stick of Butter Rice will soon be your favorite side dish casserole. This simple recipe uses only a few ingredients including beef broth, Onion soup mix and of course a stick of butter.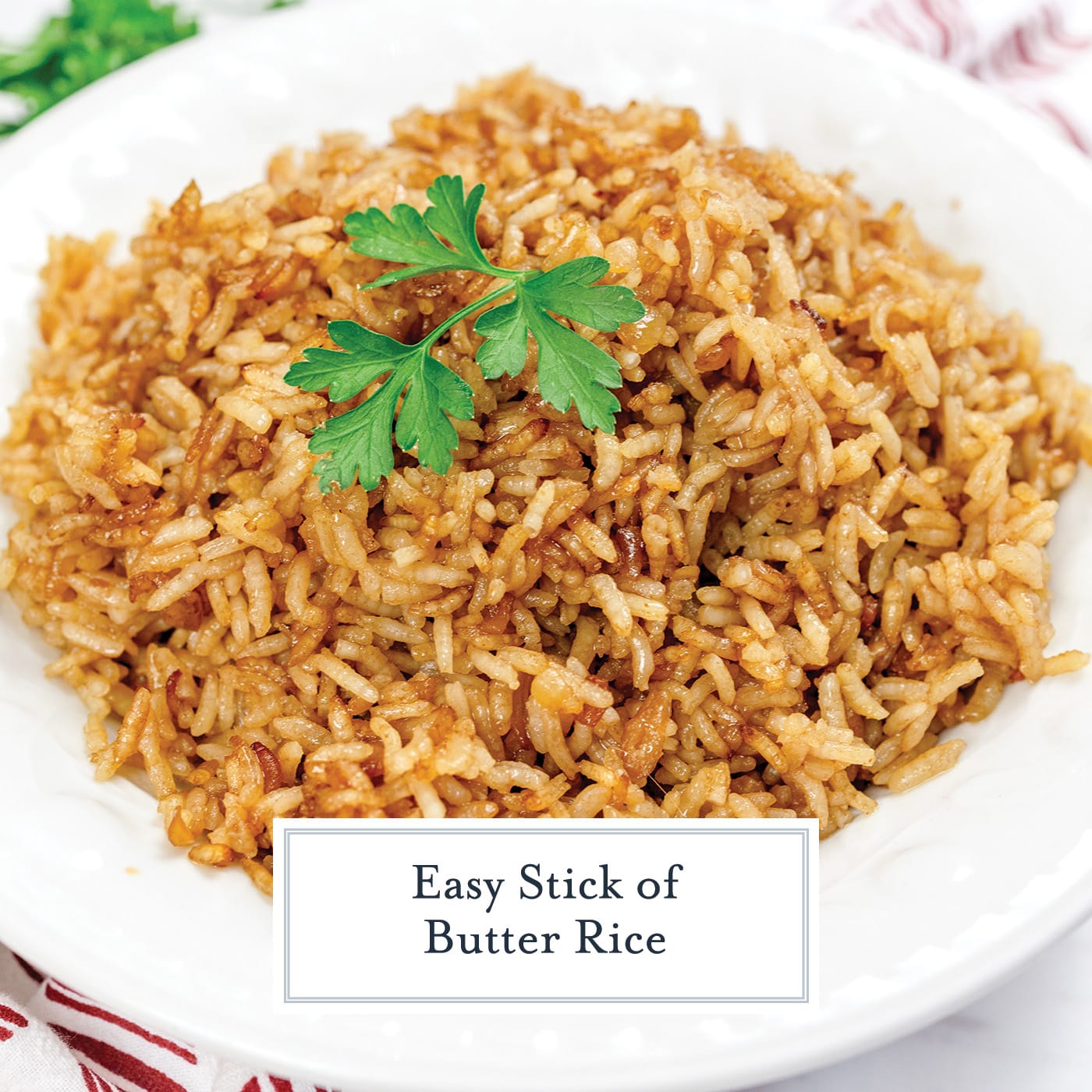 Baked in the oven this simple side dish recipe is a family favorite.
When preparing dinner or any meal don't forget to add a savory side dish recipe. It's easy to forget but after you taste the rich flavor of this stick of butter rice recipe you will plan your menu around making a tempting flavorful rice dish.
Buttery Rice gets its name from the stick of butter used in making this great side dish. It has a natural beefy rice flavor with the added low sodium beef broth used. It's a favorite recipe when baked in the oven as the rice absorbs the flavors and seasonings used.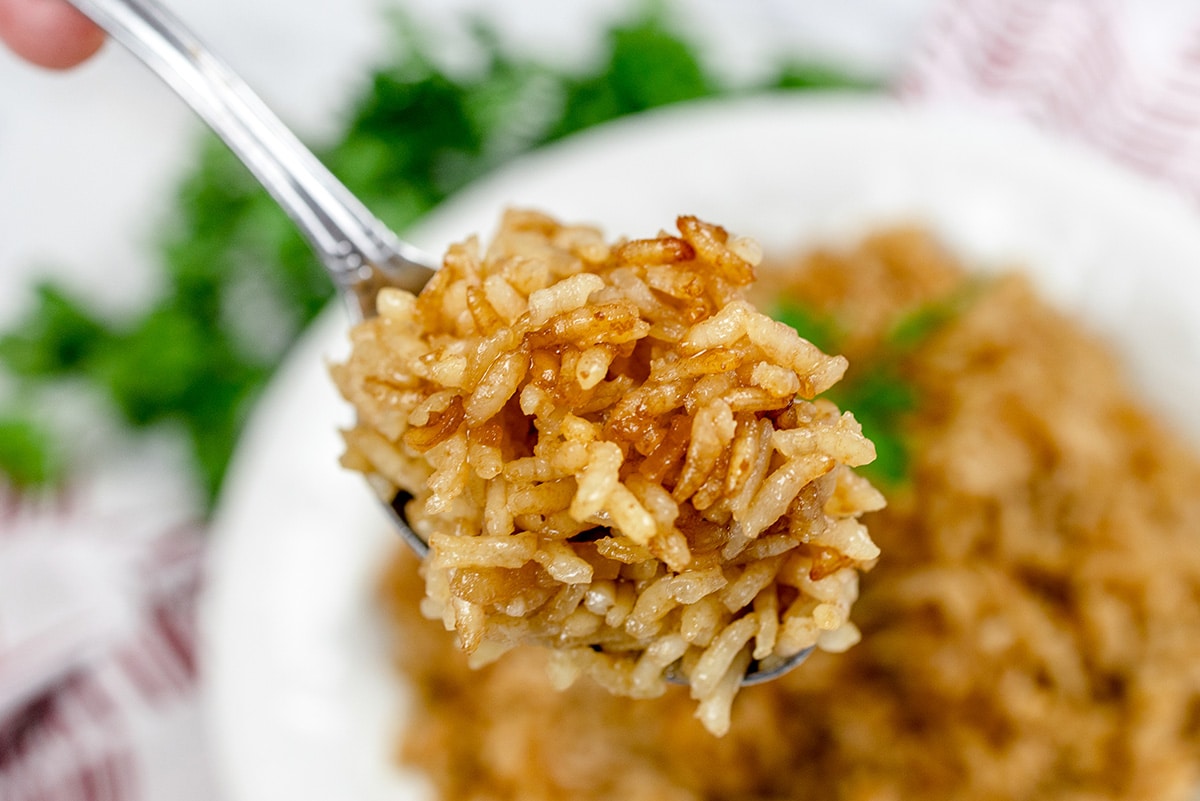 Stick of Butter Rice Ingredients
With simple ingredients you will be baking in no time.
Long Grain White Rice – Do not use an instant rice for this recipe. A long grain white rice is best and absorbs the seasonings and flavors so well.
Beef Broth – A Low Sodium Beef Broth is ideal as the seasonings added with the Onion Soup Mix have plenty of fantastic flavor
Onion Soup Mix – I love making a Homemade Onion Soup Mix and use it in many recipes. It's quick to make and the best part is I know exactly what I'm adding to my recipes too.
Butter – One stick of butter cut into tablespoons is what you will need for this rich and buttery side dish. Use an unsalted butter for this recipe.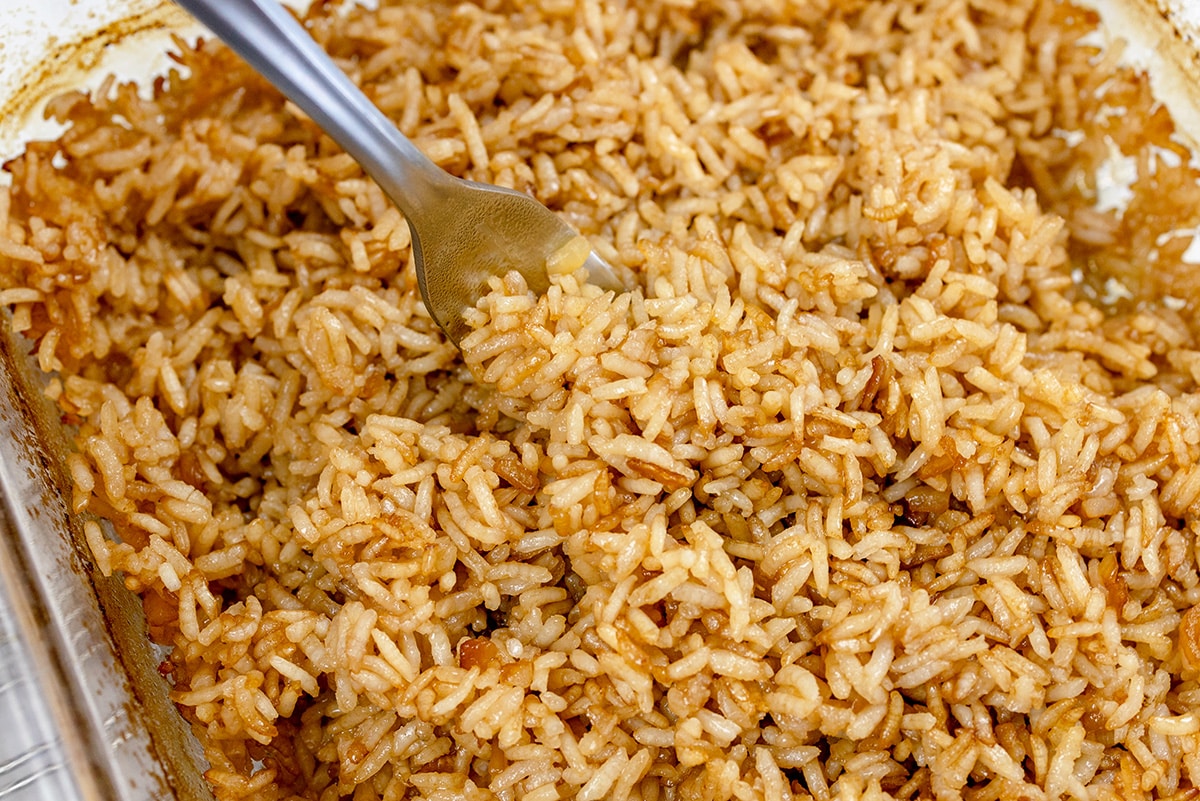 How to Make Stick of Butter Rice
As a busy mom and wife I love when recipes are quick to throw together. Makes me look great as a Mom and really ads to our dinner menu.
Make sure to plan just a little bit ahead to get the rice going as it takes an hour to bake. But it's such a quick and easy hands off recipe that once it's in the oven you have plenty of time to work on preparing the main course.
In a preheated oven the rice casserole will bake covered for 30 minutes. Then remove the foil top and allow to bake for an additional 30 minutes. The kitchen will smell dreamy and the family will come running.
Spray a square baking dish with nonstick cooking spray. I like to use a 9-inch baking dish glass dish, an 8×8 baking dish or even a circle baking dish will work wonderful in this recipe.
Sprinkle Onion Soup Mix in the bottom of the dish and pour Beef Broth over the top and stir to combine. This will help dissolve the seasonings into the beef broth before adding rice.
Rinse and drain rice. This added step helps to remove some of the excess starches from the white rice. Rinse rice in luke warm water and drain liquid. Repeat until the water is clear.
Add rice to baking dish and quickly stir ingredients together making sure the rice falls in an even layer on the bottom of the baking dish.
Slice full stick of butter into tablespoons and place pats of butter on top of the rice. The butter will melt during the baking process.
Covering tightly with aluminum foil and Bake. Cook time of 30 minutes covered and 30 minutes uncovered.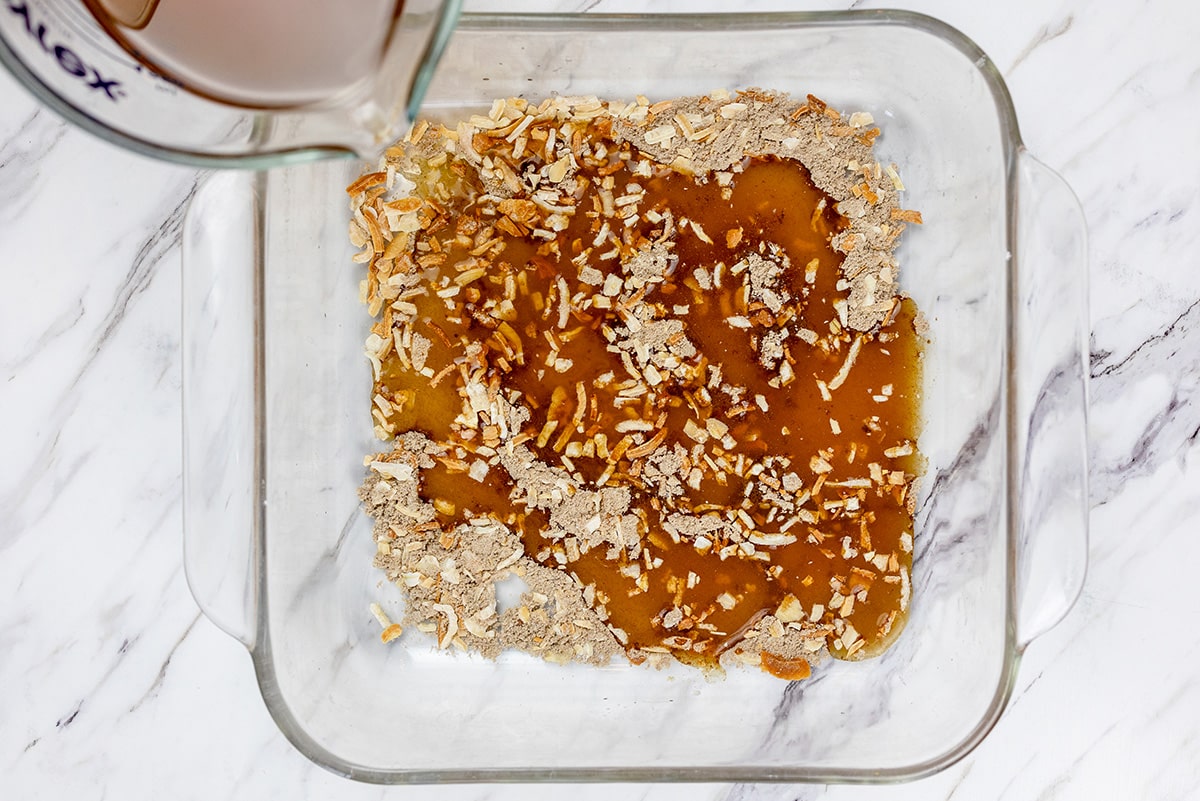 How to Fluff Rice
Did you know that Fluffing Rice is necessary and will keep the rice from smashing when spooned and served? It's a quick easy step that makes all the difference.
Once rice is baked, simply use a fork to gently lift rice. Dragging fork across the top layer in short swipes will gently lift rice and fluff rice. This helps to loosen rice from each other and makes spooning rice and serving simple without smashing rice.
Although this won't change the flavor of the dish it will add to the texture and makes the best rice.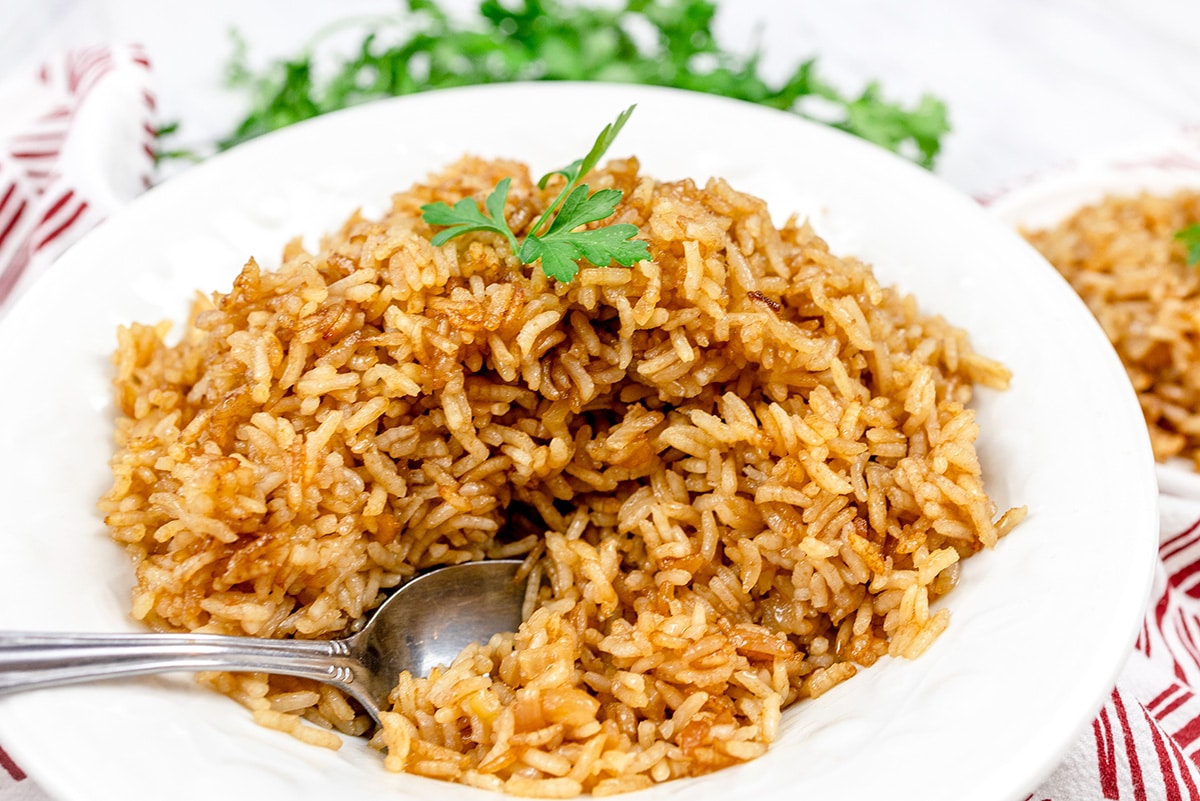 Stick of Butter Rice Variations
Although this original recipe calls for beef broth, you can easily substitute chicken broth or even vegetable broth in this recipe. It will change the flavor but will still be delicious.
If you are an onion lover you can also add some sautéed onions which add wonderful caramelized onions throughout this tasty side dish.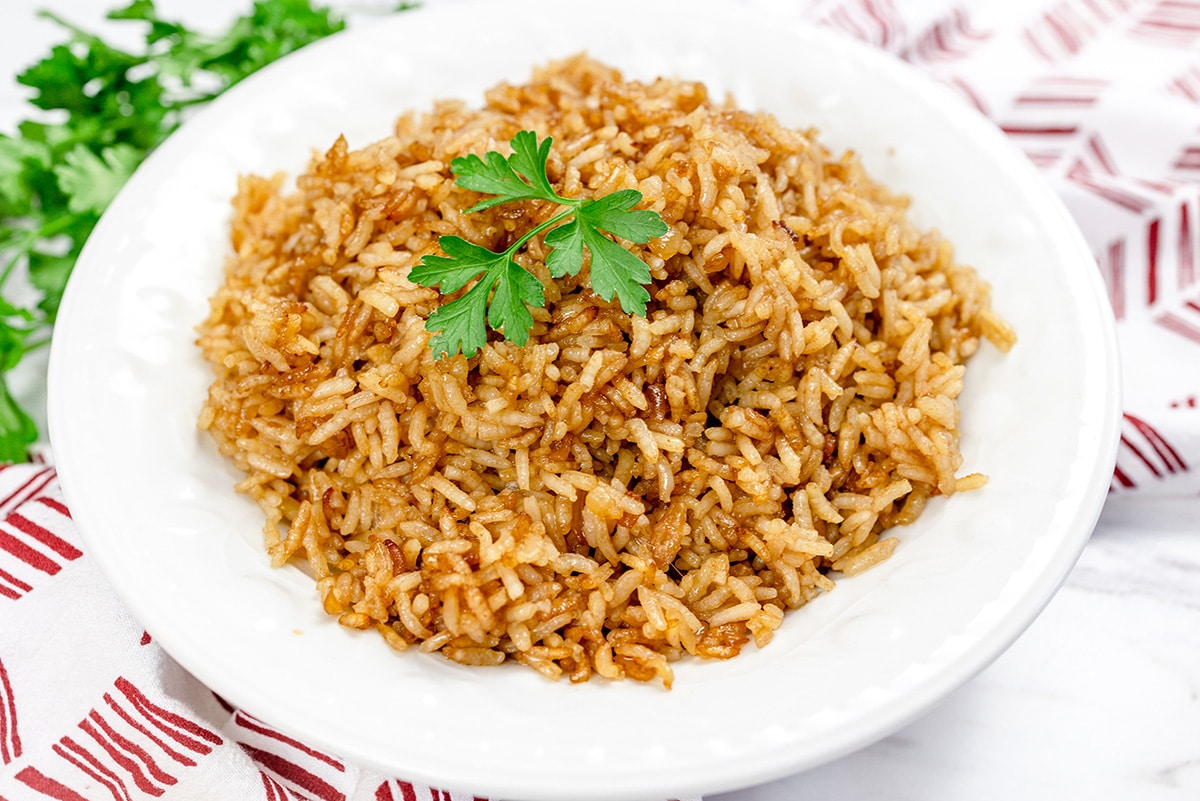 Alternative Cooking Methods
Making Stick of Butter rice is so quick and simple in the Oven but you can also make this recipe on the Stove Top and it's also quick and easy in the Instant Pot electric pressure cooker with only a small adjustment.
Instant Pot – Adjust liquid to 1 1/2 cups or 12 ounces. Pressure cook for 6 minutes with a 10 minute natural pressure release. Then don't forget to fluff rice with a fork before serving this family's favorite rice recipe.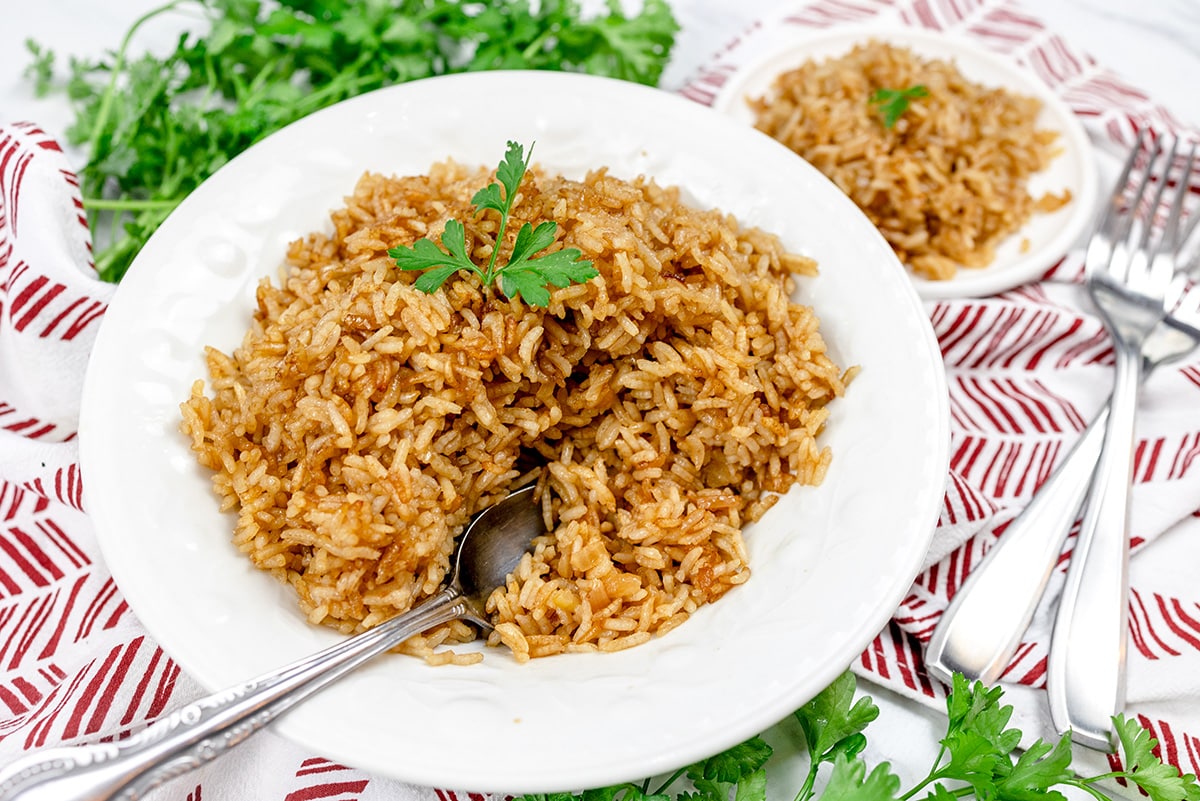 Storage and Freezing
Storage: I'm convinced the stick of butter in this recipe makes it so wonderful to reheat and enjoy the next day. Store in an airtight container for up to a week.
Freezing: You can also easily store this rice in the freezer. Make sure it's in an airtight container and it will stay for up to for up to two months.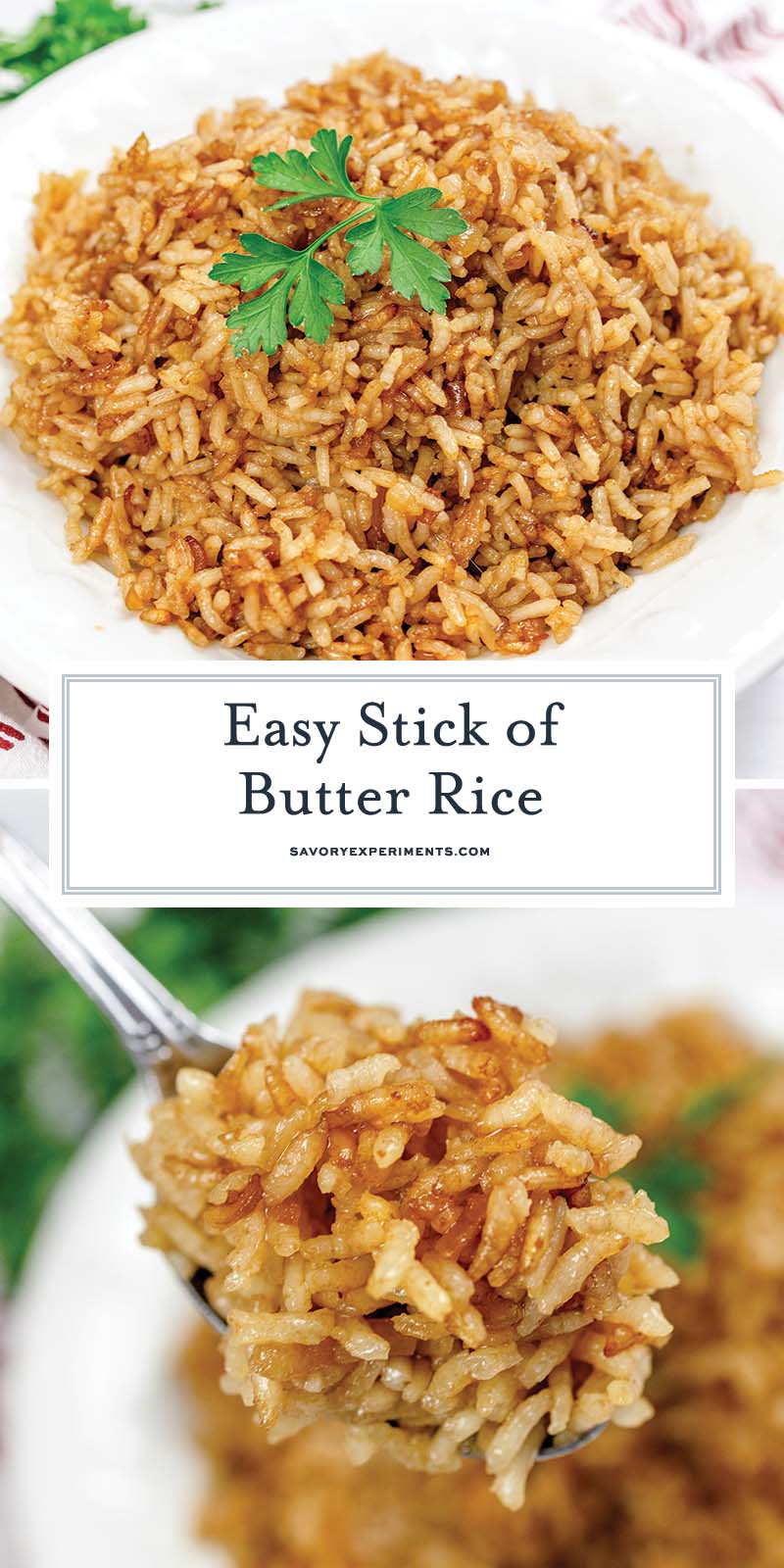 More Easy Rice Recipes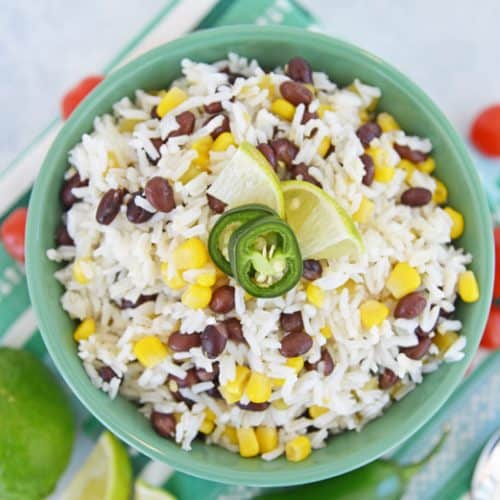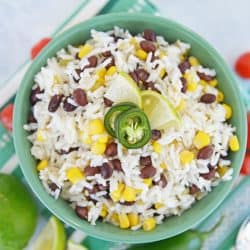 Fiesta Rice
The Mexican flavors of this EASY Fiesta Rice make it perfect for stuffing a burrito or taco and even serving on the side of grilled chicken!
See The Recipe!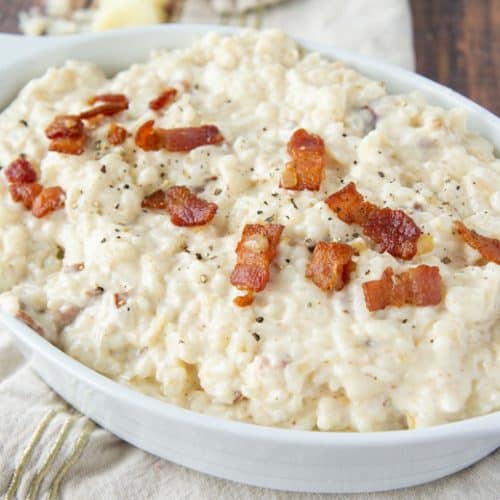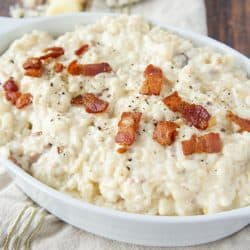 Cheesy Bacon Rice
On those nights when you just need a big scoop of comfort, look no further than this cheesy bacon rice. It's a quick and simple side dish full of flavors the whole family will enjoy!
See The Recipe!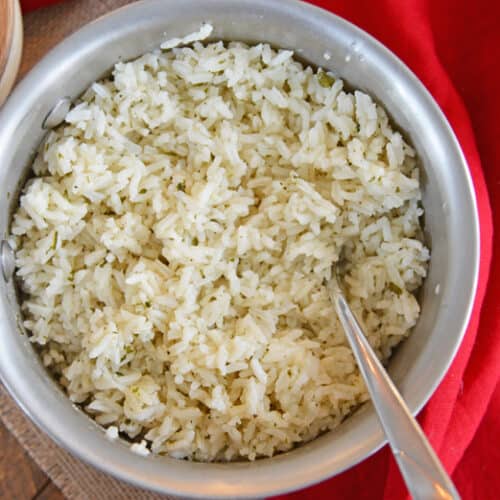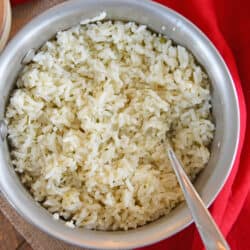 Ranch Rice
Calling all ranch fanatics! This Ranch Rice is super easy to make and adds fun flavor to your meals. No more boring rice recipes!
See The Recipe!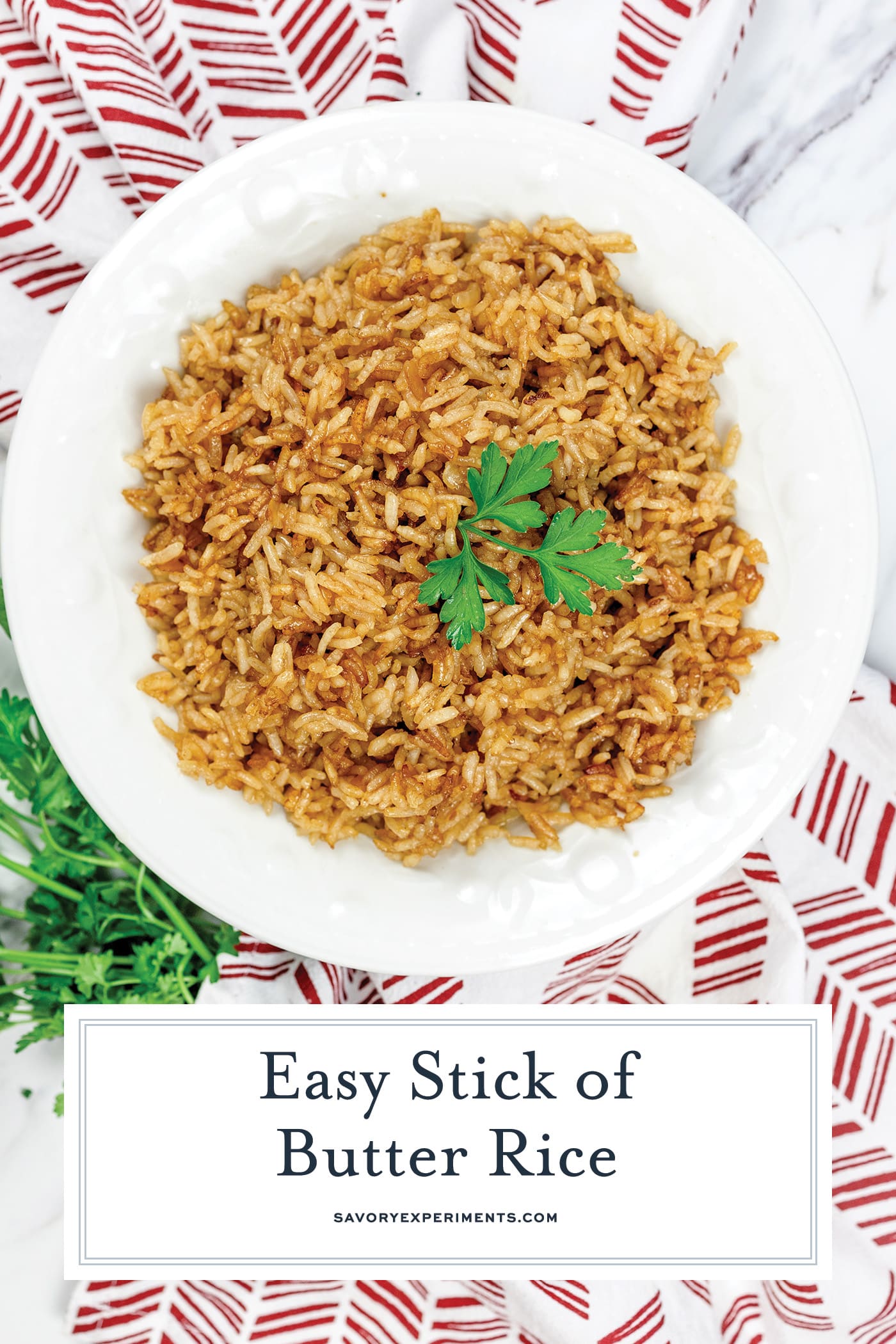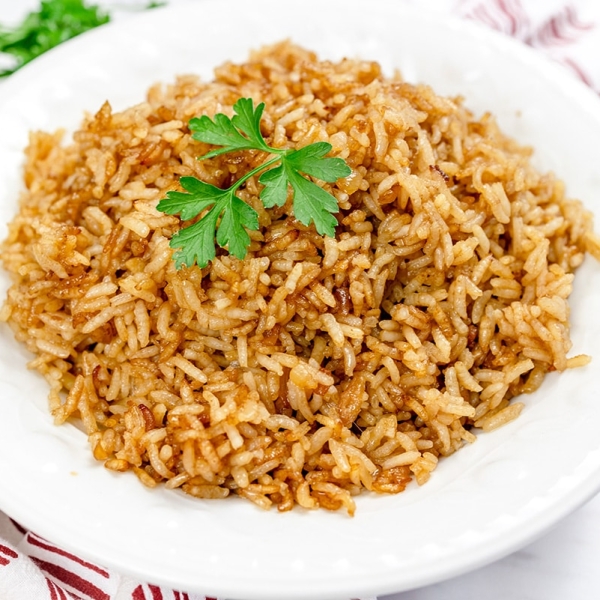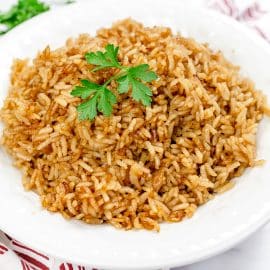 Stick of Butter Rice
Stick of Butter Rice will soon be your favorite side dish. This simple recipe uses only a few ingredients like beef broth and onion soup mix!
Ingredients
1

cup

long grain white rice (not instant)

1

packet onion soup mix (I'll be linking to my homemade onion soup mix)

2.5

cups

low sodium beef broth

1/2

cup

unsalted butter (1 stick)
Instructions
Preheat the oven to 425°F and spray a 8×8 or 9×9 casserole or baking dish with cooking spray.

Stir together the rice, onion soup mix and beef broth.

Slice the butter into smaller pads and evenly place on top of the rice.

Cover tightly with foil and bake for 30 minutes. Remove the foil and bake for another 30 minutes.

Remove and fluff with a fork before serving.
Nutrition
Calories:
382
kcal
,
Carbohydrates:
37
g
,
Protein:
6
g
,
Fat:
23
g
,
Saturated Fat:
15
g
,
Polyunsaturated Fat:
1
g
,
Monounsaturated Fat:
6
g
,
Trans Fat:
1
g
,
Cholesterol:
61
mg
,
Sodium:
301
mg
,
Potassium:
362
mg
,
Fiber:
1
g
,
Sugar:
0.1
g
,
Vitamin A:
709
IU
,
Vitamin C:
0.01
mg
,
Calcium:
20
mg
,
Iron:
0.4
mg