With ingredients like minced garlic, melted butter and asiago cheese, this Asiago Mushroom Salmon has tons of flavor but requires minimal work. Perfect for busy weeknights!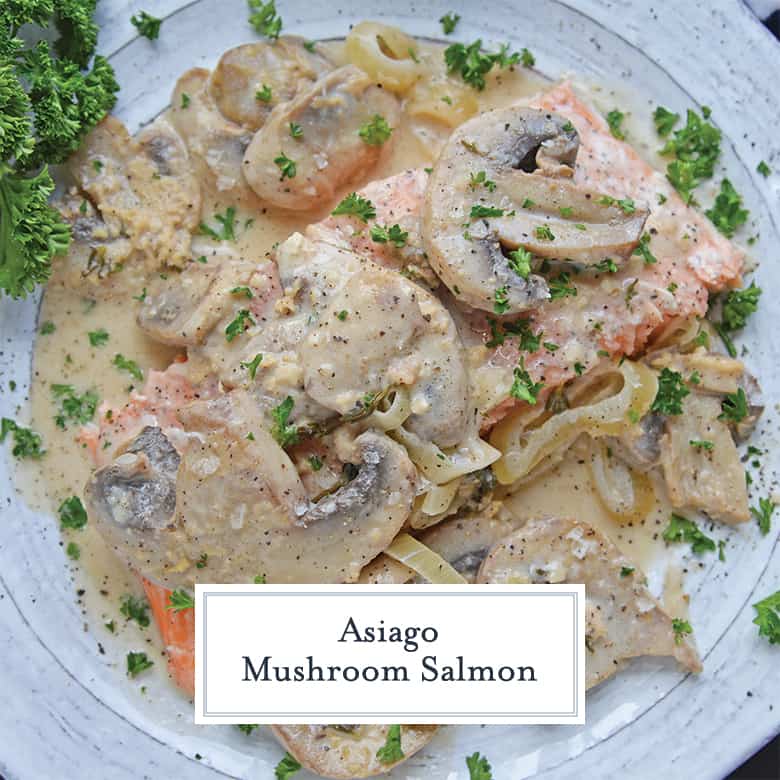 This Asiago Mushroom Salmon is one of my favorite pan fried salmon recipes! You only need 10 minutes to make this easy weeknight meal!
People tend to gravitate towards baked salmon recipes. While I like them too, when looking for speed, pan fried salmon recipes are generally faster than baking.
First, you don't have to wait for a preheated oven and secondly, cooking takes only 10 minutes even for a thick piece of salmon. Which means you save about 10 – 15 minutes by making pan fried salmon.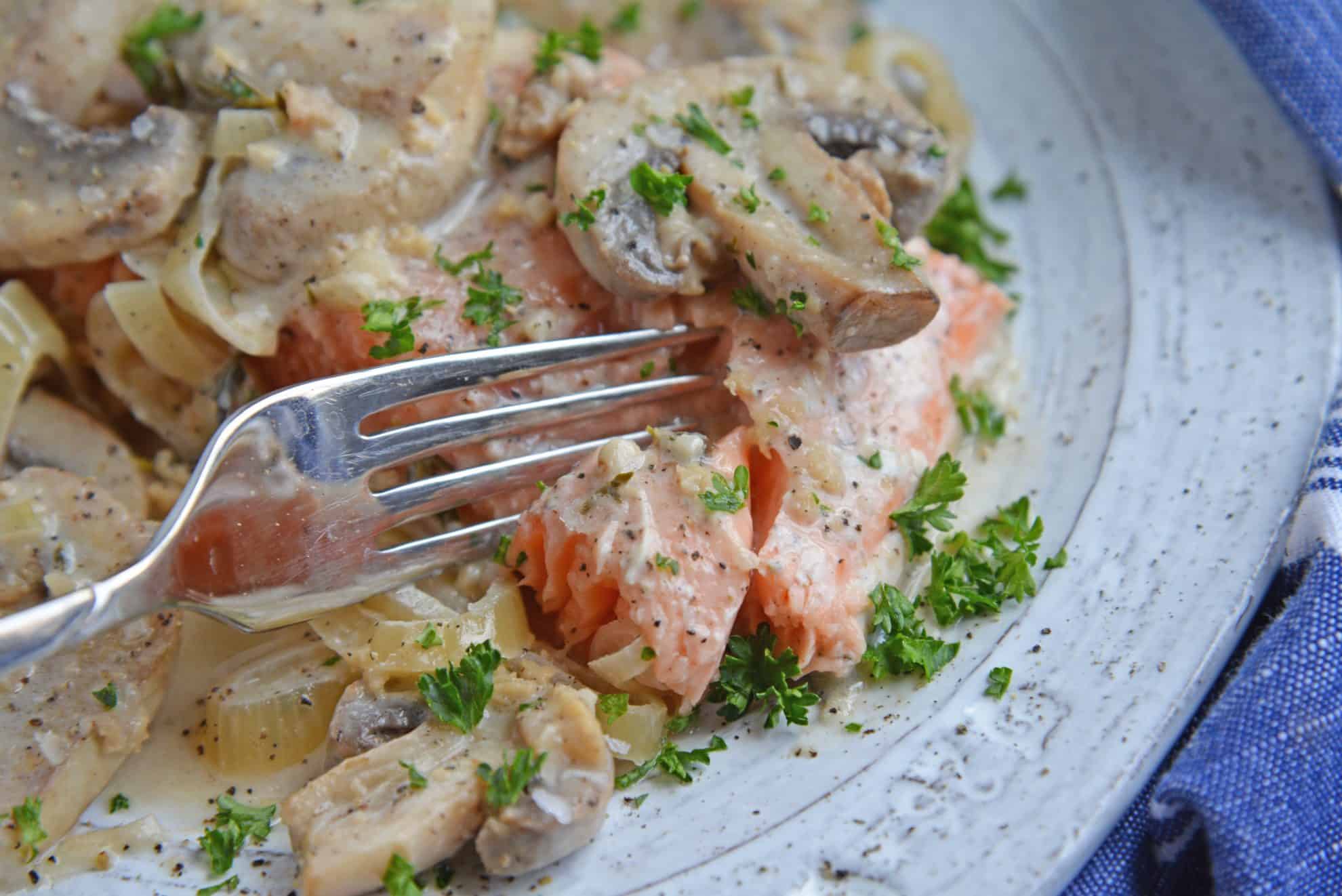 Fried salmon isn't a traditional fried food, it is just a pan fry meaning that you will use a small amount of olive oil to sear both sides leaving a crispy skin and nicely golden brown fish, but not have the calories and heaviness of deep fat frying.
Asiago Mushroom Salmon came about when I had extra creamy asiago sauce from Asiago Chicken and a few frozen salmon fillets. The two married and became one of our weeknight meal favorites.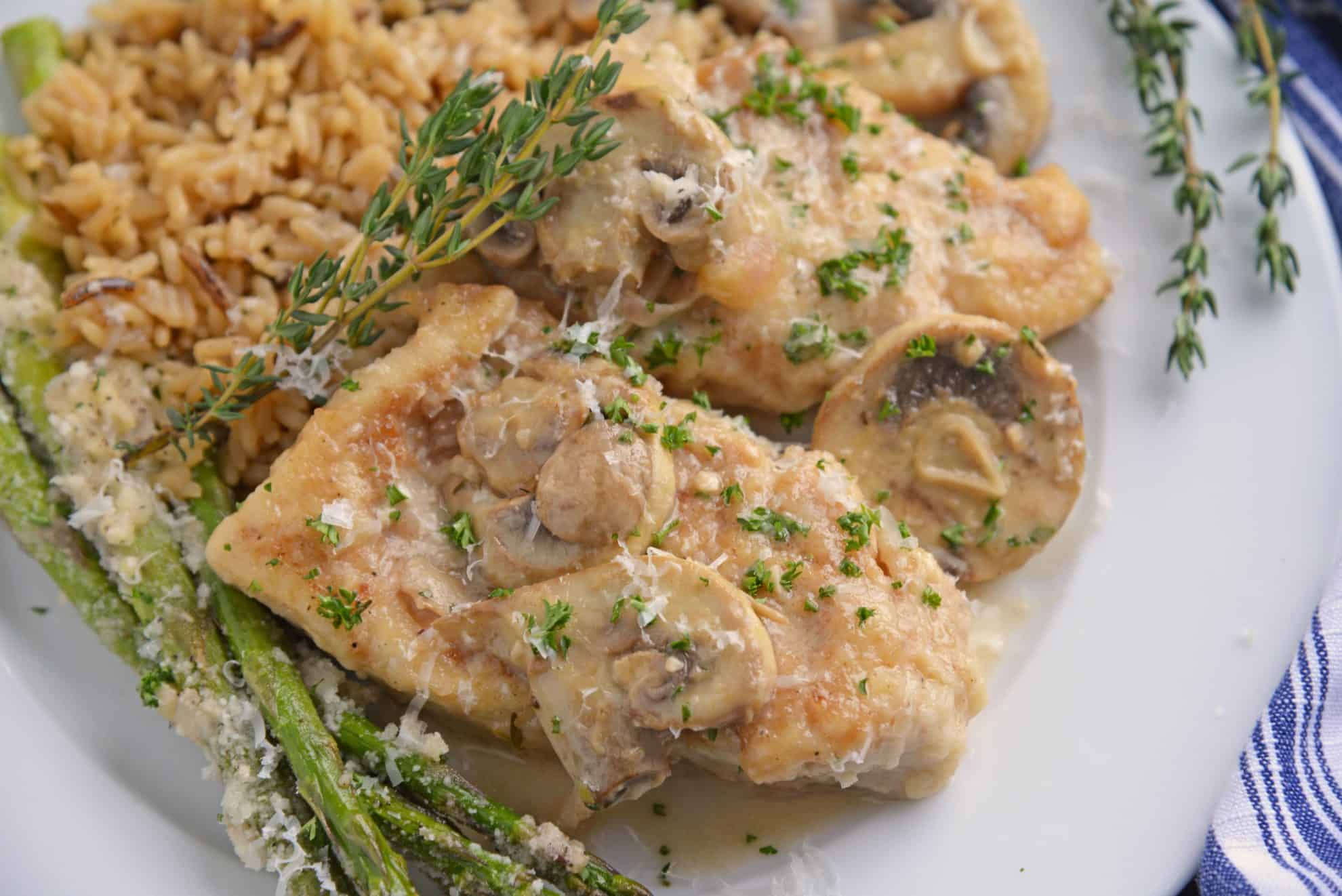 Tips for making the Asiago Mushroom sauce:
Use a good amount of Asiago cheese and freshly shred it. It is a semi-soft cheese and has a nutty flavor and smell.
PRO TIP: Freshly shredded cheese tastes and melts better. Pre shredded cheese is great for many things, but it tossed in starch to prevent sticking and clumping, which can impact the creaminess of your sauce.
Stir the sauce constantly so it doesn't stick or burn to the bottom of the pan. Use the "figure 8" technique to makes sure everything is blended equally. Check out even more simple kitchen hacks and tricks.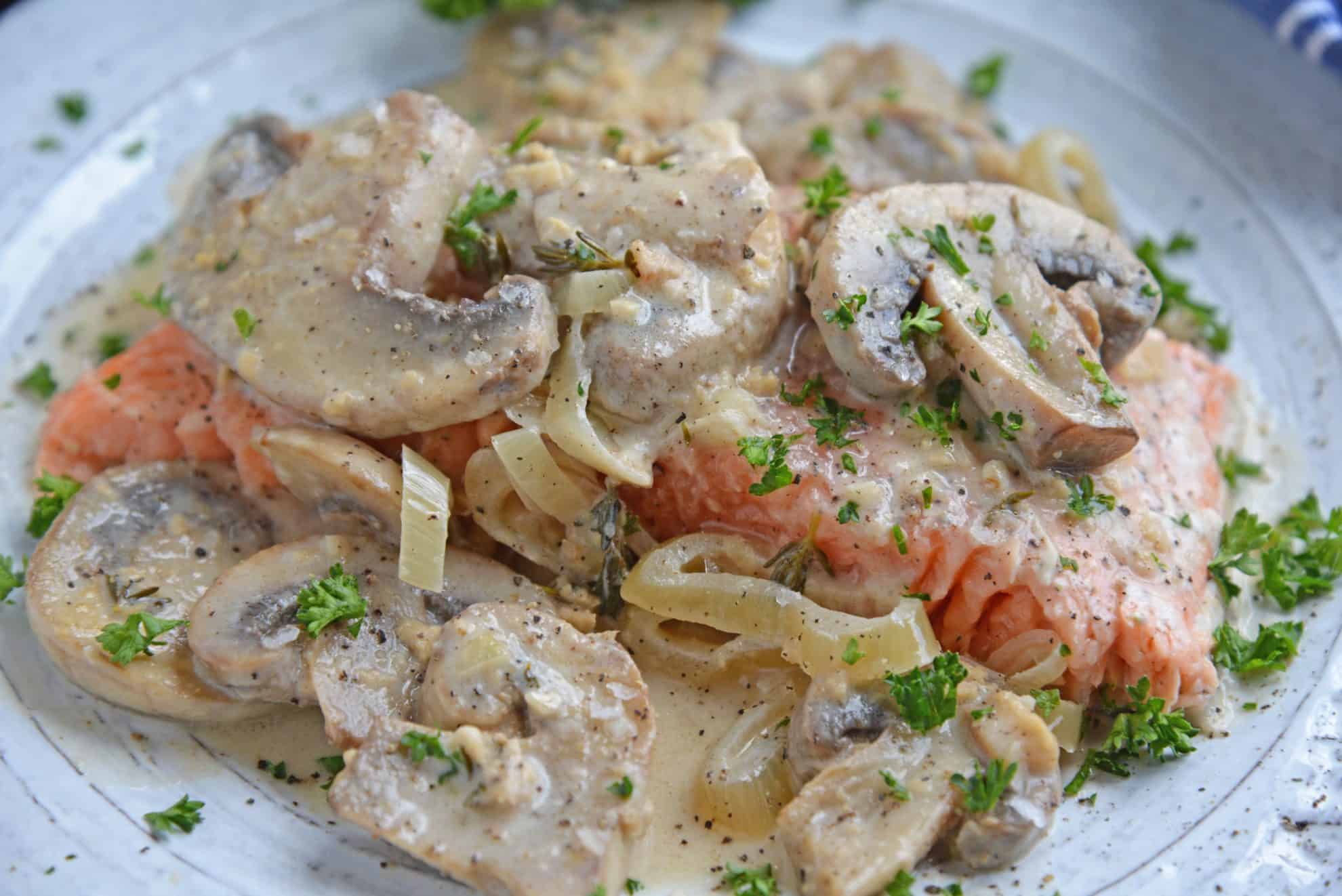 While I am usually an advocate for fresh herbs, this dish is best with dried thyme. The cream sauce comes together quick and this doesn't leave enough time for fresh thyme to infuse its flavor into the sauce. I did use fresh thyme for ganish because it is pretty and you can too!
PRO TIP: If you use fresh thyme, the ratio is 1 tablespoon of fresh herbs for every 1 teaspoon of dried herbs.
Before adding your dried thyme, rub the dried leaves together between the palms of your hands, this releases natural oils to get the most out of a dried herb.
Note that dried herbs do expire. Whole thyme leaves still good for about a year. I use a label maker and place the date of purchase on the top of each lid so I can easily weed them out and buy new. If you using expired dried spices, you might get muted or no flavor at all.
For the salmon, season with salt and pepper before frying for maximum flavor.
A lot of people like to serve their salmon with lemon slices, and so do I. However, the lemon juice flavor doesn't mix well with this creamy dish, so I usually just finish it off with salt and pepper.
The next time you think "what should I make for dinner tonight" try out this recipe!
Tools for making Asiago Mushroom Salmon:
Heavy Bottom Frying Pan– this will be one of your most used kitchen tools. Having something that is heavy bottom will distribute heat better and prevent burning whether you are using an electric or gas range.
Wood cutting board – wood won't dull your knives like plastic and if treated properly, has natural antimicrobial properties.
Good knife – Global is my favorite! They are worth the price, I promise. I am kind of obsessed with them and store them tucked away so no one else can use them. Including hubby. Hands off my good stuff!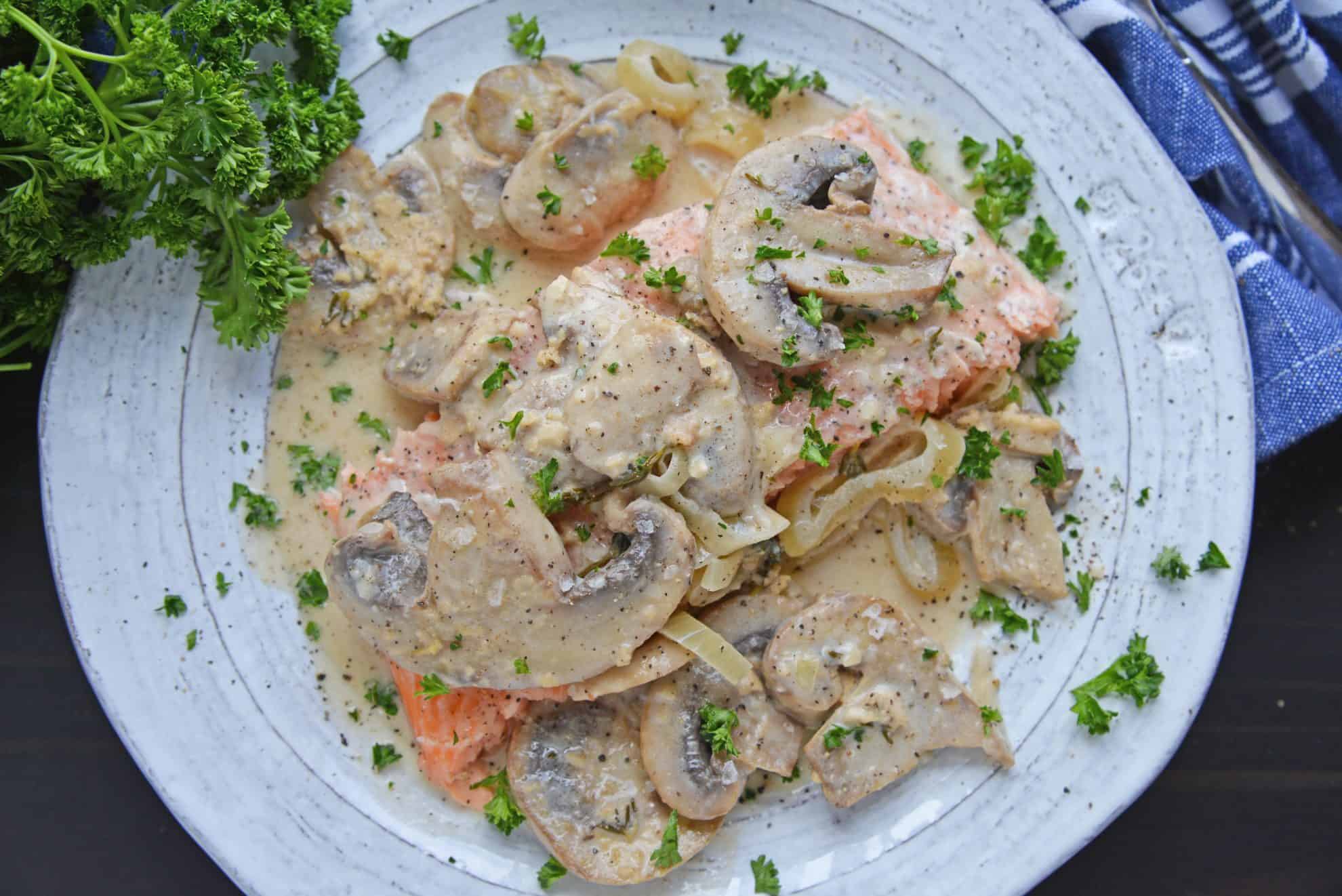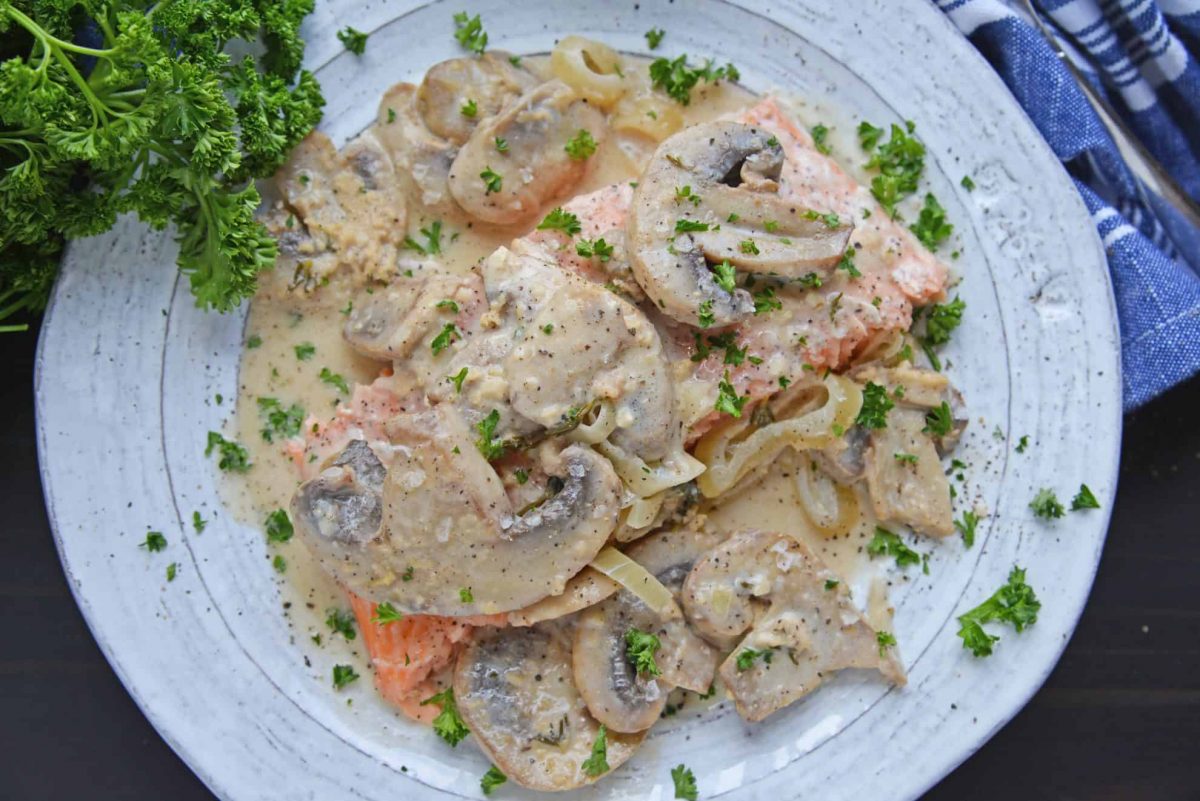 Questions you might have about how to make this easy salmon recipe:
What does asiago cheese taste like? Aged asiago cheese has a nutty flavor flavor similar to pecorino romano. It is from the northern part of Italy and is considered to be an Alpine cheese.
What can I substitute for asiago cheese? Many cheese will work if the pungent taste of asiago isn't up your alley Try parmesan or pecorino romano.
What can substitute for white wine? If you aren't opposed to cooking with alcohol, a dry champagne works (speaking from experience). If you want to omit alcohol, use chicken or vegetable stock.
Can I make Asiago Mushroom Salmon ahead of time? Salmon isn't the best food to make ahead of time, but since this recipe does not take that long, you don't really need to.
Simply prepare all of your ingredients ahead of time and then quickly cook and assemble when ready to eat.
How do I buy salmon? Salmon should look moist and smell a little fishy (because it is fish) but not overly fishy. It should "smell like the sea".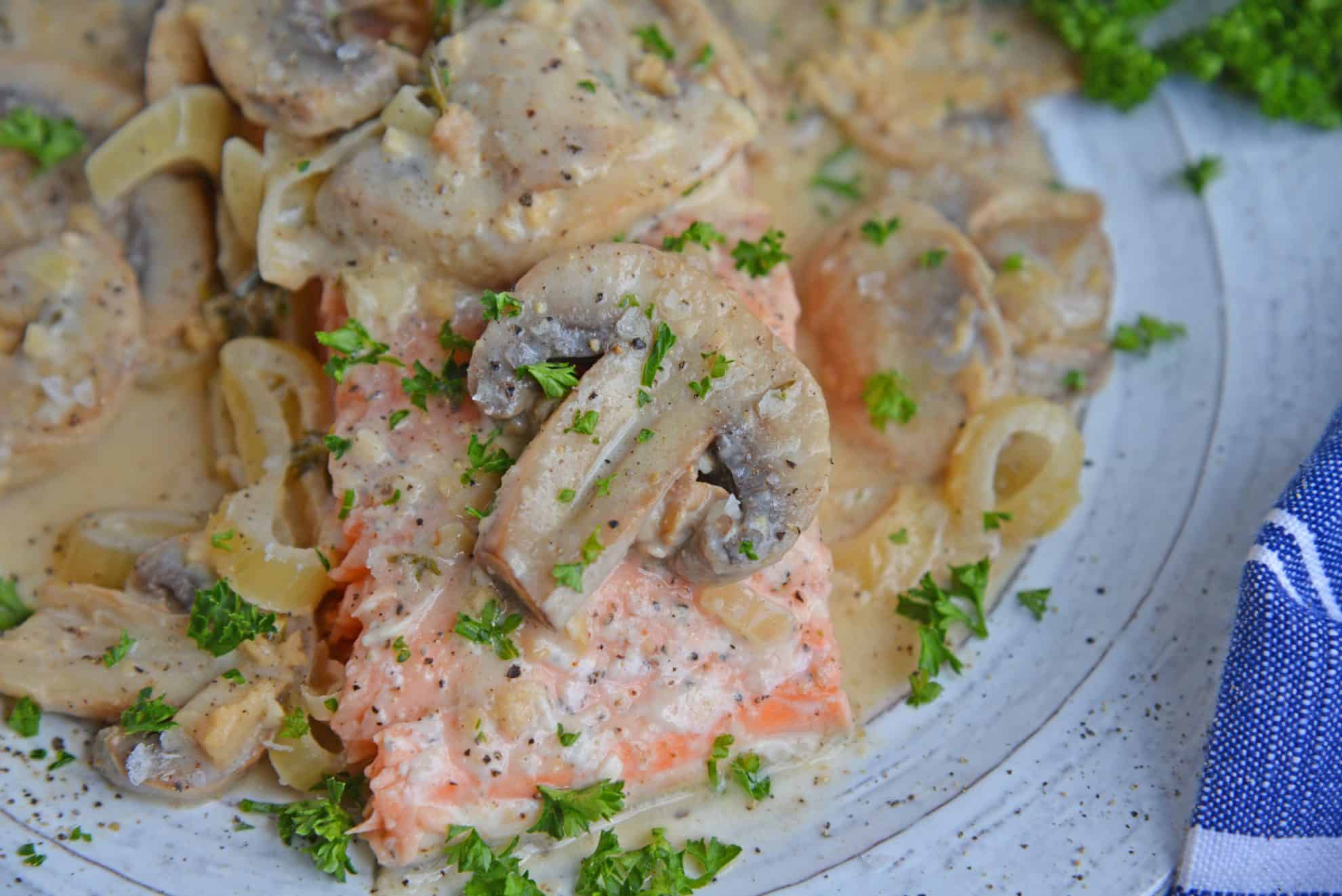 What temperature does salmon need to be? Salmon internal temperature should be around 145 degrees Fahrenheit at the thickest part of the fillet. Use a meat thermometer to check. If it flakes easily with a fork that means it's ready!
Can salmon be eaten rare? Yes, it can. Salmon can be eaten raw as it is in many sushi rolls. You do need to make sure it was handled properly and kept at the right temperature before eating it below 145 degrees. Always be cautious of eating undercooked or raw meats.
How much salmon should I plan for per person? Four to 6 ounces per person is a good amount. While a whole fillet looks impressive, it is easier to get similar size pieces if you get individual fillets. It also cooks faster and more evenly.
Can I freeze salmon? Raw salmon can be frozen and in all honesty, has probably previously been frozen before you even bought it.
Freezing fish isn't the worst thing, in fact it is known to kill some bacteria that could possibly be harmful. (Not all bacteria and you still need to make sure it is handled and cooked properly).
Can you bake frozen salmon? You can, I suppose, but I wouldn't recommend it. It will not cook evenly. I would let it thaw first. It will also take significantly longer to cook if frozen.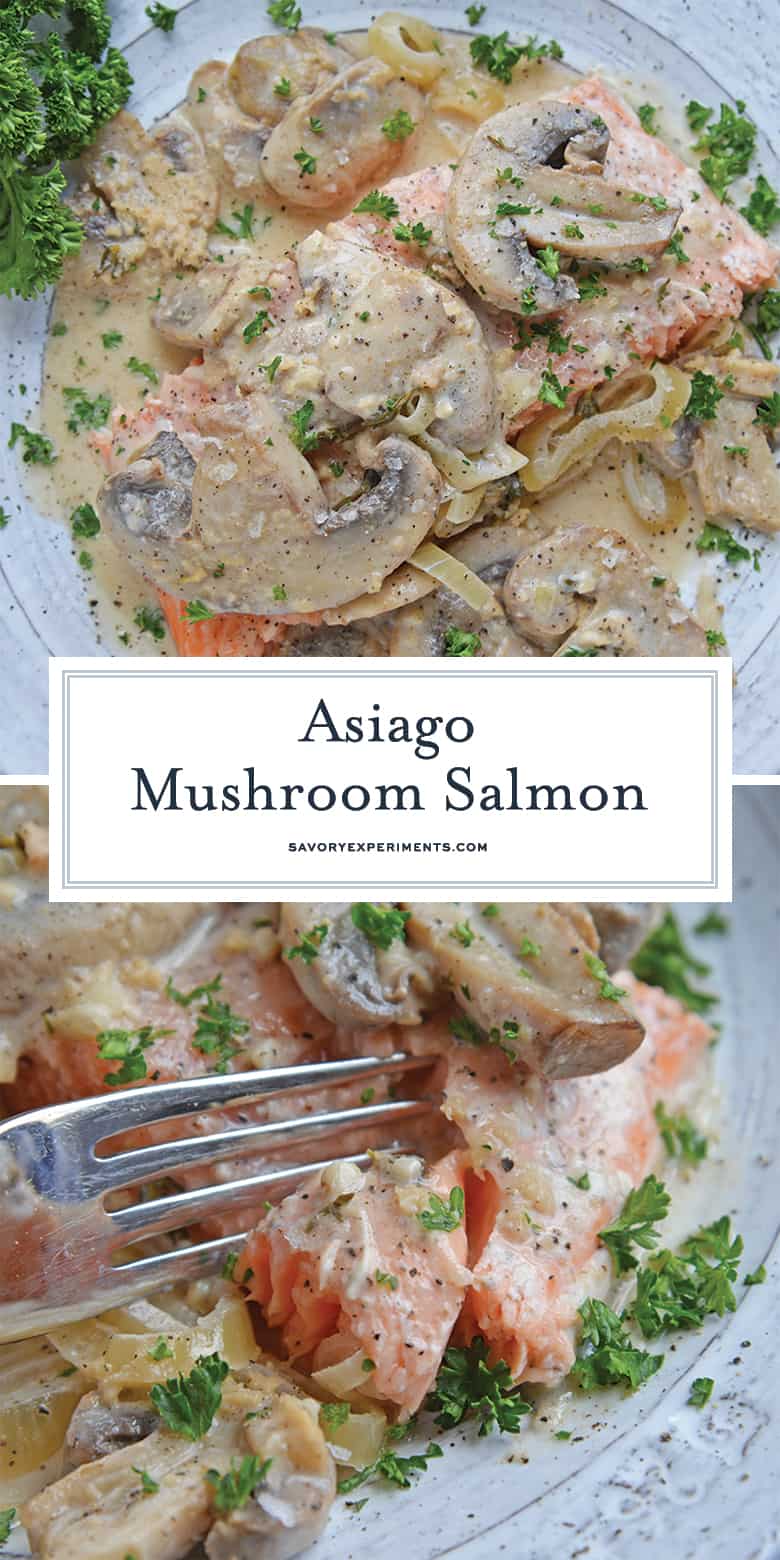 What is the difference between farm raised and wild caught salmon?
Farm raised salmon is raised in a container and controlled environment while wild caught is caught out on the open sea.
Some feel that sustainable, farm raised salmon is the more responsible approach to eating seafood since it isn't depleting the natural population. Salmon consumption has increased significantly within the past two decades after the extreme health benefits were revealed.
Experts claim that the health benefits between farm raised and wild caught salmon are the same, however farm raised aren't nearly as active, as they kept in smaller aquariums and don't get as much daily exercise. Size, genetics and breeding practices vary from farm to farm.
Farm raised salmon with be rosy-orange, while wild caught fresh salmon is a deeper pink or red. Some feel the flavor of wild caught is better and more flavorful. For those who don't care for fish as much or are new to salmon, farm raised might be a good gradual step to eating fish.
Wild caught tends to be a little more expensive and might look a little rougher.
What is the white stuff that comes out of salmon? The white stuff is called albumin and is harmless. In fact, it is a protein that is also found in eggs (the whites) and milk. It separates from the other molecules when heat is added to the food.
Every piece of salmon will have a different amount of the white stuff, but you can reduce how much comes out if it really bothers you. Simply cook your salmon less aggressively at a lower temperature for a longer amount of time.

If you liked this pan fried salmon, check out these other delicious salmon recipes: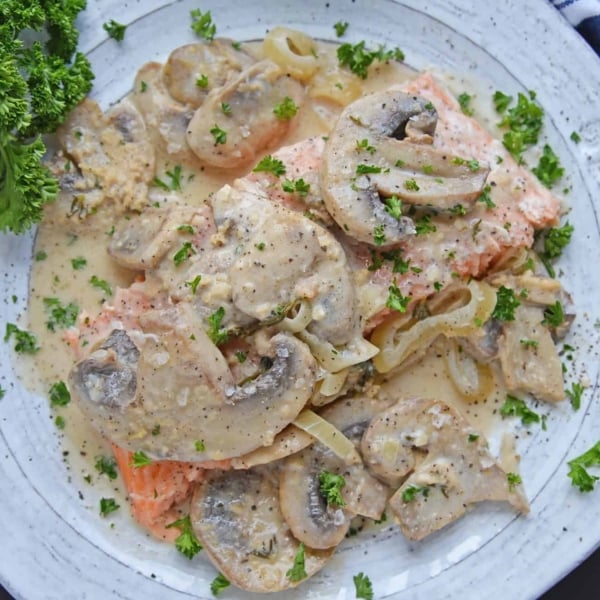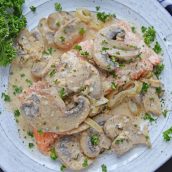 Asiago Mushroom Salmon
This Asiago Mushroom Salmon is one of my favorite pan fried salmon recipes! You only need 10 minutes to make this easy weeknight meal!
Instructions
Season fish with Kosher salt and black pepper. Set aside while the skillet heats.

Warm a large skillet with olive oil over medium-low heat.

Raise the heat to medium-high right before adding salmon fillets. Place the salmon, skin-side up in the pan.

Cook for about 4 minutes or until you can see the fibers starting to seperate. Turn and repeat on other side. Cooking times will vary greatly depending on the thickness of you salmon. Remember that salmon is best served medium, so making sure it is fully cooked isn't necessary.

The skin can be served or removed easily with a knife or spoon. Remove from skillet and set aside.

Add butter to hot skillet and reduce heat to low.

Add mushrooms, garlic and shallot, sauteing until mushrooms shrink in size and shallots soften.

Add dried thyme, dry white wine and heavy cream.

When hot, add shredded asiago cheese, stirring until it thickens and fully combines.

Add salmon fillets back to the mixture, coating and reheating for 2 minutes.

If you liked this recipe, come back and let us know how it was!
Nutrition
Calories:
399
kcal
,
Carbohydrates:
11
g
,
Protein:
19
g
,
Fat:
25
g
,
Saturated Fat:
13
g
,
Cholesterol:
84
mg
,
Sodium:
634
mg
,
Potassium:
841
mg
,
Fiber:
1
g
,
Sugar:
4
g
,
Vitamin A:
690
IU
,
Vitamin C:
1
mg
,
Calcium:
282
mg
,
Iron:
1.6
mg