One of my favorite condiments is homemade aioli, also known as allioli, aïoli or sometimes garlic mayo. As a dipping sauce, topping, sandwich slather or drizzle, it is verstile and also takes on a wide range of flavors from savory to sweet.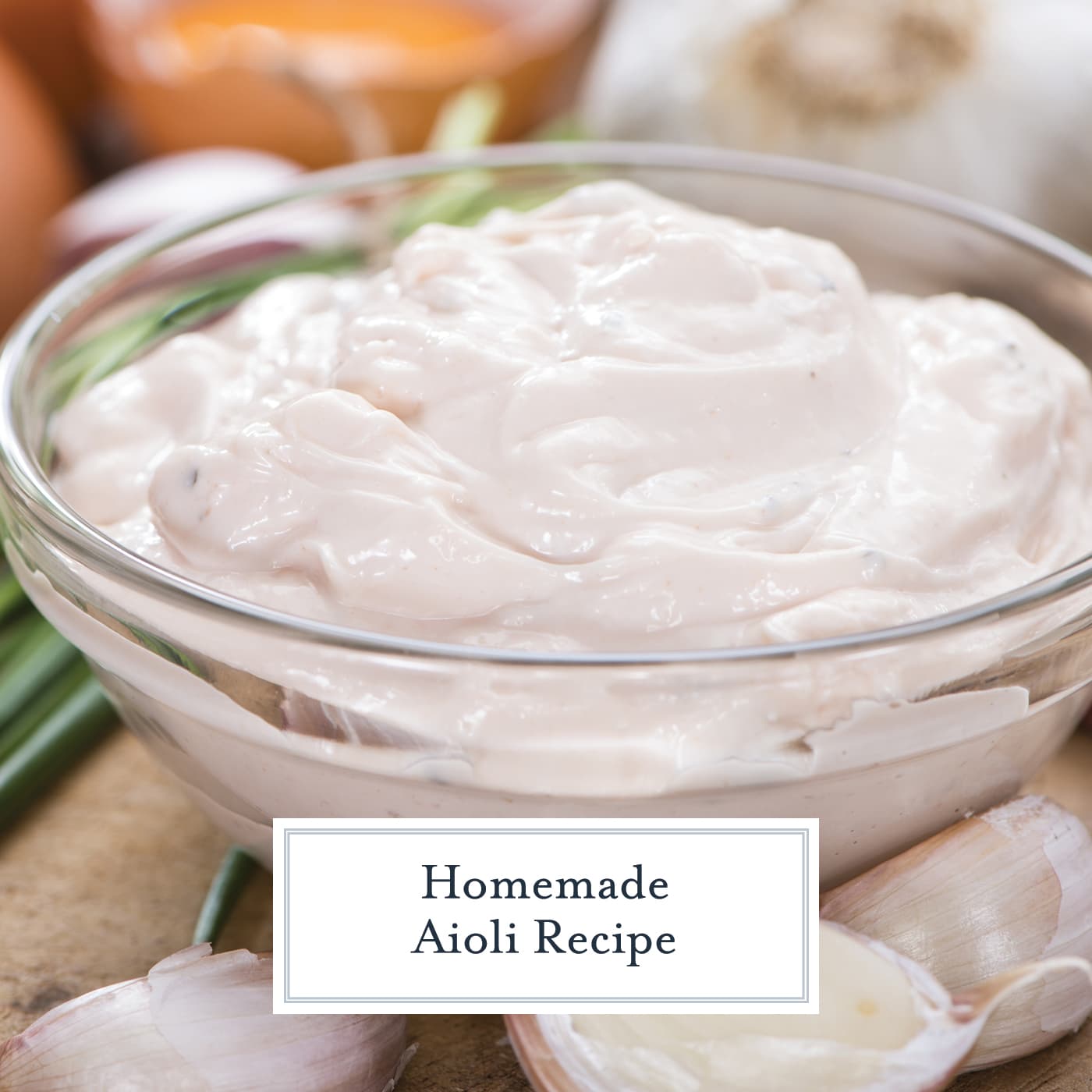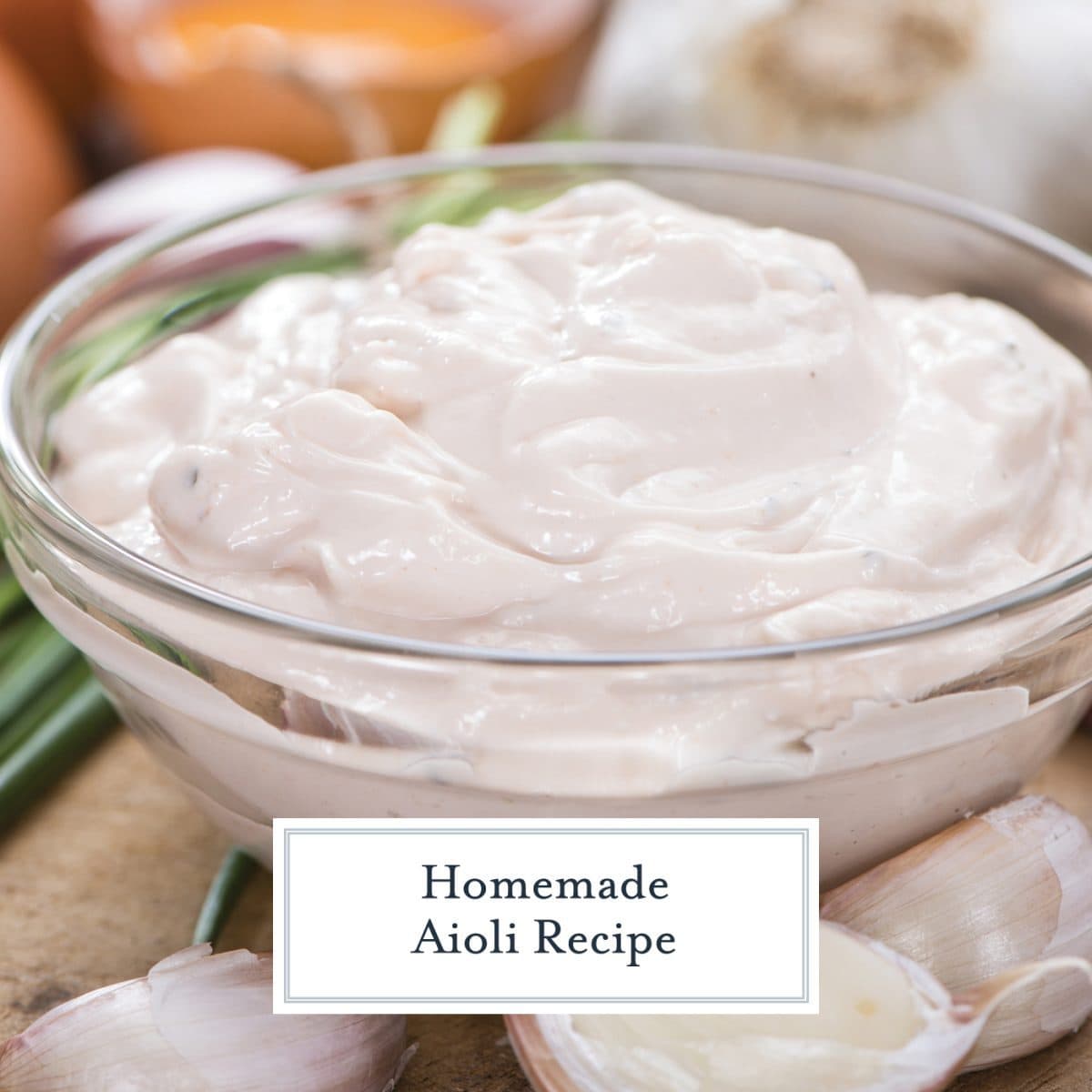 What is Homemade Aioli?
An authentic aioli recipe is an emulsification of only olive oil, salt, garlic and perhaps a spritz of lemon juice or Dijon mustard and water to balance the texture. It is intense and very tasty. A little goes a long way.
So why are so many "aiolis" a mayo base? They are the cheater version and while not exactly the same, still delicious and flavorful in their own right. And in fact, some very notable outlets are now even defining it (Oxford) as "mayonnaise seasoned with garlic."
Aioli sauce is considered to be Mediterranean, but versions are commonly seen in French cuisine. It has also become more widely popular in the United States. Most are labeled "garlic aioli recipe" but in fact, nearly all contain garlic cloves.
Aioli vs Mayo
Are aioli and mayo the same? Long story short: no.
Mayo contains eggs, while authentic aioli historically does not, more and more are being made with egg yolks and oil to provide better structure. This is essentially mayonnaise. However, in the US the majority are in fact a mayo base. Egg yolks give a similar rich flavor and creamy texture. In fact, they are more similar to a remoulade sauce or tartar sauce.
Does Aioli Have Raw Eggs?
Authentic aioli does not, but many cheater or American recipes do use uncooked eggs (like this one). Most eggs these days are pasteurized and safe. And if you are using a jarred mayo, then they have been pasteurized and are safe. How else does raw egg stay shelf stable without refrigeration?
Ingredients
Egg yolks – Separate the whole egg into yolks and whites. You can use the whites to make meringue or even scrambled egg whites. The yolks are the only part we need for this traditional aioli.
Lemon – We will be using fresh lemon juice and lemon zest for this recipe. I always prefer to use fresh rather than the bottled variety. I promise it makes a difference!
Dijon mustard – This is an excellent flavor complement to the other flavors we have going on. It's zingy and adds a little bit of tang to this easy aioli recipe.
Extra-virgin olive oil – This is the best oil to use, but you can use other types of oil. Just make sure it is a more neutral oil like avocado oil so that the flavor doesn't overpower the aioli.
Garlic – Fresh garlic is important here. The minced garlic in the jars can lose flavor. I like to grate raw garlic myself for the best flavor. This technically isn't a garlic aioli recipe, but the amount of garlic added is really up to you.
Salt and pepper – I like to use fine sea salt and freshly ground black pepper. You can add these to taste or totally omit them altogether if you'd like.
Chives – These are totally optional, but I like to add a few for texture and flavor.
How to Make Homemade Aioli
Making an emulsified sauce is very simple, and quick, but a tad of knowledge about emflusication is key. This means we are combining two ingredients that generally can not be blended together. This done by high agitation and a slow addition of oil so the droplets are suspended in the egg mixture. An immersion blender (stick blender) or small food processor work best for this task.
After you've combined, then you can add in other flavors, like garlic, or use it as-is. Since the traditional recipes use garlic, this is almost always added regardless of other flavors. I use a micro grater to grate mine into a pulp. Others like to use roast garlic or even the garlic paste you can buy at the store in a tube. You want garlic flavor without larger bits floating around.
While I prefer to use a first press extra virgin olive oil, you can really use any neutral oil such as canola oil, vegetable oil or even grapeseed oil. If you want to gives yours extra flavor, try an infused variety like truffle oil. From there, customize however you want with fresh herbs like chives or parsley, or just spices like black pepper and salt.
How to Use Homemade Aioli
Not only does it make a great dipping sauce for French fries and veggies or crab cakes, but it also tastes great slathered on a sandwich or used as a marinade. It also makes a great homemade dressing.
Yes, mayo is a great flavor inducer and baster, as are eggs. You can use the flavorful sauce for any recipe that calls for mayo like potato salad or even egg salad, to infuse more flavor.
Storage & Shelf Life
Store it in an airtight container in the refrigerator for up to a week. It will likely last longer, but every time you take it out to use it or place a knife or something to spread in, it runs the risk of contamination.
Do not leave them out at room temperature for longer than 2 hours. Aioli doesn't freeze well.
Favorite Aioli Recipes