Spicy Cedar Plank Salmon is an easy salmon recipe using ingredients already in your pantry. Pair it with sweet wine for a perfectly balanced meal, scroll on down for my perfect pairing!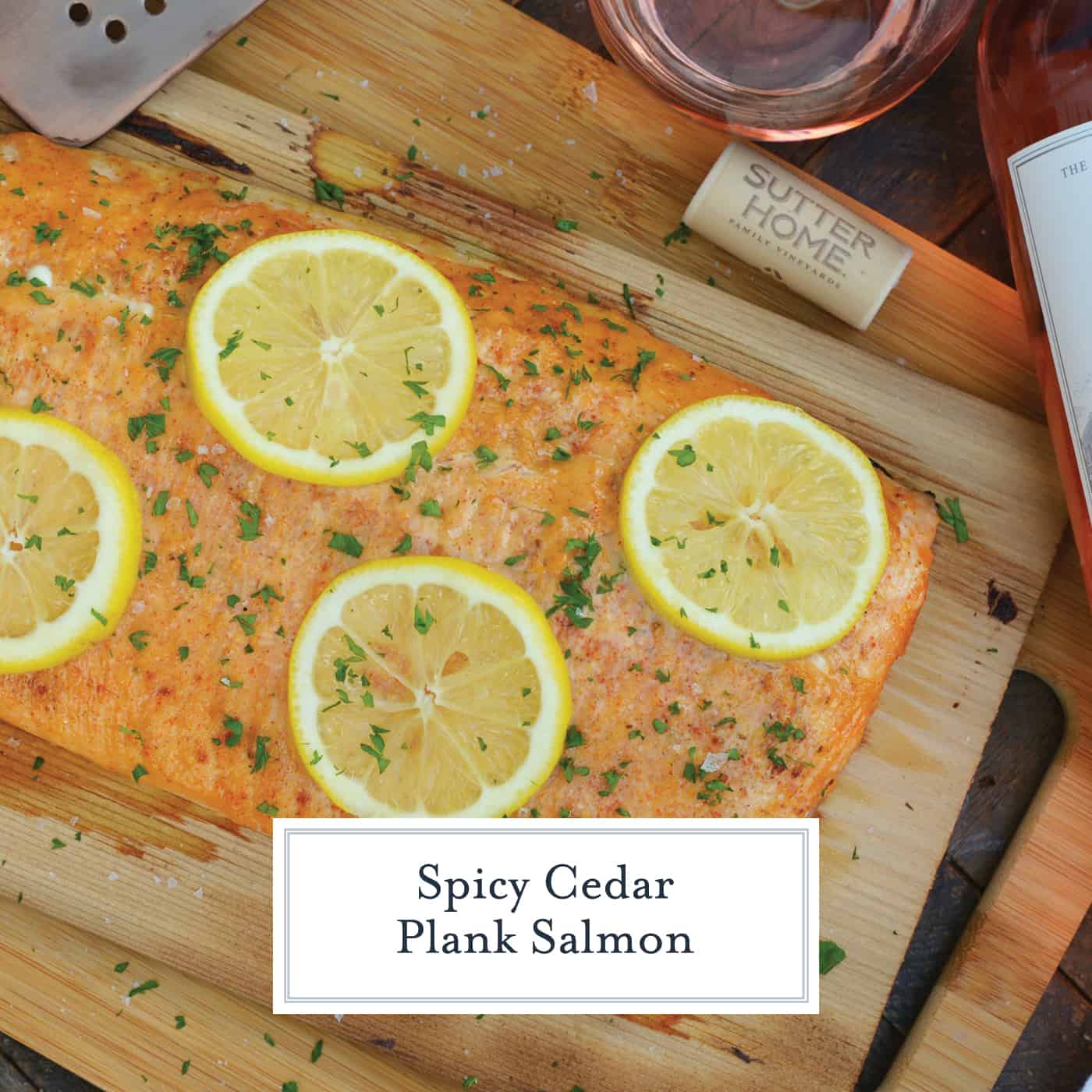 Spicy Cedar Plank Salmon is an easy grilled salmon recipe using a spicy salmon glaze. Perfect for a hot summer night and pairing with a crisp, sweet wine.
This post was brought to you by the makers of Sutter Home. I received compensation to write this post through the Sweet on Spice program. All opinions expressed are my own.
Yippee, summer is finally here! That means we are making the majority of our meals on the grill and the deck has become our new family room. We crank up the classic rock, sip wine and enjoy each other's company.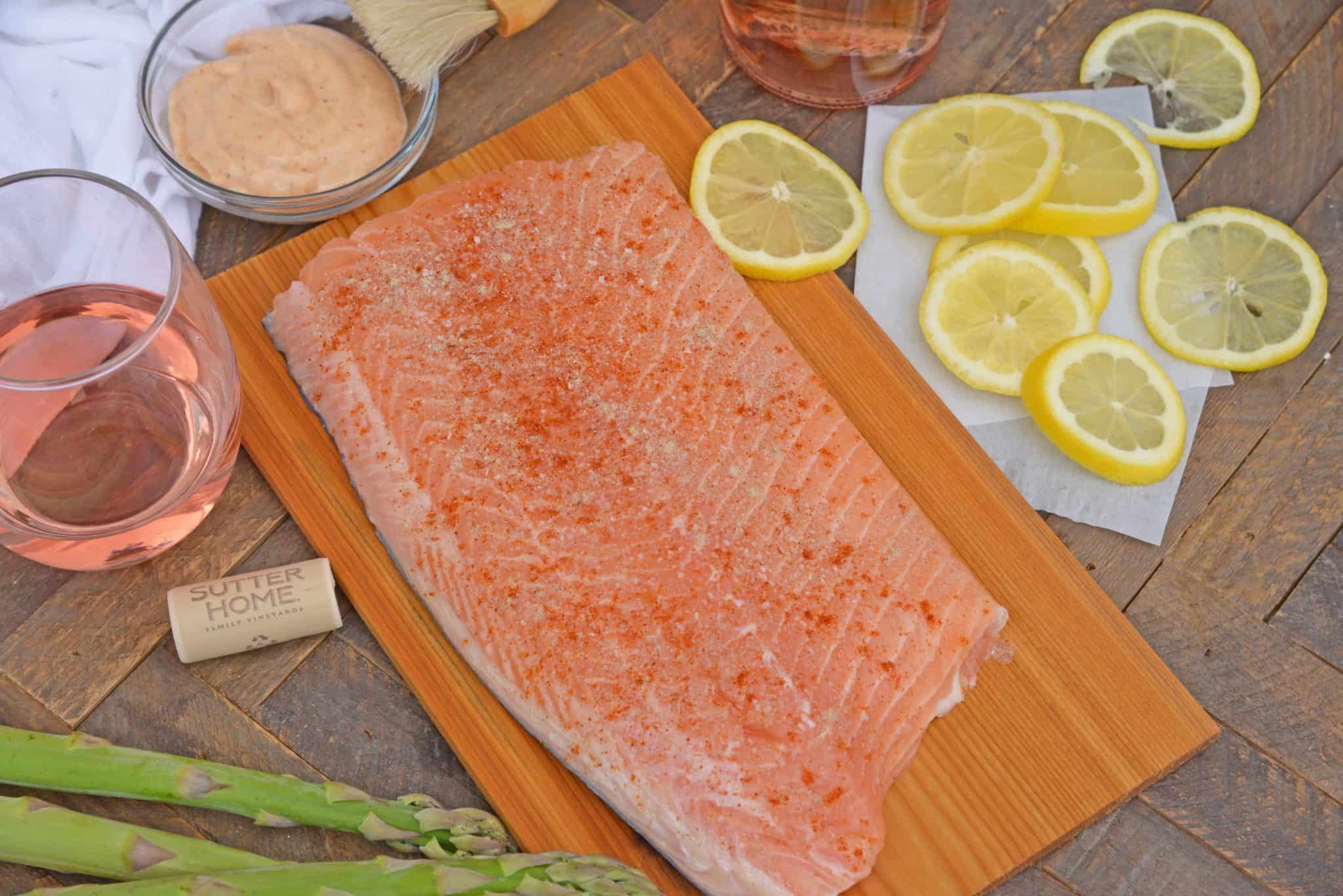 My palette changes with the seasons and thus, so does my choice of wine pairing. For the hot summer months, I want something crisp, clean and sweet. Sutter Home, a household name that has become synonymous with quality vino, is my go-to.
Sutter Home White Zinfandel is a cooling, refreshing wine, making a glass fitting for my workday wind down. Also ideal for pairing with spicy food, like my Spicy Cedar Plank Salmon!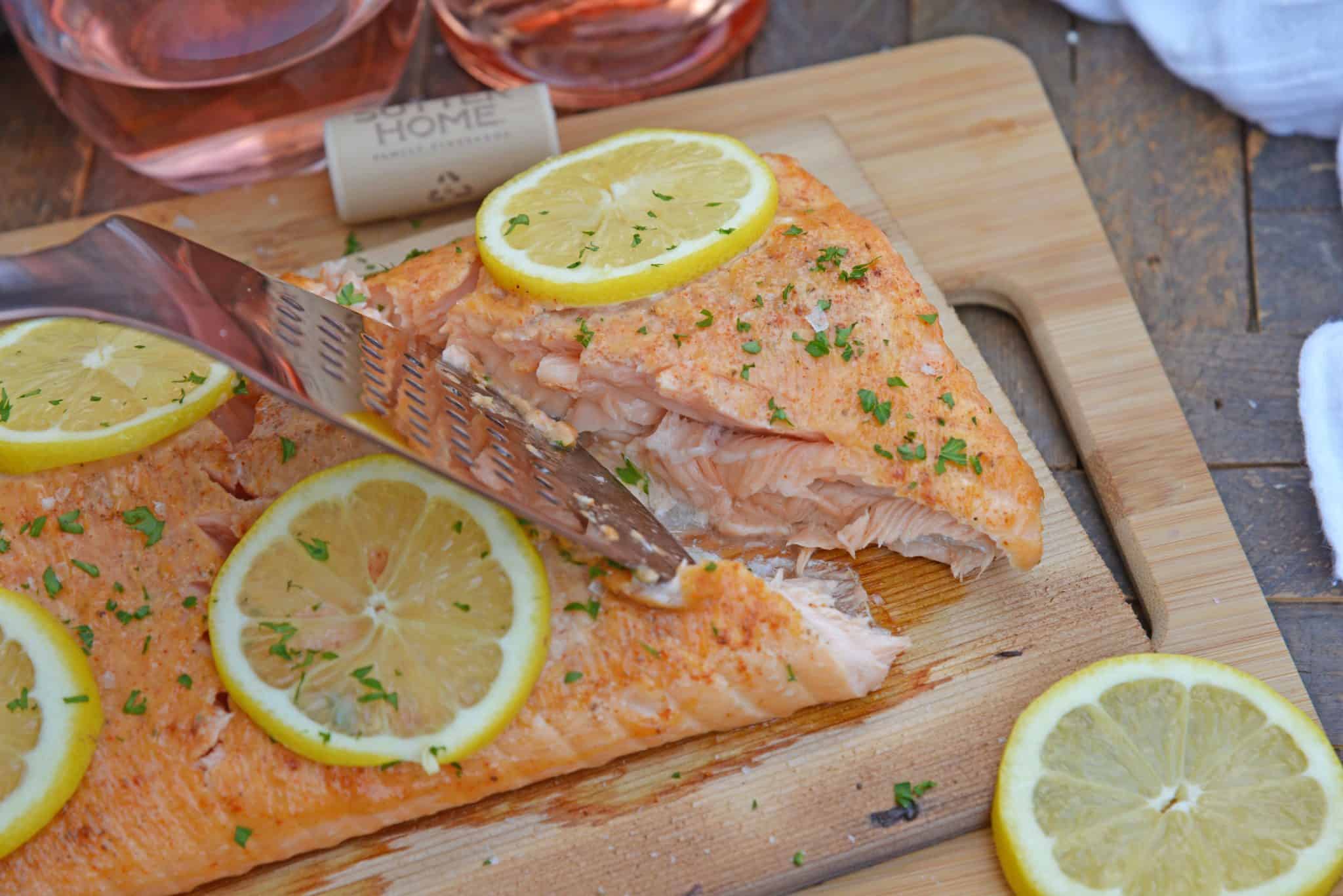 Salmon on the grill is a favorite summer dinner solution; healthy, flavorful and super quick to prepare. But like many fish, we often get stuck in a rut of using the same old lack luster recipes.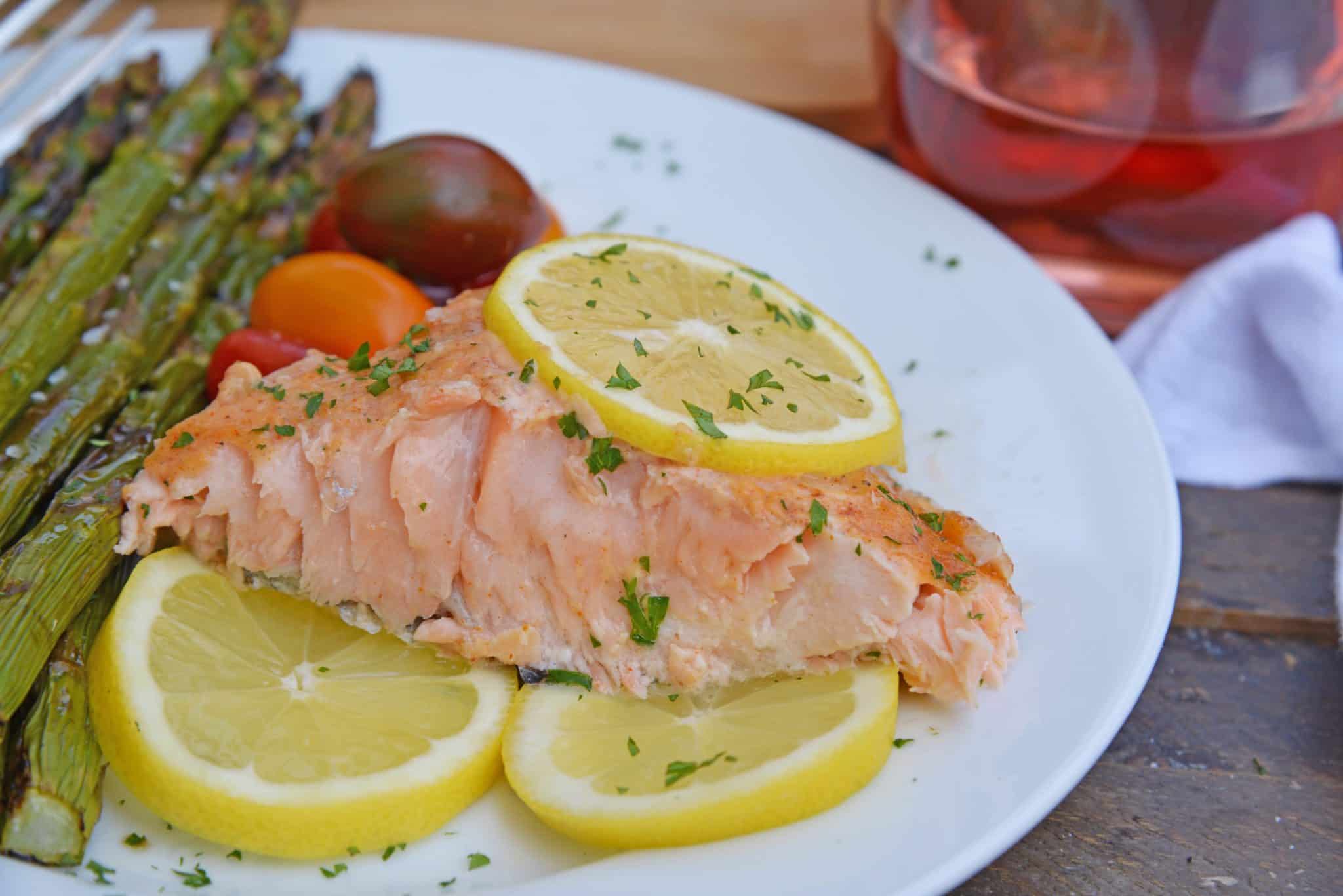 Our newest is creation brings the heat: Spicy Cedar Plank Salmon. An easy salmon recipe basted with a local Chesapeake Bay favorite, Old Bay!
I know what you are saying… that doesn't make it spicy. No, it doesn't, but the cayenne pepper and hot sauce sure do!

If salmon is too wide for the plank, fold under the thinnest side, which will help it cook more evenly.[/caption]
Old Bay, created in 1939 just 1 mile from my home at the Baltimore Fish Market, is a blend of proprietary seafood spices like black pepper, red pepper, celery seed, bay leaf and ginger.
A Baltimore exclusive made popular by fisherman transporting it up and down the Eastern seaboard, it was popularized by a larger spice company in 1985 and is slowly gaining national recognition.
It remains a local favorite and its flavors find its way onto just about everything whether associated with Maryland crabs or not.
Instead of doing a dry rub we opted for a wet baste using mayonnaise. It helps keep grilled salmon super moist and prevents spicy ingredients from falling off during the cooking process.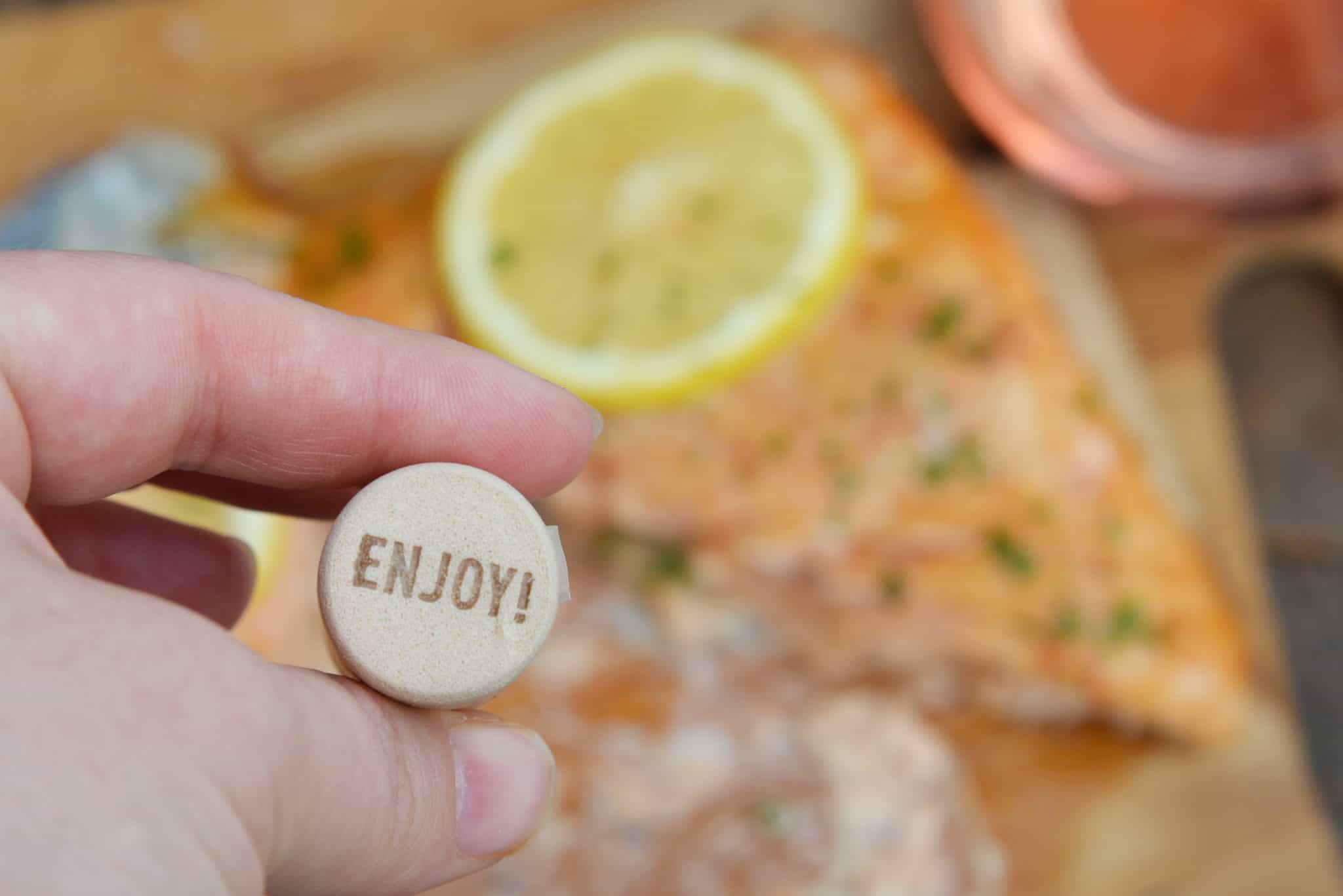 A cedar plank imparts a smoky flavor and assists in the salmon staying on the grill, opposed to falling between the grates.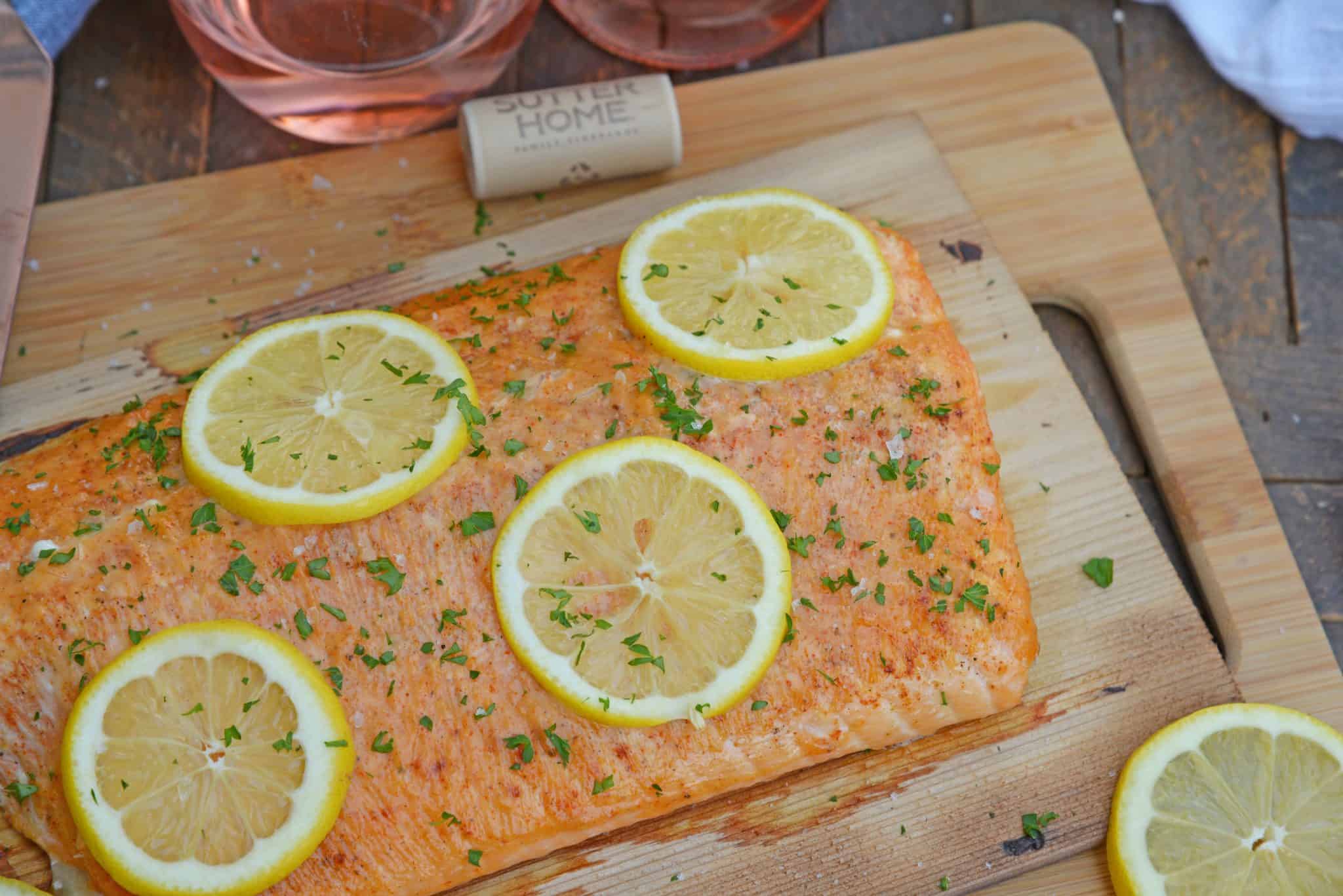 A chilled glass of fruity Sutter Home White Zinfandel with the essence of melon and strawberry balances the hot flavors and cools things down. Grill this salmon recipe on Labor Day weekend or for any summer BBQ!
Here are a few more fun facts about Sutter Home White Zinfandel:
The production of White Zinfandel is fairly new, only hitting the market in the 1970's. The original production was actually a happy mistake.
White Zinfandel is not a rosé; it is made from a zinfandel varietal, a type of grape. This and its method of production put it in a category of its own.
A versatile wine, White Zinfandel pairs especially well with chicken, fish, vegetarian dishes and spicy foods like Mexican or Asian cuisine.
Sutter Home received Wine Spectator's Distinguished Service Award in 1994 for "having introduced more Americans to wine on the table than anyone in history," thanks to White Zinfandel. Now 1 out of every 5 American wine drinkers enjoys sipping White Zinfandel.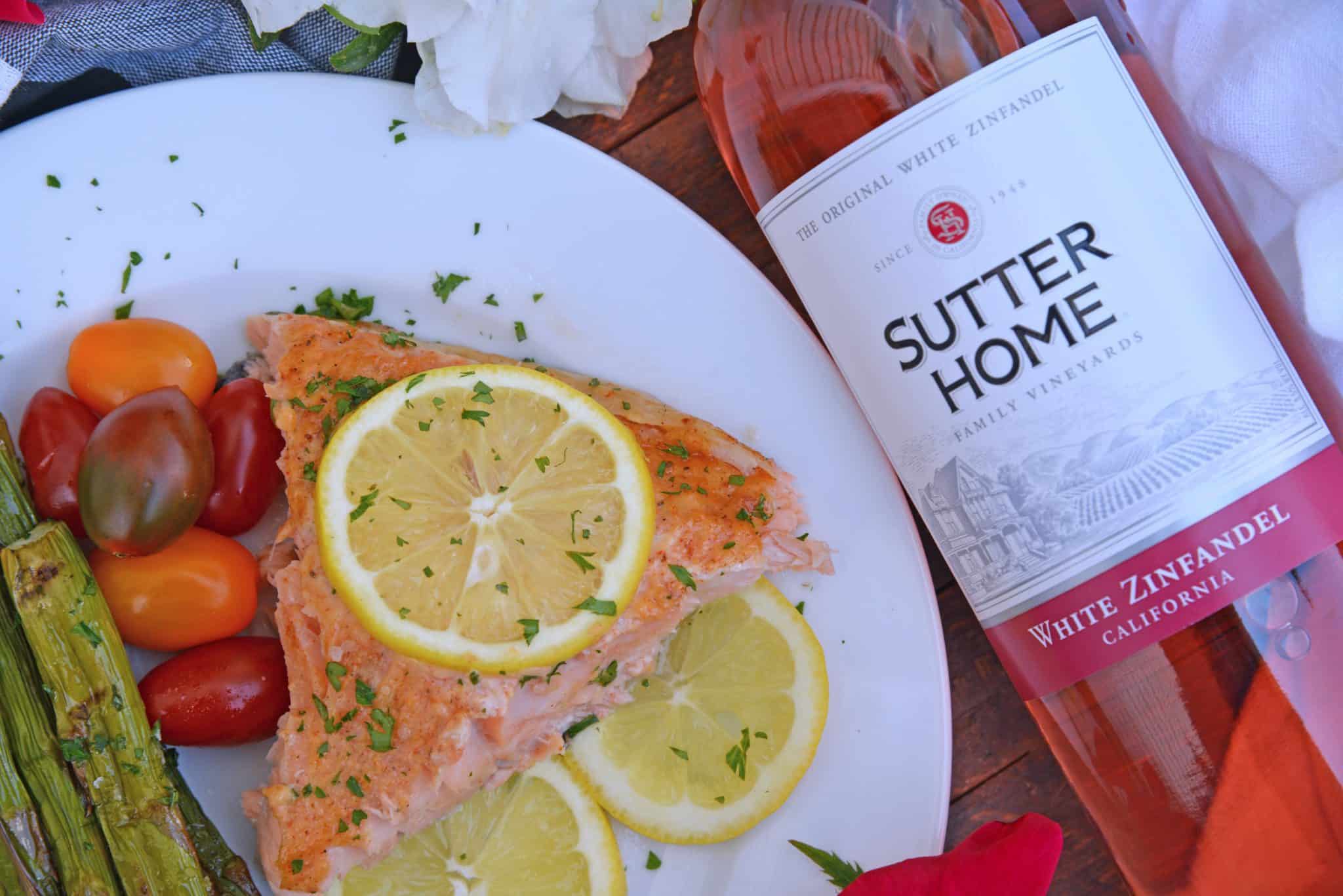 Here a few more spicy dishes to pair with your fruity glass of White Zinfandel: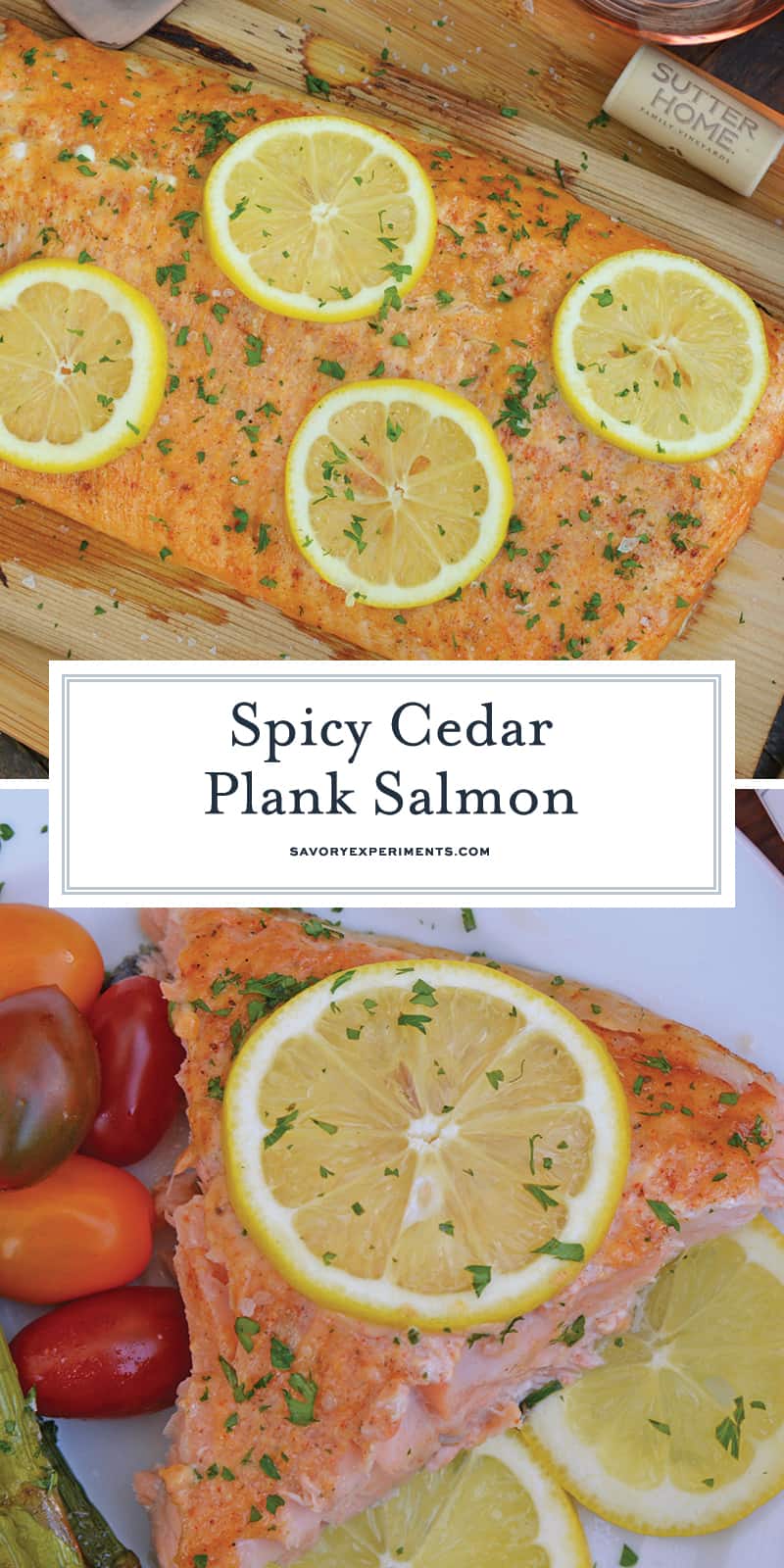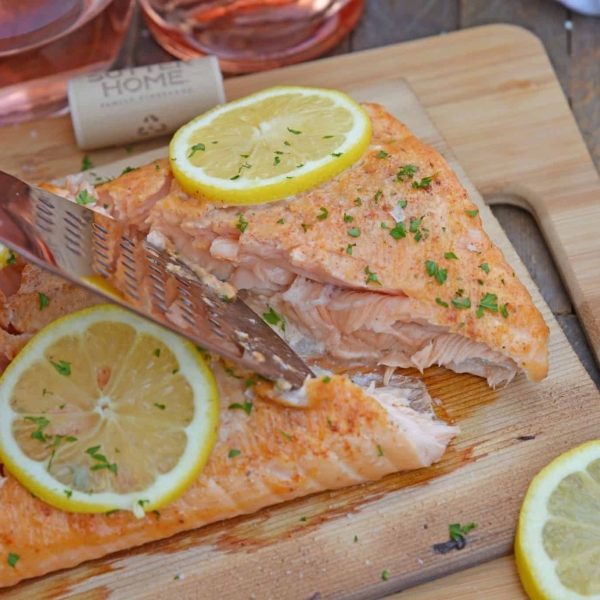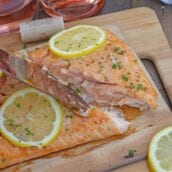 Spicy Cedar Plank Salmon
Spicy Cedar Plank Salmon is an easy grilled salmon recipe using a spicy salmon glaze. Perfect for a hot summer night and pairing with a crisp, sweet wine.
Ingredients
Garnish:
Sutter Home White Zinfandel

Lemon Slices
Instructions
Open bottle of White Zinfandel and pour yourself a glass of wine. Cooking is always more enjoyable sipping a glass of vino.

Soak cedar planks for 1-2 hours in water.

In a small bowl, combine Spicy Salmon Sauce ingredients, mayonnaise, cayenne pepper, Old Bay, hot sauce and brown sugar. Mix well and set aside.

In another small bowl, combine salmon rub ingredients, Kosher salt, cayenne pepper and white pepper. Evenly sprinkle on top of salmon filet. Allow to sit with rub while hating the grill.

Heat grill to medium high heat.

When ready to cook, place rubbed salmon filet on the cedar plank and set the entire thing on direct heat.

Close the lid and allow to cook for 5 minutes. Open and baste with spicy salmon sauce. Close and cook an additional 3 minutes.

Baste again, applying a thick coat. Close for another 2 minutes.

Open and top with lemon slices, closing for another 2 minutes or until salmon has reached an internal temperature of 145 degrees for medium.

Remove and serve immediately.

If you've tried this recipe, make sure to come back and let us know how you liked it!
Nutrition
Calories:
326
kcal
,
Carbohydrates:
3
g
,
Protein:
33
g
,
Fat:
18
g
,
Saturated Fat:
2
g
,
Cholesterol:
97
mg
,
Sodium:
750
mg
,
Potassium:
833
mg
,
Sugar:
3
g
,
Vitamin A:
200
IU
,
Vitamin C:
0.7
mg
,
Calcium:
20
mg
,
Iron:
1.4
mg
Make sure to follow Sutter Home on Facebook, Instagram and Twitter!