This Baked Eye of Round Roast is the easiest way to make delicious roast beef in your oven! Slice your roast beef and serve with a flavorful gravy made from the drippings.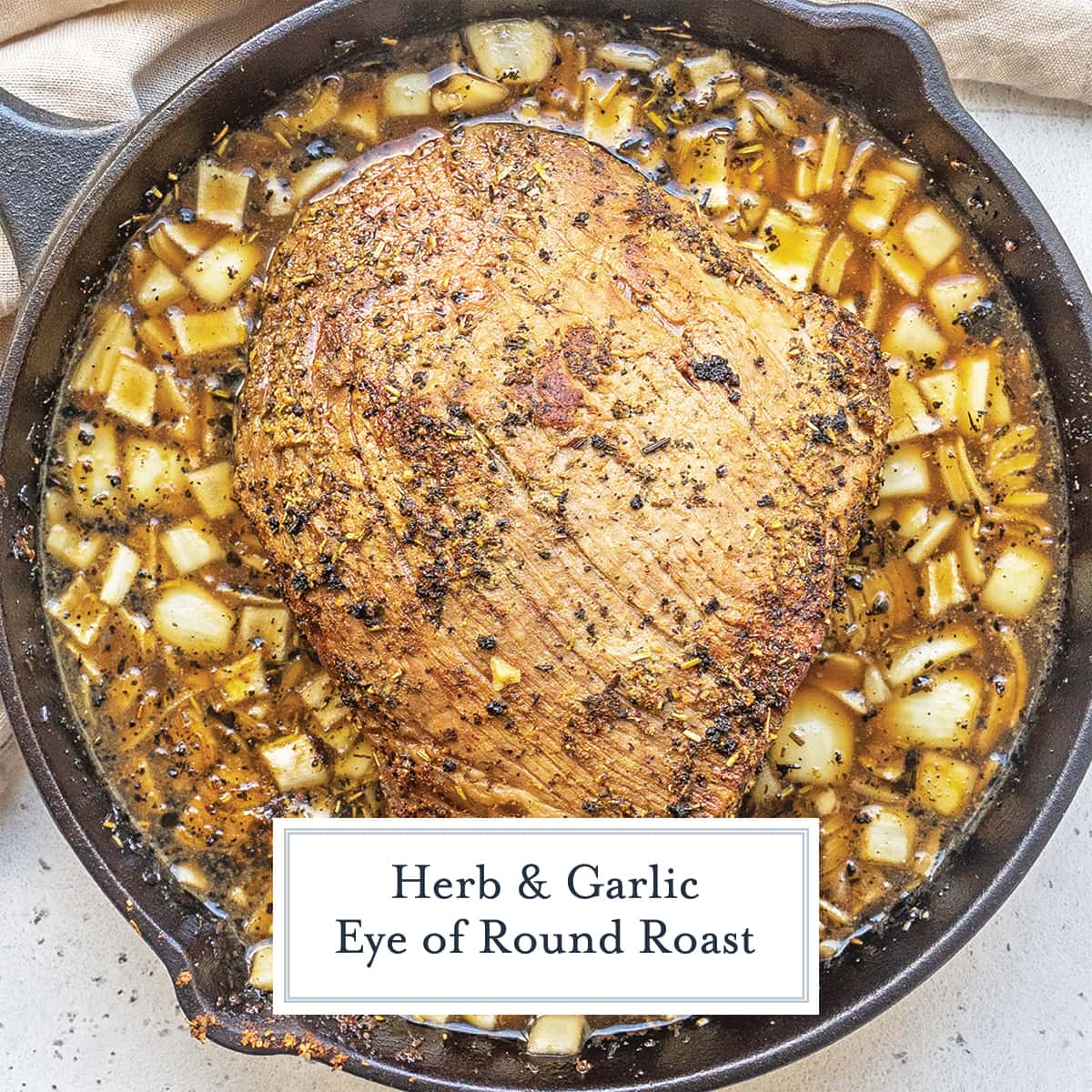 It is easier than you think to make the perfect beef round roast at home. Just season and sear your beef and bake slow and low- a fantastic easy dinner idea.
What is an Eye of Round Roast?
Eye of round is a lean, low fat cut that comes from the hindquarters of a cow and tends to be a tougher cut because it sees so much movement. Due to this, it needs some extra TLC with marinating and longer cook times to allow connective tissues to break down.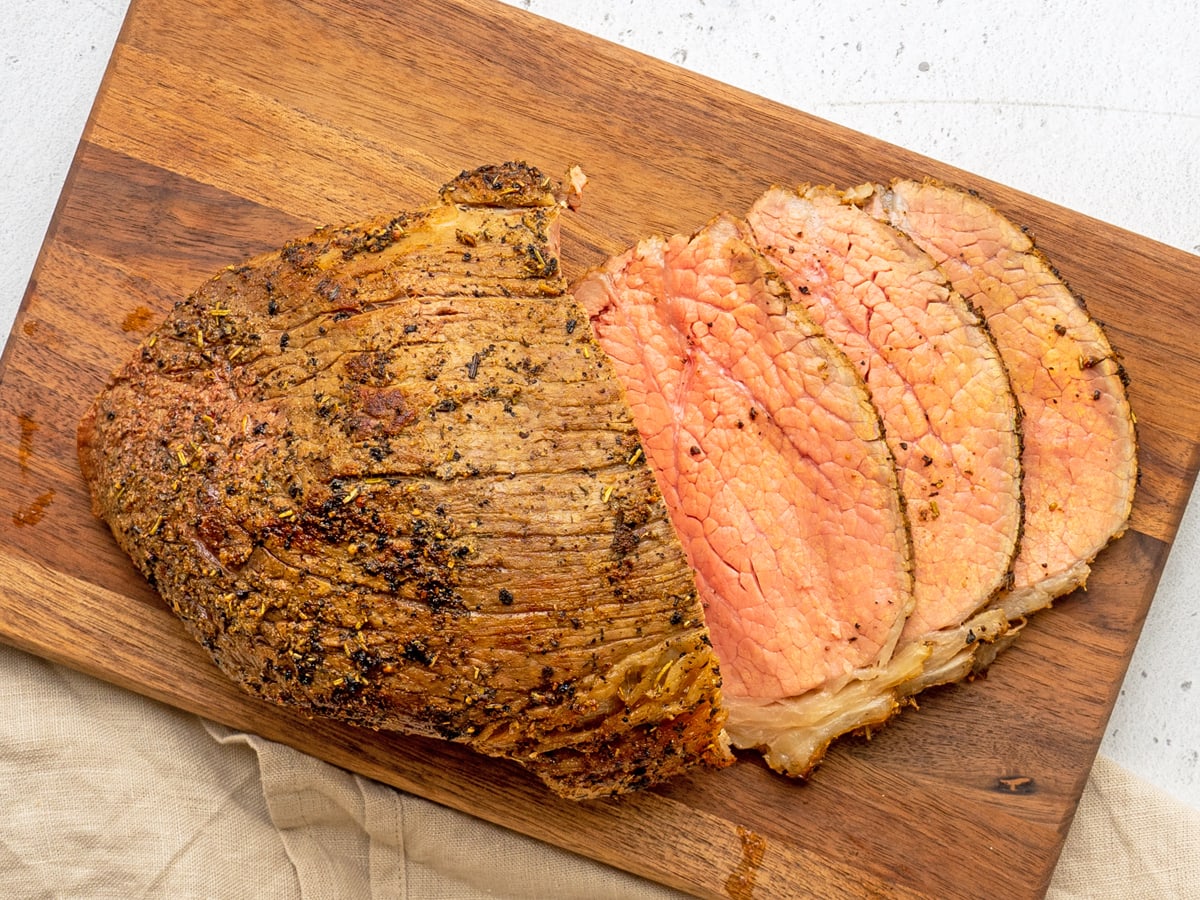 It is best enjoyed with a robust marinade or seasoning and thinly sliced against the grain to shorten fibers. It is best known for making deli roast beef.
PRO TIP: It is easy to accidentally overcook an eye of round roast so it is important to monitor your beef as it cooks.
It is important to note that an eye of round roast is different from a bottom round roast or even a rump roast. They look similar and both have a lean and tougher texture. You can use this same technique to cook both, but they are not the same.
I chose to cook this eye of round roast beef slow and low in an oven set at just 250°F. Then, I regularly checked the internal temperature of the beef with an electronic thermometer.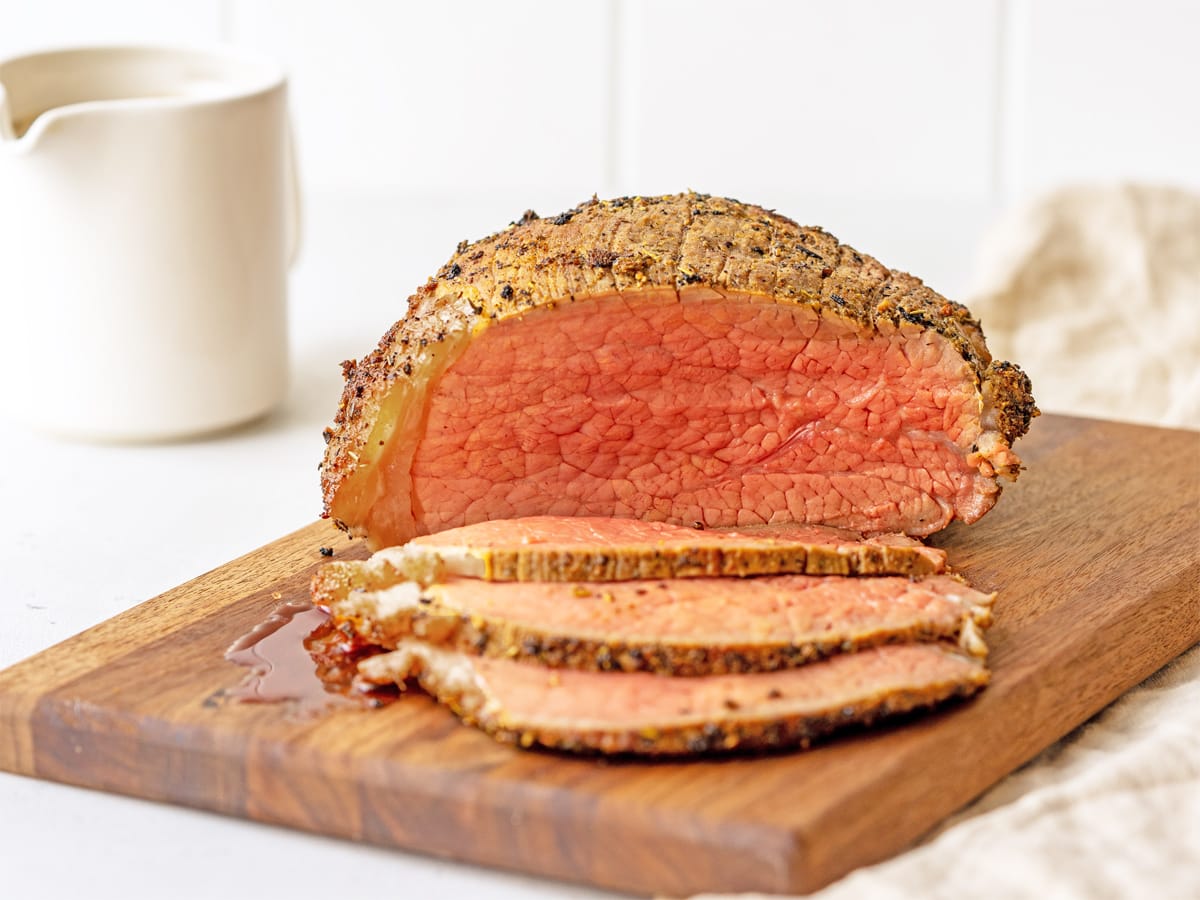 As soon as the internal temperature read 125°F I removed the roast from the oven and transferred it to a cutting board to rest. Since this temperature is for rare, carry over cooking while resting will bring it up to a rosy medium rare.
You can take this a step further and use a meat thermometer that remains in the roast for the entire duration of cooking. Set the probe to beep as soon as the roast beef reaches 125°F. This is a lean cut of meat so we need to be careful to not overcook it. With little to no fat, it isn't self lubricating and tastes best not prepared over medium rare.
A frequently asked question is why I don't do this in a slow cooker, and that is a good one! The slow cooker keeps all the moisture in and while we want some so the roast doesn't dry out, we also want a tight and dry bark to develop from the heat. One we wouldn't get when slow cooked with liquid.
Ingredients
The ingredients for this great recipe are so easy and totally pantry staples.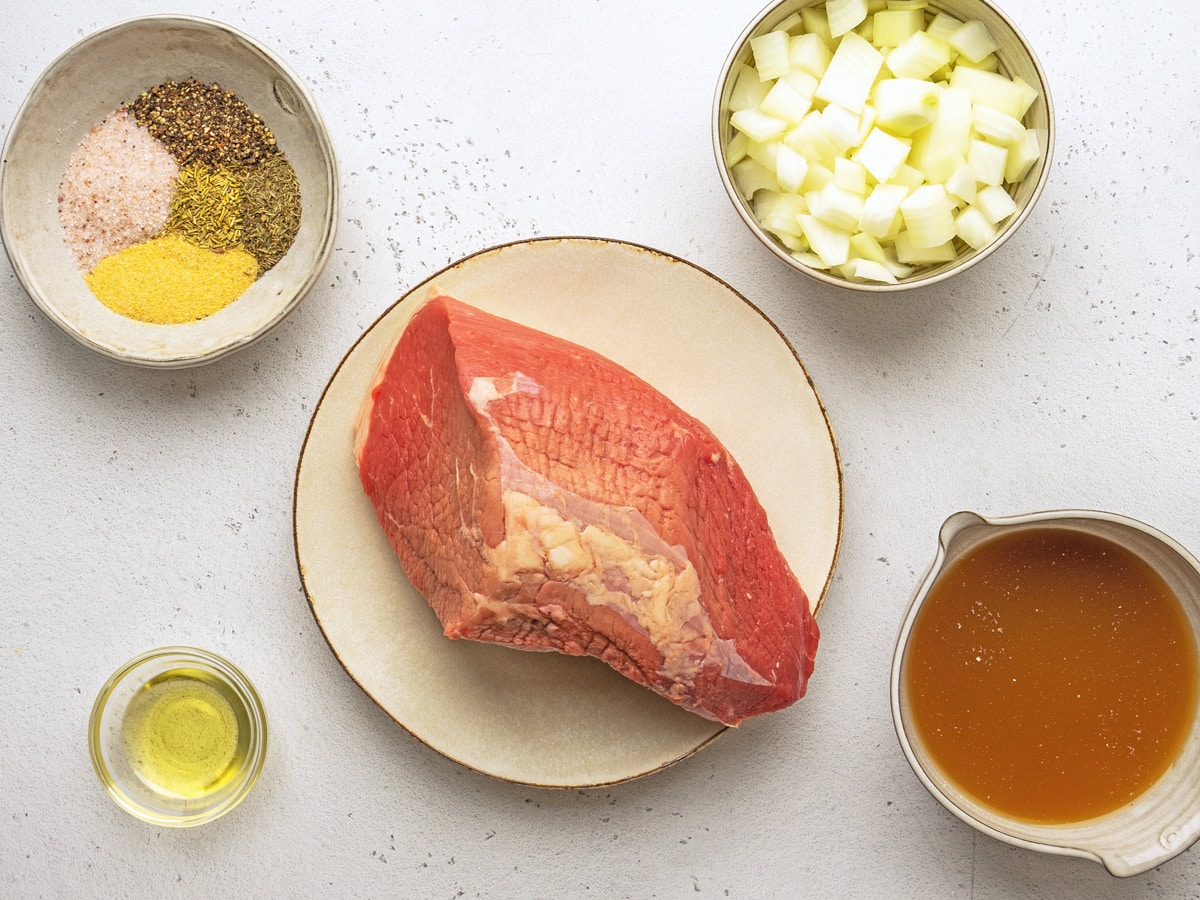 Eye of round roast – look for a trimmed eye of round roast that is between 2lbs and 3lbs. You can also request this specifically at a butcher counter. You want a thin fat cap to provide flavor and some moisture while cooking, but not something so thick it needs to be chiseled off.
Garlic powder, cracked black pepper, coarse sea salt, dried parsley, and dried thyme to make a dry rub for the roast
Large yellow onion diced – this will serve as a natural rack for your beef to rest on
Beef broth – this will mix with the roast drippings to make a delicious gravy
Oil for searing the beef- make sure to use something with a high smoke point.
How to Cook Eye of Round Roast
Season the roast. Allow the eye of round roast to come to room temperature and pat dry. Then, combine garlic powder, salt, pepper, rosemary, and thyme in a small bowl. Take the seasoning mixture and rub it all over the roast. Cut the yellow onion into a large dice and set aside.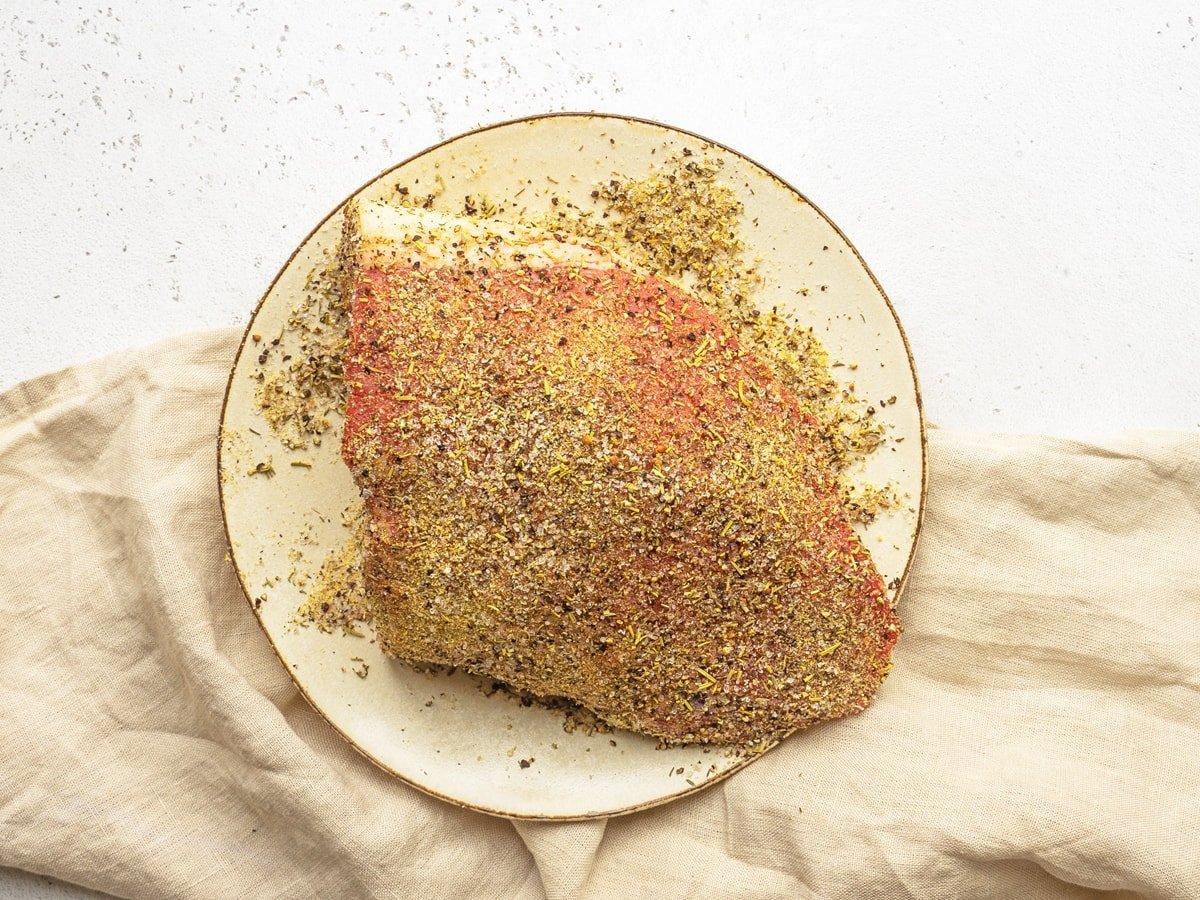 Sear the roast. Heat oil over medium heat in a large cast iron skillet. When the oil is hot add the roast to the pan. Cook on each side until browned – about two minutes each side.
Bake the roast. Remove the seared roast from the cast iron and add the diced onions to the pan. Arrange these onions in an even layer in the pan – they will act like a natural roasting rack for the eye of round roast. Place the roast on the onions and pour the beef broth into the skillet. Place the cast iron skillet in the oven to cook at 250°F. Cook the roast beef until the internal temperature reaches 125°F and remove it from the oven.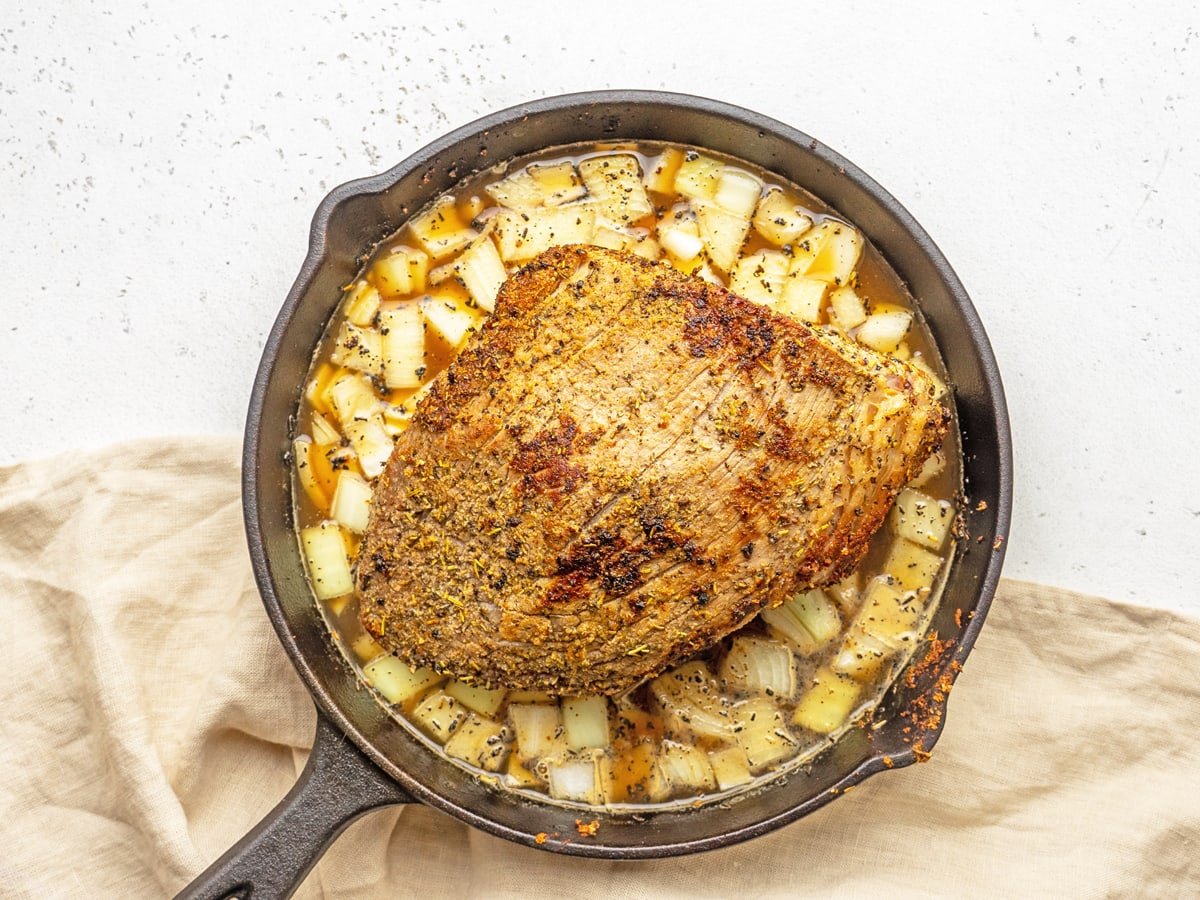 Slice and serve with gravy. Allow the roast to rest on a cutting board for 10 minutes then slice into thin slices against the grain. Strain the juice from the skillet. Serve the beef with the warm gravy.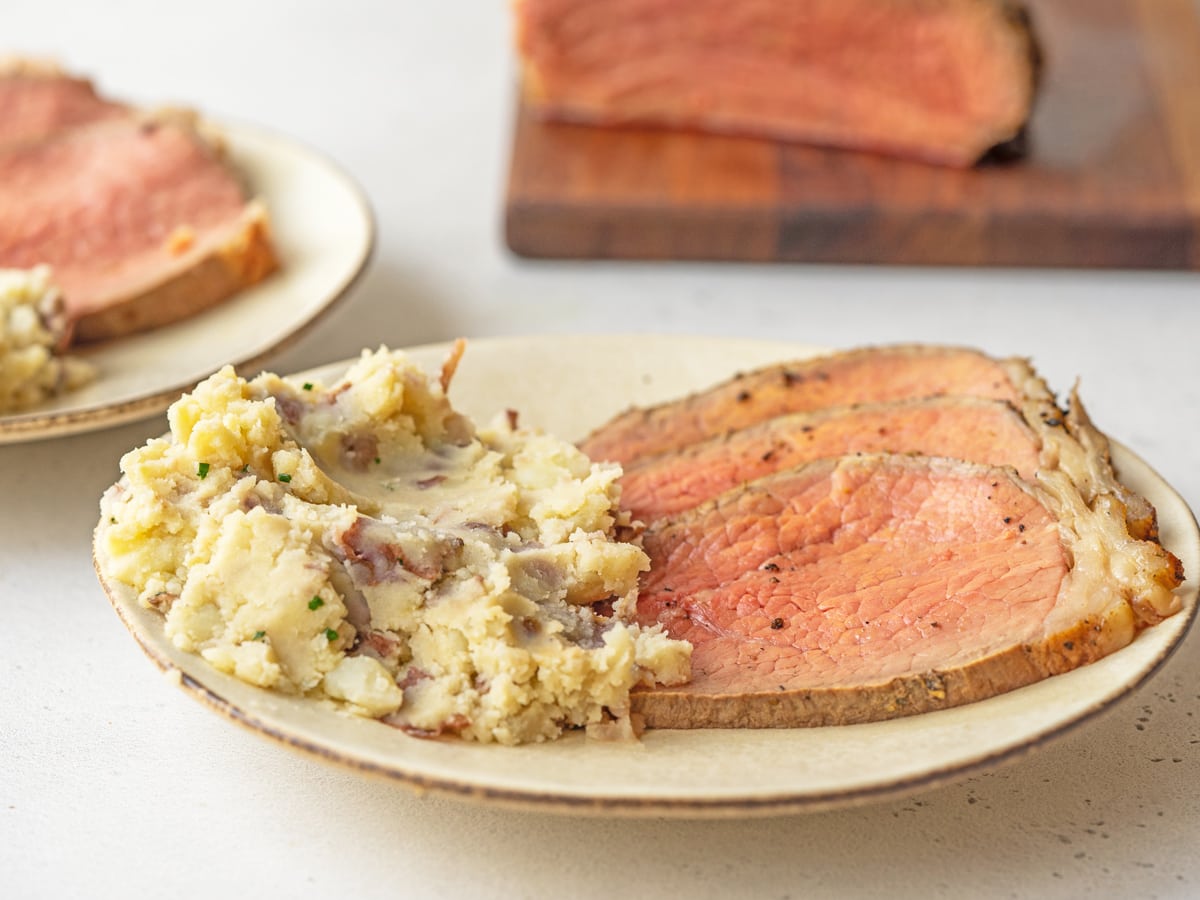 Serving Roast Beef
Slice this eye of round roast into thin slices against the grain. Then, serve on its own with gravy, mashed potatoes, green beans and Air Fryer Cauliflower for a delicious dinner.
You can also use the roast beef slices to make sandwiches. Make a classic roast beef sandwich with tiger sauce or horseradish sauce or a panini with swiss cheese and dip it into the beef gravy.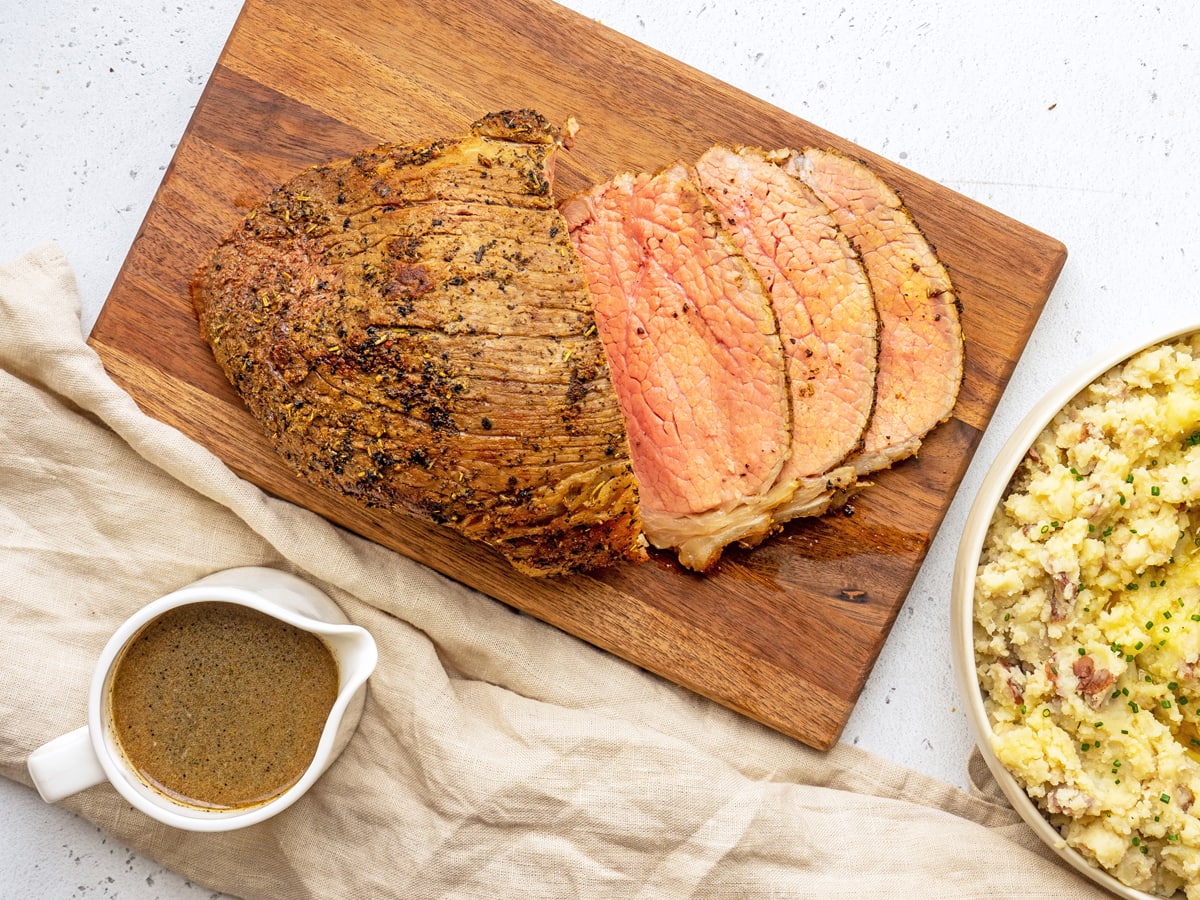 Storage and Reheating Recommendation
You can store this prepared eye of round roast in the fridge for up to 4 days. Store it either whole or slice thinly and store in slices.
I recommend eating leftovers cold or at room temperature because reheating an eye of round roast can easily dry out the beef.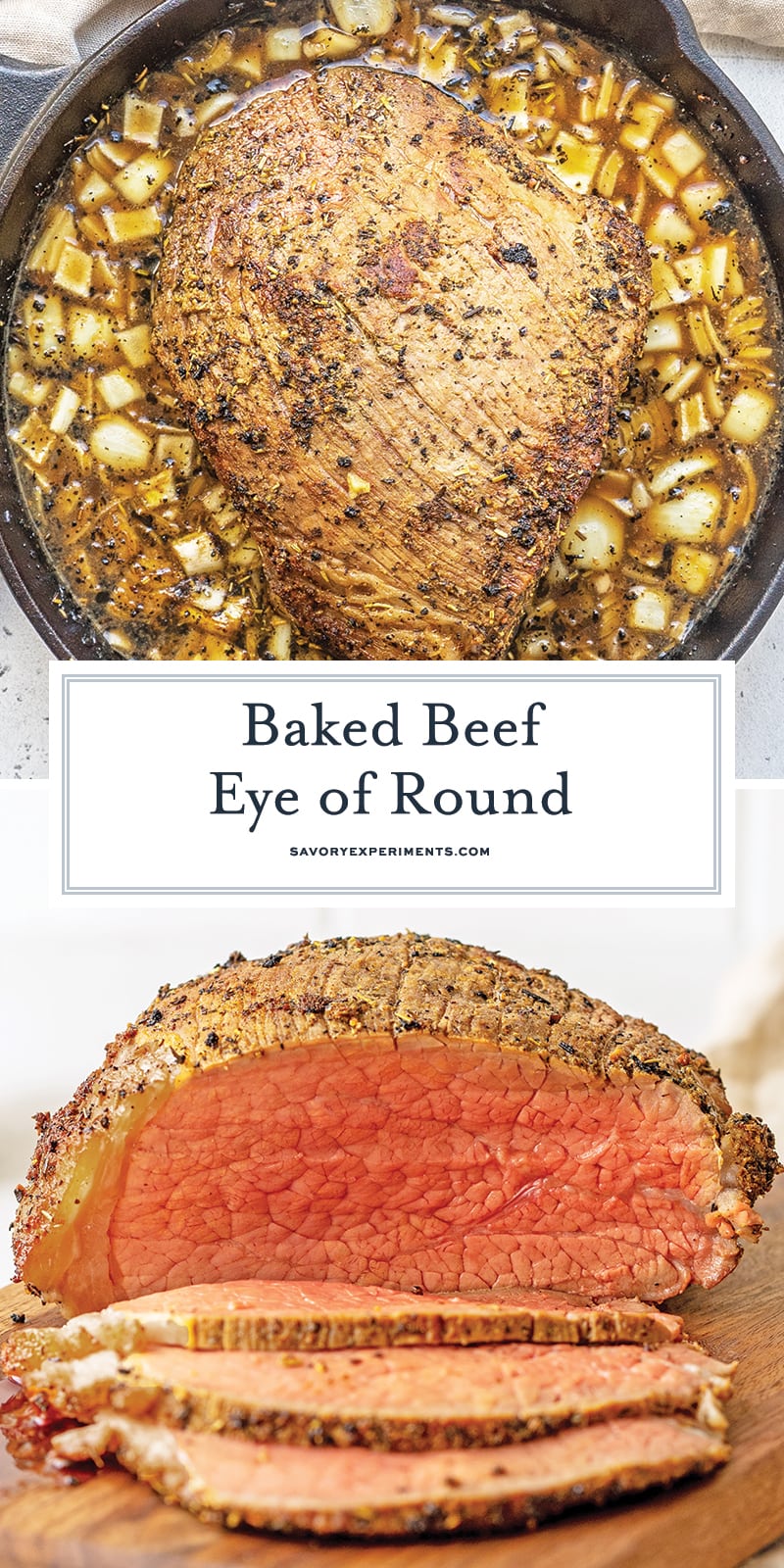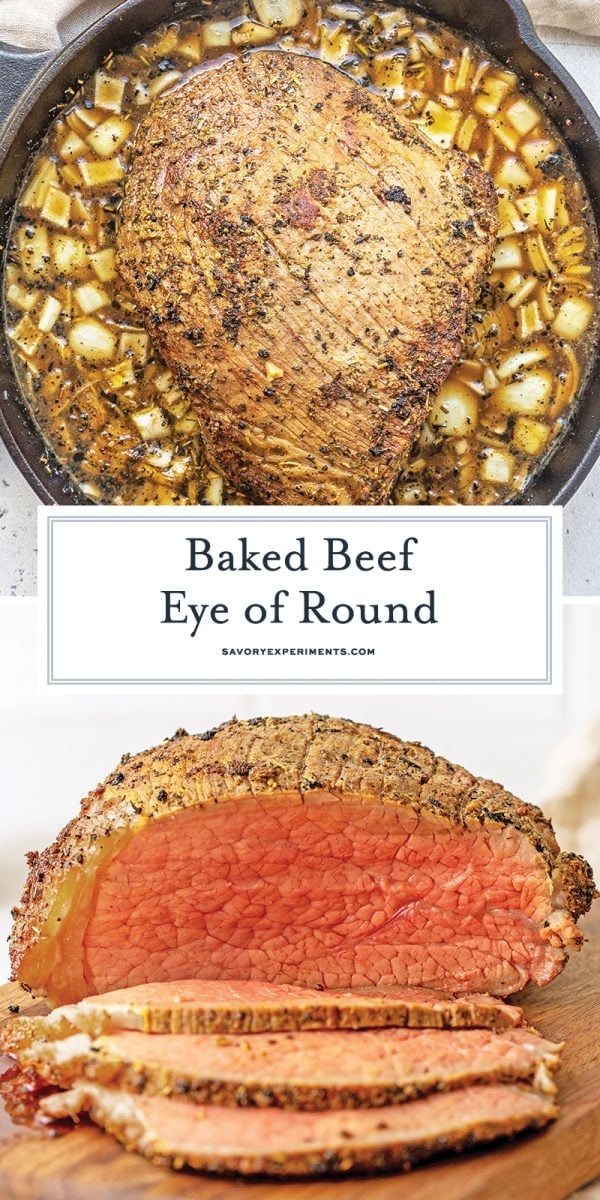 More beefy recipes: