Quick and easy breakfasts are my jam, which is why I love these pancake muffins.
Pancake Muffin Recipe
They're easy homemade pancakes that are perfect for breakfast on the go…because who has time to stand and flip pancakes all morning? Simply pour them into a muffin tin and be done!
Homemade pancakes are my favorite breakfast food but, as I've mentioned before, breakfast is not a meal I typically have a lot of time to prepare.
Quick and easy is my morning breakfast routine and though they're not necessarily difficult to make, quick is not a word I would use to describe traditional homemade pancakes.
They're not a food you can leave cooking while you finish getting ready, unless you'd like one side to be completely burnt.
Pancake Bites
That's where these Pancake Muffins come in. With these, I turned my favorite pancake recipe into a grab-and-go breakfast that can bake while I finish getting ready.
No need to hover over the stove waiting for the pancakes to be the perfect amount of cooked before flipping. No flipping required at all, actually.
As well regular pancakes, mixing the batter too much can lead to tough or chewy Pancake Muffins, when they really should be light and fluffy.
Mix Ins
The fun part about these delicious pancakes is adding your favorite toppings. I love to mix it up between chocolate chips, berries, and walnuts. Great for kids and slumber parties to let everyone create their own. Here are more ideas!
Sprinkles
Nutella (though be prepared for these to be messy)
Trix
Fruity Pebbles
Any fresh fruit
Nuts
Peanut Butter Chips
Butterscotch Chips
Chocolate Syrup
Cinnamon Sugar
Swap vanilla extract for lemon, rum, butter or almond
Syrup
You can eat these Pancake Muffins two ways – as traditional pancakes at breakfast, with syrup and butter, or as breakfast on the go.
Syrup isn't exactly portable so on busy mornings I'll grab one or two Pancake Muffins, slather on some butter, and eat them without syrup in the car.
Bit if you want some… check out Dutch Honey, Apple Cider Syrup or even our Homemade Blueberry Syrup!
How to Make
Start by gathering your ingredients. You can also use the same recipe, but swap in dry pancake mix and make it according to the instructions on the box. I like to make my own.
Eggs
Buttermilk (or buttermilk substitute)
Unsalted butter (omit additional salt if using salted butter)
Vanilla extract (almond or raspberry flavor are great too!)
Flour
Sugar
Baking powder
Baking Soda
Fine sea salt
Cooking Spray
Mix-Ins
Then…
Preheat the oven and coat the muffin tin with cooking spray. I used a standard muffin tin, but feel free to use a mini or jumbo (but make sure to adjust the cooking times accordingly).
Assemble the pancake batter by whisking the eggs until fluffy, then incorporating in melted butter, buttermilk and vanilla extract.
Blend together the dry ingredients in a separate bowl: flour, sugar, baking powder, baking soda and salt.
Gradually add dry mixture to wet mixture. Do not overmix. Batter will be lumpy.
Equally divide batter into 24 muffin tins, about 1/2 full.
Place add-ins on top of batter as desired. See out list below for ideas!
Bake for 15-18 minutes, or until edges start to crisp and brown. If you opted for a mini or jumbo tin, adjust cooking times up or down.
Remove and serve with butter and syrup.
Syrup
I honestly eat these bad boys by hand without any topping, but sauces are also fabulous. Try serving one of these on the side as a dipping sauce option.
Make Ahead & Freezing
Can you make them ahead of time? You sure can! Although I would recommend reheating them in the oven so they don't ge rubbery like breads tend to do in the microwave.
You can also make the batter ahead of time and just refrigerate until ready to bake.
Can you freeze pancake muffins? Sure! Freeze them in an airtight plastic bag, being mindful to get out as much air as possible. They are good for up to 4 months.
More easy homemade pancakes:
Lemon Poppy Seed Pancakes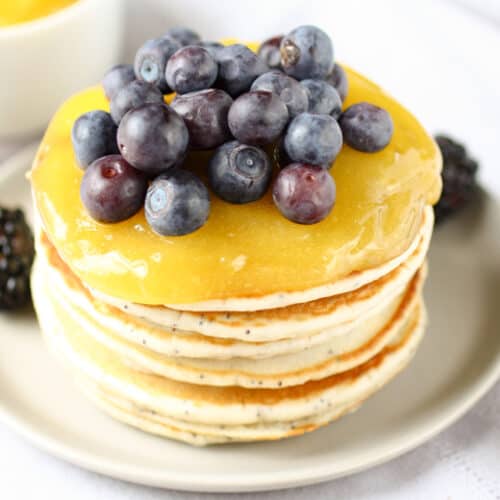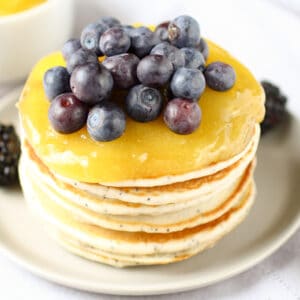 Add something light and fresh to your brunch menu with these Lemon Poppy Seed Pancakes!
Red Velvet Pancakes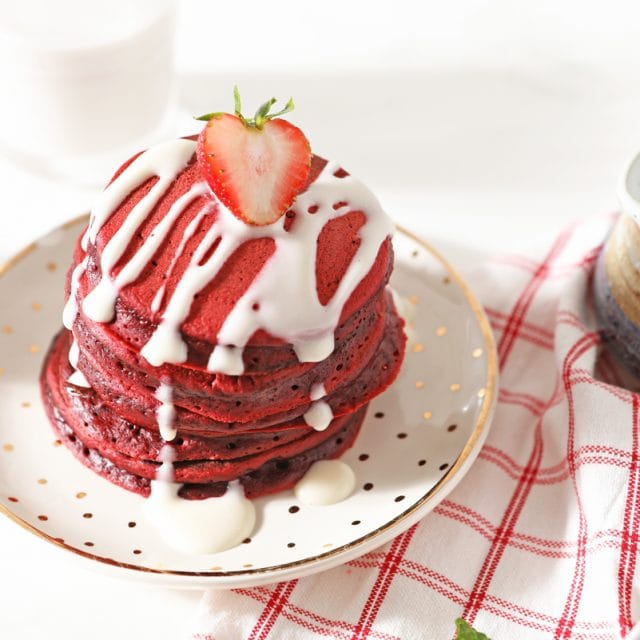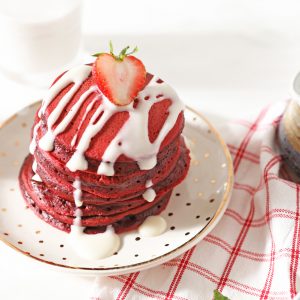 Make breakfast colorful and sweet with Red Velvet Pancakes! They are drizzled with a cream cheese glaze and perfect for weekends and holidays!
Sheet Pan Pancakes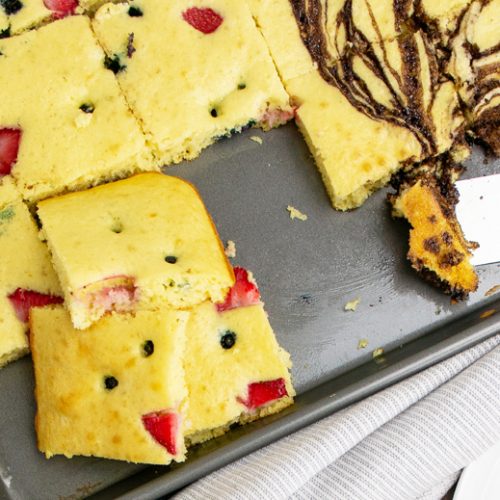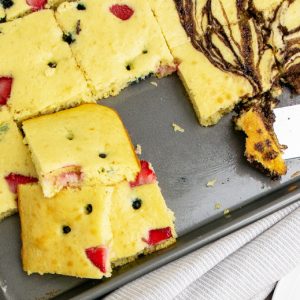 Fluffy Sheet Pan Pancakes are a quick & easy way to make breakfast for a group. With tons of options for add ins, this will surely be your go to breakfast!
CONNECT WITH SAVORY EXPERIMENTS!

Be sure to follow me on social media, so you never miss a post!

Facebook | Twitter | Youtube
Pinterest | Instagram
Get our FREE 8 Day E-Course on How to Be a Better Home Cook. Sign up HERE!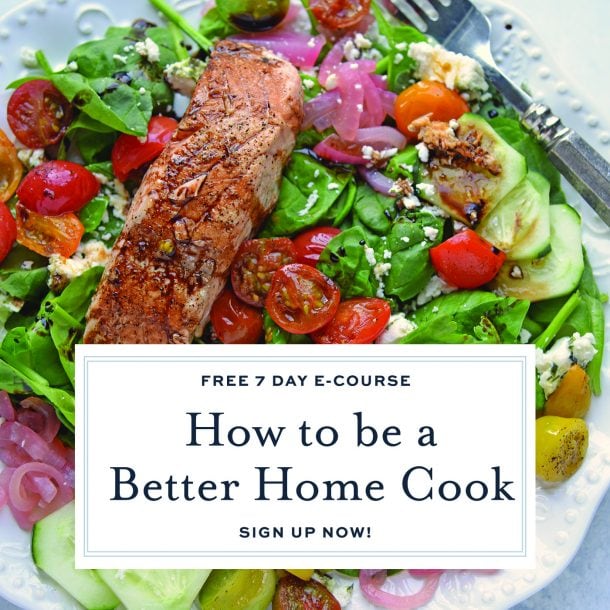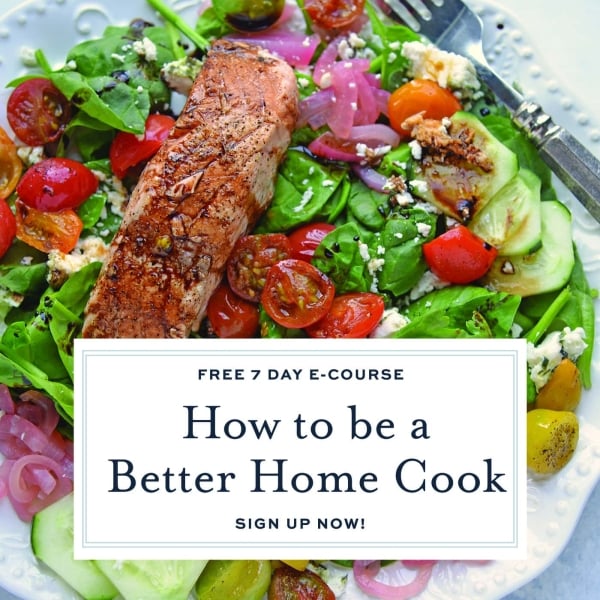 Pancake Muffins
Pancake Muffins take your favorite homemade pancake recipe and turn it into an easy grab-and-go breakfast. No fuss or flipping involved, with all of the pancake flavor included!
Instructions
Preheat oven to 350°F. Coat 2 muffin tins with cooking spray.

In a large mixing bowl, whisk the eggs until fluffy.

Whisk in buttermilk, melted butter and vanilla extract.

In a separate mixing bowl, whisk together flour, sugar, baking powder, baking soda and salt.

Gradually add dry mixture to wet mixture. Do not overmix. Batter will be lumpy.

Equally divide batter into 24 muffin tins, about 1/2 full.

Place add-ins on top of batter.

Bake for 15-18 minutes, or until edges start to crisp and brown.

Remove and serve with butter and syrup as desired.

If you've tried this recipe, come back and let us know how it was in the comments or ratings!
Nutrition
Calories:
153
kcal
|
Carbohydrates:
20
g
|
Protein:
4
g
|
Fat:
6
g
|
Saturated Fat:
3
g
|
Cholesterol:
42
mg
|
Sodium:
372
mg
|
Potassium:
154
mg
|
Fiber:
1
g
|
Sugar:
4
g
|
Vitamin A:
222
IU
|
Calcium:
83
mg
|
Iron:
1
mg