Forget buying a cinnamon sugar blend at the grocery stores. Just use our perfect cinnamon sugar ratio and make it at home with items you have in the pantry.
This perfect ratio of sweet sugar and warm cinnamon works for any baked good and is even used in some savory recipes and a piping mug of hot chocolate, sprinkled on your favorite dessert, folded in whipped cream or even in your morning cup of coffee.
Cinnamon Sugar Ratio
The average ratio for cinnamon sugar is about 1:4, which is 1/2 cup sugar for 2 tablespoons of ground cinnamon. But if we are being honest, a cinnamon sugar ratio is quite flexible and easily customized based on personal preference, the type of cinnamon you are using and the recipe.
The 1:4 ratio works for cinnamon sugar for donuts, cinnamon sugar for churros and cinnamon sugar for cinnamon rolls. As do any of the tasty variations below. That would be one cup of sugar for every four parts cinnamon.
There are also many other variations using warm spices and seasonings to easily customize your creation.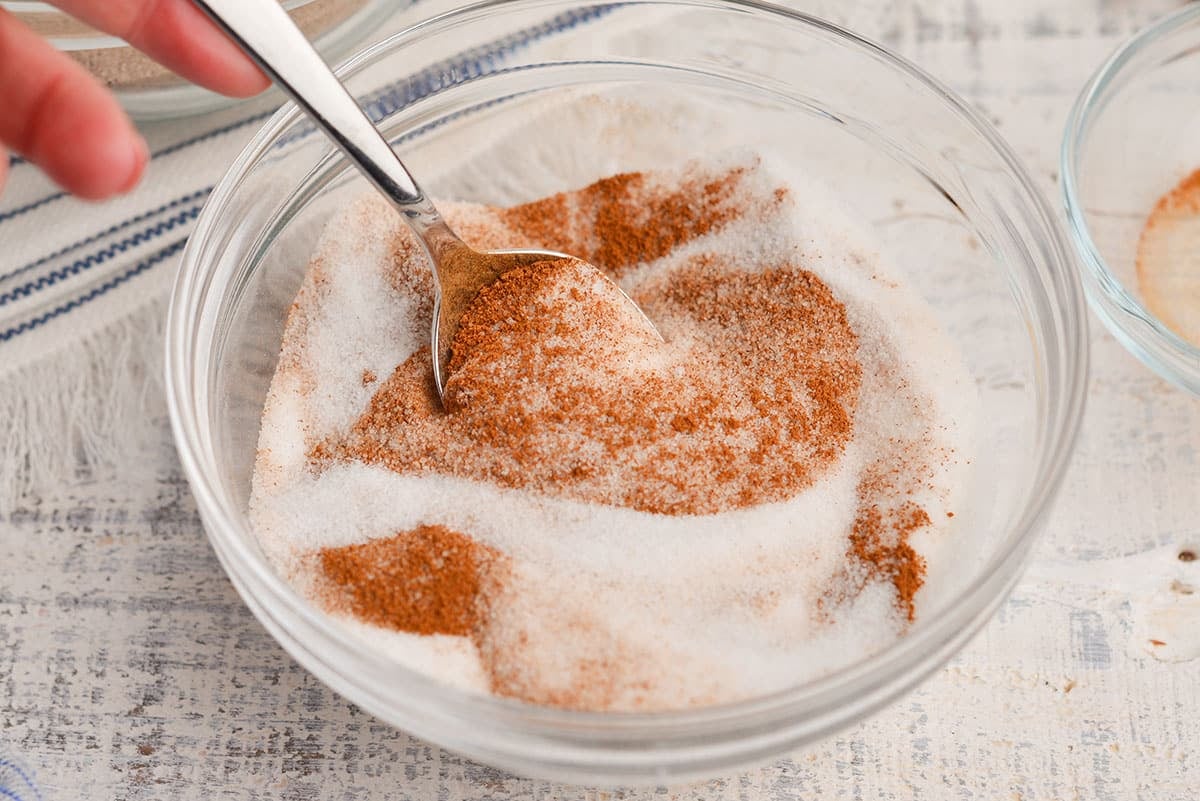 Cinnamon Sugar Small Amount
To make a small amount of cinnamon and sugar, use about 1 tablespoon of sugar for 1/8 teaspoon of ground cinnamon. The exact quantities do not have to be exact to achieve excellent flavor.
How to Make Cinnamon Sugar
Making homemade cinnamon sugar only takes two steps.
Choose if you'll be using a store bought ground cinnamon or fresh cinnamon sticks. Sticks will generally have more flavor if freshly ground, as do all spices. You can grate it by hand or use a spice grinder.
Combine the desired amount of sugar and tablespoons of cinnamon in a small bowl. Mix well.
The best way to store it is in an airtight container with a tight-fitting lid in a dry, cool place, preferably out of direct sunlight. Give it a good shake or use a small whisk to re-stir before using. It generally does not separate, but I do it for good measure.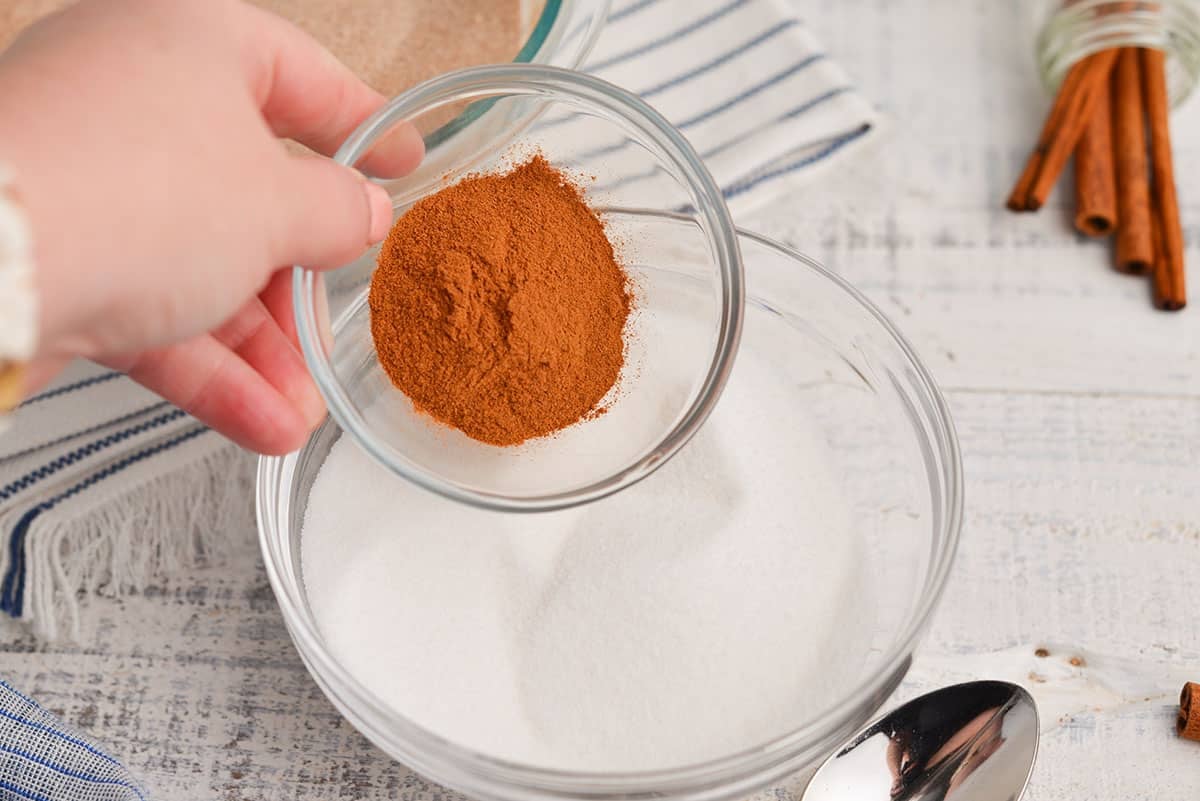 Cinnamon Sugar Toast
I have fond memories of my mother making me cinnamon sugar toast for breakfast. We used to call it mommy toast because at 5, you didn't even realize how popular this perfect comfort food was. Here is how to make the perfect cinnamon sugar toast:
Pick the type of bread you want to use. Cinnamon swirl is fun, brioche is sweet and yolky, but standard white sandwich bread or whole wheat is just fine too. You don't have to be fancy!
Toast the bread to a golden brown in the toaster, toaster oven or standard oven. Times will vary greatly and browning generally happens fast, so keep a watchful eye.
Right after removing and while the toast is still hot, baste generously with your choice of butter. I do prefer salted butter for cinnamon toast because the salt helps bring out natural cinnamon tones.
While the butter melts, sprinkle liberally with a cinnamon sugar blend. I use about 2 teaspoons per slice because I really like the gritty crunch of the sugar, but personal preferences will vary. The sugar will melt into the butter, but you'll still get a bold crunch.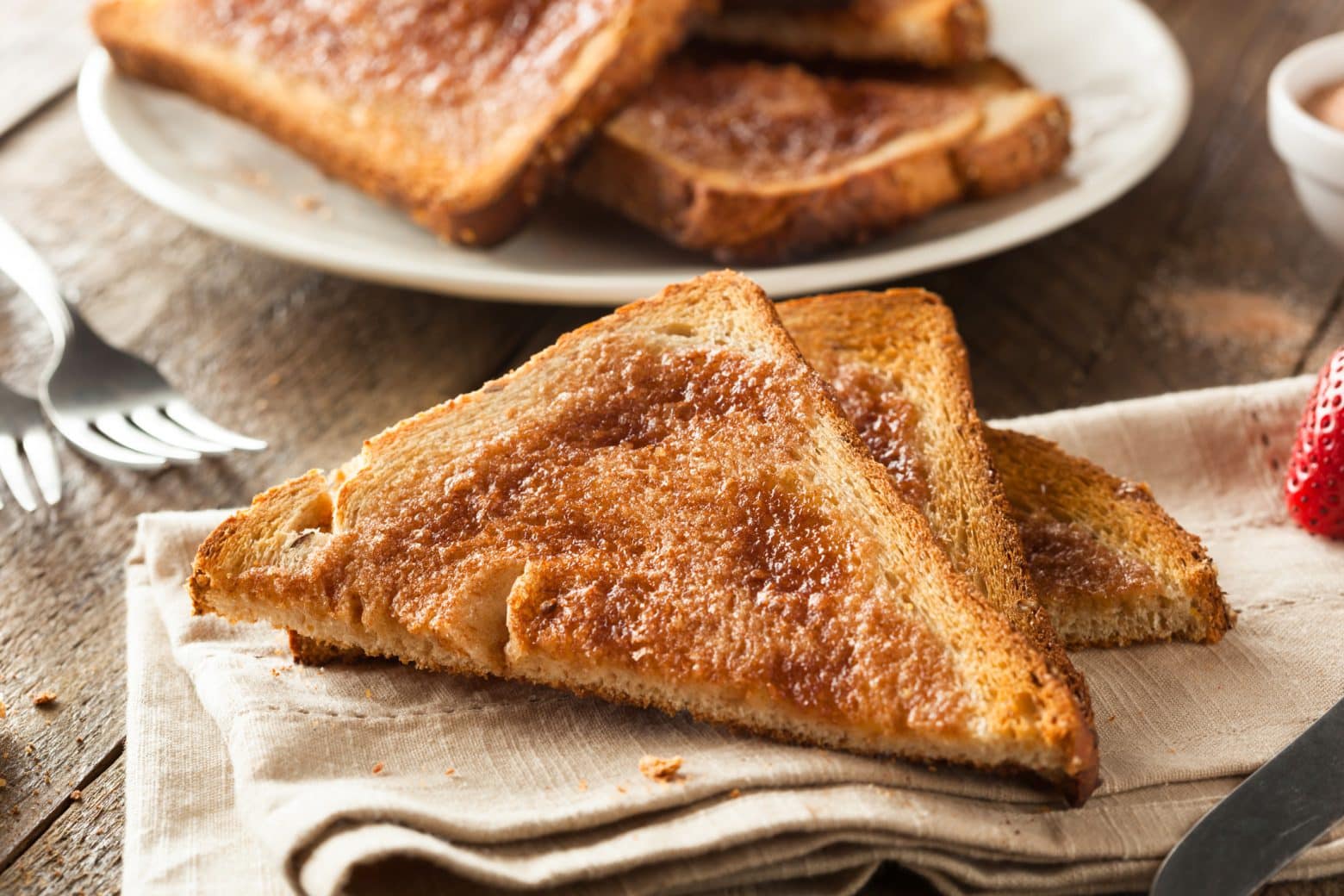 How to Customize
There are so many different ways to give your cinnamon sugar recipe unique seasoning blends. Here are some of our favorites.
Different types of cinnamon- Did you know there are four types of cinnamon and each has a special flavor? Cassia (Chinese cinnamon), ceylon, Saigon (Vietnamese cinnamon) and Korintje. Cassia is the most popular type of cinnamon and accounts for 95% of commercial use and oils. Ceylon cinnamon is my favorite.
Other spices– Any warm spice or blend will provide fun flavors and aromas. Pumpkin pie spice, apple pie spice, a few grates of fresh nutmeg, allspice, ginger, cardamom and cloves are my favorites.
Add heat– Sweet and spicy balance well. I'm not talking nose-beading sweat, just a little heat to compliment the sweet aspects. A pinch of cayenne or ground chile powder will be plenty.
Stronger Flavor- Double the amount of cinnamon.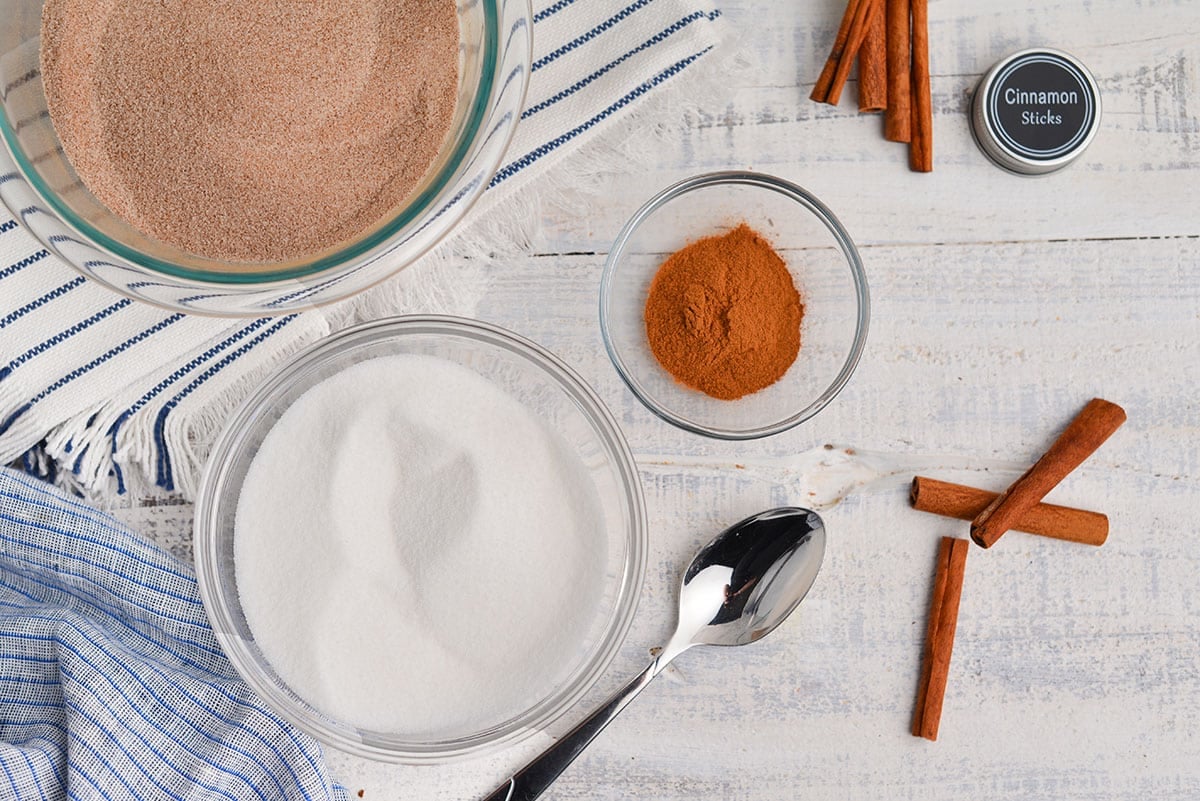 Can I Use Cinnamon Sugar Instead of Cinnamon?
It depends on the recipe, but generally this should be fine. Even if it is a savory recipe recipe, the amount of sugar can help to balance the overall flavor profile or give a sweet aftertaste.
However, some savory recipes might not benefit from a splash of sugar and are better with just cinnamon as a standalone. This also means that you will have less cinnamon overall if the recipe just called for cinnamon.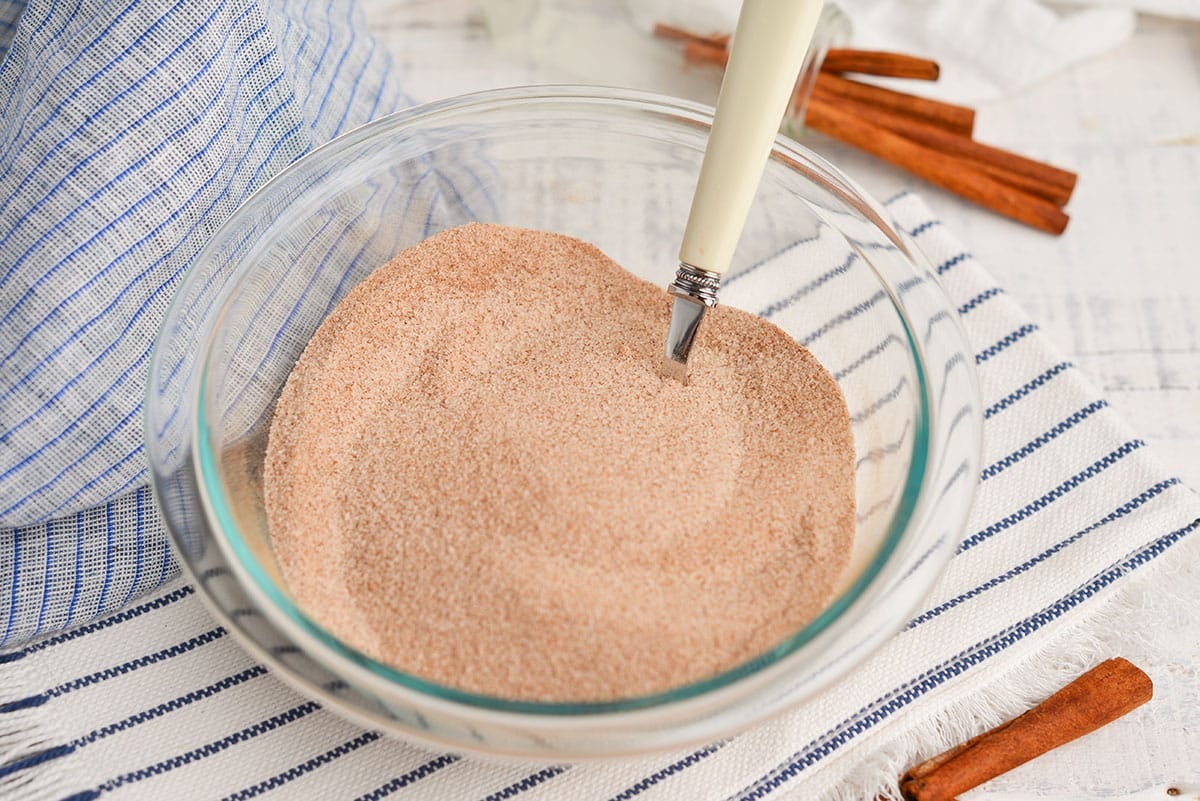 Can I Use Brown Sugar?
You sure can! And depending on the recipe, this adds loads of sophistication. Brown sugar is just white sugar laced with molasses. It has a wet, sandy texture that can add warmth and sometimes even smoky elements to your recipe.
How Do You Store Cinnamon Sugar?
How Do you Store Cinnamon Sugar?
Store it in an airtight container or glass jar. Sunlight, air, heat and humidity will fade the cinnamon flavors faster, so keep in a cool, dry place out of sunlight and away from heat (like in the spice cabinet next to your oven or stove). Plastic does absorb flavors and this is a bold blend, so keep using the came container to store your concoction or use glass.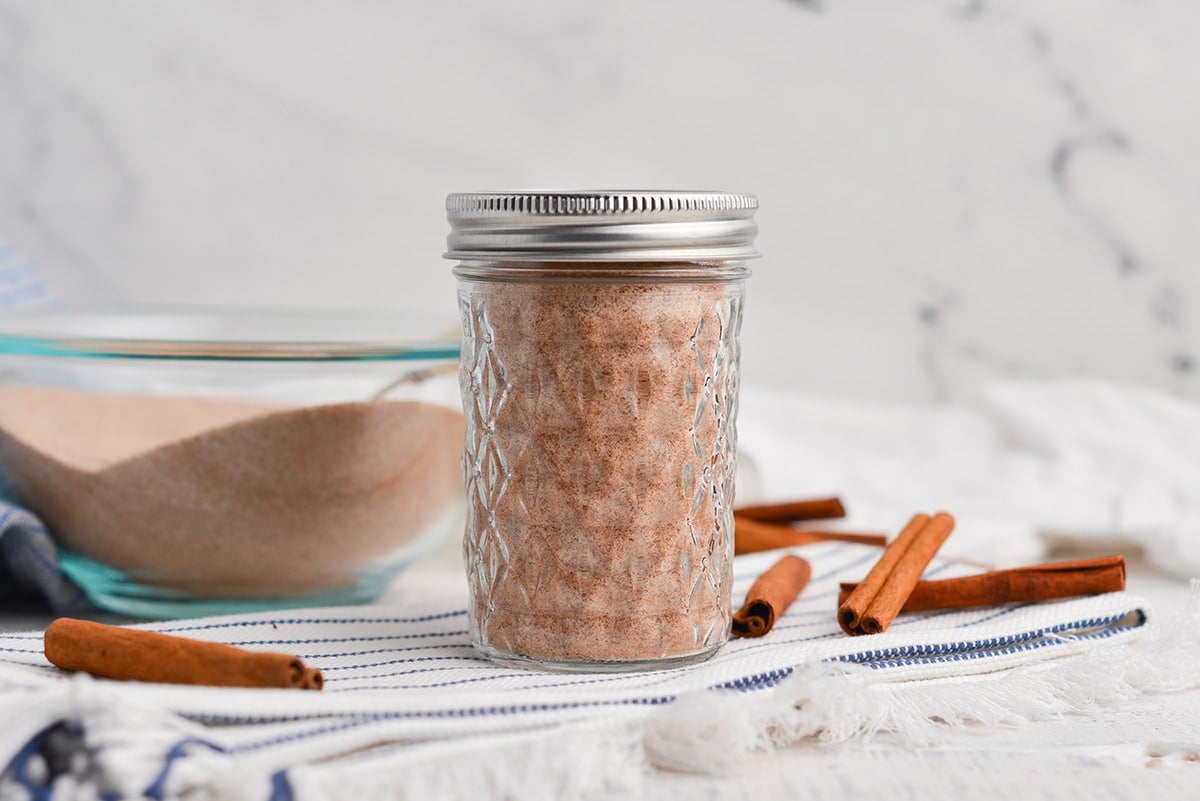 Can you Store Cinnamon Sugar in the Freezer?
Some folks swear that cinnamon will keep it's full flavor longer if kept in the freezer. While this has never been proven, it also won't hurt it, so feel free.
How Long Does Cinnamon Sugar Last?
Any type of ground spice will start to degrade in flavor about 6 months after the ground package is opened or it is freshly ground. Therefore, this cinnamon sugar mix will retain its full flavor for about 6 months, however it never goes bad. Years after being made (if kept dry and cool) it will still be usable.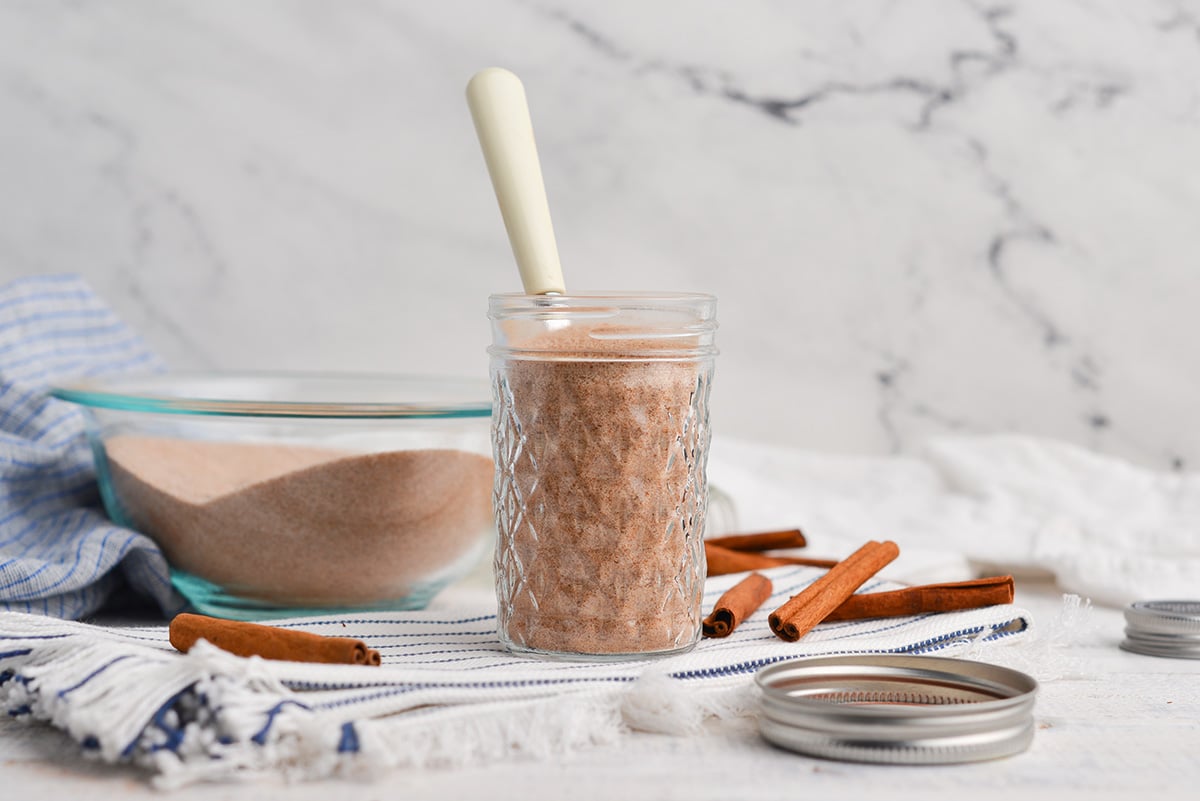 Recipes that Use Cinnamon Sugar
There are countless recipes that use a cinnamon sugar blend, here are a few of our favorite ways.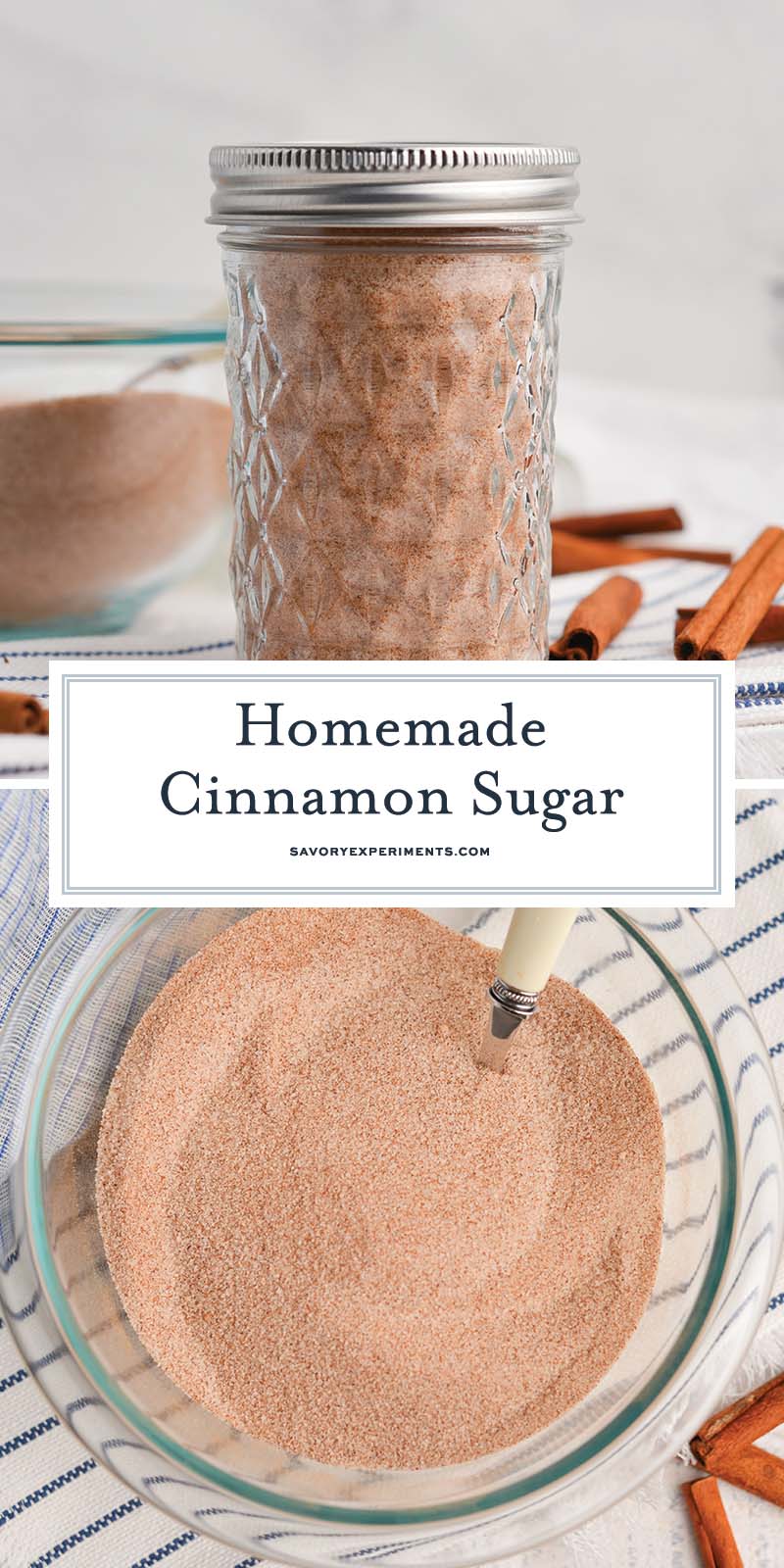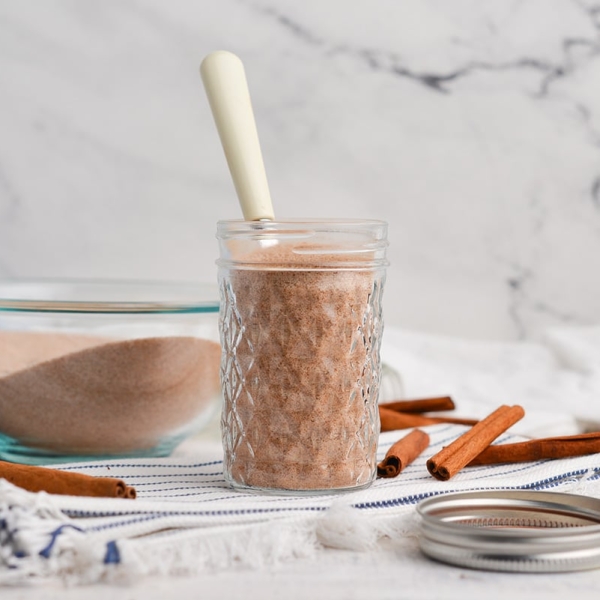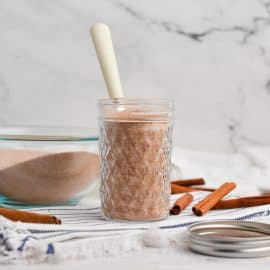 Homemade Cinnamon Sugar
How to make the best cinnamon sugar ratio and how to customize using warm spices for the perfect recipe every time.
Instructions
Place the sugar and cinnamon in a small bowl and store to combine.

Store in an airtight container or glass jar.

If you've tried this recipe, come back and let us know how it was in the comments or star ratings.
Nutrition
Calories:
425
kcal
,
Carbohydrates:
112
g
,
Protein:
1
g
,
Fat:
1
g
,
Saturated Fat:
0.1
g
,
Polyunsaturated Fat:
0.01
g
,
Monounsaturated Fat:
0.04
g
,
Sodium:
3
mg
,
Potassium:
71
mg
,
Fiber:
9
g
,
Sugar:
100
g
,
Vitamin A:
47
IU
,
Vitamin C:
1
mg
,
Calcium:
161
mg
,
Iron:
1
mg