We have all inevitably been there: A recipe calls for buttermilk. This is not something you are normally throwing in your cart at the store.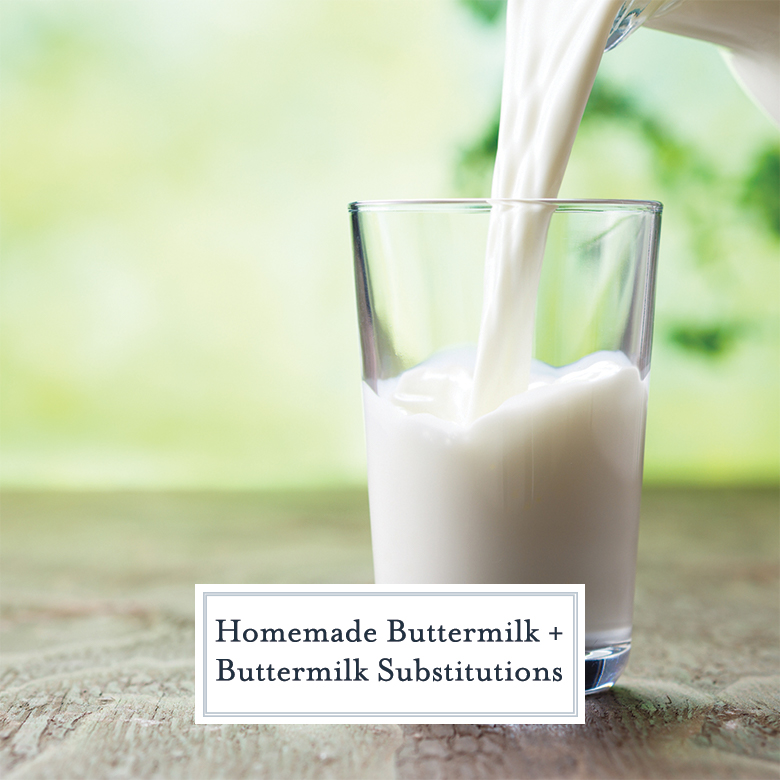 You grab your keys and head to the store only to find out they don't have it. You go to another store. Not there. Frustration and the occasional culinary emotional breakdown ensue.
I am here to tell you that it just doesn't have to be this way. Making a substitute at home with ingredients you most likely already have is easy and stress-free. So skip the trip to the store (or multiple stores for that matter) and keep reading.
What is Buttermilk?
In its most basic form, is a fermented dairy liquid made from cream.
Traditionally, it was the by-product of churning butter; full of protein from the milk, and naturally low in fat. Natural buttermilk ferments on its own and you are left with a thick, tangy, creamy dairy product.
Nowadays, the store bought version is mostly like made by adding a culture (read: good bacteria) to low-fat milk and heating it. The culture does its thing and ferments the milk. This commercially made variety is a bit thicker and a bit more tart than the natural kind. You will see this labeled cultured buttermilk.
Powdered buttermilk is also fairly popular and totally acceptable as well. It is just dehydrated, the way powdered milk would be. It stores easily in the pantry.
Uses
What is buttermilk used for? Buttermilk is a favorite when it comes to baking because it has more flavor than regular milk or almond milk and gives things a good rise. Its thickness means additional moisture which translates to a beautiful crumb.
It is great for things like fried chicken because the acidity of it tenderizes the meat while keeping it moist. And in some countries, folks drink it cold often with spices and herbs are thrown in for a refreshing drink on a hot day.
Shelf (Fridge) Life
How long does buttermilk last? If you are buying it at the grocery store, it should last for about two weeks in your fridge. That said, sometimes the containers are rather large and you find yourself with leftover buttermilk.
If that is the case, consider using it in coleslaw, mashed potatoes, soups, quiche, gravies, salad dressings, and so much more. Its texture and tang are great for many dishes.
Buttermilk Substitutions
Back to our original conundrum. You don't have buttermilk lying around in the dark corners of your fridge. But… if you have ONE of the following ingredients (and I am betting money you do,) you are good to go:
Lemon Juice
Vinegar
Cream of Tartar
Last thing: Do you have milk? Perfect. You are all set. Making substitute buttermilk at home is easy. Or you can make homemade buttermilk- recipe is below.
Making Substitute Buttermilk with Lemon Juice
The idea behind this is that the acid from the lemon is going to slightly curdle the milk and thicken it giving you a tangy and thick mixture that is the perfect substitute for real buttermilk.
1 cup of buttermilk = 1 tablespoon lemon juice + 1 cup milk
Fresh lemon juice is better than bottled and whole is better than skim milk, although both can be used in a pinch.
Stir it in and let it sit for five minutes at room temperature. This will have a subtle lemony flavor and is great for anything but really wonderful for things like cakes, muffins, biscuits, and more.
You can use storebought lemon juice, but I like to have fresh lemons on hand and they have a bit of a brighter flavor. Be sure to strain the juice for any seeds or pulp before you add it to the milk.
Making Substitute Buttermilk with Vinegar
Same process as the lemon juice here. In terms of what type of vinegar, I prefer cider vinegar or white vinegar. Both have a relatively neutral flavor while still getting the job done. Cider vinegar will definitely add a touch of sweetness while the white vinegar will be more neutral.
1 cup of buttermilk = 1 tablespoon vinegar + 1 cup whole milk
A quick stir and five minutes and you are ready to start cooking or baking.
Making Substitute Buttermilk with Cream of Tartar
Last but not least, cream of tartar. For this one, you are going to whisk it into the milk to make sure the powder is evenly distributed and then let it sit for five minutes.
1 cup of buttermilk = 1 ¾ teaspoon cream of tartar + 1 cup whole milk
How to Make Buttermilk – The Real Kind
If you are like me, you like to understand the process of making an ingredient and afterwards, will totally buy it premade at the store. Turns out that when you make homemade butter, the by product is buttermilk. So they happen to be the same exact instructions!
You are all set and free to start living your best buttermilk milk with zero fear.
Can You Freeze Buttermilk?
You sure can! I like to measure mine out into 1 cup increments and then freeze in airtight plastic bags. Try to get out as much air as possible before placing in the freezer. They last up to 3 months.