Blueberry Lemon Ricotta Pancakes! Make this easy blueberry pancake recipe with ricotta cheese. Ricotta hotcakes are soft and fluffy pancakes. Best pancakes from scratch!
Lemon Ricotta Pancakes are soft and fluffy pancakes, perfect for Sunday brunch. Do you know what makes them even better? Blueberries! Blueberry Lemon Ricotta Pancakes make for a sweet and tart flavor combination.
Ricotta hotcakes are easy to make. In fact, most pancake recipes from scratch are fairly simple, but people make easy mistakes. These tips for fluffy pancakes can be applied to any pancake recipe!
Tips for Fluffy Pancakes:
Do not overmix the batter. This is the #1 tip for fluffy pancakes and the #1 mistake people make when making pancakes. Only mix until all batter is wet. Over mixing leads to tough pancakes. 
Let the batter rest. This isn't 100% necessary, but will help slightly. It allows the wet ingredients with dry ingredients. Sometimes when you try not to overmix, some lumps don't totally come out resulting in little flour pockets. However, if you whisk the dry ingredients to begin with or even sift the dry ingredients, this shouldn't be an issue.
Some pancakes aficionados recommend separating egg whites and yolks. Blend in the egg yolks like normal, then white egg whites until frothy and fluffy, folding in last. This introduces air into the mix, making them fluffier.
Wait to flip your pancakes until you see bubbles. Only flip your pancakes once. Make sure you aren't preparing them on too high of heat so they have time to cook all the way through. The only thing you need to worry about when you have such fluffy pancakes is making sure they cook all the way through. If the heat is too high, the will get overly crunchy and brown before the center is cooked.
Fluffy pancakes are best served fresh and hot. Reheated pancakes, especially microwaved, get chewy and tough.
Blueberry Lemon Ricotta Pancakes can be served for breakfast, lunch or dinner. They make a great brunch meal and the homemade pancake batter can be made ahead of time. What makes ricotta hotcakes even better?
Homemade blueberry syrup! This easy homemade syrup recipe is based off my award winning Dutch Honey Homemade Syrup, but with a blueberry compote. Syrup can be made ahead of time and even freezes well. They also taste great with maple syrup, lemon syrup or plain Dutch honey.
Tools for making Blueberry Lemon Ricotta Pancakes:
Electric Griddle– Electric griddles are perfect for making pancakes, burgers, bacon and more! Sure you can make these things in a skillet, but you can make them faster, more efficiently and have better temperture control.
Sifter- For a long time I told myself I didn't need this kitchen tool. I was so wrong! I use it even when recipes don't call for it. Any dry ingredients get a sift. I prefer the ones with a crank handle to the pull method, I can crank both ways, getting some of the more stubborn pieces to break up.
If you like Blueberry Lemon Ricotta Pancakes, you'll also love these easy breakfast recipes!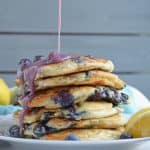 Lemon Ricotta Blueberry Pancakes
Blueberry Lemon Ricotta Pancakes! Make these easy blueberry pancakes with ricotta. Ricotta hotcakes are super fluffy pancakes. Best pancakes from scratch!
Ingredients
2

cups

flour

2

teaspoons

baking powder

1

teaspoon

baking soda

1/2

teaspoon

salt

1

tablespoon

sugar

1 1/2

cups

ricotta cheese

1 1/2

cups

milk

2

tablespoons

vanilla

1

teaspoon

lemon zest

Juice of 1 lemon

1 1/2

cups

blueberries

fresh or frozen and thawed

Cooking spray or butter for griddle
Instructions
Whisk all dry ingredients, flour, baking powder, baking soda, salt and sugar, in a medium mixing bowl.

In a separate medium mixing bowl, whisk wet ingredients, ricotta cheese, milk, vanilla, lemon zest and lemon juice.

Combine dry ingredients to wet ingredients, whisking until just moistened and combined. Do not over mix.

Gently, fold in blueberries.

Heat griddle to 350 degrees or a large skillet to medium-high heat. Grease with butter or cooking spray.

Measure out approximately 1/2 of batter for each pancake. Or make them however large or small you want. Cook 2-3 minutes or until bottoms are brown and tops begin to bubble. Flip and repeat, being careful not to overcook.

Remove and, if desired, place into a warm oven until the remainder are finished. Continue with remaining pancake batter.

Serve hot with Homemade Blueberry Syrup.