This Lemon Poppy Seed Pancake recipe is so light and fluffy, but also has slightly crispy, buttery edges. The poppy seeds give a slight crunch, adding a lovely and unexpected twist to your standard pancake recipe!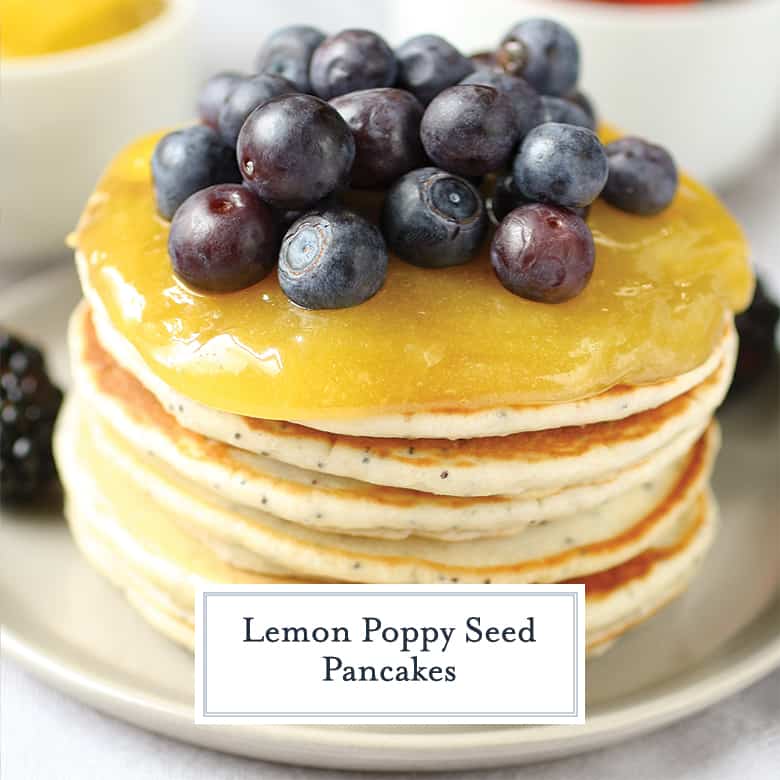 Add something light and fresh to your brunch menu with these Lemon Poppy Seed Pancakes!
Fluffy lemon poppy seed pancakes might sound gourmet, but this pancake recipe is as simple as the classic buttermilk pancake recipe with the bonus of lemon zest, and poppy seeds thrown in.
These pancakes have a fresh, sweet flavor that pairs perfectly with the slightly tart lemon curd. Top them with a handful of fresh blueberries and you'll discover a new love.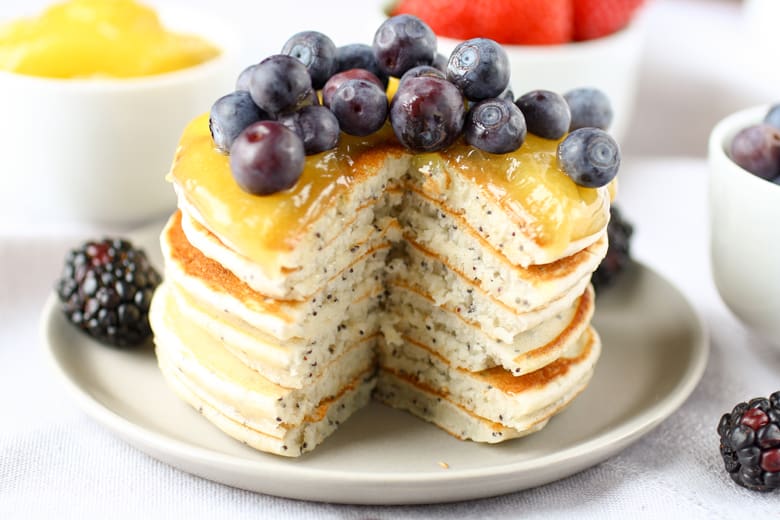 They are perfect for a special occasion, a cozy weekend morning, or just any time you want to treat yourself!
Pancakes are easy to make from scratch. The ingredients are simple and most of them are a staple in many kitchens.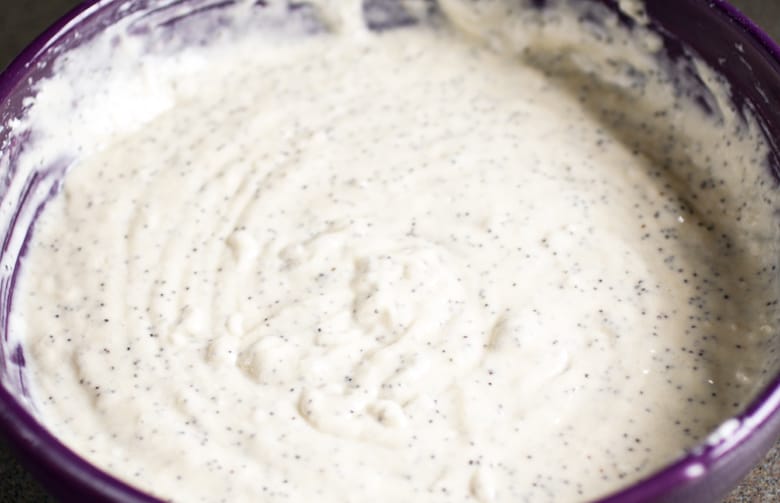 To make the best lemon poppy seed pancakes, start by mixing all the dry ingredients in a large bowl. Use a whisk to give it some air.
PRO TIP: Use a whisk to lighten up your flour.
Next, melt the butter, add lemon zest to it and allow it cool for a few minutes. You get a stronger zesty flavor when you mix it with fat.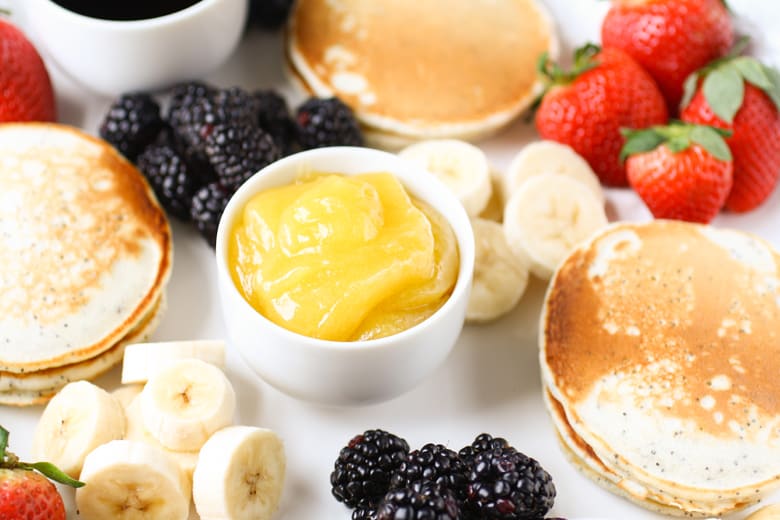 Then mix the buttermilk with the egg and pour it into the dry ingredients. Mix it gently, it's ok to have lumps in there. Lastly, add the butter and mix it until just combined.
PRO TIP: Don't over mix your batter. Over mixing makes pancakes turn out tough and chewy.
Once I have the batter ready, I like to use it right away. This makes sure the pancakes come out light and fluffy.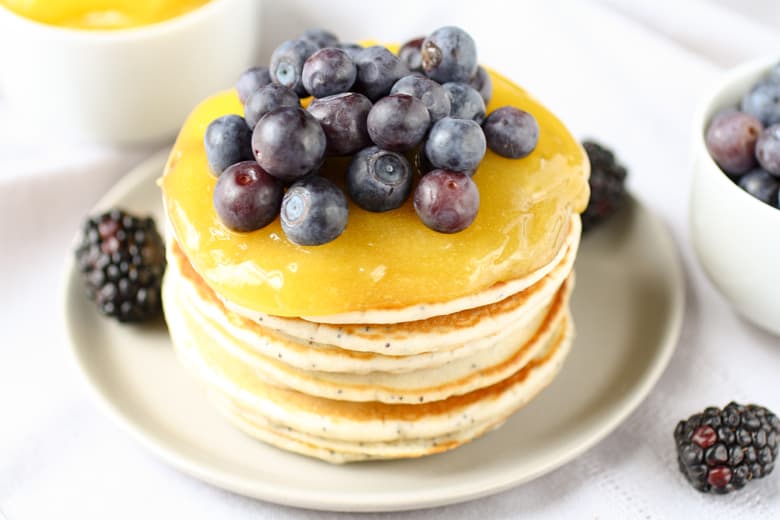 How to make Lemon Poppy Seed Pancakes for a crowd
Our family likes to host, and I've often made homemade pancakes for large groups. To help save time the morning of, I like to do a little prep work the night before.
I mix all the dry ingredients in a bowl, cover it and leave it on the counter. Separately, I mix the buttermilk and egg and keep it in the fridge. The next day I just need to mix it all together and the batter is ready to cook.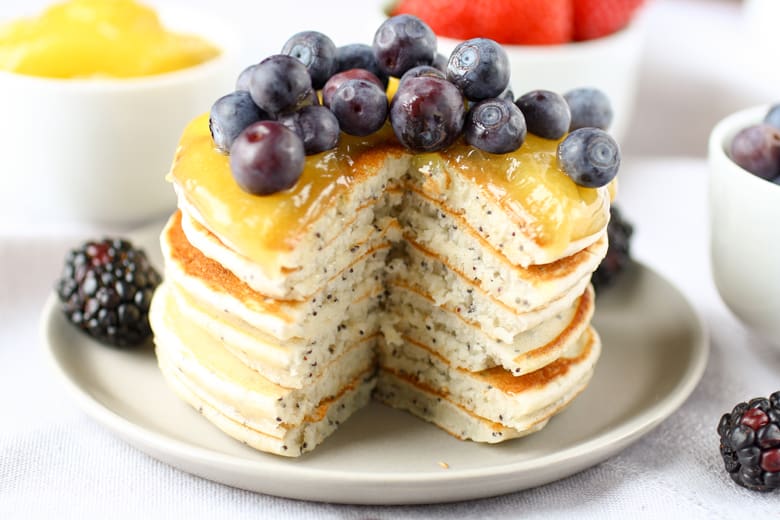 I've tried making the entire batter the night before, but my pancakes came out flat and dense, and nobody likes that!
Because I like to host, I thought a pancake platter would be fun. I've seen something similar on Pinterest and I wanted to give it a try.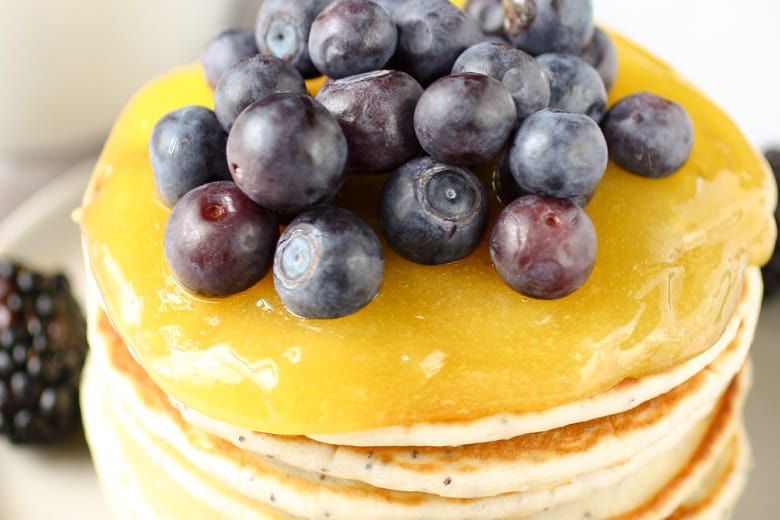 I made the pancakes small so people would get a chance to try different toppings. One small pancake for each topping option!
I must tell you that my favorite combination was a layer of Nutella, a layer of lemon curd and fresh blueberries. It was like a dream!
The lemon curd is a welcome change from the usual maple syrup. I love all things lemon and this curd really hit the spot!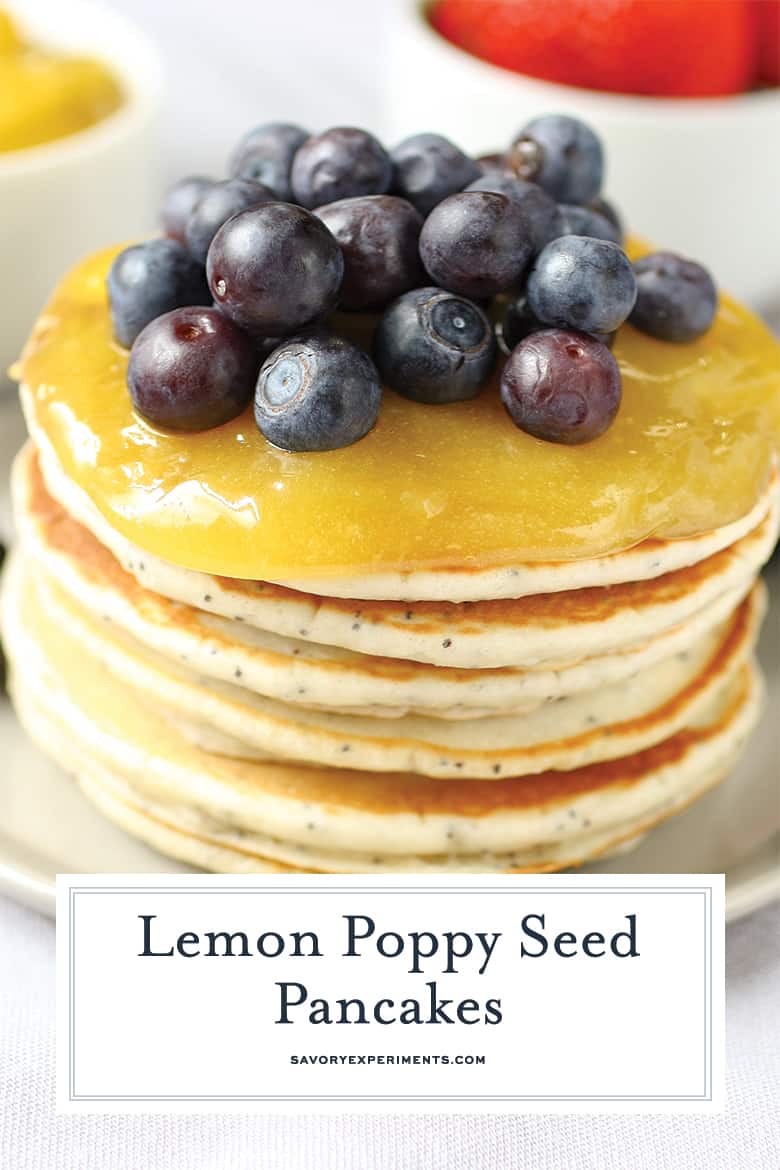 Lemon curd is a rich, buttery and sweet spread with an intense tart lemon flavor. It's made with 4 simple ingredients and comes together quickly on the stove. You can keep it in the fridge for up to 2 weeks.
How to make fresh lemon curd
There are lots of different recipes to make lemon curd, but I chose to use a simple version. The simpler the better, right?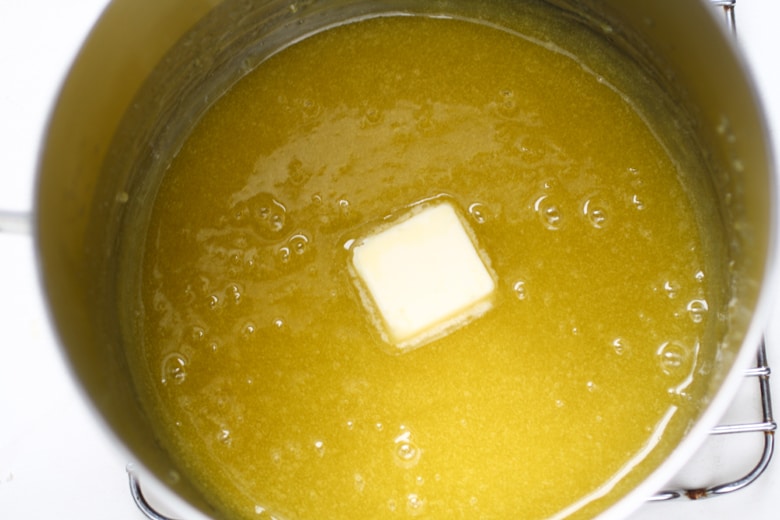 You start by adding lemon juice, sugar, and egg to an electric blender and blend for about 30 seconds. Then pour it to a medium saucepan and bring it to a simmer over low heat.
You'll need to stir it constantly to prevent the egg from curdling. The mixture will become somewhat thick and will continue to thicken as it cools.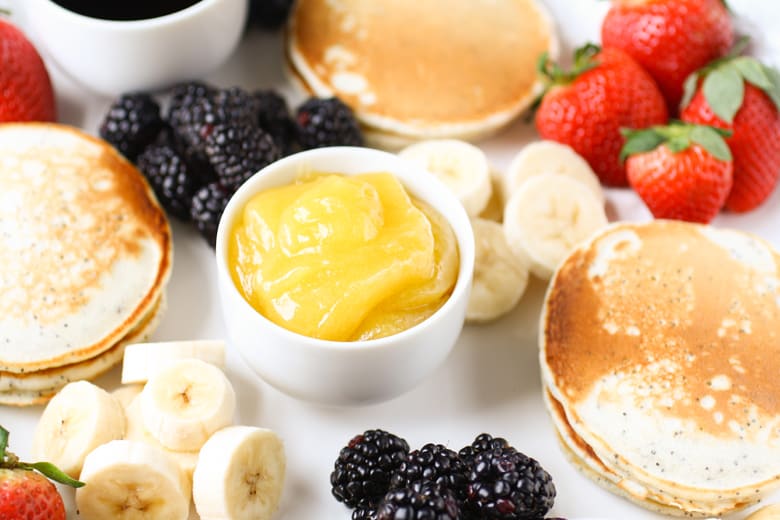 If you like tart, fresh, pick me up flavors, make this curd with regular lemons. However, Meyer Lemons have a sweeter taste and lower acidity and will work great if you prefer a milder curd!
How to store leftover Lemon Poppy Seed Pancakes?
If you end up making too many pancakes in one batch, you can keep them if the refrigerator in an airtight container for up to 3 days.
Or freeze them for up to 3 months.
If you liked this Lemon Poppy Seed Pancake recipe, you might also like these other lemon recipes:
Looking for more pancake recipes for breakfast? Here are some of our favorites: