Looking for you new favorite verstile sauce? Skip the usuals and go for this savory blueberry sauce!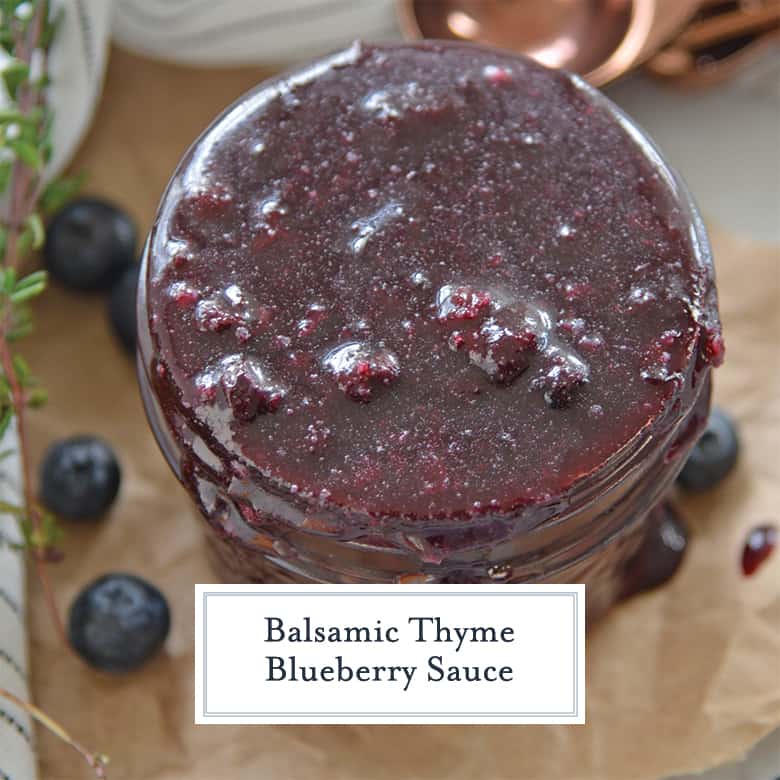 Balsamic Thyme Blueberry Sauce is perfect for adding that special "something" to your beef, pork or chicken. Fresh blueberries with thyme, shallot and balsamic reduction sauce.
Not all fruit sauces are sweet. The is savory blueberry sauce is perfectly balanced with a little bite from balsamic vinegar, but a sweet smooth flavor from brown sugar and the base of red wine. Similar to my Cherry Balsamic, but a little more for the cooler months.
Blueberries, by nature, are a little tart with a hint of sugar. Since they teeter on the edge, you can easily transform them into savory or sweet dishes and even some that are spicy.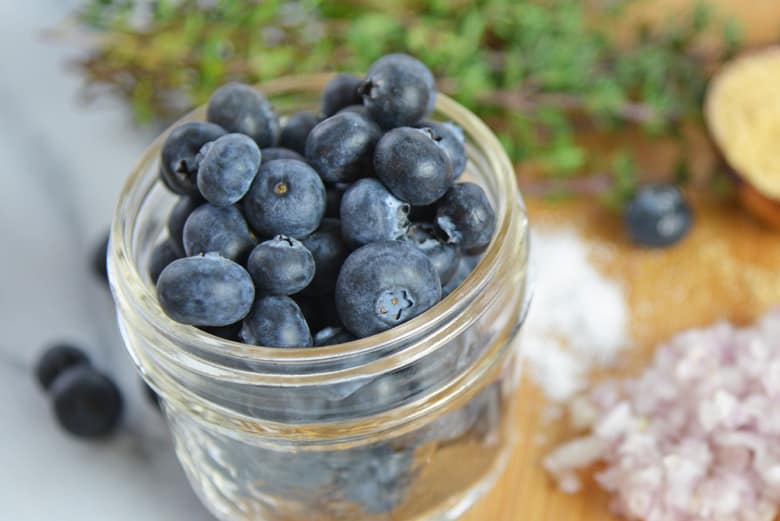 Plentiful in the summer, you are use fresh, but frozen (thawed) are also acceptable for those winter blueberry emergencies. Bonus- they are full of good-for-you vitamins and antioxidants.
What can you serve savory blueberry sauce on?
Pork. Pork pairs so well with fruit sauces. Just think about pork chops and apple or applesauce. One of my favorite recipes on the blog are easy pork chops with dried fruit.
Season your pork with salt and pepper, grill, bake or pan fry and spoon this velvety sauce over for a slamming good meal.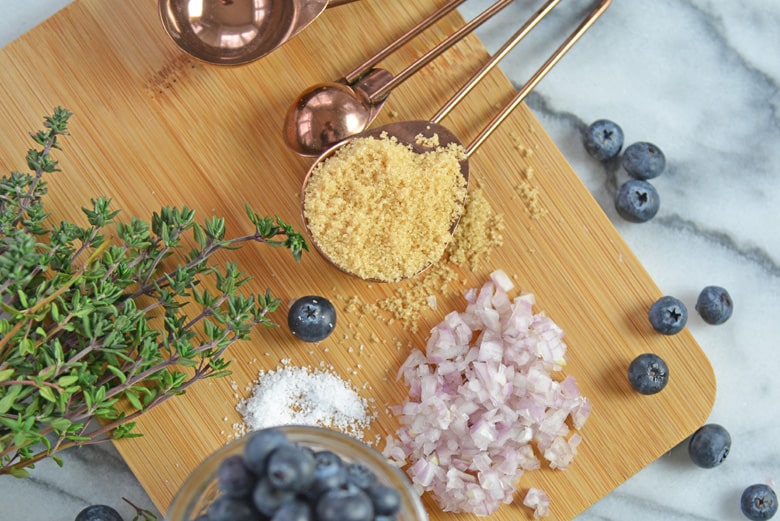 Desserts. While this is a savory sauce, just omit the black pepper and serve it over ice cream, cheesecake or custard. My favorites are homemade vanilla bean, butter and salted caramel ice creams or vanilla pound cake.
Beef. Yep, you read correctly. This batch of savory sauce was actually served over my reserve sear beef tenderloin. You don't need much to go a long way and just look at this presentation! I do love a good horseradish sauce, but I also love to have a sweet option, so I serve both!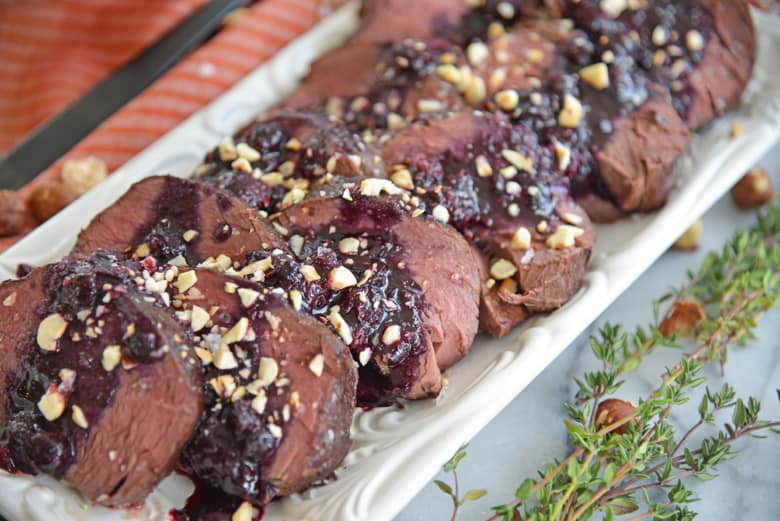 Brie. Whether you just took a slice of triple cream brie out of the fridge to serve with crackers or you prepared brie en croute or brie beignets, this blueberry sauce is perfect for topping or dipping.
You can even use it on goat cheese with a little honey drizzle.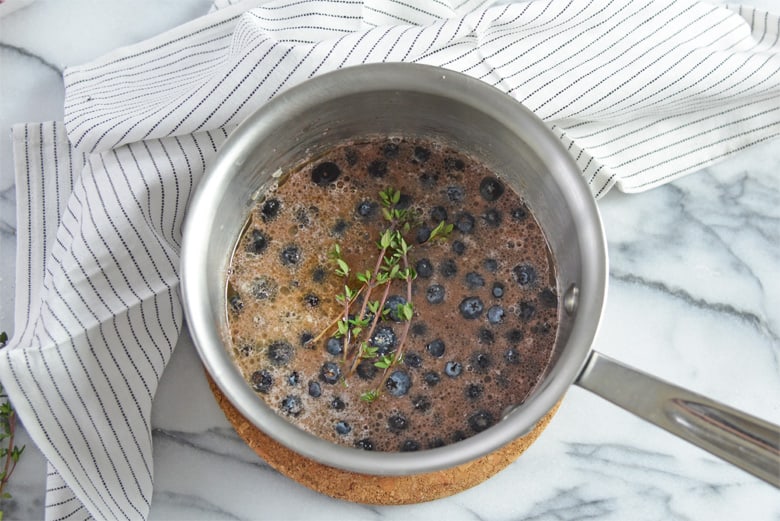 In review, serve this sauce over:
Pork
Ice Cream
Cheesecake
Pound Cake
Beef
Brie
Goat Cheese
Questions you might have about how to make blueberry sauce:
Can I freeze blueberry sauce? You sure can! Make a double, even triple batch and freeze it for up to 6 months.
Can I make blueberry sauce ahead of time? Be my guest! It stays good in the fridge for up to 5 days if stored properly.
Do I serve blueberry sauce hot, at room temperture or cold? You can serve this fruit sauce at any temperature you wish. It really depends on the dish you plan to serve it with.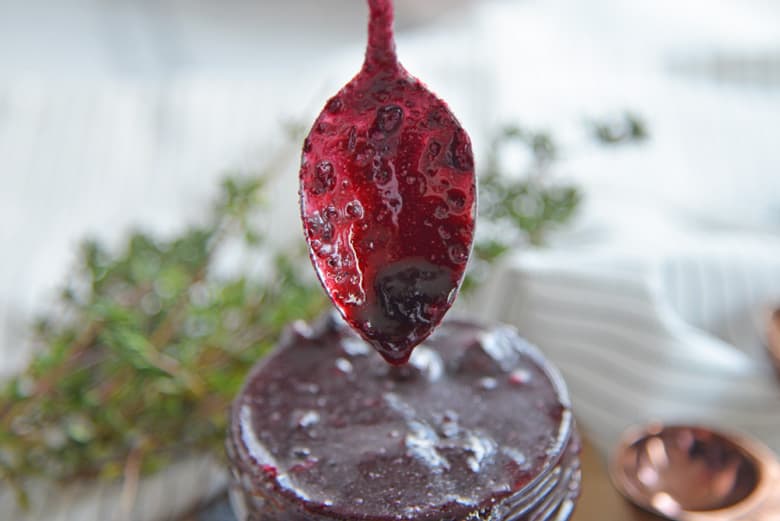 For beef or pork I serve it warm or hot. But for desserts, room temperature or slightly chilled is acceptable. If it is too cold, like right out the fridge, it will be a little hard so let it come up to temperature slightly.
Why is the pepper optional? The pepper is optional based on the recipe you plan to use it for. While you can certianly add when it is intended for a dessert, I usually omit it.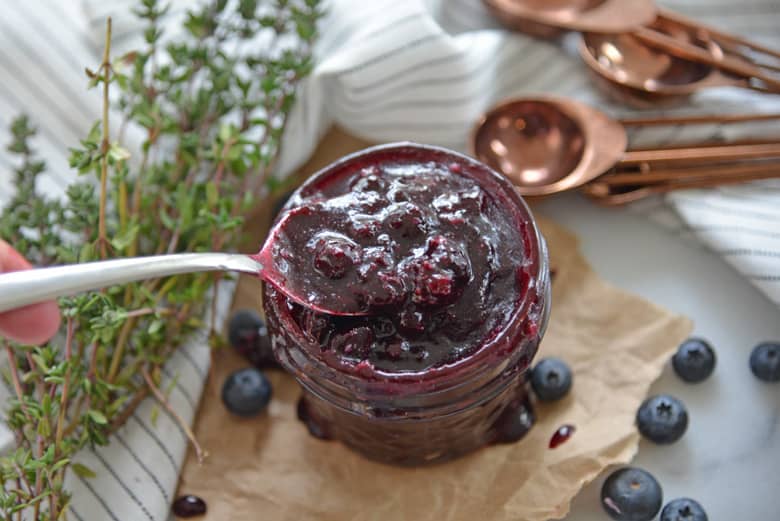 For proteins and savory dishes, I add it back in. Use black or white pepper, but make sure it is finely ground so you don't get huge bits. You can also give it a quick whirl in the food processor or immersion blender to smooth it out.
Or even drain it through a fine colander to remove large bits. Me, personally, I like the texture.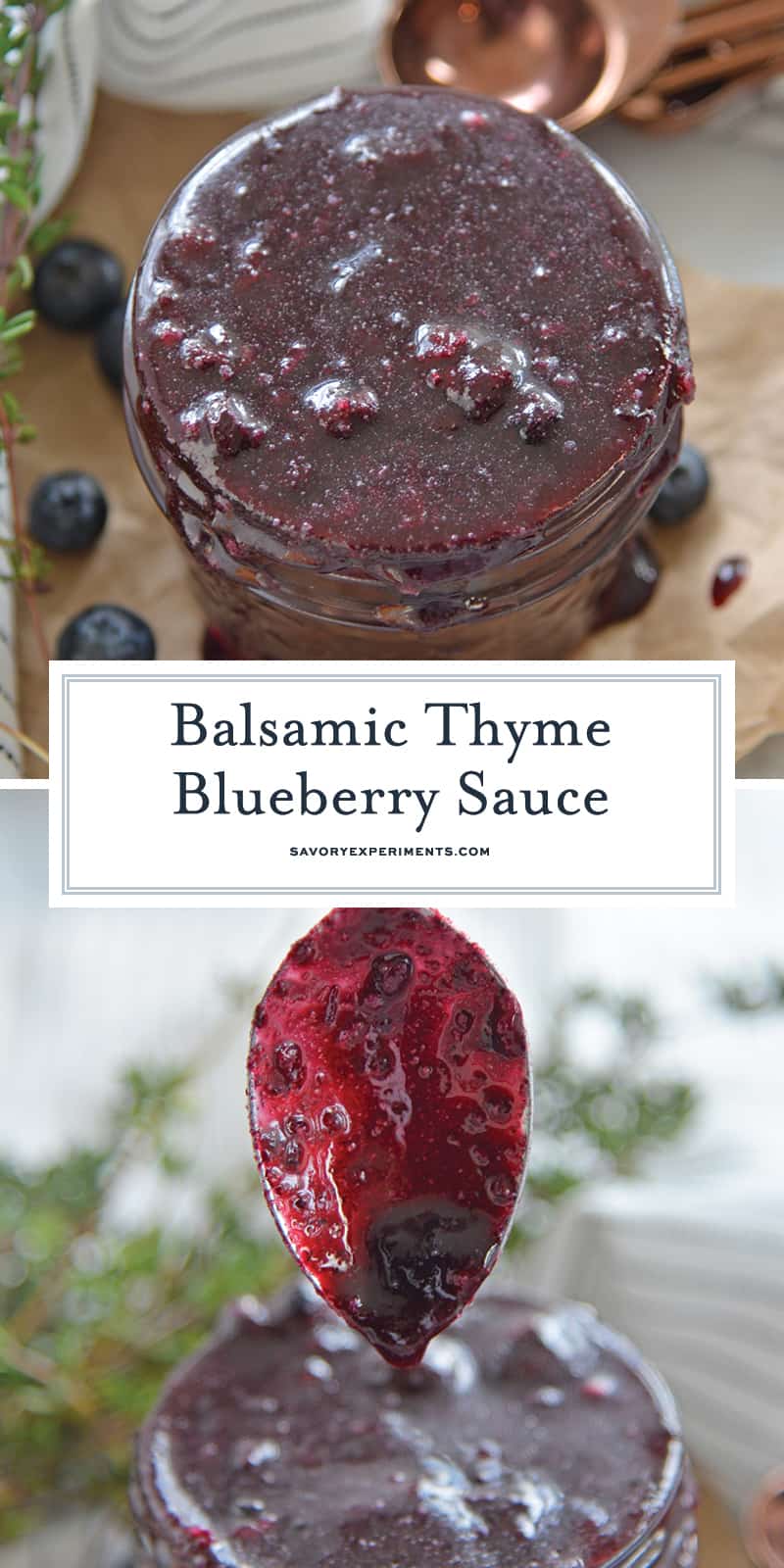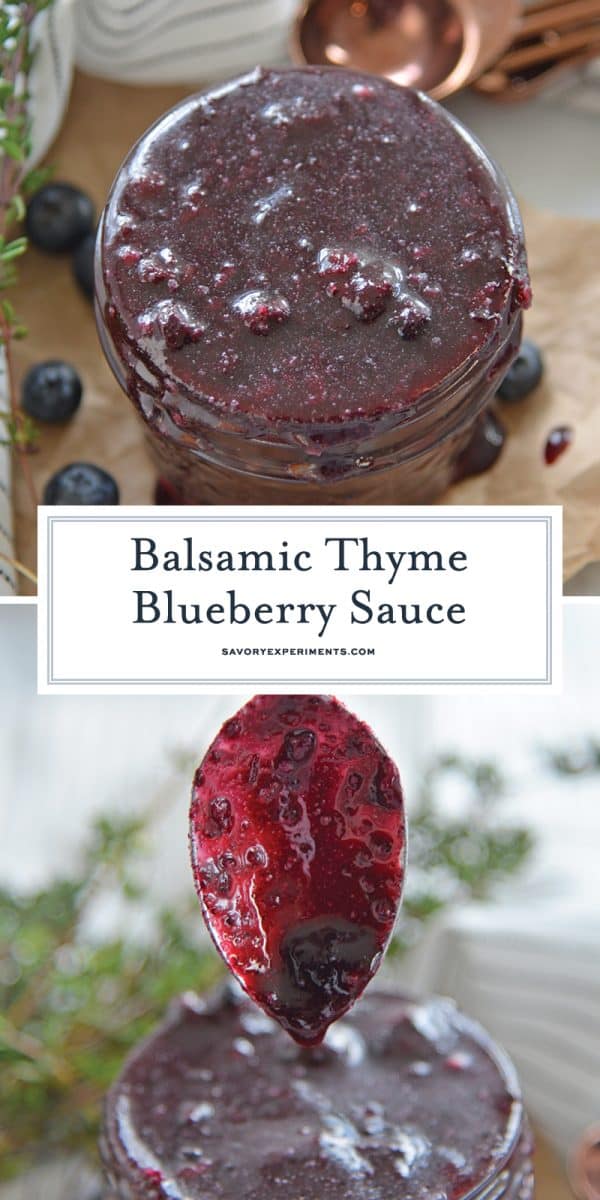 Cran-Blueberry BBQ Sauce
Berry Buttermilk Pound Cake
American Flag Sugar Cookie Cake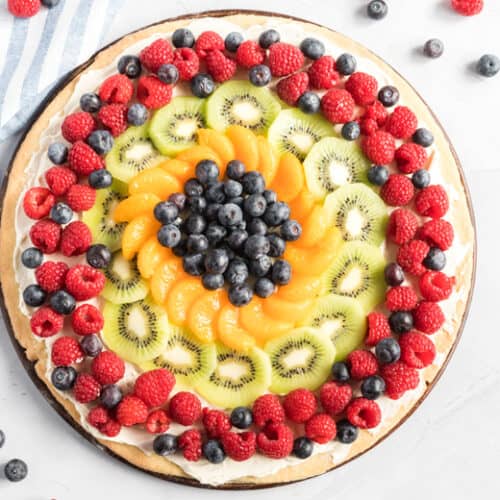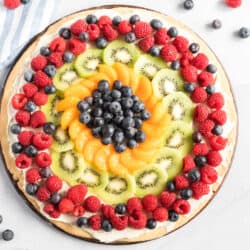 EASY Fruit Pizza
This Dessert Pizza with fresh fruit, cream cheese frosting and a crispy cookie base is a fun and tasty treat the whole family will go crazy for!
View this recipe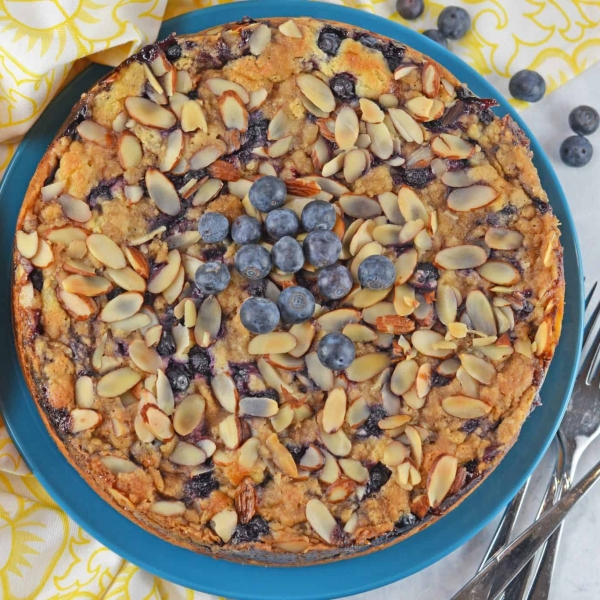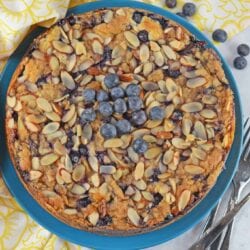 Blueberry Cream Cheese Coffee Cake
Blueberry Cream Cheese Coffee Cake is an easy coffee cake recipe with three layers of tender cake, silky cream cheese and almond streusel topping.
View this recipe
Blueberry Lemon Ricotta Pancake Recipe
Blueberry Lemon Ricotta Pancakes are easy blueberry pancakes made with creamy ricotta cheese. Ricotta hotcakes are a super fluffy pancake recipe. The best pancakes from scratch!
View this recipe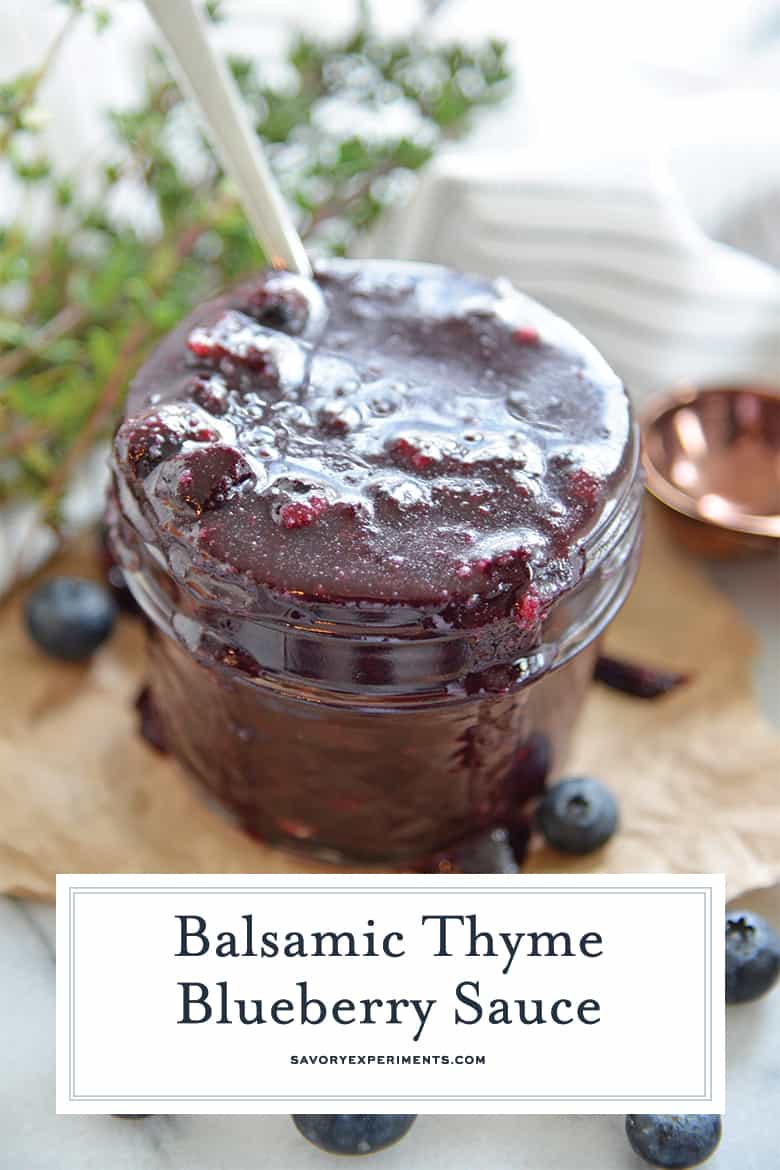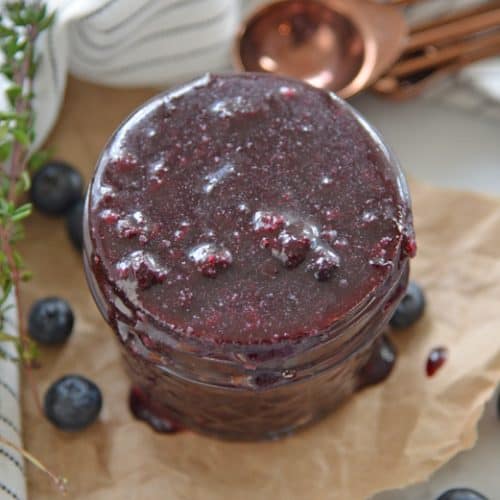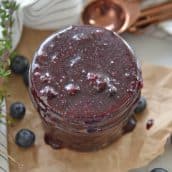 Savory Blueberry Sauce
This Savory Blueberry Sauce is perfect for adding that special something to your beef, pork or chicken. Fresh blueberries with thyme, shallot and balsamic reduction sauce.
Instructions
Heat unsalted butter in a saucepan over medium heat.

Add minced salt and saute until soft, approximately 3-4 minutes.

Add red wine, fresh blueberries, thyme, brown sugar, balsamic vinegar and kosher salt.

Bring to a low simmer, stirring every so often. Reduce about 3/4, approximately 10-15 minutes.

Sauce will be thinner than you'd expect and will start to thicken and become syrupy as it cools.

Remove from heat, remove thyme sprigs and set aside to cool slightly.

Add freshly ground pepper at this time, if desired.

If you've tried this recipe, come back and let us know how it was!
Notes
*Approximately 2 tablespoons.
Nutrition
Calories:
302
kcal
,
Carbohydrates:
34
g
,
Protein:
1
g
,
Fat:
12
g
,
Saturated Fat:
7
g
,
Cholesterol:
30
mg
,
Sodium:
1176
mg
,
Potassium:
242
mg
,
Fiber:
3
g
,
Sugar:
25
g
,
Vitamin A:
410
IU
,
Vitamin C:
12
mg
,
Calcium:
24
mg
,
Iron:
1
mg