Looking for your new favorite versatile sauce? Skip the usuals and go for this sweet and savory blueberry sauce!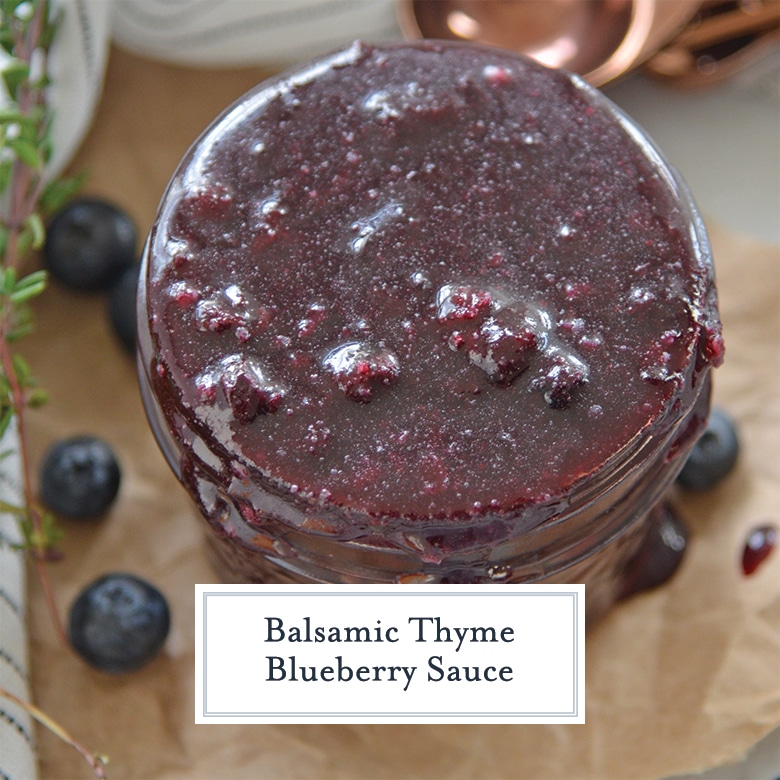 Balsamic Thyme Blueberry Sauce is perfect for adding that special "something" to your beef, pork or chicken. With fresh blueberries, thyme, shallot, and balsamic flavors entertaining, this is lively and sure to be a fast favorite.
What is Balsamic Thyme Blueberry Sauce?
Contrary to popular belief, not all fruit sauces are sweet. The sweet AND savory blueberry sauce is a perfect example. Its flavor is balanced with a little bite from the balsamic vinegar and a sweet, smooth flavor from the brown sugar and undertones of red wine.
Blueberries are the definition of sweet and tart. Since they teeter toe that line, you can easily go both ways allowing you to transform them into savory or sweet dishes and even some that are spicy.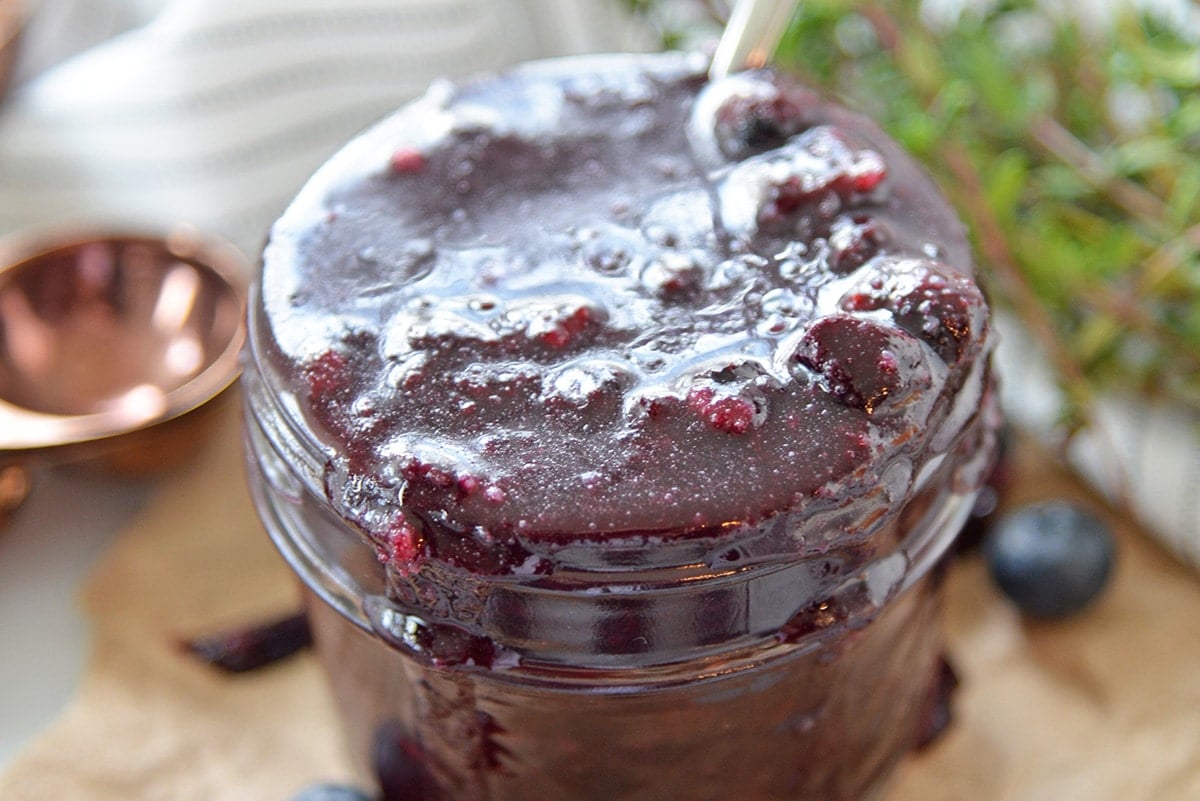 Plentiful in the summer, you can fresh berries, but frozen and thawed "bloobs" are also acceptable for those winter dinner emergencies.
Why You'll Love Balsamic Blueberry Thyme Sauce
As a whole, sauces can liven up any dish and this one is absolutely no exception.
Versatility – Pairs really well with main meat dishes but also with desserts, cheeses and more.
Make Ahead – Make a single, double, or triple batch and freeze what you don't use for up to 6 months!
Wow Factor – Sauces can be predictable, but this one is anything but that.
Bonus! – Blueberries are full of good-for-you vitamins and antioxidants.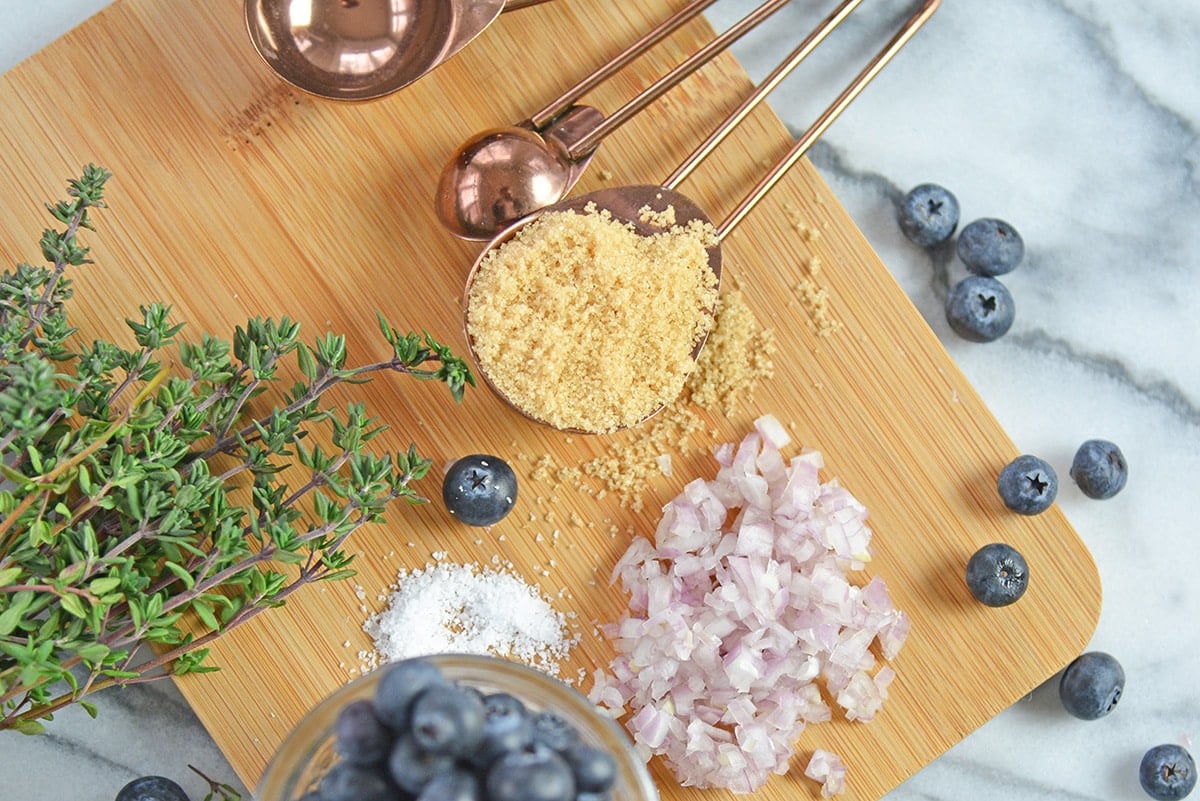 What You Need to Make Balsamic Blueberry Thyme Sauce
The ingredient list is fairly short and sweet, but provides a well-balanced sauce.
Unsalted Butter – Adds richness and body to the sauce and allows you to determine the salt level.
Shallot – A more sophisticated, less intense oniony flavor. Mince it fine so it disappears in the sauce.
Red Wine – Choose a wine that you would like to drink with dinner.
Blueberries – Cooking this fruit intensifies its flavor.
Fresh Thyme – Has a floral and grassy flavor; deepens the flavor of ingredients it is added to.
Light Brown Sugar – Gives this sauce a deep almost savory sweetness.
Balsamic Vinegar – Rich and complex in flavor and great with both sweet and savory dishes.
Kosher Salt – Brings out the flavor of the other ingredients.
Freshly Ground Black Pepper – Great when added to the sauce if you serving it with savory dishes.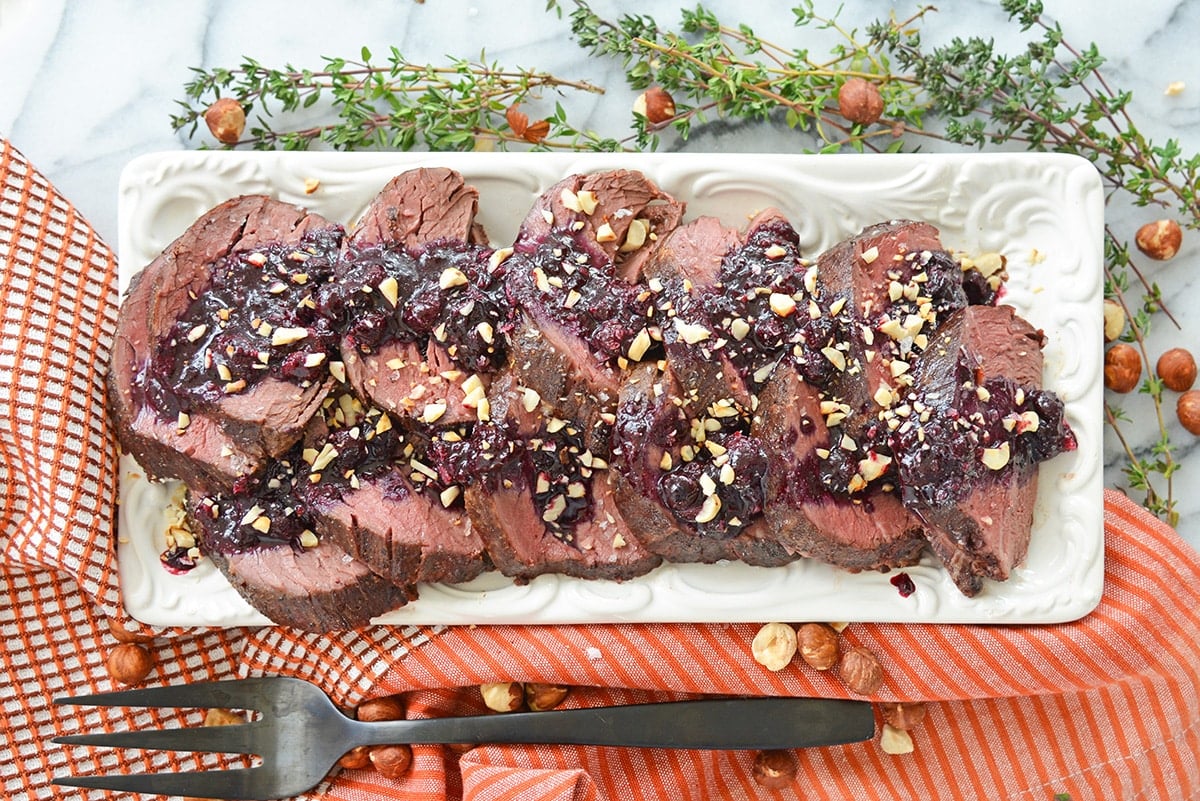 How to Make Balsamic Blueberry Thyme Sauce
Melt the butter in a saucepan.
Saute the shallots. This not only softens them but brings out their natural sweetness.
Add the remaining ingredients & simmer. The alcohol in the wine will cook off, the blueberries will release their water, and flavors will meld as it reduces and thickens from the sugars, natural and added.
Remove the thyme and cool. The oils from the fresh sprigs will have imparted their flavors on the sauce. The sauce will thicken a bit as it cools.
Stir in pepper if using. The heat from the sauce will help to release the oils and flavor from the freshly ground pepper.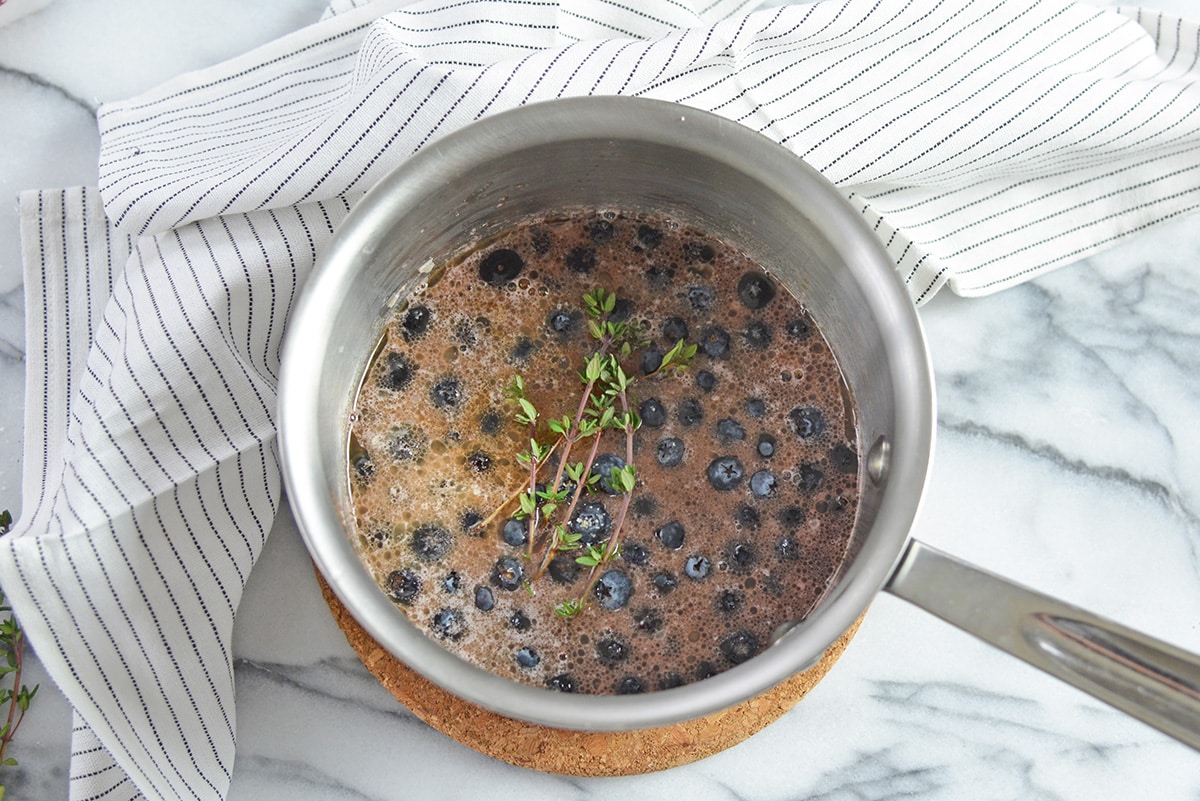 What can you serve Balsamic Blueberry Thyme Sauce with?
I know what you are thinking, this seems like a relatively single-use sauce, right? Wrong! The options are pretty incredible.
Pork. Pork pairs so well with fruit sauces. Just think about pork chops and apples or pork chops and cherries. Season your pork simply with salt and pepper, cook to your liking, and spoon this rich sauce over top for a slamming good meal.
Beef. Yep, you read correctly. This batch of savory sauce was actually served over my reserve sear beef tenderloin. You don't need much to go a long way and just look at this presentation!
Brie. Whether you just took a slice of triple cream brie out of the fridge to serve with crackers or you prepared brie en croute, this blueberry sauce is perfect for topping or dipping. You can even use it on goat cheese with a little honey drizzle.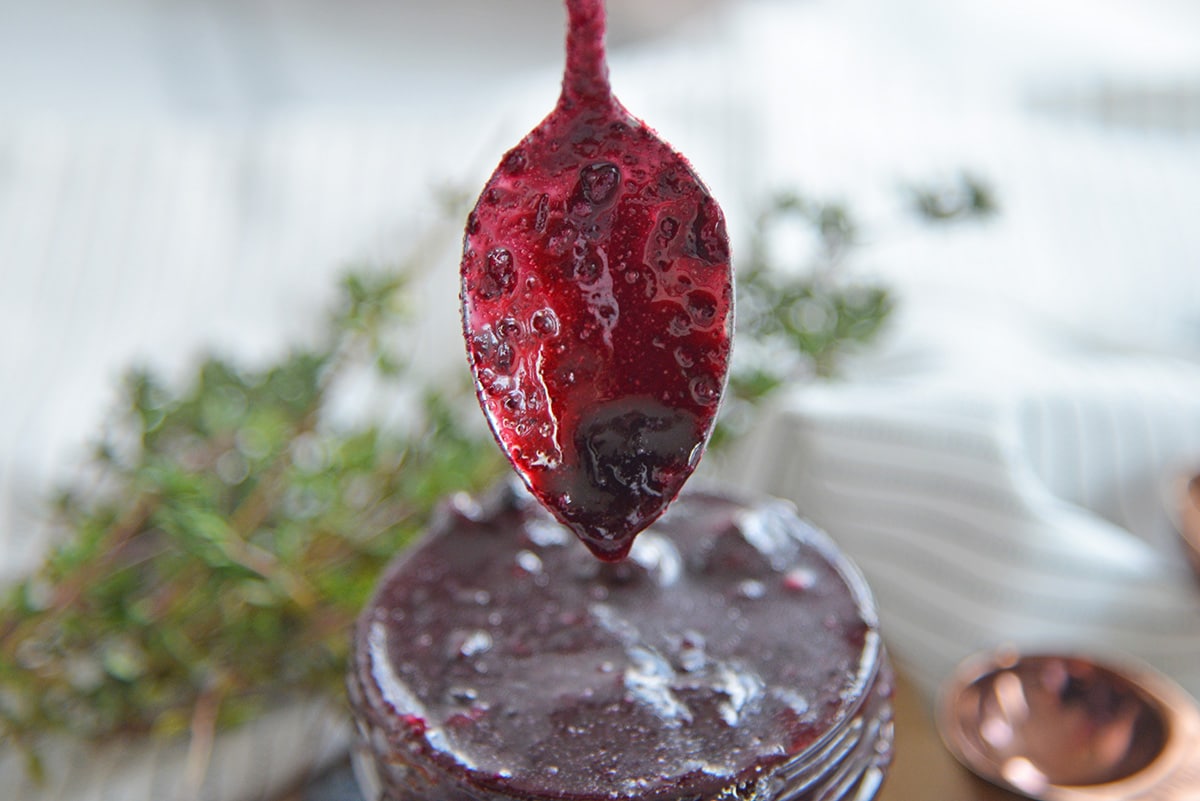 Fresh Blue Blueberries vs. Frozen Blueberries
Are they the same fruit? Absolutely! Do you cook with them the same way? Yes and no.
Fresh Blueberries – Obviously, the go-to choice if they are in season. Sweet and tart and full of water. These will burst and break down beautifully as the sauce cooks.
Frozen Blueberries – I like to think of these as summer blueberries frozen in time. Be sure to thaw the out and drain them before using them in the recipe.
How to Store Blueberry Sauce
To store blueberry sauce, you can follow these steps:
Allow the blueberry sauce to cool completely before storing. It should be at room temperature or slightly cooler.
Choose an airtight container suitable for storing liquids. Glass jars with tight-fitting lids or plastic containers with airtight seals work well. Ensure that the container is clean and dry.
Pour the blueberry sauce into the container, leaving some space at the top for expansion during freezing or refrigeration. You can use a funnel to avoid spills.
Seal the container tightly to prevent air from entering. If you're using a jar, make sure the lid is securely screwed on. For plastic containers, check if they have a snap-on or locking mechanism to create a tight seal.
Label the container with the date of preparation. This helps you keep track of its freshness and makes it easier to identify in the future.
Decide on the storage method based on your needs:
Refrigeration: If you plan to use the blueberry sauce within a week or two, store it in the refrigerator. It will typically stay fresh for around 7-10 days.
Freezing: For longer-term storage, freezing is a great option. Blueberry sauce can be frozen for several months. To freeze, ensure the container is freezer-safe and leave some headspace to account for expansion during freezing. Place the container in the freezer, and it will stay good for 4-6 months.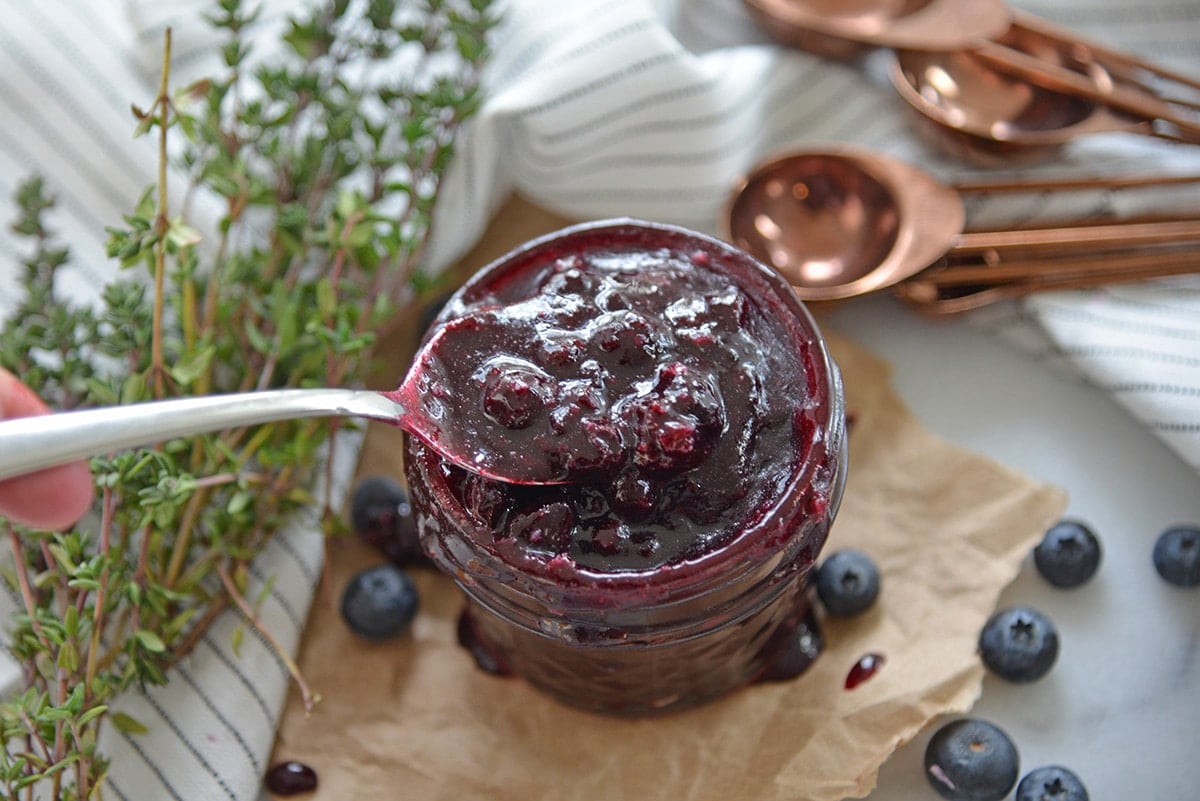 Thawing and using the sauce:
Refrigerator thawing: If you froze the blueberry sauce, transfer it from the freezer to the refrigerator and allow it to thaw slowly overnight. Once thawed, use it within a few days.
Immediate use: If you need the sauce right away, you can thaw it more quickly by placing the container in a bowl of warm water. Make sure the container is watertight to prevent water from seeping in. Stir occasionally as it thaws.
Inspect the sauce before using it. If you notice any signs of spoilage, such as an off smell, mold, or unusual texture, discard it immediately.
Remember that these storage guidelines are general recommendations. Adjust them based on your specific recipe and any additional instructions provided.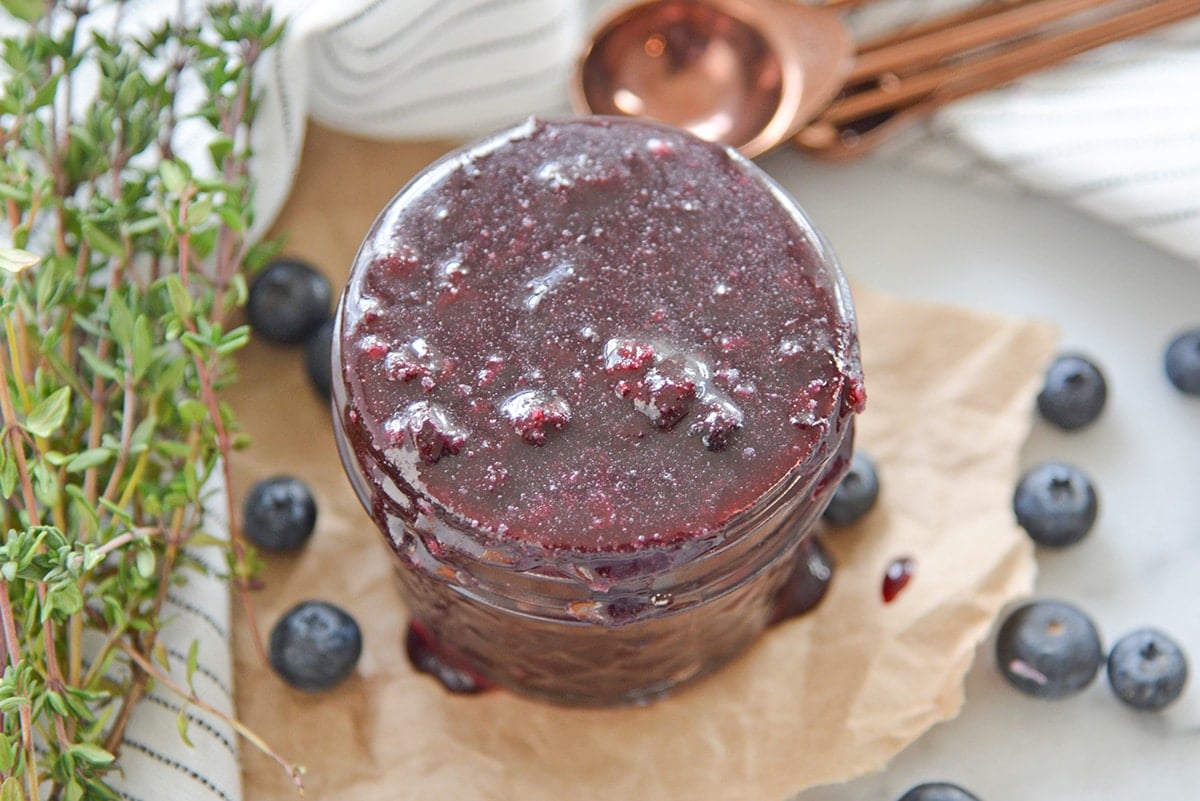 Common Questions about Blueberry Sauce
Can I freeze blueberry sauce?
You sure can! Make a double, even triple batch and freeze it for up to 6 months.
Can I make blueberry sauce ahead of time?
Absolutely! It stays good in the fridge for up to 5 days if stored properly.
What meat goes with blueberries?
Pork, beef, bacon, prosciutto, and duck, are some meats that pair well with blueberry.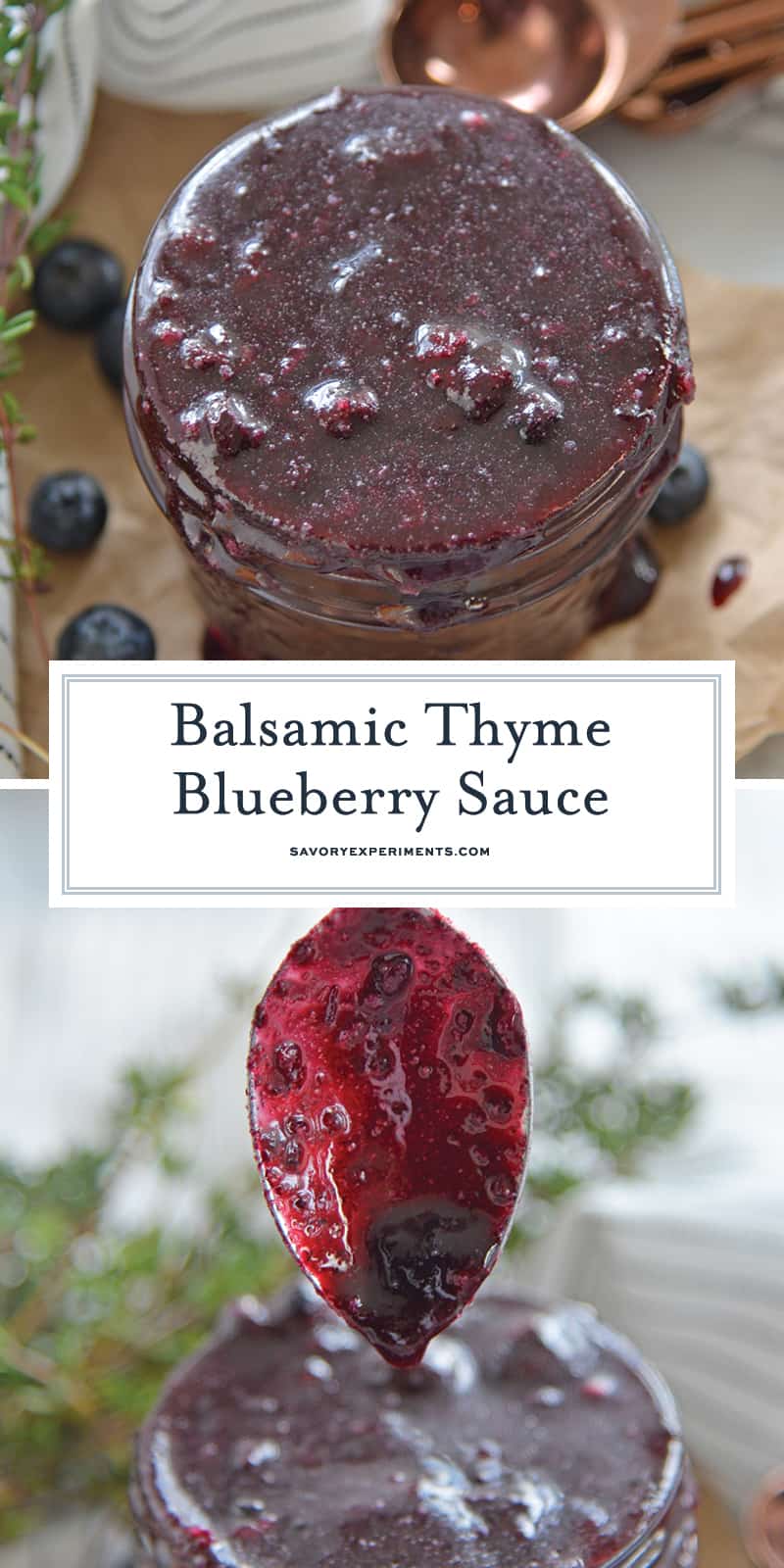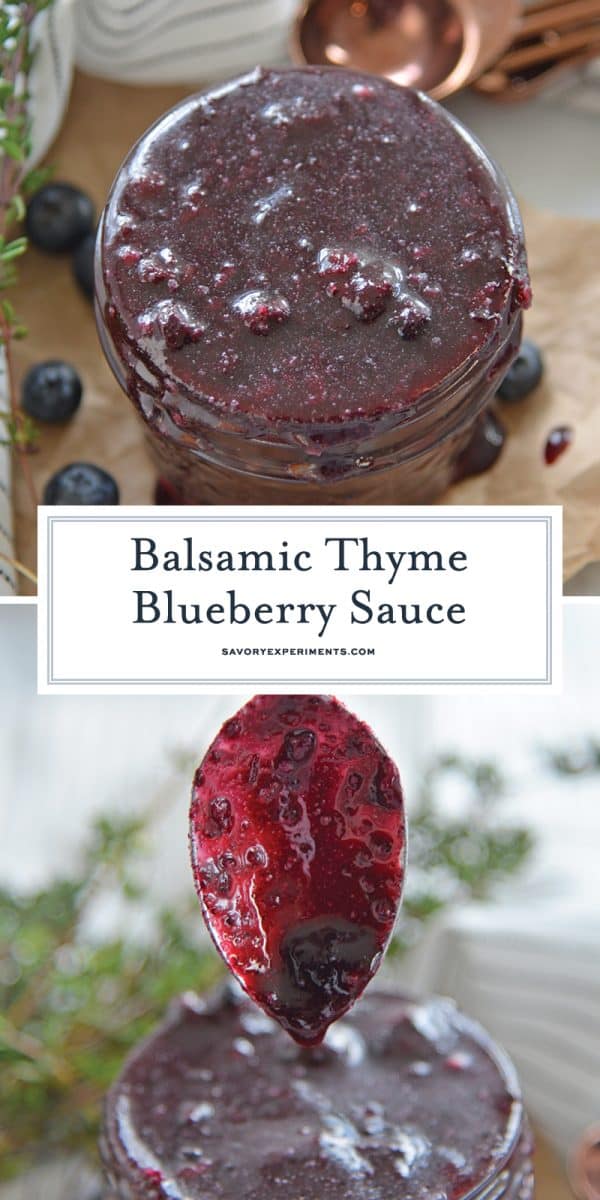 Cran-Blueberry BBQ Sauce
Berry Buttermilk Pound Cake
American Flag Sugar Cookie Cake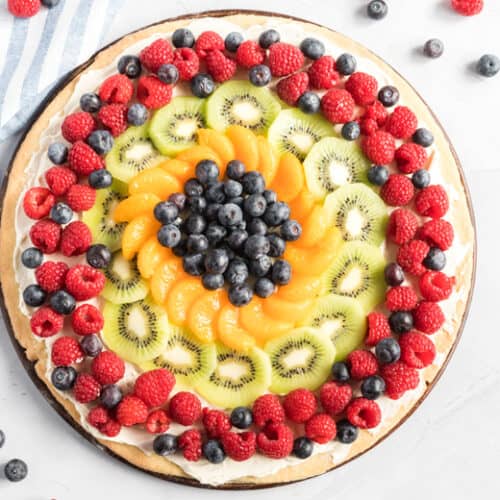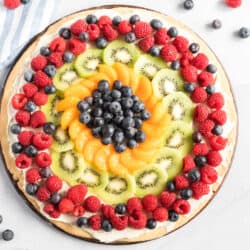 EASY Fruit Pizza
This Dessert Pizza with fresh fruit, cream cheese frosting and a crispy cookie base is a fun and tasty treat the whole family will go crazy for!
See The Recipe!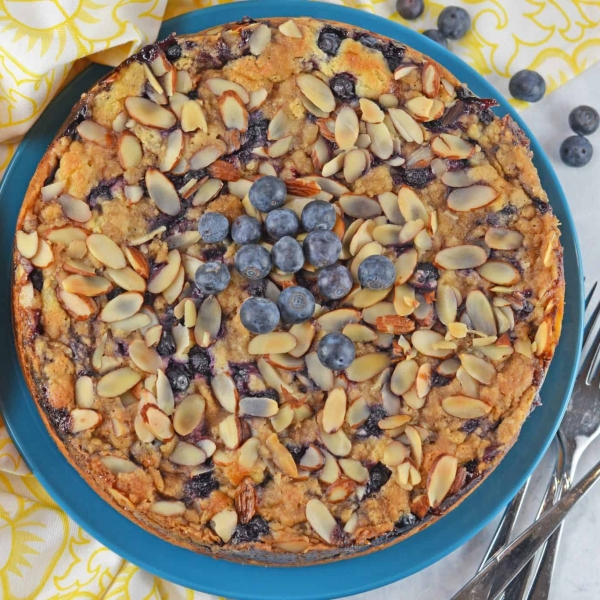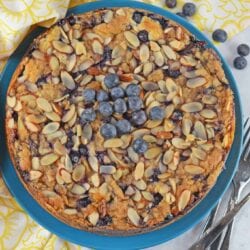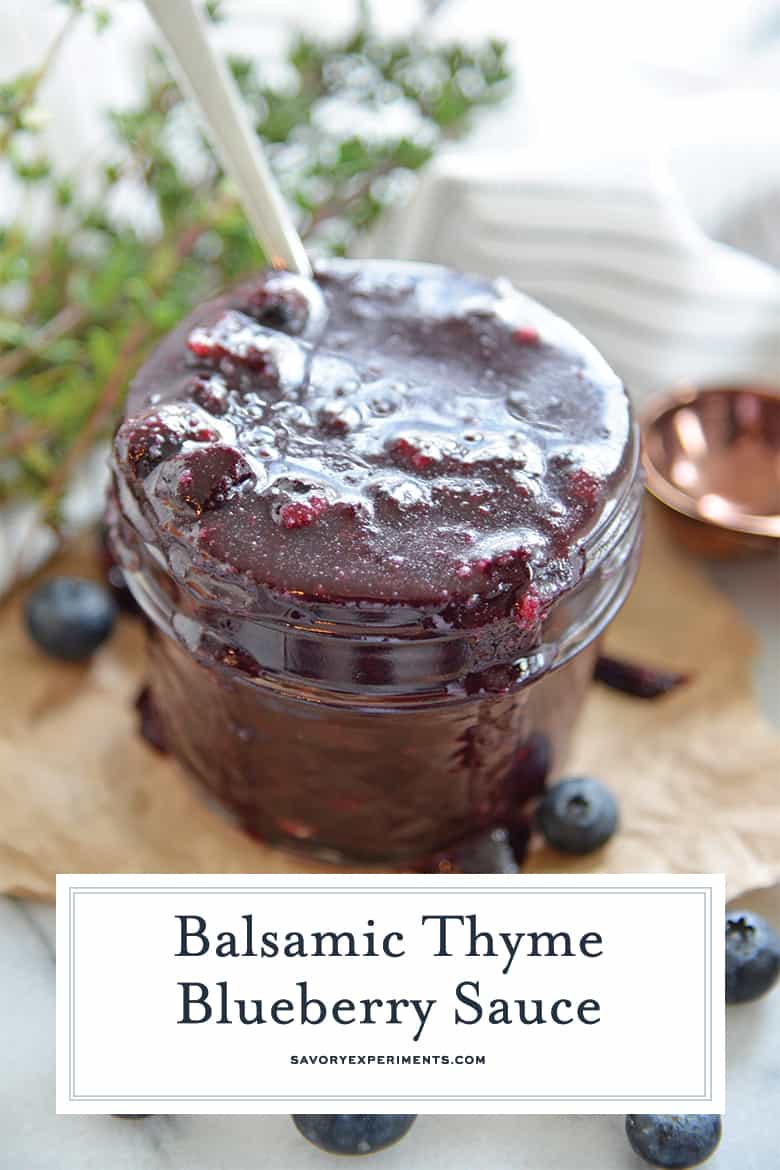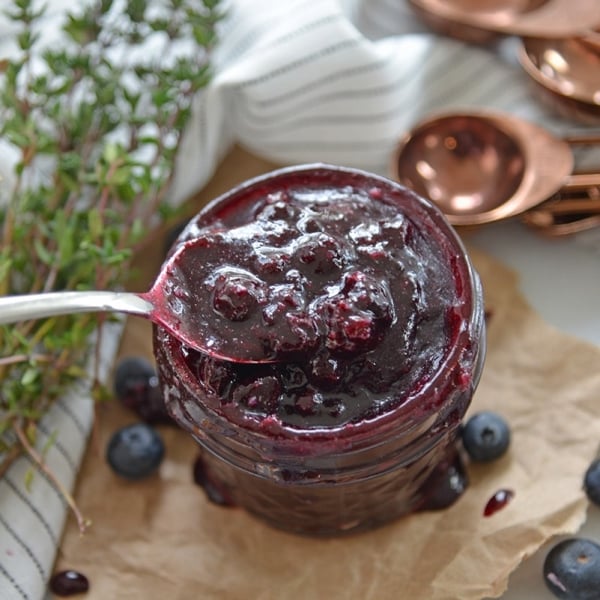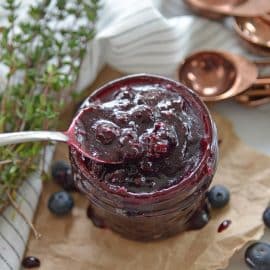 Savory Blueberry Sauce
This Savory Blueberry Sauce is perfect for adding that special something to your beef, pork or chicken. Fresh blueberries with thyme, shallot and balsamic reduction sauce.
Instructions
Heat the butter in a saucepan over medium heat.

Add the shallots and saute until soft, approximately 3-4 minutes.

Stir in the red wine, blueberries, thyme, brown sugar, balsamic vinegar and kosher salt. Bring to a low simmer, stirring every so often. Reduce by half, approximately 10-15 minutes. Sauce will be thinner than you'd expect and will start to thicken and become syrupy as it cools.

Remove the sauce from the heat, fish out the thyme sprigs and set aside to cool.

Add the freshly ground pepper at this time, if desired.

If you've tried this recipe, come back and let us know how it was in the comments or star ratings!
Notes
*Approximately 2 tablespoons.
Nutrition
Calories:
302
kcal
,
Carbohydrates:
34
g
,
Protein:
1
g
,
Fat:
12
g
,
Saturated Fat:
7
g
,
Cholesterol:
30
mg
,
Sodium:
1176
mg
,
Potassium:
242
mg
,
Fiber:
3
g
,
Sugar:
25
g
,
Vitamin A:
410
IU
,
Vitamin C:
12
mg
,
Calcium:
24
mg
,
Iron:
1
mg