This post is in collaboration with Farmer's Mark. All opinions and statements are 100% my own.
Are you ready to make the most flavorful fall stew you've ever tasted in just 30 minutes? Full bodied stew in 30 minutes, you ask?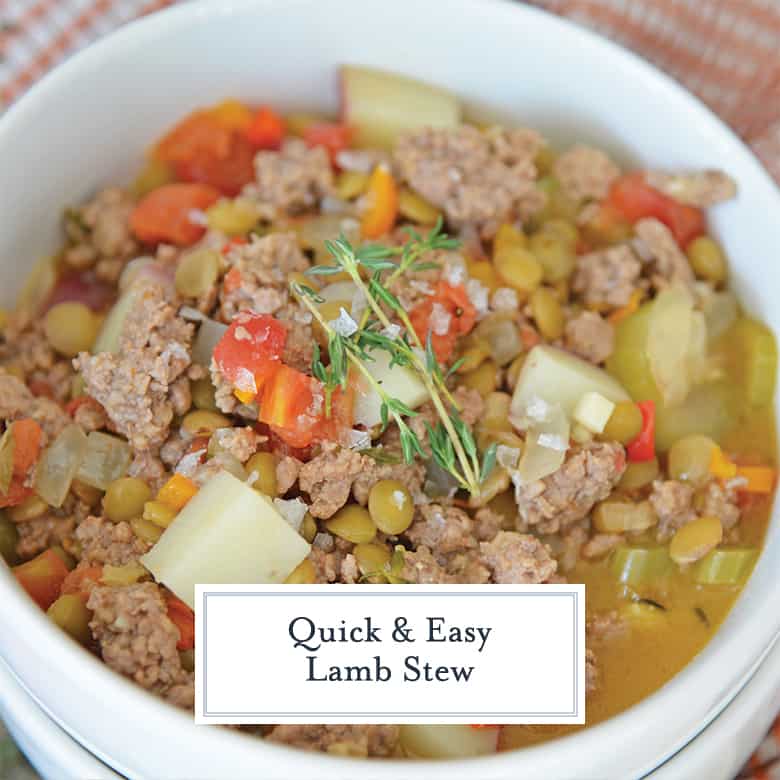 Lamb Stew using ground lamb is made in just 30 minutes! Flavorful broth, crispy veggies and lentils make this fall stew recipe an easy weeknight meal.
YES, flavorful stew in just a half an hour. How is this even possible? Mind blown! I use lamb, that is how…
Most stew recipes require hours of simmering to achieve optimal flavor and tenderness in the meat.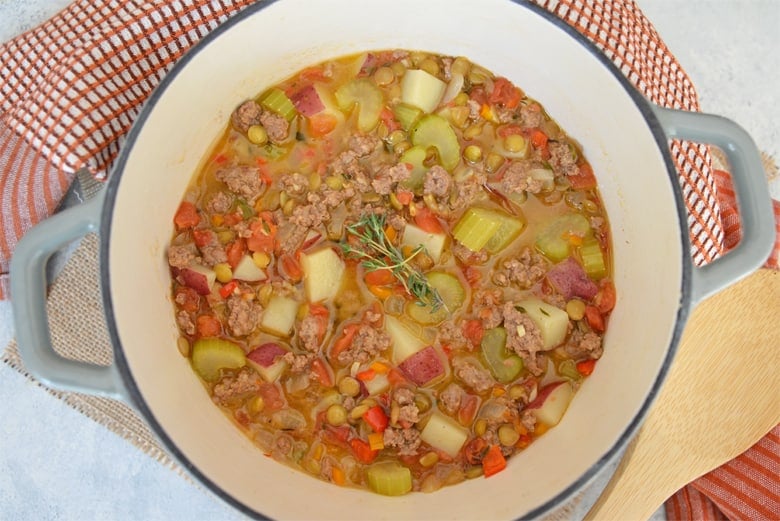 By using an already flavorful protein, lamb, all of those goals are accomplished in less time. In this case, only 30 minutes. And even more benefits:
American Lamb is nutrient dense, providing protein, B12, niacin and zinc.
Lamb contains monounsaturated fats, the same "good" fats found in olive oil.
Lamb contains more omega-3 fatty acids than the same size portion of beef.
American lamb uses no artificial or synthetic growth hormones during the life cycle.
What comes to mind when you think of ground lamb? Greek food, perhaps? Lamb burgers smothered with feta cheese and roasted red pepper? Smells of the Mediterranean?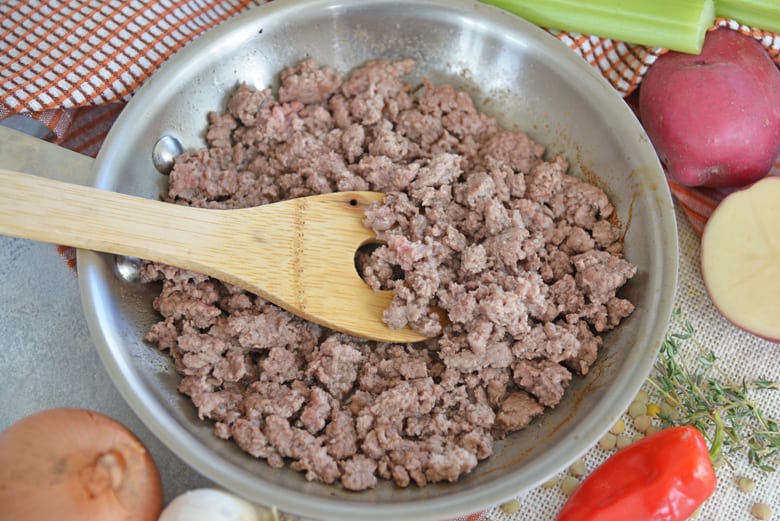 YES to all of the above and now yes to Lamb Stew! Most lamb stew recipes use cubed lamb meat, but here, we are going to use ground. Ground lamb recipes are quick to cook and just as lean.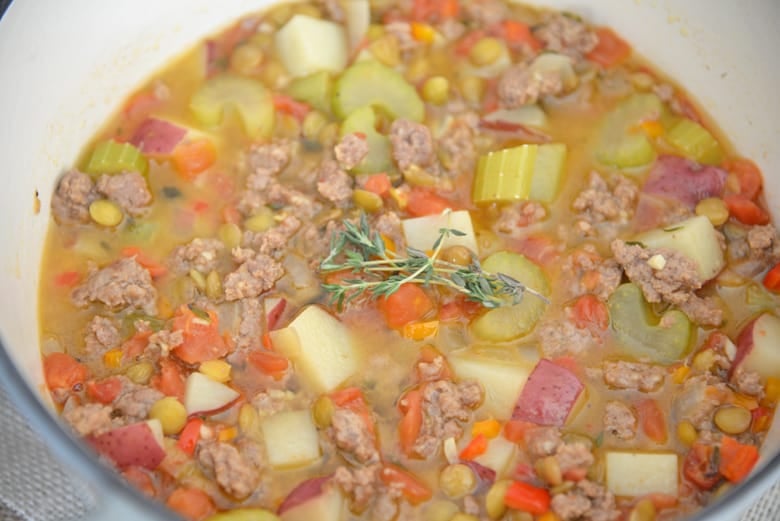 Before I tell you the other aspects that make this Lamb Stew so special, let's briefly review the cuts of lamb:
Ground Lamb: Mellow and mildly flavored, ground lamb is a lean and versatile substitute for ground beef in many recipes and is often preferred by those who historically say they don't care for lamb. Use it in meatballs, burgers, shepherd's pie and meatloaf.
Lamb Loin Chop: Loin chops are lean, tender and the most widely available cut of lamb! With their perfect 3- to 4-ounce serving size and attractive "T" shaped bone that runs through the meat, loin chops are simple to prepare. They can easily be baked, pan fried or grilled for an easy weeknight meal.
Lamb Shank: Lamb shanks practically melt off the bone when they are slow cooked and are a popular menu item across the country. Lean on fat but big on flavor, the meaty shank is perfect for braising in a slow, simmering broth.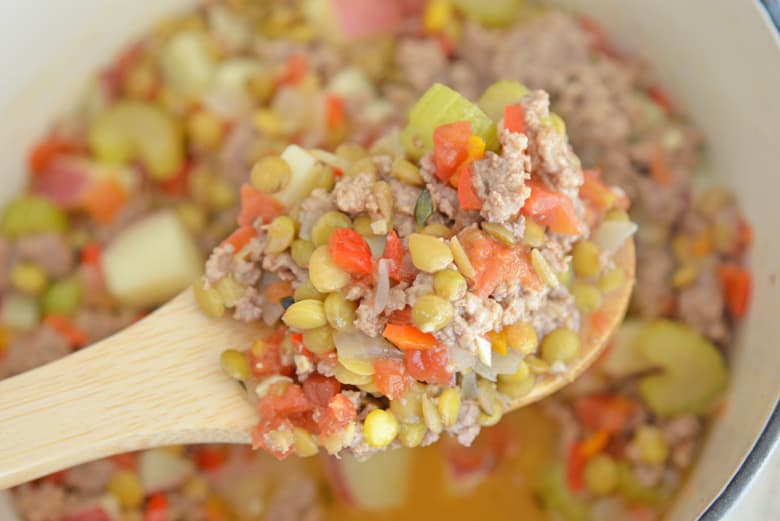 Lamb Shoulder Chop: Shoulder chops require a shorter cooking time than other cuts, making them an economical and flavorful choice for quick and easy meals.
Leg of Lamb: Available boneless or bone-in, leg is the leanest lamb cut and one of the largest. It can be roasted whole or cut into individual steaks. Bone-in leg of lamb is perfect for any holiday or special occasion because of its impressive presentation.
PRO TIP: Save the bones, they add richness and flavor to any homemade stock or broth!
Rack of Lamb: Probably the most iconic, this is what most people envision when they hear lamb. They are commonly available "frenched" or "crowned" with a built in "handle".
They are one of the most elegant, but also the easiest and quickest to prepare. You can make it a one large roast and then cut into individual portions or cut before cooking for an even speedier cooking time.
Lamb Ribs: Lamb spareribs or "Denver Ribs" are perfect for braising and grilling and are a great substitute for baby back pork ribs.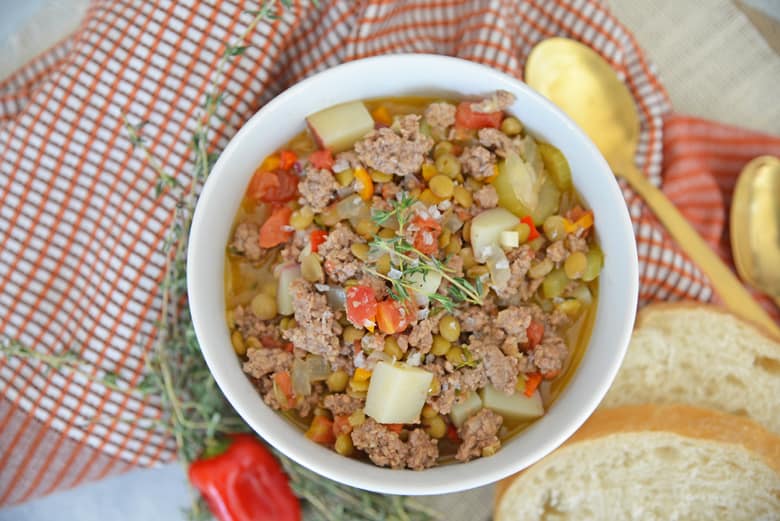 Next is the obvious, vegetables. Choosing the right size vegetables and the correct time to add them is imperative for both texture and taste.
Too late and your veggies are hard. Too early and they are super soggy. I like to add my celery, bell pepper and tomato in the last phase so they have a little crunch and color in the bowl. Vegetables are tender, but not mushy.
Lentils cooked in the flavorful base add flavor, color and suppleness.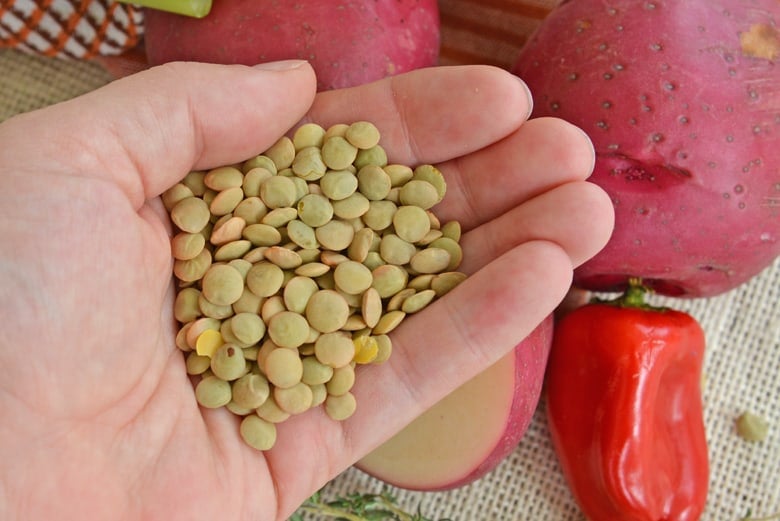 What are lentils? Lentils are small legumes (bean family). Lentils cook much faster than other dried beans and they also come in a variety of robust flavors, making them ideal for adding to soup and stew.
I also add Parmesan cheese! Soup bases need body. Most commonly, ground bread, cornstarch and cream, but in this case, I am taking a page from French cuisine and using parmesan.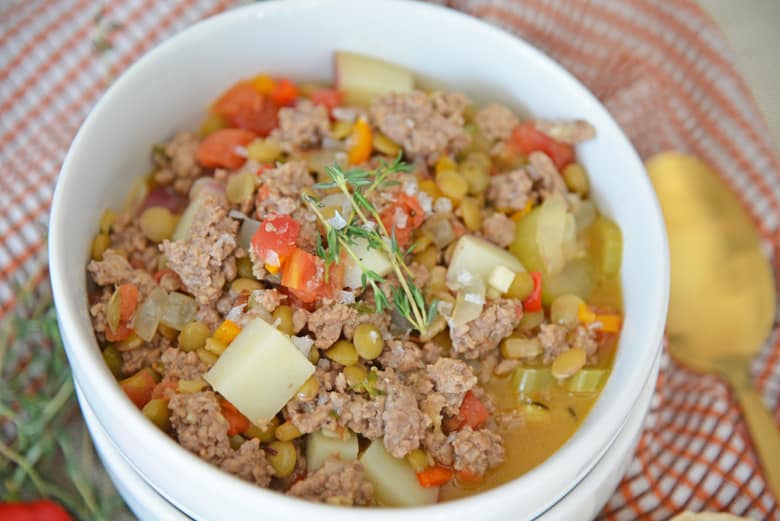 While they allow a rind to simmer adding flavor, I'm just tossing in freshly grated Parmesan cheese for the same body building result in a jiffy.
Lastly, a splash of white wine. Nearly any soup or stew can benefit from a splash of acid right before ladling. It adds that "I can't put my finger on it" sophistication.
If you don't use wine to cook, then substitute with a splash of apple cider vinegar or lemon juice.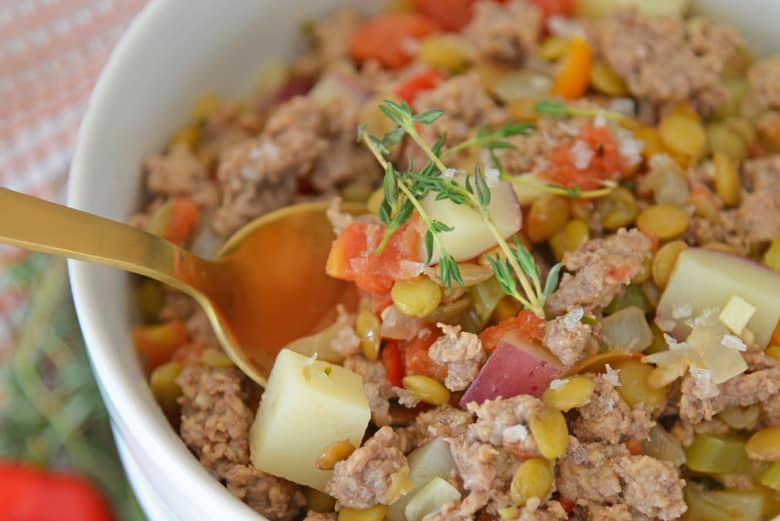 This lamb stew recipe can be served for an appetizer or an entrée. I like to pair it was a crusty bread for dipping. Garnish with fresh thyme sprigs and flaky sea salt.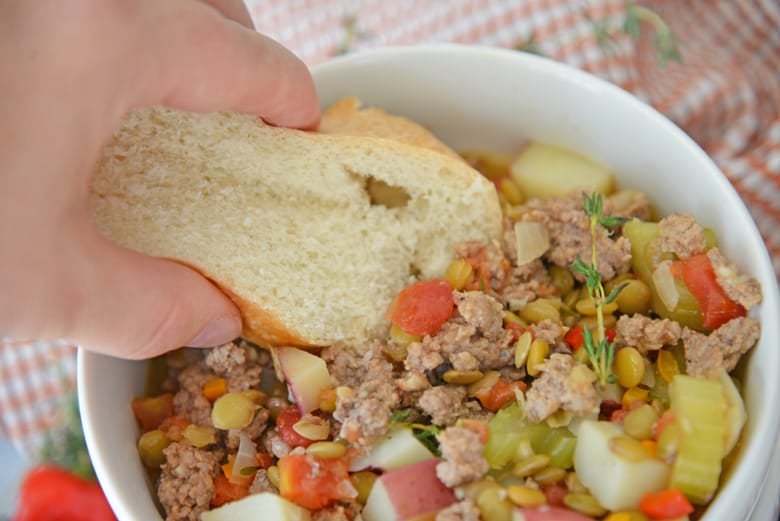 Questions you might have about how to make lamb stew:
Can I use red lentils? Yes! It will add more color and you know I love to eat the rainbow. Use red lentils, green or yellow, even black beluga lentils! Or a mix, have fun and be colorful!
Can I use cubed lamb? Sure! I liked using ground lamb in a new way for my stew, but if you have a different cut, them by all means cube it into bite-size pieces and brown it the same way. Use 12 ounces and follow the same recipe.
Can I freeze lamb stew? Yes! After cooking, package well and freeze for 3-4 months.
Can I make lamb stew ahead of time? Sure! Stews build in flavor as they sit, so making it up to 24 hours in advance just further enhances the flavor.
Can I use red wine instead of white? Red wine works as well and if you don't use wine in your cooking, simply substitute with lemon juice or no acid at all.
Is lamb stew spicy? Nope, at least not this stew. If you want it to be spicy, add 1 teaspoon red pepper flakes to the broth while simmering.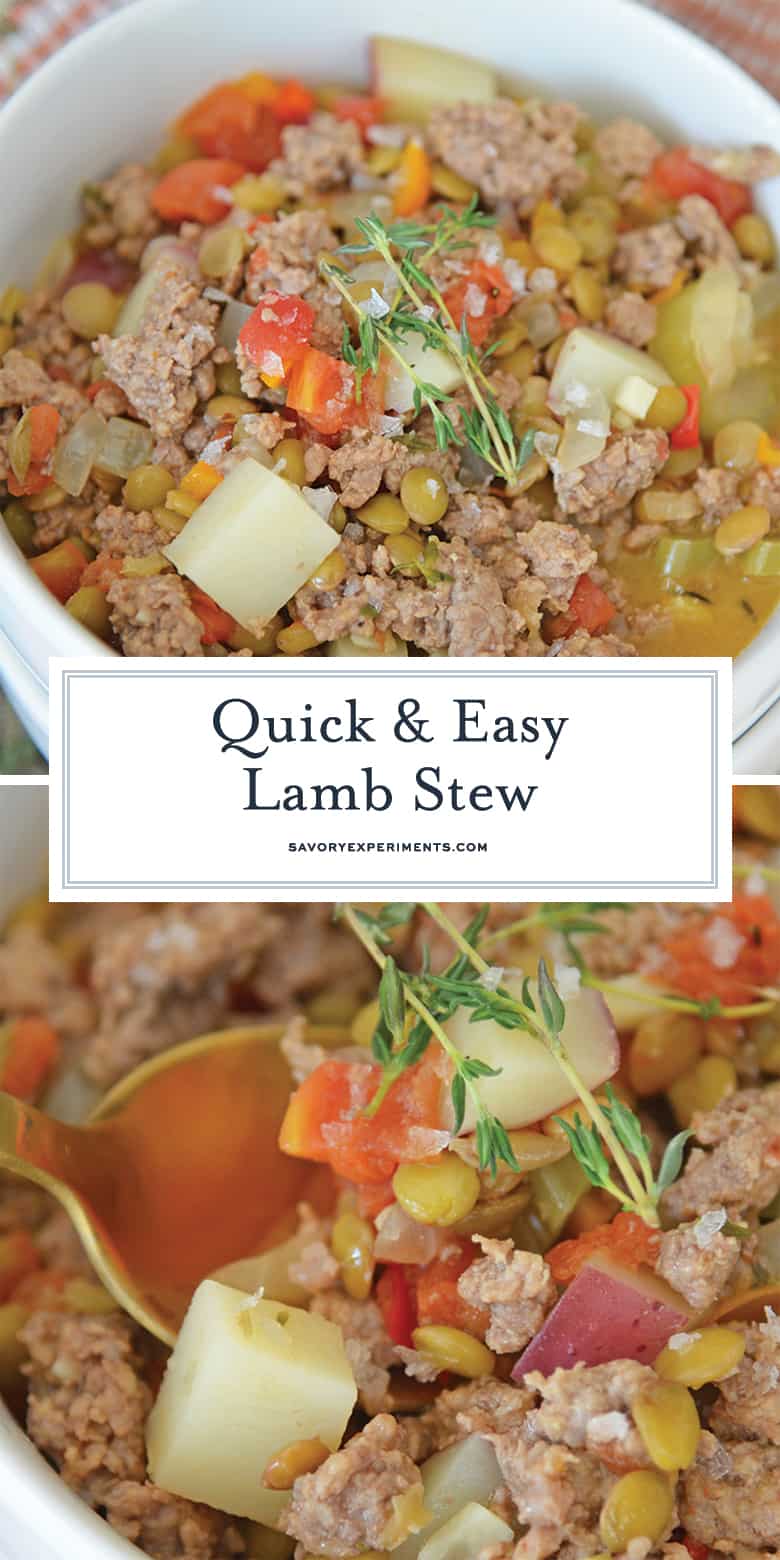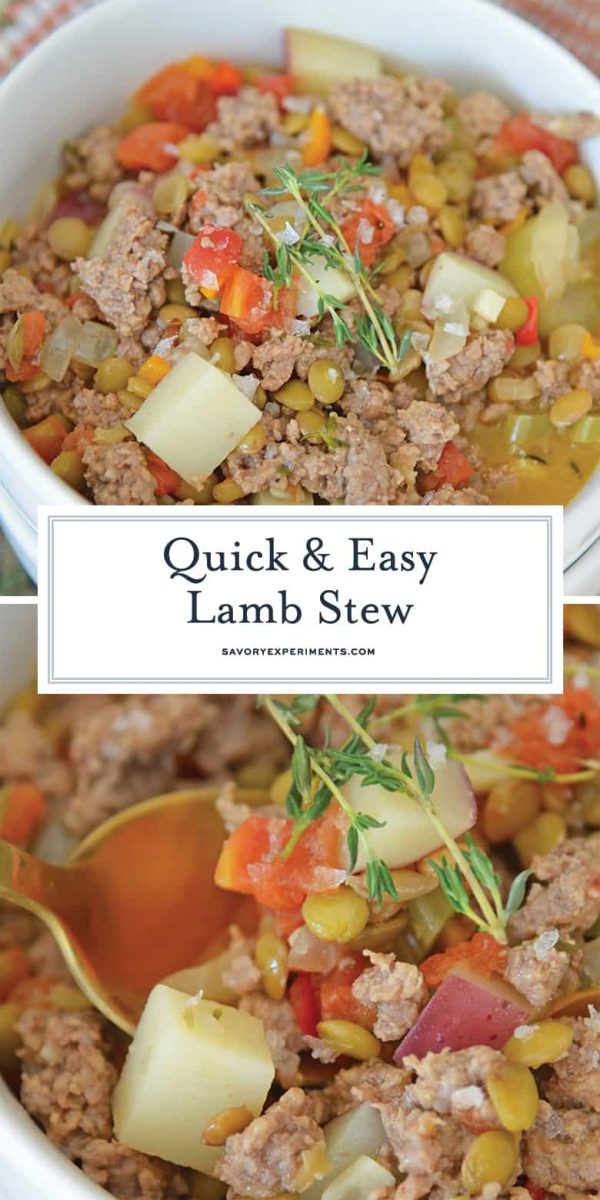 What to serve with lamb: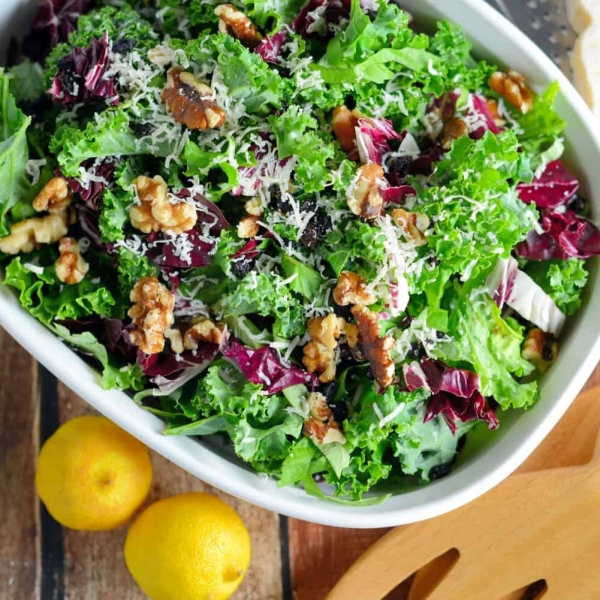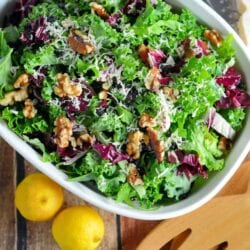 Kale Salad Recipe
Kale Salad with Lemon Dressing is tossed with currants, radicchio, walnuts and a lemon dressing. Learn how to massage kale salad and make a delicious salad!
See The Recipe!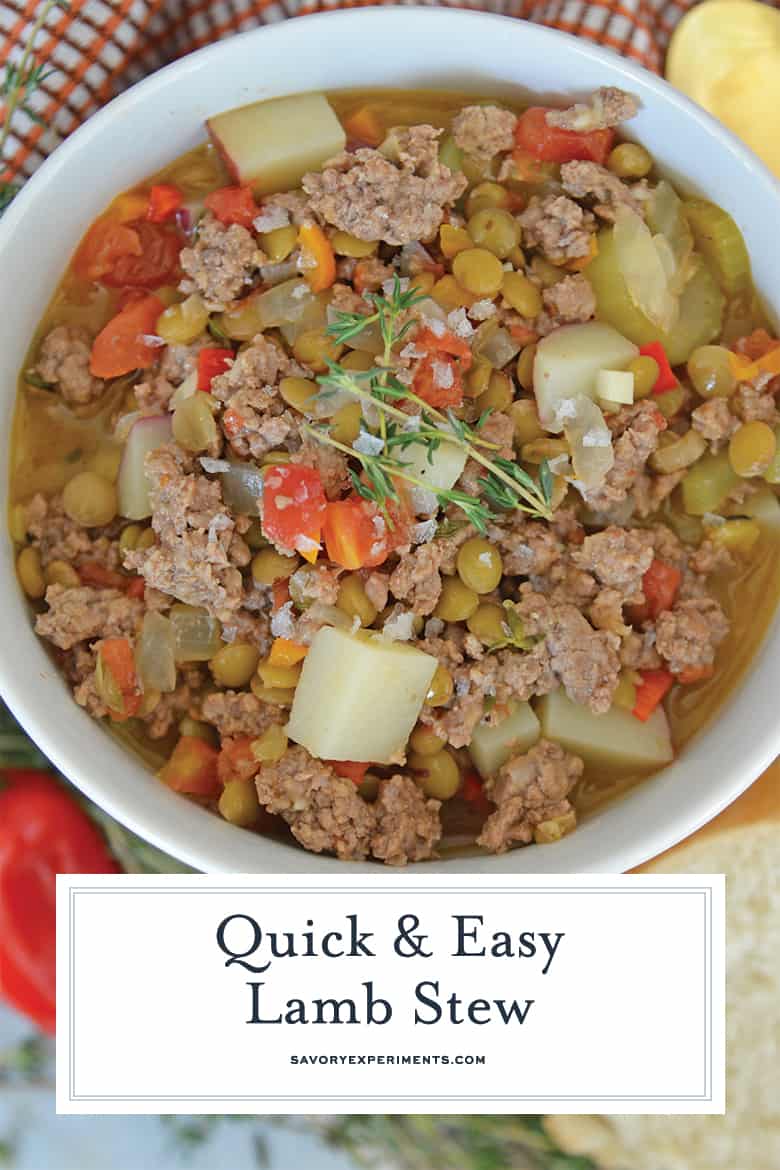 Also check out our fill collection of lentil recipes!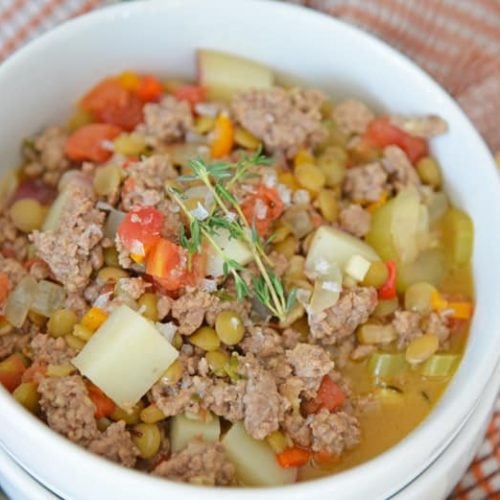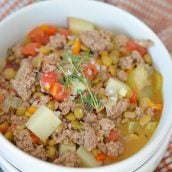 Easy Lamb Stew
Lamb Stew using ground lamb is made in just 30 minutes! Flavorful broth, crispy veggies and lentils make this fall stew recipe an easy weeknight meal.Lamb Stew using ground lamb is made in just 30 minutes! Flavorful broth, crispy veggies and lentils make this fall stew recipe an easy weeknight meal.
Instructions
Heat 1 tablespoon olive oil over medium in a large Dutch oven or pot.

When hot, add ground lamb, breaking up while cooking, approximately 5-7 minutes. When lamb is cooked, remove to a paper towel lined plate.

Without cleaning out the pot, add yellow onion, garlic and cubed potato. Cook for 3-4 minutes, or until onions start to soften.

Add chicken broth, lentils, thyme, Kosher salt, ground black pepper and bay leaf. Bring to a low simmer.

Simmer for 10-12 minutes, or until lentils are soft.

Add minced bell pepper, celery, tomatoes (and juices) and ground lamb.

Continue to simmer for an additional 3-4 minutes.

Stir in Parmesan cheese until melted.

Directly before serving, stir in white wine or lemon juice.

Ladle into serving dishes and serve.

If you've tried this recipe, come back and let us know how it was!
Nutrition
Calories:
322
kcal
,
Carbohydrates:
23
g
,
Protein:
19
g
,
Fat:
18
g
,
Saturated Fat:
7
g
,
Cholesterol:
45
mg
,
Sodium:
1064
mg
,
Potassium:
601
mg
,
Fiber:
9
g
,
Sugar:
5
g
,
Vitamin A:
567
IU
,
Vitamin C:
13
mg
,
Calcium:
112
mg
,
Iron:
4
mg
This ground lamb was provided by Farmer's Mark, the leader of high-quality American lamb. Farmer's Mark offers a range of humanely and sustainably raised premium cuts.
They partner with farmers across the U.S. who raise their lamb naturally, kindly, and sustainably.
Make sure to follow them and get even more recipes on Facebook.