Whether you use them to top a soup, as croutons for a salad or just for snacking, this Cajun Oyster Crackers recipe is EASY to make! Only 3 ingredients!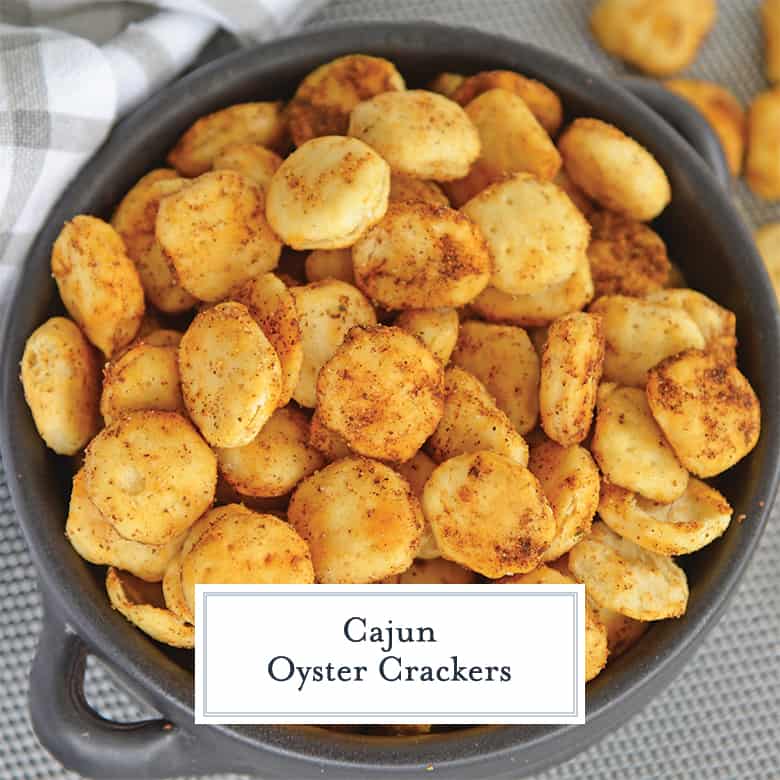 I don't know about you, but I am definitely partial to oyster crackers. Their shape and size make them perfect for topping soups and chili recipes, but also just for snacking!
I don't particularly like crunching up regular saltine crackers for soup, because they tend to get soggy quickly. But with oyster crackers, they hold their shape and texture a little better, adding a nice crunch to whatever you add them to!
If you've seen my Dill Oyster Cracker recipe or Ranch Oyster Crackers, then you know how easy it is to go through an entire batch of these easy Cajun Oyster Crackers just by snacking on them! If I were you, I would make a double batch!
The best part? You won't believe how easy they are to make! You can have these crackers ready in only about three easy steps.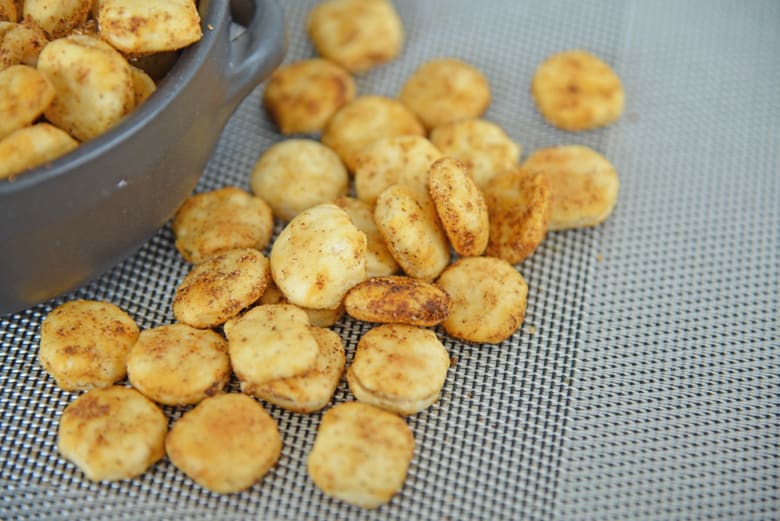 Ingredients
Butter – I use unsalted butter because the crackers themselves are usually salted. However, you could use olive oil, canola oil or vegetable oil if you prefer.
Cajun seasoning – You can find this at seasoning blend at the grocery store already made up, or you can make your own. It is a blend of garlic powder, onion powder, dried oregano, black pepper, smoked paprika, kosher salt and cayenne pepper.
Oyster crackers – You can't make these seasoned crackers without, well, the crackers! The best oyster crackers that I've found to use have been the Westminster brand. You can also use Premium.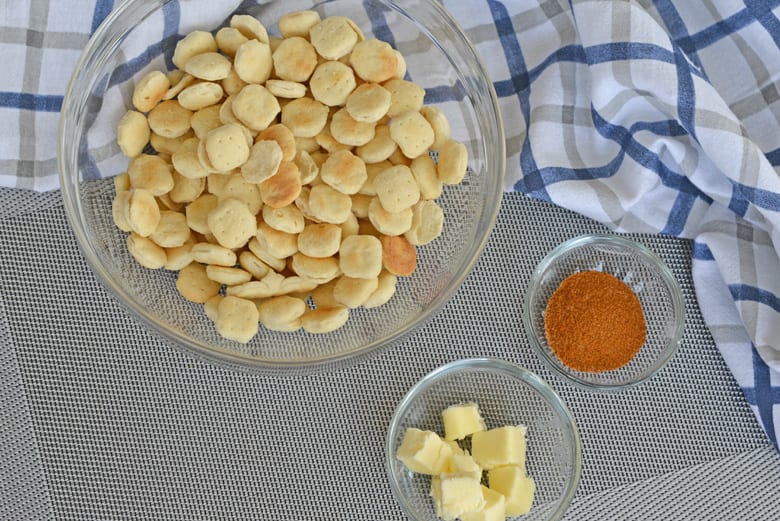 How to Make Cajun Oyster Crackers
Start by preheating your oven to 300 degrees. While the oven is preheating, toss the oyster crackers with the melted butter in a large mixing bowl.
Next, sprinkle on the cajun seasoning. Make sure all of the crackers are coated evenly. Stirring gently can help with this.
Then simply place the coated crackers on a rimmed baking sheet. Bake for 5 minutes, flip the crackers over and bake for another 5 minutes.
And there you have it! An easy snack that tastes great! Be sure to store them in an airtight container (once they've cooled) if you aren't going to use them right away.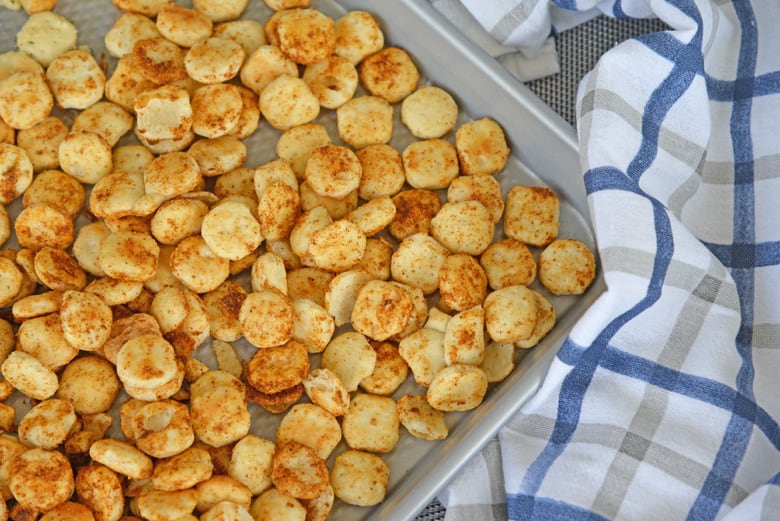 Variations
These are plenty of ways to make this crunchy snack your own. Here are a few suggestions to take these Cajun oyster crackers to the next level:
Make them spicy – To take these snack crackers up a notch, try adding some red pepper flakes to up the spice level.
Spicy ranch oyster crackers – You can add some dry ranch dressing mix into the mix to make spicy ranch crackers. Make your own ranch seasoning or buy it at the store.
Taco crackers – Instead of cajun seasoning, you could add taco seasoning or fajita seasoning for a whole new great flavor.
Chex mix – You can use this same seasoning blend and add it to chex mix. It makes a great snack for game day, road trips or adding to a cup of clam chowder.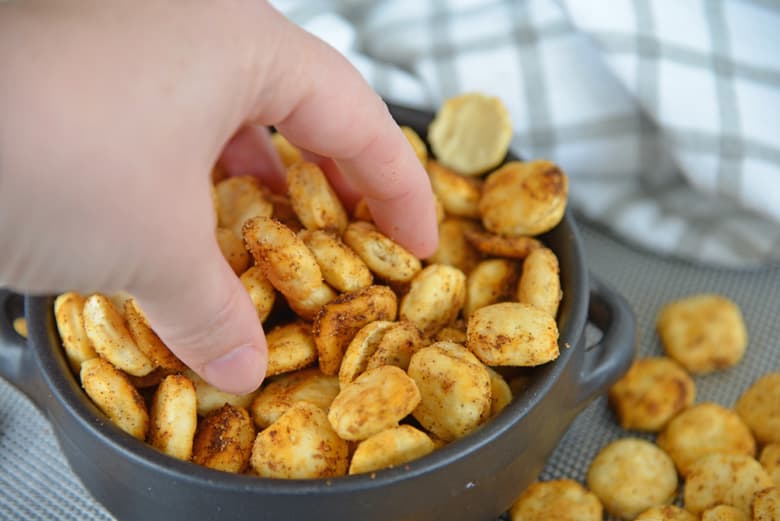 Cajun Oyster Crackers Uses
You can put these crackers on anything you like! Of course they always taste great on top of soup and chili recipes like these:
These are also great as croutons on salad! Here are some salads they would taste great on:
You can even used crumbled seasoned oyster crackers as breadcrumbs for meatballs or crab cakes or the crunchy topping on casseroles!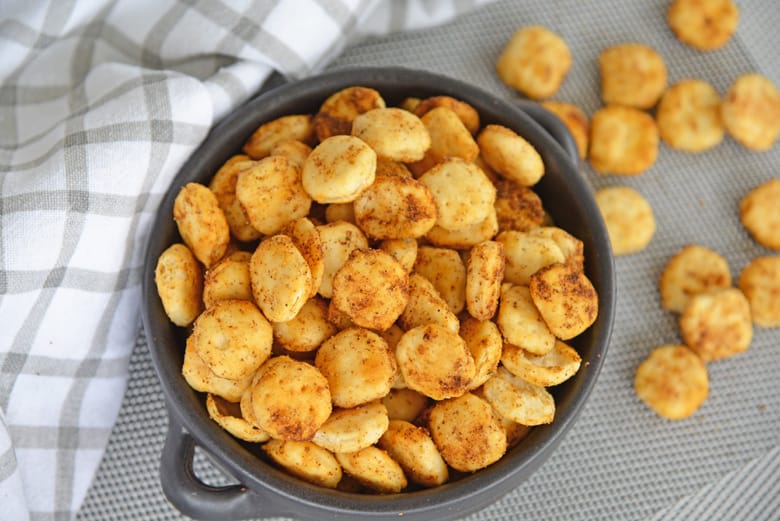 Storage and Freezing
Storage: Be sure to store them in an airtight container (once they've cooled) if you aren't going to use them right away. They will last for up to three months.
Freezing: I do not suggest freezing these crackers. Ice crystals may form on the crackers causing them to be soggy once thawed.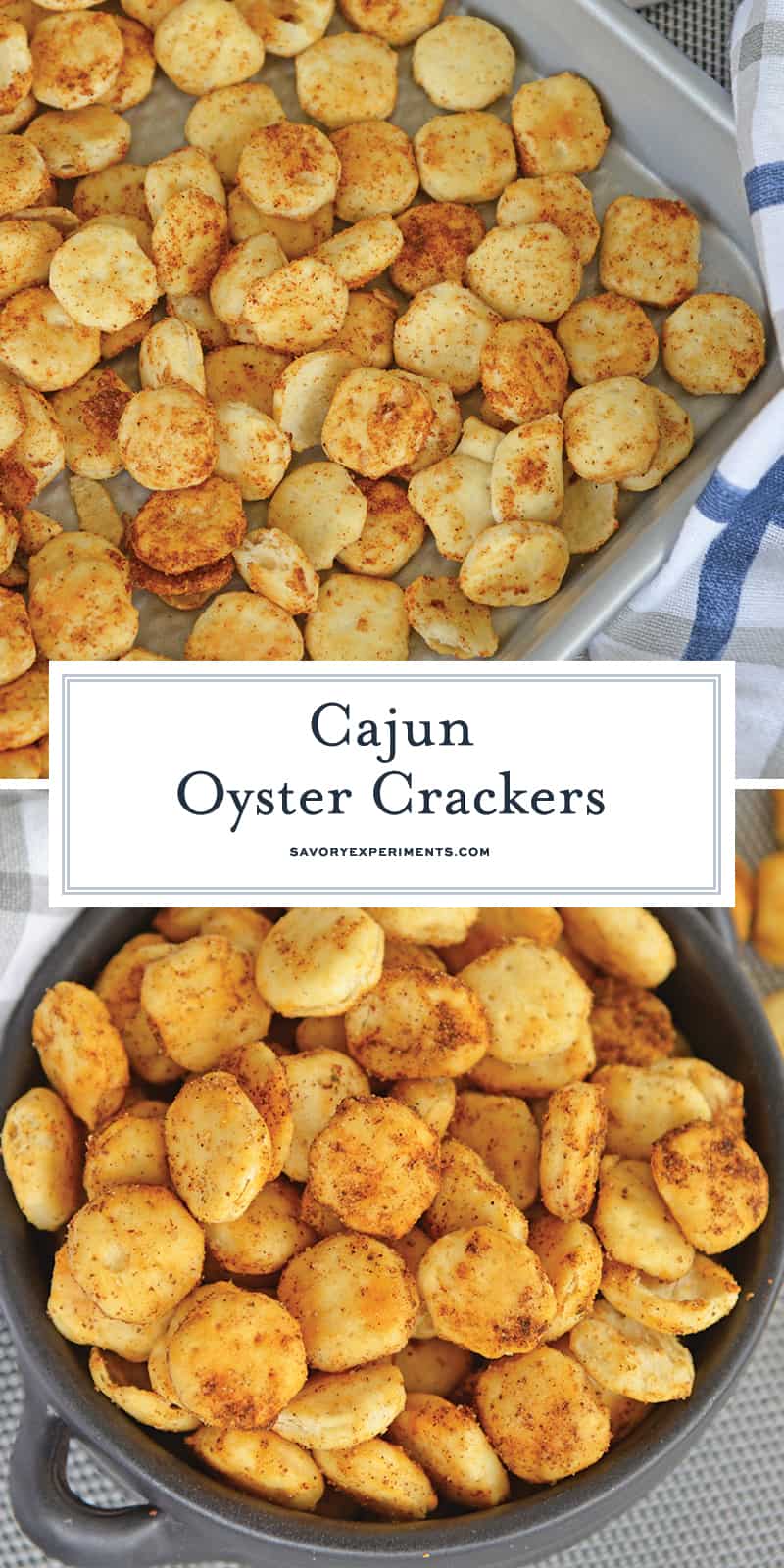 More Easy Snack Recipes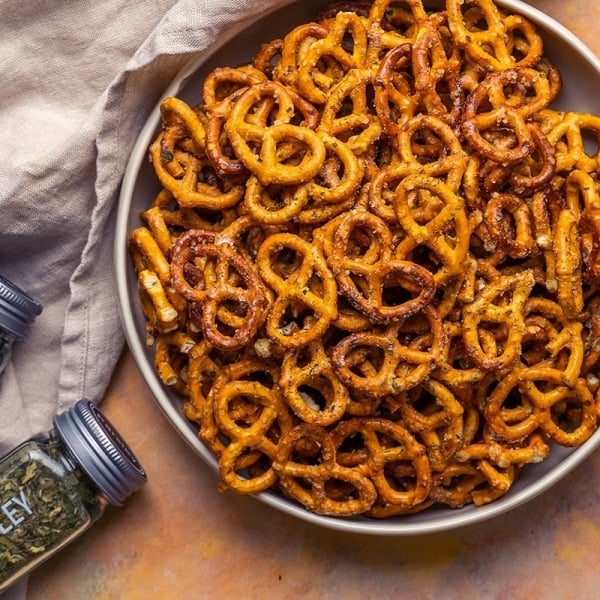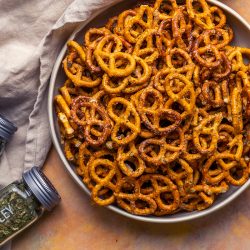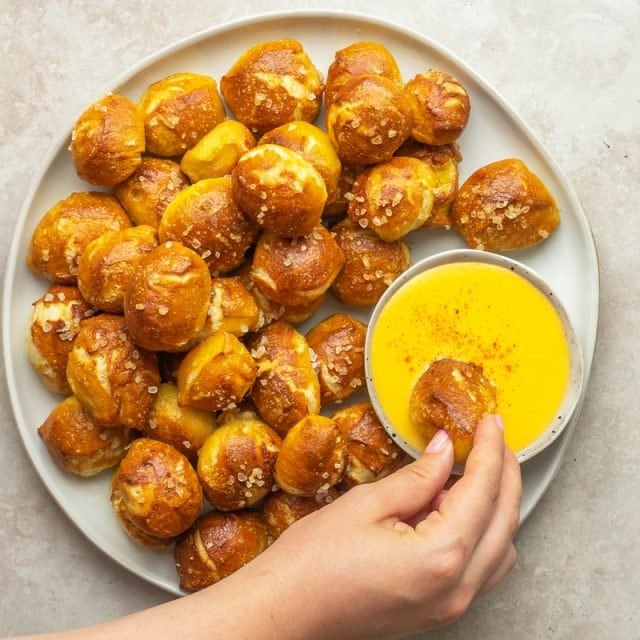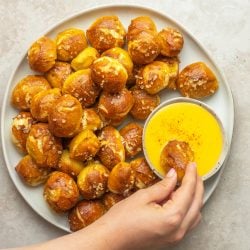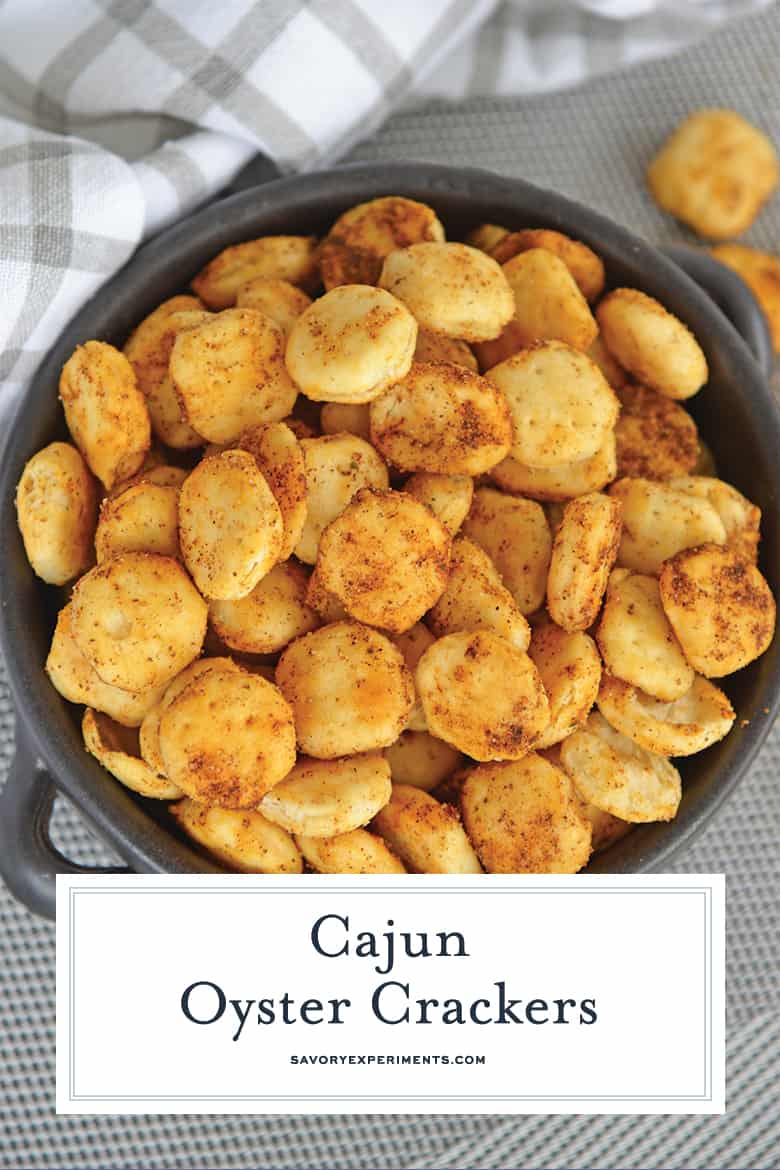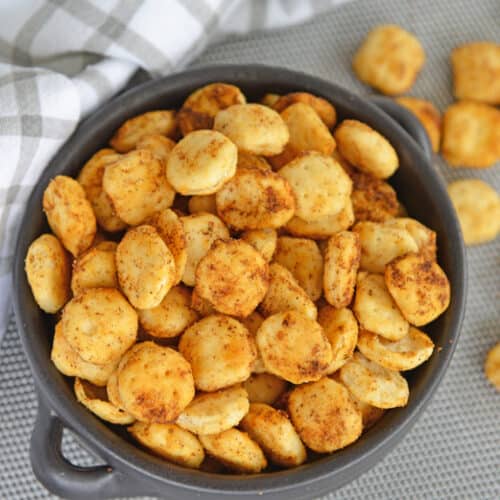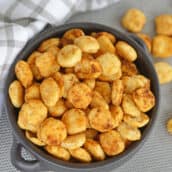 Cajun Oyster Crackers
Need an easy snack or a delicious way to add crunch to a soup or salad? These easy Cajun Oyster Crackers are the answer!
Instructions
Preheat oven to 300 degrees.

In a large mixing bowl, toss oyster crackers with melted butter.

Sprinkle Cajun seasoning evenly over the crackers and stir to coat.

Place onto a rimmed baking sheet.

Bake for 5 minutes, turning oyster crackers and cooking for another 5 minutes.

Remove and allow to cool. Store crackers in an airtight plastic bag or bowl at room temperature.
Notes
If your oyster crackers are unsalted, add ½ teaspoon fine sea salt. Or it can be omitted if you are cutting own on your salt intake.
Nutrition
Calories:
214
kcal
,
Carbohydrates:
32
g
,
Protein:
4
g
,
Fat:
8
g
,
Saturated Fat:
3
g
,
Cholesterol:
10
mg
,
Sodium:
435
mg
,
Potassium:
83
mg
,
Fiber:
1
g
,
Sugar:
1
g
,
Vitamin A:
445
IU
,
Calcium:
9
mg
,
Iron:
2
mg