Voodoo Shrimp Creole is a spicy cajun shrimp dish that is perfect for dinner or celebrating Mardi Gras and Fat Tuesday!

Voodoo Shrimp Creole is a tomato-based dish using shrimp and beer to make a sweet and spicy broth. Serve over rice or grits for a full meal.
The family visited Cape May last summer and oddly enough, we had some of the best French Creole food we'd ever had on the New Jersey seaside. I can't even remember what I had, although I remember it being good, but hubby, he had VooDoo Shrimp.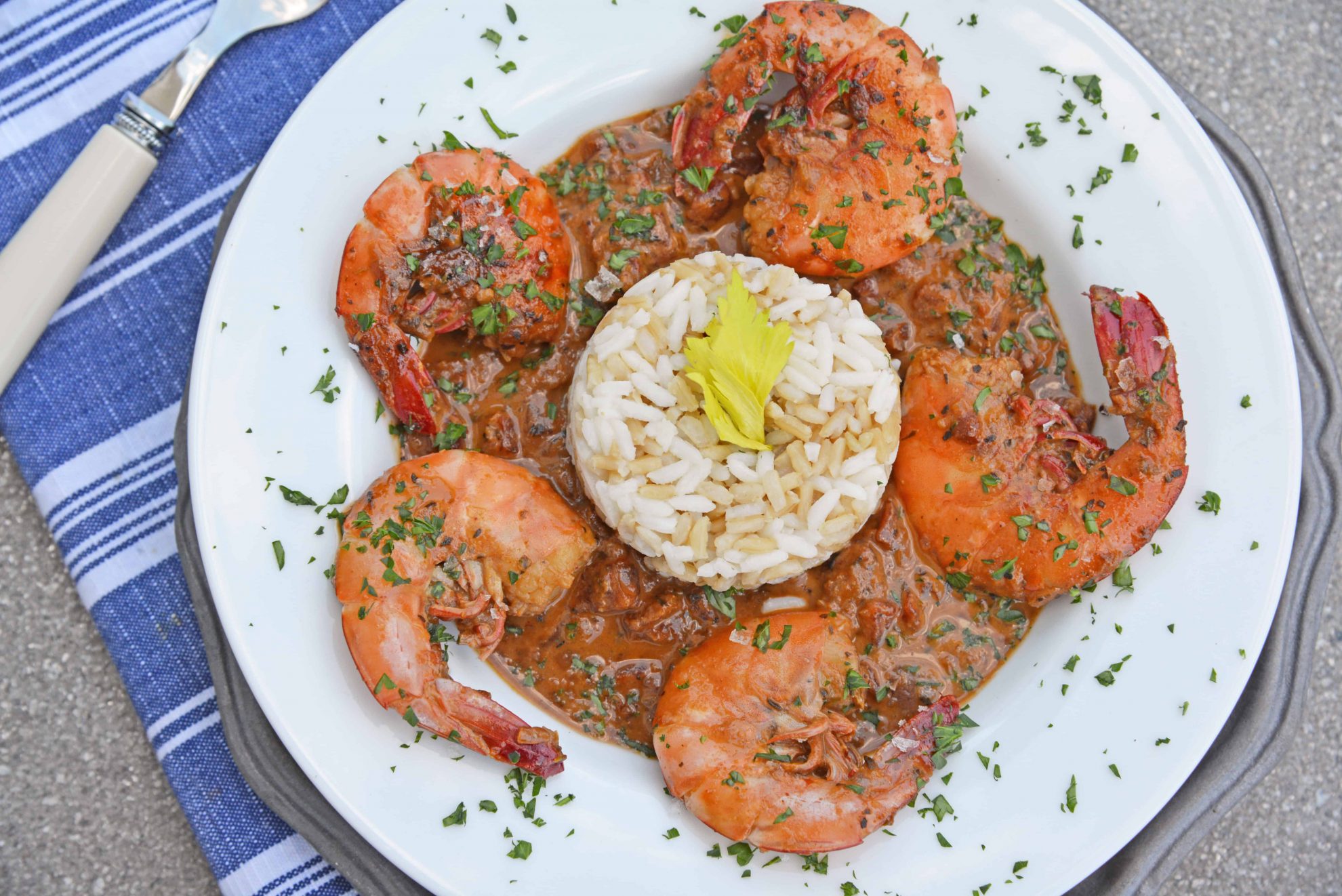 Neither of us had enjoyed VooDoo Shrimp before. Creole Shrimp, yes, VooDoo Shrimp, nope. So of course I set out to make a homemade version so we could enjoy it all the time! It has since morphed into a combination of VooDoo Shrimp and Shrimp Creole.
Shrimp Creole is a shrimp dish based in a tomato sauce using the trinity of creole. It is spiced with cayenne pepper or other hot peppers and generally served over white rice.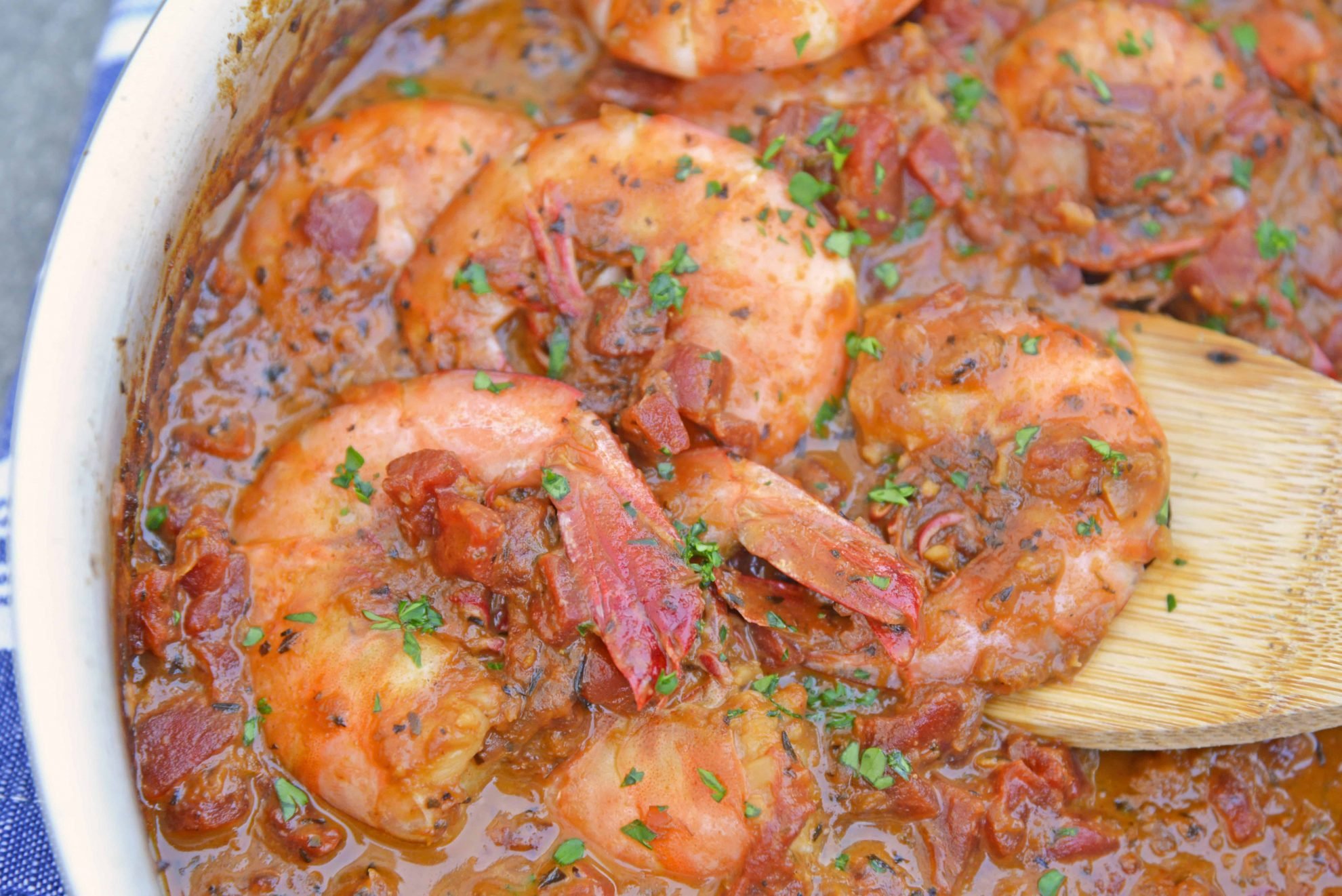 What is the holy trinity of creole and cajun cooking? It is onions, bell pepper, celery and very commonly garlic (I know, that is four, not three). These ingredients are sauteed together until it nearly forms a flavor-packed paste.
VooDoo Shrimp is also a spicy tomato based dish, but has the element of alcohol in the sauce. Some use beer and others Southern Comfort, a fruity whiskey. It doesn't use the trinity of creole and in fact has the element of cream and a little bit of sweet from molasses-y brown sugar.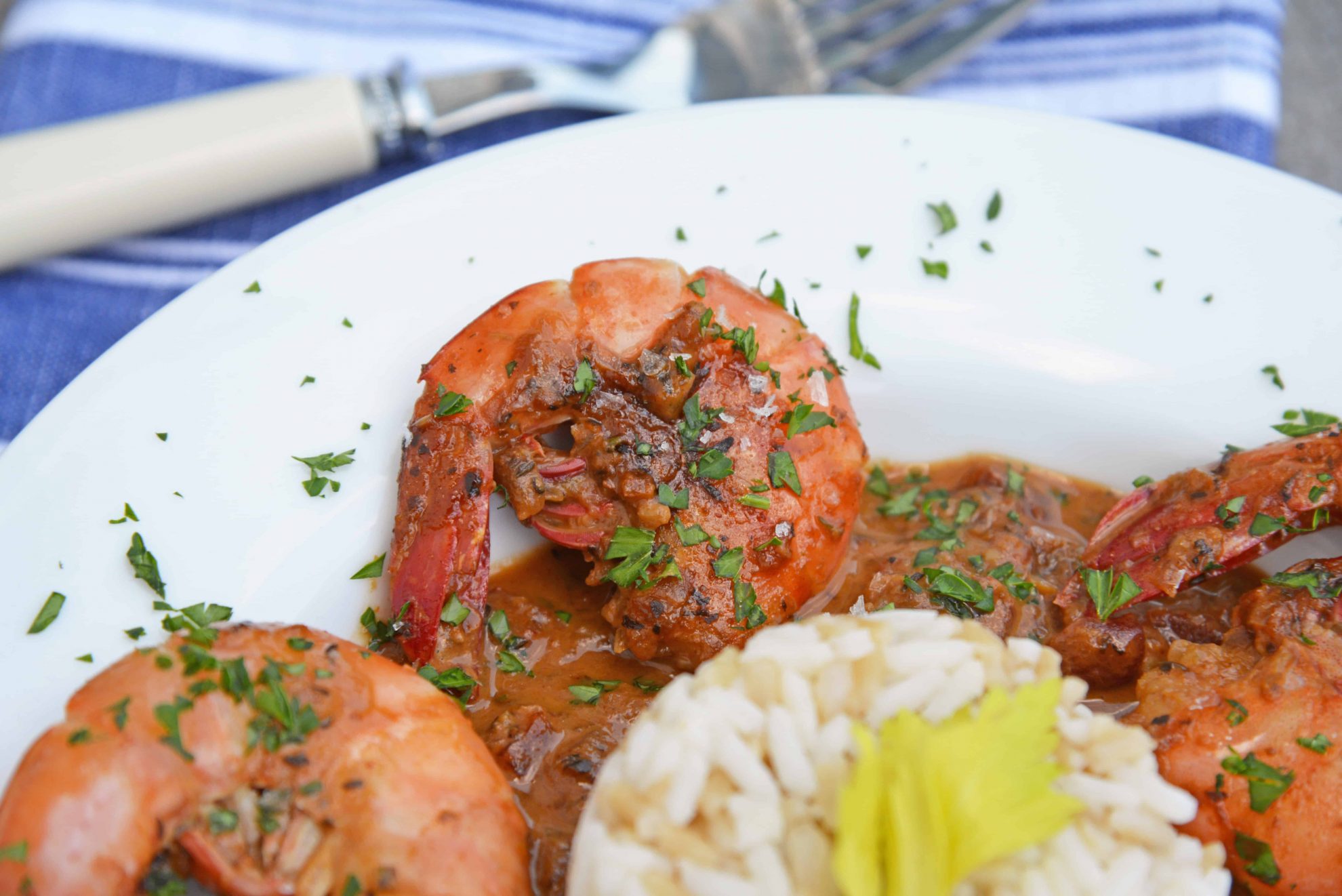 This recipe is the perfect marriage of both recipes! Voodoo Shrimp Creole can be served over rice or grits, it is up to you.
I also made my own Cajun seasoning. While the ingredient list seems lengthy, they are all spices you already have in the pantry. I also find store bought Cajun mixes are too salty.
The prefered hot sauce preference in the south is Crystal brand, not Texas Pete or Franks, but feel free to use any one you like. Tabasco even works.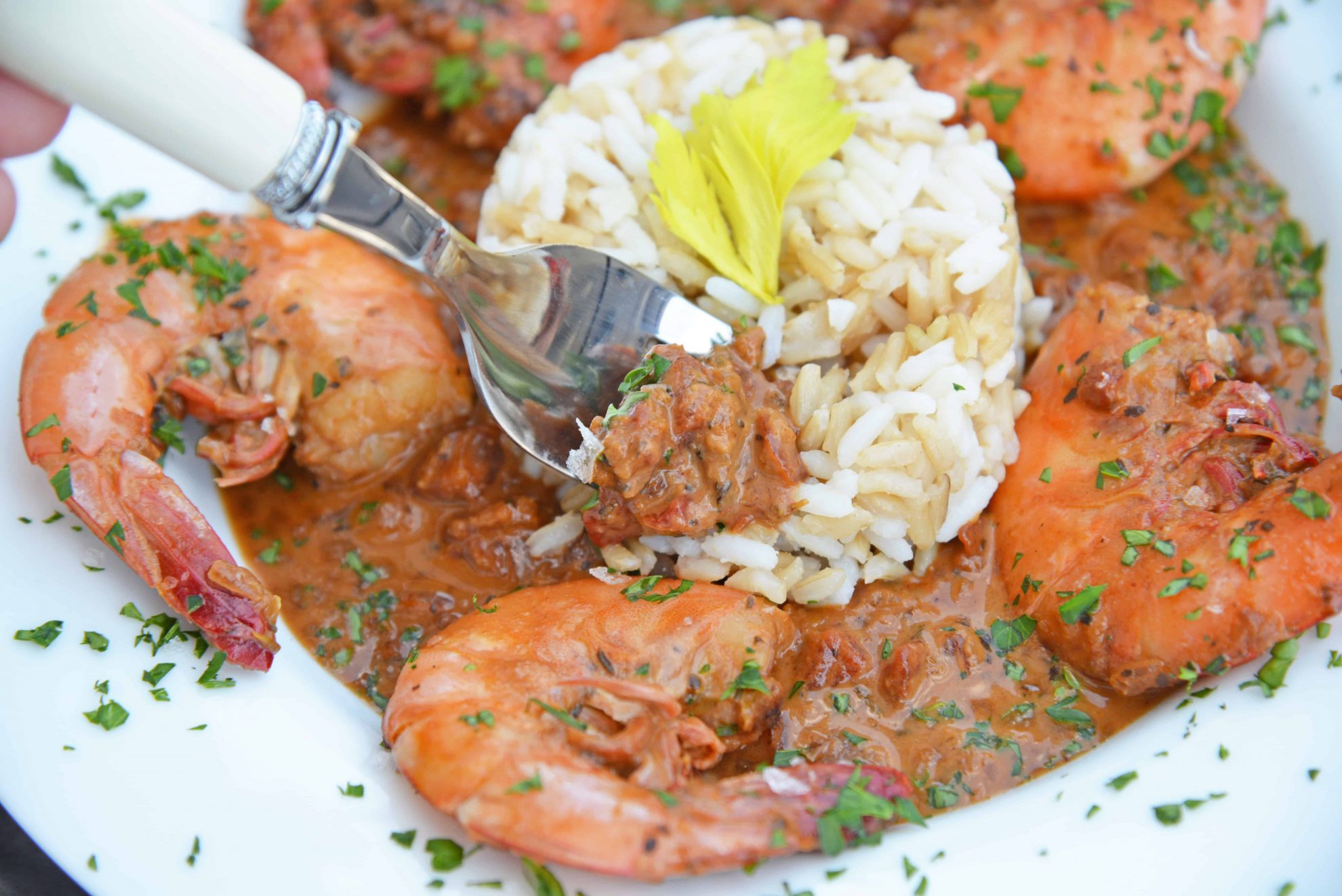 You can use any dark beer you'd like. I used Guiness on this batch and while it added a ton of flavor, but also made my sauce bitter. In order to balance this, I had to add more brown sugar to balance the acidity and heat. The recipe calls for 1-4 tablespoons of brown sugar, which will largely depend on the type of beer you use. Add 1 tablespoons, allow it to cook a little, then taste your sauce and gauge if you need more or not.
If shrimp isn't your thing, add other types of seafood or even chicken. I actually added some leftover langostinos to this batch after taking these photos.
I like to garnish my Voodoo Shrimp Creole with chives, scallions or celery leaves, but these are optional and don't add much to the flavor or sophistication of the dish since the sauce it already on flavor overload.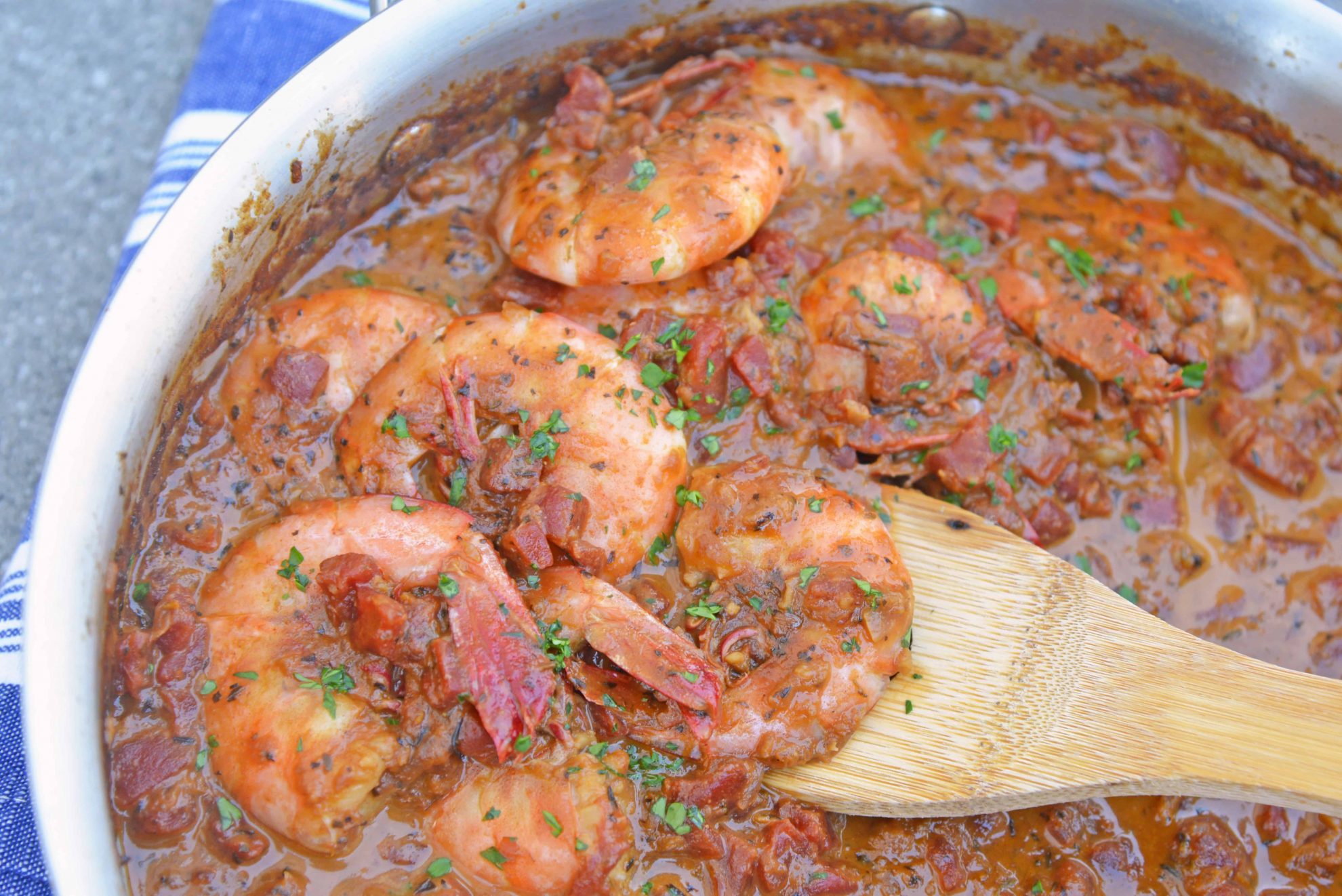 Since making this dish, I've been told over and over that the House of Blues serves a Voodoo Shrimp, but I've never had it and I have no clue how this one compares. So do me a favor, if you have had it and you make my version, leave a comment to let others know how it rates since I can't comment on that aspect. Thank you, foodie friends!
If you need more Creole Inspired Dishes for Mardi Gras, here are a few:
Cajun Oyster Crackers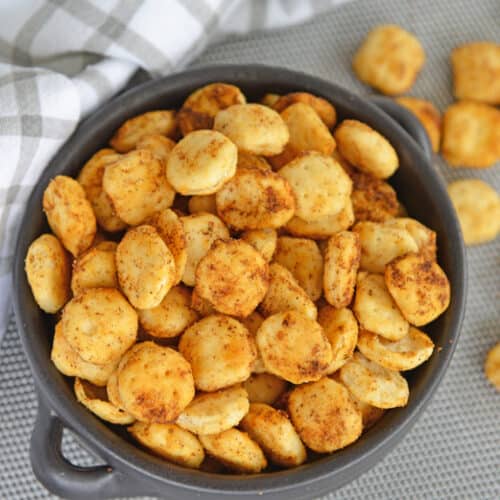 Need an easy snack or a delicious way to add crunch to a soup or salad? These easy Cajun Oyster Crackers are the answer!
Red Beans and Rice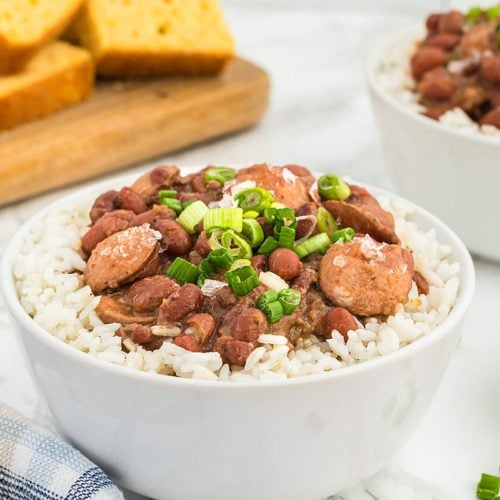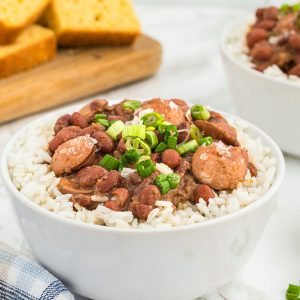 The BEST Red Beans and Rice with Sausage Recipe with authentic creole instructions and ingredients. Smokey and delicious- the ultimate comfort food.
Cajun Jambalaya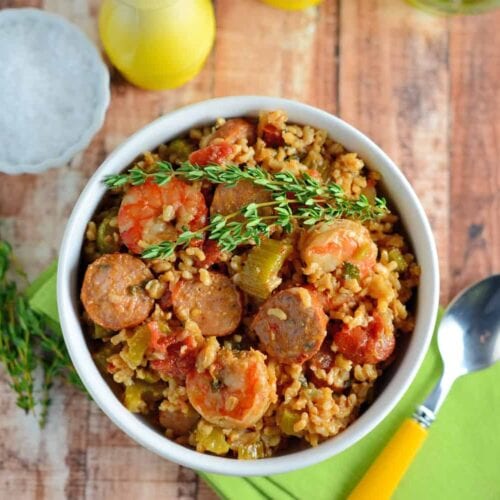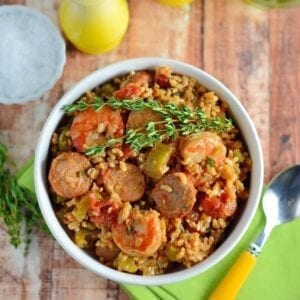 This Cajun Jambalaya is a mouthwatering recipe that can be ready in less than an hour. Andouille turkey sausage and shrimp give this recipe so much flavor!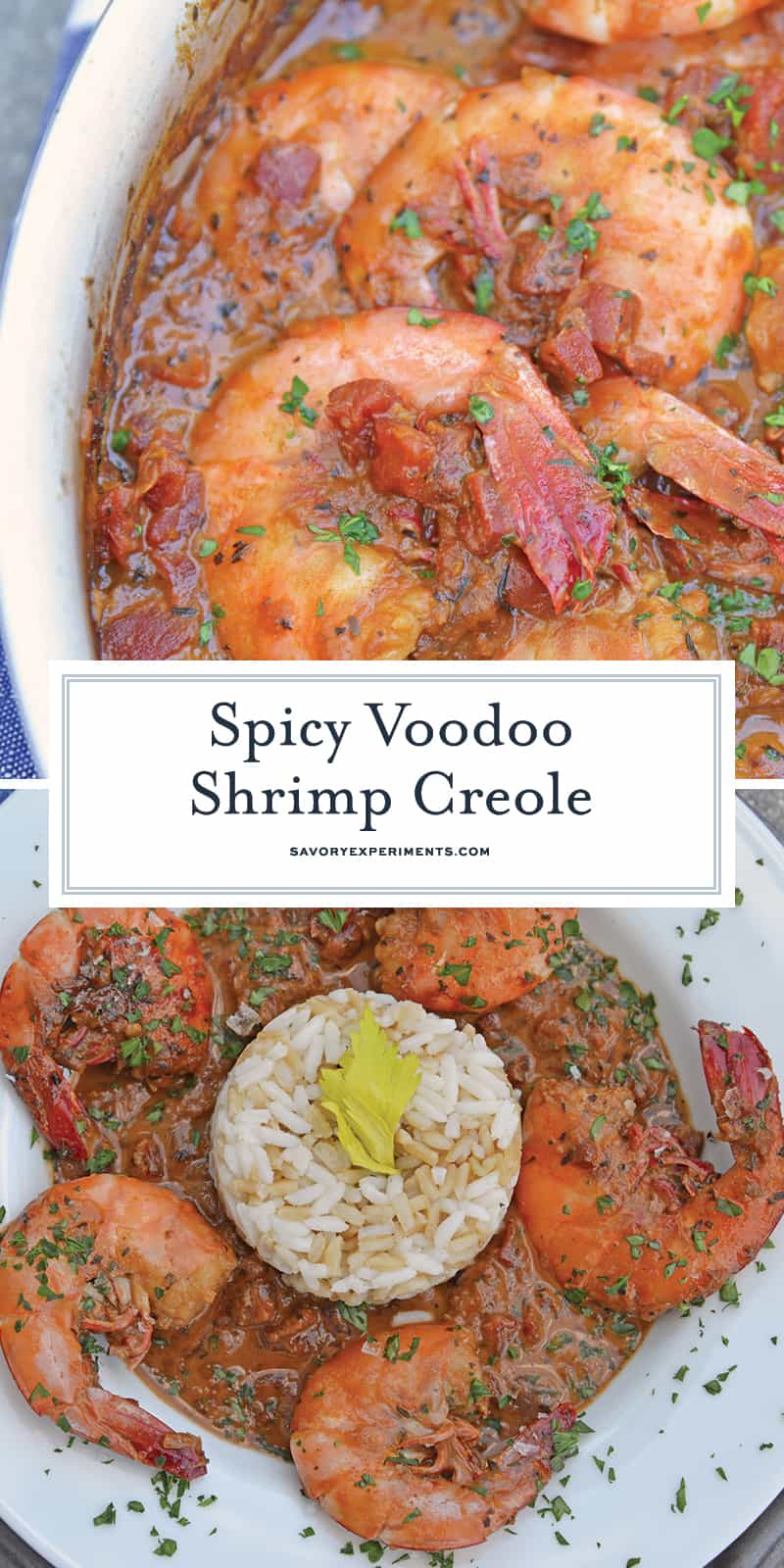 ---
Get our FREE 8 Day E-Course on How to Be a Better Home Cook. Sign up HERE!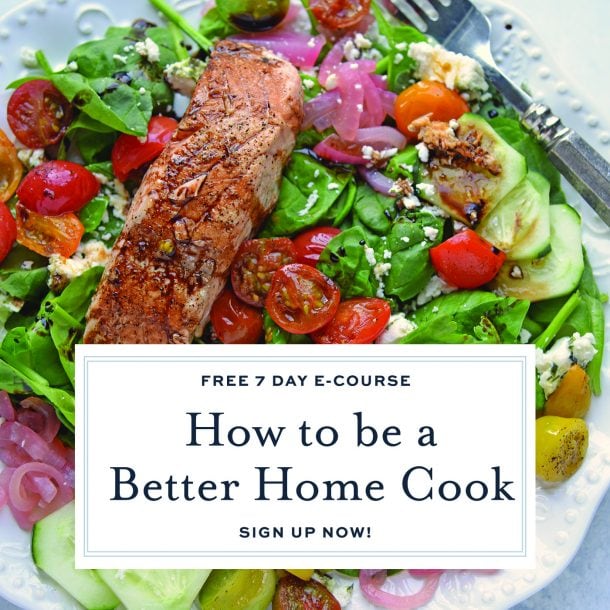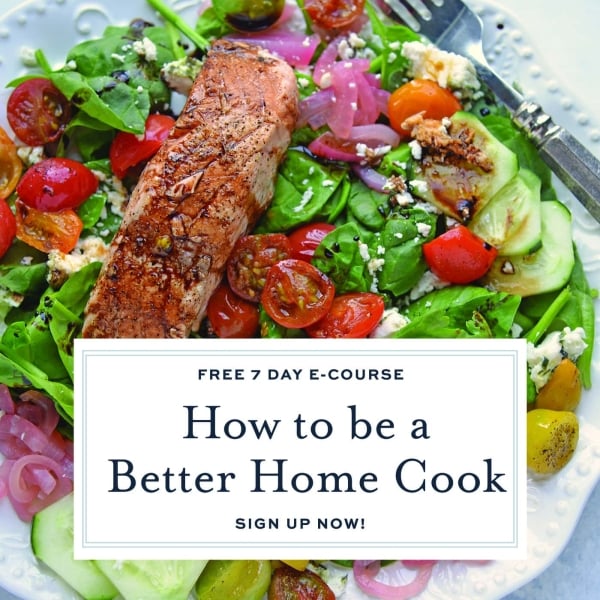 CONNECT WITH SAVORY EXPERIMENTS!

Be sure to follow me on social media, so you never miss a post!

Facebook | Twitter | Youtube 
 Pinterest | Instagram 
---
Voodoo Shrimp Creole
Voodoo Shrimp Creole is a tomato-based dish using shrimp and beer to make a sweet and spicy broth. Serve over rice or grits for a full meal.
Instructions
In a small bowl, combine paprika, Kosher salt, garlic powder, white pepper, onion powder, cayenne pepper, oregano, thyme and basil. Set aside.

Heat butter over medium heat in a large skillet.

Add white onion and garlic. Saute for 2-3 minutes, or until it starts to resemble and paste or mush.

Add dry spice mixture, blending together until fragrant, about 2 minutes.

Deglaze pan with dark beer, scraping the browned bits from the bottom of the pan. Bring to a low simmer.

Add broth, hot sauce, Worcestershire sauce, lemon juice, brown sugar, bay leaves and tomatoes. Simmer on medium-low heat for 10 minutes, or until sauce has reduced by half.

Remove bay leaves.

Add raw shrimp, cooking until they curl and turn pink, approximately 4 minutes.

Stir in heavy cream over low heat until fully incorporated.

Dive into 4 servings, each with 1 cup cooked rice. Garnish with celery leaves.

If you've tried this recipe, come back and let is know how it was!
Notes
*The amount of brown sugar added will depend on the bitterness of your beer. I used a pretty bitter, hoppy beer and therefore needed all four tablespoons. Start with one and add more at the end, if needed. 
Nutrition
Calories:
1032
kcal
|
Carbohydrates:
170
g
|
Protein:
40
g
|
Fat:
17
g
|
Saturated Fat:
9
g
|
Cholesterol:
334
mg
|
Sodium:
1990
mg
|
Potassium:
775
mg
|
Fiber:
6
g
|
Sugar:
10
g
|
Vitamin A:
1585
IU
|
Vitamin C:
22.3
mg
|
Calcium:
309
mg
|
Iron:
6.6
mg