Happy Mardi Gras! No carnival celebration is complete without a big bowl of New Orleans Gumbo and a colorful King Cake!

What is a King Cake?
King Cake is a traditional Mardi Gras sweet bread that symbolizes a crown, specifically one that the three kings who visited Christ on the day of his birth wore. Sparkling sugar colors represent purple for justice, green for faith and gold for power and prosperity.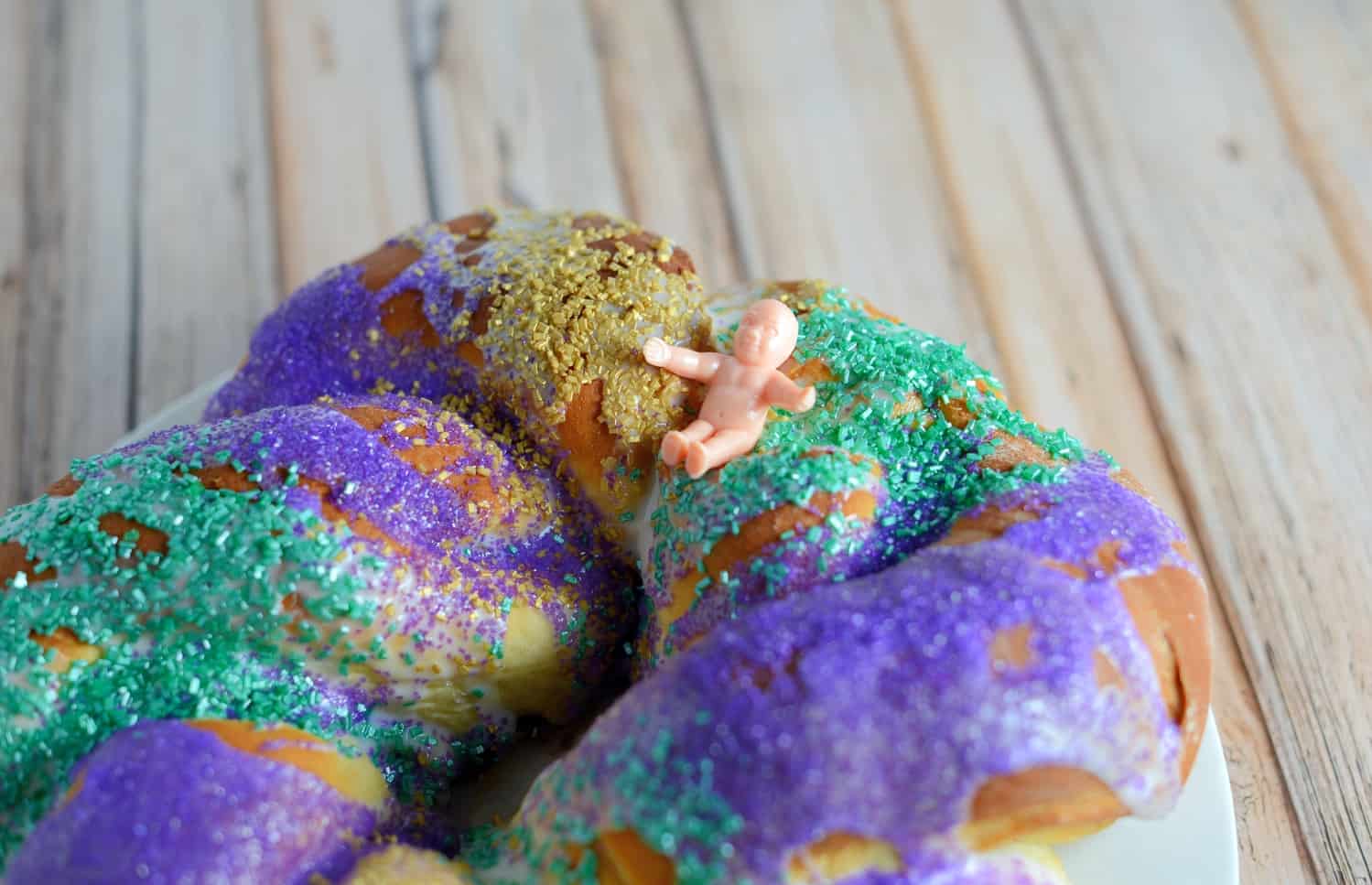 A tiny plastic baby
, baby Jesus, is inserted into each cake after baking. The individual who gets the slice with the baby will have good fortune for the upcoming year. They are also obliged to host the next year's King Cake party or buy the next cake.
However, if you are slicing and happen to slice that poor little plastic baby, you will have bad luck for the upcoming year. If we are being honest, no one actually bakes the baby in anymore- they are a chiking hazard.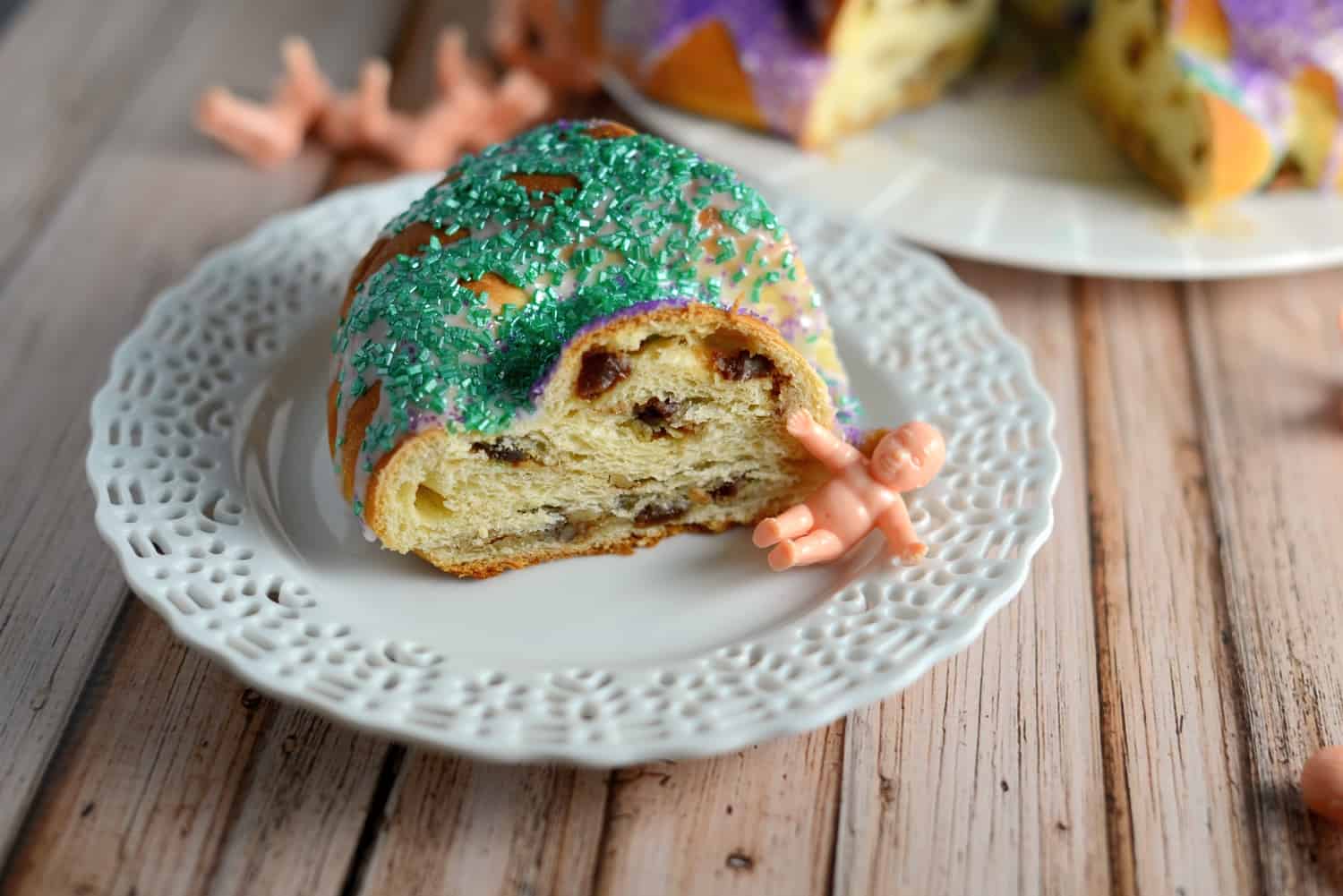 What Does King Cake Taste Like?
King Cake is called "cake" but is more of a cross between a Danish pastry and French brioche. They are typically only made during the time of Mardi Gras, which starts over a month before the actual week of festivities. Bakeries around town make their own rendition of the cakes and range from spongy to nutty and everything between.
Some are traditional, others aren't. Antoine's Bakery is wildly popular, but makes them in many shapes and sizes. While any local will tell you that Dong Phuong is absolutely the best. There are plenty available for tourists throughout the city and even at the airport out-of-season.

King Cake Fillings
The sweet and buttery bread can be stuffed with so many different things. My favorite is probably cream cheese, but each bakery makes a special filling every year. Other varieties include:
Pecan and praline
Caramel
Raspberry creme
Chocolate
Fruits and jams
Bavarian cream
My version is stuffed with a raisin, brown sugar and pecan filling and then topped with a powdered sugar glaze and bright sparkling sugar.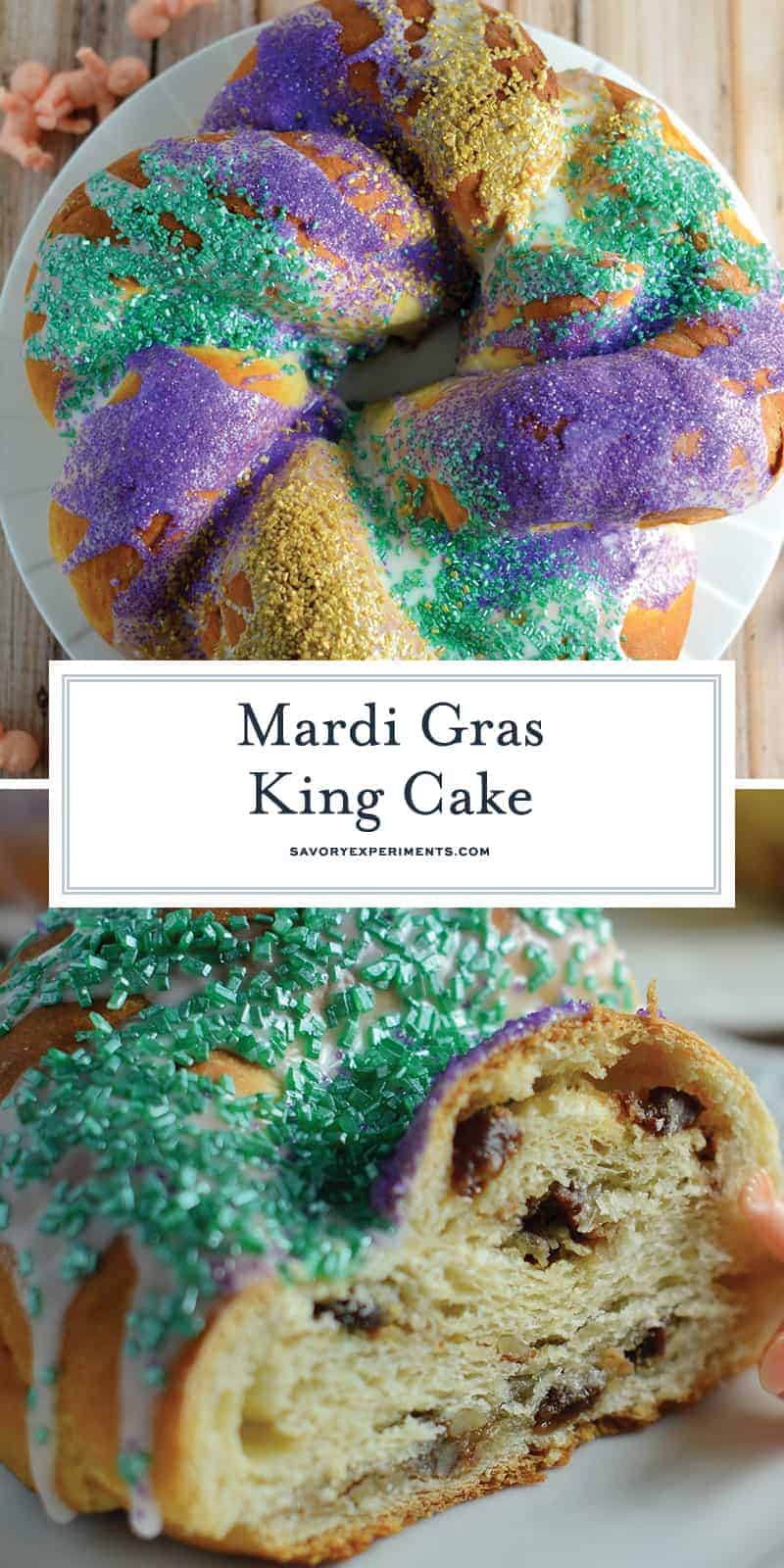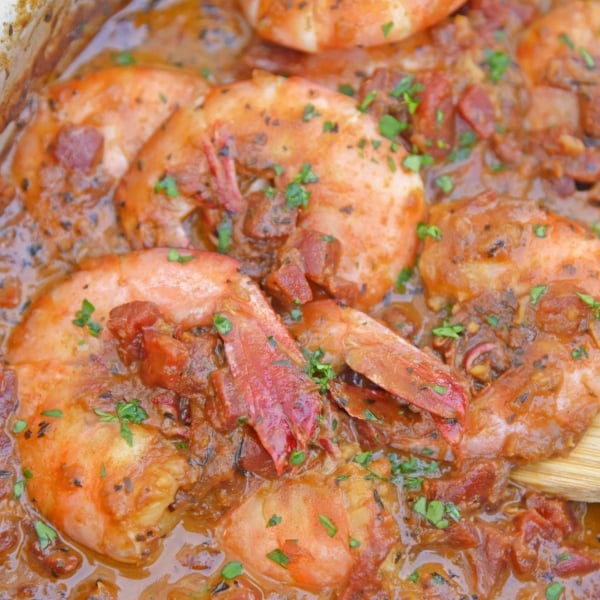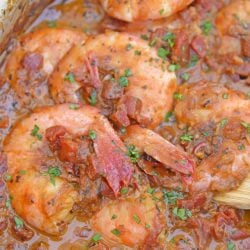 Voodoo Shrimp Creole
Voodoo Shrimp Creole is a tomato-based dish using shrimp and beer to make a sweet and spicy broth. Serve over rice or grits for a full meal.
View this recipe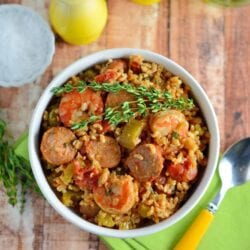 Cajun Jambalaya
This Cajun Jambalaya is a mouthwatering recipe that can be ready in less than an hour. Andouille turkey sausage and shrimp give this recipe so much flavor!
View this recipe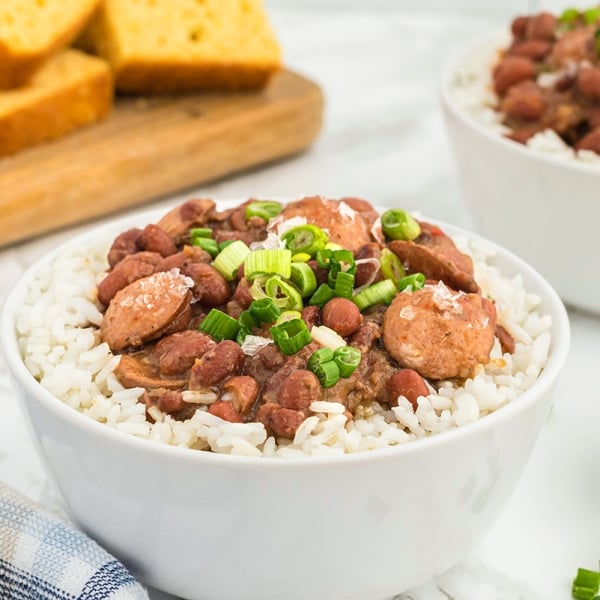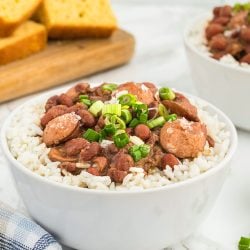 Red Beans and Rice Recipe
The BEST Red Beans and Rice with Sausage Recipe with authentic creole instructions and ingredients. Smokey and delicious- the ultimate comfort food.
View this recipe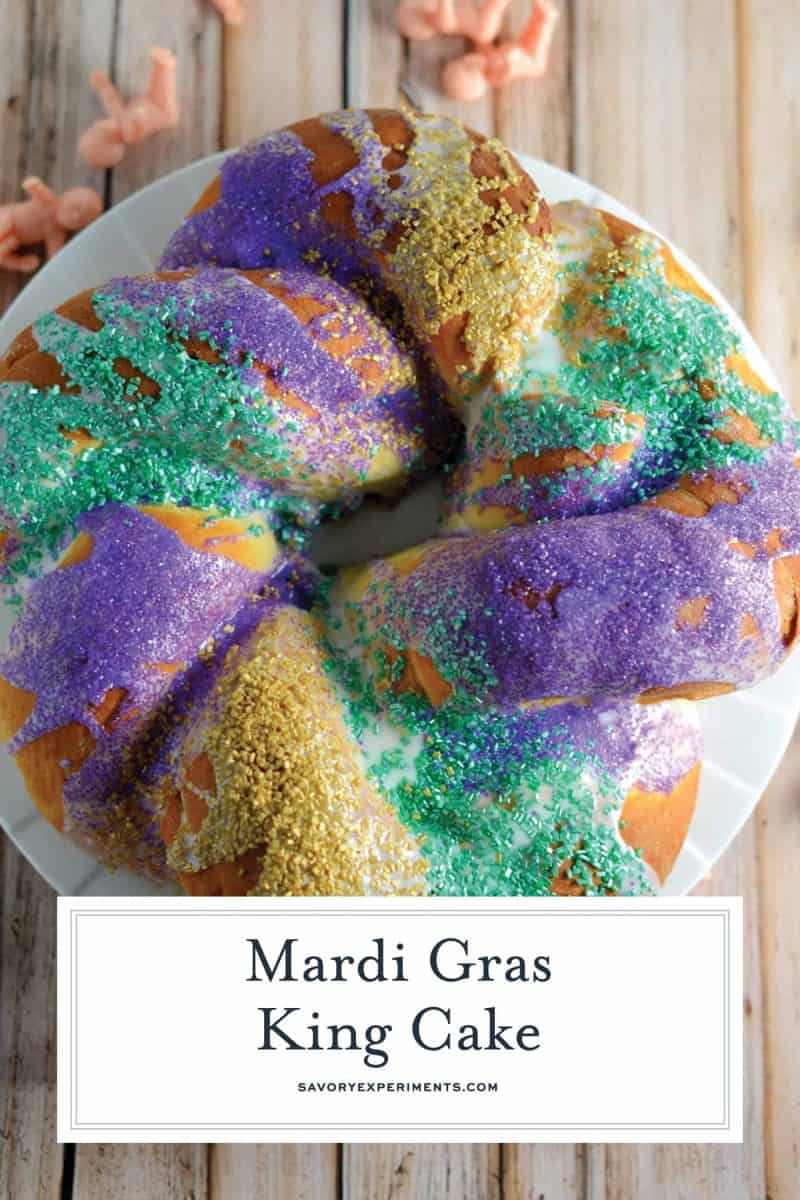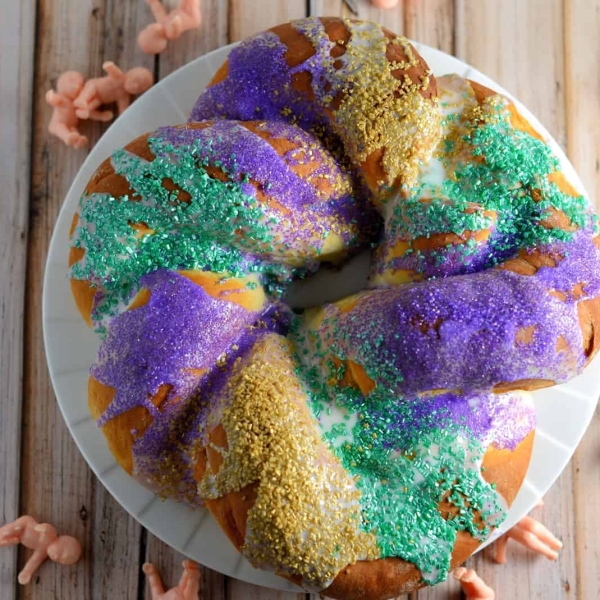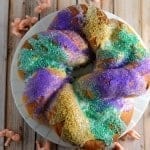 Mardi Gras King Cake Recipe
Mardi Gras King Cake Recipe – A giant sweet roll stuffed with brown sugar, raisins and pecans and decorated with icing and purple, green and gold sparkling sugar. Perfect for breakfast or dessert during carnival or on Fat Tuesday!
Ingredients
Cake:
1/2

cup

scalded milk

2

tablespoons

butter

, melted

1

package active dry yeast

1/3

cup

warm water

, no hotter than 110 degrees

1

cup

plus 1 tablespoon sugar

, divided

1

egg

, room temperature

3/4

teaspoon

fine sea salt salt

1/4

teaspoon

ground nutmeg

2 3/4

cups

flour
Glaze:
4

cups

powdered sugar

3-4

tablespoons

milk

Purple, Gold and Green Sparkling Sugar

1

Plastic Baby
Instructions
In a large mixing bowl or bowl of a stand mixer fitted with a which attachment, combine 1 package of dry active yeast, 1 tablespoon of sugar and warm water. Take care that water is not too hot or it will kill the yeast and prevent it from blooming. Allow to set until frothy and fragrant, approximately 10-15 minutes.

Whisk in scalded milk, melted butter and egg. When combined add remaining sugar (1 cup), nutmeg and salt, whisk again.

Change attachment to the bread hook (or beaters). Combine flour into wet mixture 1/2 cup at a time. Dough should start to pull away from the sides, if not, add small (1-2 teaspoons) of flour until it does.

Knead dough on low-medium speed (or with your hands on a floured surface) for 10 minutes.

Lightly grease a large mixing bowl, turning dough over once to evenly oil and prevent from drying. Dampen a tea towel, cover and set in a draft free place. Allow to rise until doubled in size, approximately 2 hours.

Meanwhile, in a small bowl, combine all filling ingredients and toss until uniformly damp from melted butter.

Turn dough on a lightly floured surface and using a rolling pin, create a rectangle about 18×8 inches. Cut in half length wise with a knife.

Spread filling mixture evenly over both sections of dough, leaving a 1/2 inch at each edge.

Roll, lengthwise and jelly roll style, into a rope. Carefully, twist together the two ropes and form into a circle, pinch the two ends together to make a wreath.

Carefully transfer to a parchment paper lined baking sheet. Cover with damp tea towel and allow to rise for 45 minutes to 1 hour.

Preheat oven to 375 degrees. Bake, uncovered, for 30 minutes. King Cake should be lightly browned.

Remove and allow to cool fully. Whisk together glaze ingredients and drizzle over King Cake. Sprinkle alternating gold, purple and green sparkling sugar while glaze is still tacky.

You are ready to serve!

If you've tried this recipe, come back and let us know how it was!
Nutrition
Calories:
505
kcal
,
Carbohydrates:
90
g
,
Protein:
5
g
,
Fat:
14
g
,
Saturated Fat:
6
g
,
Cholesterol:
40
mg
,
Sodium:
250
mg
,
Potassium:
156
mg
,
Fiber:
2
g
,
Sugar:
58
g
,
Vitamin A:
335
IU
,
Vitamin C:
0.3
mg
,
Calcium:
52
mg
,
Iron:
2.1
mg