Known as a "Monday dish" red beans and rice is a simple, but super hearty Louisiana classic. Historically, it was a "hands-off" meal that was prepared on Mondays while the women of the household went off to do laundry and chores. It could be left on a burner to simmer without fear of ruining for hours.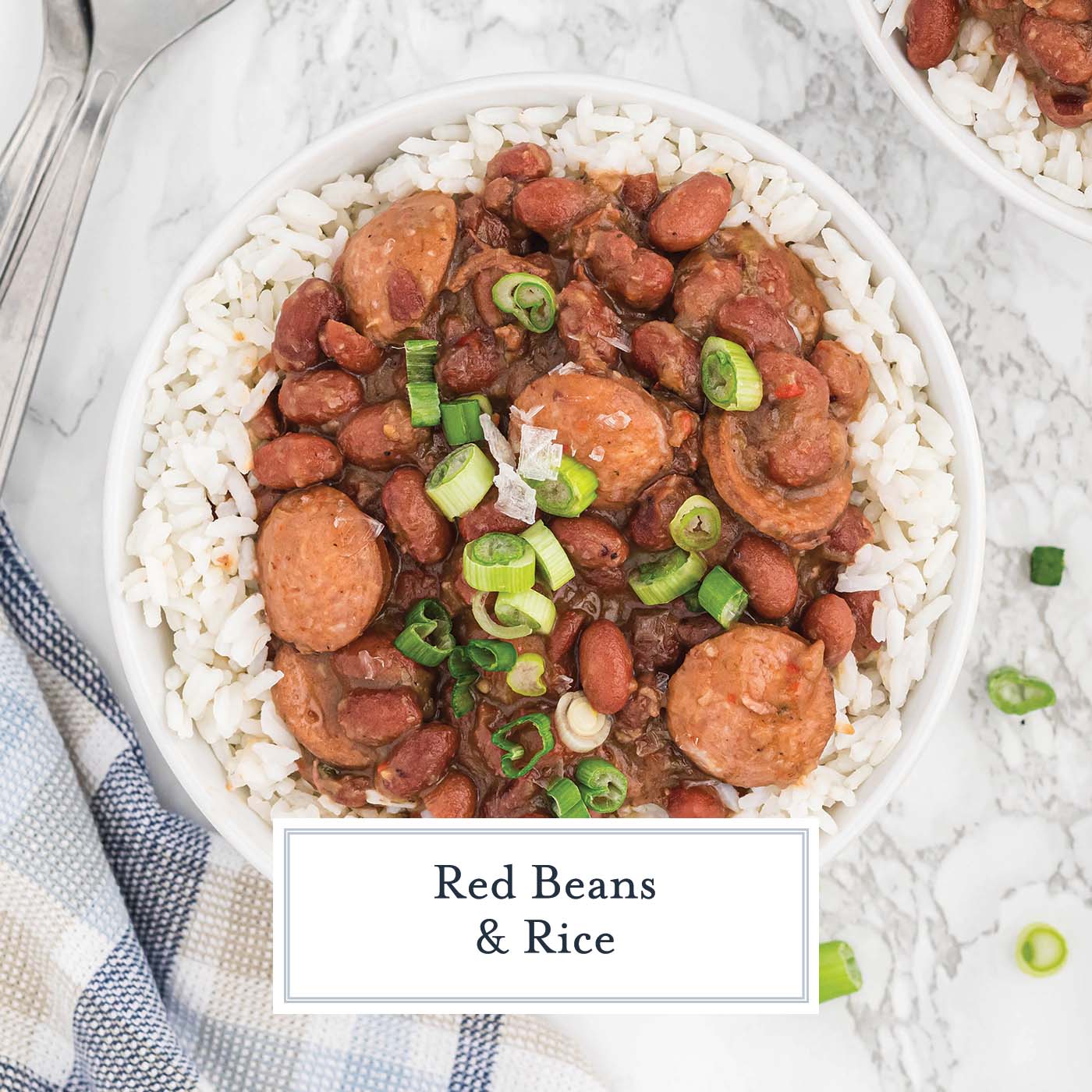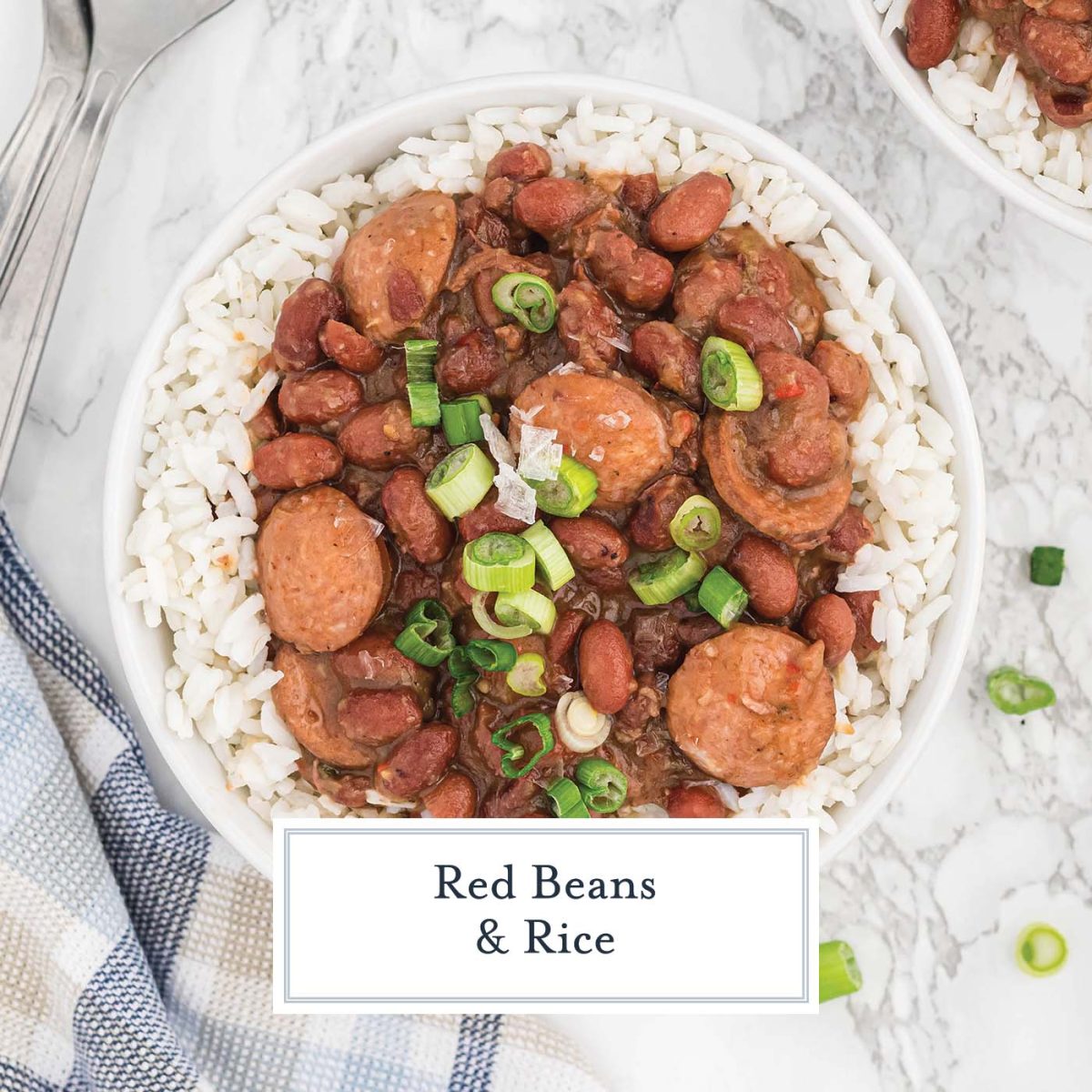 And all of those hours resulted in deep and richly developed flavors. Served over rice, it was a hearty meal perfect after a long day of work.
Mardi Gras
Mardi Gras, French for Fat Tuesday, is the final day of Carnival and falls the day before Ash Wednesday, the start of lent. In the US, Mardi Gras is the most heavily celebrated in New Orleans and commemorated with Cajun or Creole cuisine and King Cake! Two of the most popular dishes are Red Beans and Rice and Gumbo.
Which is funny, because down in New Orleans, red beans and rice is a layman's dish with no special attributes. It is made year round and rarely for special events.
Getting the Right Texture
Much like Italian style "red sauce", every family has their "special" preparation which is the "best". When not made for Mardi Gras, the traditional day of preparation for Red Beans and Rice is Monday, much like the Italian "Sunday sauce".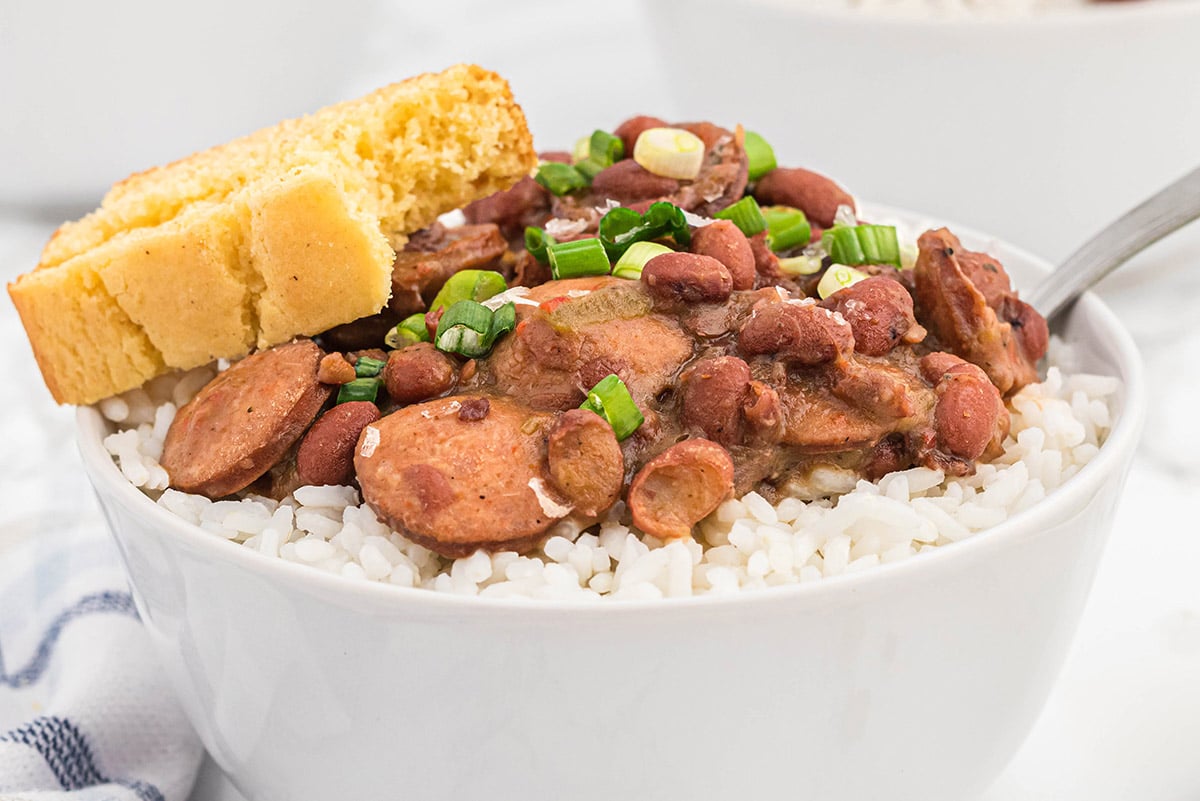 One characteristic that I look for in my red beans and rice is a rich and thick consistency, nearly pasty.
While gumbo uses a roux to accomplish this, red beans and rice utilizes the core of the dish, creamy red beans. Simmering the beans for a length time with make them tender enough for mashing to get the final and perfect density.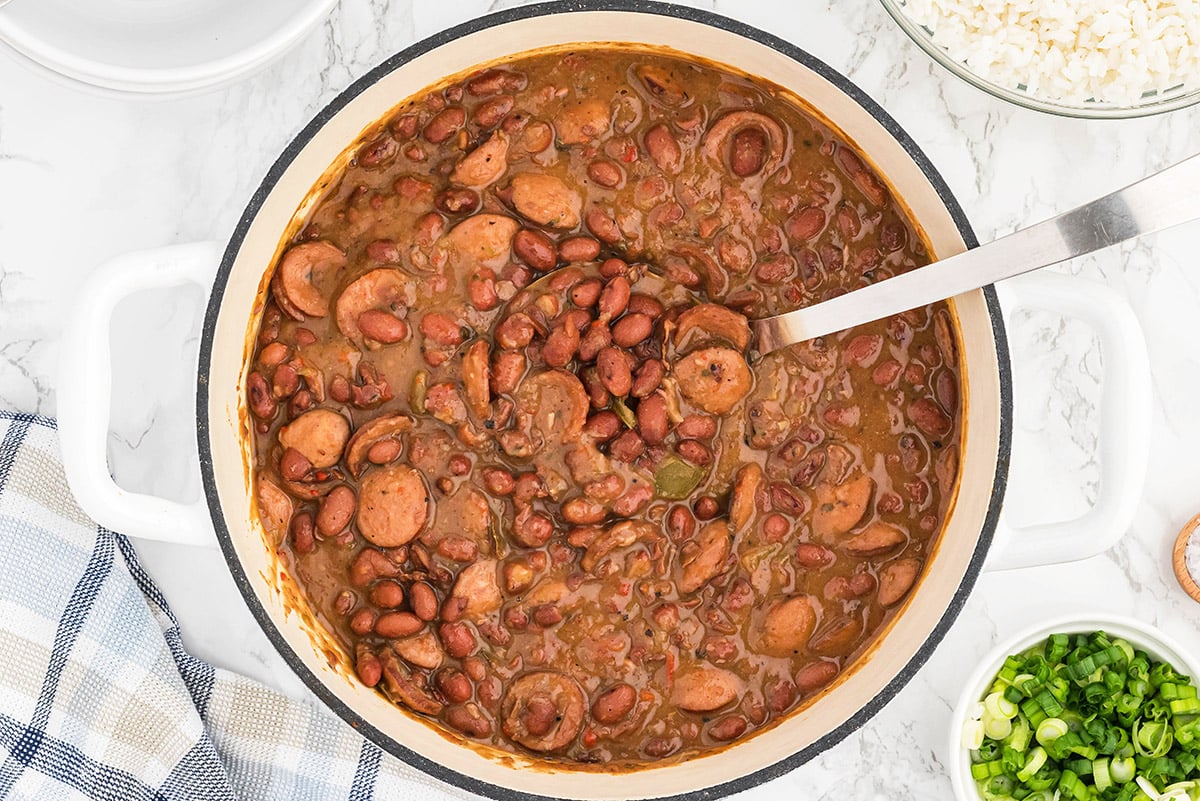 Most folks use the back of a spoon, but I find a few whirls with a potato masher
does the trick better. I've also seen such chefs use bacon drippings, ham hocks and tasso to season the dish.
If I have bacon grease on hand, I do use it, but otherwise I add crumbled bacon during the simmering process for the same effect. Does you use any family traditions or secrets to make your red beans and rice recipe? If so, I'd love to hear them in the comments!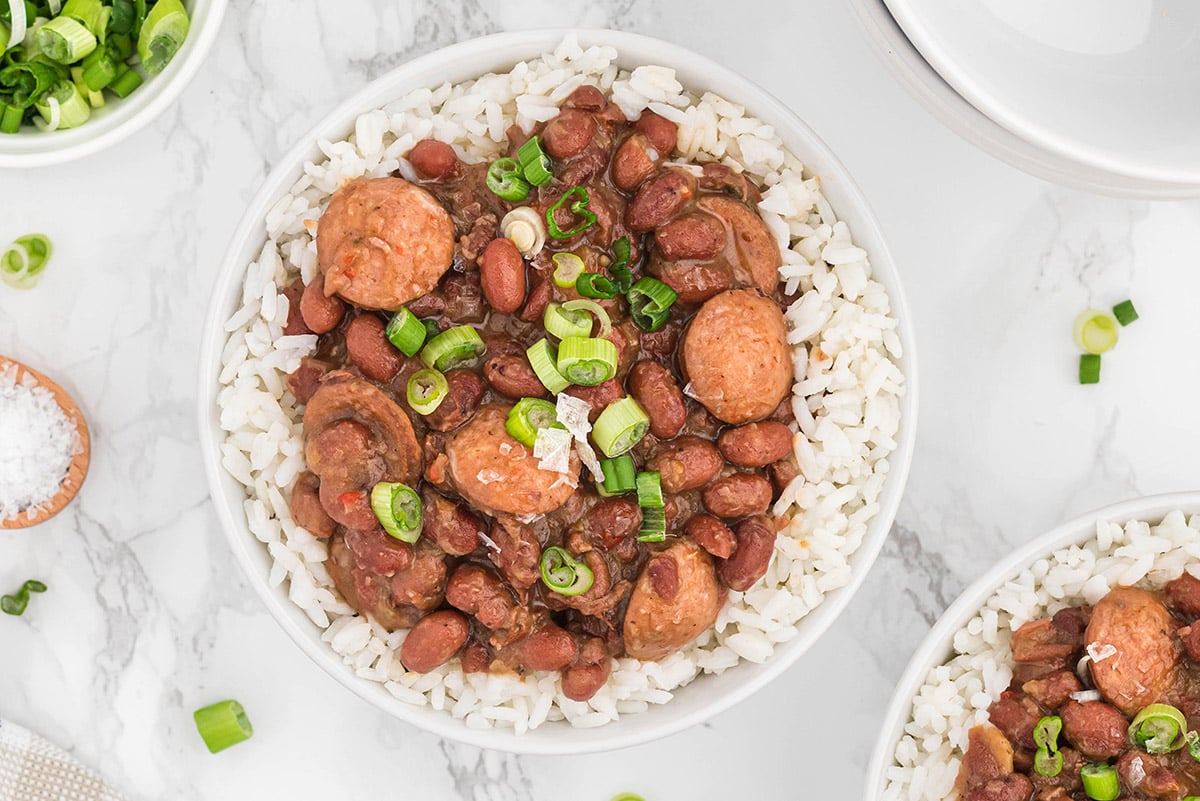 What You'll Need
I know, this ingredient list is lengthy, but I also promise you that most of them are simple ingredients and this is also a freezer friendly and make-ahead dish, so double the batch and have some leftover for next week.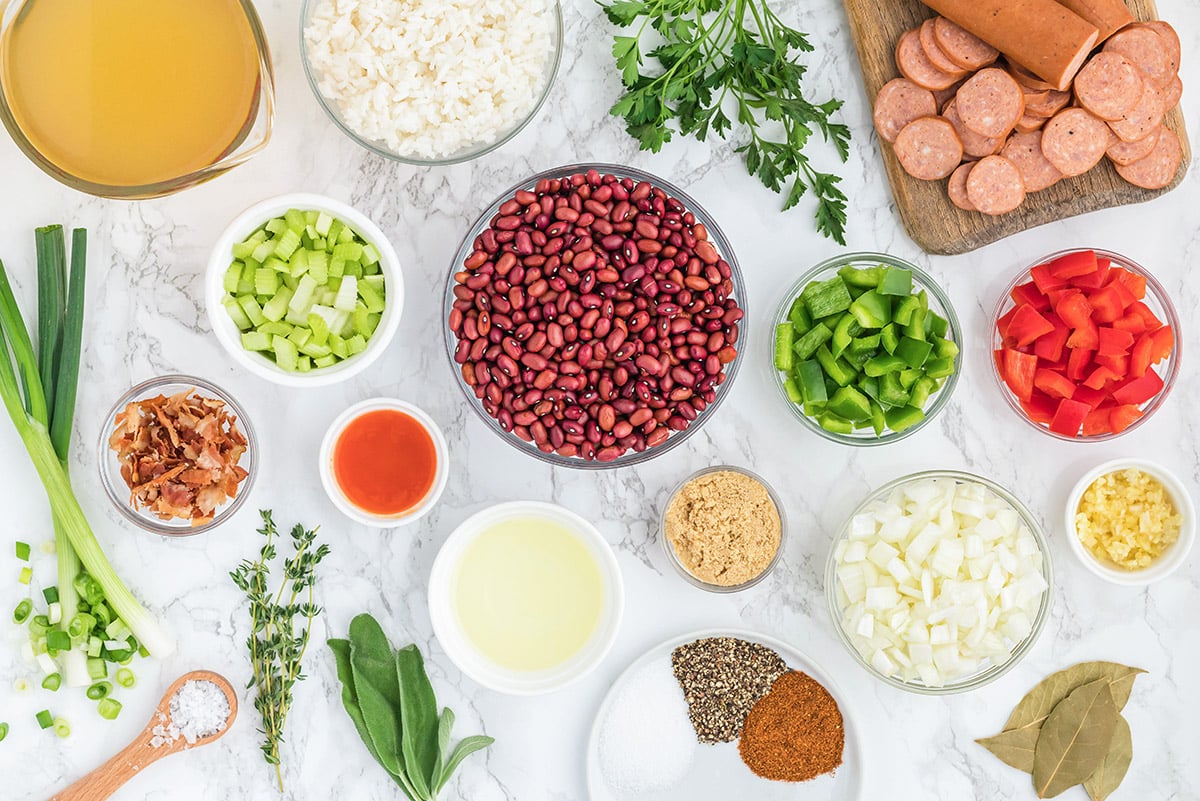 Dry red kidney beans + boiling water- We prefered the authentic way, so we made dry beans from scratch, but if you want to skip this step to save time, buy a few cans of red beans, but remember to rinse and drain them well. Some also like using a blend of pinto and red beans.
Vegetable oil or bacon grease- Rendered bacon fat is a staple in nearly every Southern home. Coffee cans of it sit in the farthest corner of the fridge. But if you don't hoard fat like gold, feel free to use vegetable oil.
Yellow onion, green bell pepper, red bell pepper and celery– Known as the holy trinity in Louisiana, this is the base for nearly all Cajun and Creole meals.
Garlic- Fresh garlic only! It is the only way to get the read flavor. While I would usually tell you to measure garlic with your heart, use the indicated amount. This is here to season, but not overwhelm.
Low Sodium Chicken Broth– Vegetable broth works too, but make sure it is low sodium. You can easily add more salt, but it is nearly impossible to take it away.
Bacon- Bacon makes everything better- including red beans and rice! I love the chewy little morsels spread through the dish. It also adds a smoky element.
Seasoning- Dried bay leaves, cayenne pepper, fresh thyme, fresh sage and flat parsley do the trick, but you can also used dry herbs if you need. The general ratio is 1 tablespoon of fresh to every 1 teaspoon of dried (as long as they are freshly opened). You can also swap this out for about 1 tablespoon of Cajun seasoning or Creole Seasoning, but omit any additional salt and know it will be a little more on the gumbo side of flavors.
Hot sauce- It wouldn't be creole without a little kick! If you are looking for straight up umami flavors, omit this or serve it on the side for each diner to pick their own poison.
Brown Sugar- Use to balance out the acidic and savory flavors.
Coarse Sea Salt- Taste the dish before adding, and then add slowly. Different brands of bacon, sausage and broth have differing levels of saltiness. It will help brighten naturally occurring flavors, but can easily cross the line.
Black Pepper- Use white pepper for a milder taste.
Smoked andouille sausage (Cajun sausage)- Perhaps the real star, andouille sausage is a coarse grained pork sausage with French influence. The smokiness will flow through the rest of the dish and give fantastic texture. If you have trouble finding it, Italian sausage, turkey sausage or chicken sausage can be swapped.
White rice- White rice is perhaps traditional, but if you used brown rice or wild rice, I wouldn't fault you.
Scallions (green onions)– Used for garnish and sometimes called the "prayer", they are added right before serving for fresh crunch.
Maldon Salt- Any flaky salt is great and totally optional. I add it to everything…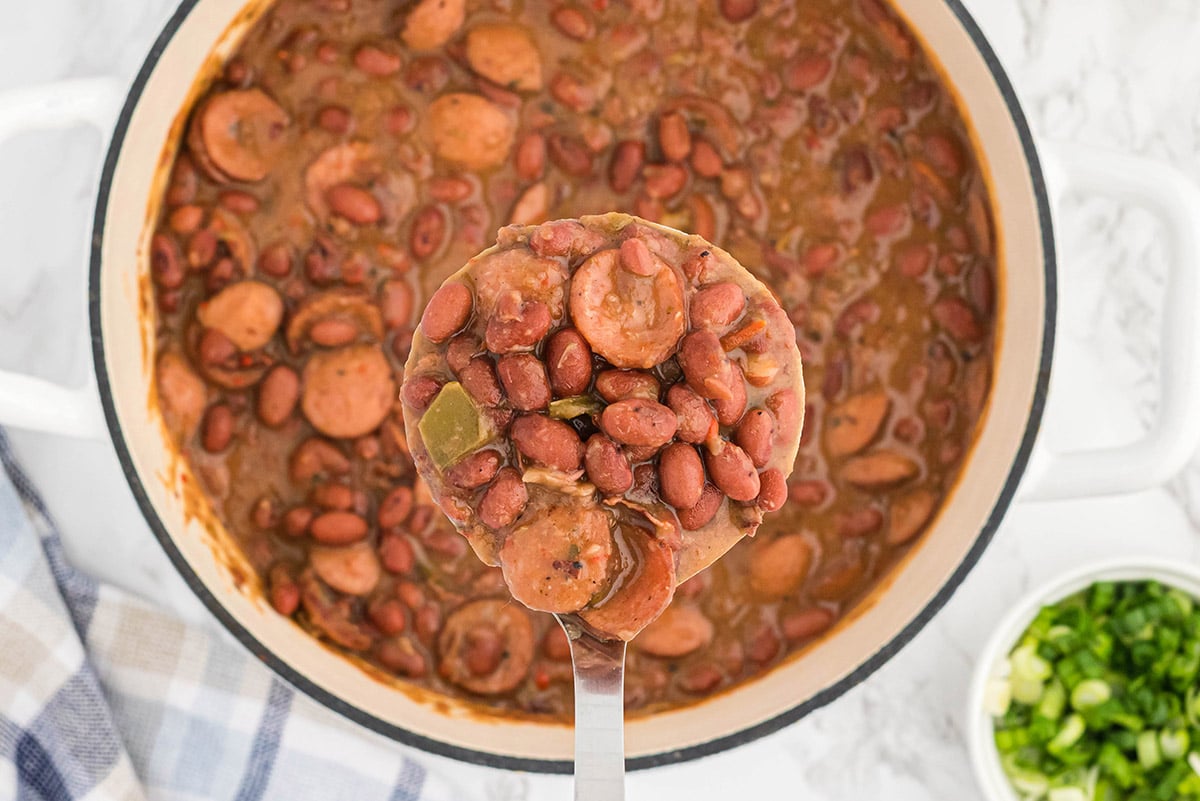 How to Make Red Beans and Rice
This dish does take some time to make, but is also relatively hands-off.
Soften the beans using boiling water and steam. This takes about 3 hours. to skip this step (and time) buy 3-4 cans of red beans, rinse and drain them. This can also be done in a pressure cooker.

In a very large pot or Dutch oven, saute the onions, garlic, bell peppers and celery using vegetable oil or bacon grease. The goal is for them to soften and become fragrant, but they don't need to be totally broken down at this stage. There is a lot more cookin' to go!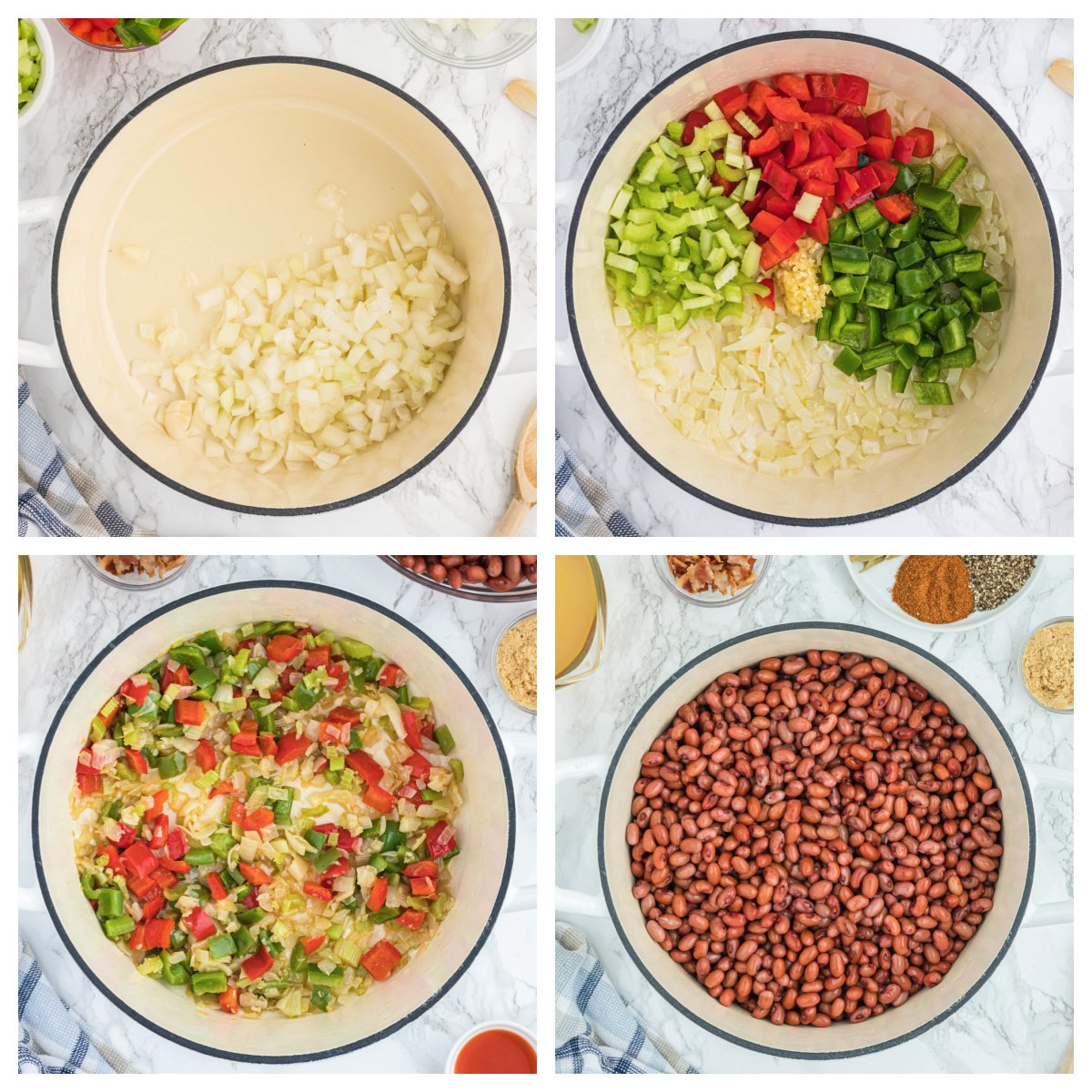 Add the softened red beans to the large pot and all of the remaining ingredients except the sausage, rice and garnishes. Simmer over the lowest heat possible, which will develop robust and dramatic flavors in the gravy sauce. Some folks like to put it in the slow cooker for this step, but I prefer to keep it in the pot so I don't have anything else to clean up. Stir it occasionally so nothing gets scalded to to the bottom of the pot.
At the 2 hour mark, remove a cup or two of beans and smash with a potato masher or a fork, this is what gives it a creamy texture and makes it authentic!
Stir in the sausage and continue to cook for 30 minutes just to get it heated. If you are feeling extra indulgent, brown the sausage to develop even more flavor before adding to the dish. If the mixture becomes dry (similar to refried beans), stir in additional chicken broth to keep the mixture moist, but still thick.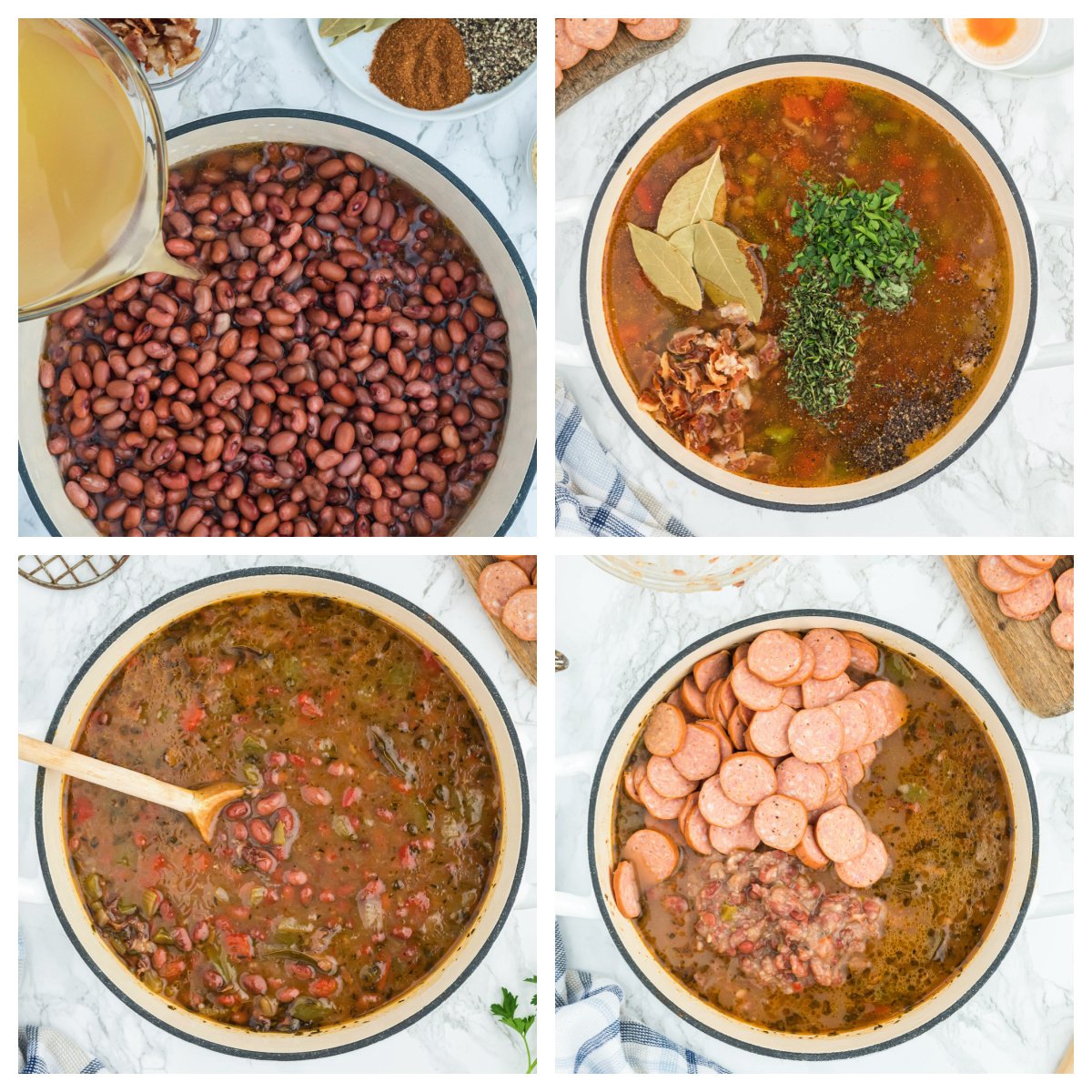 Make sure you fish out the bay leaves before serving! Did you know that ingesting just one bay leaf can make someone incredibly sick?
Serve over white rice and garnish with green onions or fresh parsley… or nothing, totally up to you!
Storage & Freezing
This dish is make-ahead and freezer friendly, so feel free to make a double or even triple batch. To freeze, please in an airtight container for up to 3 months. Leftovers can be stored in an airtight container in the fridge for up to a week. Some folks even say the great flavor comes from making a day ahead and letting it sit.
To reheat, gently heat in a saucepan on the stove and add a small amount of liquid to help the sauce thin out. Water or chicken stock are the best bets. You might also need to re-season with salt and pepper. It can also be heat in the microwave adding liquid and correcting the seasoning.