One of my favorite special dinners as a child was roasted Cornish Hens with Almond Rice. I loved it and now days it is a nostalgic meal that I still make a few times a year.
Cornish Hen Recipe
The recipe for Classic Cornish Hens is actually very simple, but requires you to be near in the kitchen to baste every 15 or 20 minutes.
I prefer to cut mine in half using kitchen shears to speed up the cooking process and make them easier to serve and eat.
They need a little tender love and care, but are certianly not complicated or hard to prepare. So give these mini chickens a shot!
Which leads me to the most popular questions… what is a cornish hen?
A cornish game hen is actually a chicken, just a different breed than the typical chicken most folks buy and prepare.
They are generally young and weigh less than two pounds each. They taste like chicken and therefore nearly any chicken recipe can be used interchangeably with a cornish hen recipe and vice versa.
I serve my Classic Cornish Hens over Almond Rice with a little extra butter drizzled over the top. If there are any leftovers, shred the remaining hens and mix with the rice and frozen peas for a tasty lunch.
This was one of my favorite lunches when I was little. I'm honestly not sure if I looked forward to the actual dinner or the leftovers more.
As an adult, I'd make the whole meal and then make this simple dish for lunch all week long. Now my husband also shares the same love for my cornish hens.
Questions you might have about how to make Cornish hens:
What should the internal temperature of a Cornish hen be? The internal temperature should be 165 degrees. For best results use an instant read digital thermometer.
How long does a thawed Cornish hen last? After thawing, cornish hens are good for up to 3 days in the fridge.
What is the best way to thaw a Cornish hen? In the fridge overnight.
How much Cornish Hen should I plan for each person? I generally plan to a half a hen per person, but my husband can eat a whole on his own. Your call.
Can I make this recipe using whole Cornish Hens? You can use this basting butter for whole Cornish hens or even on chicken. The cooking times will change and vary depending on size. Just monitor for doneness using your digital thermometer.
Can I make this recipe in advance? You can pre cook the hens and then finish them off in the oven, but I really recommend making them right before serving for the best crispy skin .
In case you need more elegant dinner ideas, check out these recipes!
Crown Pork Roast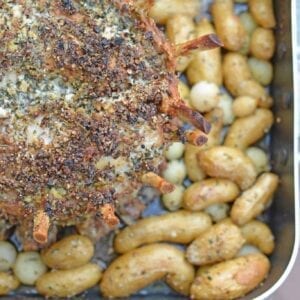 Crown Pork Roast is the perfect special occasion or holiday meal to serve for a crowd. Tasty and impressive presentation make this a winning pork recipe!
Scallion Pesto Scallop Pasta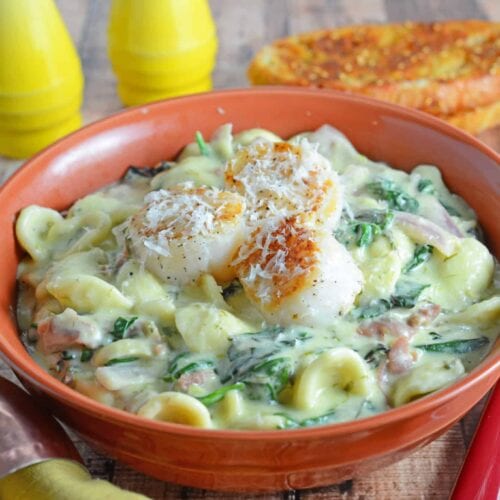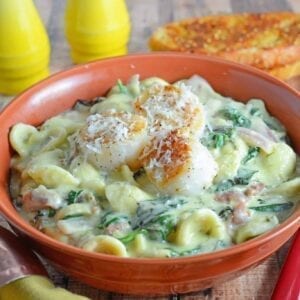 Scallion Pesto Scallop Pasta is a restaurant quality dish, creamy pasta sauce with garlic, Swiss chard, prosciutto and seared scallops.
Tools for making Roasted Cornish Hens:
Heavy Bottom Sauce Pan– this will be one of your most used kitchen tools. Having something that is heavy bottom will distribute heat better and prevent burning whether you are using an electric or gas range.
Rimmed Baking Sheet– another kitchen staple! You'll use this for prep work, roasting and much more. I have 7 at my house.
Broiler Pan– I like using one so the fats and other drippings don't pool up below the chicken. It also allows air to circulate around the chicken helping it cook more evenly.
Kitchen Shears– Perfect for easily butchering meats but also for snipping herbs and other produce.
CONNECT WITH SAVORY EXPERIMENTS!

Be sure to follow me on social media, so you never miss a post!

Facebook | Twitter | Youtube
Pinterest | Instagram
Get our FREE 8 Day E-Course on How to Be a Better Home Cook. Sign up HERE!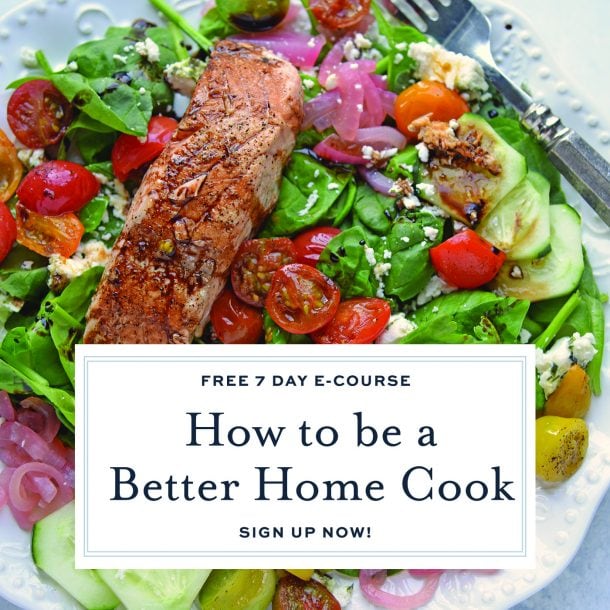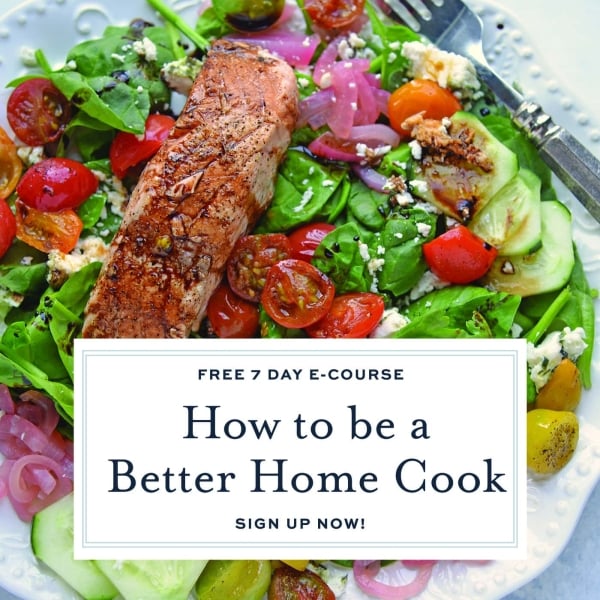 Classic Cornish Hens
Classic Cornish Hens are perfect for holiday parties! Basted with a zesty butter sauce and ready in under 1 hour. Your family will LOVE them!
Instructions
Preheat oven to 350 degrees.

Using poultry shears, cut Cornish hens in half symmetrically. Season well with salt and pepper and place meat side up on two baking dishes or rimmed baking sheets. Place in oven.

In a small sauce pan, melt butter with hot sauce and lemon juice.

Continue to cook Cornish hens, basting with butter mixture every 10 minutes. Cook for 35-40 minutes, or until temperature in thigh reaches 165 degrees and juices run clear.

Bring remaining butter to a low simmer while Cornish hens rest for 5 minutes.

Plate over Almond Rice and drizzle with remaining butter.

If you've tried this recipe, come back and let us know how it was!
Nutrition
Calories:
1309
kcal
|
Protein:
77
g
|
Fat:
109
g
|
Saturated Fat:
46
g
|
Cholesterol:
576
mg
|
Sodium:
851
mg
|
Potassium:
1084
mg
|
Vitamin A:
1905
IU
|
Vitamin C:
10
mg
|
Calcium:
63
mg
|
Iron:
3.5
mg