***Disclaimer- at no point I'm I making a claim that these are authentic poutine. This is my version of poutine. ***
Homemade Poutine is a tasty combination of cheesy goodness with gravy and potatoes, a delicious blend that will bring you pure comfort as you enjoy it!
This Poutine Recipe is a delicious, classic Canadian dish made from French fries, cheese curds and gravy. It's a great recipe to serve at a party as an appetizer, side dish, or to enjoy as a main course year round!
Many food bloggers use a tool called Google Analytics and one of the coolest features is seeing where our readers are from. Of course the United States is responsible for the majority of traffic to Savory Experiments, but the second runner up was Canada.
My friend and cooking buddy, Nathalie, suggested that I try making a traditional Canadian dish. Oddly enough, when you Google "Famous Canadian Dishes," Poutine is the front runner and I happen to love Poutine (ok, I really just love cheese curds).
What are some other famous Canadian dishes?
Canadian Bacon
Beaver Tails- a pastry, flattened donut with a hole
Butter Tarts– mini tarts with a sugar and egg custard center, some have raisins
Nanaimo Bars- layers of butter icing, chocolate and cookie crumbs
Split Pea Soup- usually seen as an English dish, it is also popular in Canada
Tourtière- a meat pie
Saskatoon Berry Pie- made with saskatoon berries, a blueish-purple berry
Montreal-Style Bagel- thinner and sweeter than the US kind, they are also made in a wood fire
So for all my non-Canuck readers, what is Poutine? Poutine is nothing but cheese and gravy fries, but with cheese curds. So the next question is… what are cheese curds?
Cheese curds are a baby cheese, if you will. During the cheese making process, milk is curdled using a combination of acid, rennet and bacterial cultures (yummy, huh?). Don't dis it until you try it!
PRO TIP: Cheese curds can be frozen for up to 4 months.
Poutine fries are a traditional French Fries, but when I am hand cutting my potatoes, I'm super lazy, so I decided to make potato slices instead. In Canada, they might be called Canadian Fries.
The beauty of using slices instead of the traditional version is that they hold a lot more gravy and cheese, like a little spud plate.
PRO TIP: If you are going to bake your French Fries, leave them under a high broil for a few minutes to get them a little crispier.
The next question is what is the history of poutine? The origins of Canada's national dish are quite controversial.
The most commonly accepted story is that they originated in the 1950s at a restaurant called Le Lutin qui rit in Warwick. A customer asked for cheese curds to be added to his gravy fries and the rest is history; poutine fries.
A little anticlimactic, right? Not like the origins of the Garbage Plate!
Buy extra cheese curds and make Beer Battered Cheese Curds with Blooming Onion Sauce!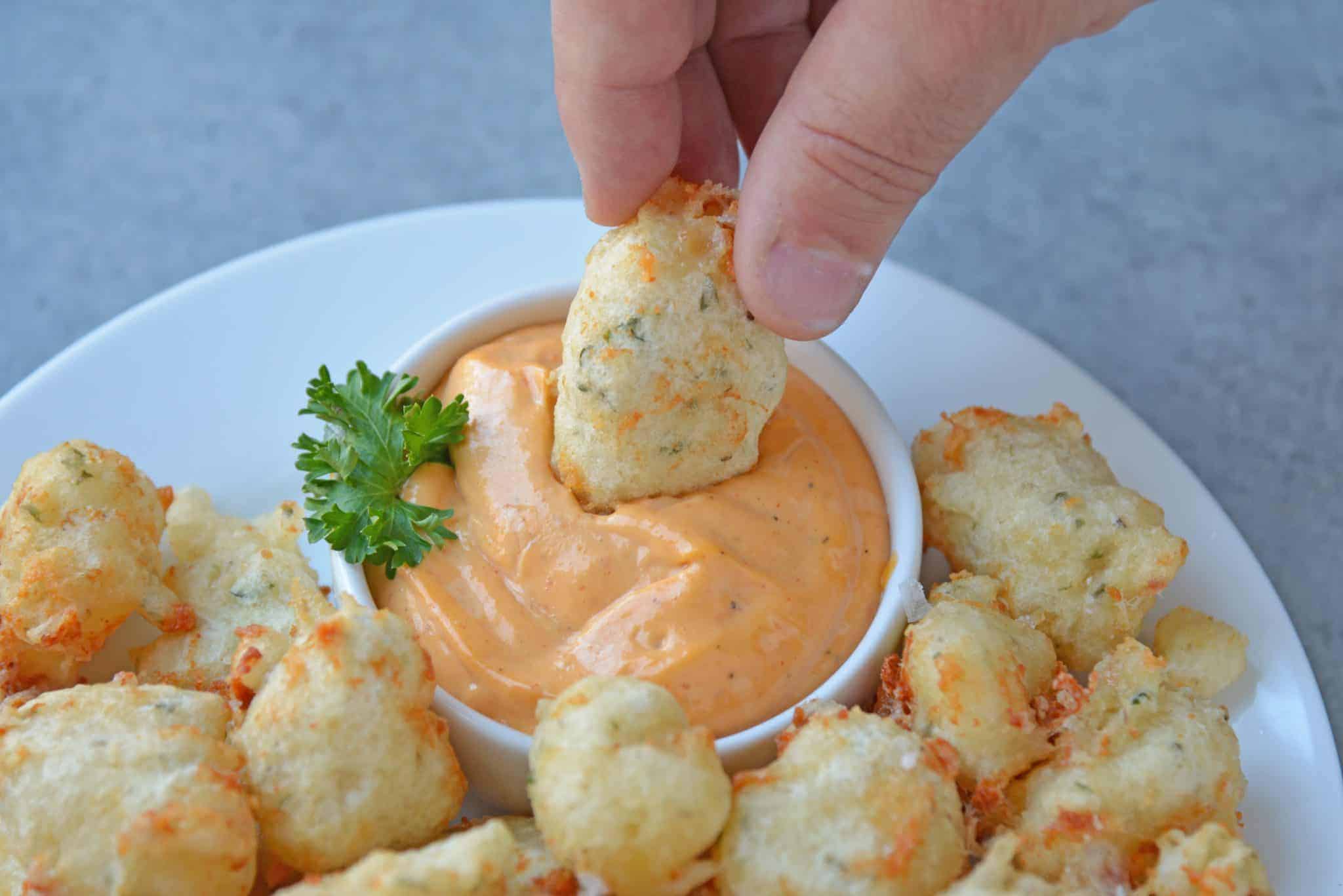 Hasselback Baked Potatoes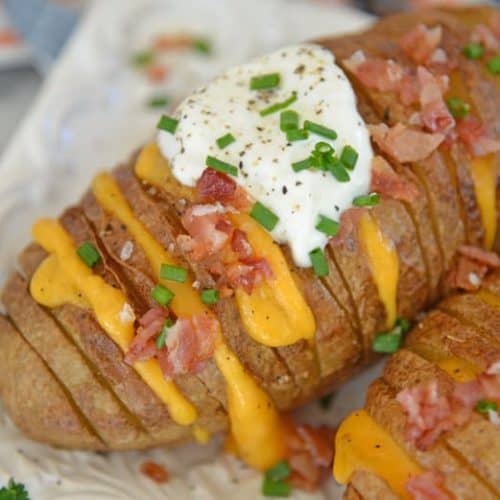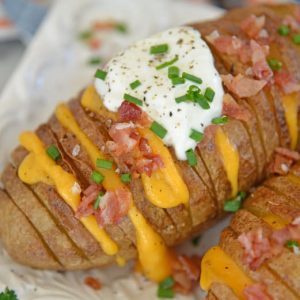 Calling all potato lovers! These crispy Hasselback Baked Potatoes are going to be your new favorite easy side dish!
Brown Sugar Cinnamon Sweet Potato Fries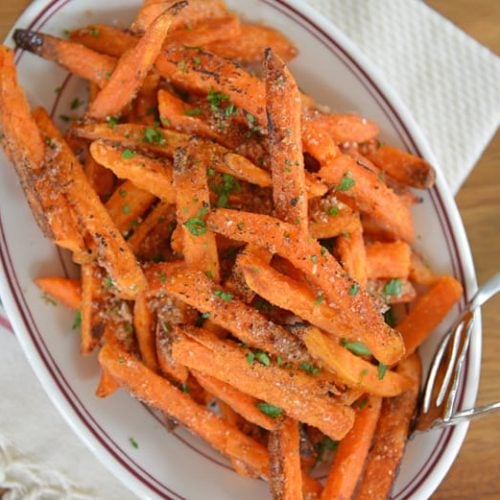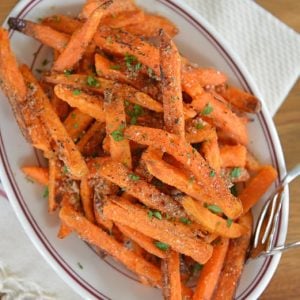 These Brown Sugar Cinnamon Sweet Potato Fries are the ultimate fall side dish! Perfect for serving with a burger, or as a delicious snack!
CONNECT WITH SAVORY EXPERIMENTS!

Be sure to follow me on social media, so you never miss a post!

Facebook | Twitter | Youtube
Pinterest | Instagram
Get our FREE 8 Day E-Course on How to Be a Better Home Cook. Sign up HERE!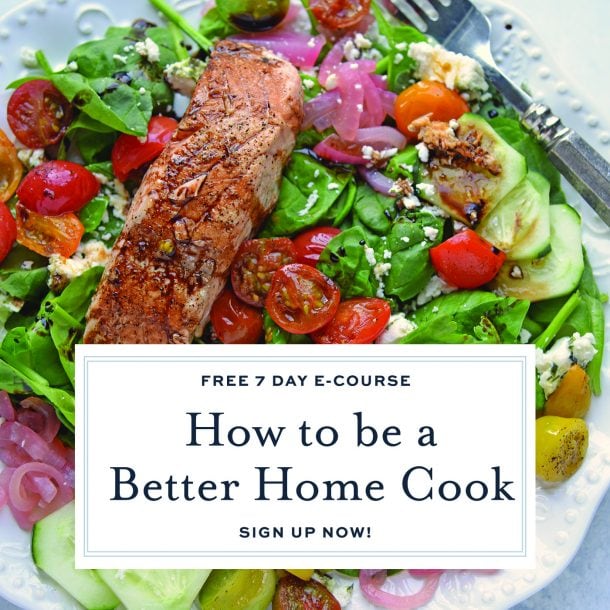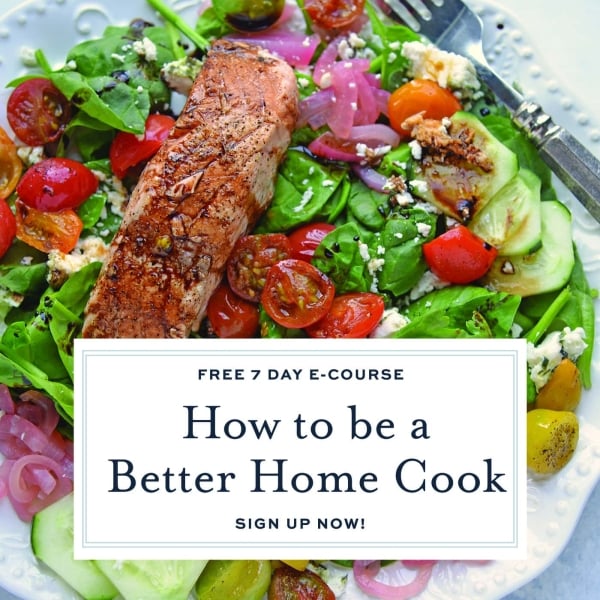 Poutine
This Poutine Recipe is a delicious, classic Canadian dish made from French fries, cheese curds and gravy! Poutine is pure mouth watering comfort food!
Instructions
Place sea salt and 1-2 cups water in a large mixing bowl. Slice red potatoes into 1/4 inch medallions. Place directly into salted water bowl to prevent browning. Add more water if needed to make sure the potatoes are covered.

Prepare chicken gravy if you are making from scratch. Bottled does not need to be warmed ahead of time.

Heat oil in a large, high rimmed pot or Dutch oven. Drain potato slices well and blot dry. Heat oven to 200 degrees.

Working in 3-4 batches, slowly lower potato medallions into hot oil using a fry spoon. Be prepared for a little bit of spitting from water remnants on the potato slices. Fry for 5-6 minutes or until browned and tender. Remove to a paper towel lined baking sheet and place in the oven to stay warm. Continue with remaining potato medallions. The trick is to remove them when they are still soft inside, like a French fry, and before they get to the point of being a potato chip.

Remove warming potato medallions from the oven and preheat broiler on high. Transfer medallions to an oven safe, rimmed serving dish. Top with gravy and finally, glorious cheese curds. Place under the broiler for 3-4 minutes or until cheese curds are slightly melted.

If you've tried this recipe, come back and let us know how it was in the comments and ratings.
Nutrition
Calories:
535
kcal
|
Carbohydrates:
60
g
|
Protein:
17
g
|
Fat:
20
g
|
Saturated Fat:
9
g
|
Cholesterol:
54
mg
|
Sodium:
4343
mg
|
Potassium:
1547
mg
|
Fiber:
5
g
|
Sugar:
6
g
|
Vitamin A:
425
IU
|
Vitamin C:
29.3
mg
|
Calcium:
338
mg
|
Iron:
2.5
mg