Do you have an easy appetizer recipe that everyone requests for potlucks and Sunday football viewing parties? I have three: Texas Caviar, brown sugar kielbasa bites and this bacon wrapped meatball recipe.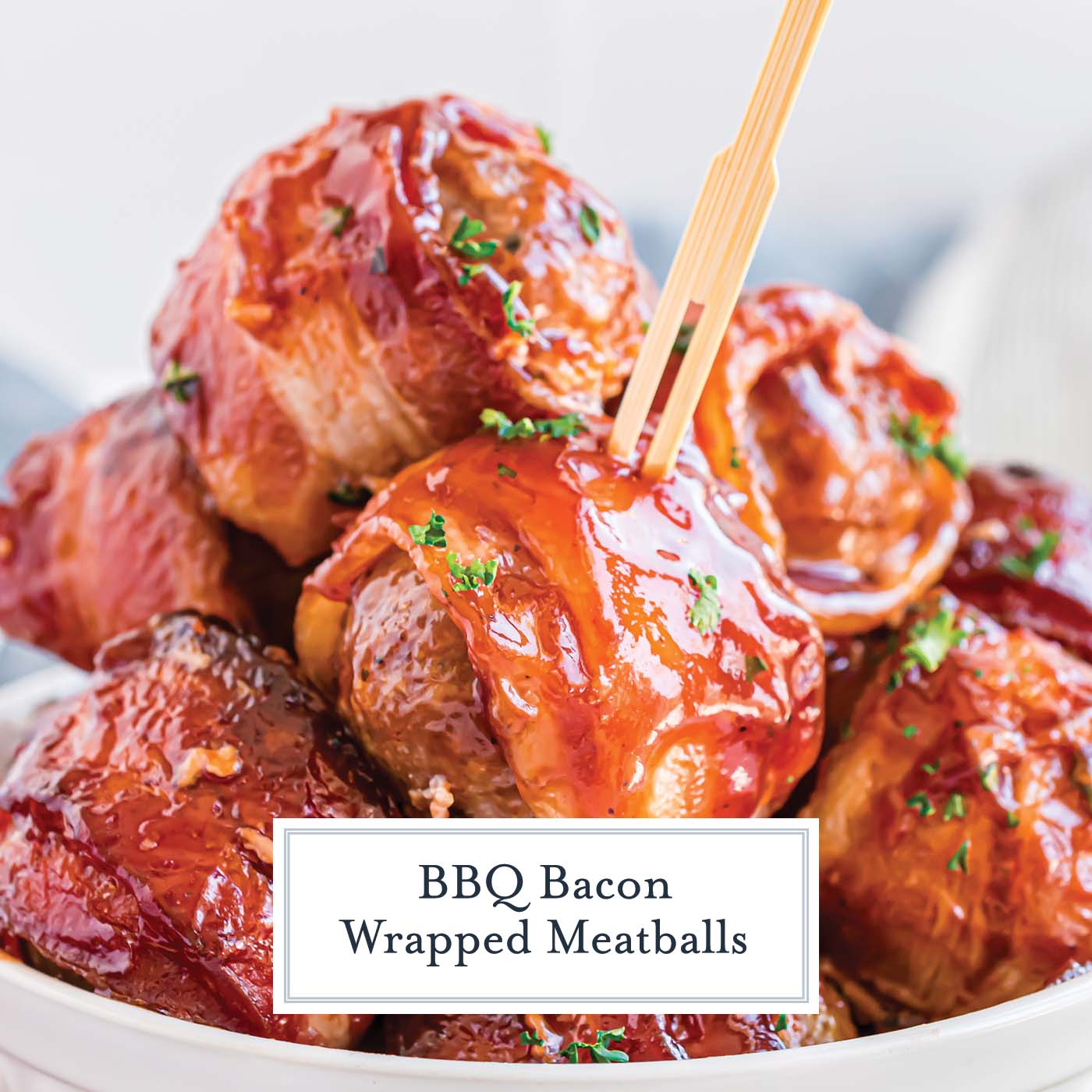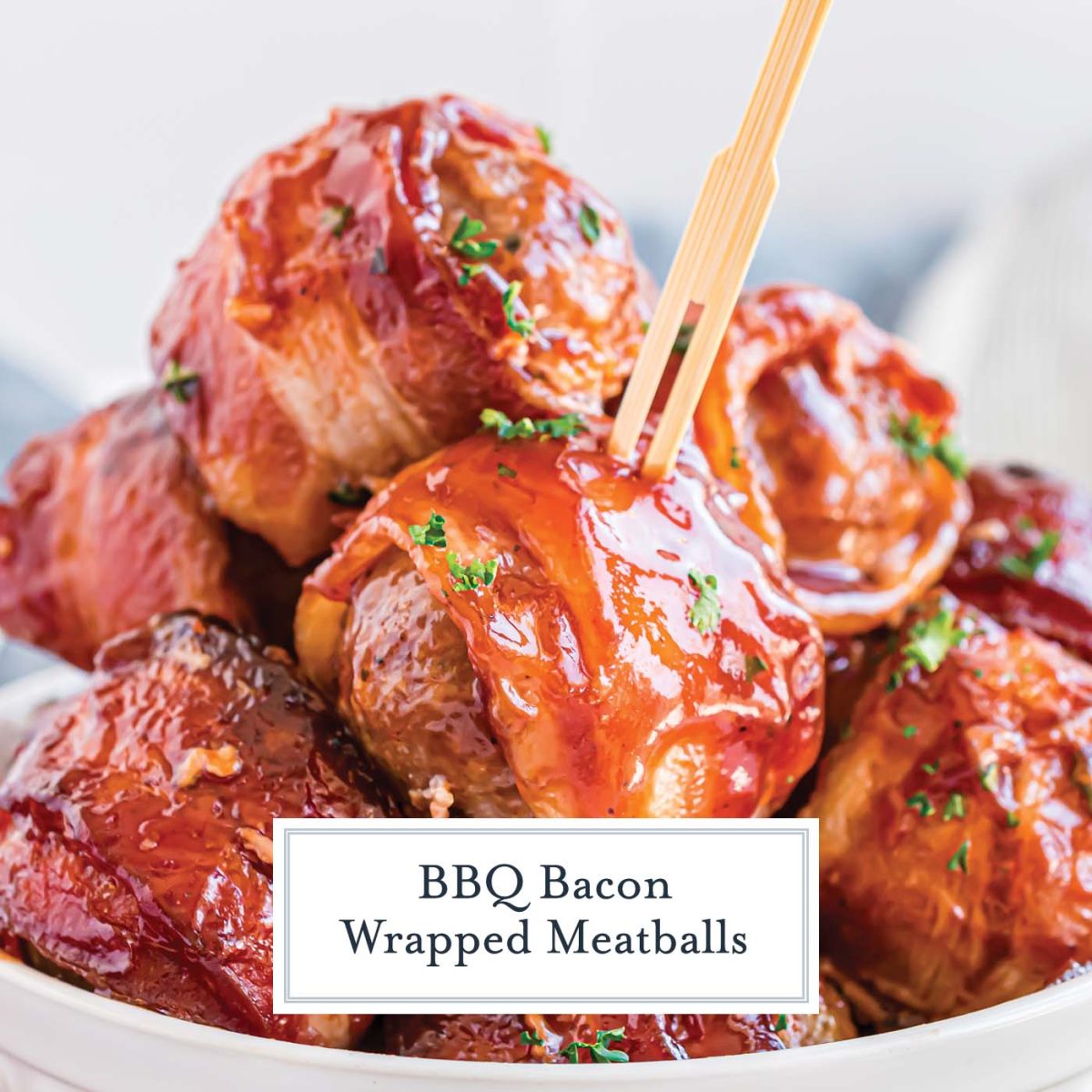 Both are wildly simple, but boast so much flavor that you'd think a lot more went into them. Get ready for this to be your new go-to delicious appetizer for all occasions. Heck, they are even one of my favorites sides!
Delicious Finger Foods
Frozen meatballs (and this one can be easily modified) tend to be the way most recipes go, but we make our own meatball mix. I find homemade versions te be so much more tender and juicy.
After the meatballs are formed, they are wrapped in a piece of bacon, par cooked and then slathered in BBQ sauce and left to finish with the sauce caramelizes and gets all sticky. BBQ meatballs are good, but bacon wrapped are even better!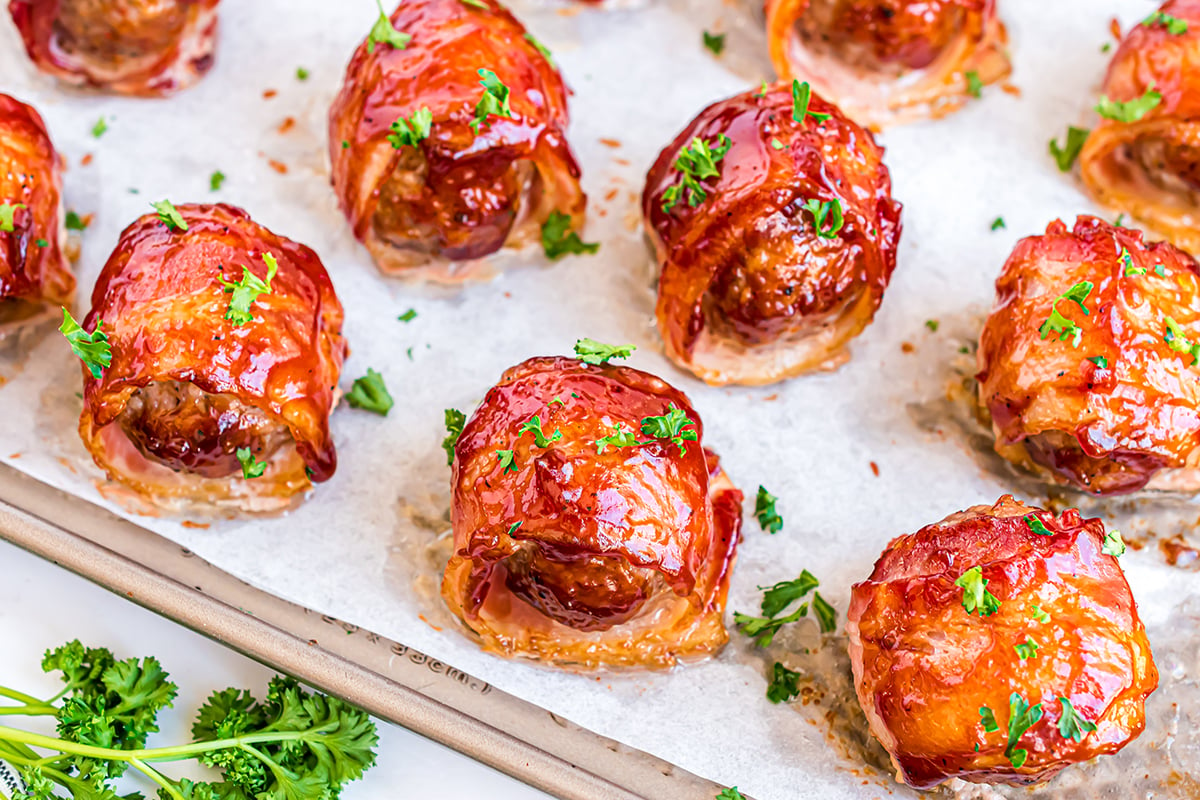 You know I like a pop of color, so parsley, chives or scallions are sprinkled on top to make them look all fancy despite the super easy instructions and ingredient list. I also serve alongside this carnival of color BBQ Nachos.
Meatballs- Homemade or Frozen
Homemade meatballs are the way to go, but this list can be scaled down to just 3 ingredients if needed. See my notes below. This wouldn't be a meatball recipes without meatballs! I took the time to make my own because homemade is just so much better. You need: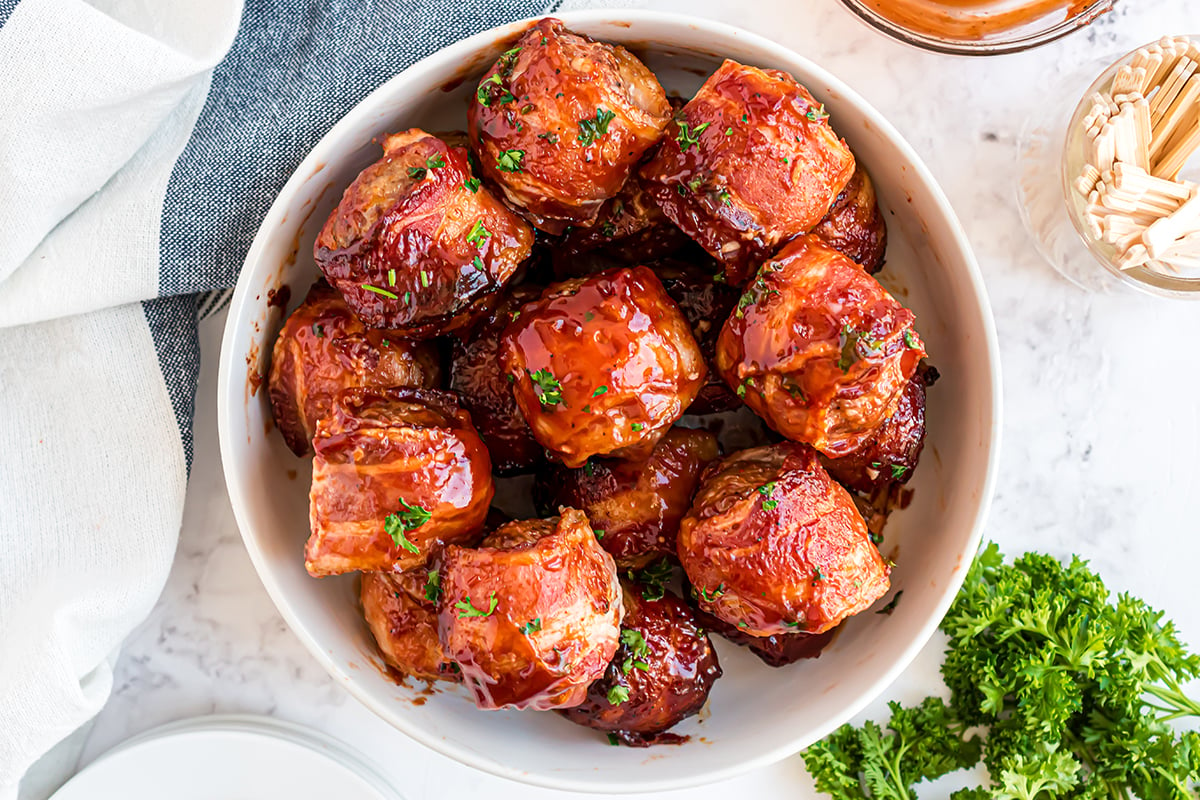 Sweet Onion– Minced or grate this so you don't have giant bits of onion which can also prevent the meatballs from forming properly. Sometimes I even throw it into my mini food processor. One teaspoon of onion powder can also be used.
Fresh garlic– Fresh is always best, also make sure this is finely minced or grated. One teaspoon of garlic powder can be swapped.
Ground Beef and Ground Pork– Don't skimp on the fat! It adds flavor and moisture, 80/20 or 85/15 are ideal. You can also grab a mackage of "meatloaf mix" which commonly includes veal too or use all pork or all beef, ground chicken or ground turkey. Remember, meatballs just need to be made with meat, you aren't limited to ground beef.
Eggs– Egg is a binder for any good meatball, but don't use too much or you'll end up with a meatloaf type consistency.
Fine sea salt- Yea, I know we generally prefer coarse, but since the goal is to mix the meatball mix for the least amount of time possible, this also means those large grains don't have to dissolve and evenly season, so fine is the best bet.
Ground Black Pepper– Freshly ground is always best, adjust based on personal preference, but don't go below 1/2 teaspoon.
Seasoned Bread Crumbs- Seasoned merely means they have an Italian seasoning pre-blended into the mix. If you have plain, just add a little. Panko can be substituted, but will also need some of the seasonings.
Evaporated Milk– My secret ingredient! Evaporated milk is whole milk that has been steamed to release water content for a pure dairy flavor. It keeps meatballs moist and juicy. Regular milk can be used in a pinch, whole milk is optimal, reduce the amount to 1/4 cup.
Time saving hacks include buying preformed raw meatballs at the store; this is the next best thing. They usually some in a handy little package in the meat department near ground beef.
Frozen meatballs can also be used. Thaw them first, but make sure they are still cold so they don't overcook (and you still might run that risk to get the bacon crispy).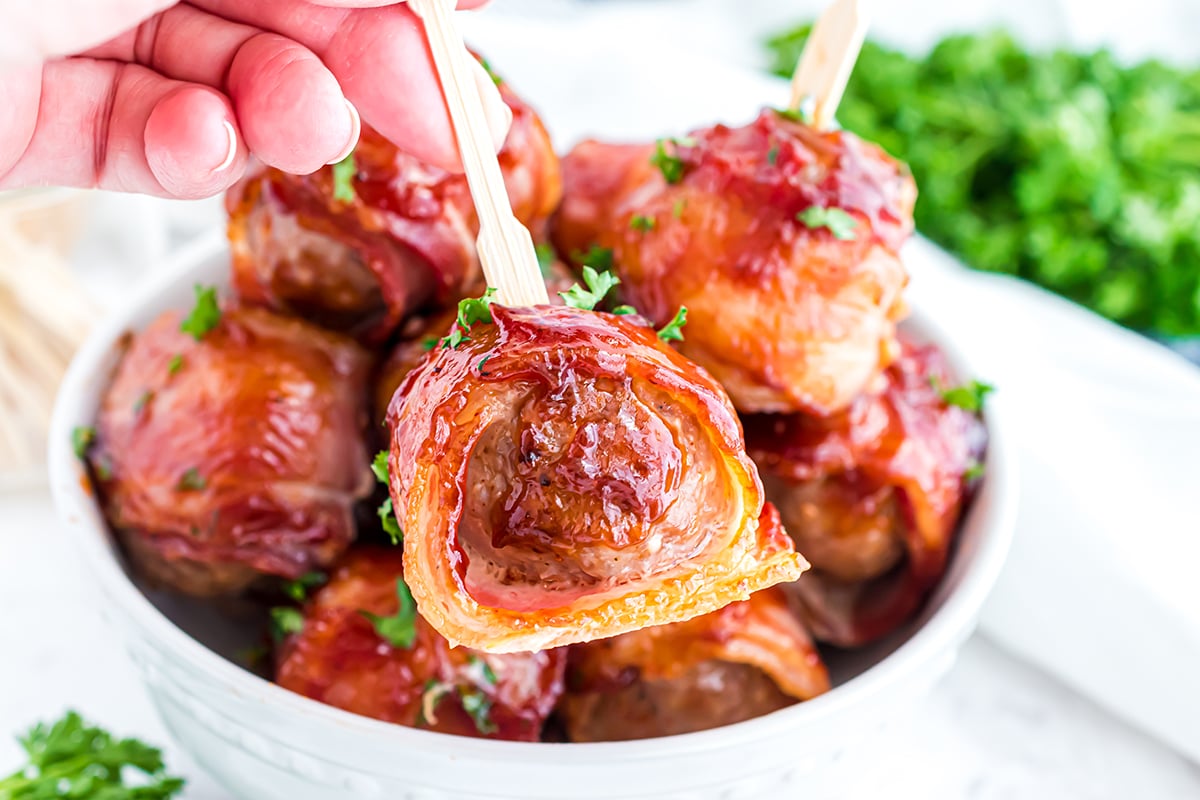 Homestyle means they aren't flavored with typical Italian seasonings like oregano, parsley and rosemary, while Italian style means they are.
Bacon
Choosing the right bacon slices are key! My heart is always drawn to the thick cut bacon, but for a recipe like this, that may land you in the wrong place with the bacon needing way more time to cook that the actual meatball. Go for a regular thickness.
Smoked or specialty flavors can be used, but make sure that choice jives with our BBQ sauce too. Turkey bacon can work as well.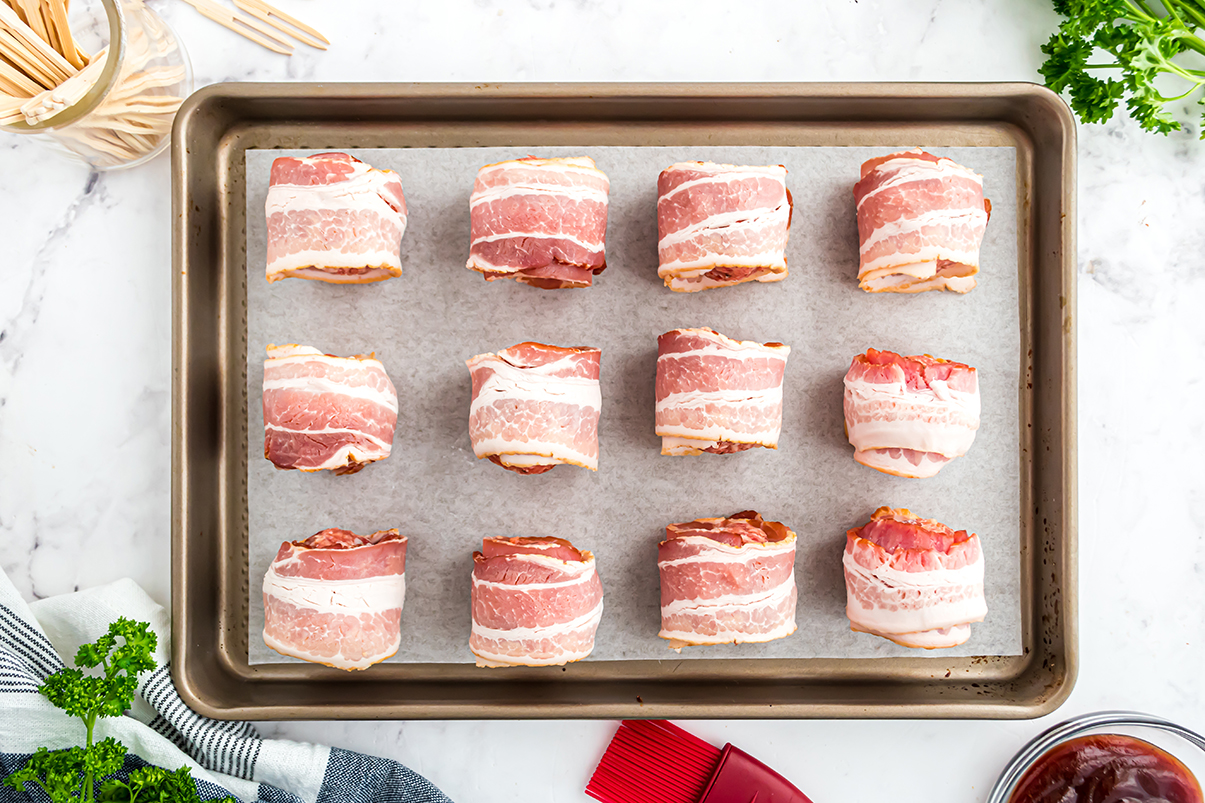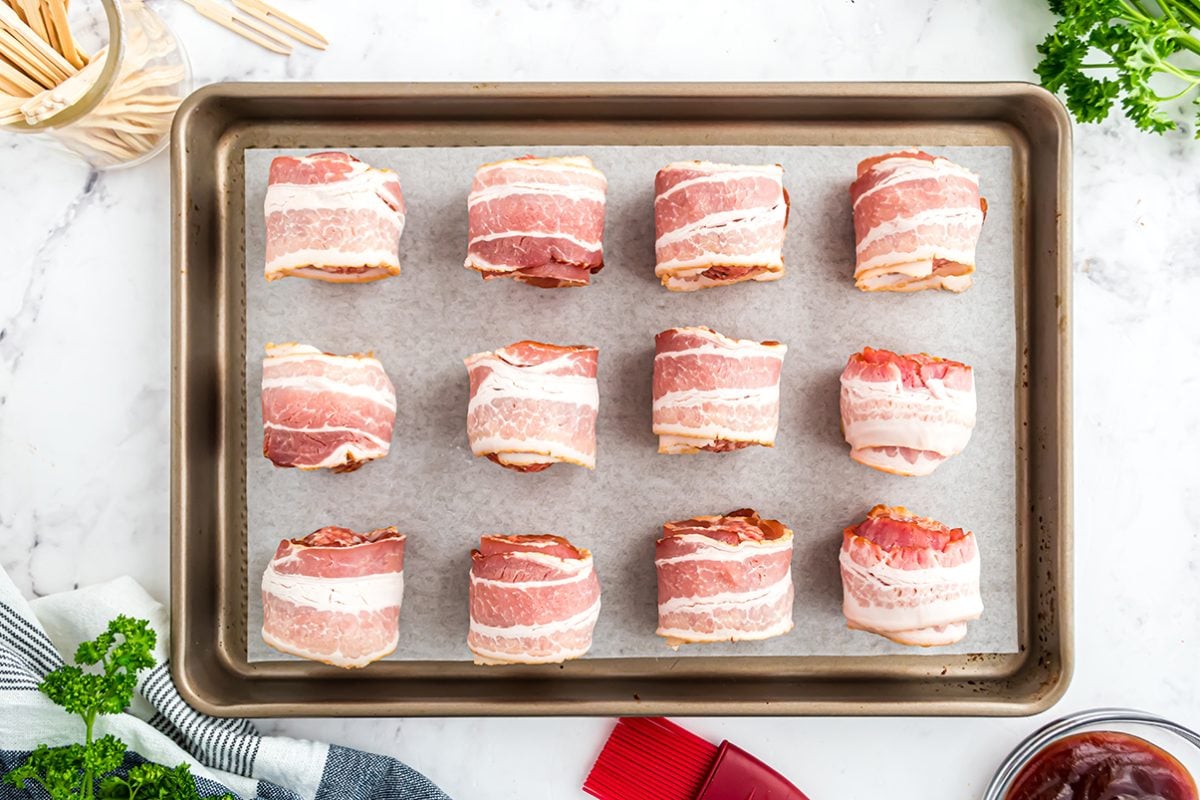 BBQ Sauce
Have fun with this one or even make a few varieties. My kids prefer their BBQ meatballs with a sweeter sauce, while hubby likes something that makes his eyes water and I'm partial to a golden Carolina flavor.
While I like to use a homemade BBQ sauce, such as Chipotle Honey BBQ Sauce , Cran Blueberry or Cola BBQ Sauce you can use your own homemade or jarred. Jack Daniels BBQ Sauce is also a sweet and tangy treat.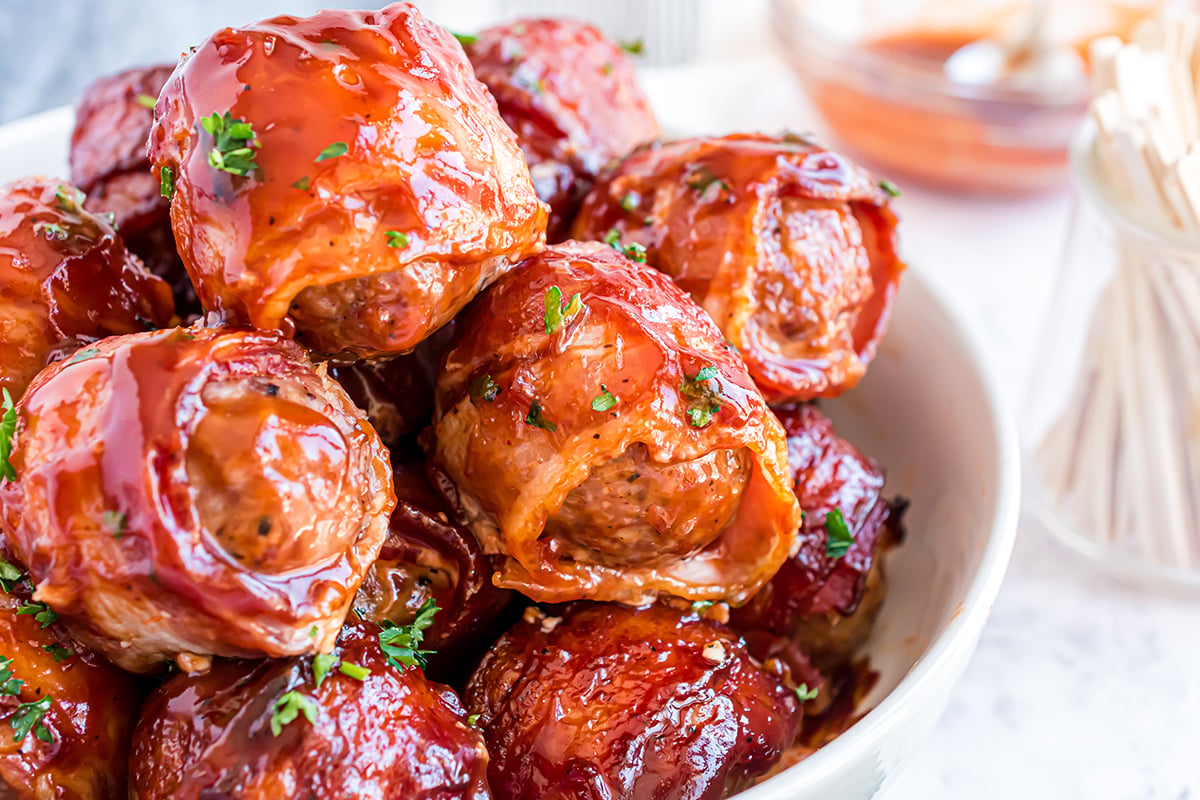 How to Make Bacon Wrapped Meatballs
Preheat the oven and line a rimmed baking sheet with parchment paper or aluminum foil. If you use aluminum foil, also lightly coat with nonstick cooking spray to prevent sticking.
In a large bowl, toss together the onion, ground meat, egg, seasonings, bread crumbs and evaporated milk. Overvoid over mixing which can lead to dry meatballs. Check out our tips for making the best meatballs.
Tossing small bits of the meat mixture from hand to hand, form meatballs into 24 small meatballs, cocktail sized around 1-2 inches in diameter, about the size of a golf ball.
Wrap a strip of bacon around each meatball, trying not to stretch it out as you go. Place meatballs onto the baking sheet in a single layer and with room between each. If you crowd the pan, they will steam and you won't have crispy bacon. You might need two cooking sheets. Some folks like to set them on a wire rack (spritzed with nonstick cooking spray) so the juices and fat drip down and hot air circulates around each one. This is optional, but will reduce the cooking time to 10 minutes on the first round.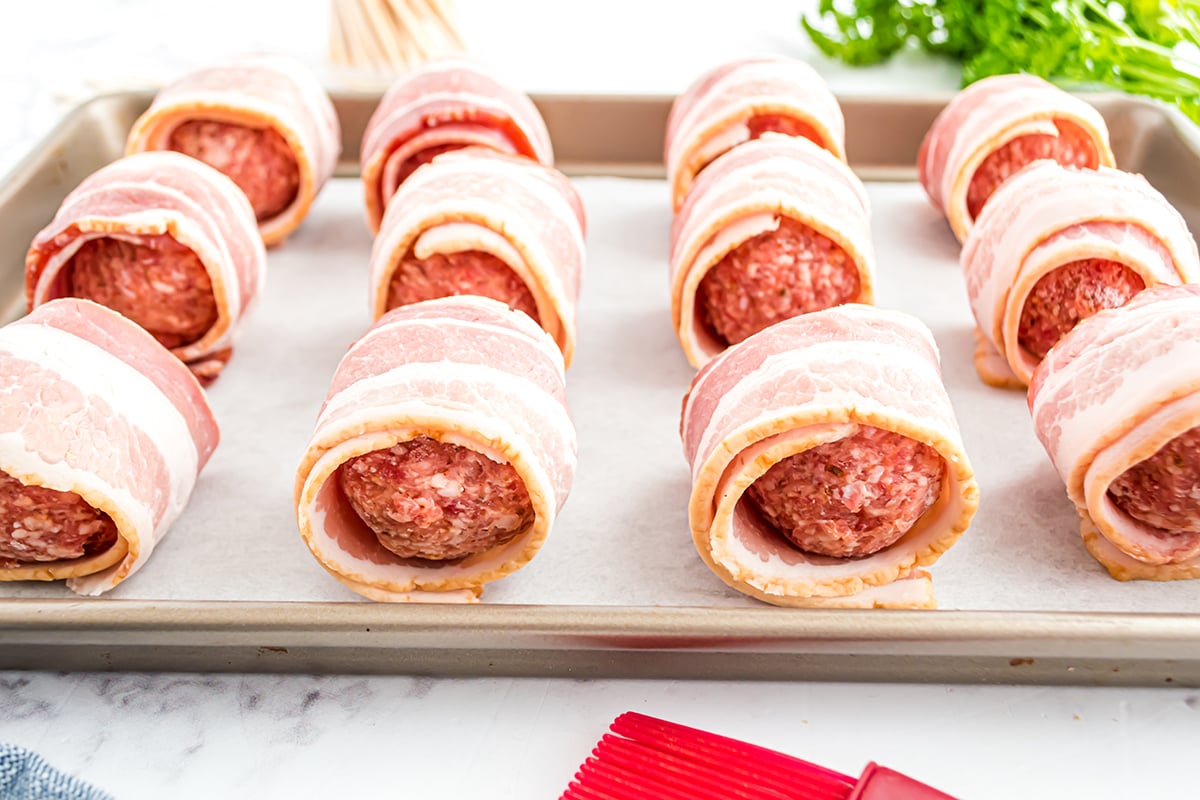 Bake in the preheated oven for 15 minutes, remove and baste with BBQ sauce. Return to the oven for an additional 10 minutes. Baste again with BBQ sauce before serving. Please note that cooking times will vary with the size of your meatballs, check for an internal temperature of 145 or higher. The sauce should be nice and sticky.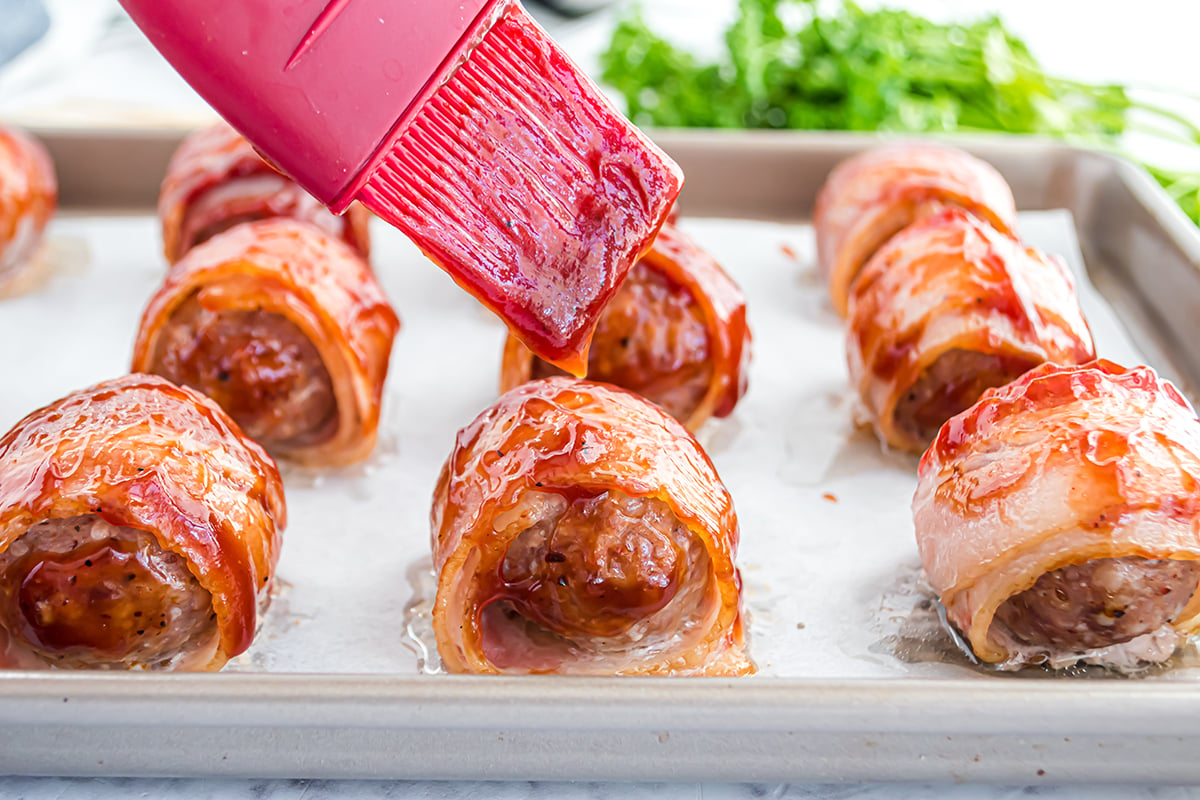 Garnish with parsley, chives or scallions. Or leave them plain. Serve with toothpicks or small cocktail forks.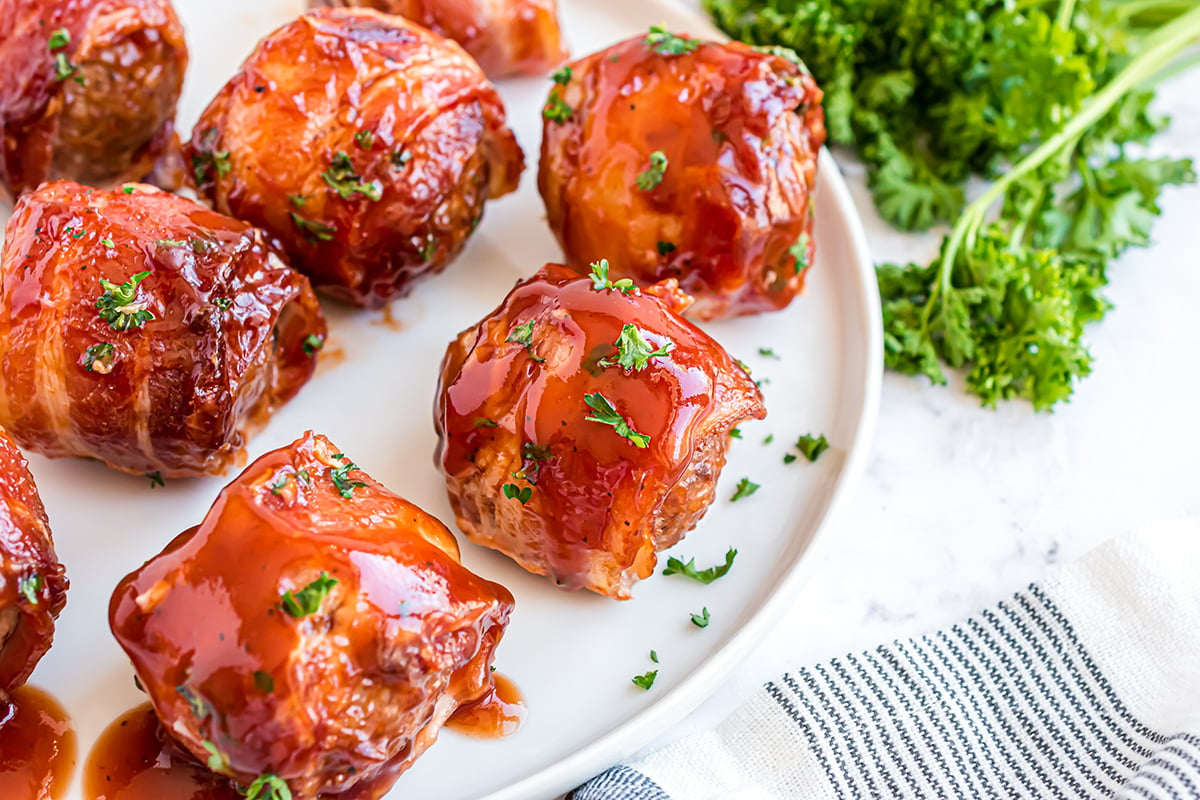 Variations
If you want to these BBQ Bacon Wrapped Meatballs up a notch, try adding a pinch of your favorite, melty cheese in the center of each meatball.
Stuff them with cheese! Something like Velveeta, pepperjack, or a mild cheddar would be absolutely delicious.
Spicy Meatball– Add chopped jalapeno or habanero peppers to the meatball mixture, use a spicy BBQ sauce, jalapeno laced spicy bacon strips, chili powder or crushed red pepper flakes.
Cajun Meatballs– Add 1 tablespoon of cajun spice blend to the meatball mix.
Taco Meatballs- Add 1 tablespoon of taco seasoning to the meatball mix and then baste with enchilada sauce instead of BBQ sauce.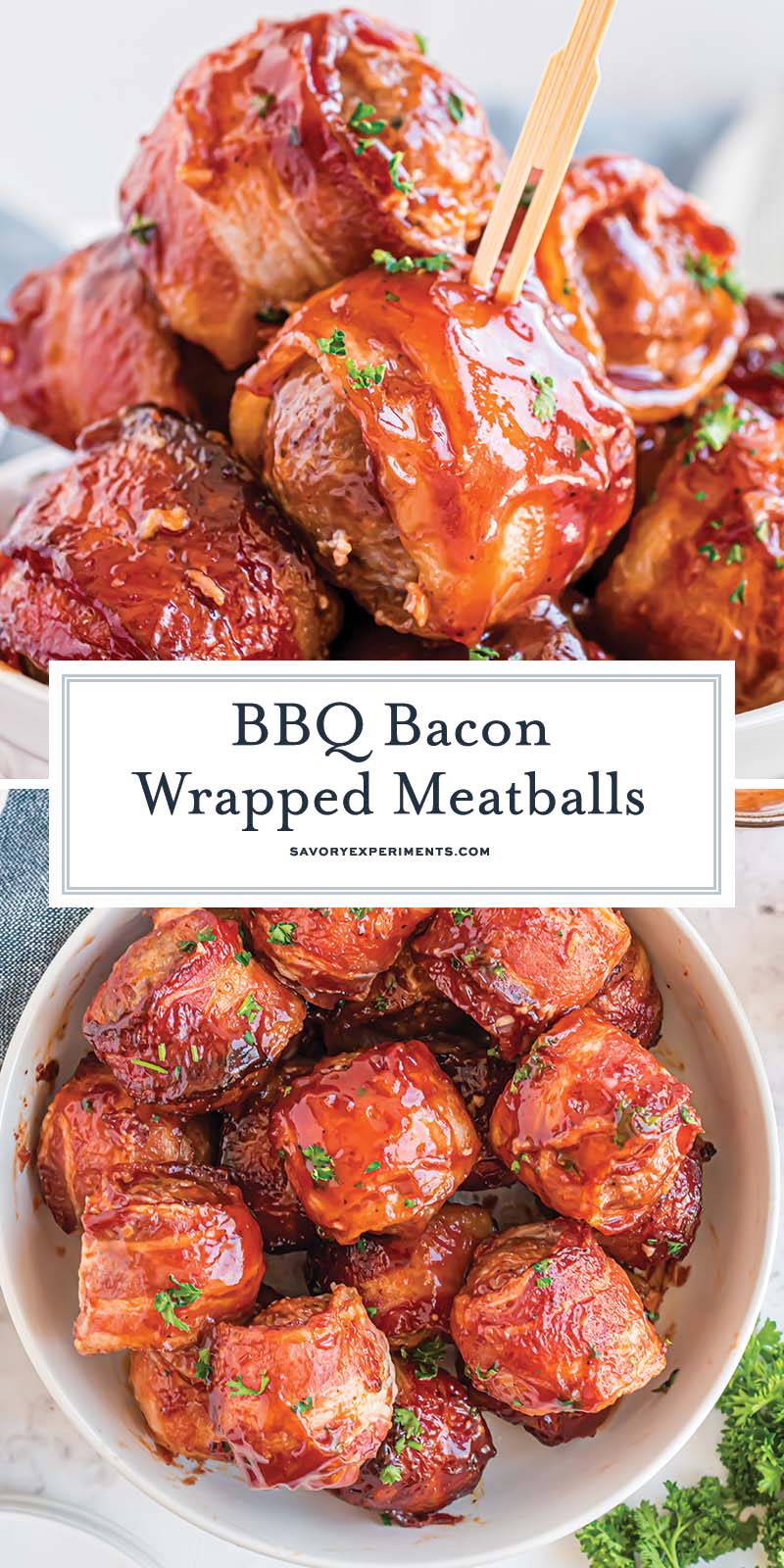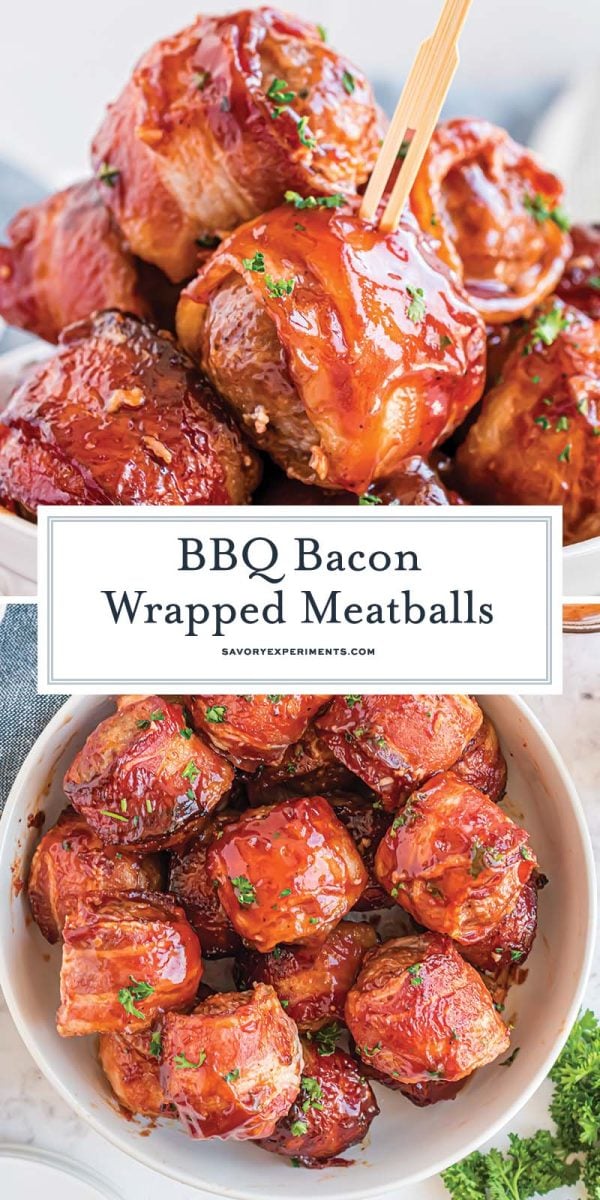 More Meatball Recipes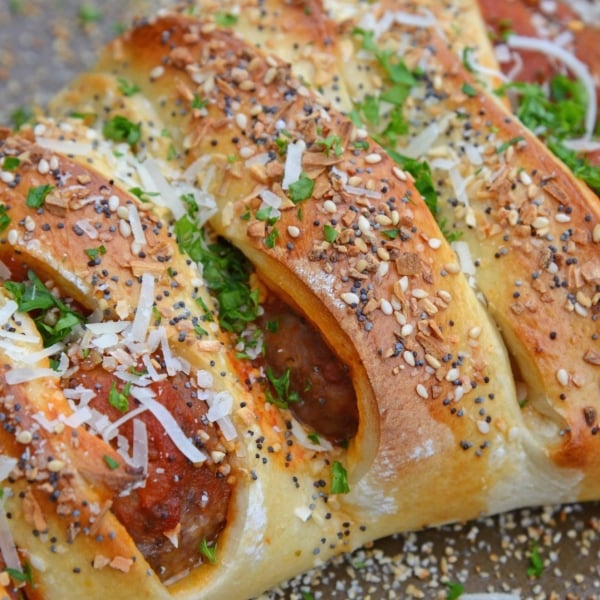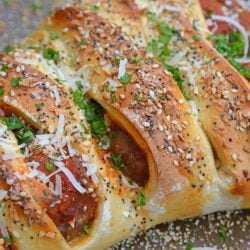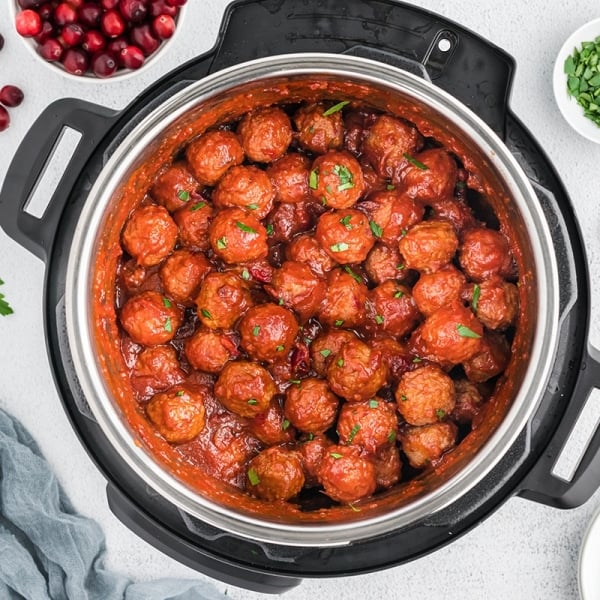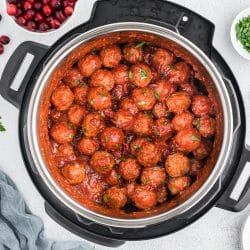 Meatballs with Cranberry Sauce
Cranberry Chili Meatballs are always a party appetizer favorite, especially around the holidays. Party meatballs don't get easier than these Instant Pot meatballs made with cranberry sauce and sweet chili sauce. Yum!
See The Recipe!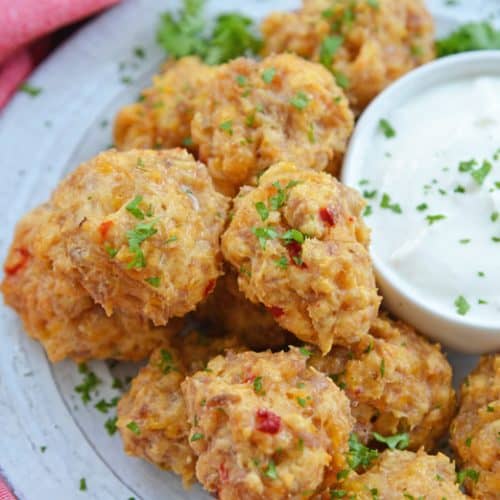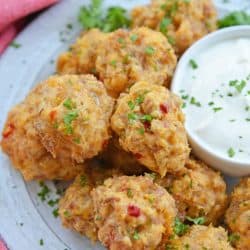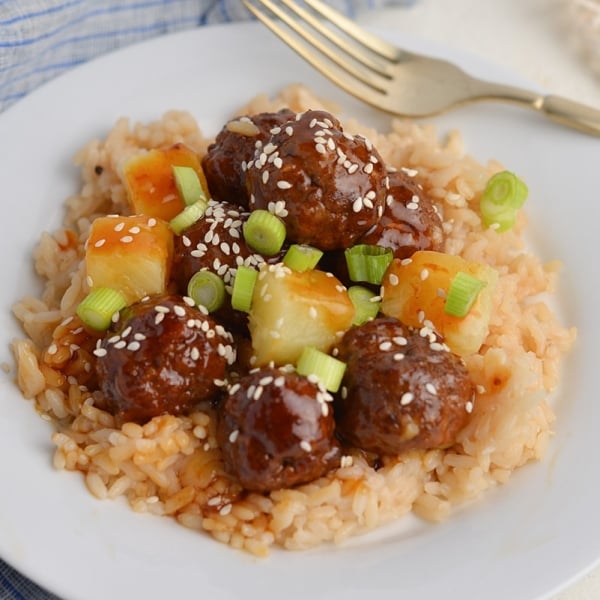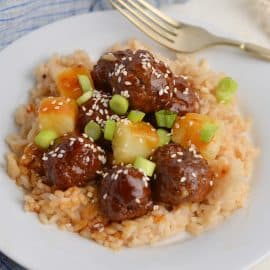 Teriyaki Meatballs
Need an easy recipe for game day or like to try new recipes for dinner? Teriyaki Meatballs are perfect! Full of flavor and ready in an hour.
See The Recipe!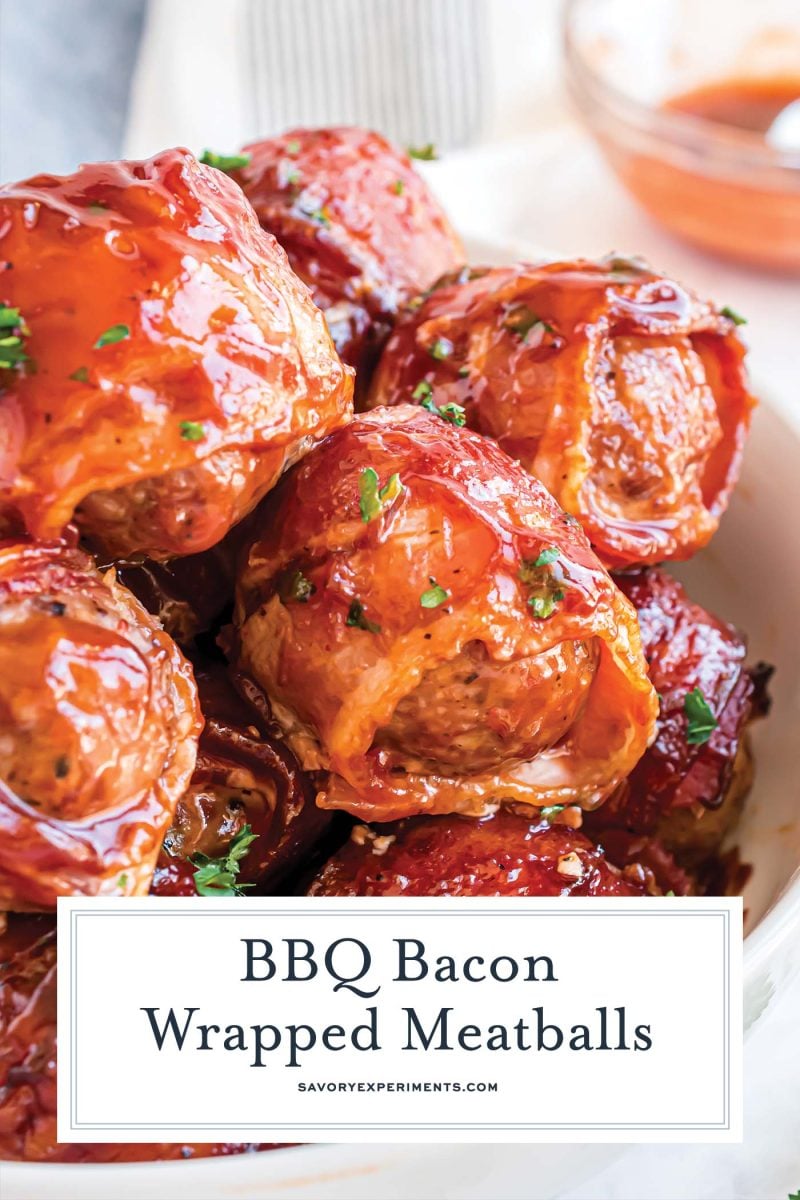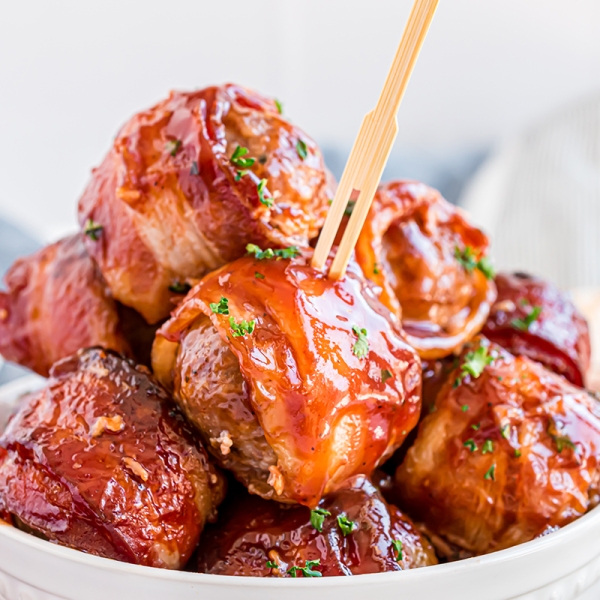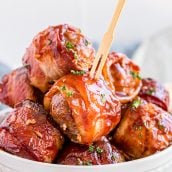 BBQ Bacon Wrapped Meatballs
Tender, juicy homemade meatballs wrapped in crispy bacon and slathered in your favorite BBQ sauce. Great appetizer or side!
Instructions
Preheat the oven to 350°F, line a baking sheet with parchment paper or aluminum foil and lightly coat with cooking spray. Set aside.

In a large mixing bowl, break apart the ground meats using your hands. Pour the evaporated milk and eggs over top and then sprinkle the breadcrumbs, onion, pepper, garlic and salt. Use your hands to toss and gently combine being careful to not overmix.

Tossing from hand to hand, form into 24 small meatballs about the size of a golf ball.

Wrap each one with a strip of bacon, setting seam side down onto the baking sheet leaving 1-2 inches between each.

Bake for 15 minutes. Remove and baste with the BBQ sauce. Return to the oven for an additional 10 minutes. Baste again with the BBQ sauce before serving. Please note that cooking times will vary with the size of your meatballs, check for an internal temperature of 145°F or higher.

Garnish with chopped parsley, scallions or chives.

If you've tried this recipe, come back and let us know how it was in the comments or star ratings.
Notes
Also feel free to use premade raw meatballs- these can often be found near ground beef in the meat department.
Nutrition
Calories:
193
kcal
,
Carbohydrates:
9
g
,
Protein:
9
g
,
Fat:
13
g
,
Saturated Fat:
5
g
,
Polyunsaturated Fat:
1
g
,
Monounsaturated Fat:
6
g
,
Trans Fat:
1
g
,
Cholesterol:
50
mg
,
Sodium:
329
mg
,
Potassium:
193
mg
,
Fiber:
1
g
,
Sugar:
5
g
,
Vitamin A:
74
IU
,
Vitamin C:
1
mg
,
Calcium:
37
mg
,
Iron:
1
mg