There is nothing quite like homemade mashed potatoes, but those can become bland. Mix it up by using some new ingredients, like mascarpone and roasted red peppers, to make these Mascarpone Mashed Potatoes … the best mashed potatoes recipe!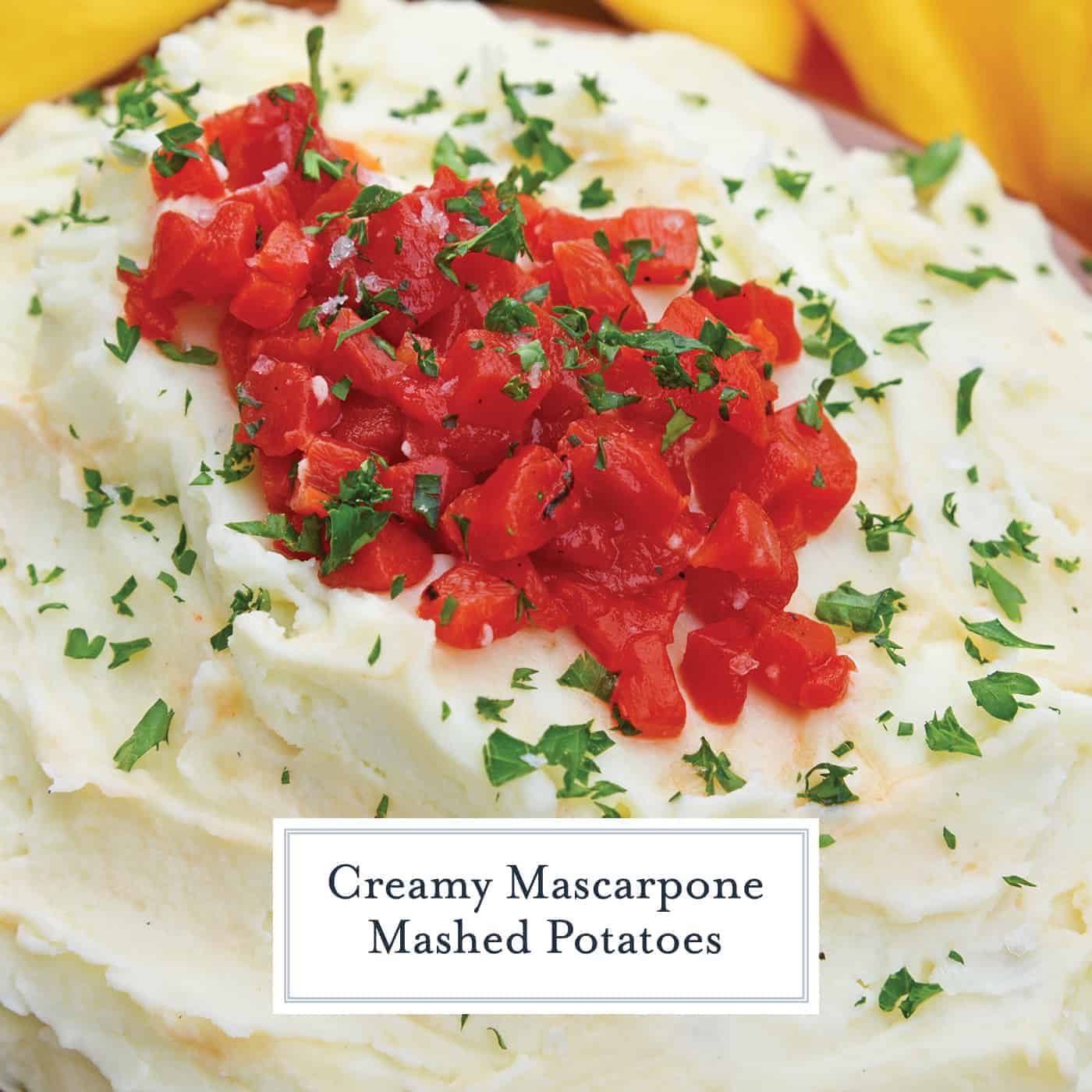 Mascarpone Mashed Potatoes take traditional mashed potatoes up a notch by adding creamy mascarpone and roasted red peppers!
Oh, mashed potatoes. If you read my blog with any regularity, you know my obsession with potatoes.I love spuds. They are a blank canvas waiting to be painted.
What makes the best mashed potatoes recipe? For me, they are fluffy and soft, nearly pillow like, with the taste of potatoes, but also the creaminess of butter and cream.
For this mashed potato recipe, the creaminess comes from mascarpone cheese, whole milk and butter. This is one of those times when you don't skimp. Do not use reduced fat ingredients for this recipe. Take the night off from your diet and indulge in these perfect potatoes.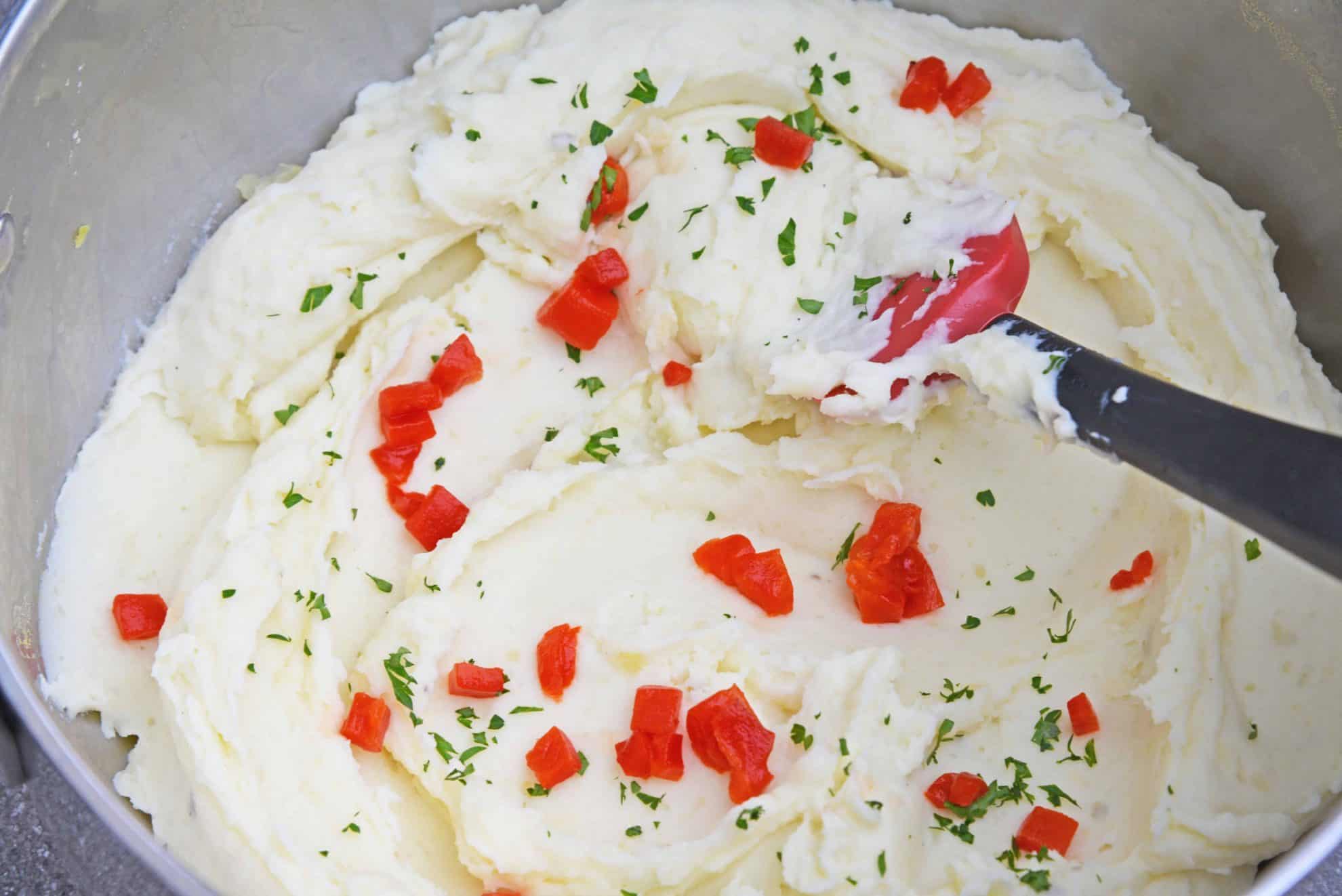 Have you ever spent the time to peel, dice and boil your perfect mashed potatoes and then, bam, you pour in a little bit too much milk , cream or butter and now you are left with a soupy mess?
I always try to add slowly so I don't hit this critical point, but it can be hard to estimate prior to whisking or ricing. But you are in luck, I have a simple cheater tool for you: instant mashed potatoes.
Personally, I do not care for dehydrated potatoes flakes, but they are a fast fix for loose mashed taters. Just add a small amount until your mashed potato masterpiece reaches the optimal consistency.
Not too sure how to make homemade mashed potatoes? The good news is they aren't hard to make! All you need is some potatoes, milk, and butter, and you're ready to go!
Peel and chop up your potatoes and boil them until soft. Next you mash them up and add in your milk and butter and just whisk until smooth.
Short on time? You can also make Mascarpone Mashed Potatoes using all instant mashed potatoes by cooking according to package directions, omitting butter and milk from this recipe and picking up with the mascarpone, roasted red peppers, salt and parsley.
Tools for making the best mashed potatoes:
Potato Ricer
– Great for making smooth mashed potato recipes, but also great for deviled egg filling!
Potato Masher
– I use this gadget for so many things, but of course, it is great for the best mashed potatoes.
Electric hand mixer
– I love my stand mixer, but for some things, like whipping mashed potatoes in the same pot I cooked them in, an electric hand mixer with the whisk attachment works perfectly!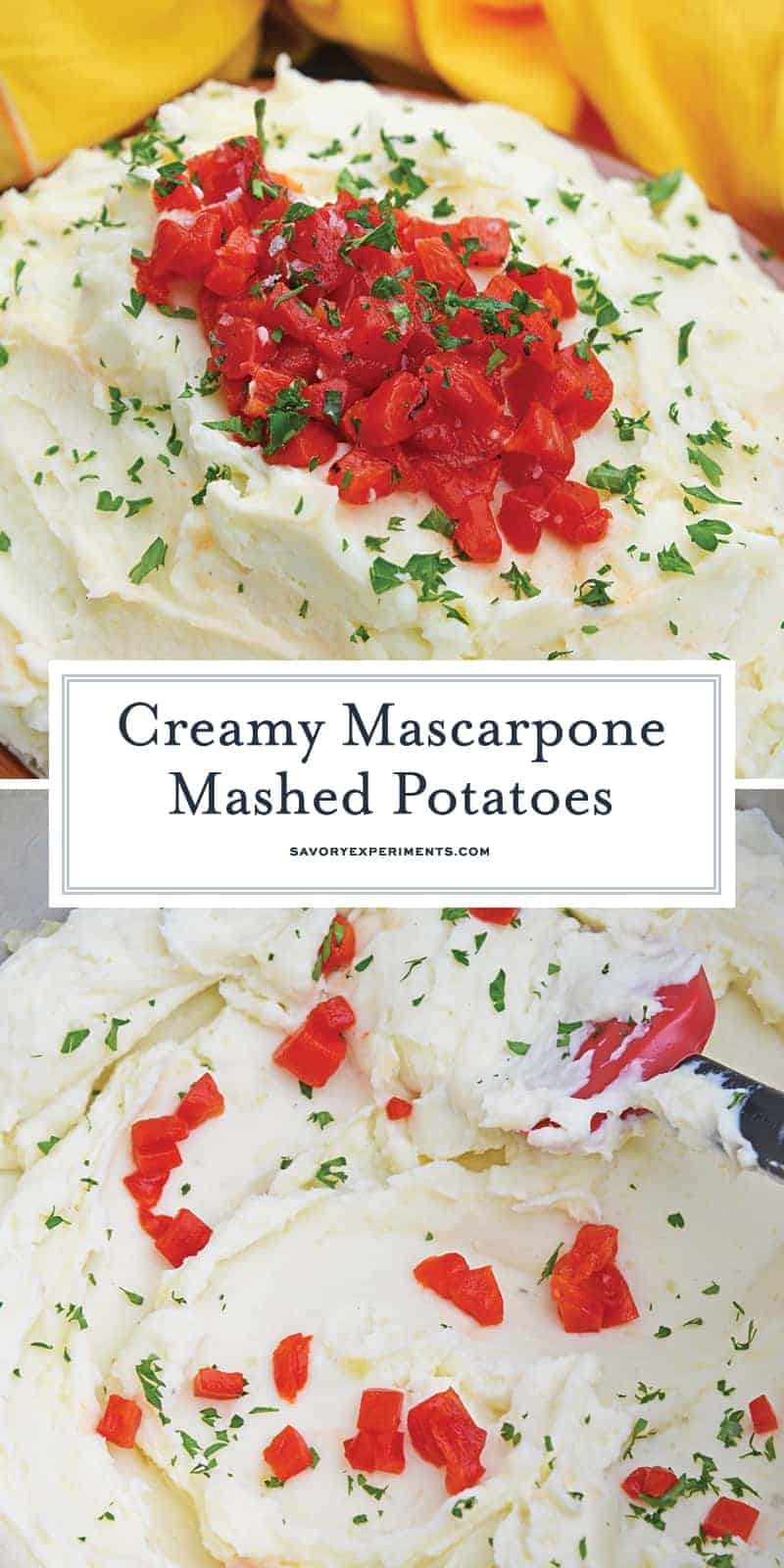 How to make mashed potatoes:
What are the best potatoes to make mashed potatoes? There are many potatoes out there, over 4,000, in fact. The most common in the states are red potatoes, Yukon Gold, Russets, new potatoes (baby potatoes) and of course, sweet potatoes.
All potatoes have a different starch content, texture of flesh and skin so certain potatoes are better for certain things. Peeled Russet or Yukon gold potatoes have a higher starch content and are therefore the best base for fluffy homemade mashed potatoes.
Can you freeze mashed potatoes? You can freeze mashed potatoes! They do best in an airtight plastic bag with as much air as possible removed from the bag. There is still a lot of water content and they lose a little richness, so they might need a little TLC when thawed. Additional butter or a few tablespoons of sour cream will work wonders.
How long do mashed potatoes stay good? If kept chilled, for up to 4-5 days.
Are mashed potatoes gluten-free? Basic mashed potatoes are gluten free, however it depends on what you add to them after that can tip the scales. This recipe is, indeed, a gluten free mashed potato recipe.
Are potatoes healthy or good for you? I am really starting to loathe the term "healthy". It is defined by everyone differently. Potatoes do have some health benefits including being low in calories, fat-free, low sodium and cholesterol, high in potassium and good source of B6 and fiber.
This recipe, however, has full fat milk, butter and mascarpone cheese, which aren't notoriously healthy ingredients… so… you make up your mind whther this is "healthy" or not.