Looking for the ultimate party appetizer? I'm not sure there has ever been one more fitting than Grape Jelly Meatballs.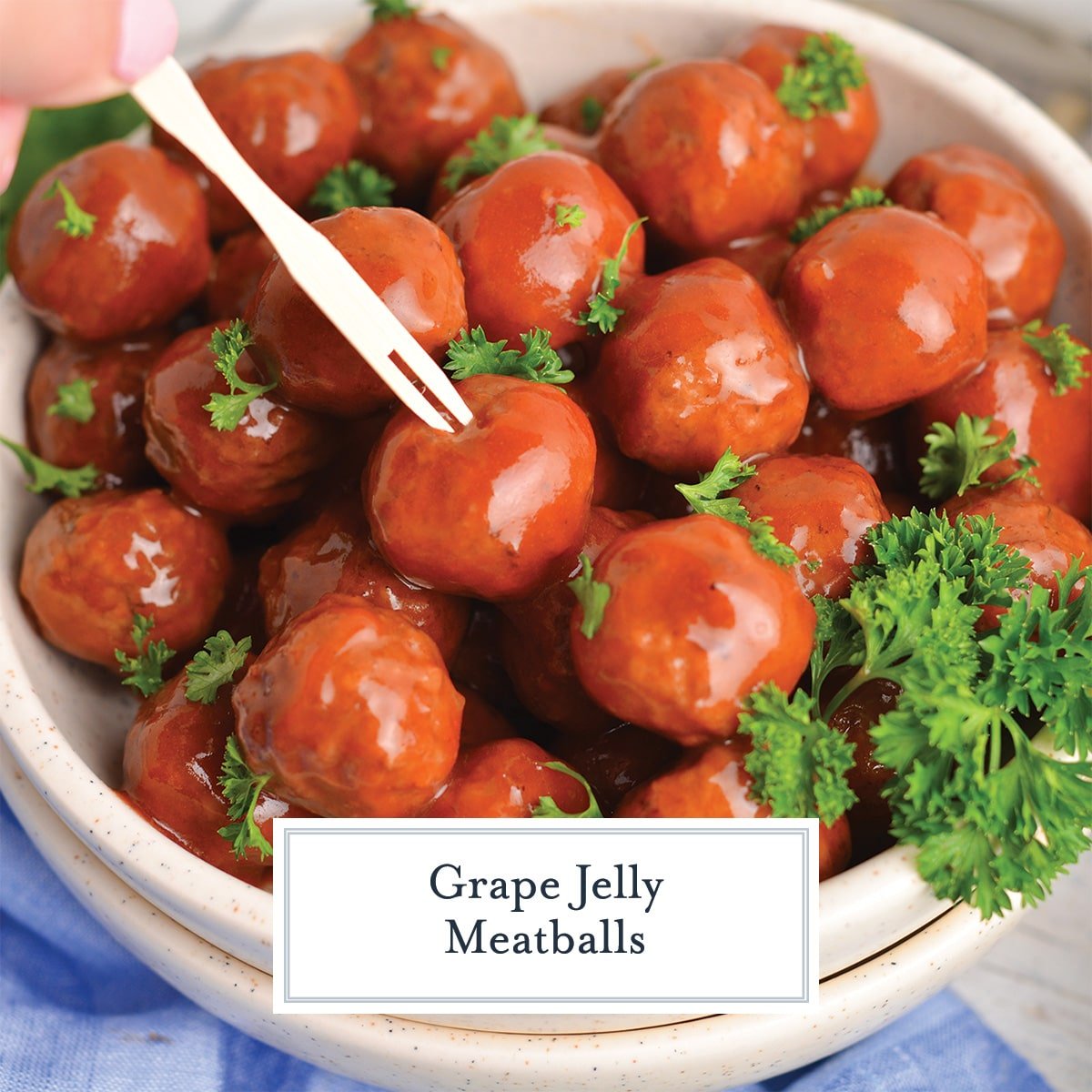 Cocktail Meatballs are a childhood favorite!
Grape Jelly Meatballs, or sometimes simply known as cocktail meatballs, are one of my favorite childhood recipes.
Long before the days of slow cookers or crock pots, grape jelly meatballs were simmered on the stove's of 1950's housewives and served as gourmet hors d'oeuvres.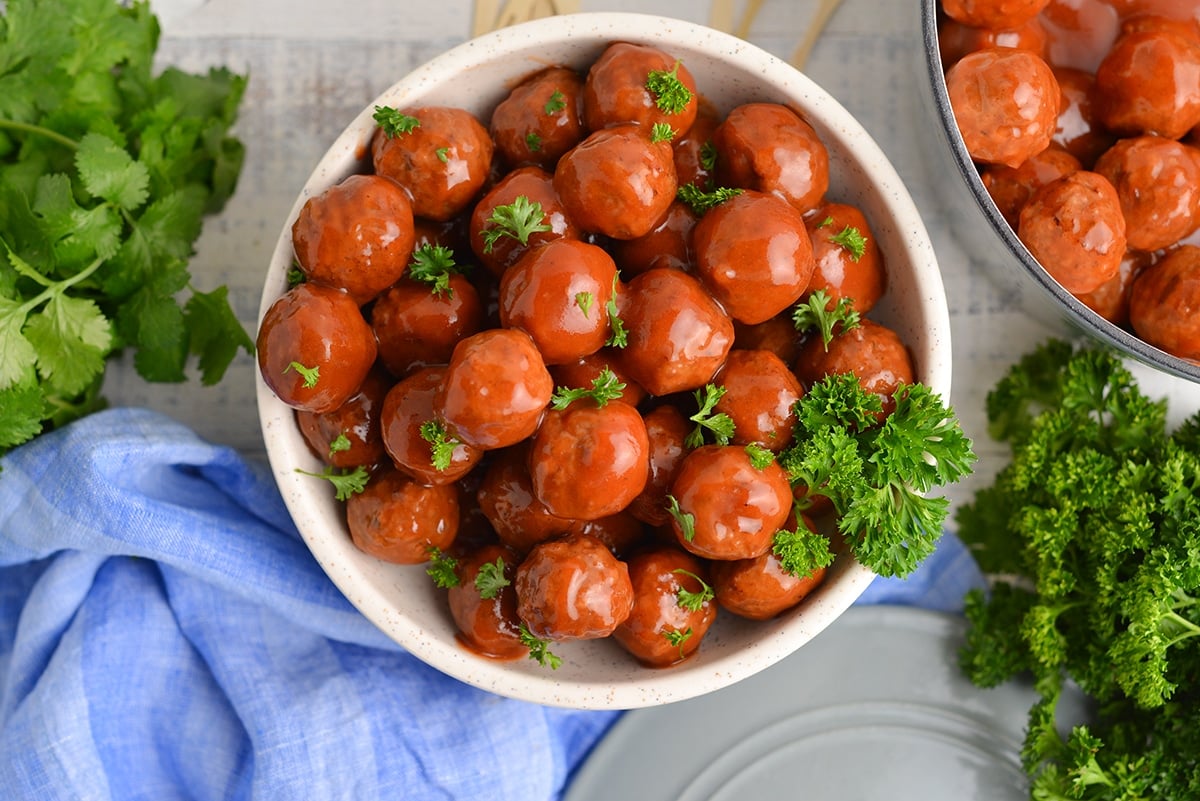 Really, anything on a toothpick was considered to be a fancy appetizer! Pigs in a blanket, Sweet and Sour Meatballs, Caprese Stacks, anyone?
Meatballs with Grape Jelly sauce
I watched the stove like a hawk. I was a slightly type A child. Imagine the day I learned how my favorite cocktail meatballs were made. Grape jelly and ketchup? Say what? GROSS!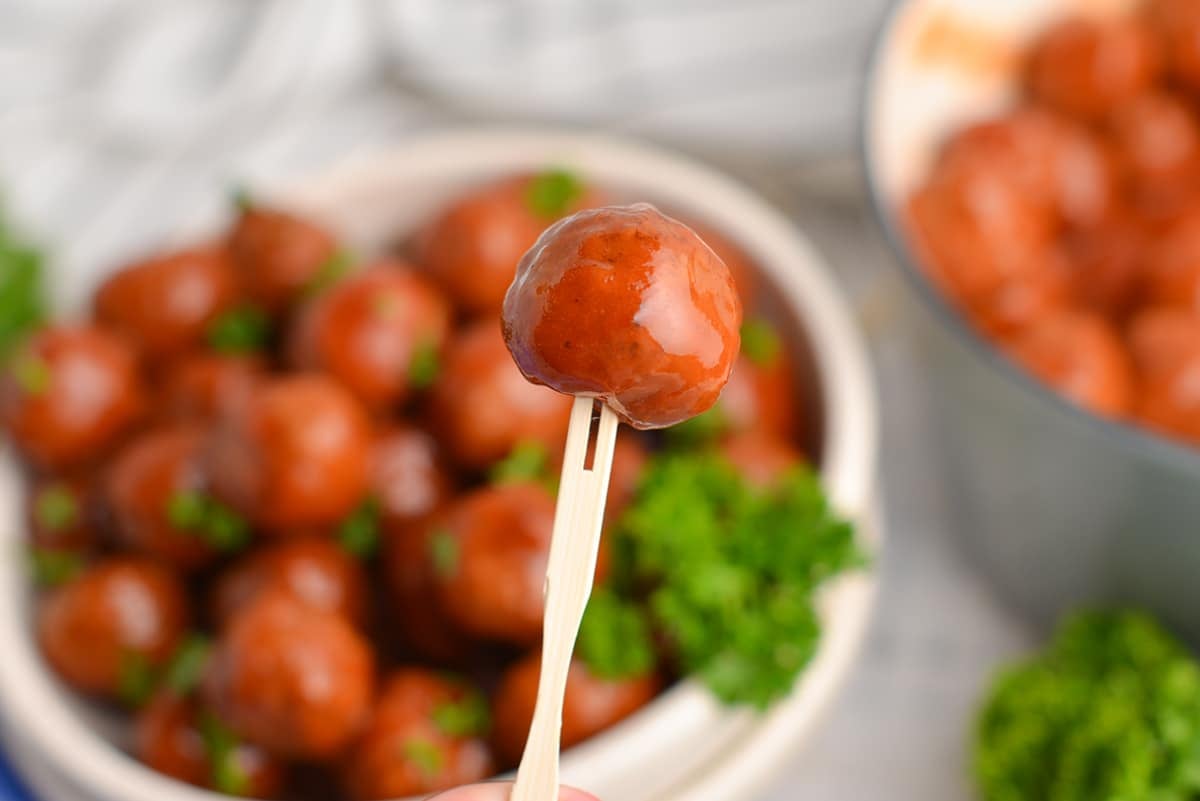 Now it makes perfect sense, the perfect balance of sweet and acidic. When married, the ultimate sticky sauce for meatballs. And so incredibly verstile, keep reading below for the wide range of variations.
How do you thicken grape jelly sauce?
The sauce will go through several phases. The first will be a little lumpy, but will thin and smooth as the jelly melts.
The second is a thinner sauce that seems nearly soupy, but as the sauce reduces and the water from your meatballs also evaporates out, it will thicken. The sauce also thickens as it cools.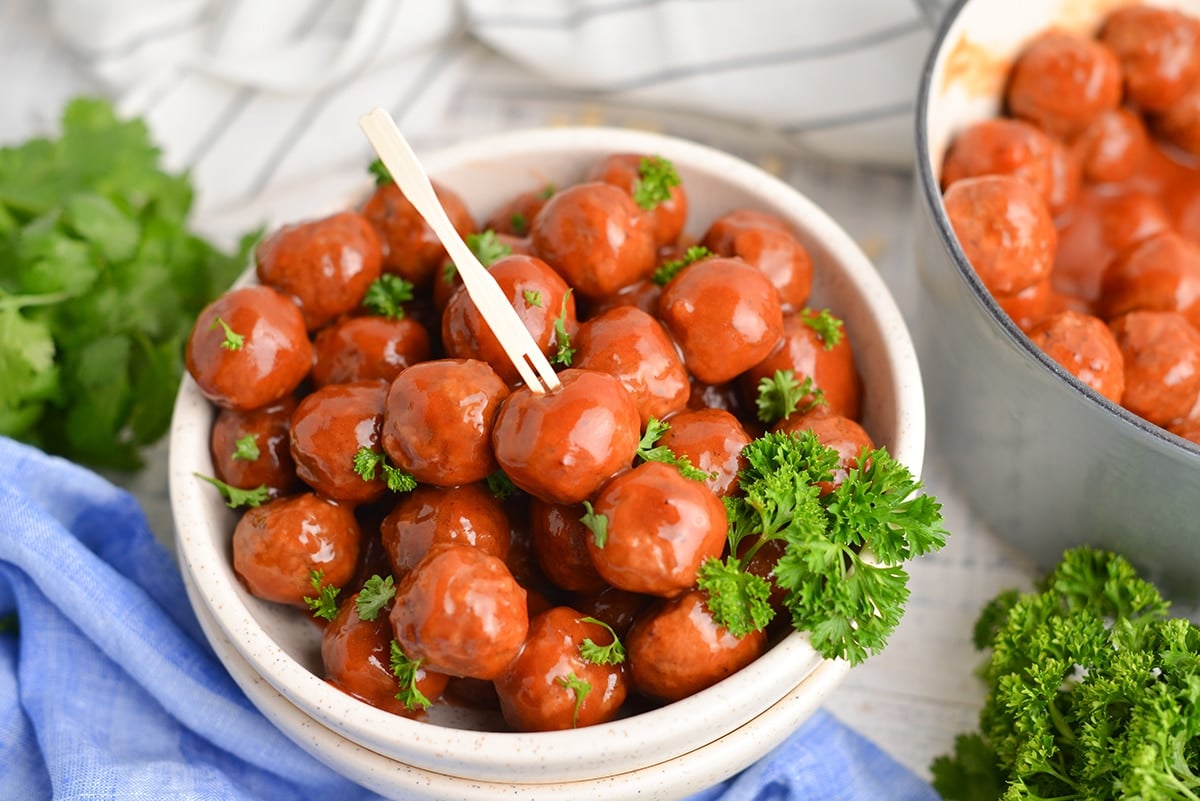 What I do warn against is not cooking them on too high of a heat. Because both grape jelly and ketchup have sugar, it will burn and scald if not kept on low.
But if your sauce is still too thin for your liking, combine 1 tablespoons of cornstarch or arrowroot with 1 tablespoon of water to make a thick paste, then whisk into the sauce. It should thicken in minutes.
What you'll need for Cocktail Meatballs with Grape Jelly
Let's be honest here, most people making grape jelly meatballs are doing so because they are looking for an easy party appetizer. Therefore, making homemade meatballs might not be on the to-do list and there is no judgement here for that.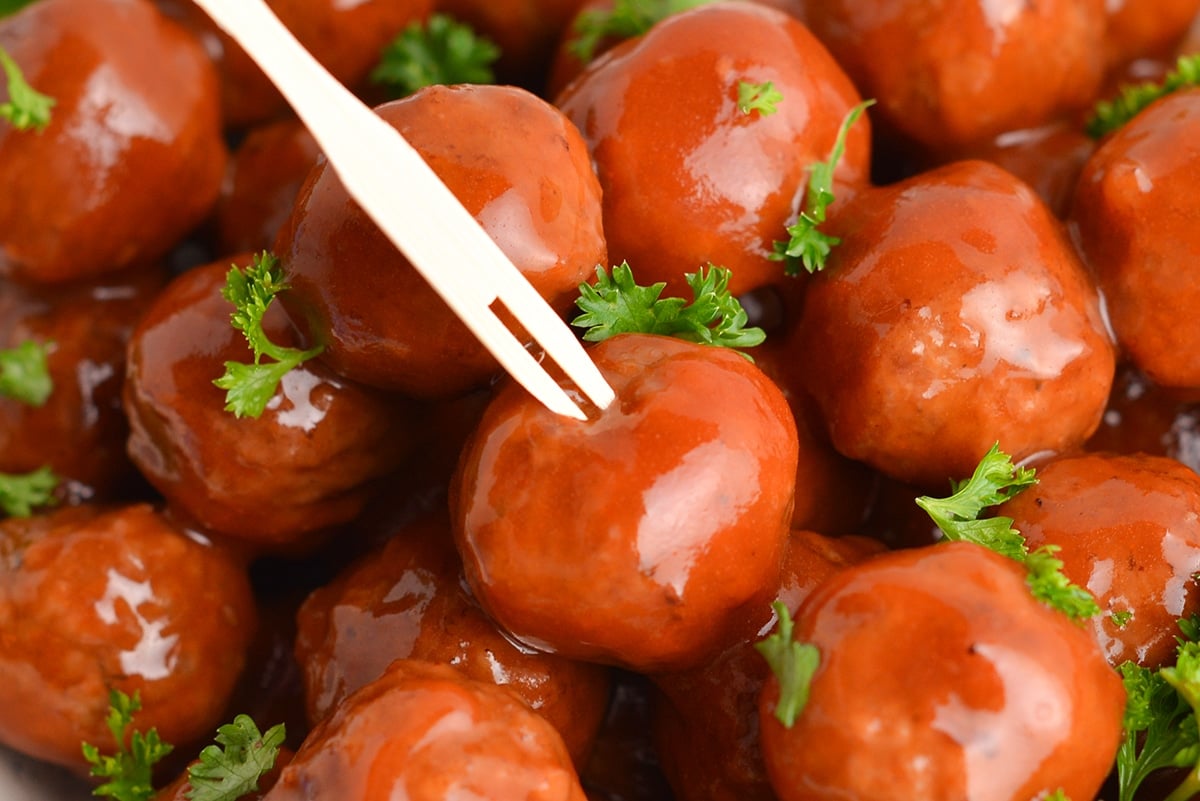 Just grab a bag of frozen meatballs and call it a day. Italian style, homestyle, turkey meatballs, chicken meatballs, heck, even veggie meatballs are all acceptable. The sauce will season them to perfection and make even the plainest of store bought meatballs taste divine.
Meatballs- This recipe uses small, cocktail sized meatballs about the size of a golf ball. You are welcome to make homemade meatballs or buy frozen. They are commonly called "homestyle", these are made without additional spices and seasonings that might not align with grape and ketchup.
Grape Jelly- Hence the name, grape jelly adds the needed sugar to balance acidity from ketchup or another tomato-based sauce.
Ketchup- Ketchup, a sweetened tomato sauce, is the most traditional and basic way to make these cocktail meatballs. However, BBQ sauce or chili sauce can also be used for more pizazz.
How to Make Grape Jelly Meatballs
Let's get to the important part- how do you make grape jelly meatballs? It is crazy easy.
Gather your ingredients including ketchup, grape jelly and meatballs.
Place them in a heavy bottom saucepan over low heat and stir for 2 hours, or until the sauce has combined and thickened. Do not heat over hotter heat or the sauce will scald.
Enjoy!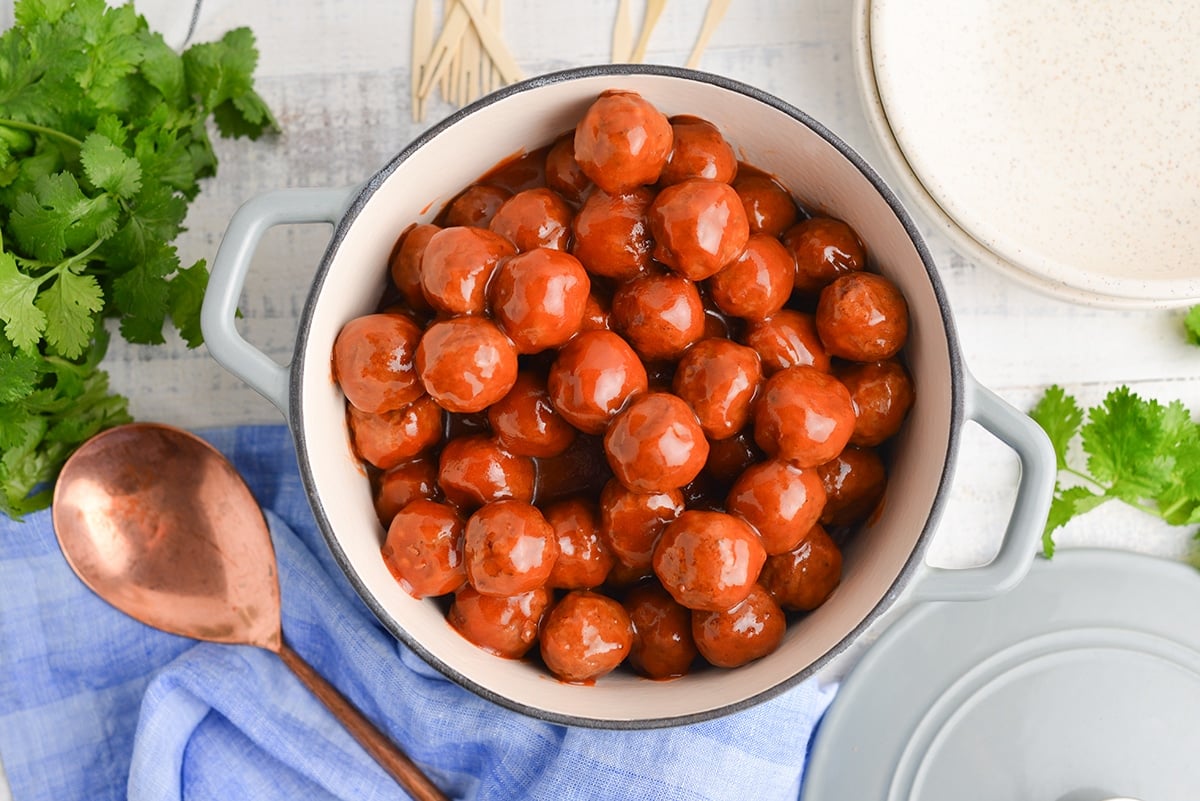 Some folks prefer to make them in the Instant Pot or Slow Cooker.
Slow Cooker Grape Jelly Meatballs– Combine the same ingredients into your slow cooker and set to low for 3-4 hours.
Instant Pot Grape Jelly Meatballs- Save some times using your electric pressure cooker! Place all of the ingredients into the pressure cooker pot with 3/4 cup of water. Stir as best you can, then lock and seal the lid and set to manual high pressure for 6 minutes. Do a quick release and stir. You have to add water to build pressure, so the sauce has the tendency to be thinner. Follow the instructions above to thicken the sauce.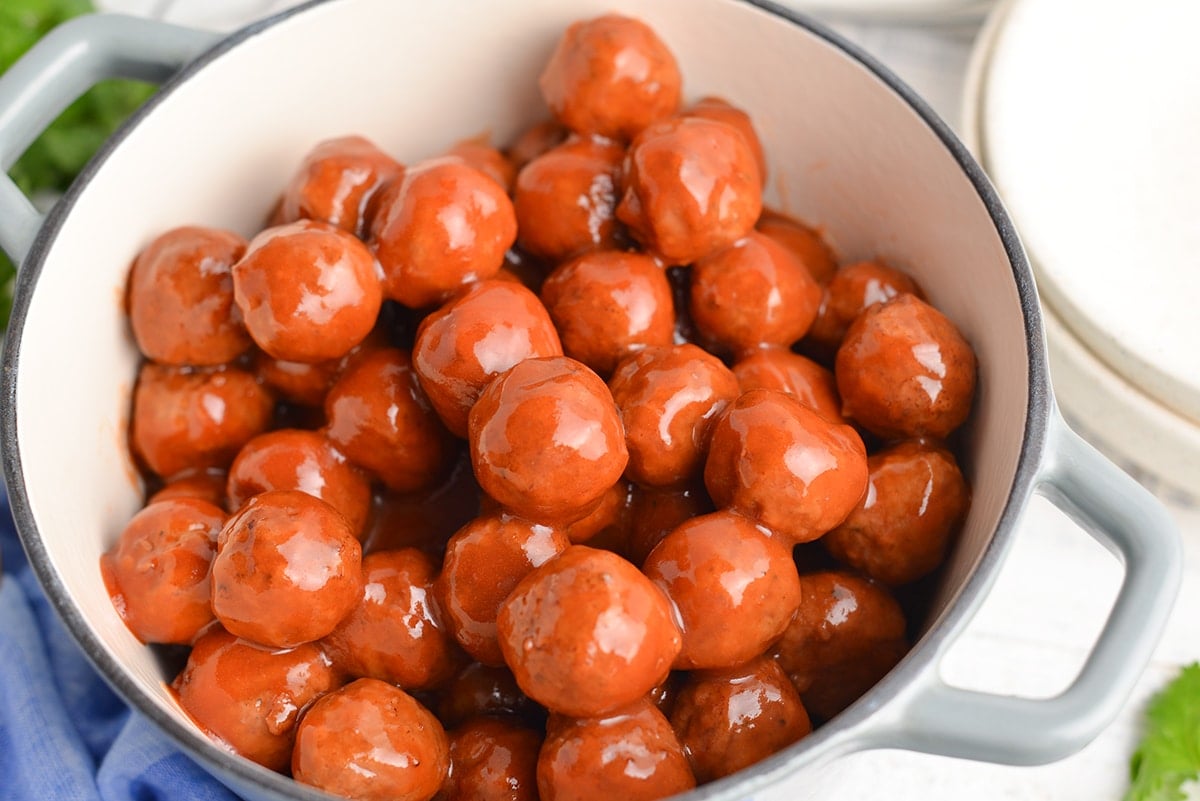 Grape Jelly Meatball Recipe variations
When I tell you this grape jelly meatball recipe is so flexible, I'm not kidding. No need to worry about the exact measurements of nearly anything. It also has several easy variations.
For the Ketchup: Chili Sauce (such as Heinz) or BBQ Sauce
For the Grape Jelly: Apricot preserves, cranberry sauce, hot pepper jelly
For the Meatballs: Little smokies (mini hot dogs), turkey meatballs, chicken meatballs, plant based meatballs, cauliflower florets
Sauce Elevation: Add a dash of Worcestershire sauce, crushed red pepper flakes, or brown sugar
Serving Cocktail Meatballs
While grape jelly meatballs are perfect as a snack or appetizer, they can also be easily transformed into a whole meal.
Make them into sliders
Build a meatball sub, add provolone cheese and banana peppers
Serve them over white rice with sauteed bell peppers and onions
Serve them over mashed potatoes like my Grandma's BBQ Meatballs
What do you eat grape jelly meatballs with?
These little meatballs are easily paired with nearly anything. You can serve them alone or on small slider rolls for sweet and tangy two-bite sandwiches.
Here are a few other items I usually pair them with in an appetizer spread.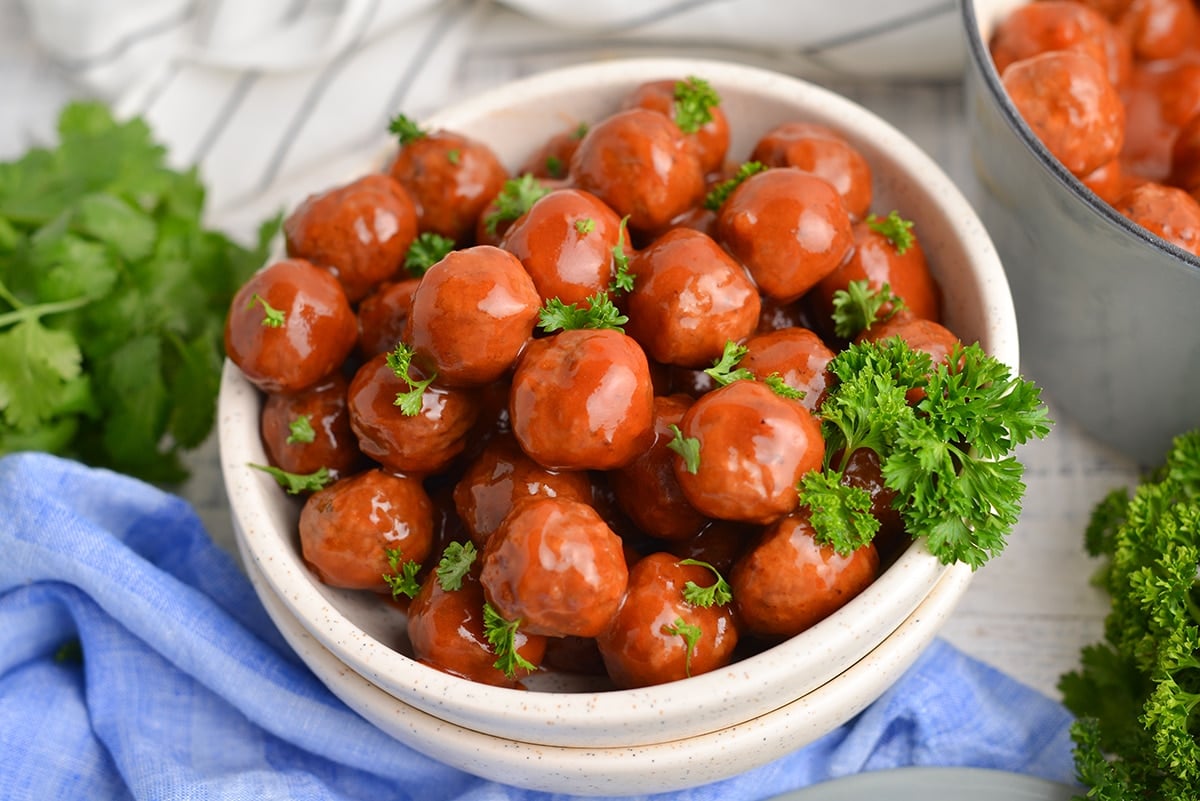 How many cocktail meatballs per person?
This largely depends on the crowd you are feeding and how many other appetizers will be gracing the table. I suggest planning for 4-8 per person. A serving size is considered to be 4 meatballs.
How to store and reheat this Grape Jelly Meatballs Recipe
Can I freeze grape jelly meatballs? Of course! In fact, I encourage you to make a double batch and freeze half for easy cooking the next time around.
Can I make cocktail meatballs ahead of time? In fact, they are better if you make them ahead. The meatballs flavor the sauce and the sauce flavors the meatballs.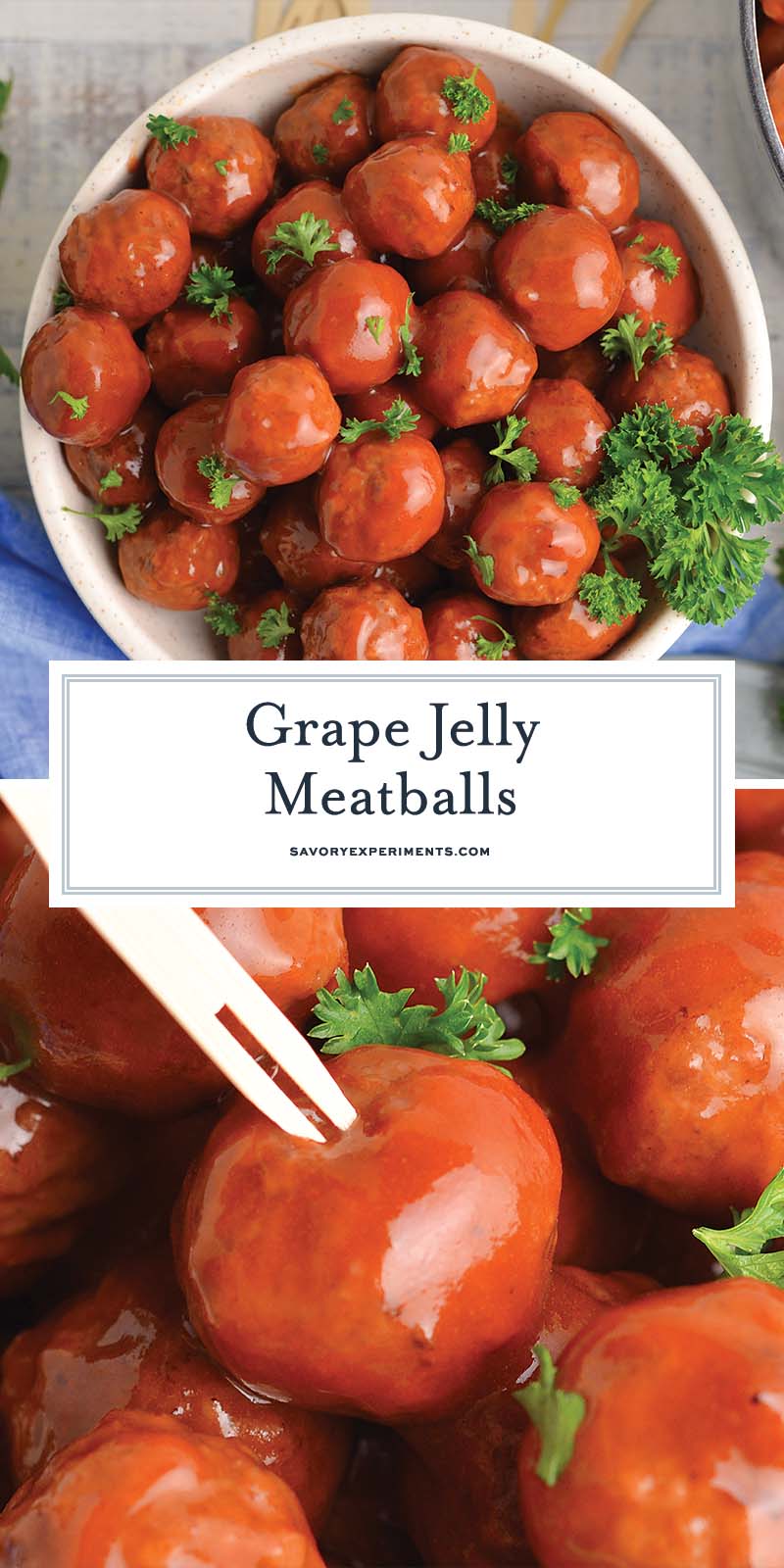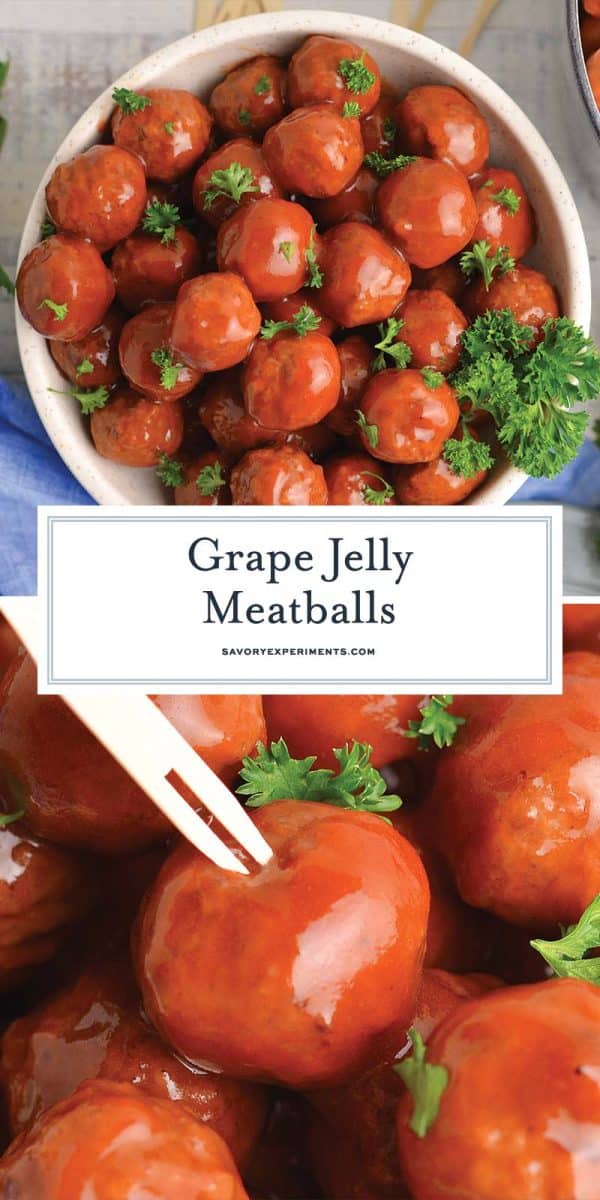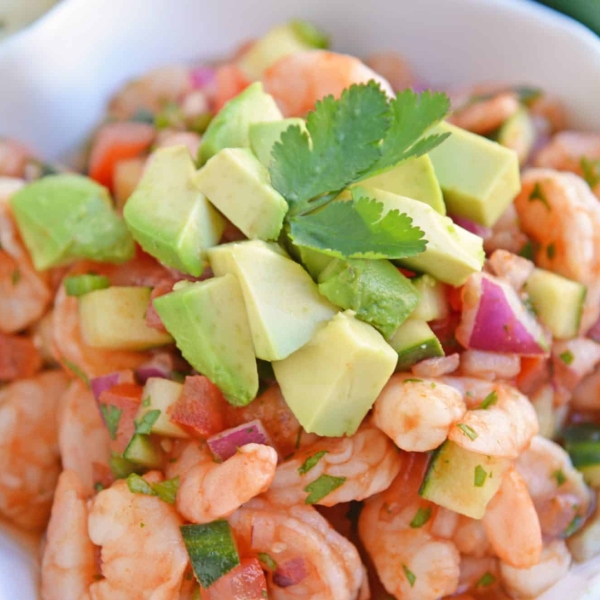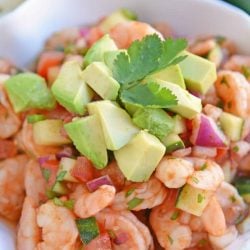 Mexican Shrimp Cocktail
Mexican Shrimp Cocktail is an easy recipe made with shrimp, fresh vegetables, tomato juice and hot sauce for a spicy version of your favorite classic. Top with avocado and serve with tortillas chips or saltine crackers.
See The Recipe!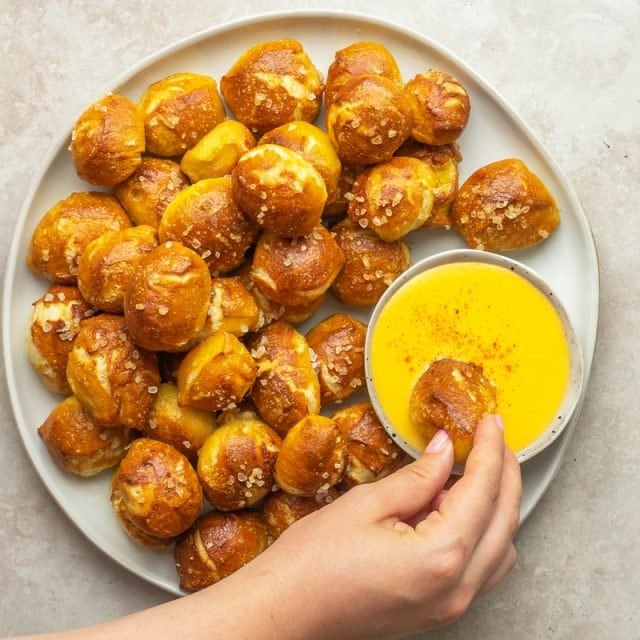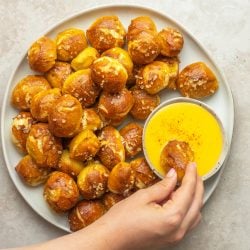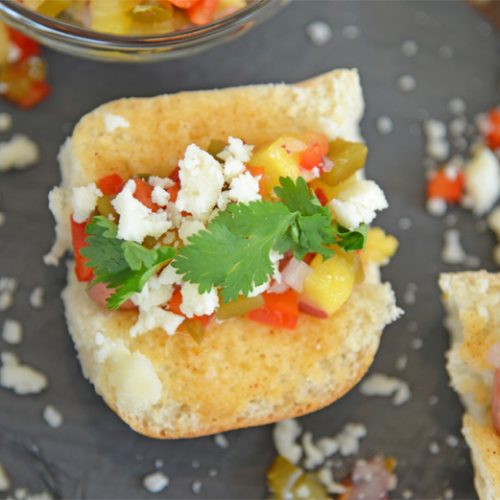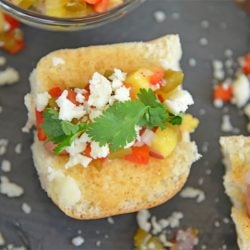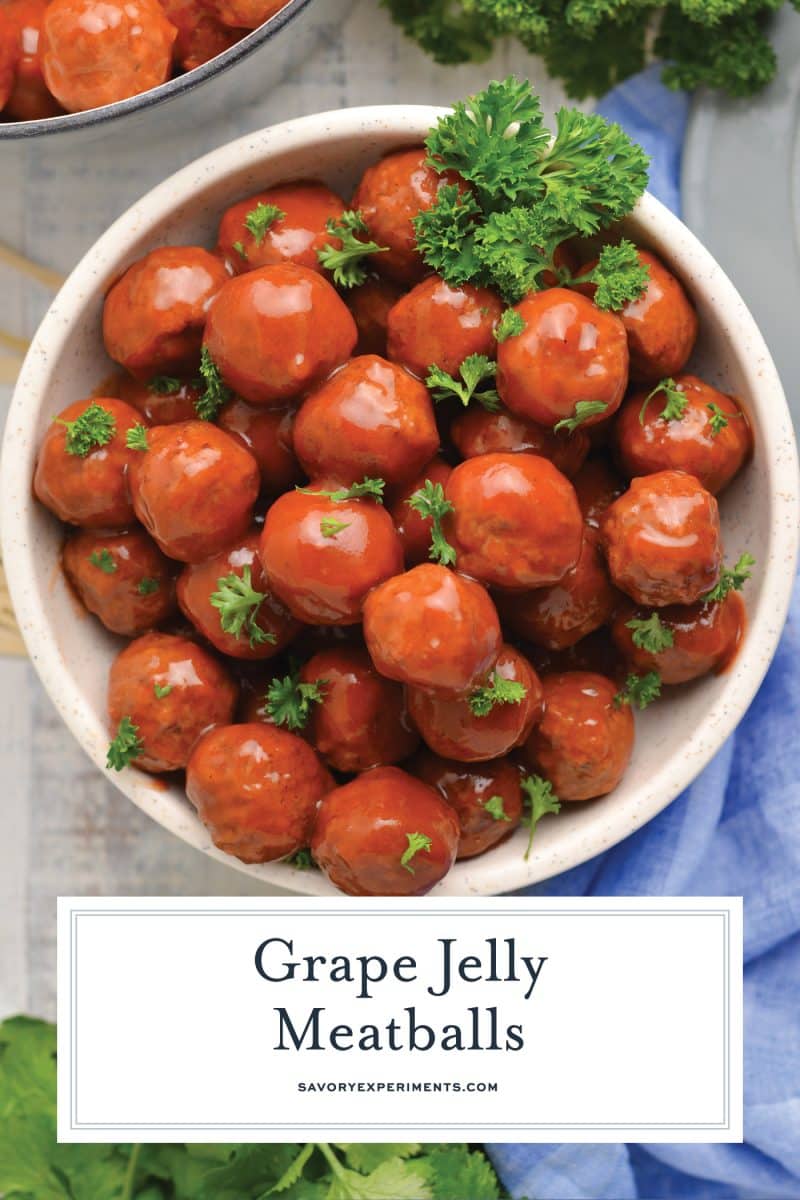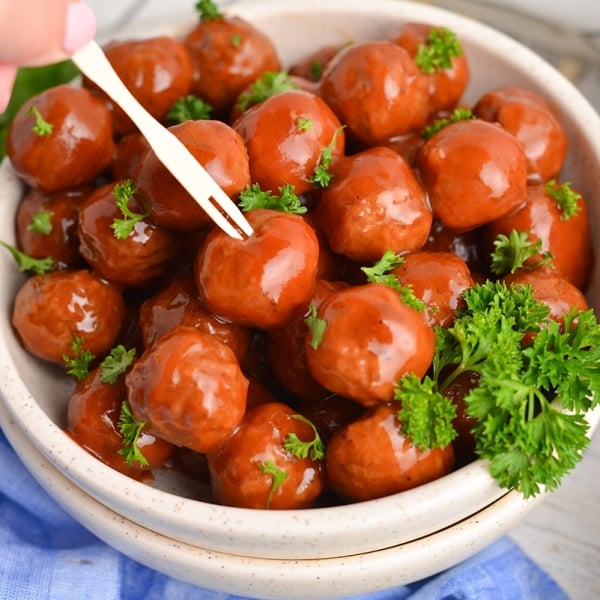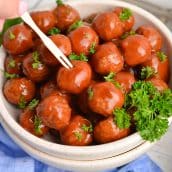 Cocktail Meatballs with Grape Jelly
Grape Jelly Meatballs are easy to make with only THREE ingredients! Perfect for throwing into the crockpot as a party appetizer!
Ingredients
2

pounds

small meatballs

cooked, frozen or fresh

12

ounces

grape jelly

12

ounces

ketchup or BBQ sauce
Instructions
Place the meatballs, ketchup and grape jelly in a large saucepan.

Cook over low heat for 1 hour, stirring occasionally to mix the sauces. Continue to heat until hot the whole way through and sauce has reduced and darkened in color.

If you've tried this recipe, come back and let us know how they were in the comments or ratings.
Notes
To serve Grape Jelly Meatballs as an entree, serve over mashed potatoes!
Instant Pot Grape Jelly Meatballs
Use the same ingredients, drop everything (including frozen meatballs) into the inner pot of the Instant Pot and set for manual pressure, high or 6 minutes. Use quick release function, stir well and serve!
Nutrition
Calories:
309
kcal
,
Carbohydrates:
26
g
,
Protein:
13
g
,
Fat:
16
g
,
Saturated Fat:
5
g
,
Cholesterol:
54
mg
,
Sodium:
308
mg
,
Potassium:
328
mg
,
Sugar:
19
g
,
Vitamin A:
150
IU
,
Vitamin C:
4.2
mg
,
Calcium:
21
mg
,
Iron:
0.9
mg