Dry ranch seasoning, ground beef and breadcrumbs come together to form the best Ranch Meatballs! Perfectly tender, juicy, zesty and delicious!
With simple ingredients and 35 minutes, you can make these delicious EASY Ranch Meatballs for dinner! A great way to spice up your spaghetti and meatballs!
You've had cocktail meatballs and Italian style meatballs, but have you had ranch meatballs?
These little nuggets are just like regular meatballs, but laced with the spices of dry Ranch dressing mix. What are those seasonings?
dry powdered buttermilk
dried parsley flakes
dried dill
garlic powder
onion powder
dried onion flakes
ground black pepper
dried chives
fine sea salt
You are probably familiar with all of the ingredients in this ranch meatballs recipe with the exception of maybe one. Dry powdered buttermilk.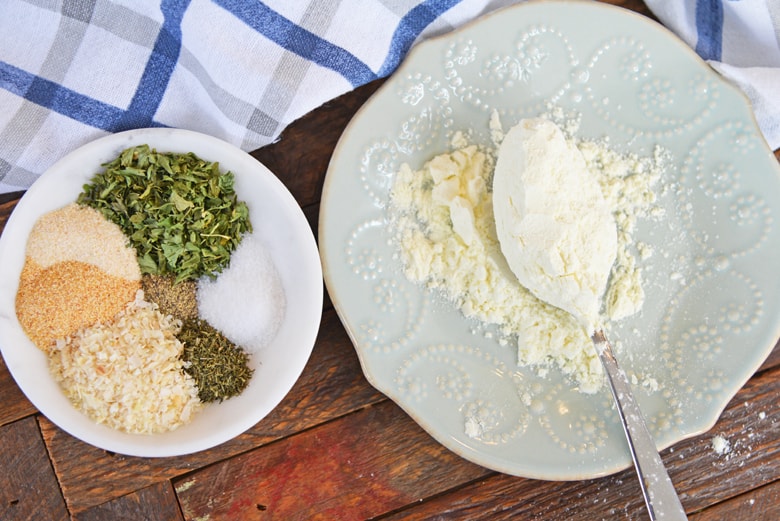 Dry powdered buttermilk is just like any other dry powdered milk. It is made from actual buttermilk, which is the liquid left behind after churning to milk butter, but fermented so it is a little funky.
But then dehydrated so it has a much longer shelf life. Let's be honest, I don't use that much buttermilk. Maybe here and there for fried chicken, pancakes and waffles, but not on the regular.
How to make Ranch Meatballs
The recipe is simple, just place all the ingredients together and toss until combined. The key to perfect meatballs is to not overwork the ingredients. In fact, it is recommended to toss the meat to form balls rather than rolling or packing.
You can use plain breadcrumbs to make these easy ranch meatballs, or even seasoned. The reason why I didn't was that the ranch mix has enough to flavor to compensate for the small amount of Italian seasoning in the seasoned varieties.
And you don't even have to use bread crumbs if you don't want to. Cracker crumbs like saltines or club cracker also work. I've even heard of some folks using cereal like Corn Flakes. You do need some binder though or else they will fall apart.
Do I have to use beef?
Nope! Any kind of ground meat will work for ranch meatballs. Chicken, pork (even spicy Italian sausage), turkey or beef will do. Keep in mind that you'll want a tiny bit of fat to help bind it all together.
You can even use a blend of ground meats or a meatloaf mix, commonly beef, veal and pork.
Can I freeze cocktail meatballs?
Ranch meatballs can be frozen after being cooked. Place into an airtight bag and freeze for up to 6 months. They can be prepared ahead of time and reheated in the oven. Place aluminum foil over the dish to reheat so they don't dry out.
Ranch meatballs can also be made into big meatballs. This recipe will make about 12 large meatballs suitable for spaghetti and meatballs or any other dish you might want to make with them.
More of my favorite ranch recipes:
CONNECT WITH SAVORY EXPERIMENTS!

Be sure to follow me on social media, so you never miss a post!

Facebook | Twitter | Youtube
Pinterest | Instagram

Get our FREE 8 Day E-Course on How to Be a Better Home Cook. Sign up HERE!