Chinese Dumplings are one of my favorite delicacies, but I often find that the wonton wrappers are too thick. Most made by restaurant are frozen anyhow. I would rather have a thin wrapper with loads of fresh filling, like my buddy Willis makes!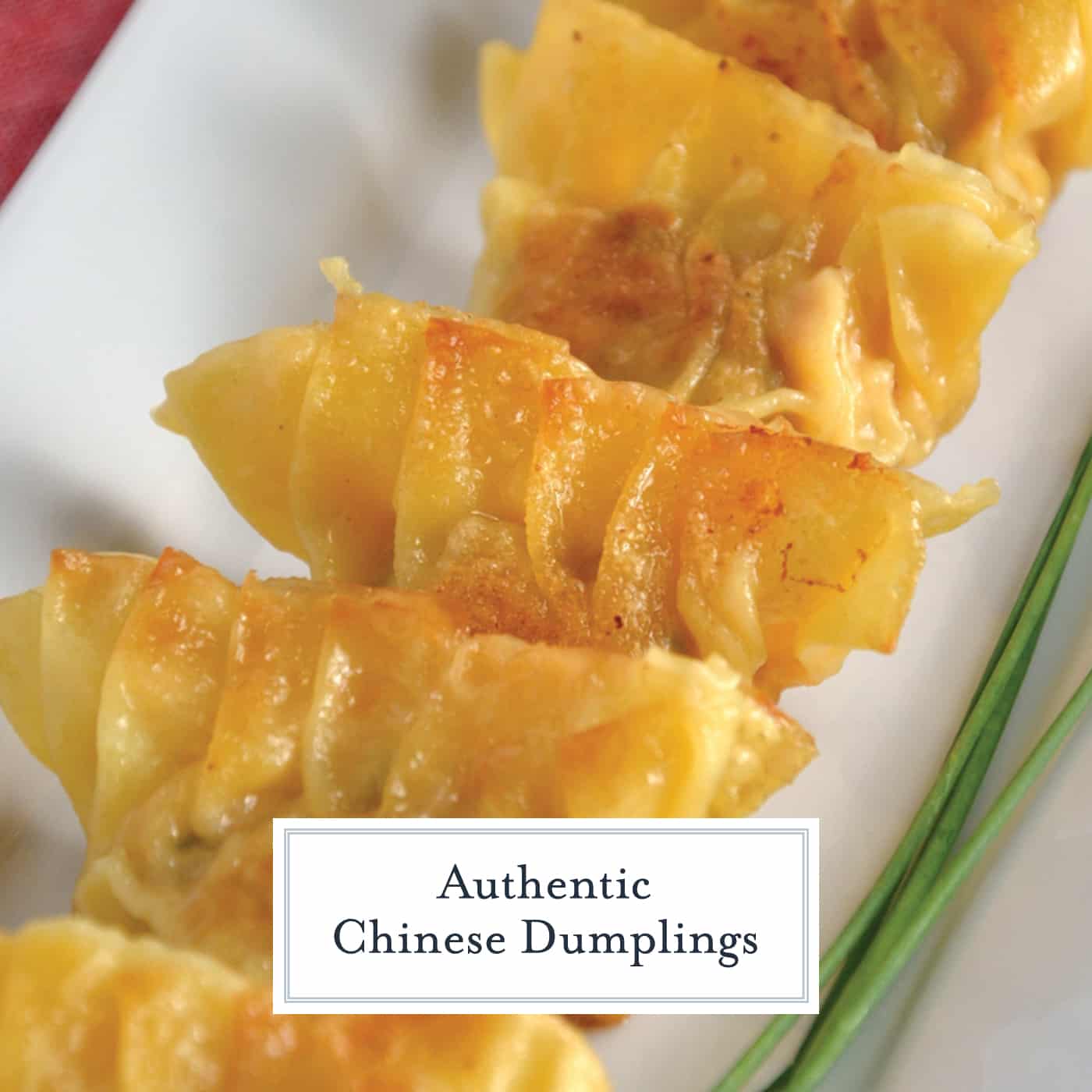 Authentic Chinese Dumplings is a recipe straight from a Chinese restaurant owner. Learn how to make perfect little folds and the fry and steam techinque of cooking.
How does a good Italian girl come across Authentic Chinese Dumplings? It just so happens that one my dearest friends is Chinese and his family owned a Chinese food restaurant in Detroit, Michigan for decades.
I've enjoyed learning about traditional Chinese cuisine compared to the Americanized dishes, one of which are dumplings.
Did you know that the expertise of a dumpling maker comes with how many folds they are able to crease in a single dumpling? There are also endless varieties of ways to fold a dumpling. My friend uses the "potsticker" fold.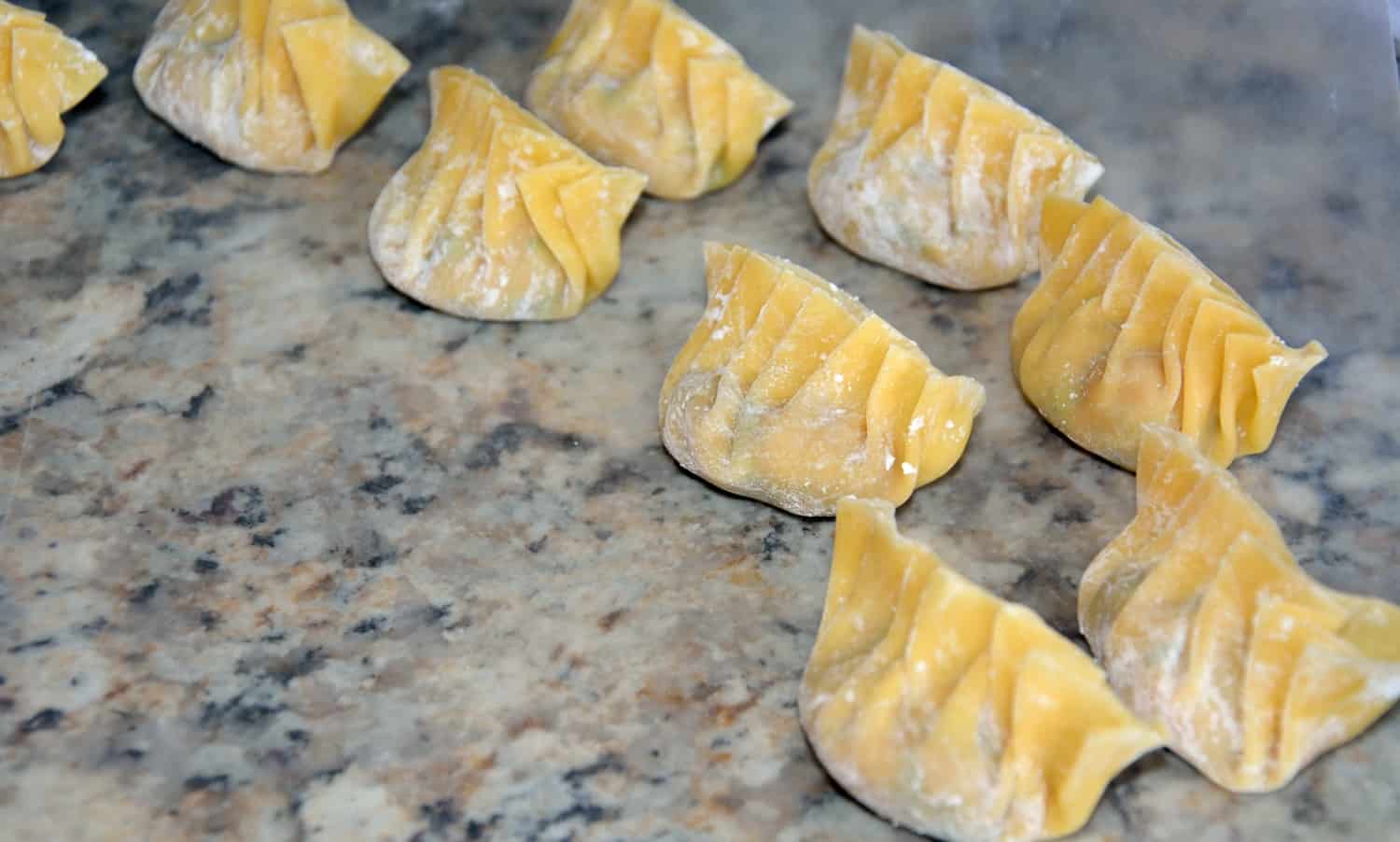 After the dumplings making scene in Crazy Rich Asians, I'm sure a lot more people are aware of the long history and family significance of not only folding dumplings, but the dumpling filling.
My buddy shows us how to do an eight creased potsticker, but some of the masters can you use this same size wrapper and pinch 16! Different folds are preferred for different cooking methods, like triangular for deep frying or the "purse" and "nurse cap" for steaming.
In order to do the fold, hold the filled dumplings in the palm of your hand and using your thumb and forefinger, pinch together the folds. Don't worry if you can't do eight. I was only able to get about five.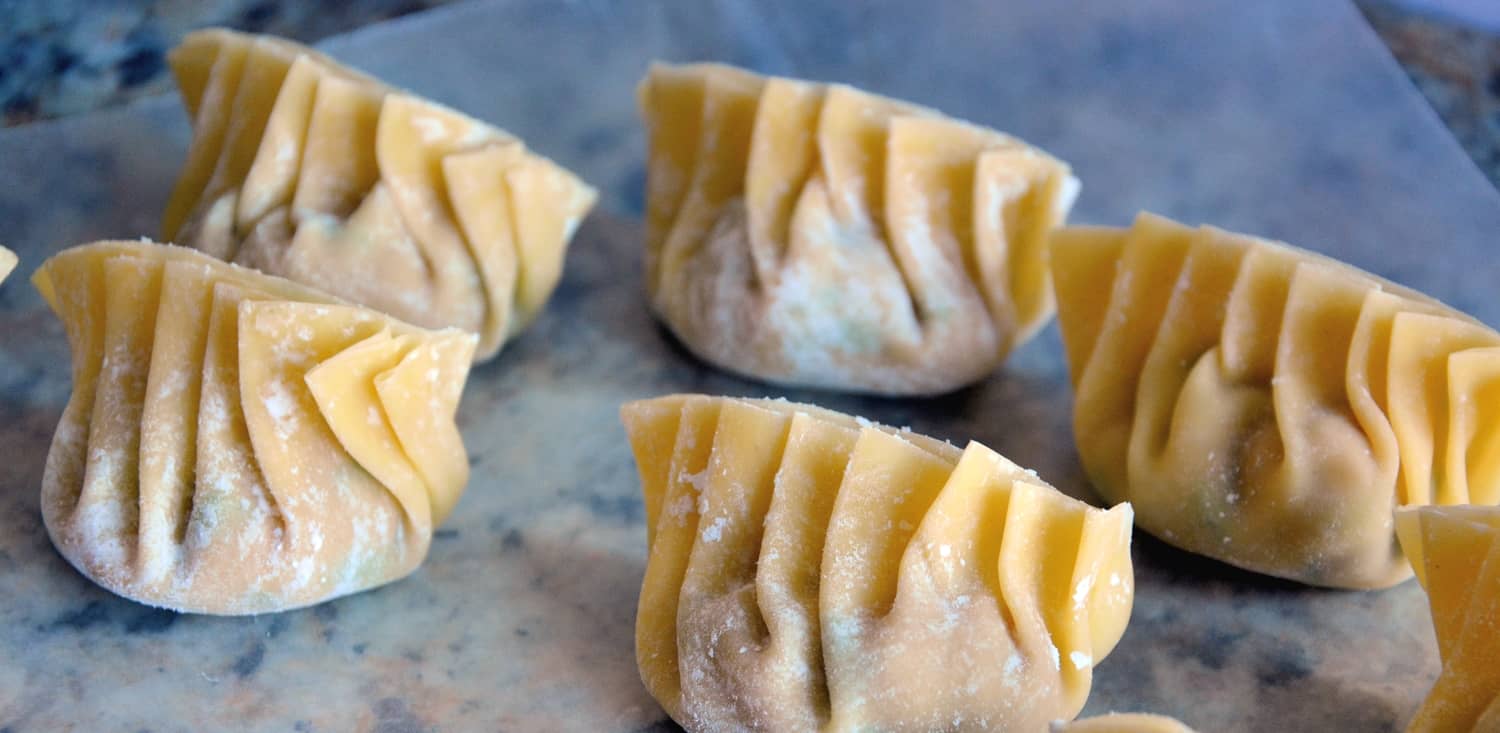 Pinching the folds will not be the most challenging part of making your own Authentic Chinese Dumplings though, it will be finding circular wonton wrappers, sometimes sold as wonton skins.
We get ours at a local Chinese grocery store, most cities will have at least one. After that, the rest of ingredients are pretty mainstream.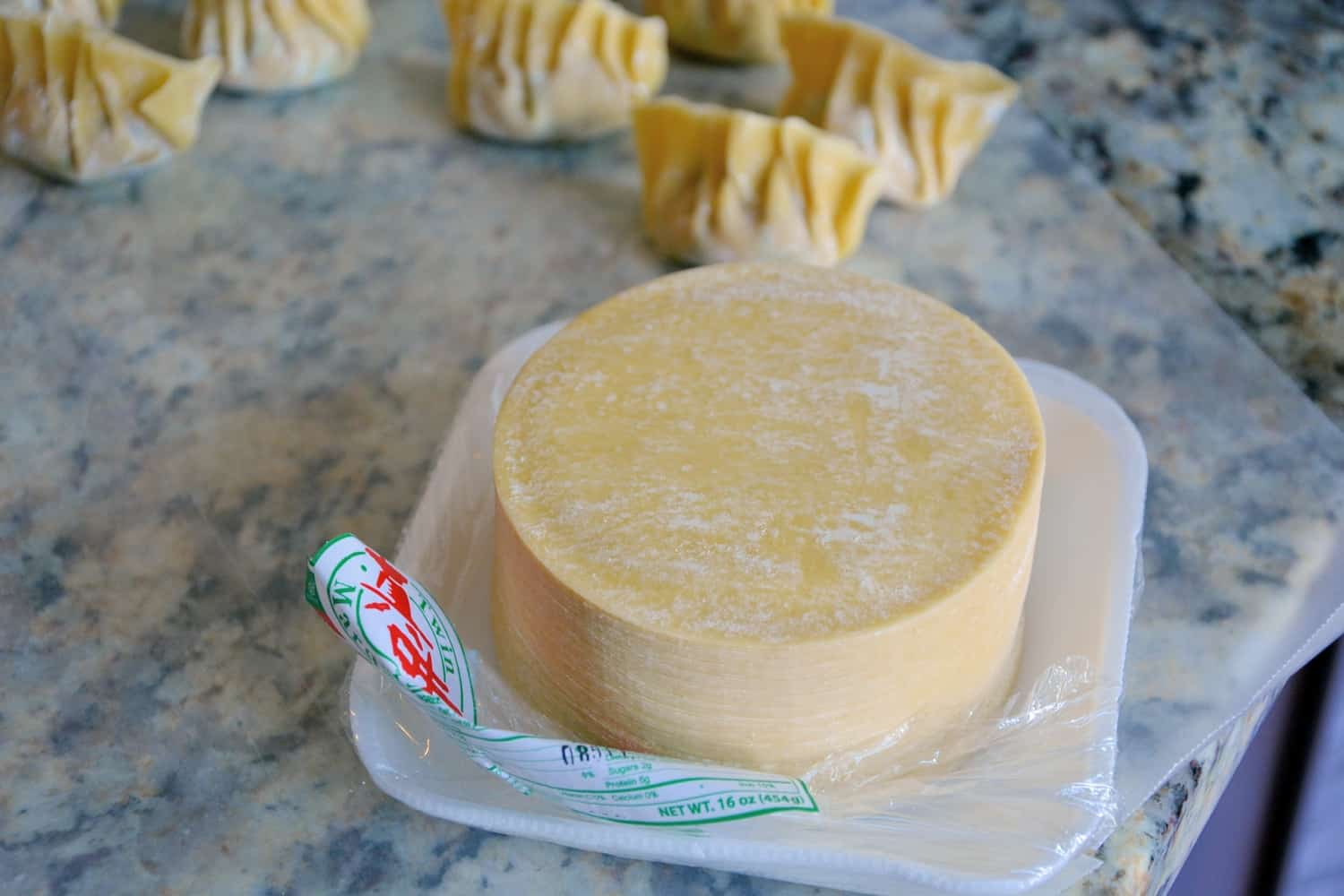 We used both pork and shrimp for filling our dumplings, but you can omit either, if you'd like. If you take out the ground pork, the filling won't be as cohesive, as the mixture and the fat helps to hold it all together.
Make sure you make a potsticker dipping sauce to accompany them.
Make Authentic Chinese Dumplings for an appetizer or as an entree, a regional favorite in Detroit. You can also make them ahead of time and freeze for 3-4 months.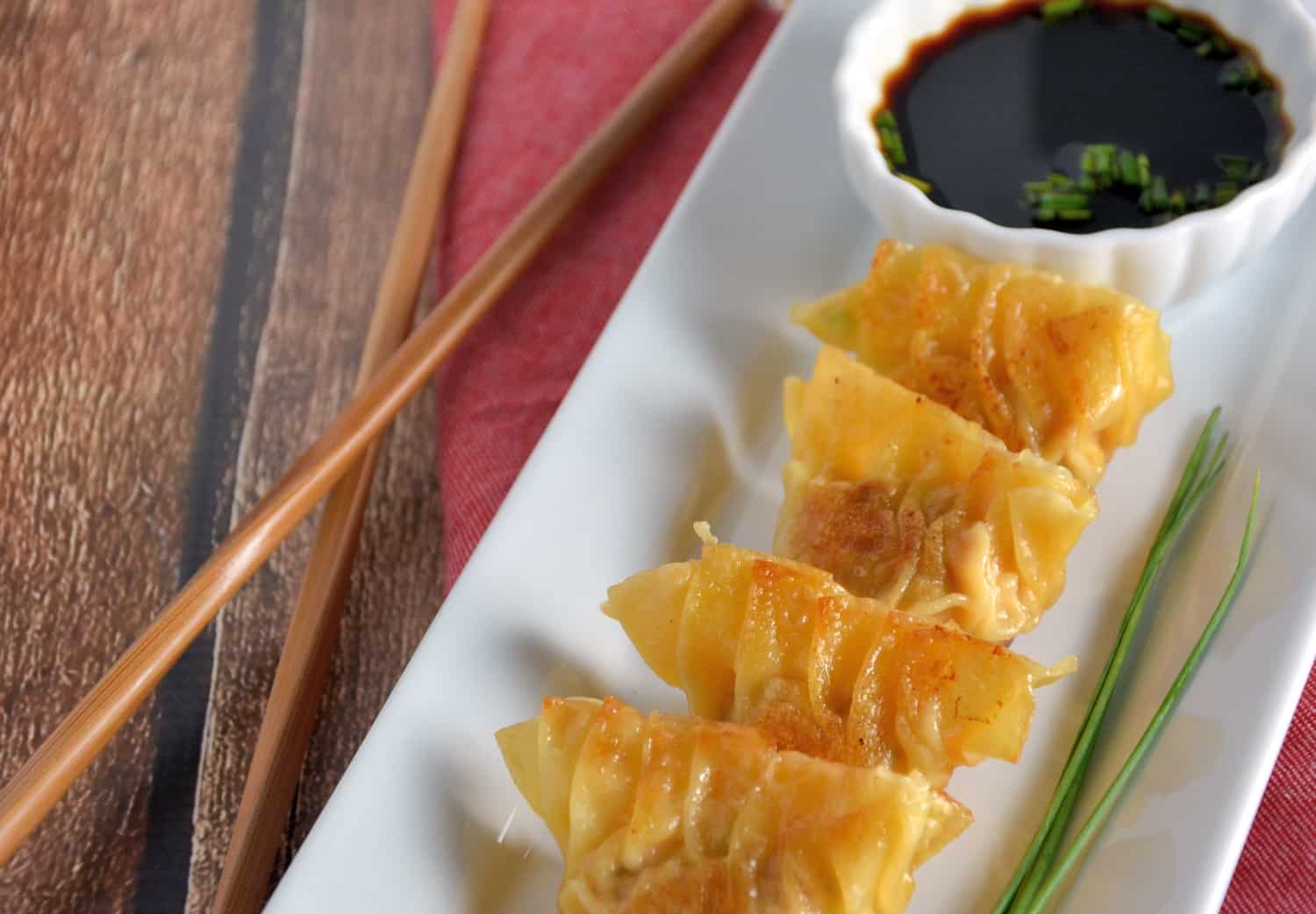 If you enjoyed this Chinese recipe, check these out: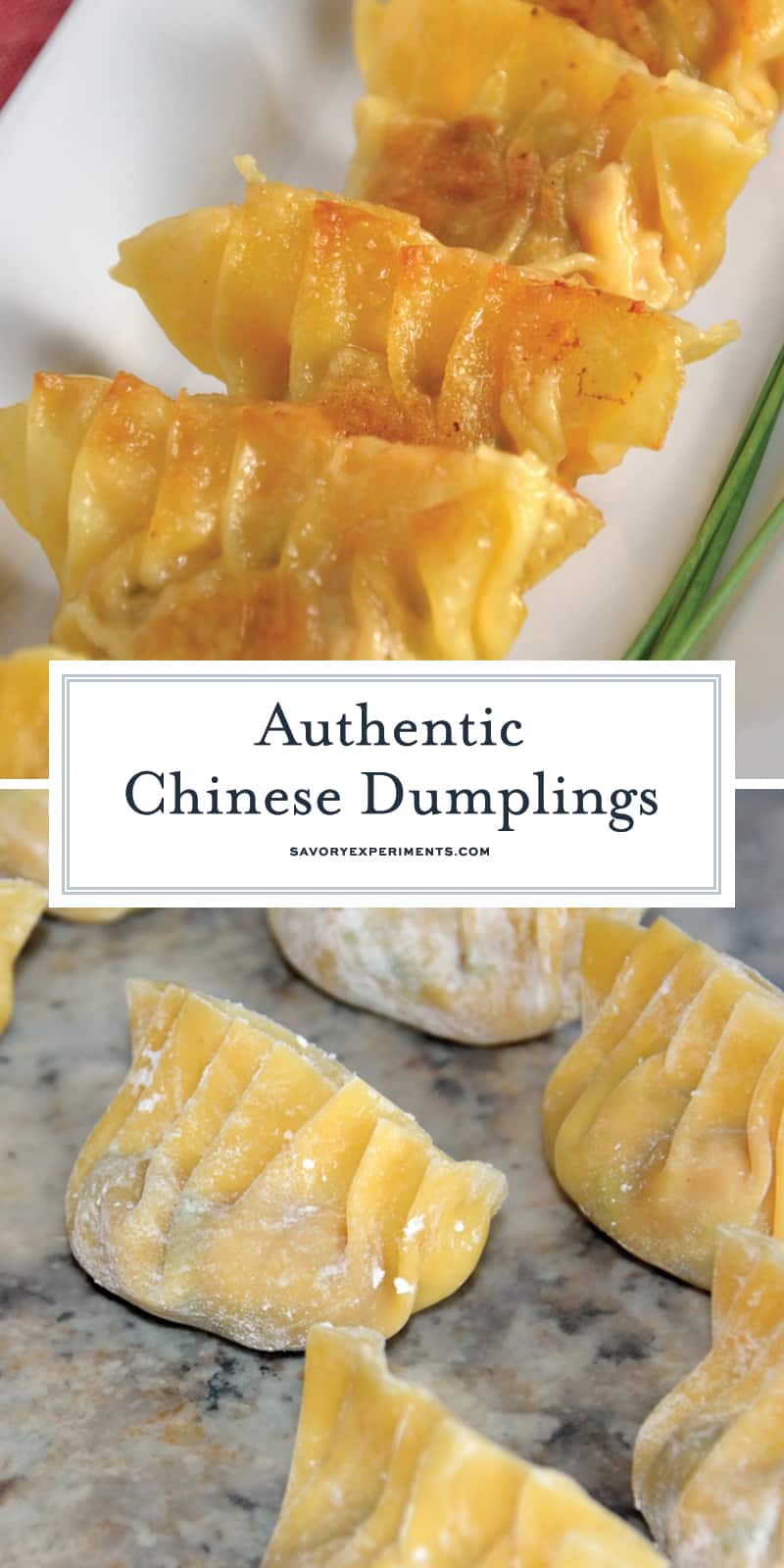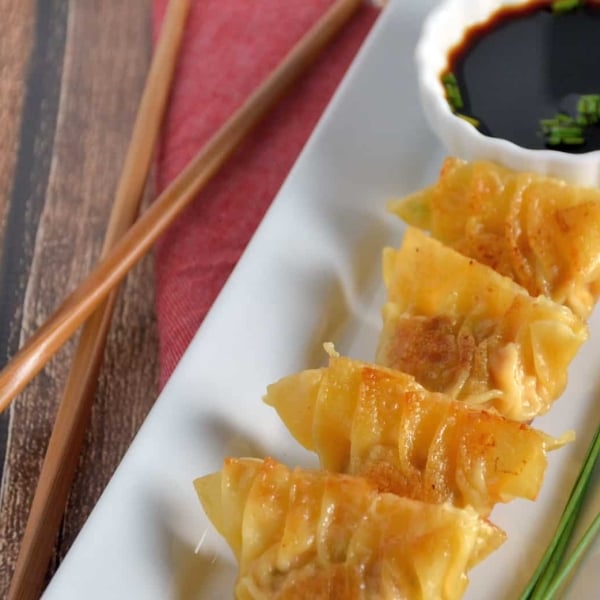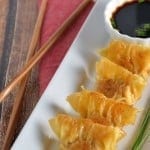 Authentic Chinese Dumpling Recipe
Authentic Chinese Dumplings is a recipe straight from a Chinese restaurant owner. Learn how to make perfect little folds and the fry and steam techinque of cooking.
Instructions
In a large mixing bowl, combine ground pork through sesame oil and 2 egg whites. Mix well using your hands. In a small bowl, combine remaining egg white and a splash of water to use as the binder on your won ton wrapper.

Place on wrapper on a flat surface and using your fingers and the egg white mixture, moisten the edges. Place a ball of 1-2 tablespoons of pork mixture in the center. Fold wrapper in half and secure one end with your thumb. Gently pinch one small fold and move your thumb over it, pressing lightly to deal. Continue with seven more folds (or however many you can get) to secure it closed. Repeat with remaining wrappers.

In a large skillet, heat 1 tablespoon vegetable oil over medium-high heat. Add a few dumplings, making sure to not crowd the pot and gently fry on all sides until nice and brown, approximately 3-4 minutes.

Add a small amount of water, just a splash, and cover to finish cooking by steaming, approximately 2-3 minutes. Remove with a slotted spoon to a baking sheet. You can place them in a warm oven to stay hot until all batches are complete. Add additional vegetable oil as needed to prevent dumplings from sticking.

After you are done pan frying and steaming all of your dumplings, add all of the dipping sauce ingredients to the same frying pan without rinsing it out. Stir until it comes to a low simmer, then remove and serve immediately with dumplings.

If you've tried this recipe, come back and let us know how they were!
Nutrition
Calories:
73
kcal
,
Carbohydrates:
6
g
,
Protein:
5
g
,
Fat:
2
g
,
Saturated Fat:
1
g
,
Cholesterol:
30
mg
,
Sodium:
400
mg
,
Potassium:
66
mg
,
Vitamin A:
20
IU
,
Vitamin C:
1.2
mg
,
Calcium:
23
mg
,
Iron:
0.8
mg