This vegetable spring rolls recipe replicates all of the goodness of the popular Chinese takeout appetizer using the air fryer. It's an easy recipe that any spring roll lover will enjoy!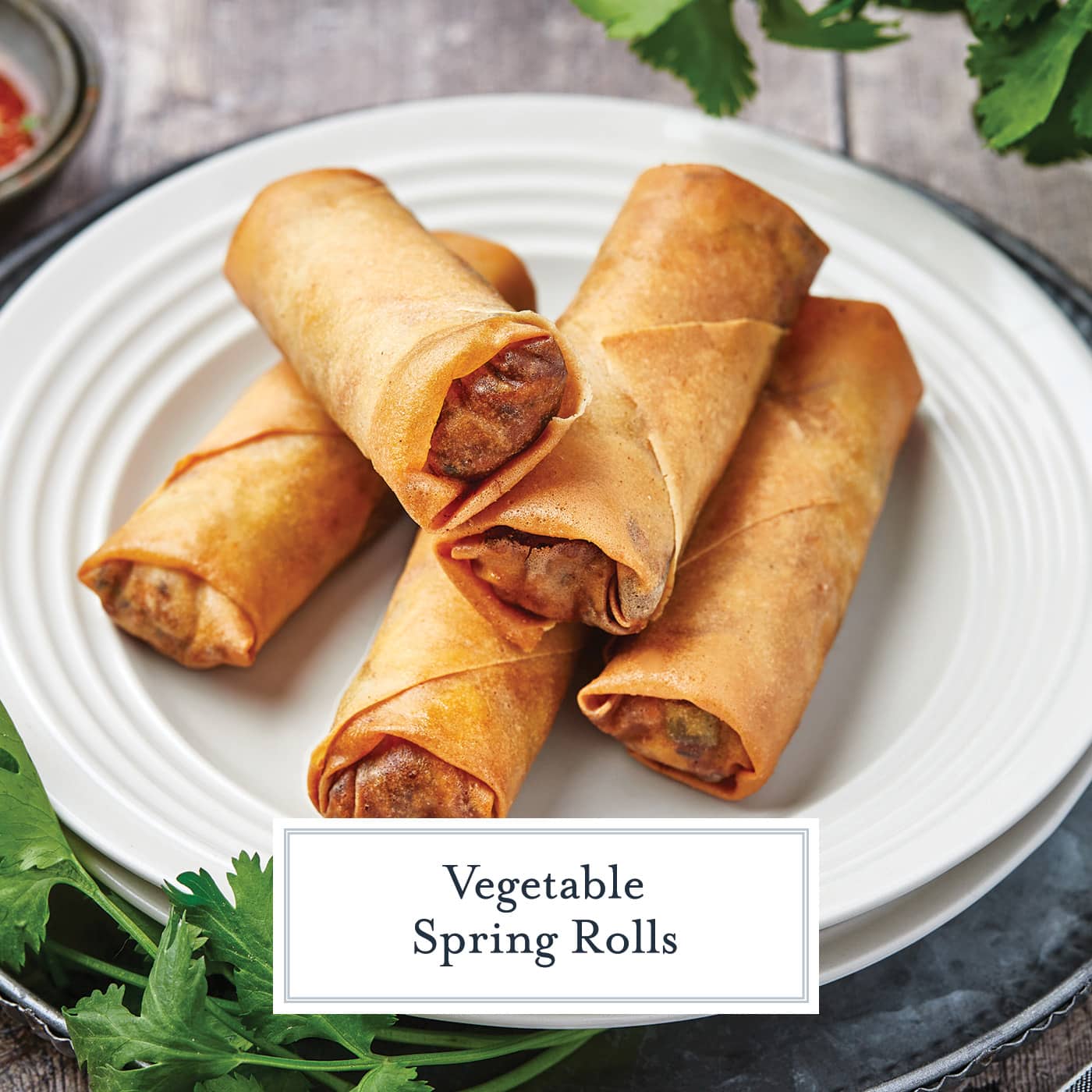 Whether you're looking for new ideas for snacks or want a way to kick off an Asian-inspired meal, these vegetable spring rolls are sure to be a hit.
Why You'll Love Air Fryer Vegetable Spring Rolls
If you're a fan of traditional spring rolls, you're going to love this air fried version.
Easy – Just cook up the veggies, roll them in the wrappers, and let the air fryer take care of the rest.
Versatile – These spring rolls are a great snack or start to a meal but they can also be perfect for parties alongside a spread of other appetizers.
Healthy – These crispy spring rolls are a great way to sneak some veggies in for picky eaters.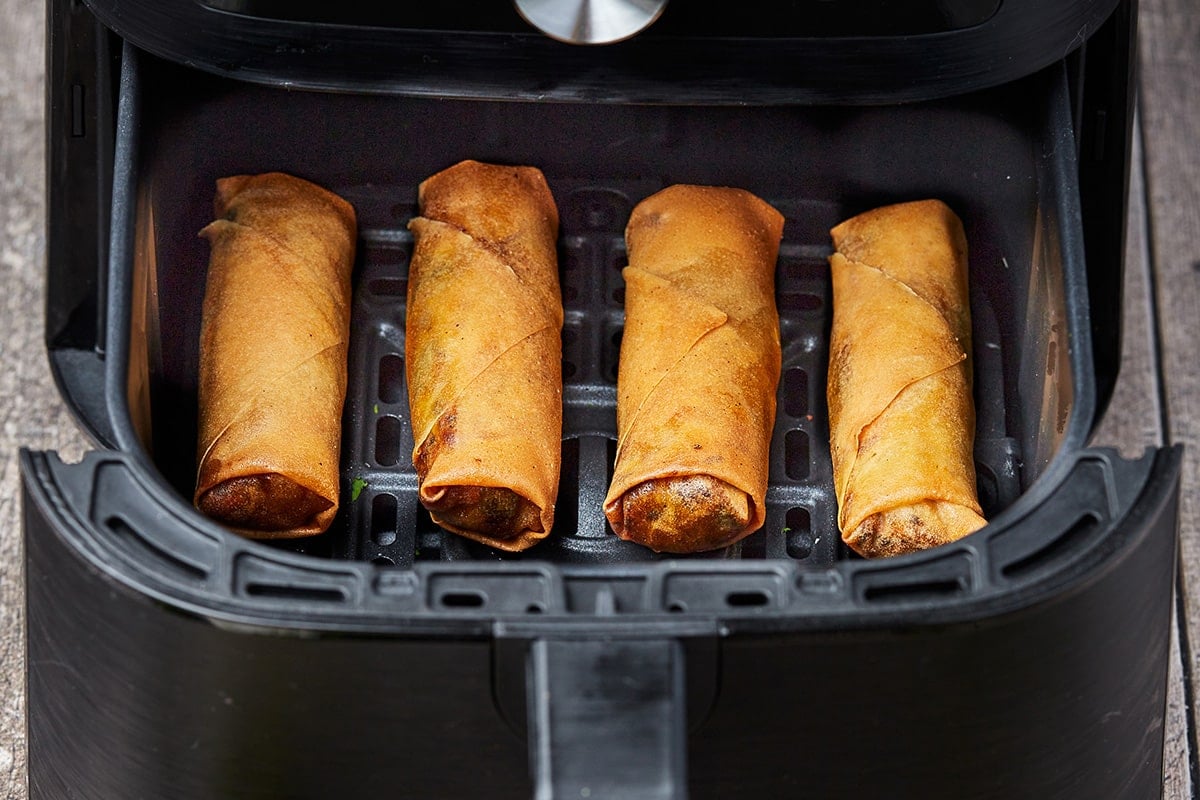 Ingredients
You can find most of the ingredients for these easy spring rolls in the produce department at your local grocery store.
Spring Roll Filling
Vegetable oil – Use this or any type of neutral oil like canola oil or avocado oil.
Napa cabbage – Be sure to slice the cabbage finely and evenly.
Mung bean sprouts – You can buy these fresh or use a canned version.
Carrots – Grate or chop the carrots so that they're small.
Shiitake mushrooms – Chop the mushrooms into small pieces.
Green onion – Chop these spring onions finely. Cut them on a bias for a pretty presentation.
Cornstarch – Make a slurry by mixing the cornstarch with warm water.
White sugar – Simple granulated sugar works best for this recipe.
Salt – Salt helps to balance the flavors.
Ground black pepper – Add as much or as little as you like.
Preparing Spring Rolls
Square spring roll wrappers – You can often find wrappers like these near the plant-based meat and dairy alternatives in the produce section.
Cornstarch – Use this to make another slurry for brushing on the wonton wrappers in order to seal the spring rolls shut.
Vegetable oil – This will help the wrappers to crisp and to not stick to the air fryer basket.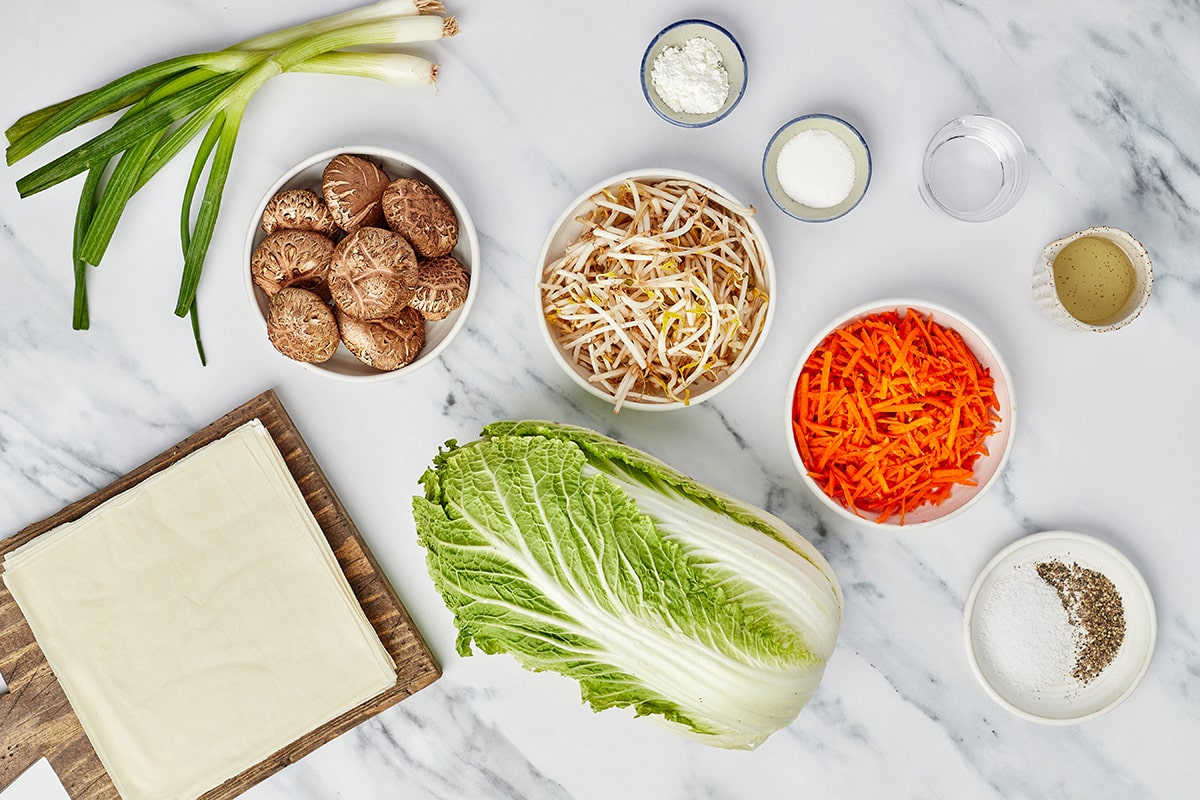 How to Make this Veggie Spring Roll Recipe
This healthy spring roll recipe is an easy way to make a quick snack or appetizer.
Pour the Napa cabbage, bean sprouts, carrots, and shiitake mushrooms into the oil in a preheated large pan.
Once the vegetables have softened, add green onion, cornstarch slurry, sugar, salt, and pepper.
Continue to cook until slightly soft but still crunchy.
Transfer the warm veggies to a large bowl.
Make the slurry for sealing in a small bowl.
Place a wrapper on a work surface and brush with the slurry.
Spoon the vegetable filling into the wrapper and first fold to close, then roll.
Seal with the slurry and set aside.
Repeat with remaining wrappers and filling.
Using a brush, cover the spring rolls with vegetable oil.
Place the rolls in a single layer in the preheated air fryer allowing enough room for the hot air to circulate between them.
Cook until golden brown, turning them over halfway through cooking.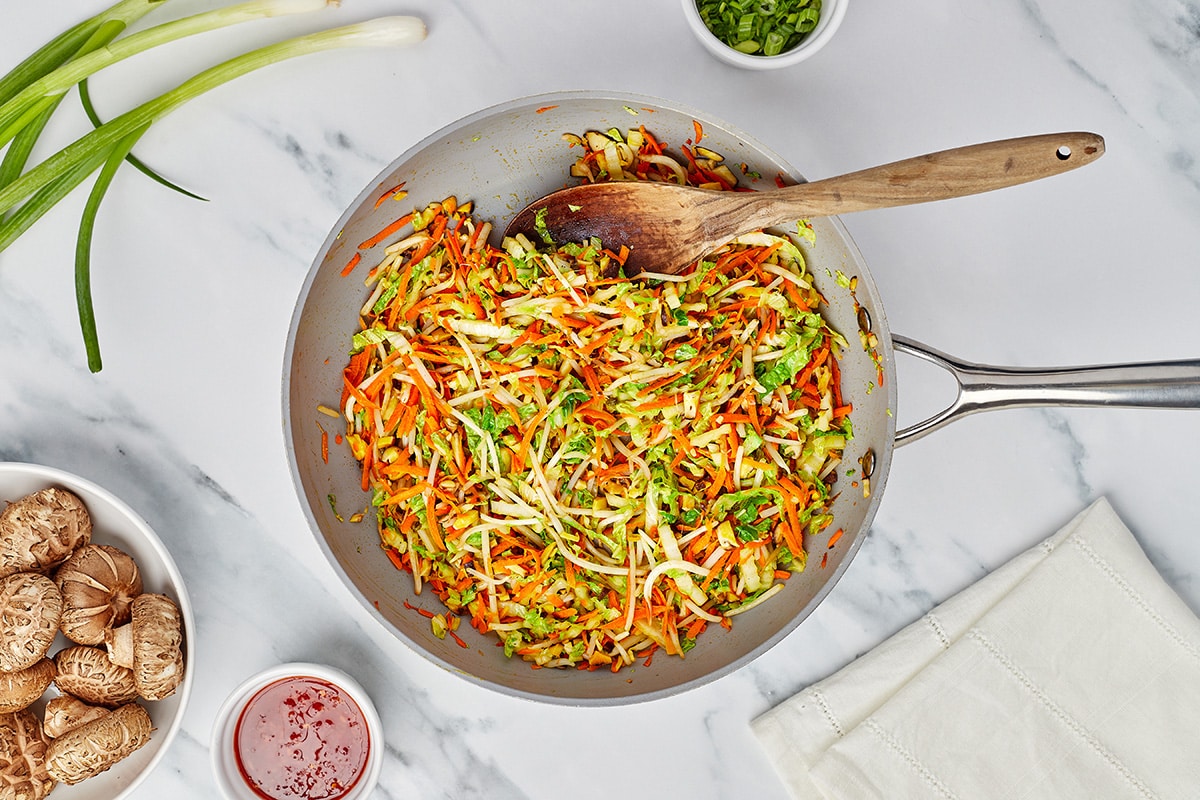 What to Serve with Fresh Spring Rolls
You can serve these handheld snacks as an appetizer before mains like orange chicken, hibachi shrimp, Kung Pao chicken or a veggie stir fry. You can also serve them with a dipping sauce like soy sauce, potsticker sauce, peanut sauce, ginger sauce, or sweet Thai chili sauce.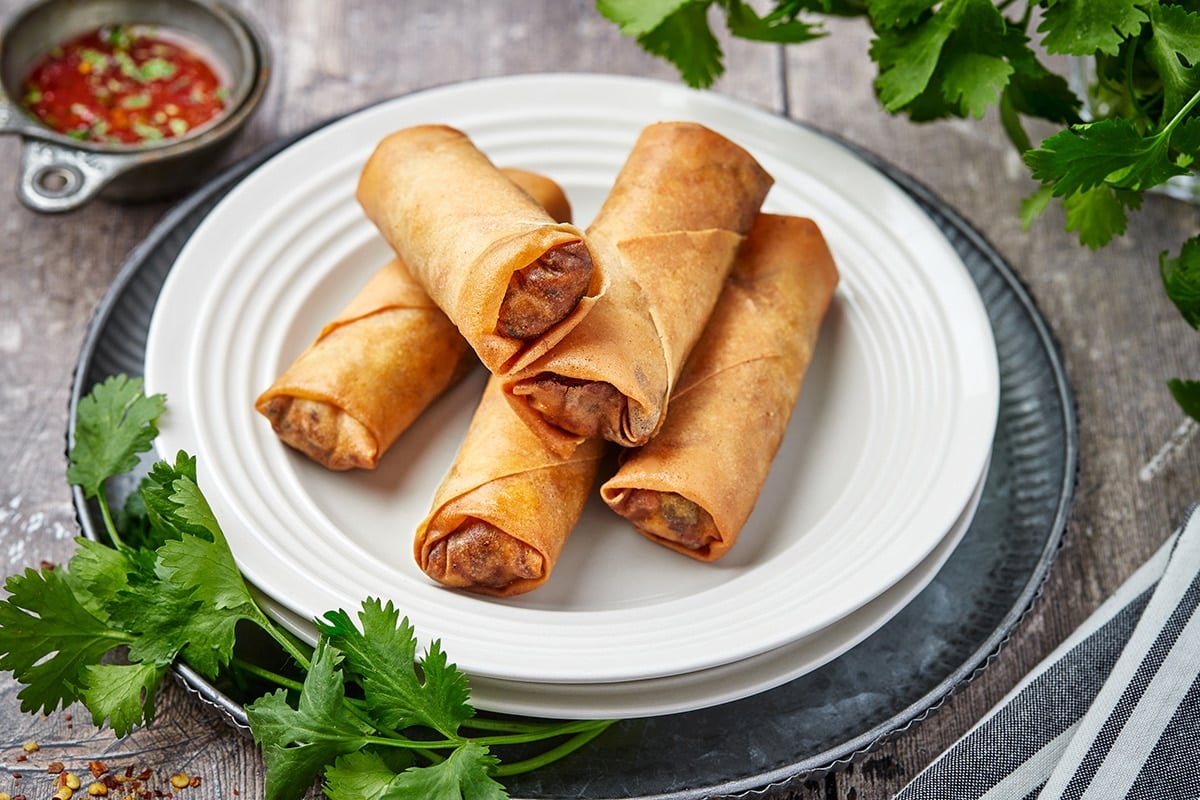 Variations
You can switch up your spring rolls to make them however you like.
Fillings – Change up the filling ingredients to whichever veggies you prefer. Try chopping up a bell pepper, add bamboo shoots, or swap out the Napa cabbage for red cabbage.
Meat – Make your rolls meaty by adding pork, chicken, or shrimp,
Wrappers – Use rice paper wrappers or wonton wrappers.
Oil – Instead of a neutral flavored oil, try using sesame oil.
Herbs – Try incorporating fresh herbs like Thai basil or mint leaves into the vegetable mixture.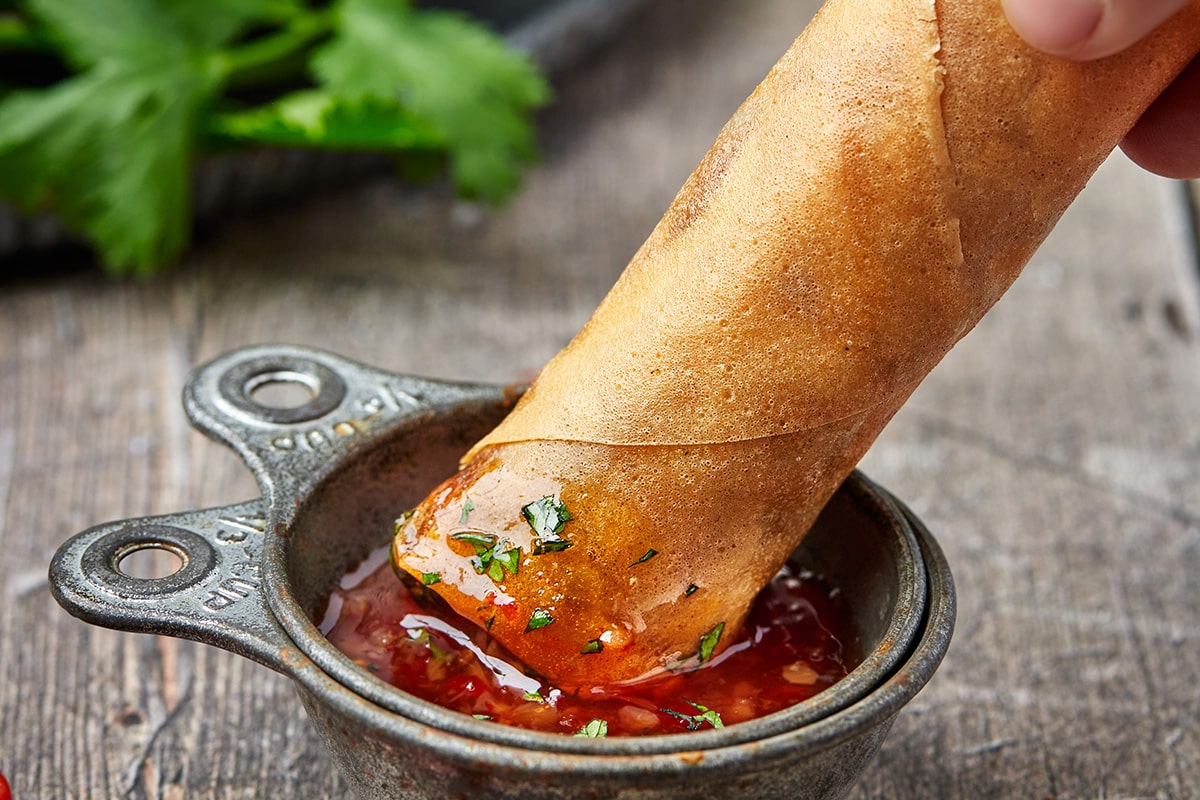 Storage, Make Ahead and Freezing
Store spring rolls in the fridge or freezer to have a quick snack on hand on the regular.
Refrigerator: After they cool to room temperature, keep leftover spring rolls in an airtight container for 2-3 days. You can also wrap them in plastic wrap.
Make-Ahead: You can wrap spring rolls and store them in the refrigerator until you're ready to air fry them.
Freezer: Freeze spring rolls for up to 6 months in a freezer safe container or freezer bag. You may want to flash freeze them on a baking sheet prior to packing them in a container to keep them from sticking together.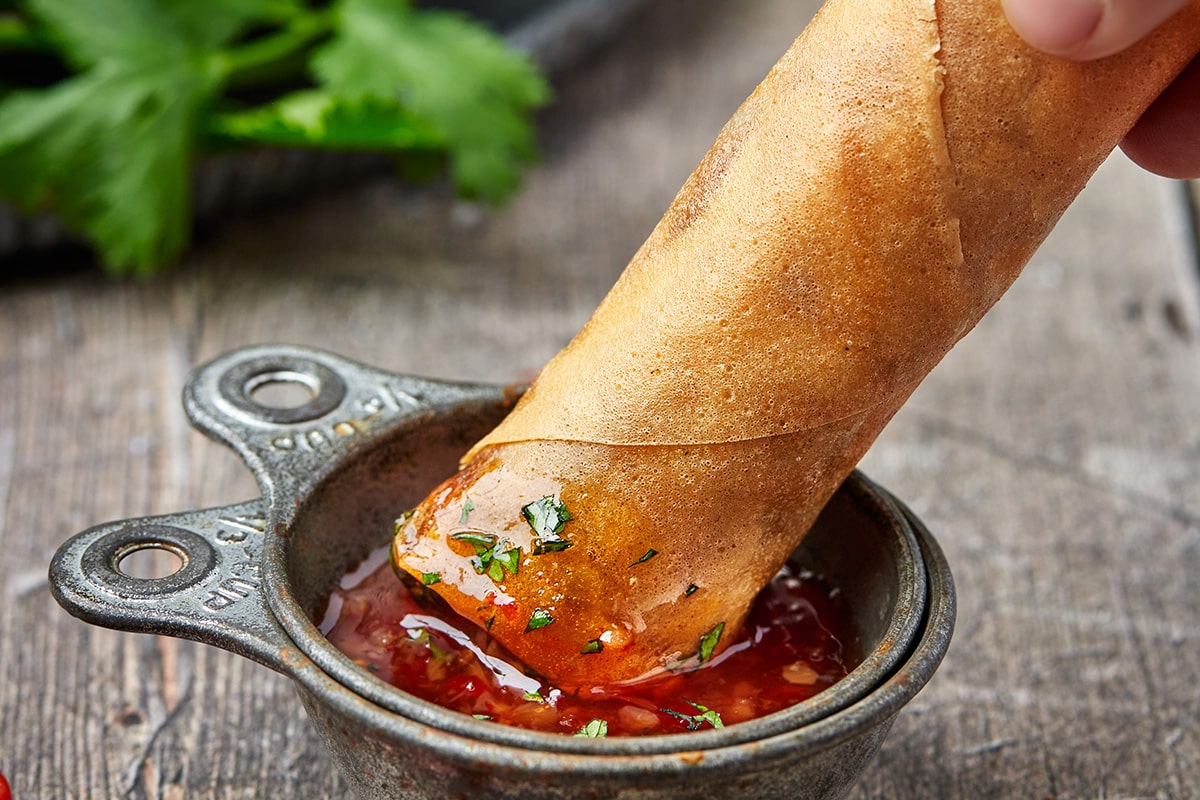 Common Questions About Vegetable Spring Rolls
What are veggie spring rolls made of?
Veggie spring rolls are simply wonton wrappers filled with fresh vegetables like mushrooms, bean sprouts, cabbage, and carrots.
Are veggie spring rolls healthy?
Veggie spring rolls are filled with tons of healthy vegetables. And since this recipe is made in the air fryer, they're even more healthy than those fried in oil.
Are spring rolls real Chinese food?
Spring rolls are authentic Chinese food — they were created in China.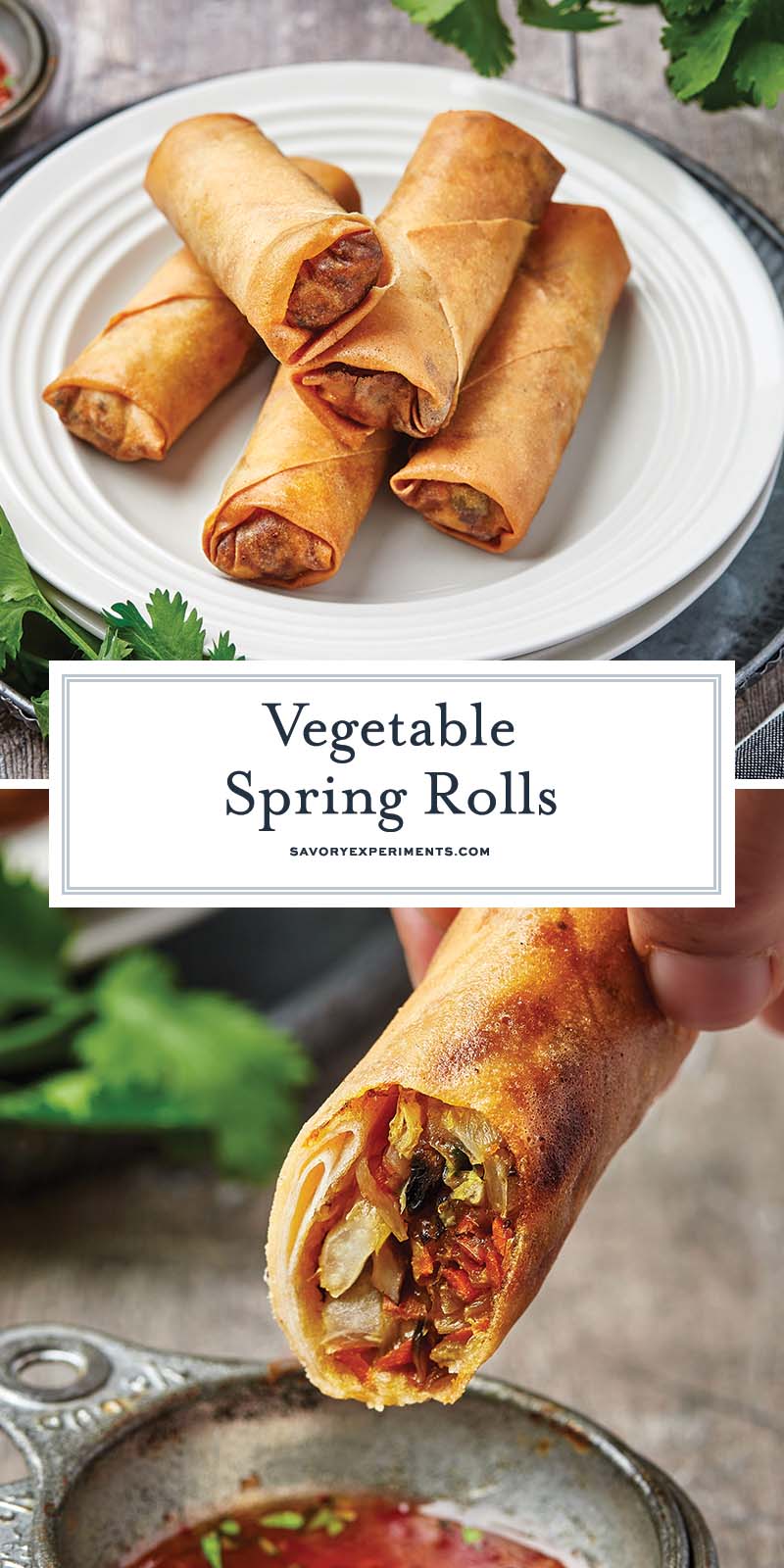 More Asian-inspired Snacks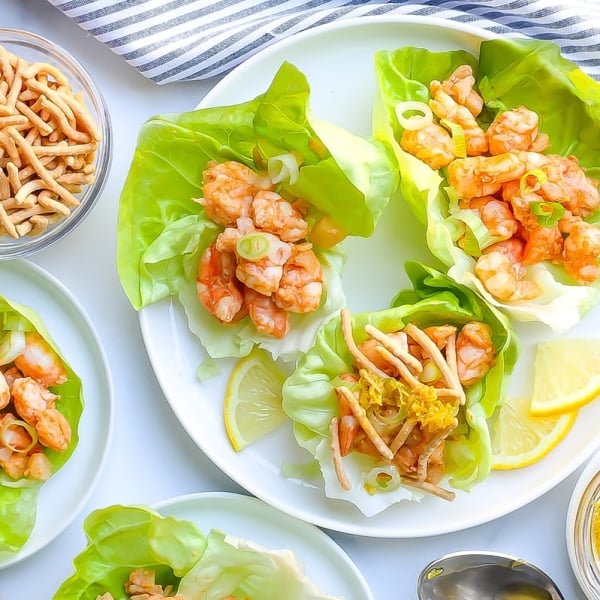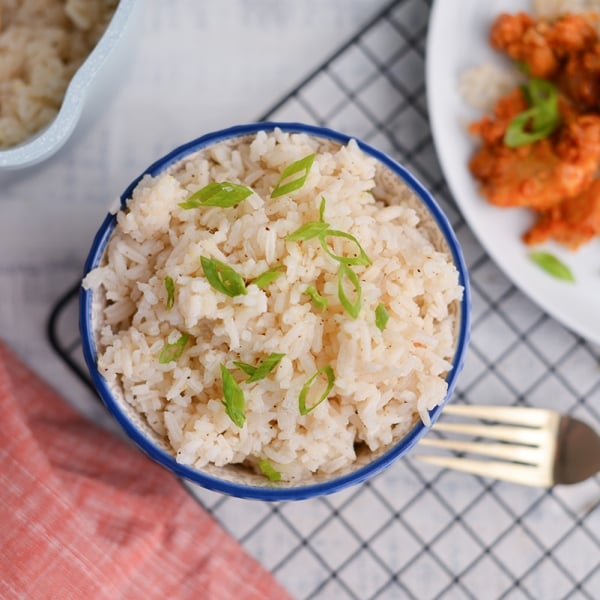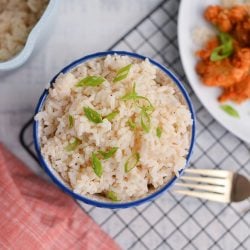 Ginger Rice Recipe
Ginger Rice is one of my favorite jasmine rice recipes. It pairs perfectly with many Asian dishes and adds much more flavor to meals than traditional white rice.
See The Recipe!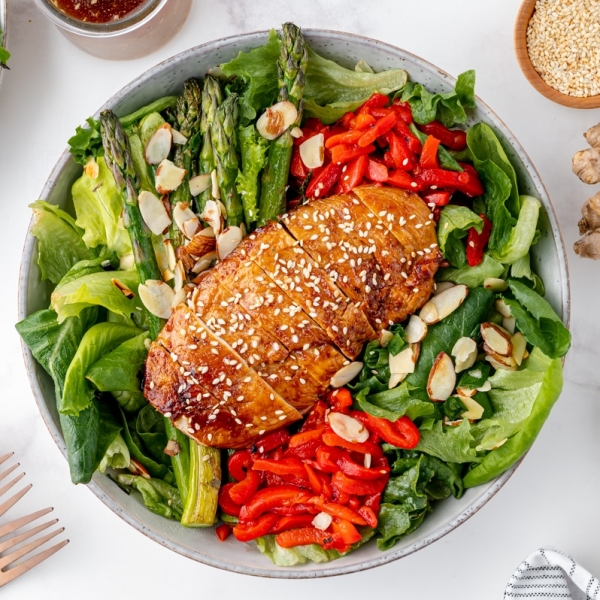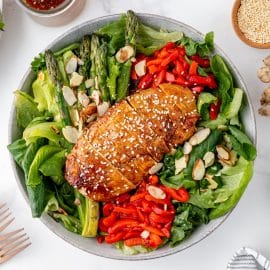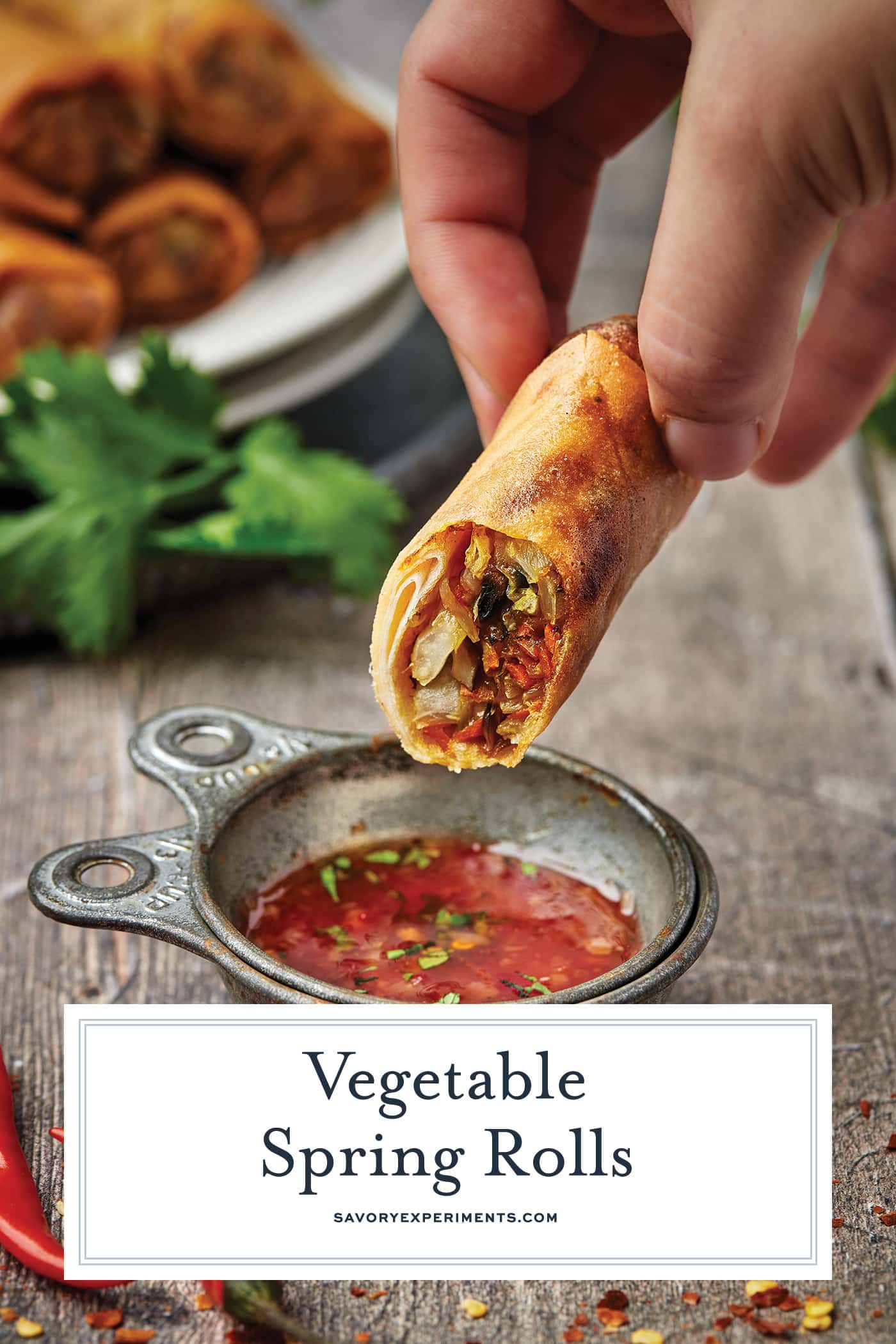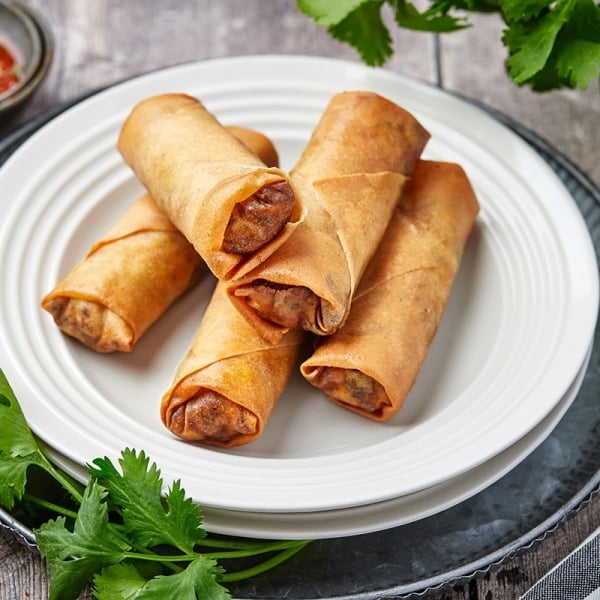 Air Fryer Vegetable Spring Rolls
This EASY Vegetable Spring Rolls recipe replicates all of the goodness of the popular Chinese takeout appetizer using the air fryer!
Ingredients
Spring Roll Filling
2

tablespoons

vegetable oil

2

cups

finely shredded napa cabbage

2

cups

mung bean sprouts

1

cup

finely shredded carrots

1

cup

finely chopped shiitake mushrooms

½

cup

finely sliced green onion

1

tablespoon

cornstarch

, mixed with 1 tablespoon water to thicken the mixture

1 ½

tablespoon

white sugar

1

teaspoon

salt

½

teaspoon

ground black pepper
Preparing Spring Rolls
8-12

square spring roll wrappers

1

tablespoon

cornstarch

, mixed with 1 tablespoon water to secure the spring rolls

2-3

tablespoons

vegetable oil

, for brushing the spring rolls
Instructions
Heat a large pan or wok over medium heat and add the vegetable oil. Once the oil is heated and shimmering, add the napa cabbage, bean sprouts, carrots, and shiitake mushrooms. Stirring constantly, cook until the vegetables begin to slightly soften, about 2-3 minutes.

Add green onion, cornstarch slurry, sugar, salt, and pepper. Stir and cook for another 1-2 minutes. The vegetables should be cooked down, but still have a slight crunch. Remove the vegetable mixture from the heat and set it aside in a large bowl.

Preheat your air fryer to 400 degrees Fahrenheit.

While your air fryer is preheating, prepare your spring rolls. Lay out a single spring roll wrapper, oriented in a diamond shape with a corner facing you. Brush some of the cornstarch slurry along the corner of the top half of the wrapper.

Scoop about 3 tablespoons of the filling into the center of the wrapper. Fold the lower third of the wrapper over the filling, then fold in both the left and right corners over the filling. It should resemble an envelope at this point.

Continue to roll the spring roll from the bottom up until it forms a baton-like shape. Press down along the seam gently to seal, brushing on more of the cornstarch slurry if needed. Repeat for the remaining spring rolls.

Brush each side of the spring rolls with a thin layer of vegetable oil and place in a single layer in your air fryer basket, allowing roughly ½ inch of space between them. You may need to cook them in batches depending on the size of your air fryer.

Air fry for 12-15 minutes, flipping the spring rolls halfway through.
Nutrition
Calories:
108
kcal
,
Carbohydrates:
14
g
,
Protein:
3
g
,
Fat:
5
g
,
Saturated Fat:
1
g
,
Polyunsaturated Fat:
3
g
,
Monounsaturated Fat:
1
g
,
Trans Fat:
0.03
g
,
Cholesterol:
1
mg
,
Sodium:
279
mg
,
Potassium:
160
mg
,
Fiber:
2
g
,
Sugar:
4
g
,
Vitamin A:
1841
IU
,
Vitamin C:
8
mg
,
Calcium:
20
mg
,
Iron:
1
mg