Shrimp Tostada Recipe
This shrimp tostadas recipe has an amazing amount of flavor! Between the crunchy tostadas cups, to the spicy shrimp with lime, you'll be begging for more. Perfect as an appetizer or entree.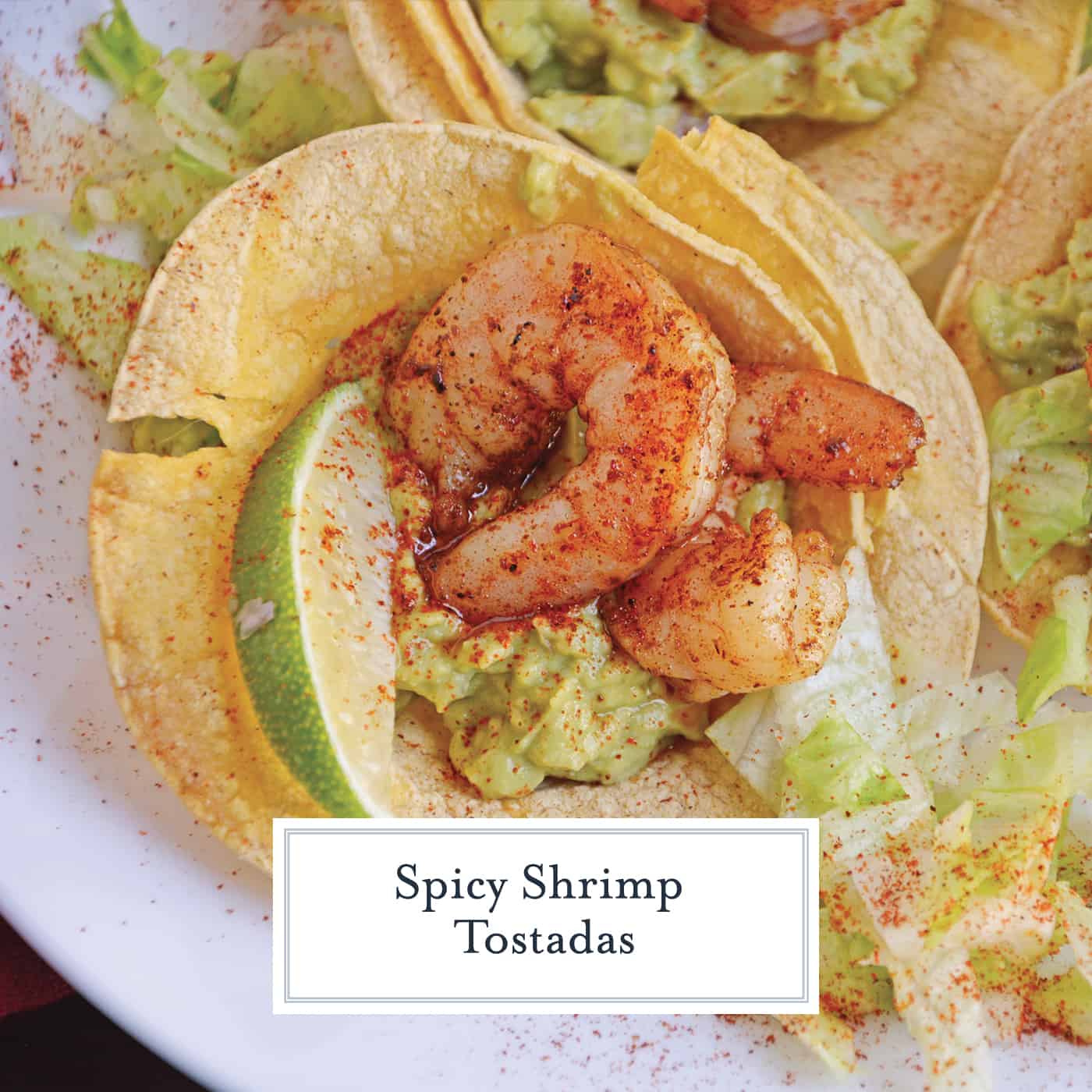 You will love this spicy homemade Shrimp Tostadas recipe. The cooling sour cream and guacamole with the combination of the spicy shrimp is a match made in heaven.
Shrimp Tostadas became an idea after I saw a Pinterest pin showing how to make your own mini tortilla shells for taco salad. I also didn't want to serve boring taco salad like everyone else in the world, so I developed a spicy shrimp with cooling, sour cream avocado sauce.
Traditional tostadas are made with fried tortillas, refried beans, red onion, lime juice, chili powder and mashed avocado. Chicken tostadas and bean tostadas are also authentic Mexican cuisine. Lastly, they are seasoned with salt and pepper.
But you can also add your favorite toppings. There are no rules for the best tostadas!
Whether you are a fan of shrimp or avocados, you will love when these two are eaten together. The cooling of the sour cream and avocado, put up against the spiciness of the shrimp really brings this recipe into balance.
PRO TIP: When choosing an avocado, it should feel firm until gentle pressure, but shouldn't feel overly soft or mushy. Also look for any bruises or discoloration on the skin.
Plus, shrimp tostadas are perfect to serve as an appetizer, snack or even an entree. If someone in your house doesn't care for shrimp, feel free to substitute chicken or ground beef using the same Mexican seasoning.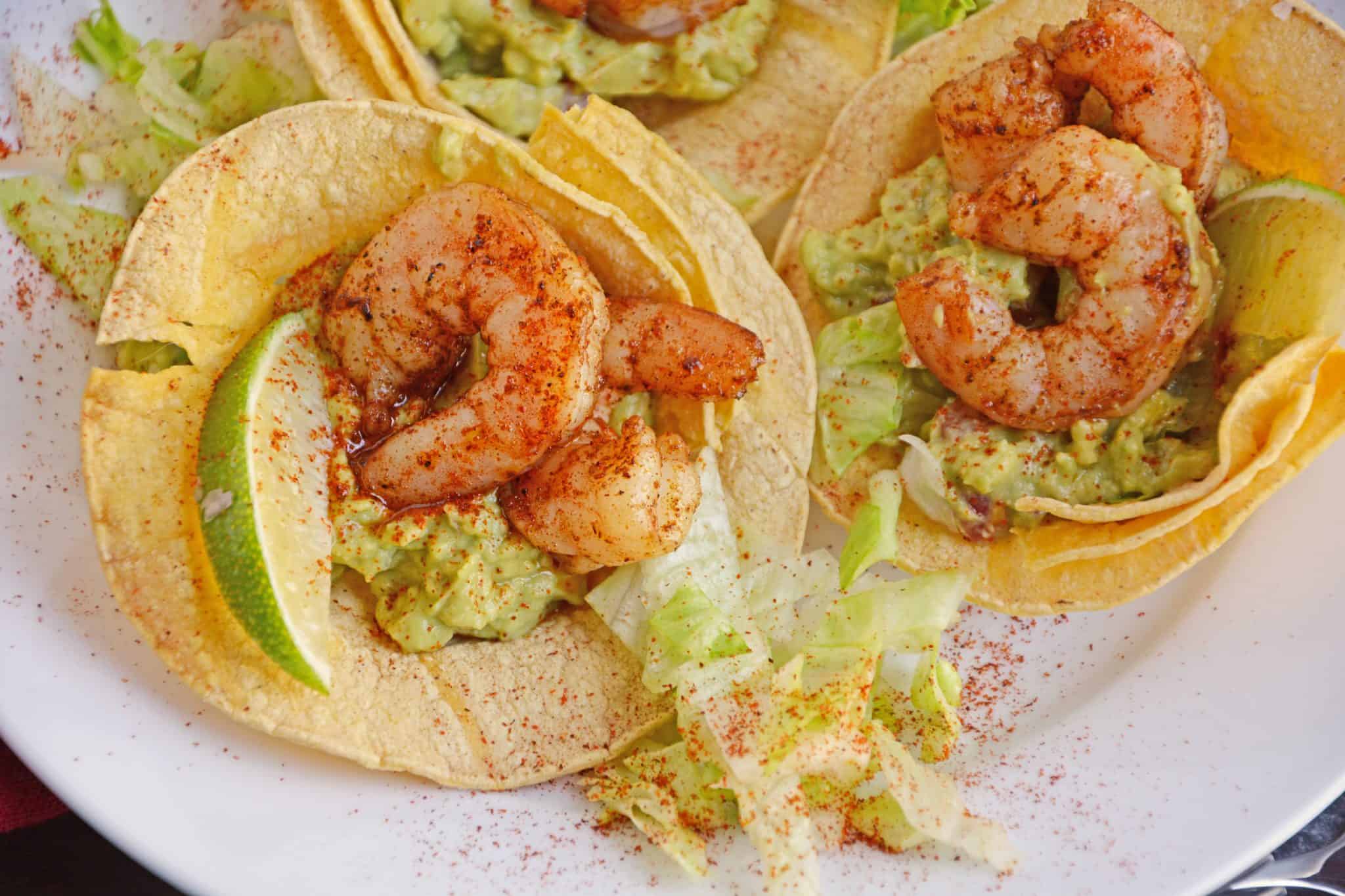 What is a tostada you may wonder? Tostada means "toasted" in Spanish, so that includes quite a few Mexican dishes since half of the time the base is toasted in the recipe.
If you don't feel like making your own baked tostada cups, you can always use store bought tostadas, either the small or large version.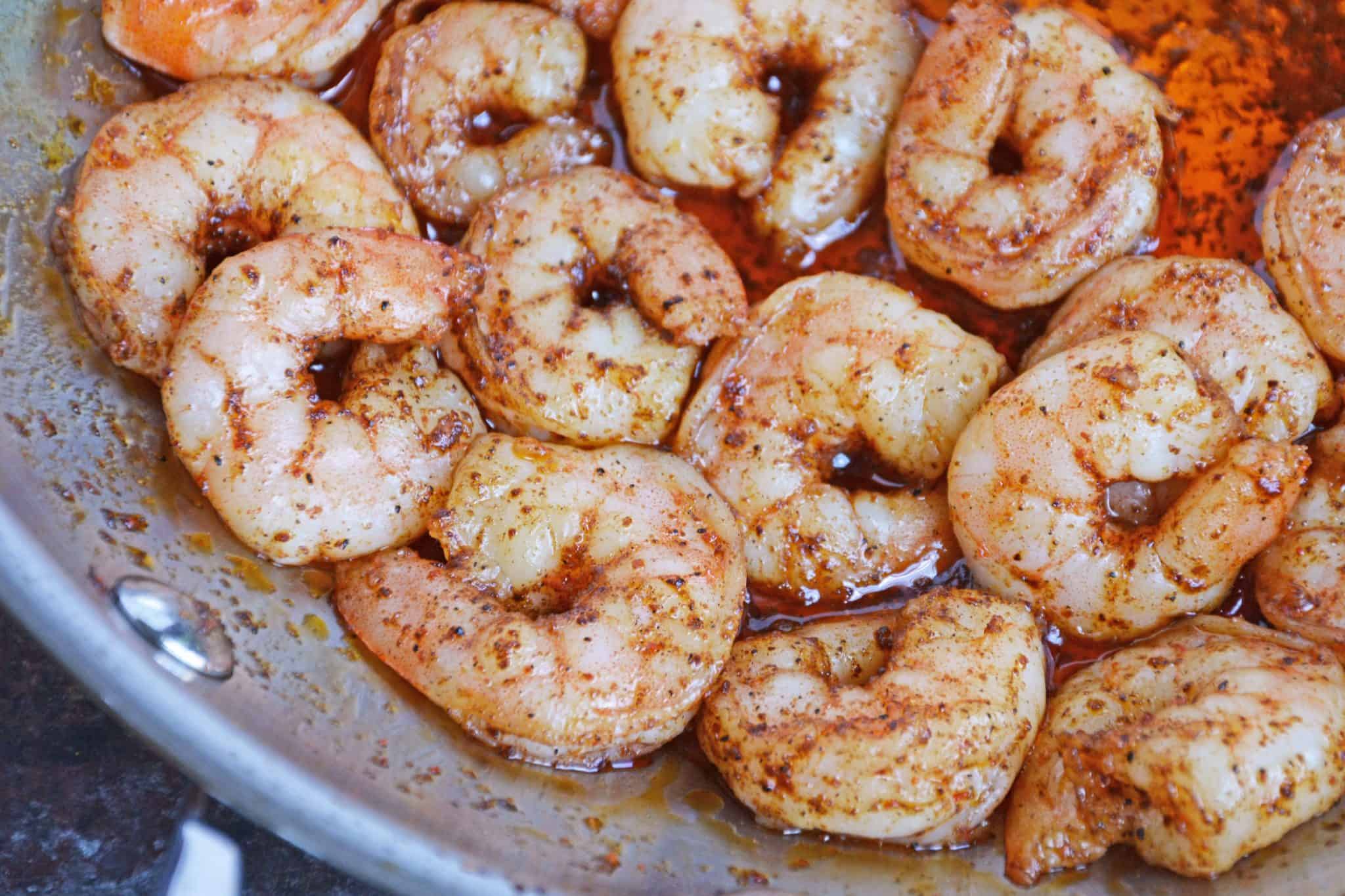 For instance a taco salad bowl would be considered a tostada because it's toasted into a bowl shape. In this recipe it's obviously the tostada cups made from corn tortillas in a muffin tray. Nachos? Totally toasted too!

Mexican Cream Cheese Shrimp Dip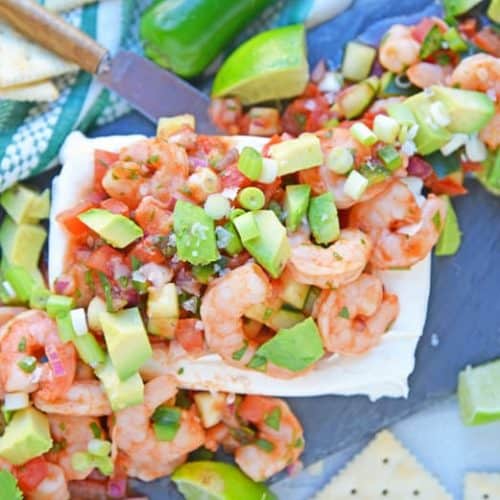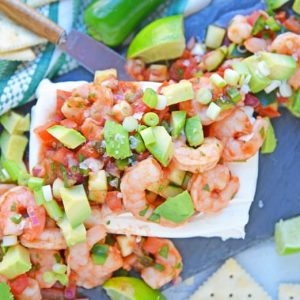 Take your usual cocktail sauce shrimp dip up a notch with this Mexican Cream Cheese Shrimp Dip recipe. It's perfect for any get together or party!
Mexican Shrimp Cocktail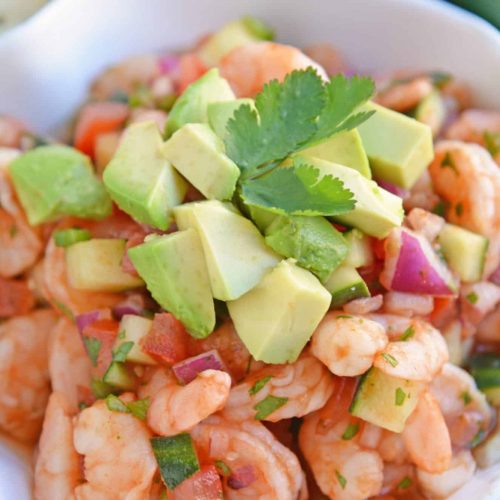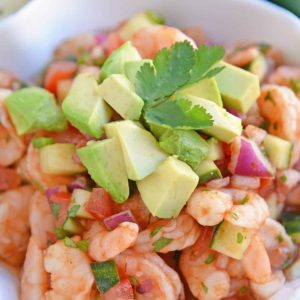 Mexican Shrimp Cocktail is an easy recipe made with shrimp, fresh vegetables, tomato juice and hot sauce for a spicy version of your favorite classic. Top with avocado and serve with tortillas chips or saltine crackers.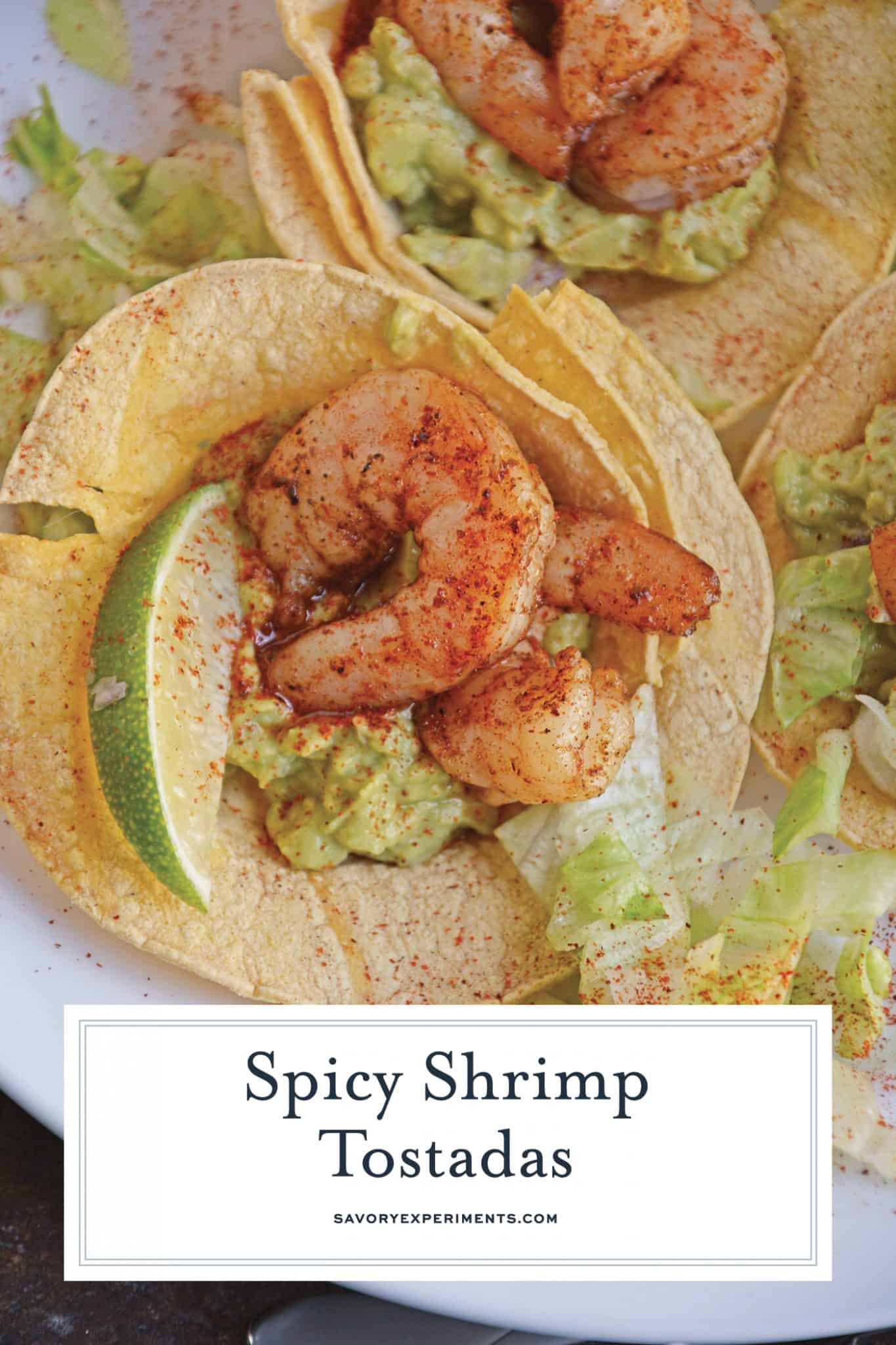 Tools for making Shrimp Tostadas:
Muffin Tin
– I really suggest having two muffin tins. It makes life a lot easier than baking in two batches and double the cook time. For a recipe like this, you need the second one to weigh down corn tortillas.
Wood cutting board – wood won't dull your knives like plastic and if treated properly, has natural antimicrobial properties.
Good knife – Global is my favorite! They are worth the price, I promise. I am kind of obsessed with them and store them tucked away so no one else can use them. Including hubby. Hands off my good stuff!

You will love this spicy Shrimp Tostadas recipe! The cooling sour cream and guacamole with the combination of the spicy shrimp is a mixture that you will love.Click to Tweet
CONNECT WITH SAVORY EXPERIMENTS!

Be sure to follow me on social media, so you never miss a post!

Facebook | Twitter | Youtube
Pinterest | Instagram

Get our FREE 8 Day E-Course on How to Be a Better Home Cook. Sign up HERE!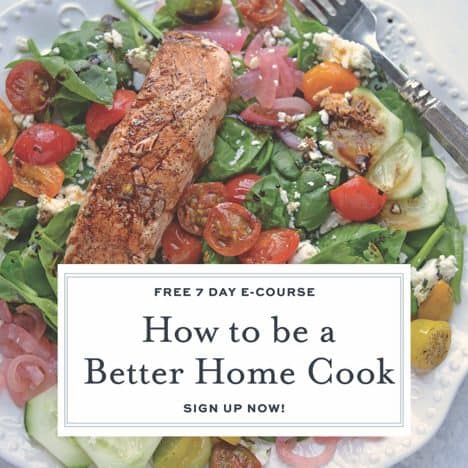 Shrimp Tostadas
You will love this spicy Shrimp Tostadas recipe! The cooling sour cream and guacamole with the combination of the spicy shrimp is a mixture that you will love.
Instructions
Tostada Cups:
This step may be done in advance. Preheat the oven to 350 degrees and lightly coat the wells on a cupcake tin. Also spray the bottom side of another cupcake tin of the same size.

Wrap 6 corn tortillas in paper towels and microwave for 10-15 seconds. Slightly heating will make them pliable and less likely to tear, however a little tearing in inevitable, don't worry! Fit tortillas into each muffin tin, folding over one edges so they fit. Repeat with second set of 6. Then lightly cover with the second tin to hold the corn tortillas in place.

Bake for 12- 15 minutes or until lightly browned a crispy. Remove and set aside.
Cooling Guacamole
Halve and pit two ripe avocados, scoop out and mash with sour cream.

Fold in diced tomatoes, red onion, hot sauce and 2 tablespoons lime juice. Set aside.
Spicy Shrimp:
In a medium skillet, heat vegetable oil over medium heat. Add shrimp and chili powder. Stir until shrimp are pink and start to curl, approximately 3-4 minutes for medium shrimp. remove to paper towel lined plate.

To assemble, start with a bed of shredded lettuce, top with dollop of sour cream guacamole, top with 2 shrimp per cup and garnish with a spritz of lime juice from a lime wedge and dusting of chile powder.

If you've tried this recipe, come back and let us know how it was!
Nutrition
Calories:
145
kcal
|
Carbohydrates:
16
g
|
Protein:
4
g
|
Fat:
7
g
|
Saturated Fat:
2
g
|
Cholesterol:
31
mg
|
Sodium:
197
mg
|
Potassium:
274
mg
|
Fiber:
4
g
|
Sugar:
1
g
|
Vitamin A:
350
IU
|
Vitamin C:
10.3
mg
|
Calcium:
52
mg
|
Iron:
1
mg