Frito Pie, a delicious family favorite casserole loaded with ground beef, salsa, beans, corn and of course Fritos topped with melted cheese!
Also known as Frito Pie Casserole or Frito Chili Pie or ground beef casserole, it is delicious dish with a chili base, topped with crunchy chips and gooey cheese. Kind of like Walking Tacos, individual portions made in a bag of Fritos, but on a larger scale.
Of course Frito Pie Casserole can be made and placed in a casserole dish, but why dirty a dish when you can use a well seasoned Cast Iron Skillet that only adds to the bold flavors. Mmmm yum!
Making Frito Pie is super simple with basic ingredients commonly found in your pantry it's a "go to" recipe even on those busy nights when you forget to plan ahead.
What is Frito Pie?
For starters, Frito Pie isn't really a pie in the traditional sense. There is no pie crust in this recipe! Save the pie crust for a sweet recipe.
Frito Pie Casserole is loaded with seasoned ground beef, beans, corn, salsa, and chili sauce. It's spicy with a hint of sweet giving this recipe the PERFECT balance of flavors.
Ultimately Frito Pie is a comfort food. It's a hearty casserole for young and old that's timeless.
Spice it up or keep it mild. Anyway you like it will be a winner recipe.
If you want a litter heartier dish, don't hesitate to serve with some white rice or even Spanish rice.
Just place rice on the plate and top with Frito Pie. It's delish! I guarantee that no one will complain with full bellies either.
Frito Pie Ingredients
This recipe uses simple ingredients to make an easy dinner for busy weeknights or group appetizer for football games.
Ground Beef- You can also use ground chicken or turkey. I do use a lean ground beef, so sometimes this calls for a small amount of vegetable oil or other neutral oil.
Corn– I used canned, but frozen or even fresh works too. If frozen, make sure it is thawed.
Kidney beans– canned works great because they are already softened but make sure to drain and rinse. Chili beans, pinto beans, black beans
Salsa- Use your favorite! I do prefer a thick and chunky salsa or pico for this one.
Chili sauce- I used Heinz Chili Sauce which is a thick tomato based sauce with a little seasoning. You can substitute chili sauce with plain tomato paste or sauce with a tablespoon of lemon juice. It is actually sweet and smoky rather than hot, like the name might indicate. Some folks prefer to use enchilada sauce, which is another zesty option but a little thinner so reduce the amount to just 1/2 cup. In a pinch, use plain tomato sauce, but then increase the chili seasonings.
Taco Seasoning– make your own or use a packet! One packet equals about 2 tablespoons. You can also use a chili seasoning.
Garlic- For this recipe, I go bottled to save time, but it equals about 1 garlic clove fresh.
Shredded Cheese– Pre-shredded cheese is such a time saver, but shredding fresh off the block will result in a creamier texture. A Mexican blend of pepper jack, monterey jack and cheddar are my top preferences for this dish.
Chili Flavored Fritos Corn Chips– or any crunchy corn chips, even tortilla style or tortilla strips. Bite-sized tends to work best.
Other fun variations include adding 1 teaspoon of chili powder to give it some heat, use ground chicken or ground turkey, add a can of chopped green chilies or smother it with a cheese sauce like melted queso before serving.
How to Make
Here is how to make this easy Frito Pie recipe:
Start with a cast iron skillet or any other oven safe large skillet, make sure it can also go into the oven, otherwise you can use a regular frying pan and then transfer it to an oven-safe casserole dish. Coat the baking dish with cooking spray to prevent sticking. I'm just trying to save you some dishes!
Brown the ground beef over medium-high heat until no longer pink, and when I say brown, I mean get a nice crust on it over high heat. One of the biggest mistakes folks make is letting it get grey and cooking it slowly, which results in chewy and tasteless beef. Depending on the beef, you might need to drain it. Then add the garlic and cook for another minute or so.
Add the corn, beans, sauces and seasoning, heating through.
Lastly, top with cheese and chips and bake until cheese is melted.
Finish with your favorite garnishes.
Favorite Toppings
The variations here are endless, just think about your favorite taco toppings. Here are some suggestions to get your gears turning:
Thick chili
Dollop of sour cream
Diced red onion
Queso sauce
Fresh tomatoes
Avocado slices
Make Ahead & Freezing
You can always cook up the ground beef ahead of time. The meat mixture is easily made even the day before and can easily be baked when ready to eat. Great for meal prep and easy dinners.
Just add the Frito chips and cheese when ready to bake and you will be good to go! I don't suggest adding them ahead of time or they get soggy.
Quick Tip: Making Frito Pie is a favorite when glamping in the backyard! Easily baked up on the grill for some fun family memories.
Don't worry if you don't own a cast iron skillet. This recipe works great when cooked in your favorite skillet on the stove and placed in a casserole dish. But if you have a cast iron skillet or Dutch oven, you will love the added bonus of a well seasoned cast iron.
You can freeze this casserole, but again, don't add corn chips until you bake it. They get mushy and no one wants soggy chips!
Why You Should Brown Ground Beef
Just watch the video- it's easier.
Reheating Frito Pie
You can easily reheat Frito Pie in single servings in the microwave on medium power for a minute or two.
You can also heat larger portions in the oven, but keep a close eye and it never hurts to add more cheese!
More taco inspired recipes: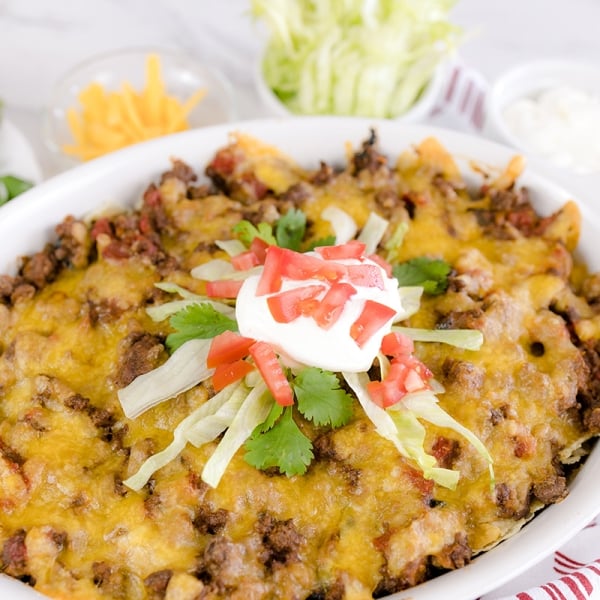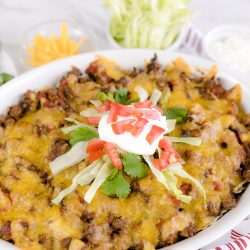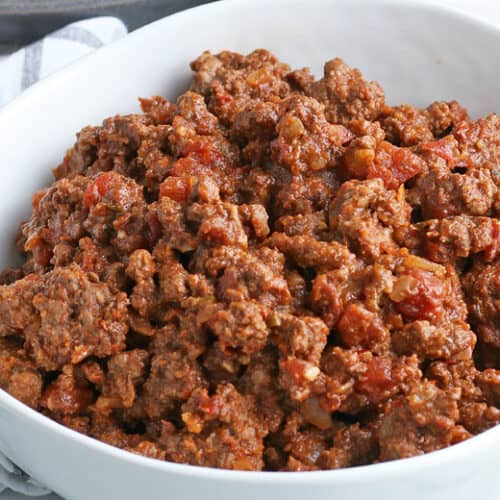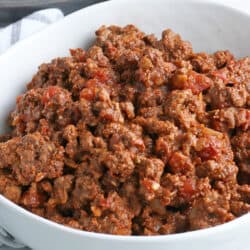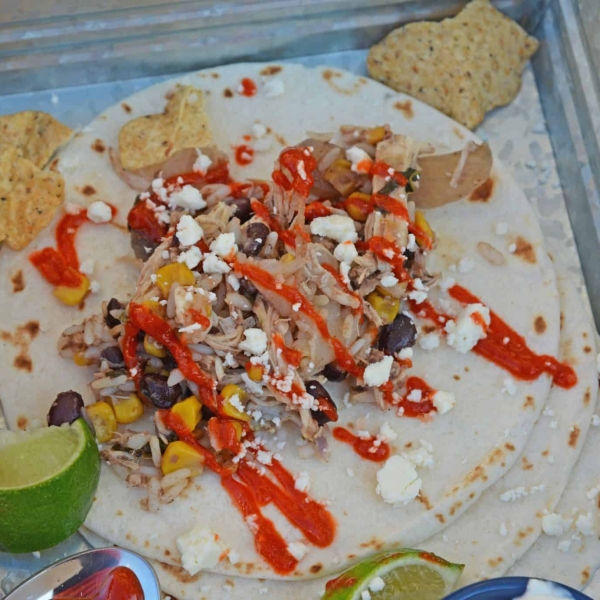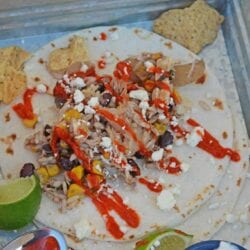 Zesty Frito Pie
Frito Pie, a delicious family favorite casserole loaded with ground beef, salsa, beans, corn and of course Frito chips topped with melted cheese. Make sure to top with your favorite toppings like tomatoes, sour cream, and even jalapenos for an added kick!
Ingredients
1

pound

ground beef

1

teaspoon

garlic

, minced (about 1 large clove)

1

cup

corn

, canned or frozen and thawed

1

cup

kidney Beans

, rinsed and drained

¾

cup

salsa

¾

cup

chili sauce

, such as Heinz

2

tablespoons

taco seasoning

2

cups

cheese

, shredded

3-4

cups

Chili Flavored Fritos Corn Chips
Instructions
Preheat oven to 350 degrees.

In a cast iron skillet over medium/high heat brown ground beef and crushed garlic until fully cooked. Drain off excess fat.

Add corn, beans, salsa, chili sauce and taco seasoning and stir, continuing to heat for about 5 minutes. Remove from heat.

Bake uncovered for 20 minutes.

Remove and top with additional toppings.

If you've tried this recipe, come back and let us know how it was in the ratings or comments!
Nutrition
Calories:
680
kcal
,
Carbohydrates:
33
g
,
Protein:
41
g
,
Fat:
42
g
,
Saturated Fat:
21
g
,
Cholesterol:
140
mg
,
Sodium:
1558
mg
,
Potassium:
952
mg
,
Fiber:
8
g
,
Sugar:
10
g
,
Vitamin A:
1367
IU
,
Vitamin C:
13
mg
,
Calcium:
465
mg
,
Iron:
5
mg