These Barbacoa Tacos are savory, a little spicy, and major crowd pleasers! Get ready for a tasty homemade Mexican dinner.
Every time I go to my favorite Mexican restaurant, I always order a barbacoa taco. I decided it was finally time to recreate that at home and it was so good, I just had to share it with you.
Barbacoa Meat
What's makes a great taco? Depending on who you ask, you will get a variety of answers. However, I think the most important part of tacos is the meat. And more importantly, the flavors of the meat. In this care, a good barbacoa recipe.
This recipe really allows the beef to shine. This flavorful meat is perfectly seasoned and cooked low and slow until perfectly tender.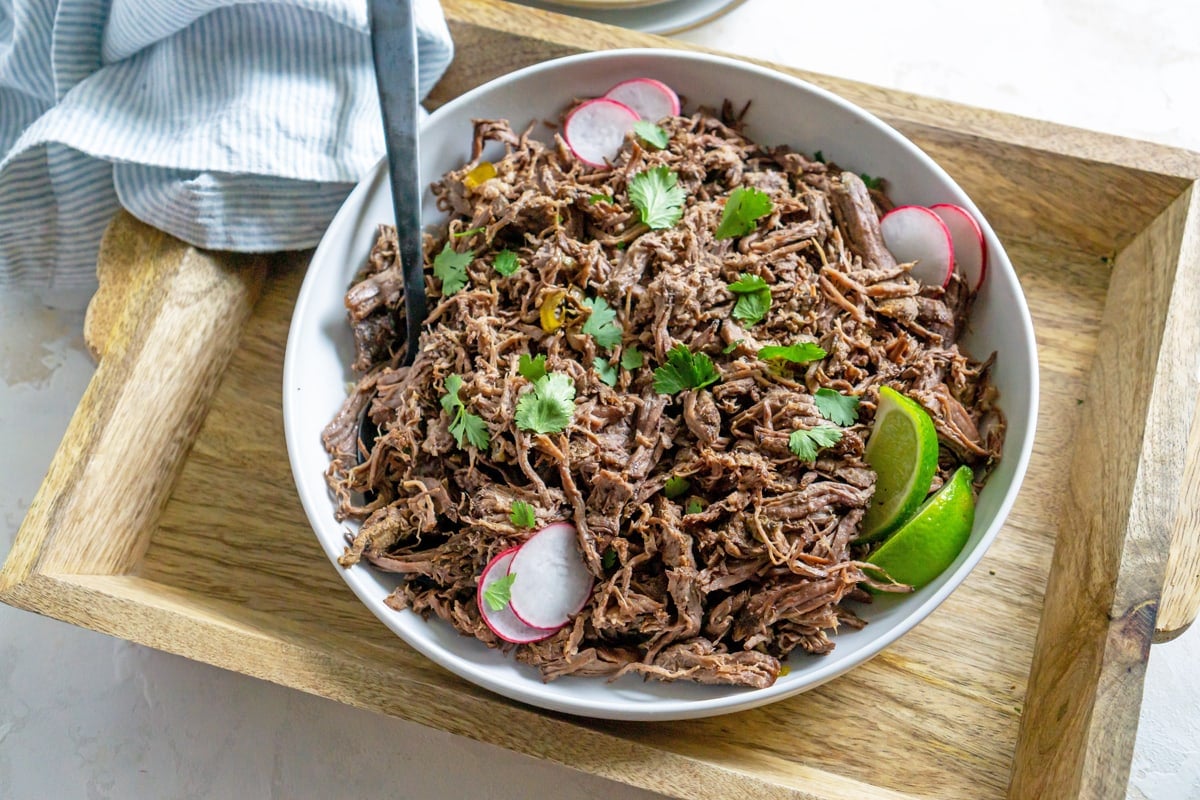 It is made with a beef chuck roast. This cut comes from the shoulder or neck region. It is also commonly found in pot roast. It is a little fattier than other large roast pieces, but this also makes it melt-in-your-mouth and gives it an extra rich flavor.
What is Barbacoa?
In northern parts of Mexico it could be made with goat or lamb that is slowly cooked with seasonings and shredded for filling in barbacoa tacos.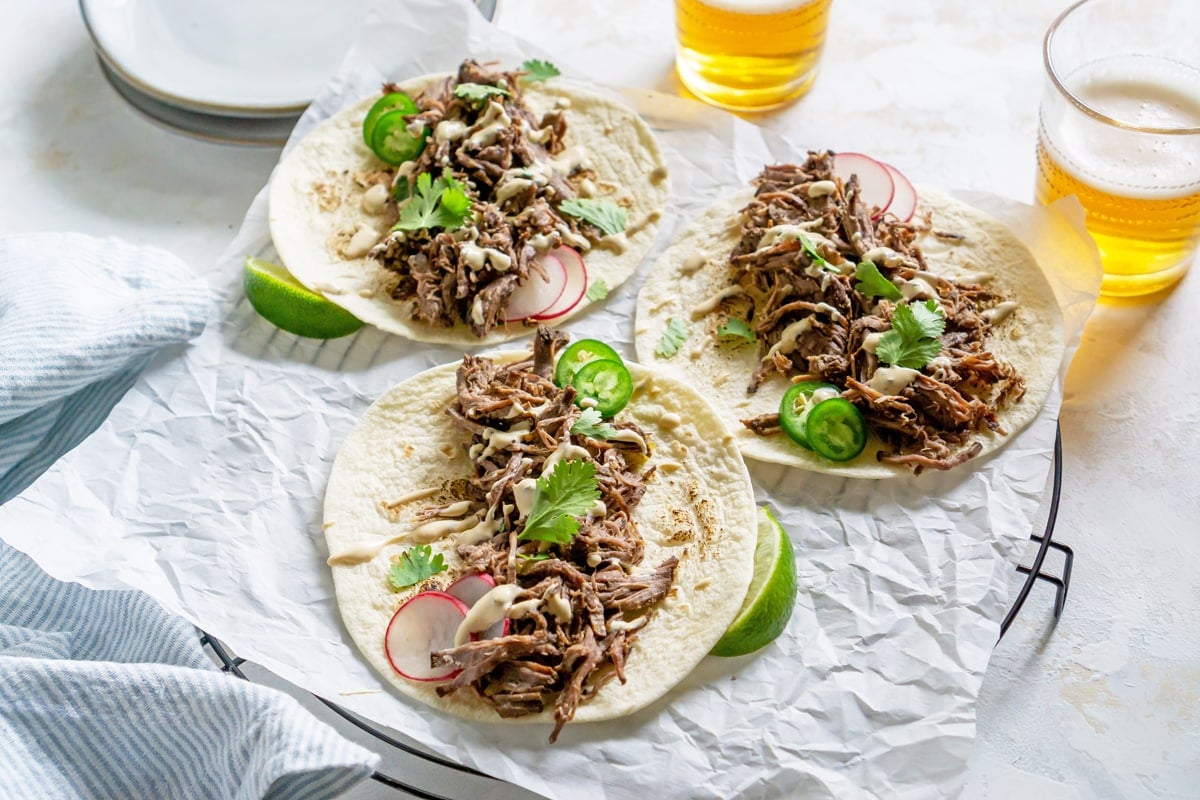 Barbacoa is beef, goat, or lamb. The meat is slow-cooked until tender and shredded. Carnitas is strictly pork.
While it also gets slow-cooked, at the end of the cooking, large chunks of it get browned in a skillet to give it that crispy texture. Try these Crockpot Carnitas or Instant Pot Carnitas if you're looking for something different!
Pro-Tip: Barbacoa is not just used for tacos, you can put it in burritos, taco salads, quesadillas and more!
The key to cooking beef barbacoa meat is to slow cook it. A beef chuck roast needs a good amount of time at a low temperture to allow muscle fibers and tenders to dissolve and melt.
If you taste it right after browning, it will be chewy, but wait a few hours and you'll have super tender and succulent shredded beef.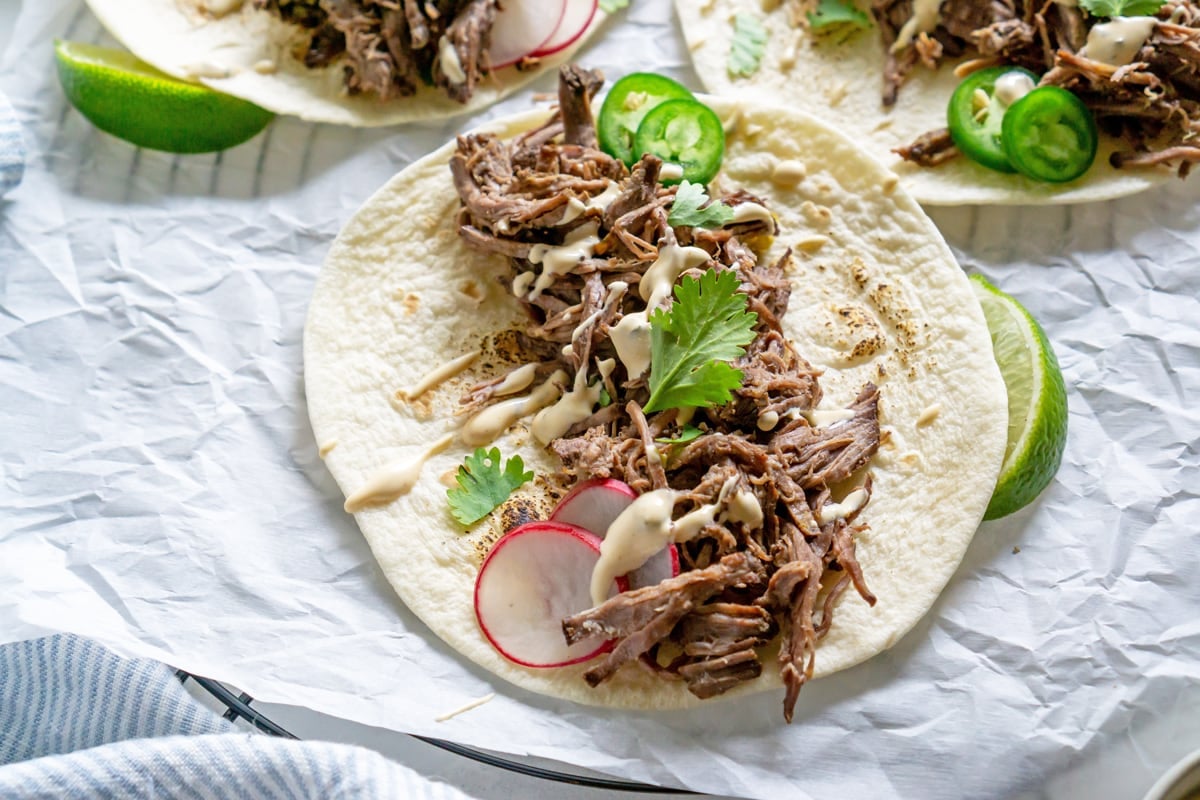 Season your meat with salt and pepper and brown in a skillet. Once you have browned the meat, transfer the beef to your slow cooker. This browning process promotes a deep flavor using the Maillard reaction.
Browning chemically changes the meat and creates acidity. This simple step is often overlooked, but the difference between amazing beef and just standard.
Did you know: Tacos are served on two thin corn tortillas so they don't rip or tear and you pile them high with all the good stuff!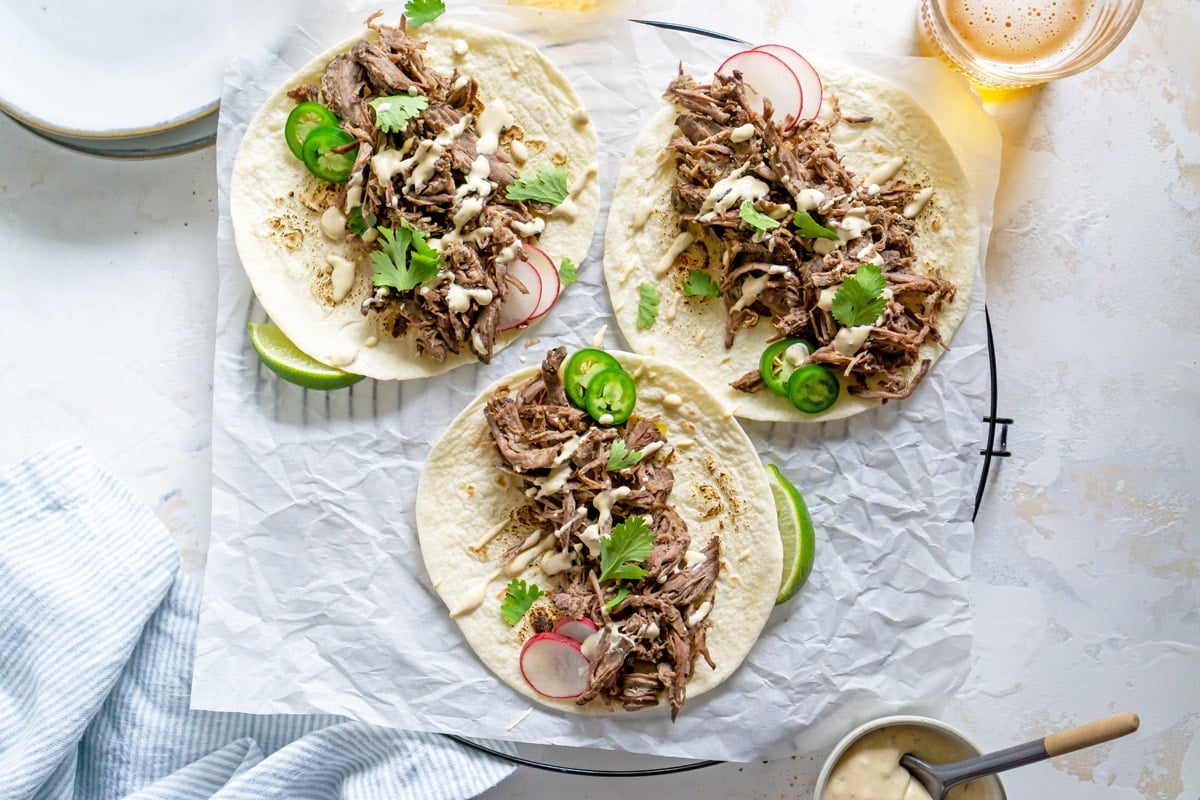 Barbacoa Ingredients
Beef: For this recipe, you are going to need chuck roast
Pro-Tip: Trim the fat when cooking and cut into chunks!
Veggies: Chipotle peppers, Green Chiles, and a White Onion
Pro-Tip: Make sure your Chipotle peppers are from a can of chipotle in adobo sauce- it is smoky and spicy
Spices: Cumin, Chili Powder, Dried Oregano, Ground Cloves, Bay Leaves, and Garlic Cloves
Wet Ingredients: Apple cider vinegar, Beef Bone Broth (or just beef broth), and Limes for juicing
For Cooking: Avocado Oil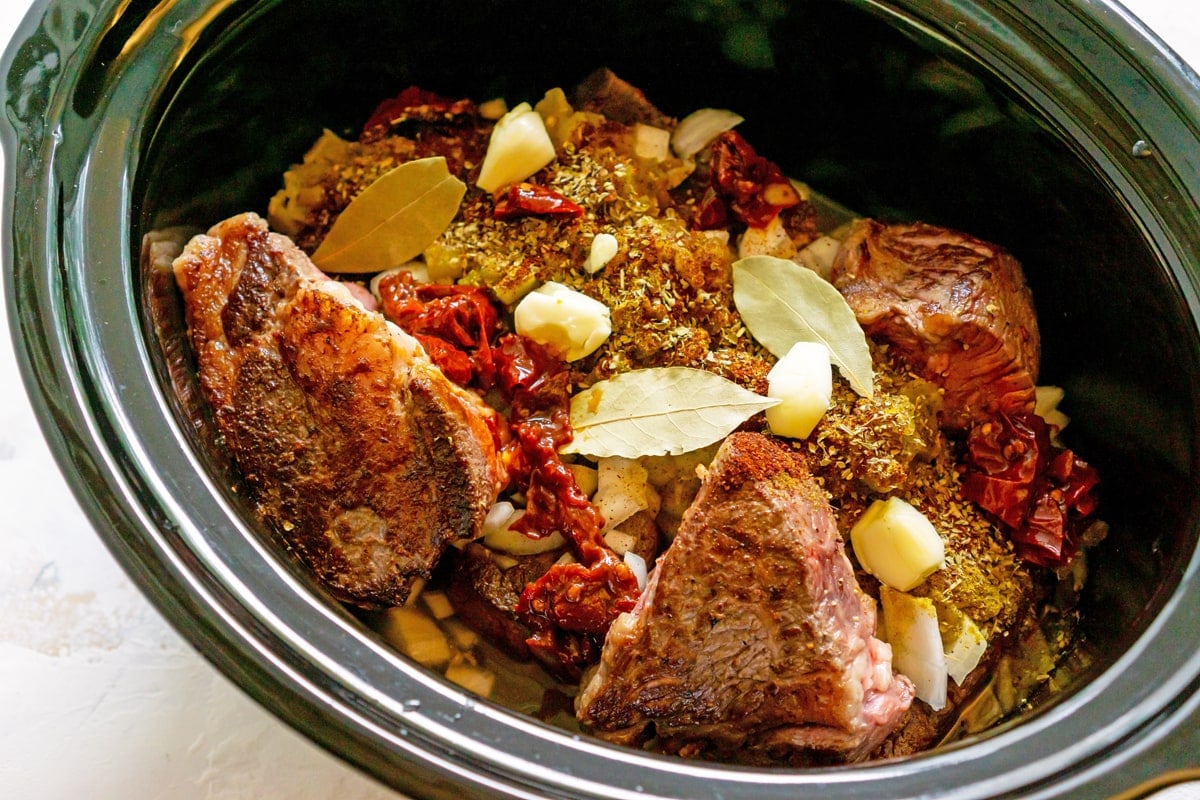 How to Make Homemade Barbacoa Tacos
Season the beef with salt and pepper. Heat a cast-iron skillet on medium-high heat with a splash of avocado oil and sear the beef for 3-4 minutes on each side.
Place the beef in the slow cooker with the chipotle peppers, diced green chiles, diced onion, apple cider vinegar, lime juice, cumin, chili powder, ground cloves, dried oregano, bone broth, bay leaves, and smashed garlic cloves.
Cook on low for 7-8 hours until the beef falls apart.
Preheat the broiler and arrange tortillas on a baking sheet. Broil them for 2-3 minutes (keep a close eye on them!) until they begin to toast.
When the beef is ready, transfer it to a serving bowl and shred with two forks. To make the tacos, layer the beef, cilantro, radishes, and jalapeños on each tortilla, either corn or flour, your choice. Squeeze lime juice over each taco and serve!
Taco Toppings
Fresh cilantro: I love topping my tacos with cilantro. If you don't like cilantro you can substitute with parsley.
Thinly sliced radishes: The radishes add a great pop of color along with a great fresh crunch to the dish!
Jalapeños: Top these barbacoa tacos off with the perfect kick. If you want to tone down the heat, just remove the seeds.
Lime wedges: Add a splash of zest to your tacos by squeezing some fresh lime on top for this finishing touch.
Chopped Lettuce or Cabbage– These cool, crunchy and fresh ingredients are what make a taco extra special in my eyes.
Charred Corn– Sweet and sticky corn kernels add flavor, texture and also color to your perfect taco. I sometimes even use my street corn salad.
Guacamole or Avocado Slices– Another fresh and creamy ingredient, avocados and guacamole is an easy way to top your barbacoa.
Sour cream or crema Mexicana– Or some other sort of saucey topping like ranchero or chipotle aioli.
Fish Taco Sauce– It's not just for fish tacos! Use it on any taco!
Of course, you can top your tacos with whatever your heart desires! These are just some ideas.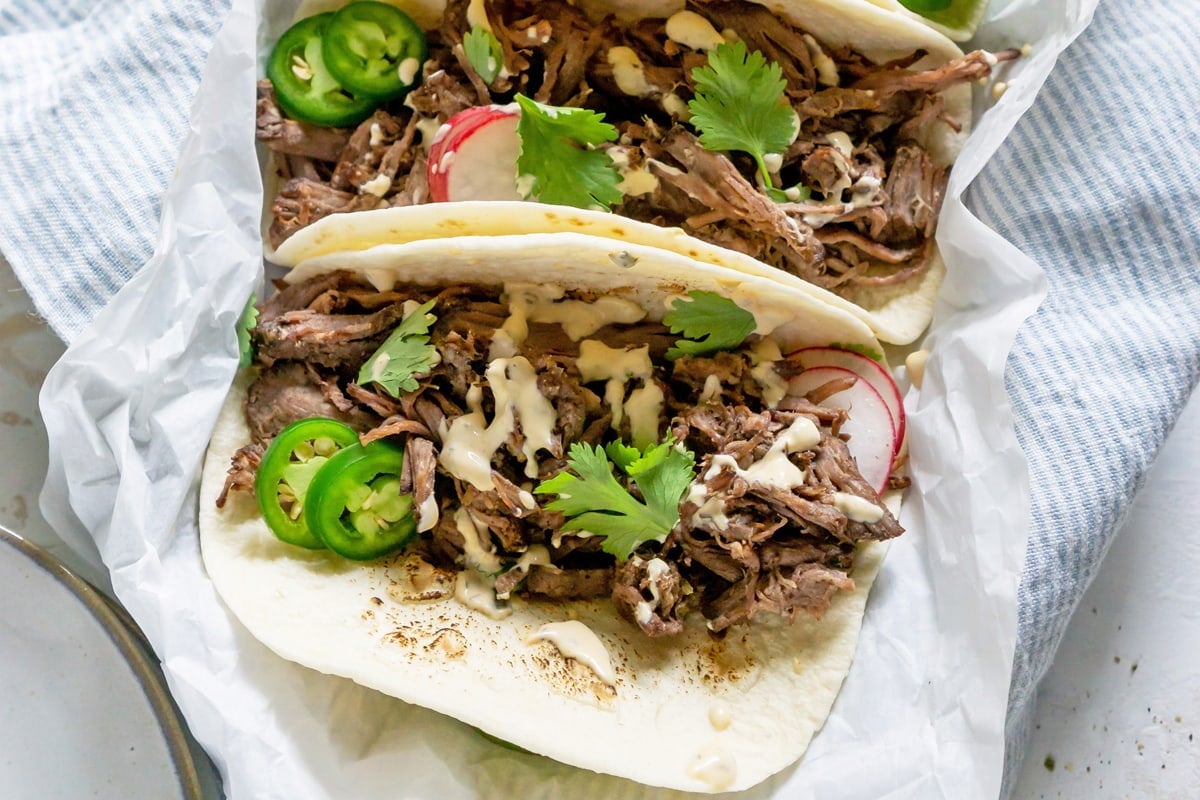 Storage & Freezing
Keep all elements of your tacos separate when being stored. Beef barbacoa meat is good for up to 5 days stored in the refrigerator.
Shredded beef can also be frozen in an airtight container for up to 3 months.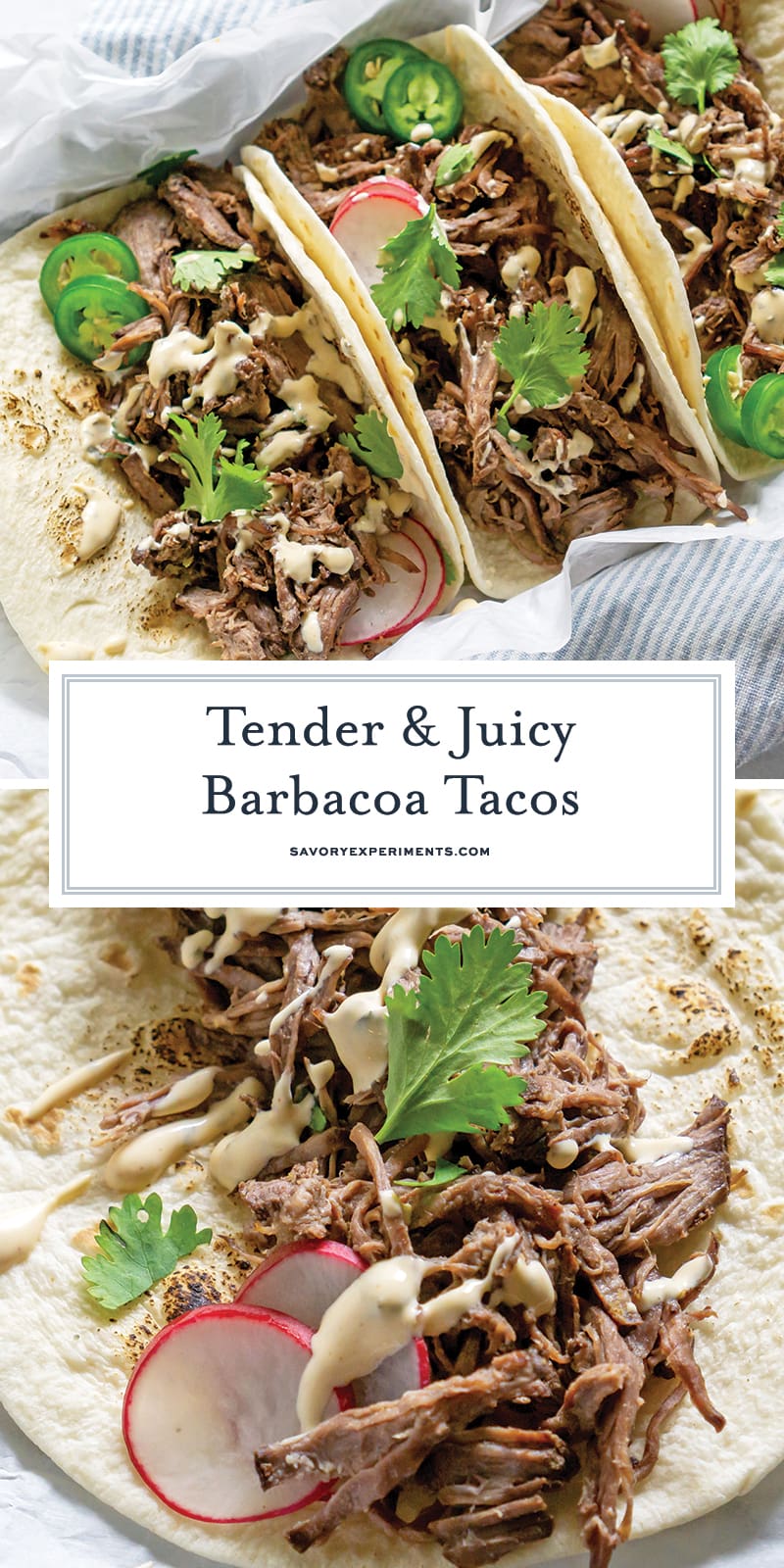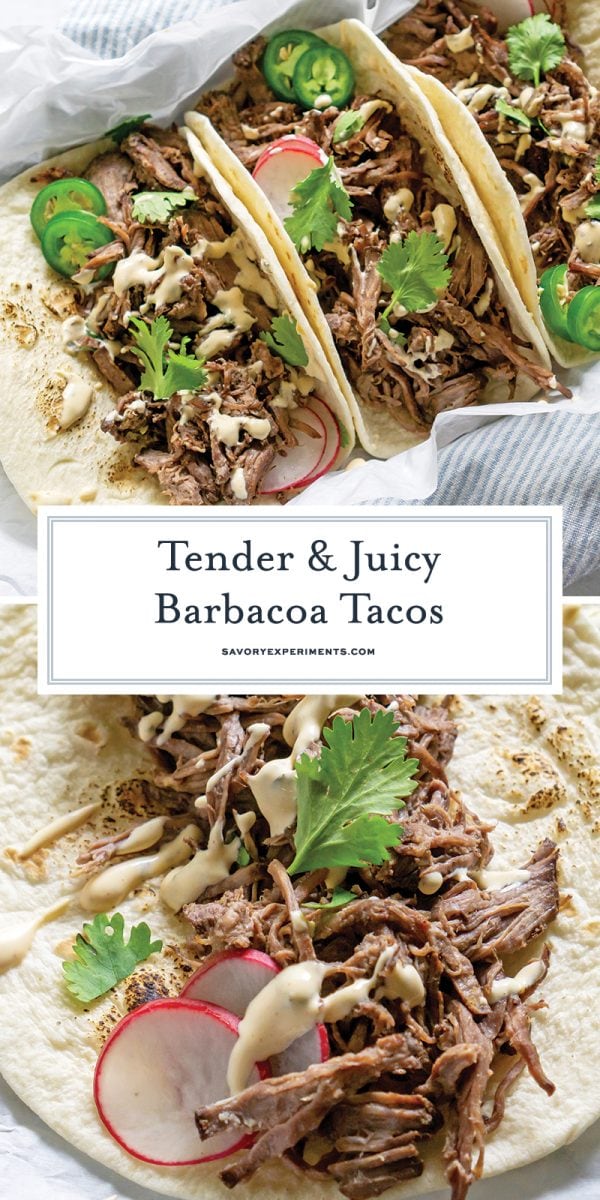 More taco recipes: