Crab cakes are what Maryland is known for; picking Maryland crabs, crab cakes and Old Bay seasoning. A traditional in the Chesapeake Bay area. And may be crab dip…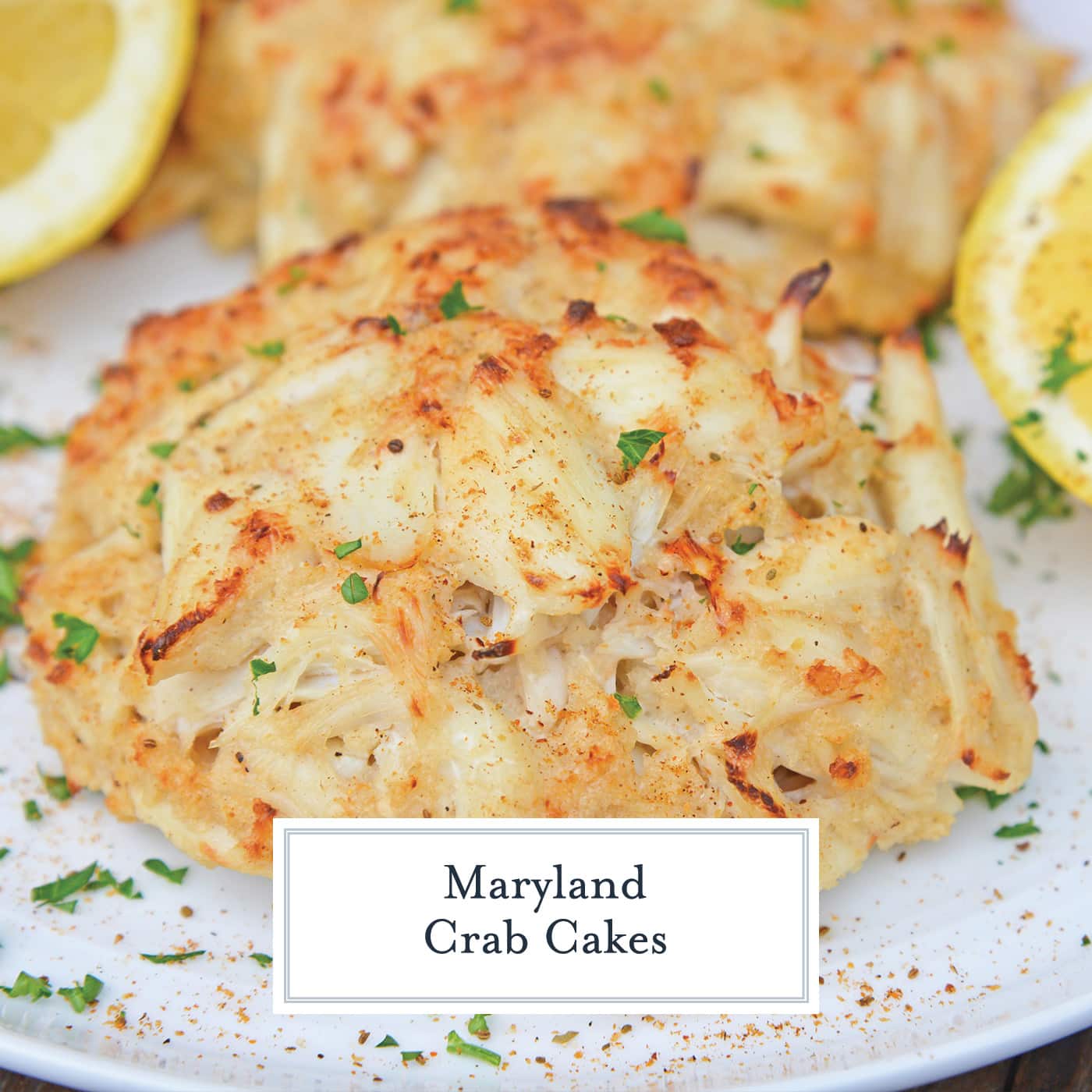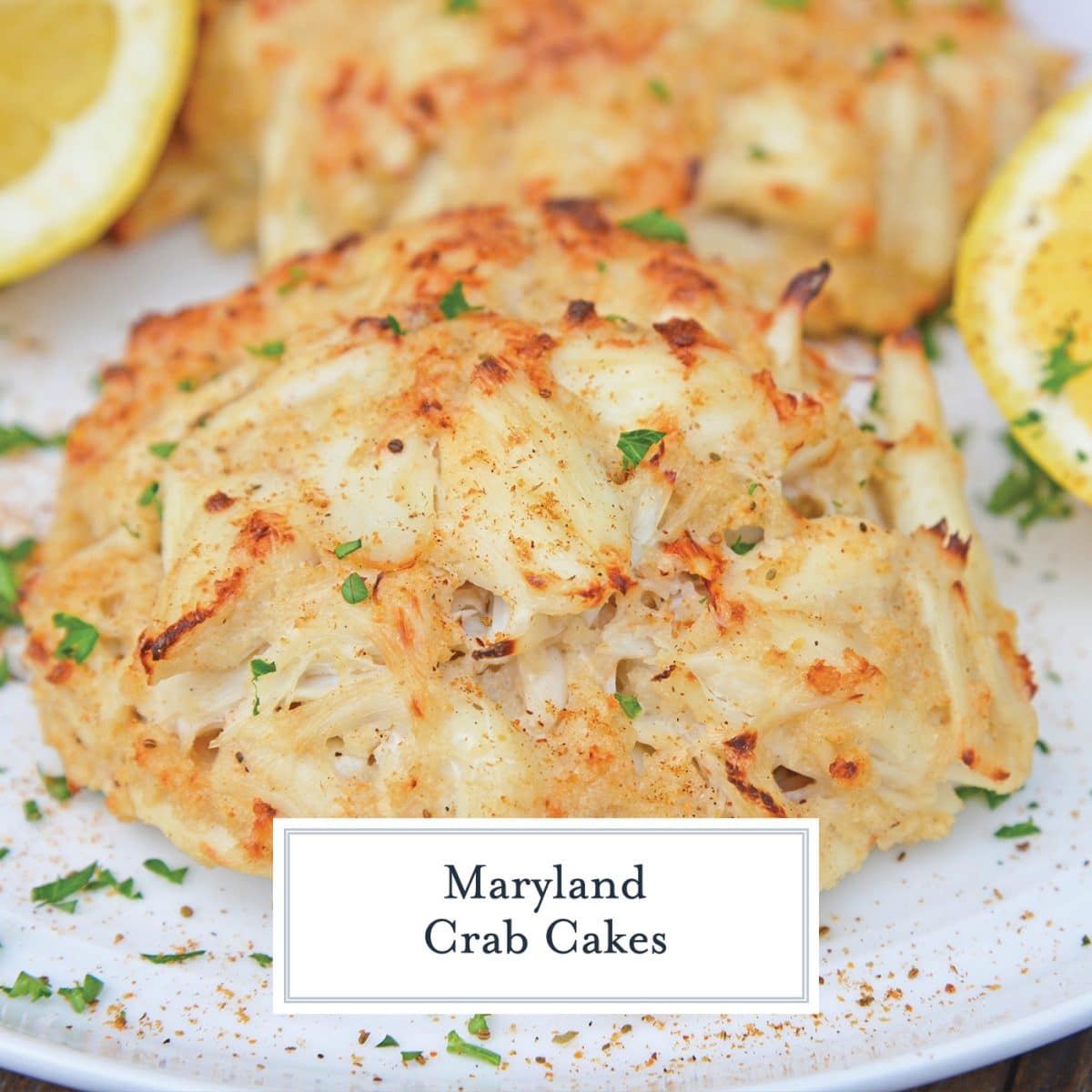 I've had the pleasure of eating some delicious (real deal), all-meat, no filler crab cakes in my time and this has taught me how to make just as delicious, all jumbo lump crab cakes at home.
What I've learned is that there are many version of "the best crab cake recipe" and even locals will debate you real Maryland crab cakes. Just look at the comments on this post!
What Are Maryland Style Crab Cakes?
Authentic Maryland Crab Cakes are made with jumbo lump blue crab meat with little filler, Dijon mustard and Old Bay Seasoning plus locals secrets for the perfect cake. It is an easy recipe, but one that is often overthought.
Locals will tell you there are never any bell pepper, celery, carrot, onion or garlic in a good cake. And in fact, some would say even parsley is a huge no-no. This doesn't mean that you can't get a darn good Louisiana or North Carolina style cake with all of these things and using backfin, it just means it isn't Maryland-style.
When someone says "no filler" they just mean that there is the least amount of binder possible to hold the crab meat together. It is impossible to not use any and even locals will debate until the cows come home about what is the correct filler.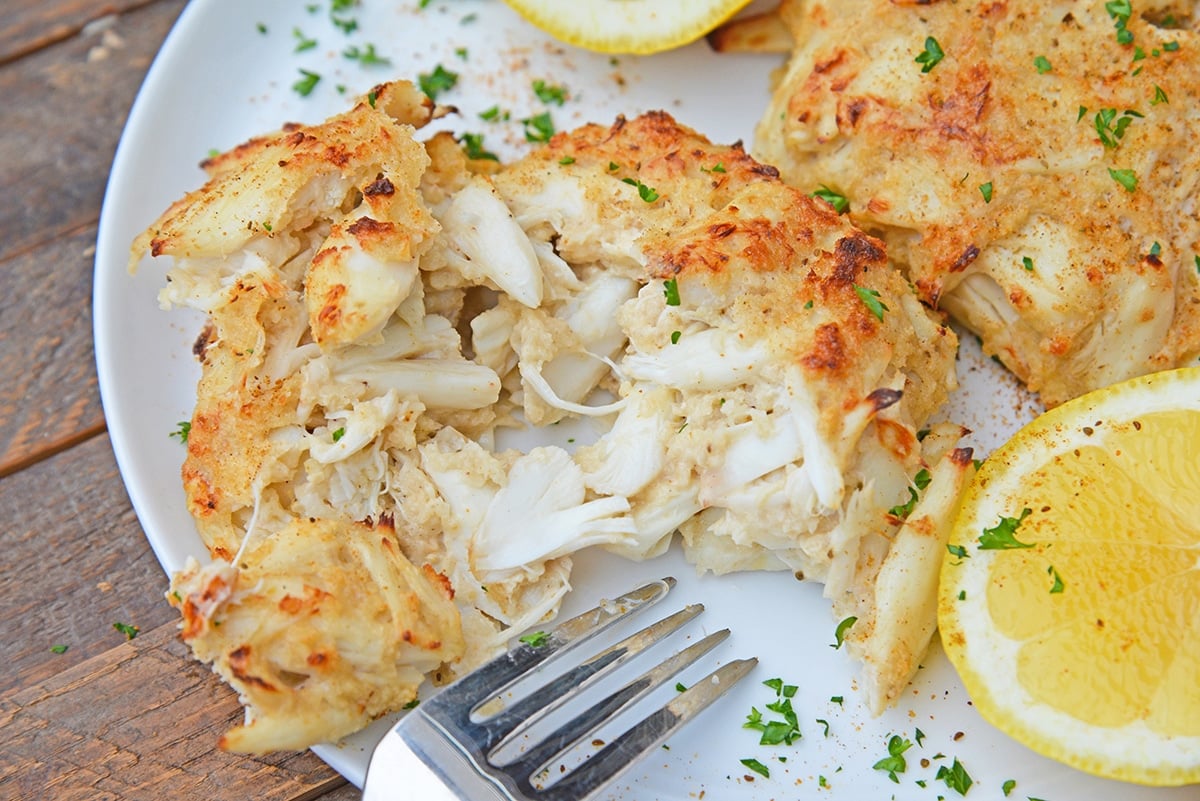 The Perfect Crab Cake
It has been a labor of love. An expensive labor of love ranging over the past decade.
With jumbo lump crab meat costing $31+, this isn't something you can just make over and over again until you get it right. You can't just willy nilly make recipes that use jumbo lump crab meat.
So here we go- on an adventure to build the perfect cake at home. A softball mound of deliciousness.
You need just enough to glue your glorious pieces of jumbo lump crab meat together, but no more. In fact, some of the best crab cakes will start to fall apart from the lightest touch of a fork.
It is even challenging to get them to the perfect golden brown because they are so fragile.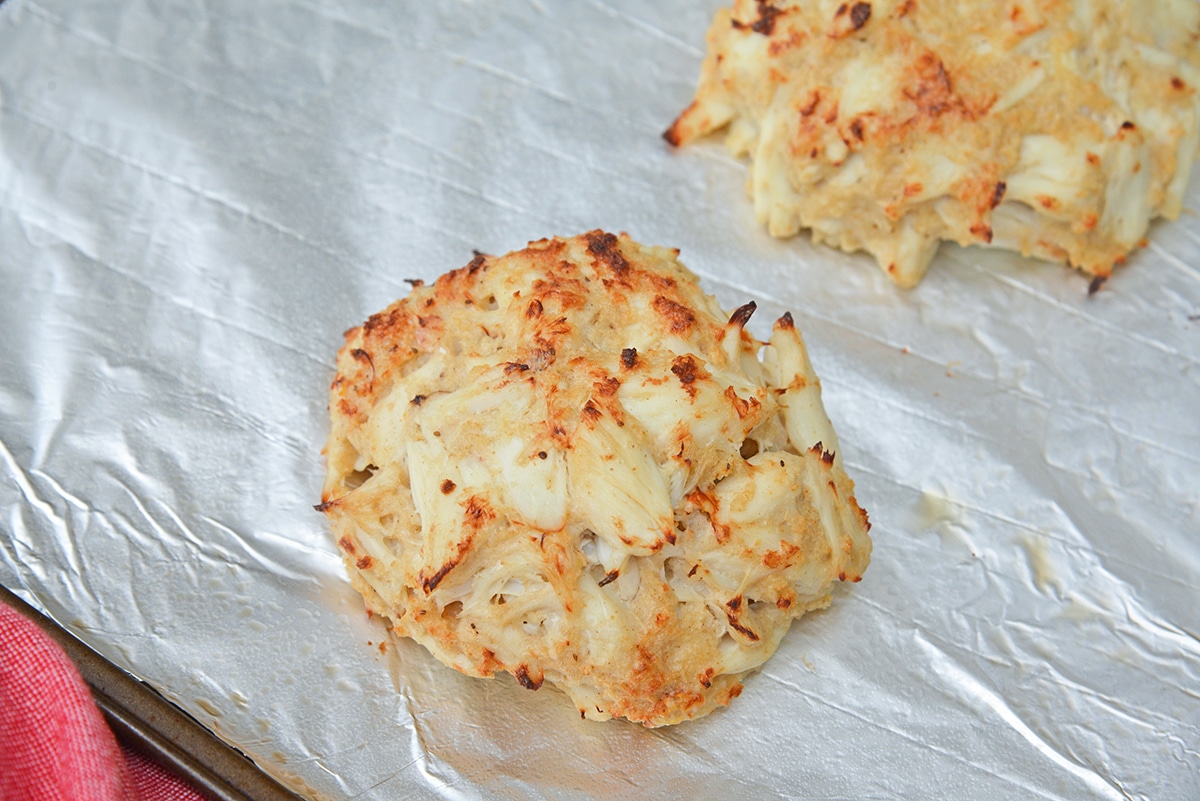 Types of Crab Meat
The first thing to know is how to buy the crab meat. We are talking blue crab here, not snow crab, king crab, dungeness crab or stone crab.
Claw– dark meat that comes from the claw, a little more stringy than other varieties.
Special

– smaller pieces, comes from small little crevices or the "special" sections of the crab, good for flavoring and dips.

Backfin

– some larger lumps coming from, you guessed it, the back of the shell, whiter meat, does well in crab cakes, feathery texture.

Jumbo lump

– large chunks of meat, the beauty is the large pieces used for crab meat cocktails or delicious to pop in your mouth plain, very tasty and moist.
Maryland Crab Cakes pride themselves on being jumbo lump Maryland crab, but since it is so expensive, most of them are a mix of jumbo lump and other type of meat.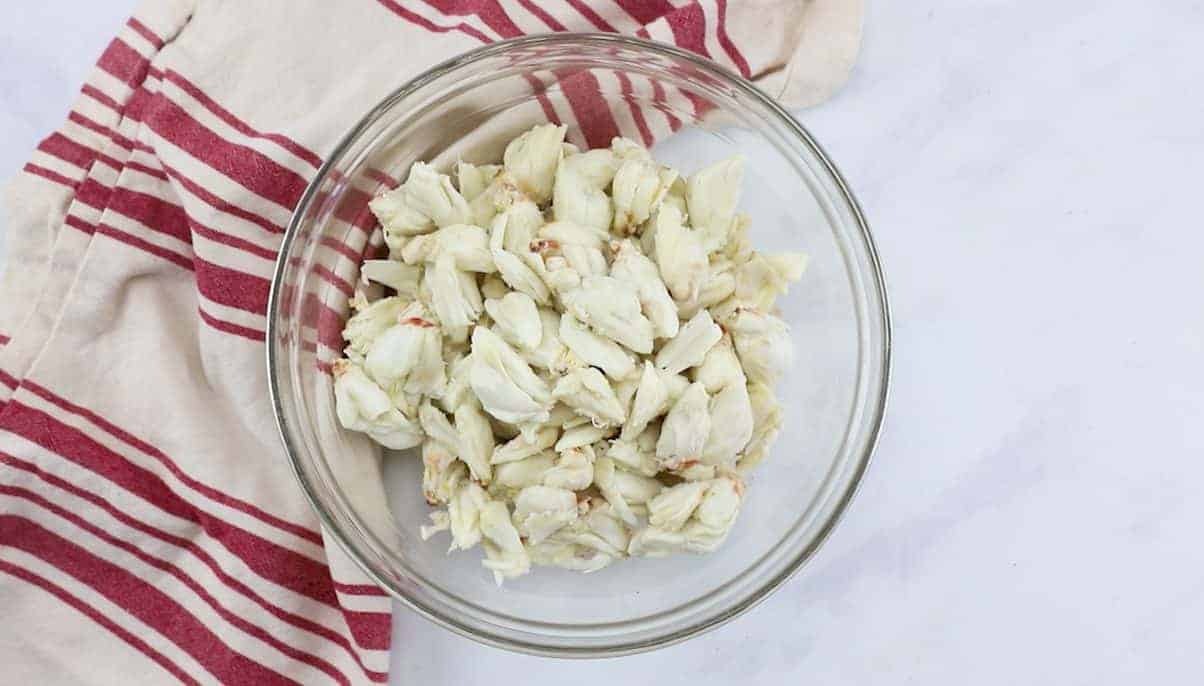 For this Maryland crab cake recipe, I used all jumbo lump and it was expensive, not gonna lie. Feel free to use a less expensive option or a blend.
Ingredients in a Crab Cake
Fresh crab meat- many people will pick their own fresh crabs or buy it from a stand on the side of the street. If you aren't local, you might have to buy pasteurized from the seafood department.
Mayonnaise – The glue that helps hold it all together.
Worcestershire sauce- A heady ingredient with a wealth of flavor in small doses.
Dijon mustard- Adds a little zing. Core ingredient for most crab cake recipes.
Old Bay Seasoning (or coarse sea salt or another seafood seasoning)
Fresh lemon juice– Always use fresh. Any citrus juice starts to lose flavor the moment it is juiced, so the bottled stuff lacks luster.
Panko bread crumbs– Some commonly seen binders are saltine crackers, other cracker crumbs, Italian bread crumbs and brioche. I use panko, but you can play around with any type you like.
Egg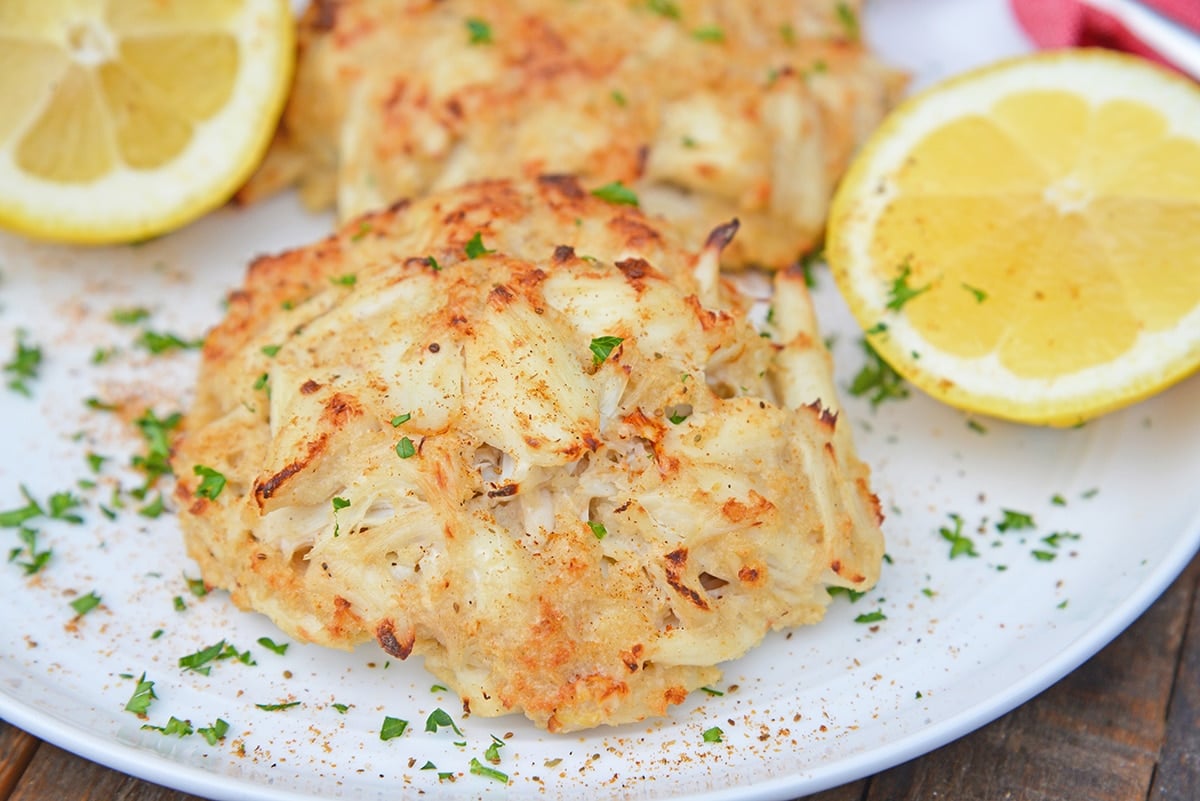 Sauces
Lastly, and not actually part of the crab cake, is the crab cake sauce. Crab cake enthusiasts will tell you they should not be served with sauce at all.
Let the crab shine! Maybe a spritz of fresh lemon wedges, juice but no more. Others do allow small amounts of worcestershire sauce, hot sauce or a light salt and pepper seasoning, but these are all debatable.
I say, serve it with whatever you like. I actually like cocktail sauce or remoulade, but most come with a side of tartar sauce or a tartar based crab cake sauce. Some even like a chipotle or lemon herb aioli.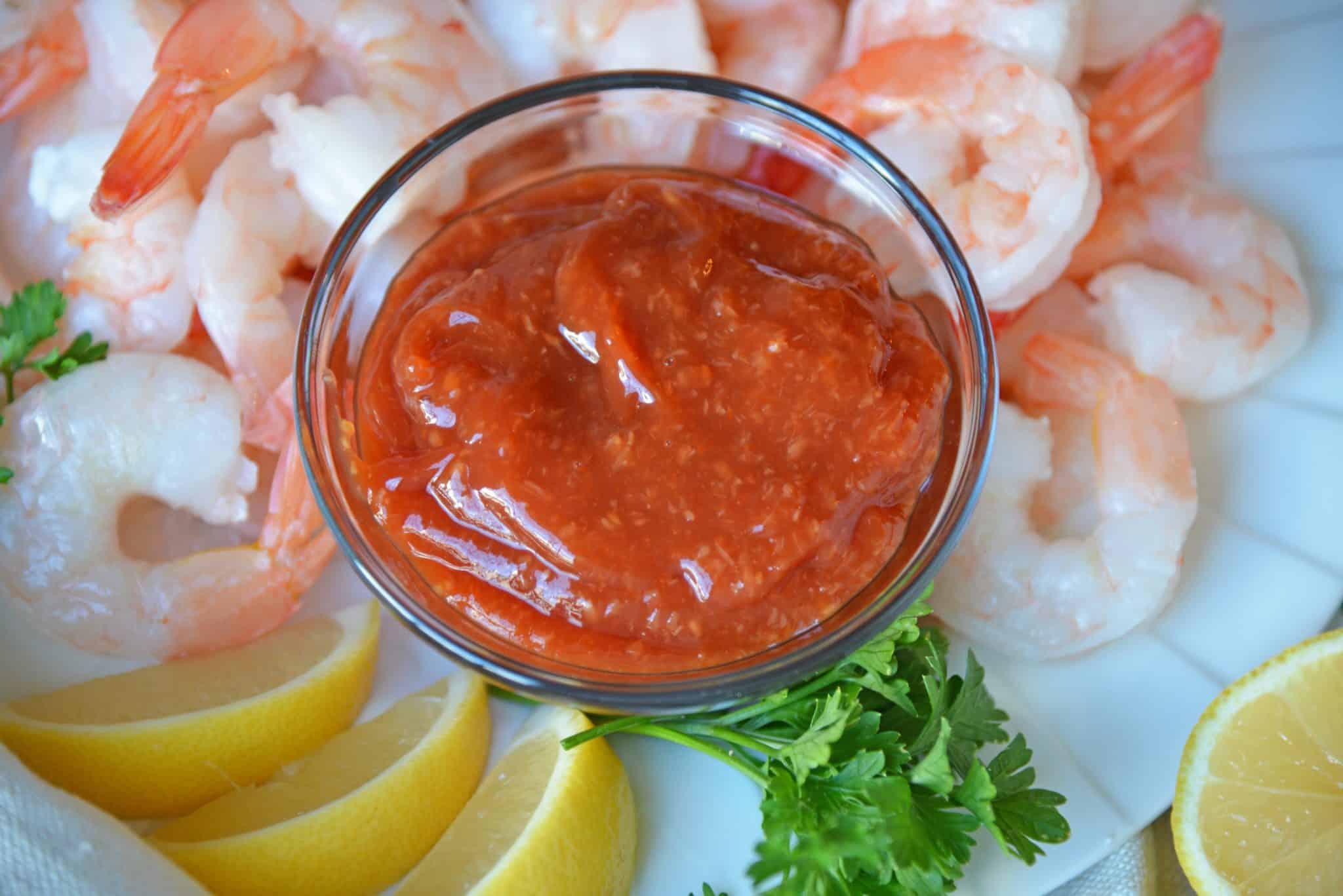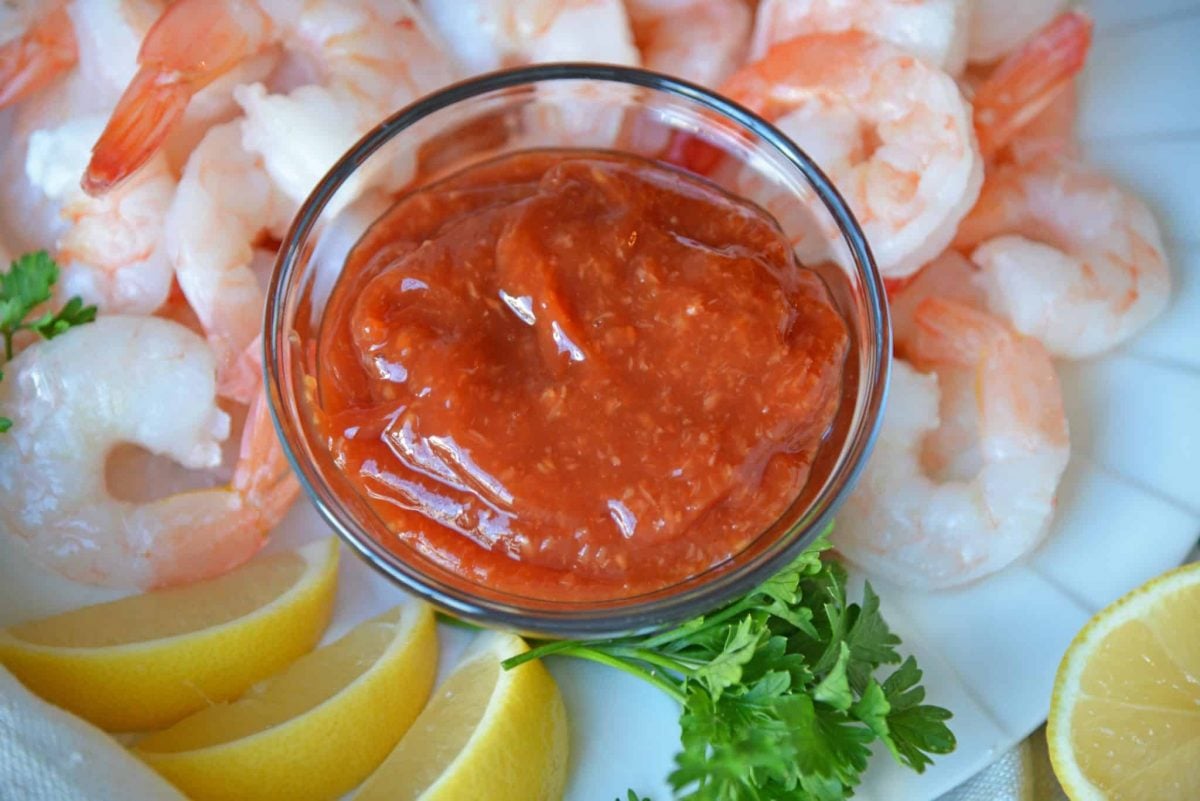 What to Serve with a Crab Cake
Many folks like a "steak and cake"- meaning a surf and turf type meal with beef and a crab cake. Any type of steak will do. My favorites are a grilled Balsamic Whiskey Sirloin, pan fried steak or crab imperial filet mignon.
Don't stop there though, you can also serve it with chicken for chicken imperial or on top of a salmon filet. Or with other seafood like scallops or salmon croquettes.
Tips for Making Crab Cakes:
Use the right type of crab meat for the cake you making.
Don't overdo the filler.
Don't overseason, allow your crab meat to shine!
Don't over sauce, let those flavors loose.
Don't over mix the crab mixture, loosely toss it.
Don't overcook your cakes.
Commonly Asked Questions
Can I freeze crab cakes?
Crab cakes are one of the few recipes that contain mayonnaise that you can freeze. I prefer to freeze mine cooked instead of raw (even though the crab meat isn't actually raw).
Can I use imitation crab meat?
Can I use imitation crab I would advise against using imitation crab meat for crab cakes. Crab is the main ingredient and will flavor the whole dish. Imitation crab meat is just a white fish compressed into crab-like shapes and then tinted a weird orange color. ?
Can I make crab cakes in advance?
You sure can! Make them, form them and place them in a single layer on a baking sheet and refrigerate covered for up to 24 hours. In fact, this step can help the fragile lump crab meat hold together while cooking.
Can you fry crab cakes?
You sure can make these into fried crab cakes. Add oil to a shallow frying pan and cook for 2-3 minutes on both sides until lightly browned.
Can crab cakes be grilled?
You surely can grill them, but you need to use some sort of flat surface. The delicate meat will fall right through the grates of a traditional grill.
Do I have to use old bay?
You don't! Old Bay is the most popular in my area because it originated in Maryland. It was bought by McCormick and is now supplied throughout the US. You can use any seafood seasoning you like or even a nice Cajun blend. It adds a little bit of salt, to any salt blend will also work.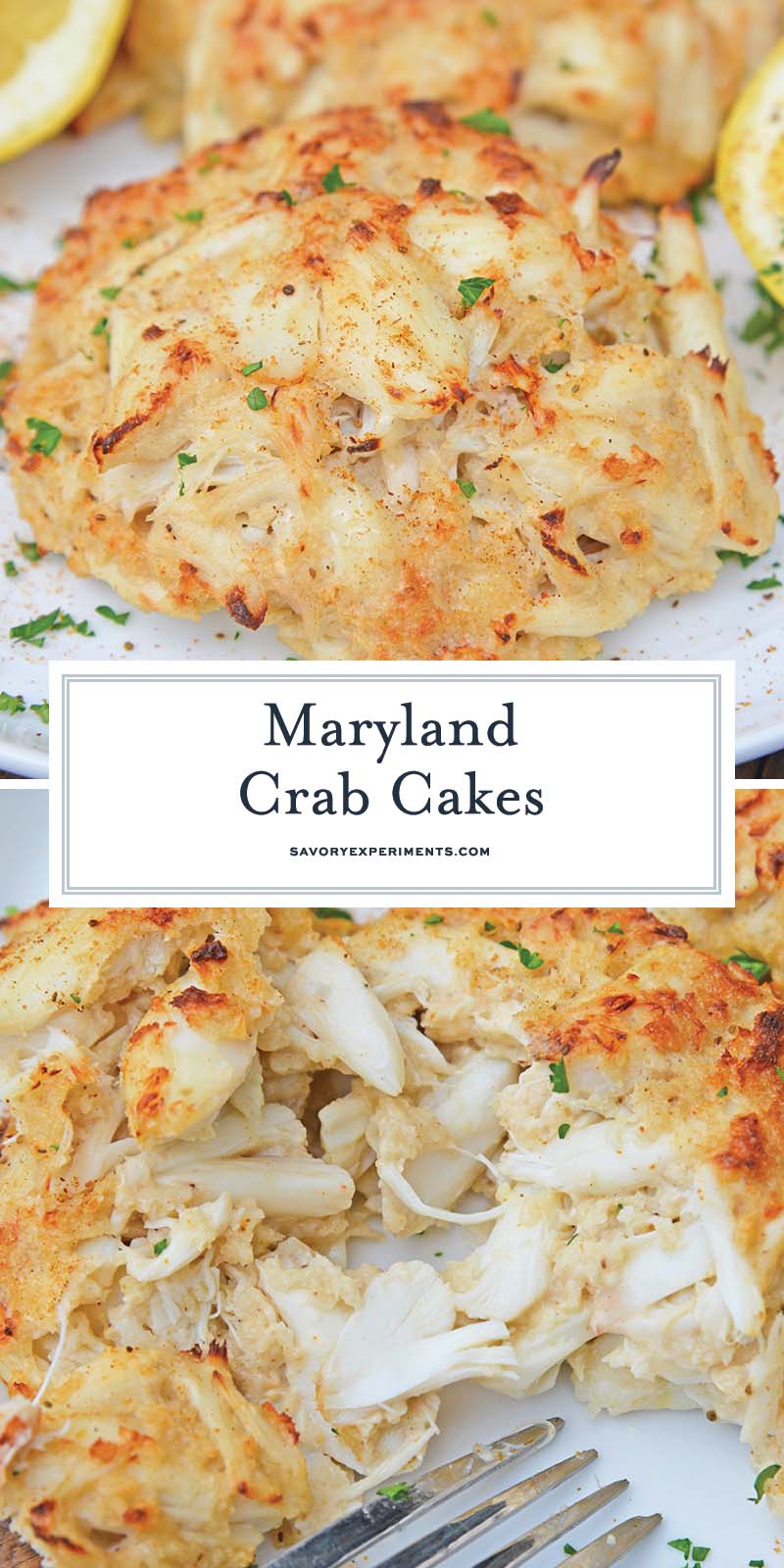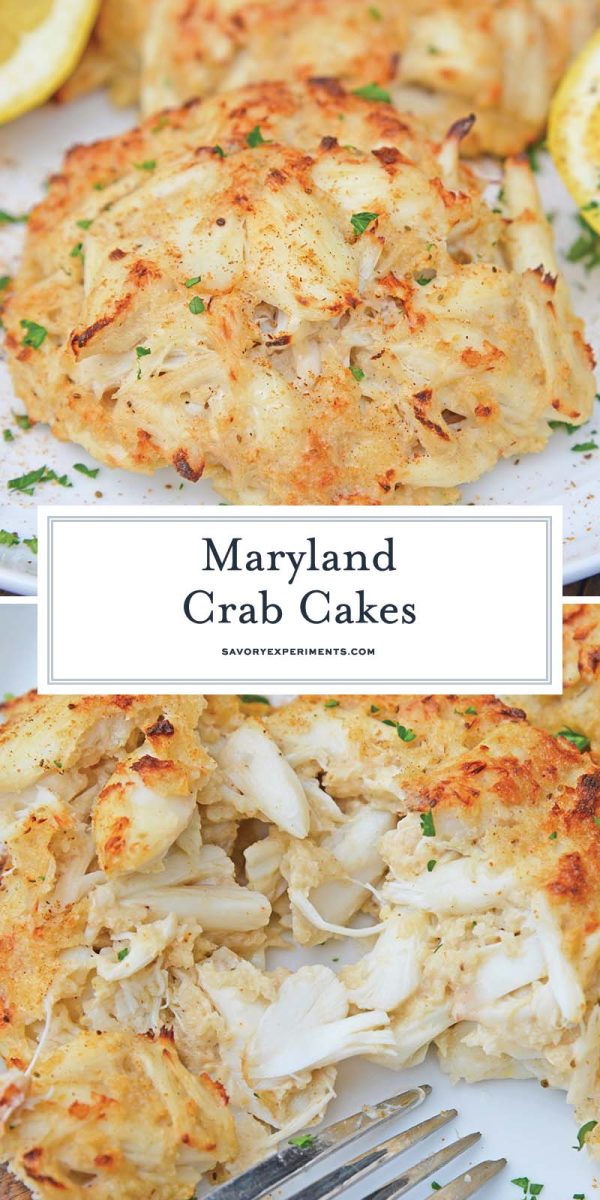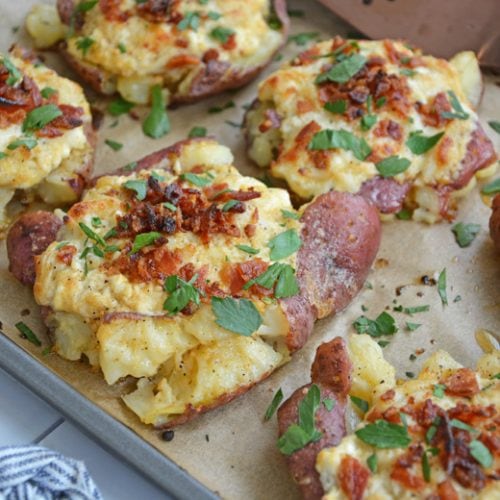 Crab Smashed Potatoes
Crispy smashed potatoes slathered in butter, topped with creamy crab, given another butter bath before being topped with bacon and baked.
View this recipe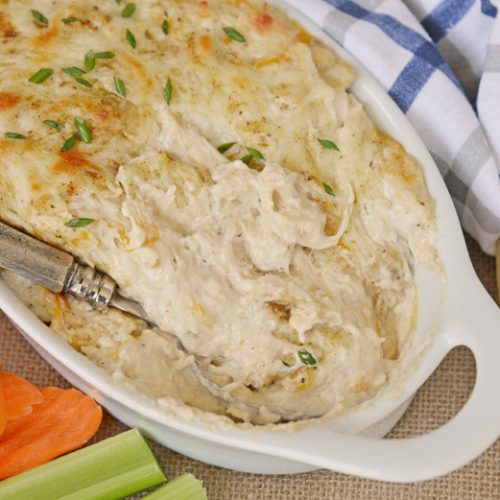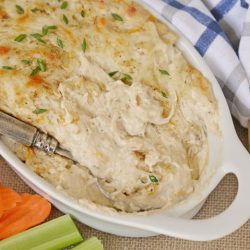 Maryland Crab Dip
Hot Crab Dip with cream cheese is a is a Maryland classic! Blended with cheese, lump crab meat and old bay, this crab dip served hot is the best party appetizer recipe!
View this recipe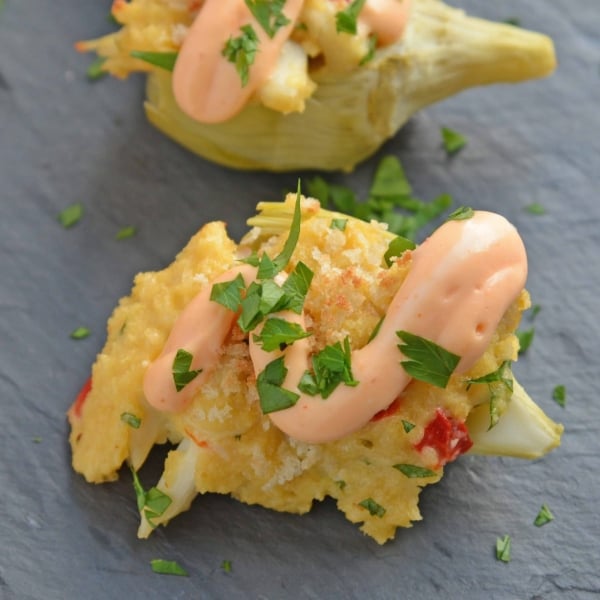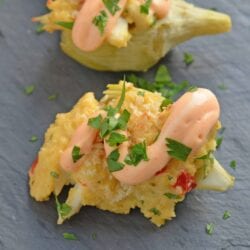 Crab Dip Stuffed Artichoke Hearts
Crab Dip Stuffed Artichoke Hearts takes traditional hot crab dip and bakes in an artichoke heart, topping it with crunchy panko and Sriracha Aioli.
View this recipe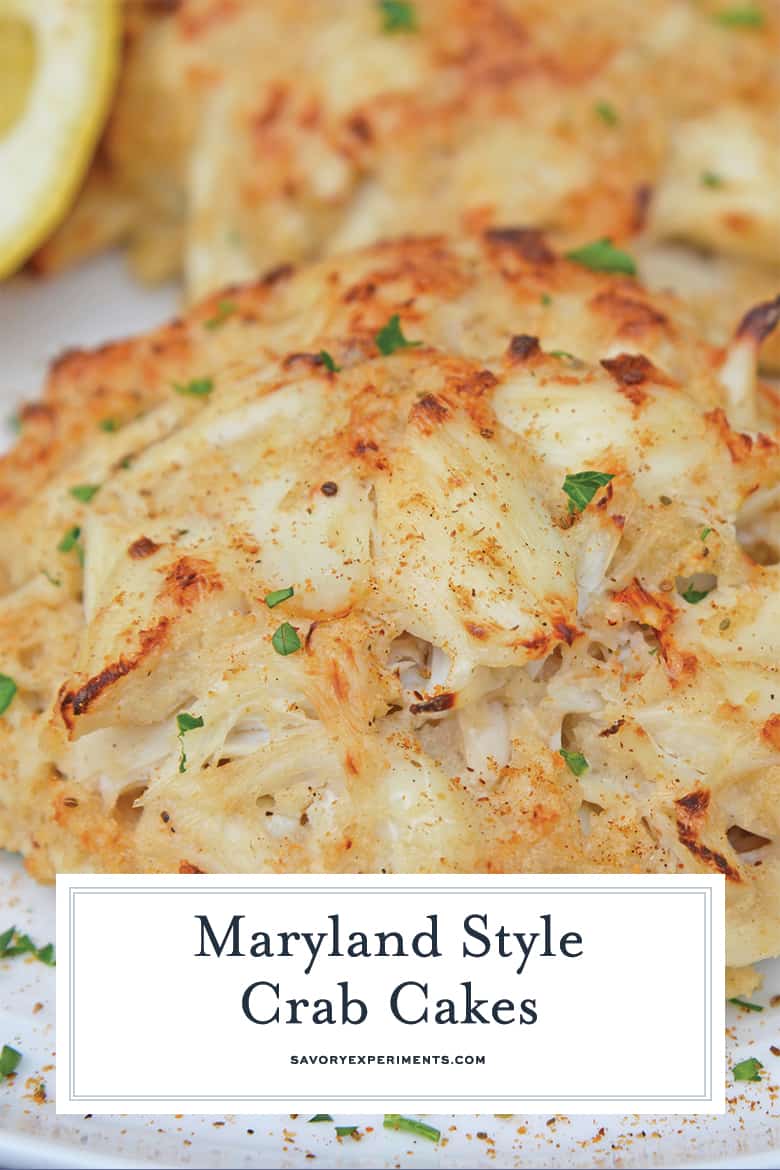 So there you go, everything you need to know about how to make crab cakes. And if you are going for a fully Maryland theme, serve them with an Orange Crush, our favorite summer time beverage!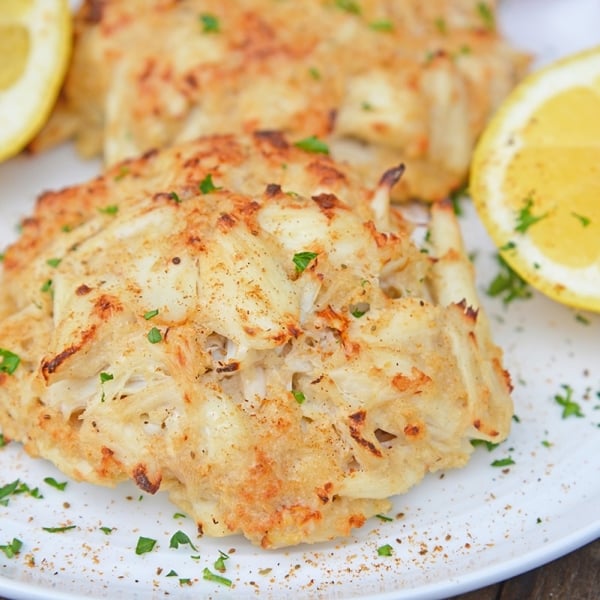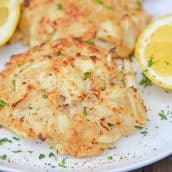 Maryland Style Crab Cakes
Maryland Crab Cakes are made with jumbo lump crab meat with little filler, Dijon mustard and Old Bay Seasoning plus secrets to making authentic Chesapeake crab cakes!
Instructions
Dab the crab meat with paper towels to get out excess moisture. Try not to break apart any of the large crab meat lumps.

In a medium bowl, whisk together the mayonnaise, Worcestershire sauce, Dijon mustard, Old Bay and lemon juice.

Add the crab meat, panko and lightly beaten egg. Toss lightly using your fingers until just moist, again, trying to not break apart any crab meat lumps. If it isn't sticking, add more panko slowly until it binds. Carefully form 8 jumbo crab cakes or 16 crab balls.

Line a rimmed baking sheet with aluminum foil and lightly grease. Place the crab cakes on baking sheet.

Preheat the broiler to high heat. Place 4-5 inches from heating element. Broil until lightly brown on top, approximately 7-8 minutes.

Remove, transfer to serving plates using a spatula and then garnish with minced parsley (optional) and a sprinkle of Old Bay seasoning. Serve with your choice of dipping sauces.

Have you tried our Maryland Crab Cakes? Make sure to come back and tell us how you liked them!
Nutrition
Calories:
283
kcal
,
Carbohydrates:
15
g
,
Protein:
31
g
,
Fat:
9
g
,
Saturated Fat:
1
g
,
Cholesterol:
94
mg
,
Sodium:
1499
mg
,
Potassium:
365
mg
,
Sugar:
1
g
,
Vitamin A:
95
IU
,
Vitamin C:
11.6
mg
,
Calcium:
117
mg
,
Iron:
2.3
mg