Herb Lemon Aioli is an all-purpose sauce that can be used as a creamy addition to any meal. Aioli brings out the natural flavors in pretty much everything you add it to.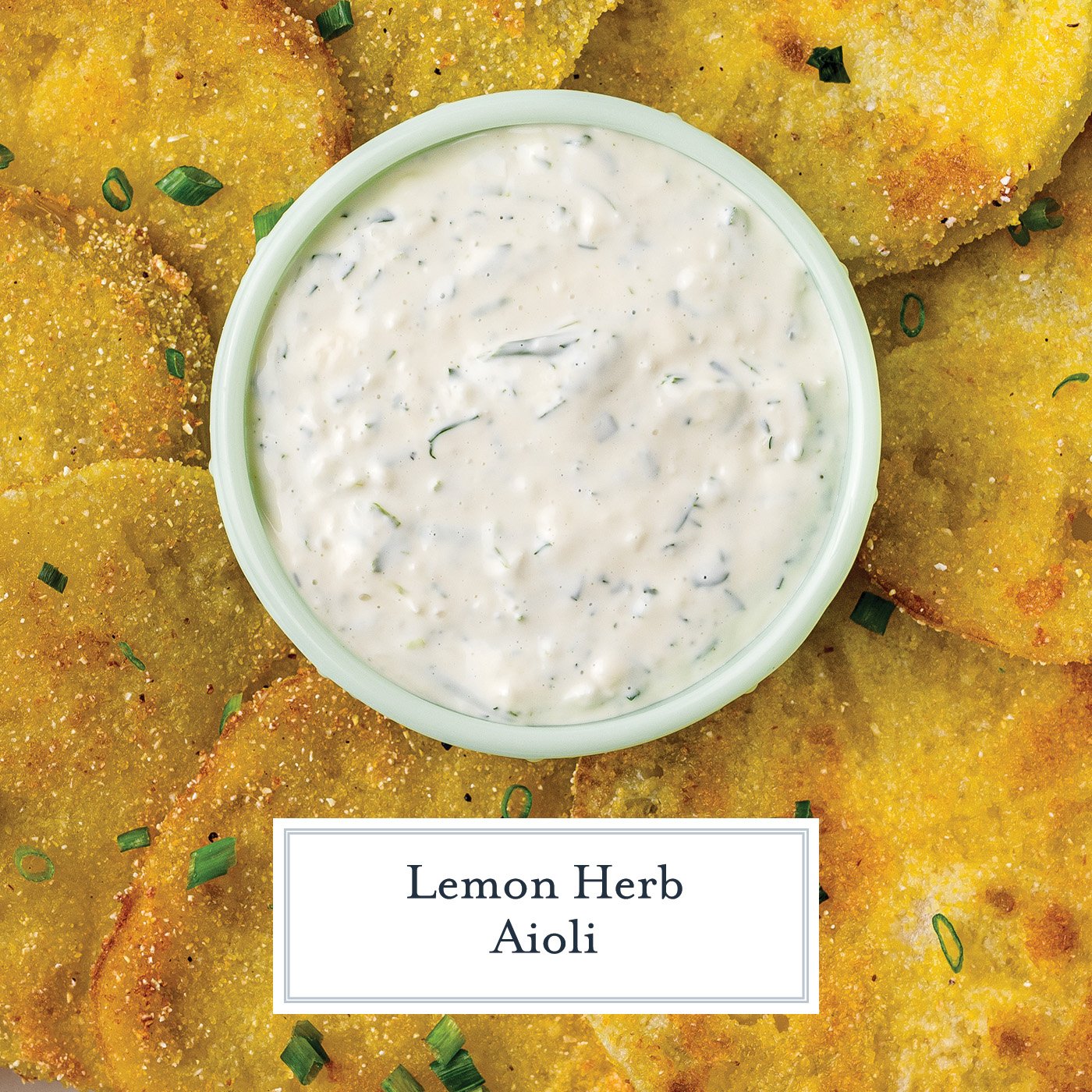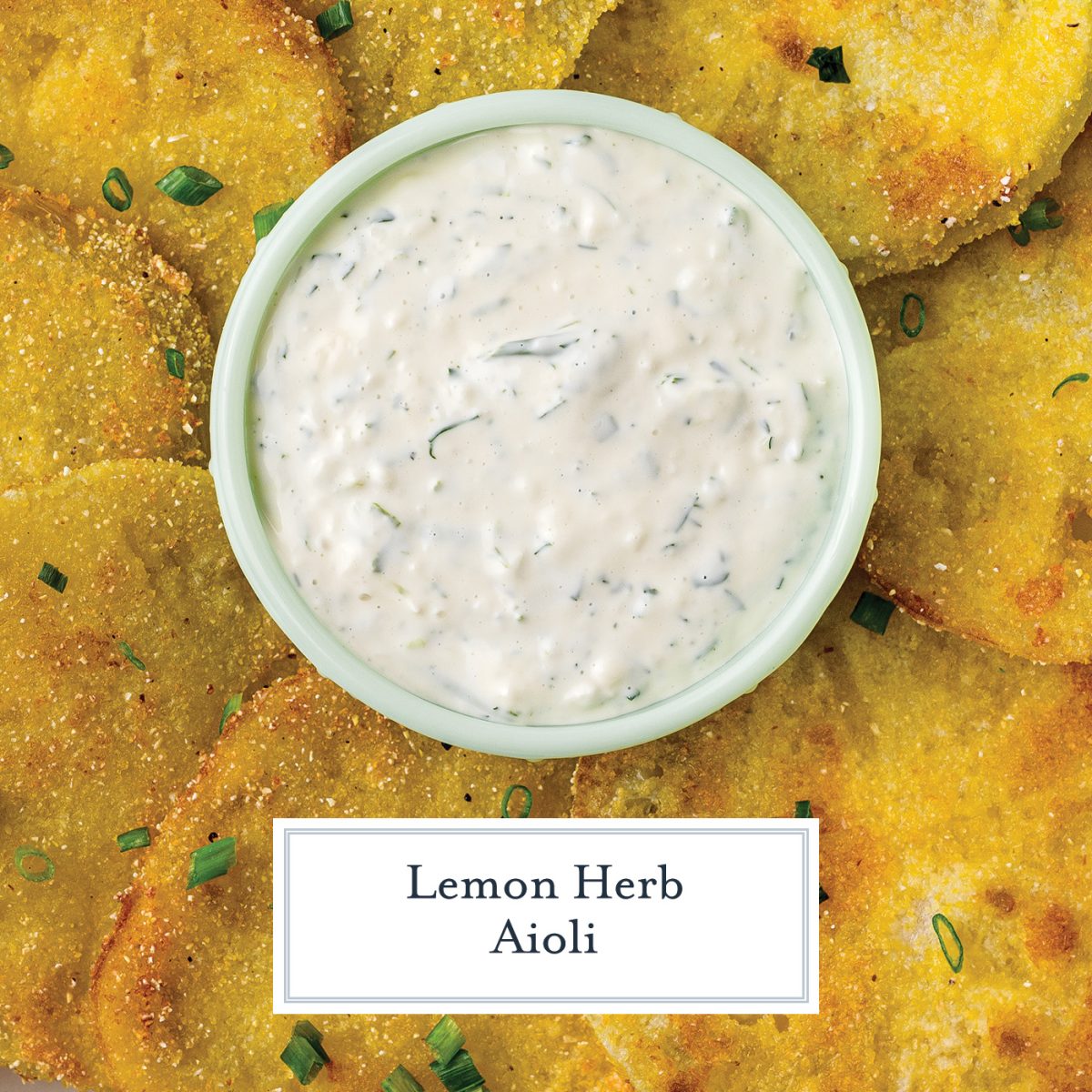 You'll be adding this aioli sauce to sandwiches, dipping your fries and even slather your burgers with it. Here it is pictured with juicy fried green tomatoes.
Herb Lemon Aioli is a delicious condiment perfect for sandwiches, as a dipping sauce and even as a marinade!
What is Aioli?
What is aioli Aioli translates to "garlic and oil" and is usually emulsified with egg. I know it sounds fancy to say but it's just garlic, egg, and olive oil. Which is… garlic MAYONNAISE!
What a shocker!? Were you expecting something a bit more gourmet, cause I have to say I was the first time I heard the word. Aioli recipes seem to be a newer food trend, but one I hope sticks around as they add a little somethin' somethin' to so many dishes.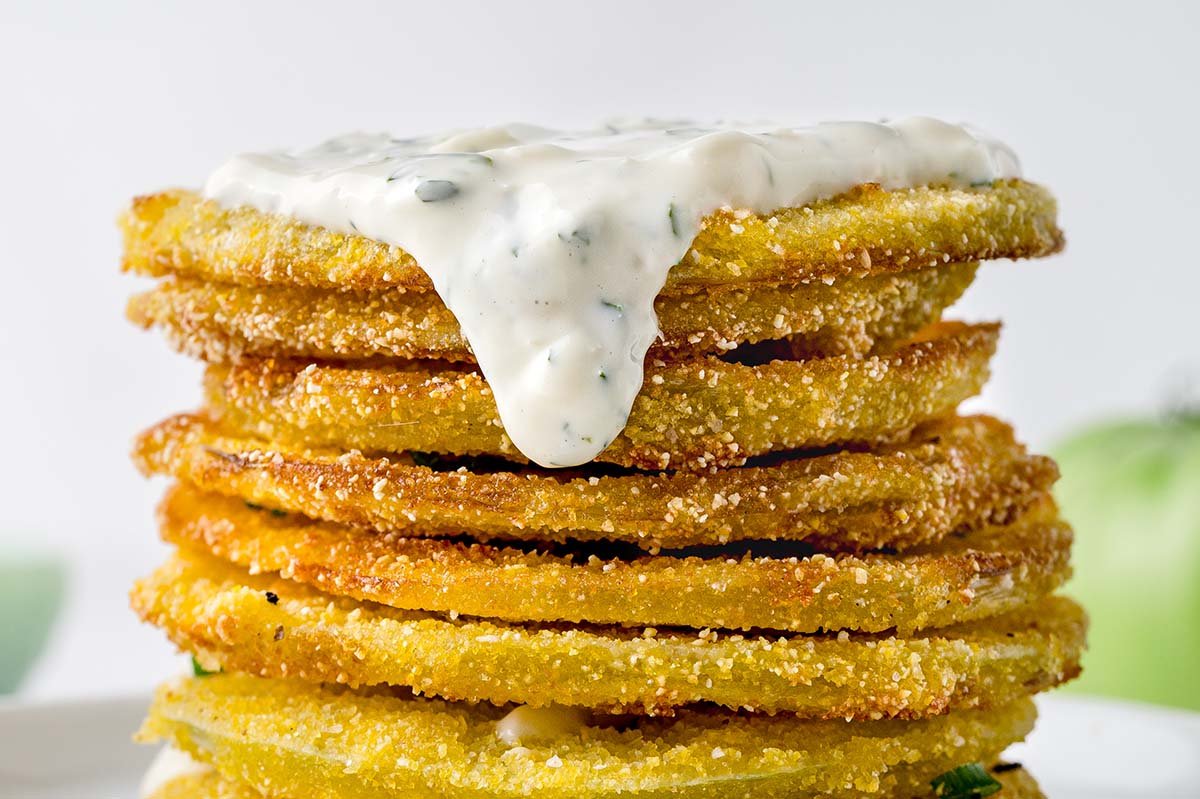 Back in the day people would make aioli using a mortar and a pestle, but seriously who has time for that in this day and age. How about put everything in the food processor and pulse until smooth? Sounds pretty good to me!
Present Day Aioli
Since mayonnaise is made up of oil, egg yolks, and either lemon juice or vinegar, it works perfectly with making this Herb Lemon Aioli. Garlic, mayonnaise, lemon juice, fresh dill, parsley, chives, and lemon zest all blended in a food processor creates this exquisite masterpiece.
PRO TIP: A mini food processor makes sauce come together in a flash, but if you don't have one, finely mince your herbs and just whisk it all together.
You can make a variety of aioli sauces just by using your garlic and mayonnaise as a base and adding in whatever you think goes. If you're feeling like adding something spicy to your dish, then add some chiles and lime juice like my Chipotle Aioli, or in layman's terms, Chipotle Mayo.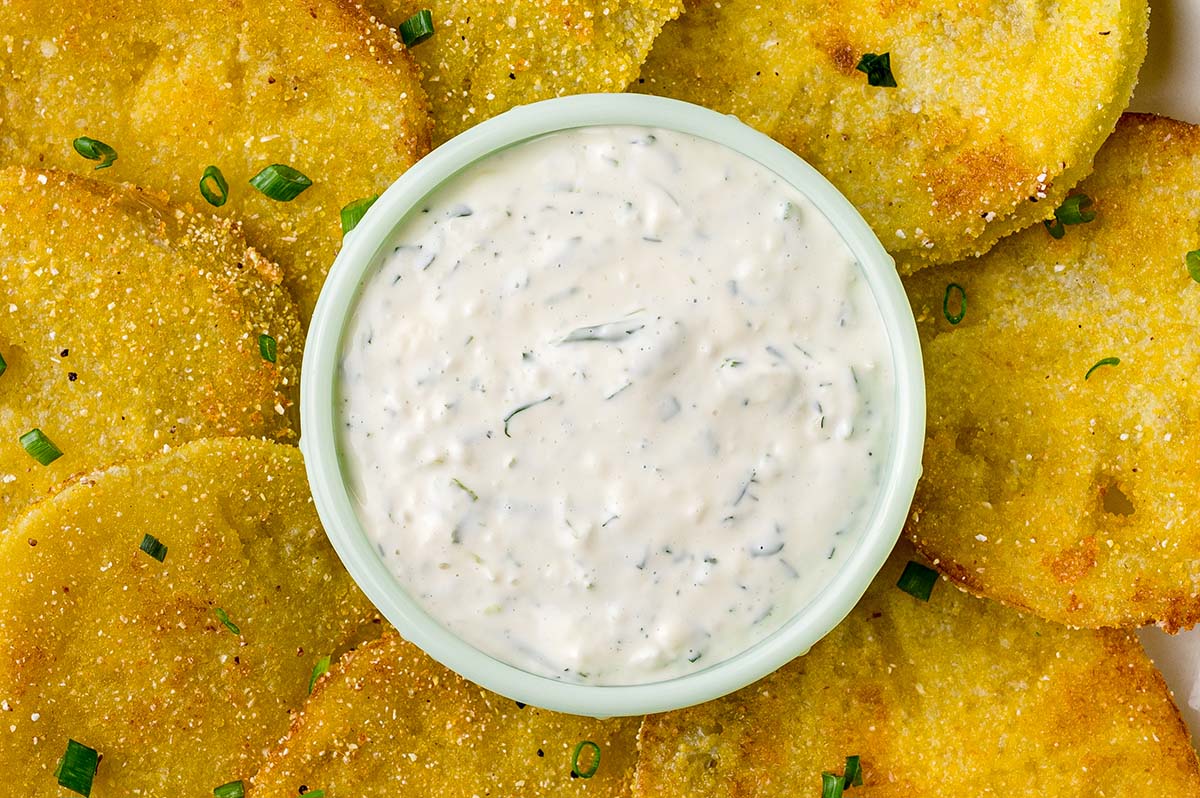 If you want to just go the more classic route then you just need garlic, and mayonnaise. The possibilities are endless! A dab of Dijon mustard is another good addition for a little bite.
How to Make
I highly recommend having a food processor, blender or immersion blender to make homemade aioli or homemade aioli. Otherwise you will be whisking constantly and vigorously to really emulsify the sauce.
If using a bottled mayonnaise, I like an olive oil based. Light mayonnaise might not give you the texture and structure you are looking for, especially after adding the liquid of lemon juice.
Next you add the seasonings including salt and pepper, lemon zest, lemon juice and all of the fresh herbs you'd like! Give a few good blitzes and you are done. Letting it settle and marry for 30 minutes is ideal, but if you just can't wait, go ahead and serve it.

What to Use Lemon Herb Aioli On
Use Herb Lemon Aioli as a dipping sauce with fries, and onion rings. Even smother it on broccoli, potatoes, carrots, zucchini, green beans, and roast them in the oven. Or a burger, steak, seafood, chicken, literally anything you can think of, aioli sauce goes amazing with it!
To make a real presentation splash, spoon your lemon aioli into a plastic bag, snip the corner and pipe on your dish in an artful way. You can also use cheap squeeze bottles from a craft store. It adds a little jenesequa.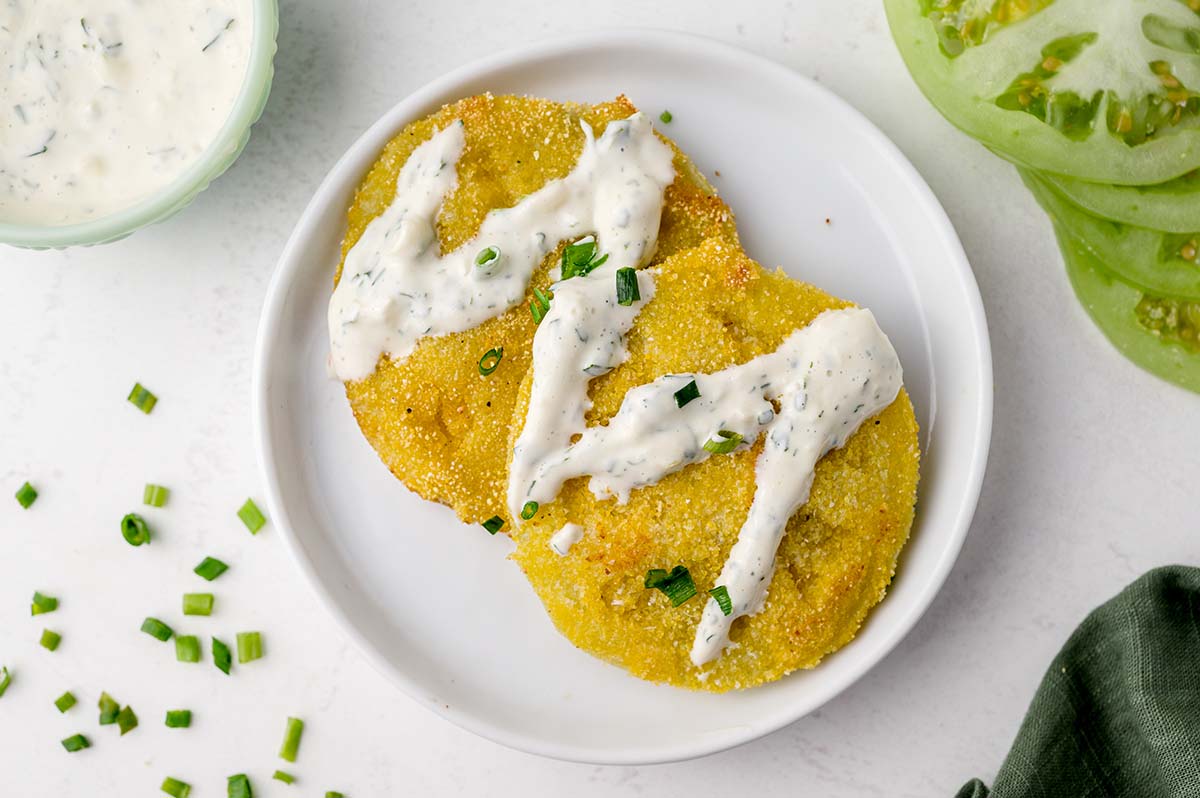 PRO TIP: This is a great recipe for using up all those little leftover pieces of herbs. Other ways to use them is to add them, stems and all, to salad or salad dressing or making my Cheesy Herb Biscuits!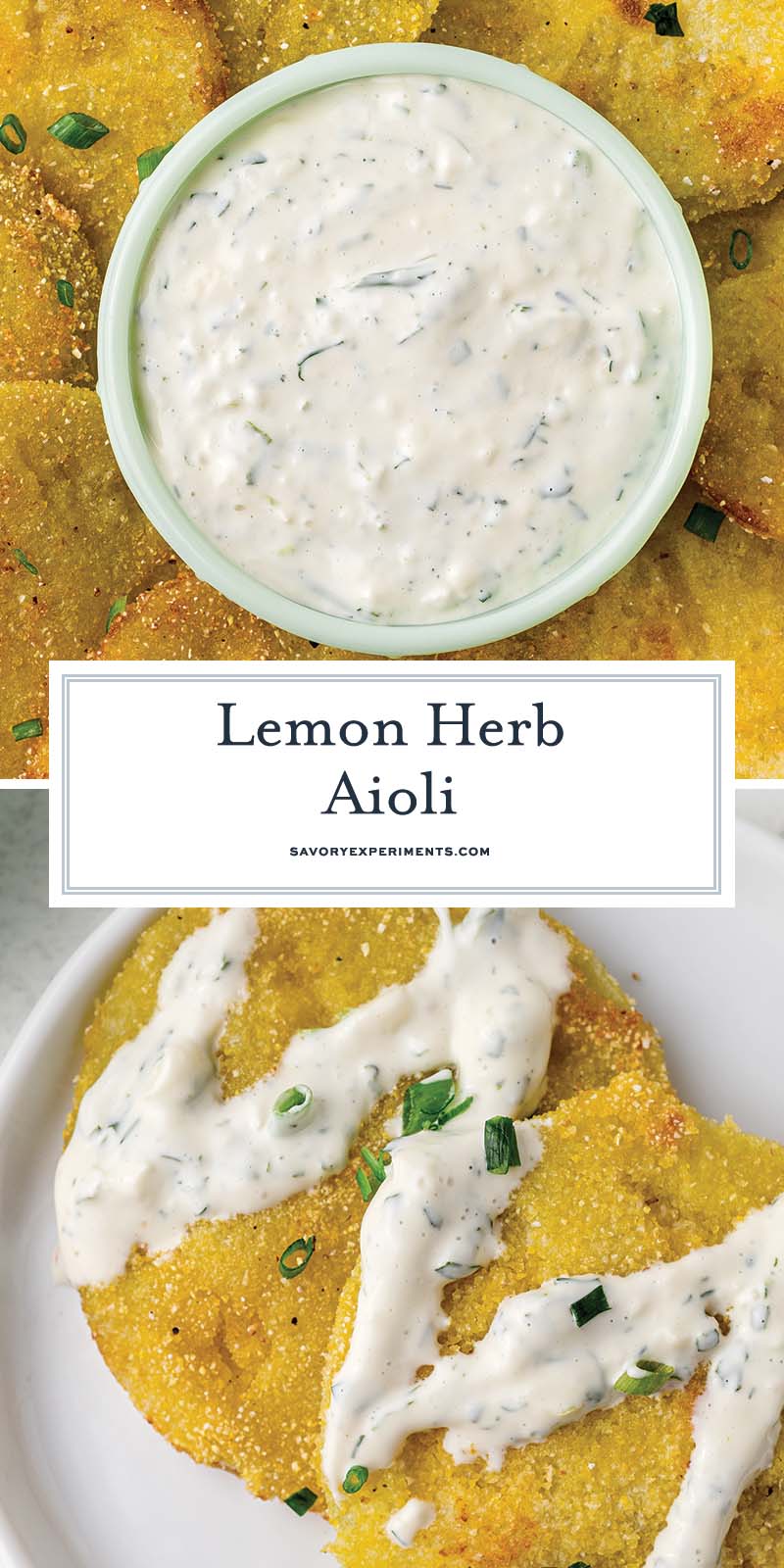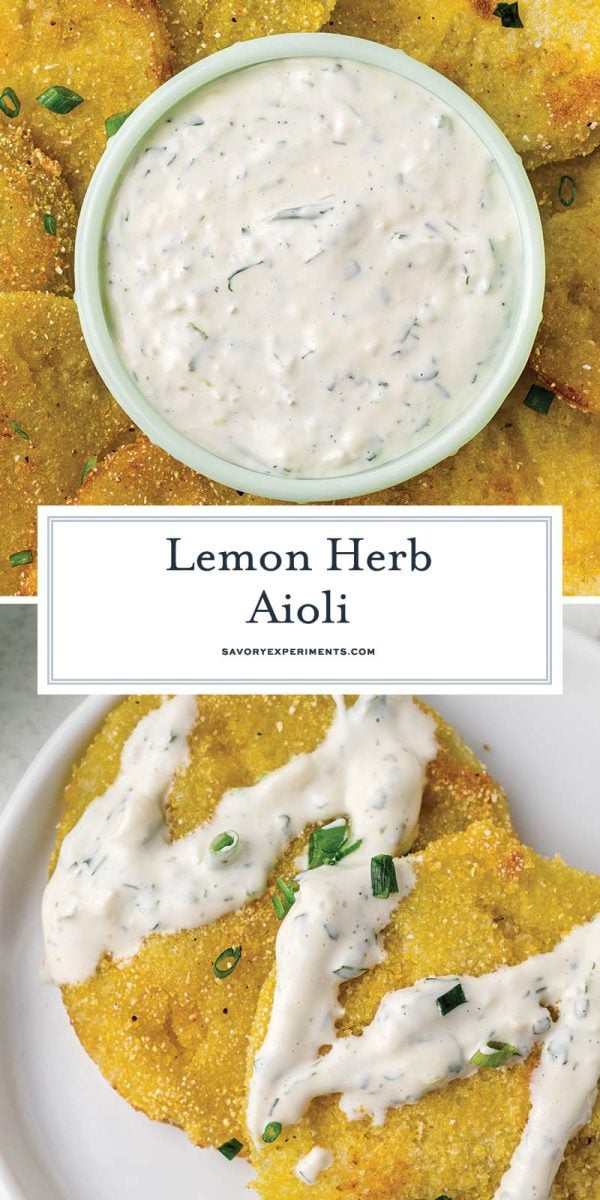 More Sauce Recipes: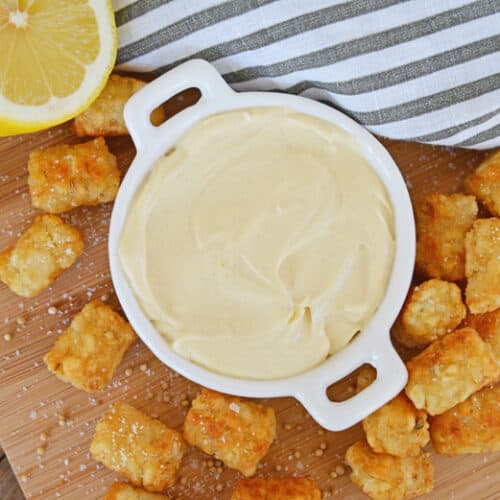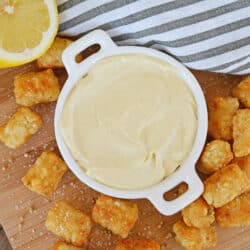 Mustard Aioli Sauce
This zesty Mustard Aioli comes together in less than 5 minutes and is the perfect dipping sauce and sandwich topper for any meal or BBQ.
See The Recipe!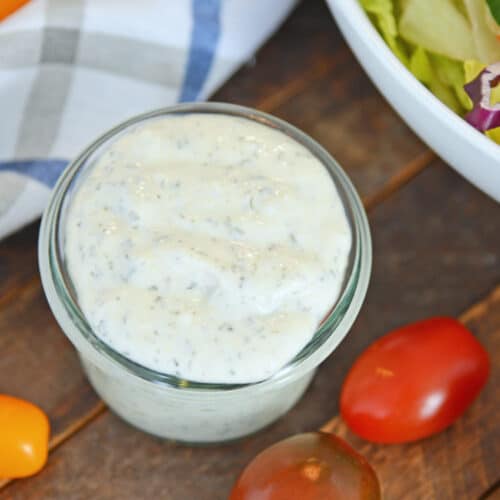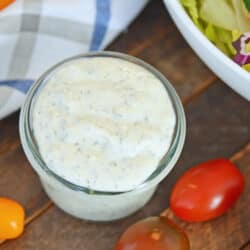 Questions you might have about how to make aioli:
Is lemon aioli vegan? When made with eggs, no. But you can use a vegan mayonnaise and it will be!
What is lemon aioli? Essentially it is herb and lemon mayo. Some people just add lemon juice, but I love the addition of fresh herbs. Adding lemon zest, not just lemon juice, will brighten it up immensely!
Is lemon aioli keto friendly? If it just a mayo base, then yes! Lemons and fresh herbs are also low carb and keto friendly. An easy way to make your keto diet even better.
Does lemon aioli have dairy? Well, no, at least my version of lemon mayo doesn't. Eggs aren't dairy.
What does lemon aioli taste like? Like creamy, delicious lemons, but a little sweeter. Depending on which herbs you use, it will also add accentuate those flavors.
Does aioli have raw egg? Yes, by definition aioli sauce and mayonnaise have raw egg and olive oil or vegetable oil.
Can you make aioli without eggs? If we are being very literal, no. The literal definition of aioli includes egg, however if you whisked together the ingredients with a vegan mayonnaise then I suppose you'd have an eggless aioli recipe! If you do try it, come back and let us know how it was!
Do I need to use fresh lemons for my lemon aioli? I always recommend using fresh lemons for any recipe. Bottled lemon juice is muted in flavor. My recipe for lemon aioli also uses lemon zest. If you use bottled, you won't get that zest, which is really what elevates this aioli recipe above the rest.
PRO TIP: Roll your fresh lemons on the counter or microwave for just 10 seconds to loosen the juice before cutting and juicing.
Can you freeze lemon aioli? I don't recommend freezing any mayonnaise based or egg based sauces.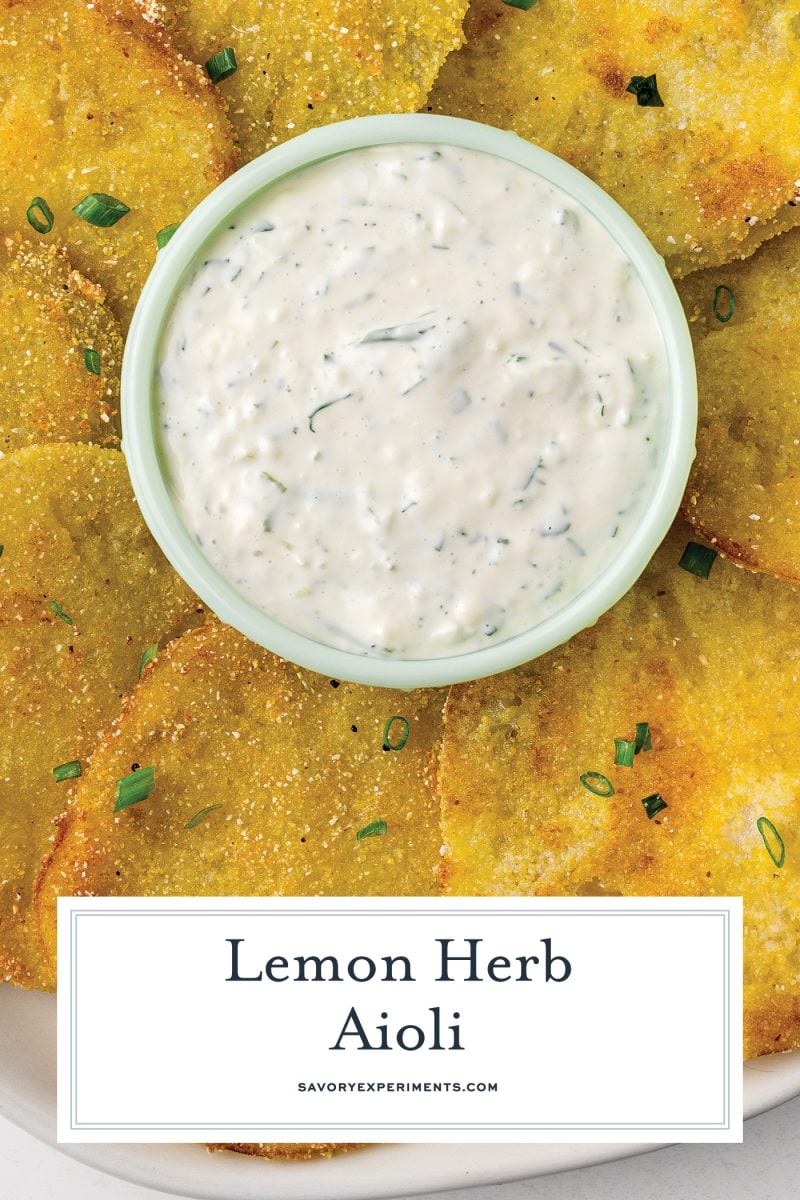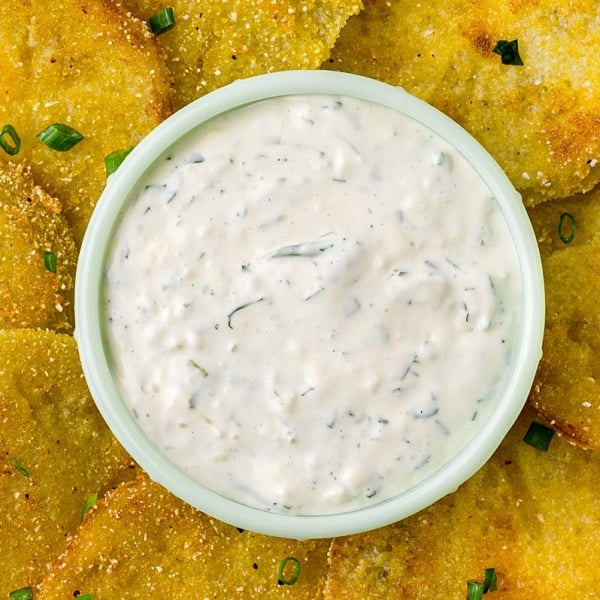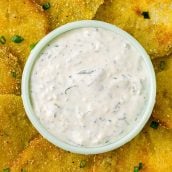 Herb Lemon Aioli
Herb Lemon Aioli is a delicious condiment perfect for sandwiches, as a dipping sauce and even as a marinade!
Instructions
In a small food processor combine the garlic and mayonnaise. Grind until smooth and creamy.

Add the lemon juice, dill, flat parsley, chives and lemon zest, pulsing until just a little coarse.

Transfer to a serving dish, cover and refrigerate until ready to serve. Aioli will stay good in the fridge for 2-3 days.

If you've tried this recipe, come back and let us know how it was in the comments or star ratings.
Nutrition
Calories:
290
kcal
,
Carbohydrates:
1
g
,
Fat:
31
g
,
Saturated Fat:
4
g
,
Cholesterol:
17
mg
,
Sodium:
267
mg
,
Sugar:
1
g
,
Vitamin A:
145
IU
,
Vitamin C:
5.8
mg
,
Calcium:
6
mg
,
Iron:
0.1
mg