This crab imperial recipe is a delicious, easy seafood dish and one of my all-time favorite recipes worthy of special occasions. Serve it in a large bowl or individual ramekins as a side or main entree. Don't forget baguette slices to mop up any leftovers on the plate.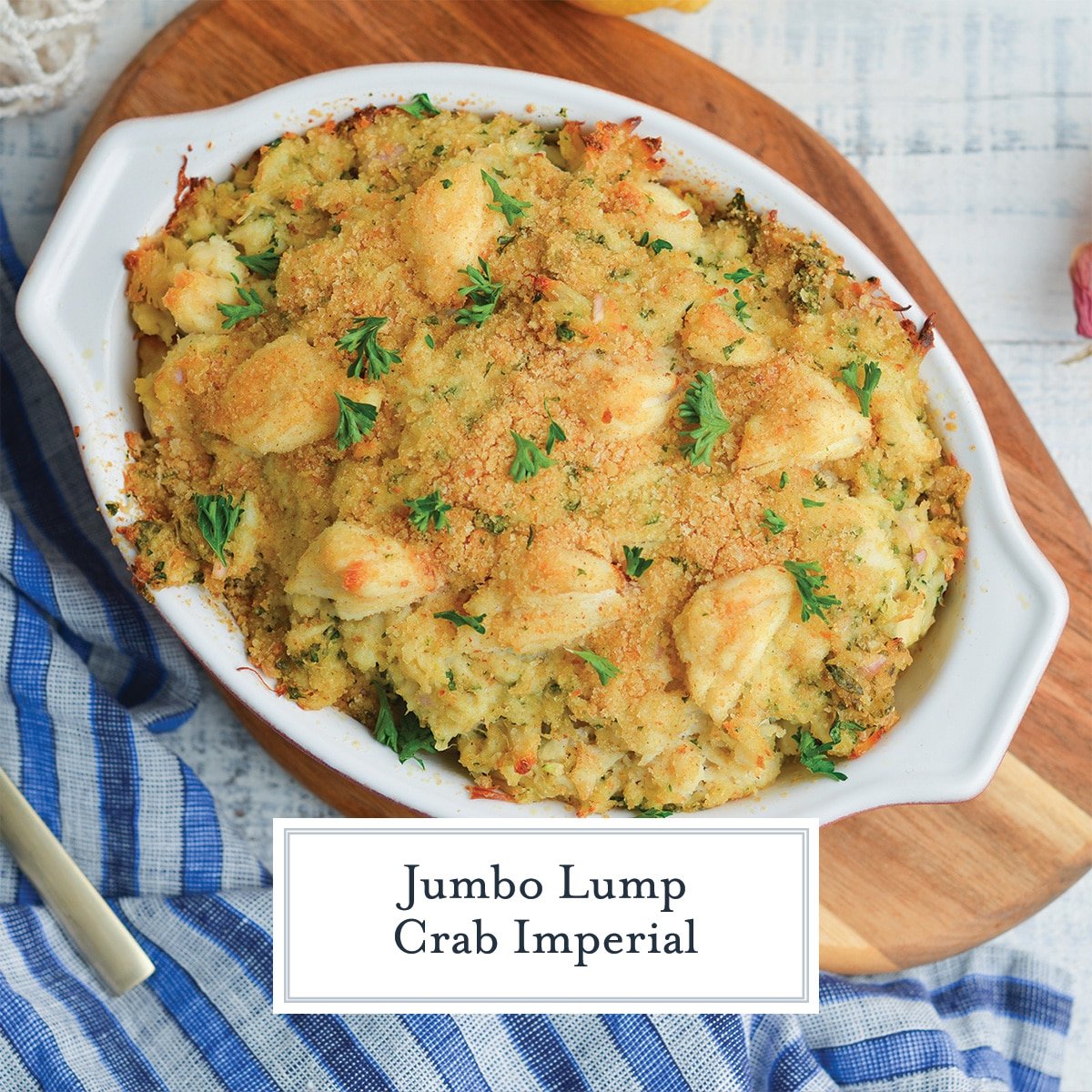 You will love this Crab Imperial Recipe
Crab Imperial is one of the best easy lump crab meat recipes. Jumbo lump crab in a simple seafood recipe with a crunchy topping finished with a spritz of lemon or rich beurre blanc sauce.
What is Crab Imperial?
My favorite of easy crab recipes! Made with jumbo lump crabmeat from blue crab, it's essentially an easier, less technical version of crab cakes, almost a casserole that uses crab meat.
Crab cakes use the least amount of binder (or at least they should). So much crab meat patted into a baseball size mound that barely sticks together while being broiled or fried.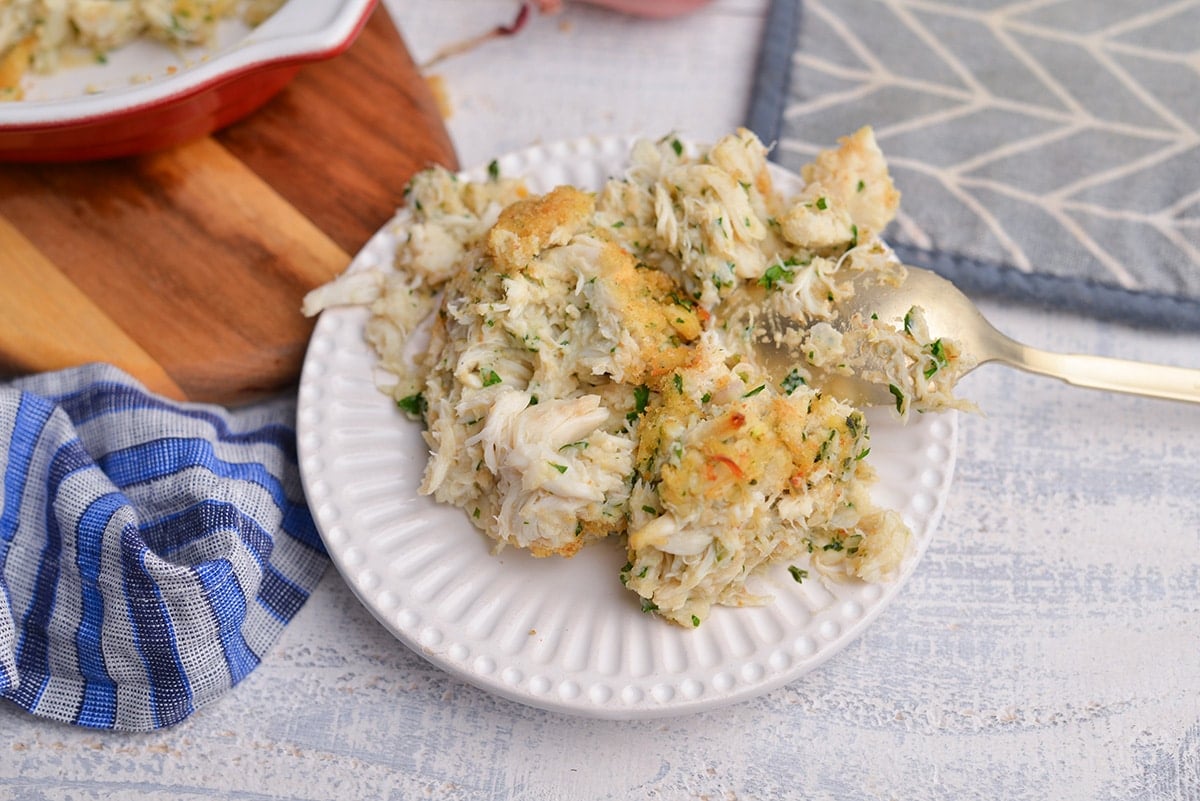 But crab imperial is a creamier version. Not so much binder, but a tad more mayonnaise. Ideal to be served as an entree in a little personal casserole dish or even scallop shells, as a side dish or even as a topper for steaks, salmon, shrimp, scallops or even chicken which is called Chicken Chesapeake. It is ideal for special occassions.
Another classic dish is crab fluff, which is more like a fritter in a batter and then fried until golden brown.
And if you want fluff without frying, try crab dip. Another easy crab recipe that uses the least amount of actual crab and more seafood seasoning with a cream cheese and sour cream base.
Just combine the ingredients, add to the casserole dish, top with your favorite crunchies, place in a baking dish and cook!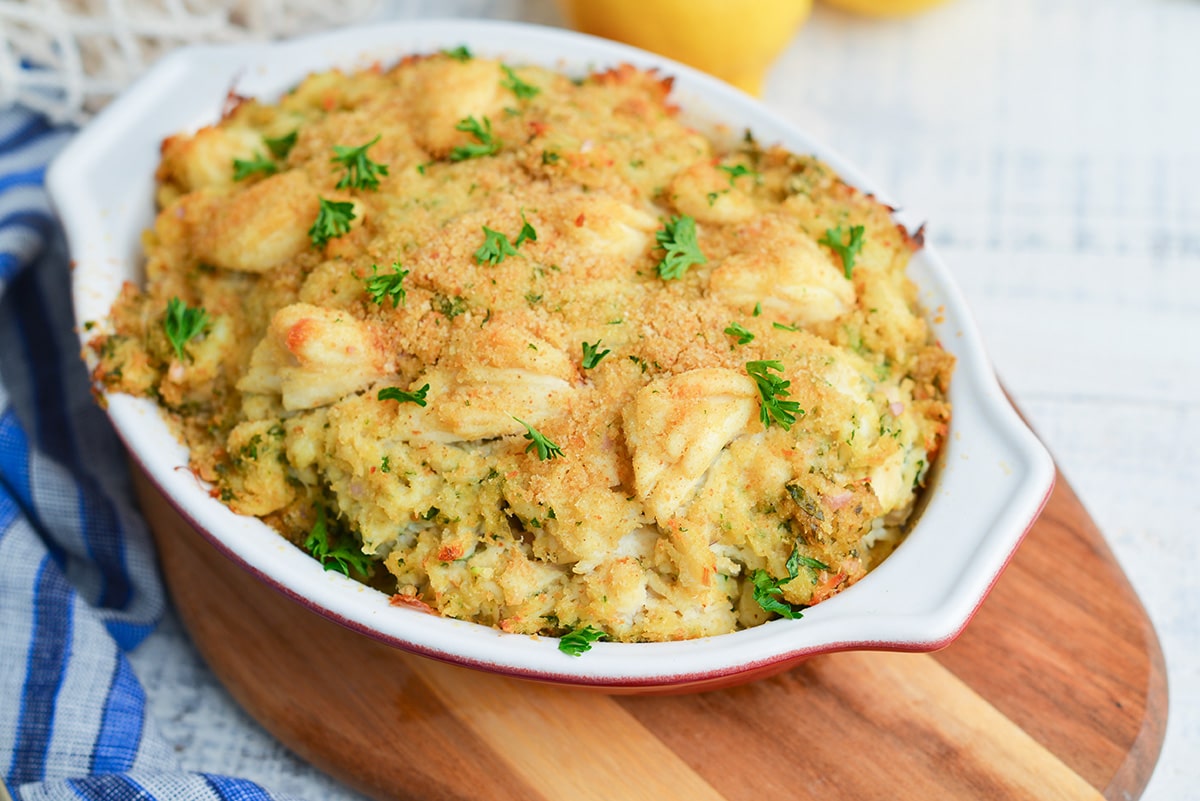 Baked Crab Imperial Ingredients
The ingredients list fairly simple with crab meat being the most important.
Crab Meat– This recipe uses a large quantity of fresh crab meat and it can be a little pricey. I like using a blend of lump meat and jumbo lump meat, especially strategically placed on the top. Jumbo lump crab is coveted because there are only two chunks per crab and only on the heavier ones. See our guide to blue crab meat below for more info on how to pick which type to use.
Shallots– A milder onion flavor, you can swap in red onion or sweet onion. I cook them raw because I like the fresh crunch, but they can be sauted first for a less onion-forward bite.
Dijon mustard- Perhaps my favorite mustard, there are so many varieties that can help you customize this recipe. I find this to be far more sophisticated flavor than using dry mustard, which is the customary ingredient.
Flat Parsley (italian parsley)– Earthy and herby, it helps to balance the savory flavors without overpowering.
Fresh Lemon Juice & Lemon Zest– Juice and zest provide vastly different flavors. Juice is tart and acidic while zest is bright and offers the purest of lemon flavors. Fresh juice packs the most punch, while bottled juice can be muted.
Fresh Garlic– Fresh gives the best garlicky flavor. While I usually measure garlic with my heat, this is one scenario that I actually only use a small amount. You don't want anything to take centerstage after paying as much as you did for that glorious crab meat.
Mayonnaise- The perfect creamy binder, mayo is made with eggs and oil. Rich and tasty!
Bread Crumbs– Flavorful, these little flavor bombs are used to bind the crab mixture, but also as a fun topping.
Kosher Salt– Helps bring out the natural flavors.
Other customizations include adding a few dashes of Worcestershire sauce, minced red bell pepper, ground white pepper, mixing a beurre blanc or imperial sauce into the crab mixture, using more fresh herbs or topping with parmesan cheese.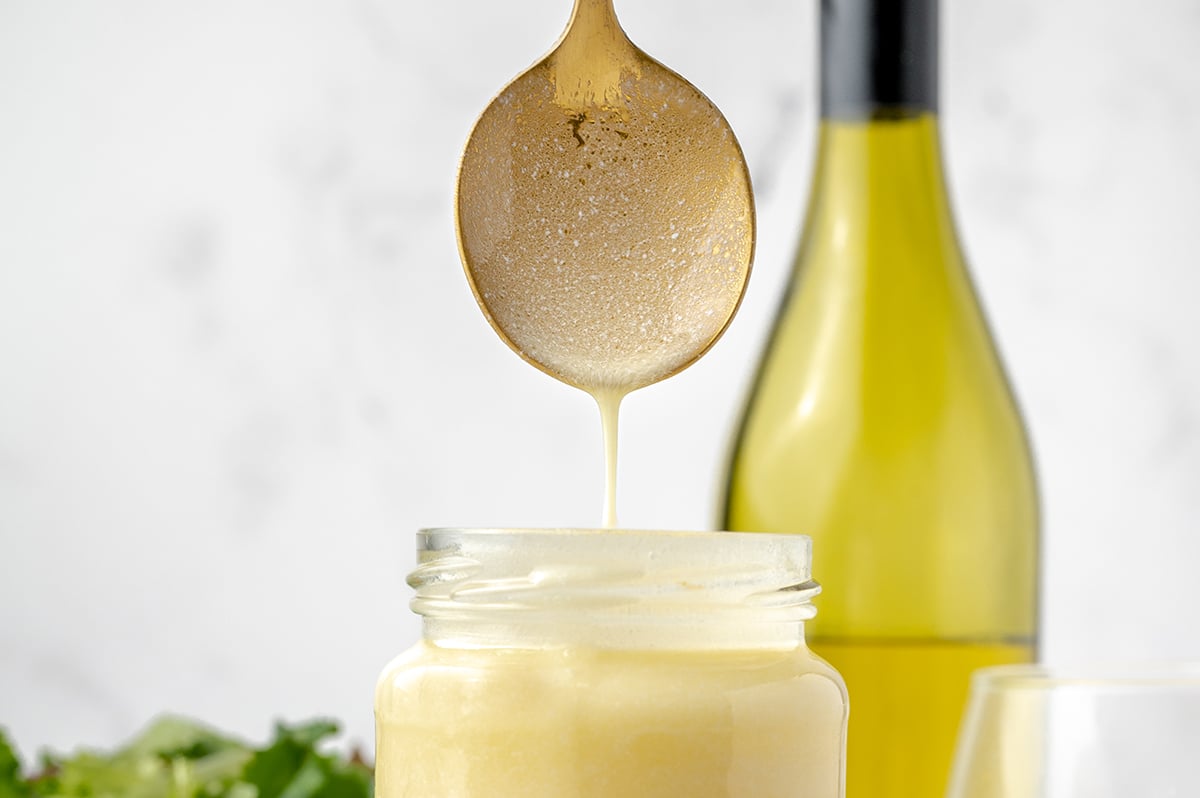 Seasoning for Crab Imperial
The most common flavor accompaniments to the crab mixture are ground red pepper, Old Bay Seasoning (or another salty seafood seasoning) and dry mustard.
If you want to get crazy, add an imperial sauce, my simple beurre blanc. A simple lemon, white wine and butter topping that pairs well with most foods. Or just use fresh lemon wedges. There are very few seafood items that aren't well suited to a spritz of citrus. Any way you put it, it is a delicious dish.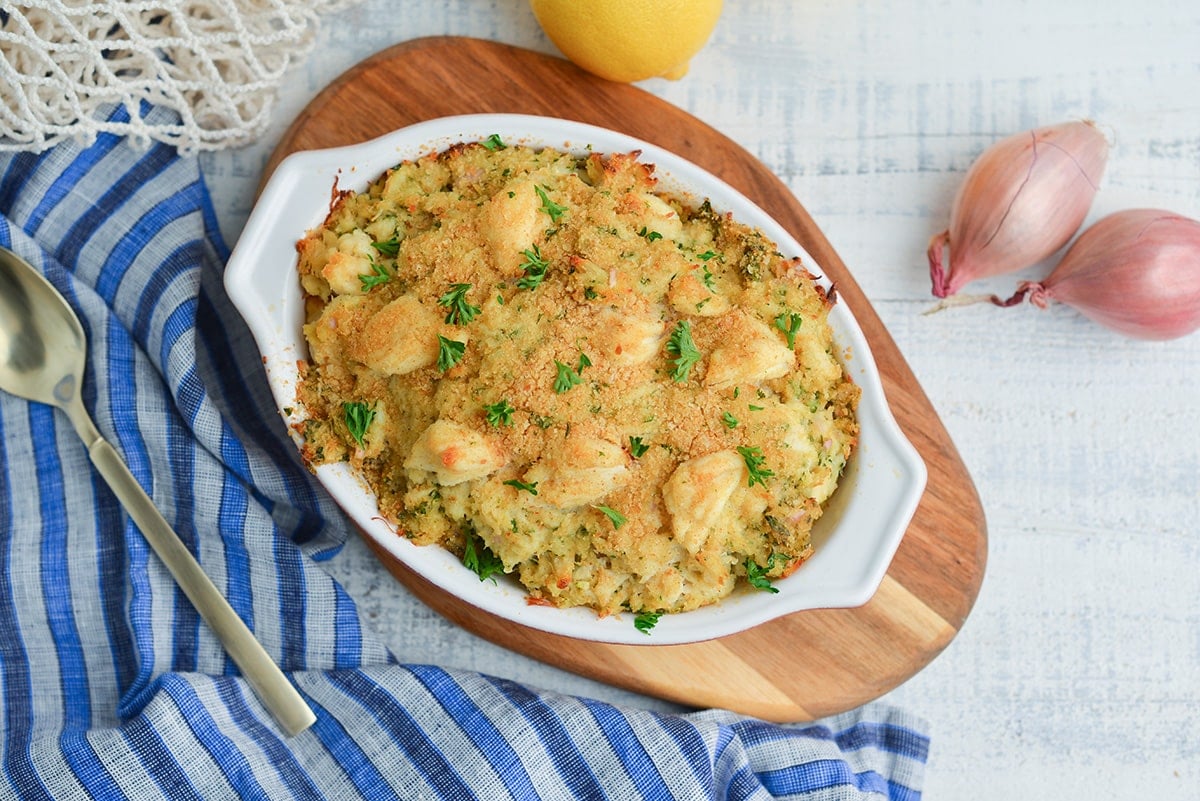 Bread Crumb Options
As the same for crab cakes, you can use a variety of bread crumbs from saltines, traditional Italian or in this batch, I used crumbled leftover Hot Dog Bun Croutons.
Sourdough, whole wheat and even panko breadcrumbs work perfectly.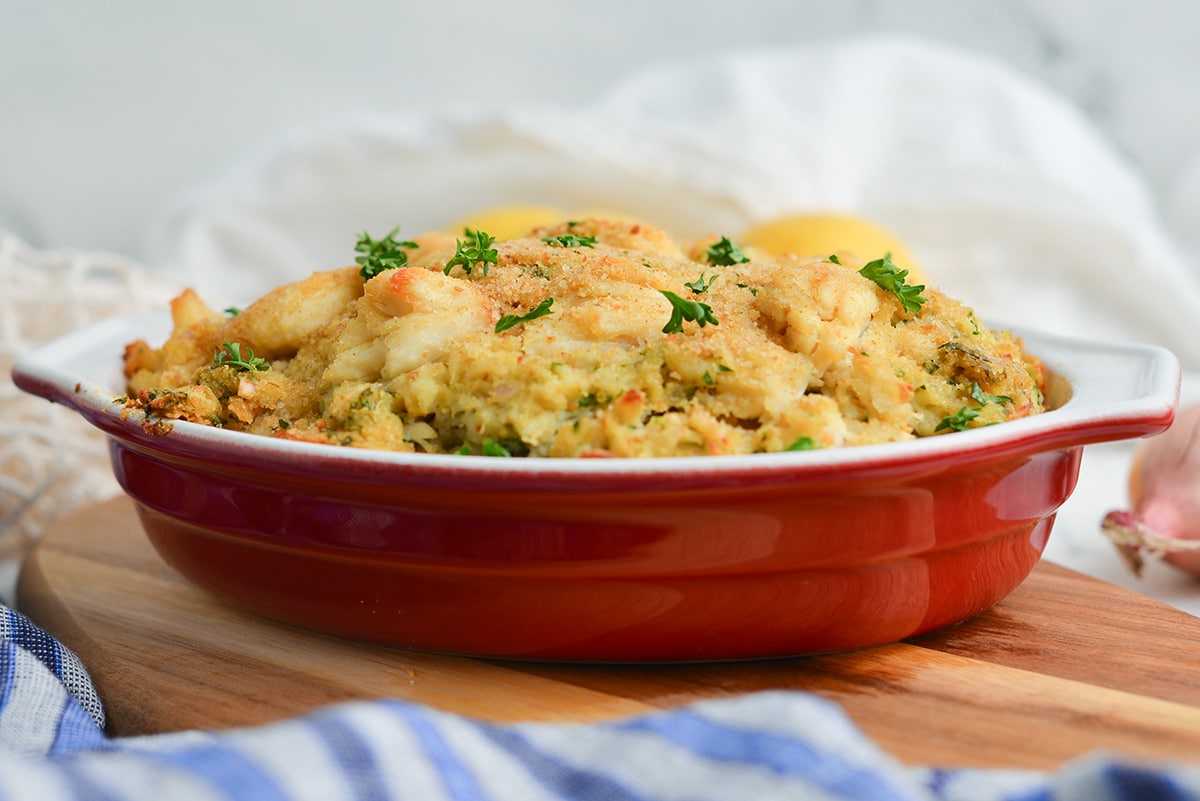 How to Make Crab Imperial
This entire seafood dish takes just under 30 minutes to make and can be assembled ahead of time.
Combine the shallots, Dijon mustard, parsley, lemon juice, lemon zest grated garlic, mayonnaise, bread crumbs and salt in a medium mixing bowl until it forms a paste. Grating the garlic helps it break into a pulp and evenly seasoning the mixture.
Add the crab meat, setting side about half of the largest jumbo lump crab bits. Toss the crab mixture to combine and do not over mix. You don't want those glorious bits of crab meat to break apart.
Transfer the imperial mixture to casserole dish. Top with bread crumbs.
Bake until hot and browned. This will depend on how shallow your dish is, the top should be lightly browned.
Serve with additional lemon wedges or desired sauce and enjoy.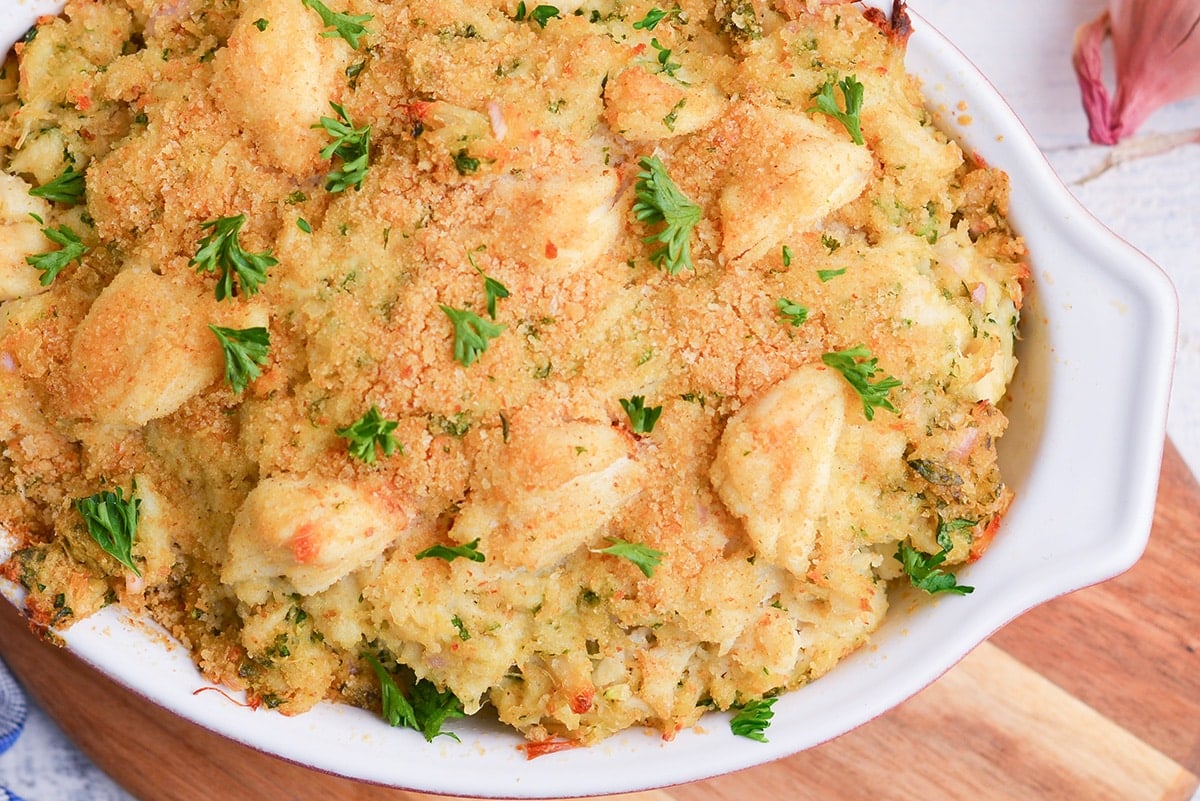 Crab Cakes vs. Crab Imperial
So what is the difference between Crab Imperial and crab cakes? As I mentioned above, the two are very similar.
Crab Imperial is typically a little wetter and has more filler. Crab cakes (at least good ones) have less filler and are more dry, in order to hold them together.
They are both good and they both have their place on the menu. Here is a crab cake for reference (and my award winning crab cake recipe).
Imperial is better for serving large groups because your crab will go further and it isn't as delicate as crab cakes.
You can also serve smaller portions alongside another protein or fish. Check out my Filet Mignon featuring a crab imperial topping!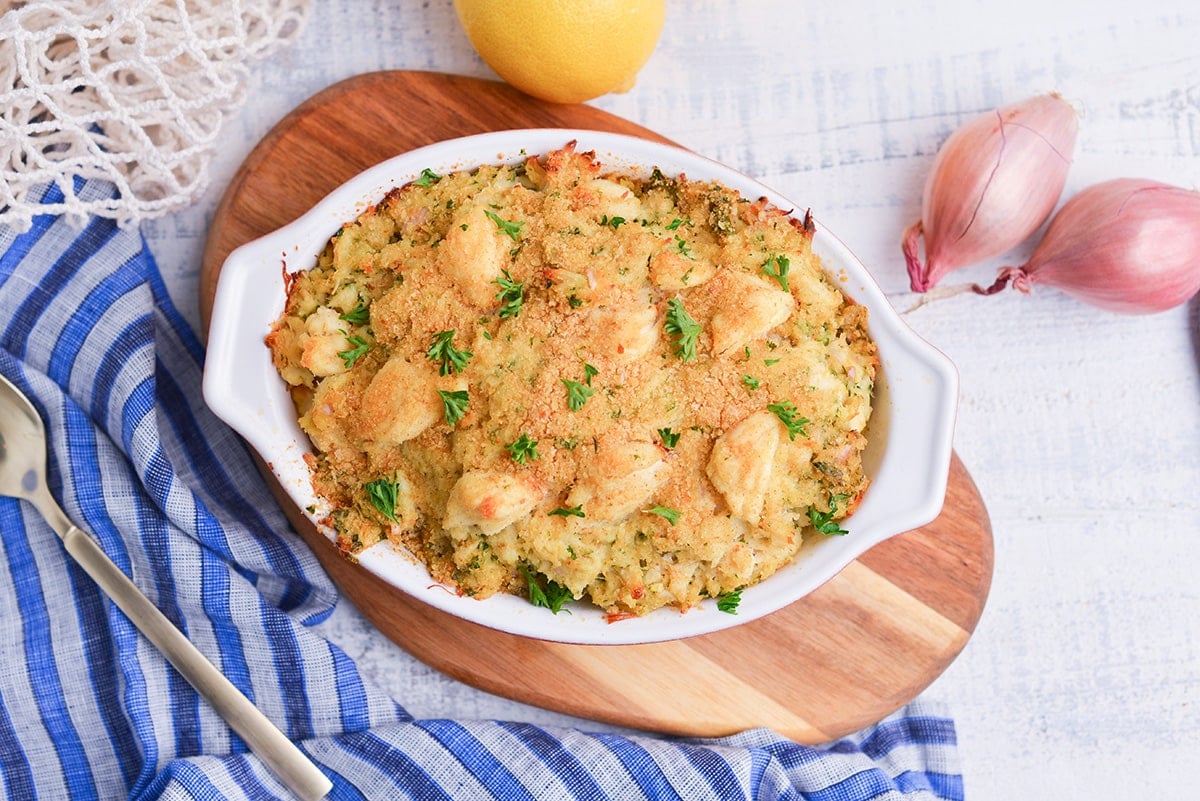 Crab Imperial Substitutions and Variations
Good Crab Meat
Not everyone can grab fresh crab from the Eastern shore of Maryland like I can, but you can find good crab at your store. I prefer to use unpasteurized crab, but if that is all you can get your hands on, go for it.
Crab meat is expensive and this because of two reasons. The first is that they aren't farmed, they are caught be farmers and recently aren't as plentiful. The second is that no machine can pick crabs. They are all hand picked and this is time consuming.
Do I have to use lump crab meat? You don't, you can use a variety of crab meat that meets your budget. Feel free to use a mixture as well. Here is a guide to buying blue crab meat.
Claw

– dark meat that comes from the claw, a little more stringy than other varieties.

Special

– smaller pieces, comes from small little crevices or the "special" sections of the crab, good for flavoring and dips.

Also a blend of other pieces that may have been broken up accidentally while picking.
Backfin

– some larger lumps coming from, you guessed it, the back of the shell, whiter meat, does well in crab cakes, feathery texture.

Lump Crab– The most common because they are still large, but not as large as the jumbo lump.
Jumbo lump– large, lumps of meat, the beauty is the large pieces used for crab meat cocktails or delicious to pop in your mouth plain, very tasty and moist, but also the most expensive because there are only two pieces per crab.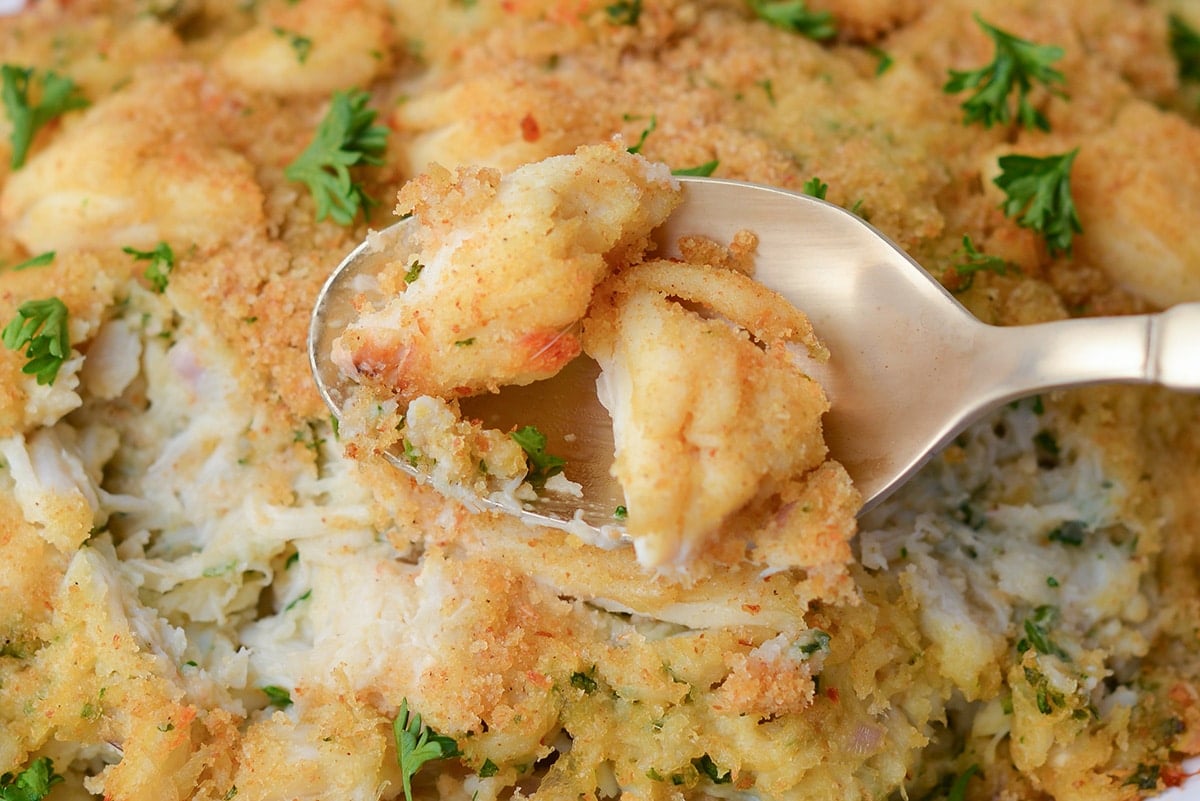 Can I use imitation crab meat? I would advise against using imitation crab meat for this recipe. Crab is the main ingredient and will flavor the whole dish. Imitation crab meat is just a white fish compressed into crab-like shapes and then tinted a weird orange color.
Can I use king crab or snow crab? What makes a good imperial is the blue crab. I supposed you can use one of the other two, but I would advise against it.
What to serve with Crab Imperial
Crab Imperial Sauces
I like my imperial best with just a spritz of fresh lemon juice, but others like tartar sauce or even a zesty cocktail sauce. Plain melted butter or clarified butter also work.
Clarified butter is nothing but butter with the milk solids removed. Make sure to choose a high quality butter when making this liquid gold sauce.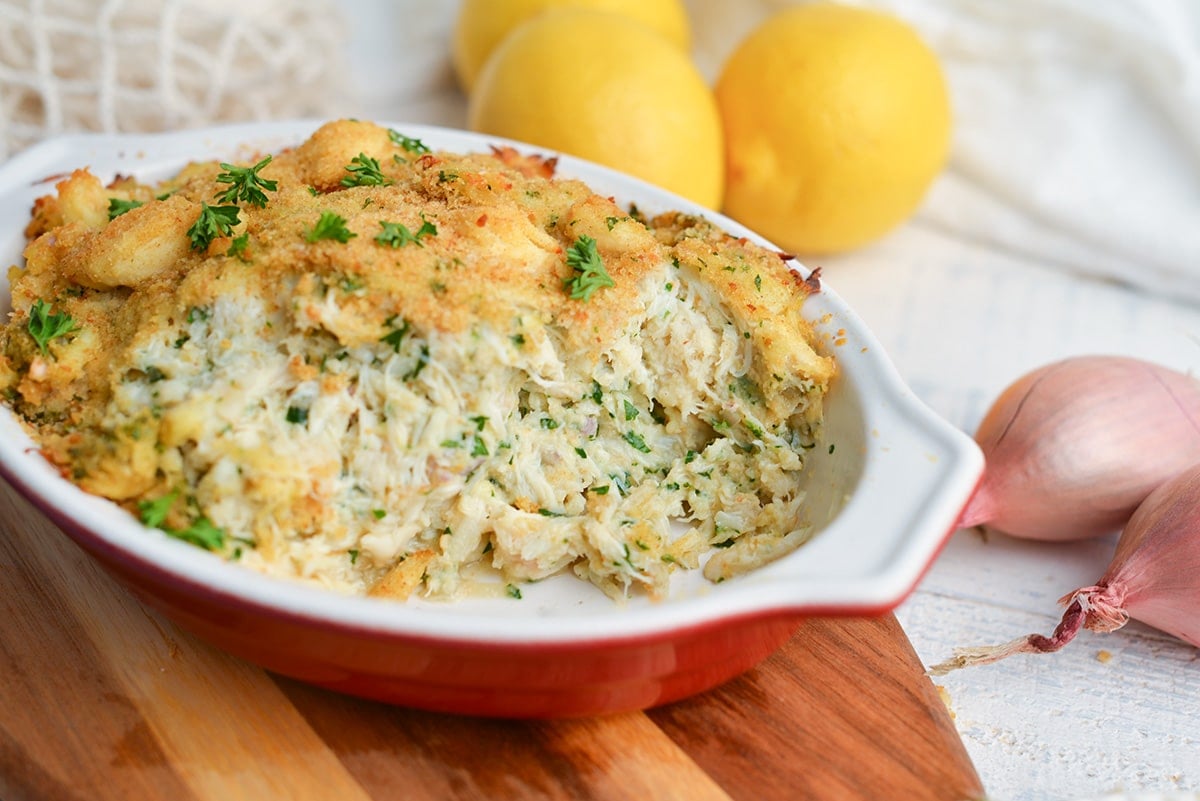 How to store this recipe for Crab Imperial
Crab imperial is best eaten fresh out of the oven. You can make it all ahead of time and then add bread crumbs right before baking to save time.
Store in an airtight container in the refrigerator for up to 3 days. Reheat in the microwave and low heat oven for 10 minutes.
Can Crab Imperial be frozen?
Crab imperial can be frozen if the crab meat was not previously frozen. Place into an airtight container and freeze for up to 6 months. Thaw overnight in the fridge and then reheat in the oven.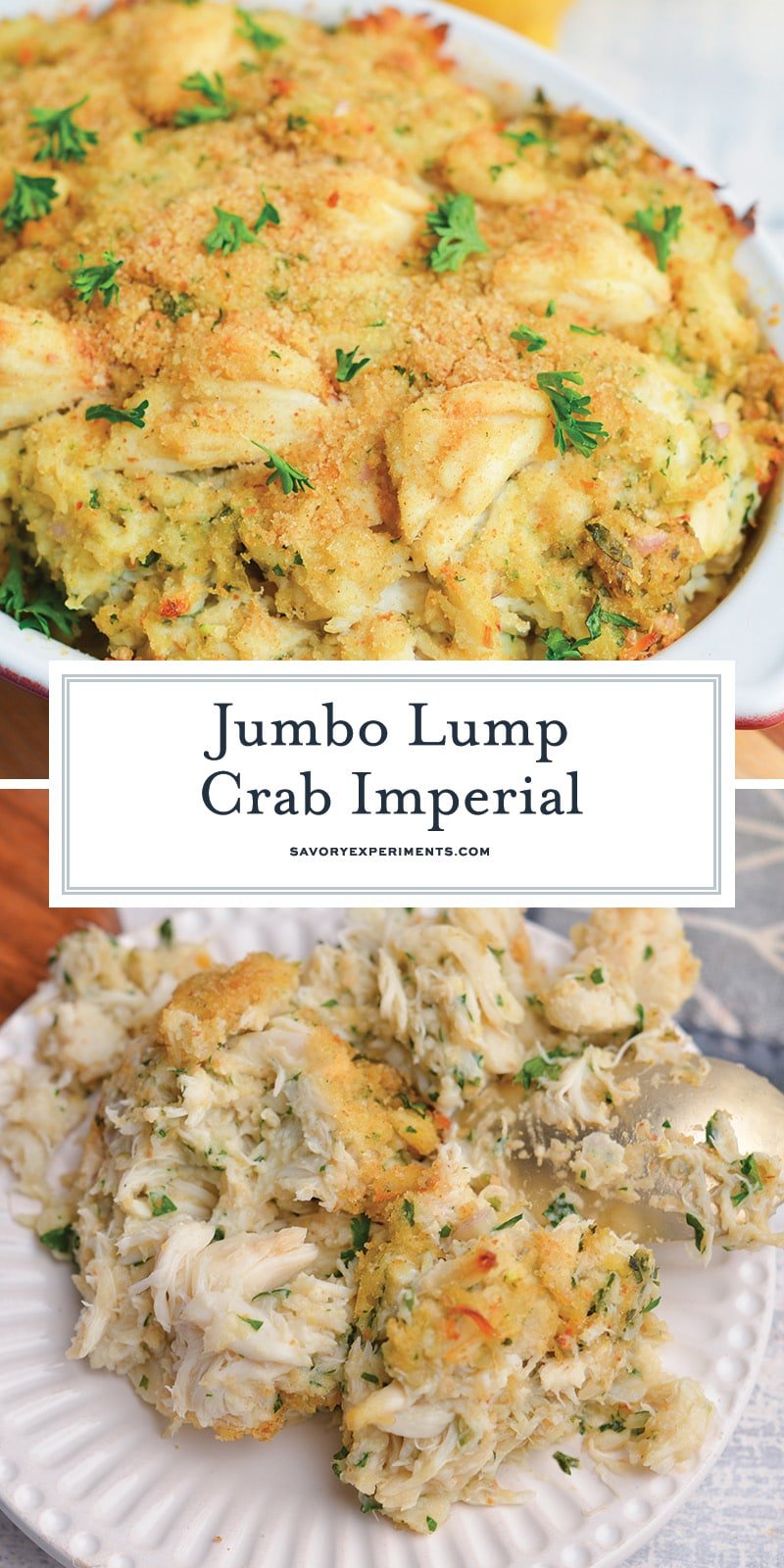 Imperial Crab Recipe FAQs
What is the history of Crab Imperial?
The original crab imperial was developed to make sure that every last bit of crab meat was used. It's rumored to have been developed at the Thompson's Sea Girt House in Baltimore, Unfortunately, this establishment closed a long time ago. The crab meat was blended with celery, pimento, onion, garlic and bell pepper and then bonded with mayo and a cream sauce.
Is imitation crab meat real meat?
No, imitation crab meat is made out of white fish and them highly processed into sticks that resemble king crab meat (not blue crab) and dyed orange. I do not recommend using this in any recipe and especially not crab imperial.
Is lump crab meat better than claw?
Lump crab meat is more buttery and sweet than claw, which is a different texture and doesn't come out in as large of pieces.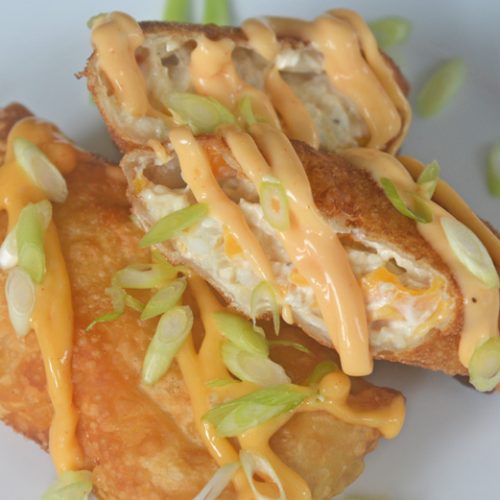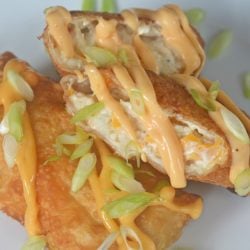 Crab Cake Egg Rolls
Creamy jumbo lump crab meat and cheese stuffed in a crunchy egg roll wrapper, gently fried and topped with spicy Old Bay aioli.
View this recipe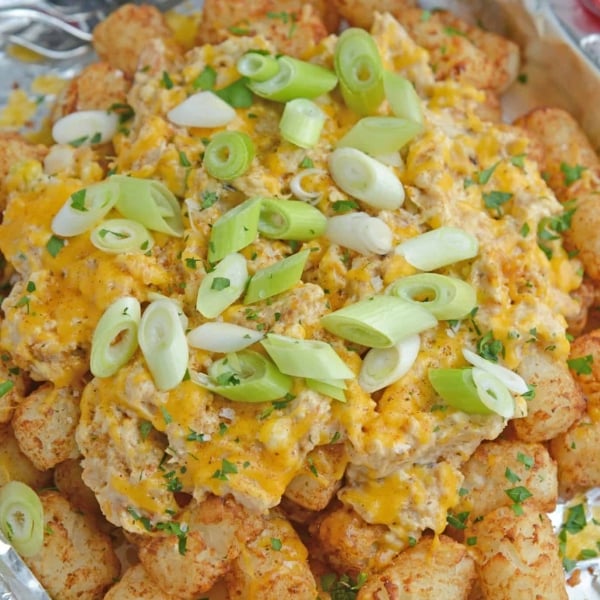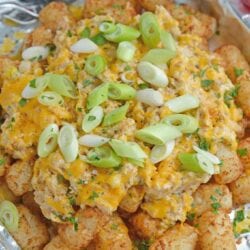 Crabby Totchos
Crabby Totchos are crispy fried tater tots smothered in hot crab dip and topped with melty cheddar cheese. The perfect party appetizer!
View this recipe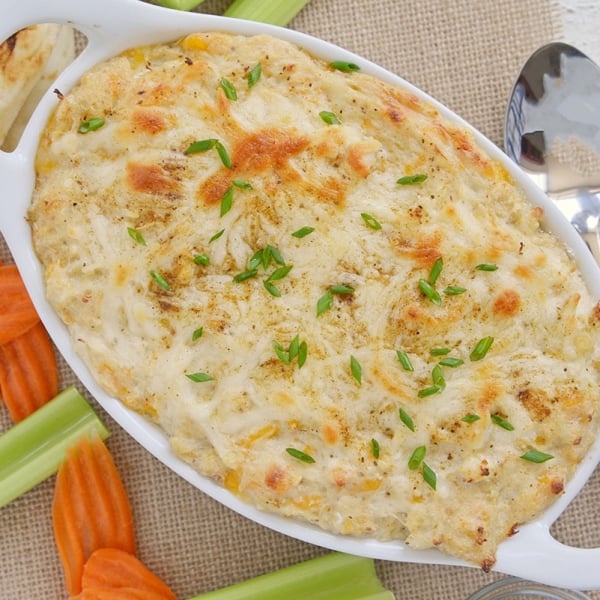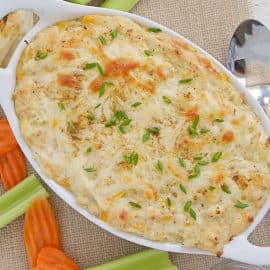 Maryland Crab Dip
Hot Crab Dip with cream cheese is a is a Maryland classic! Blended with cheese, lump crab meat and old bay, this crab dip served hot is the best party appetizer recipe!
View this recipe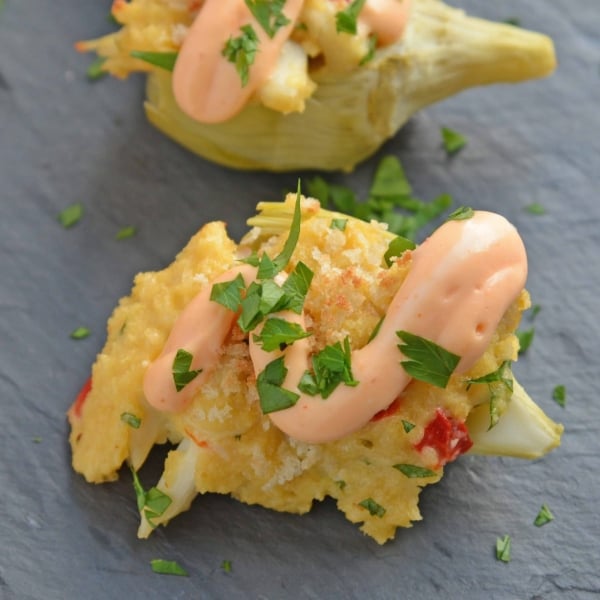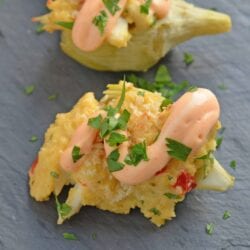 Crab Dip Stuffed Artichoke Hearts
Crab Dip Stuffed Artichoke Hearts takes traditional hot crab dip and bakes in an artichoke heart, topping it with crunchy panko and Sriracha Aioli.
View this recipe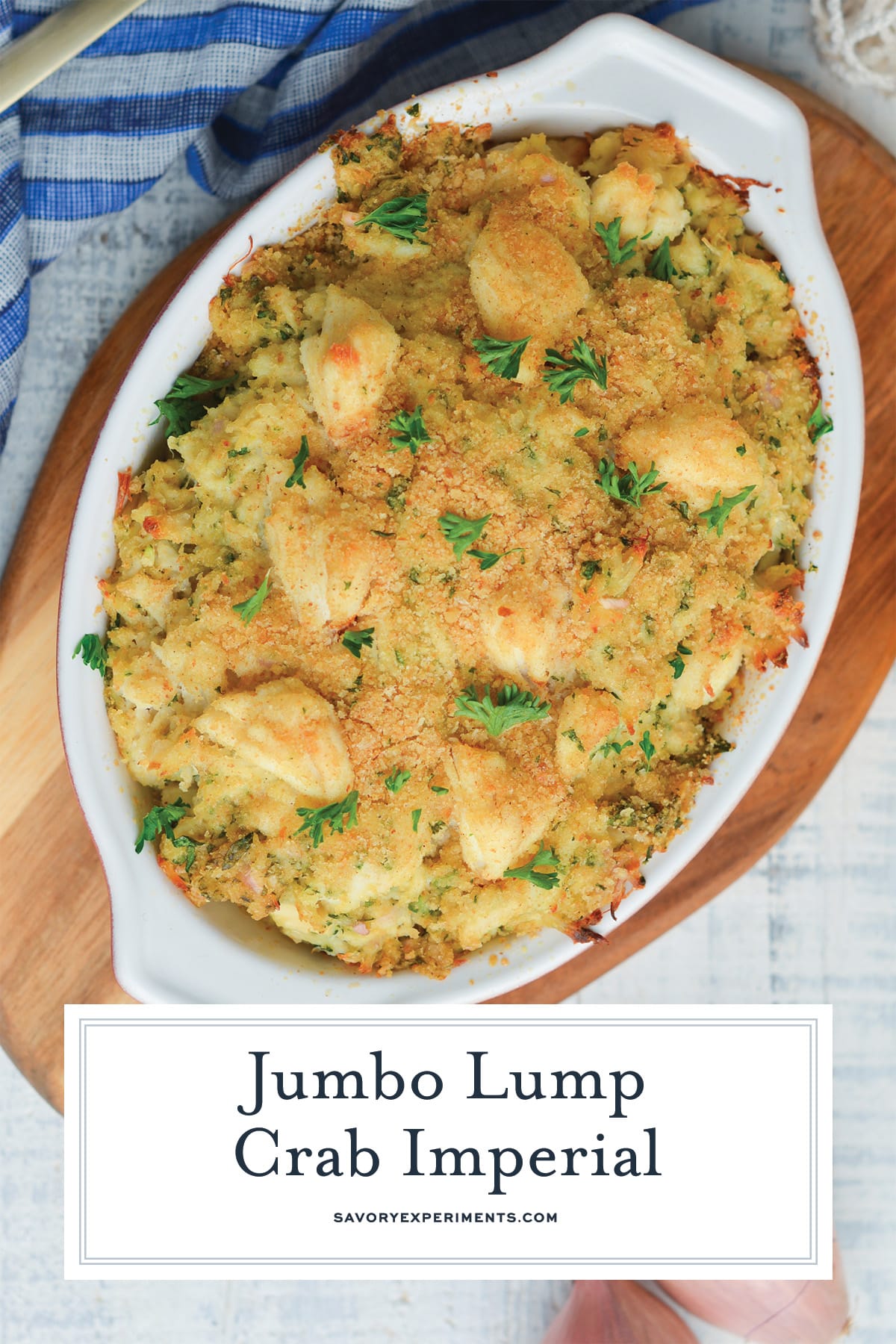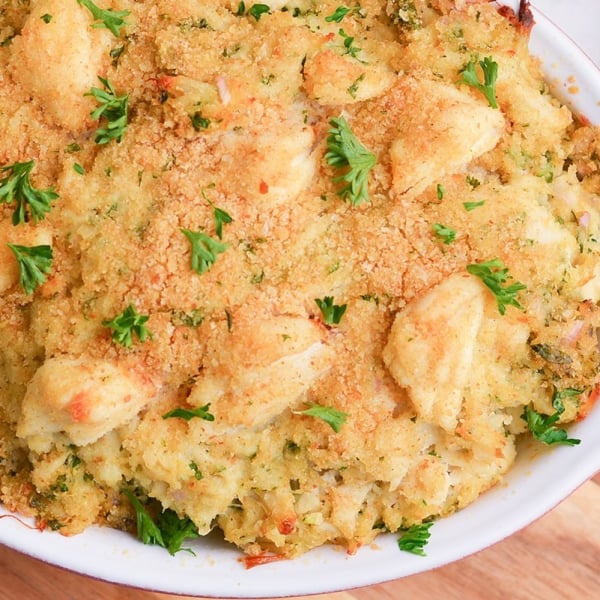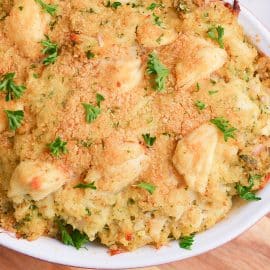 Crab Imperial
Baked Crab Imperial is a creamy and buttery masterpiece made with lump crab meat, fresh lemon and topped with bread crumbs.
Instructions
Preheat the oven to 350°F. Spray a small casserole dish with cooking spray. Set aside.

Combine the shallots, Dijon mustard, parsley, lemon juice, lemon zest, garlic, mayonnaise and salt in a medium mixing bowl, mix well. Stir in the bread crumbs until mixed. Add the crab meat, toss with your hands to prevent prevent breaking up the pieces of meat. Toss to combine and do not over mix.

Transfer the mixture to the prepared casserole dish. Top with the remaining 2 tablespoons of the bread crumbs.

Bake for 15-20 minutes or until golden brown on top. This will depend on the size of the baking dish.

Serve with additional lemon wedges or sauce of choice.

If you liked this dish, please come back and let us know how it was in the ratings and comments!
Nutrition
Calories:
443
kcal
,
Carbohydrates:
11
g
,
Protein:
43
g
,
Fat:
23
g
,
Saturated Fat:
3
g
,
Cholesterol:
107
mg
,
Sodium:
2507
mg
,
Potassium:
505
mg
,
Sugar:
1
g
,
Vitamin A:
155
IU
,
Vitamin C:
20.7
mg
,
Calcium:
129
mg
,
Iron:
2.2
mg