There are debates as to whether this exact salad is the one Jen ate on the set of Friends daily. Some say this one, other's say it was a Cobb salad. All I know is that this chickpea salad reminiscent of tabbouleh (tabouli) has now earned the name "The Jennifer Aniston Salad".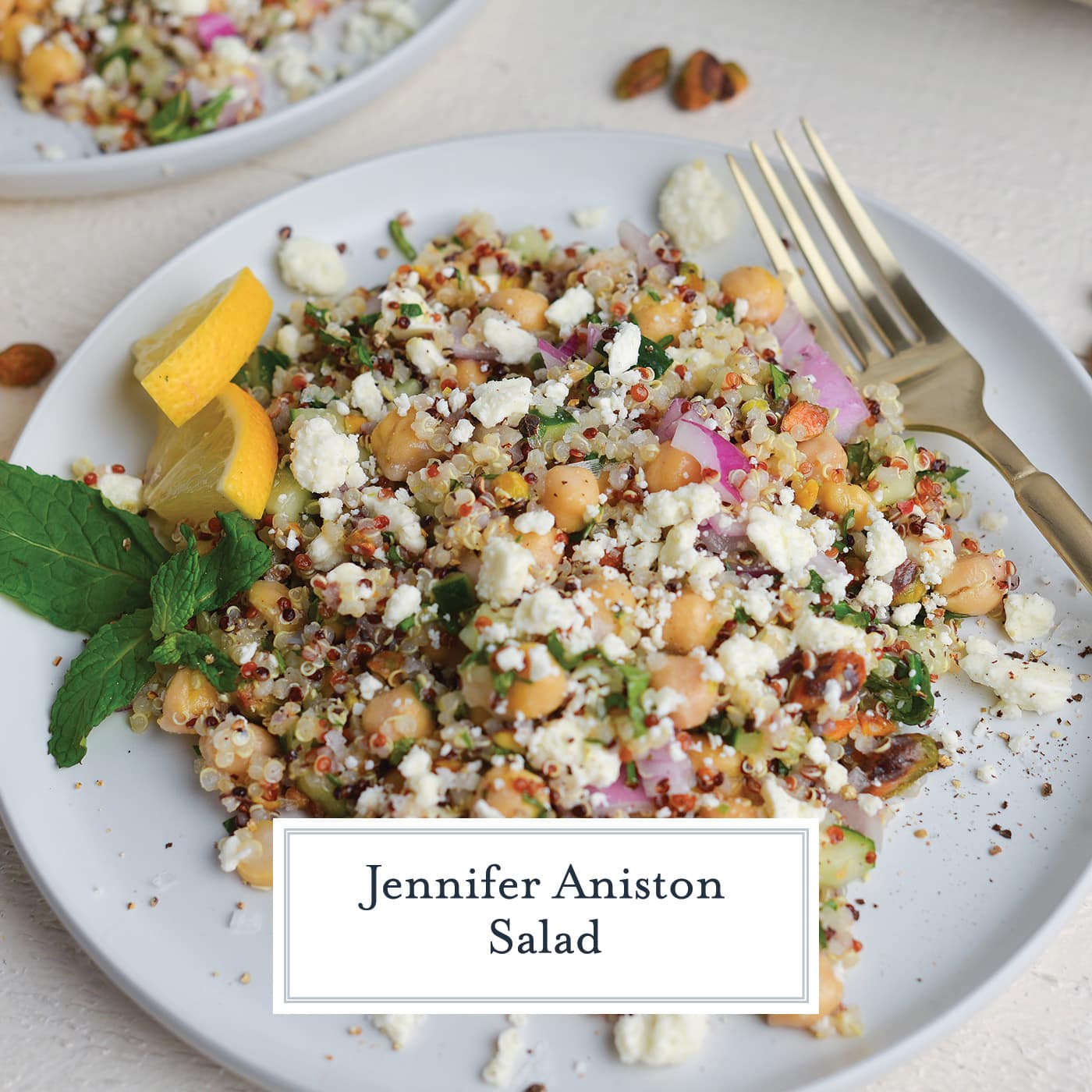 This perfect salad can be served as a salad, lunch, dinner, snack or side dish for parties and get togethers. It is naturally gluten-free and also vegetarian if you use vegetable stock or water for the quinoa.
You can even enjoy this original recipe while watching your favorite cast of Friends like Lisa Kudrow and Courtney Cox.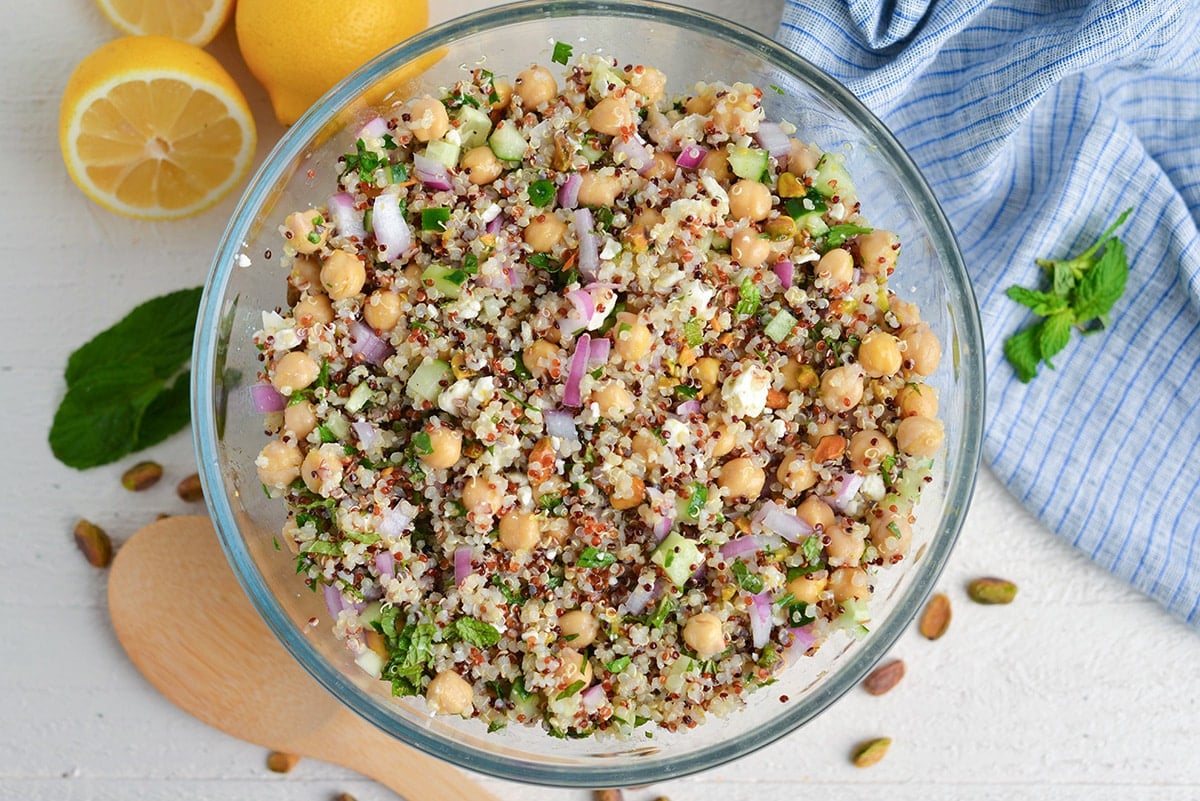 Why You'll Love This Jennifer Aniston Salad
A salad that's full of fresh flavors like lemon and mint and full of protein- what's not to love!
Quick and easy – Including chilling time, you can have this delicious salad ready to go in only one hour!
Perfect for meal prep – You can make a big batch of this salad on Sunday and have it for lunch all week long.
Fresh ingredients – From the fresh lemon juice and mint leaves to the veggie and chickpeas, this salad is as fresh as it is delicious.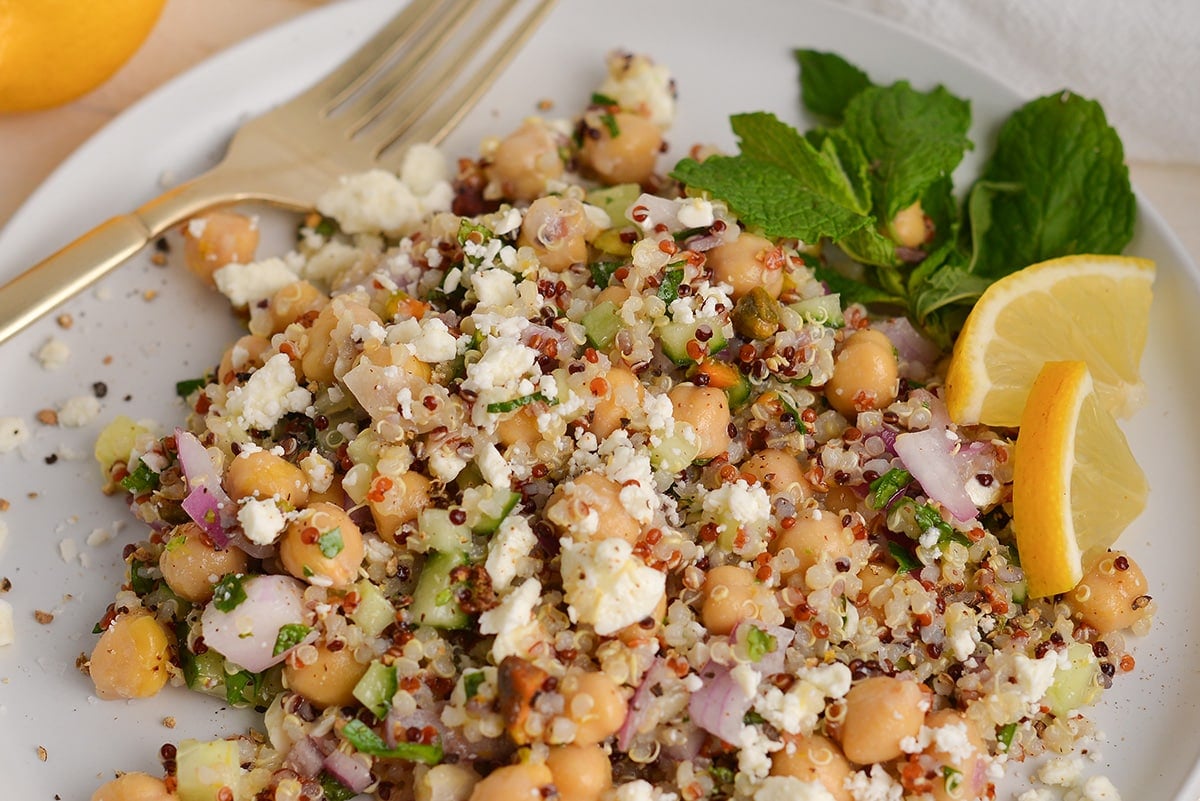 What's in the Jennifer Aniston Salad?
This viral recipe is a simple mix of healthy ingredients and while the list looks long, it really does come together in a snap to make a good salad.
Quinoa: The original salad Jen shared was bulgur wheat-based, but many folks have since swapped that out for quinoa, which is a nutrient-dense seed. I just like the taste and poppy texture better. I opted for tri-colored quinoa because it looks pretty, feel free to just one color.
Low-Sodium Chicken or Vegetable Stock: Anytime I make rice or quinoa, I use a flavorful stock or wine instead of water. Use low sodium so you can control the salt levels.
Chickpeas: Chickpeas, also called garbanzo beans or chi chi beans, are high in fiber and protein. Taste test the canned brands before deciding on one you like. Some are more mealy, which others creamy and soft. I personally like Goya.
Cucumber: Diced English cucumber provides a fresh crunch. No need to peel since the skins are thinner and carry most of the nutrients. You could even use mini cucumbers or persian cucumbers and peel them if you prefer.
Red Onion: Minced red onion adds crunch, flavor and a pop of color. Other types of onions can be swapped, even green onion (scallion). If you are sensitive to onions, just leave them out.
Fresh mint and Fresh Parsley– Since this quinoa salad doesn't really have a dressing, the fresh herbs provide pop and greens. Stop scowling at the mint and just give it a whirl, you might find yourself pleasantly surprised. There is a reason is is heavily used in so much Mediterranean cuisine!
Pistachios: Salty pistachios give the salt texture and flavor with another lovely color. Chopped walnuts, pecans, pine nuts, almonds, or even sunflower seeds would be good alternatives, and of course, leave out the nuts if you have a nut allergy.
Feta Cheese: Crumbled feta cheese rounds it all out. If you are meal prepping, leave the cheese out and toss it in when you eat each serving. It can get a little funky when it sits for several days. If you are making this salad within a day of eat it, you should be fine.
Lemon: Jen just shared that she used lemon juice, but I'm taking it up a notch with fresh lemon juice and lemon zest. Both other unique properties of the lemon and brighten with acidity.
Olive Oil– While I used olive oil, any neutral oil helps to lubricate the ingredients and keep them moist.
Salt & Pepper– Coarse kosher salt and freshly ground pepper season the salad and bring out natural flavors.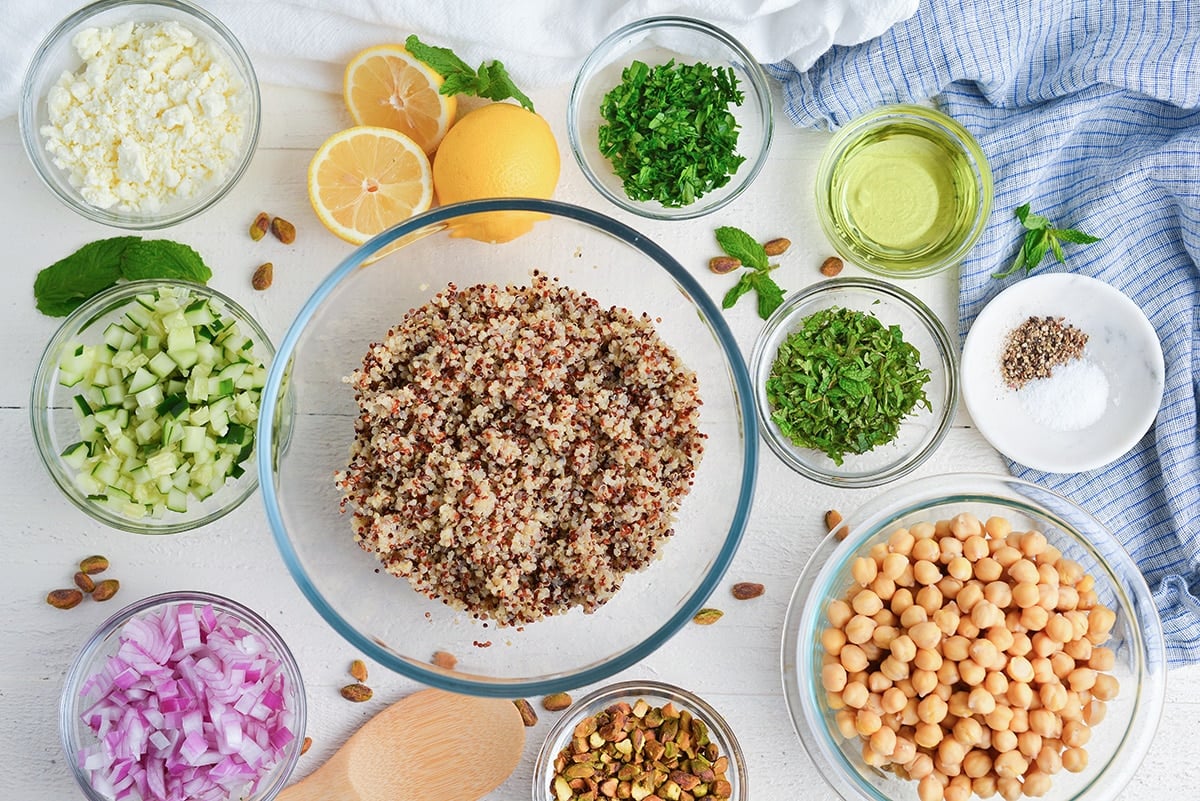 How to Make the Jennifer Aniston Salad
Making this easy salad recipe is super simple, just make sure to plan for time for the quinoa to chill and cool.
Make Quinoa. Rinse the quinoa in a fine mesh sieve or fine colander. Add the quinoa to a small saucepan with the stock. Bring to a rapid boil, then reduce to a low simmer and cover for 15 minutes until tender and chewy. Transfer to a large bowl or dish and chill uncovered for 30 minutes. If it is too hot, it will wilt the other ingredients.
Prep Fresh Ingredients. Prep and chop all of the fresh veggies and other ingredients.
Combine & Toss. In a large mixing bowl, combine the chilled quinoa, chickpeas, cucumber, onion, parsley, mint, pistachios, feta, oil, lemon juice, lemon zest, salt and pepper. Gently toss so it doesn't get gummy.
Serve. Serve or store for later.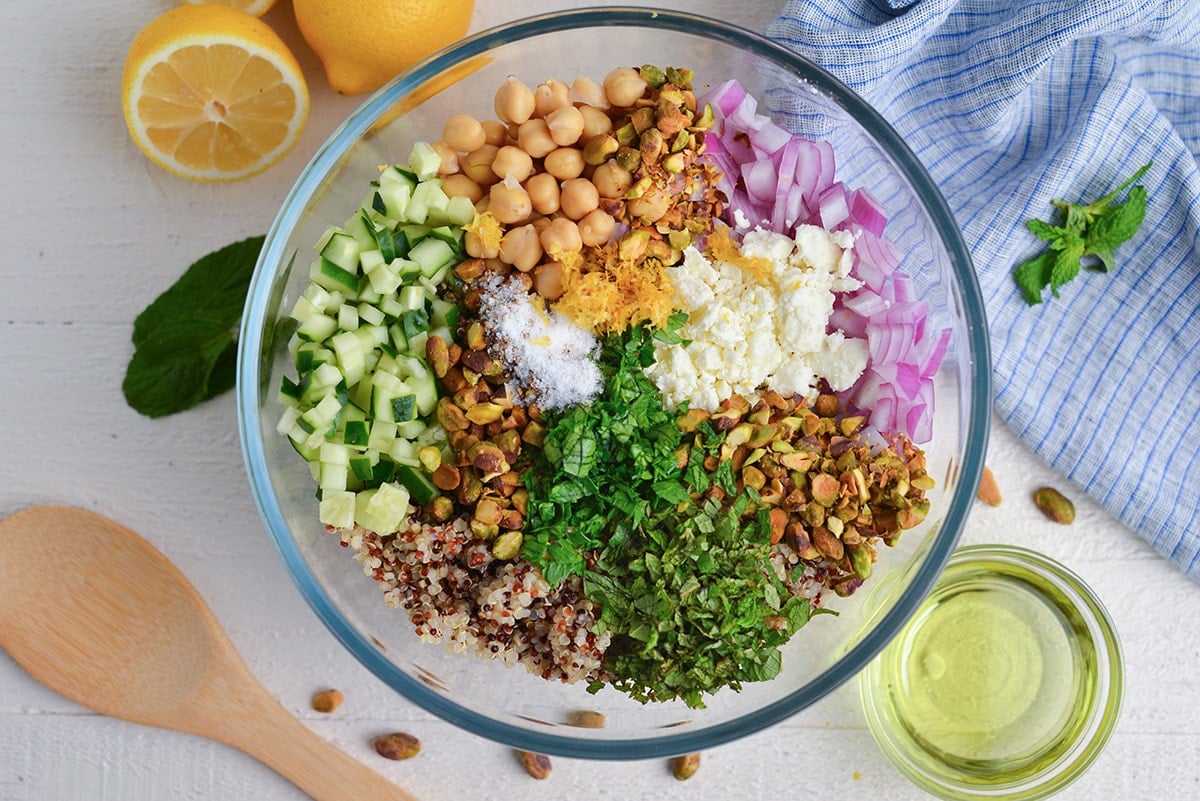 How to Make Perfect Quinoa
First of all- what is quinoa? Quinoa is a nutritious, gluten-free grain that originated in South America and is known for its high protein content and versatility in cooking.
Some folks turn their nose up because it is healthy, but honestly, it has a fun, unique poppy texture and is a blank slate for flavor. Here are foolproof instructions to make al dente quinoa.
The general rule is 1 cup of dry quinoa to 2 cups of liquid, but check your packaging to double check!
Just like rice, rinse the dry quinoa, This gets rid of any muck sticking the outside and prevents it from being gummy when cooked.
Combine the rinsed quinoa and liquid of choice (water, stock/broth, wine or a combo of these) in a small saucepan. Bring to a rapid boil.
When boiling, reduce to a low simmer and put a lid on it for 15 minutes. Quinoa should be tender, but still chewy with white, spiral threads around each grain.
Fluff with a fork and use in the intended recipe. For this salad, place into the fridge uncovered (so it doesn't continue to steam) to chill before combining with the other ingredients. Do not stir, which can compress and break the grains and make them gummy.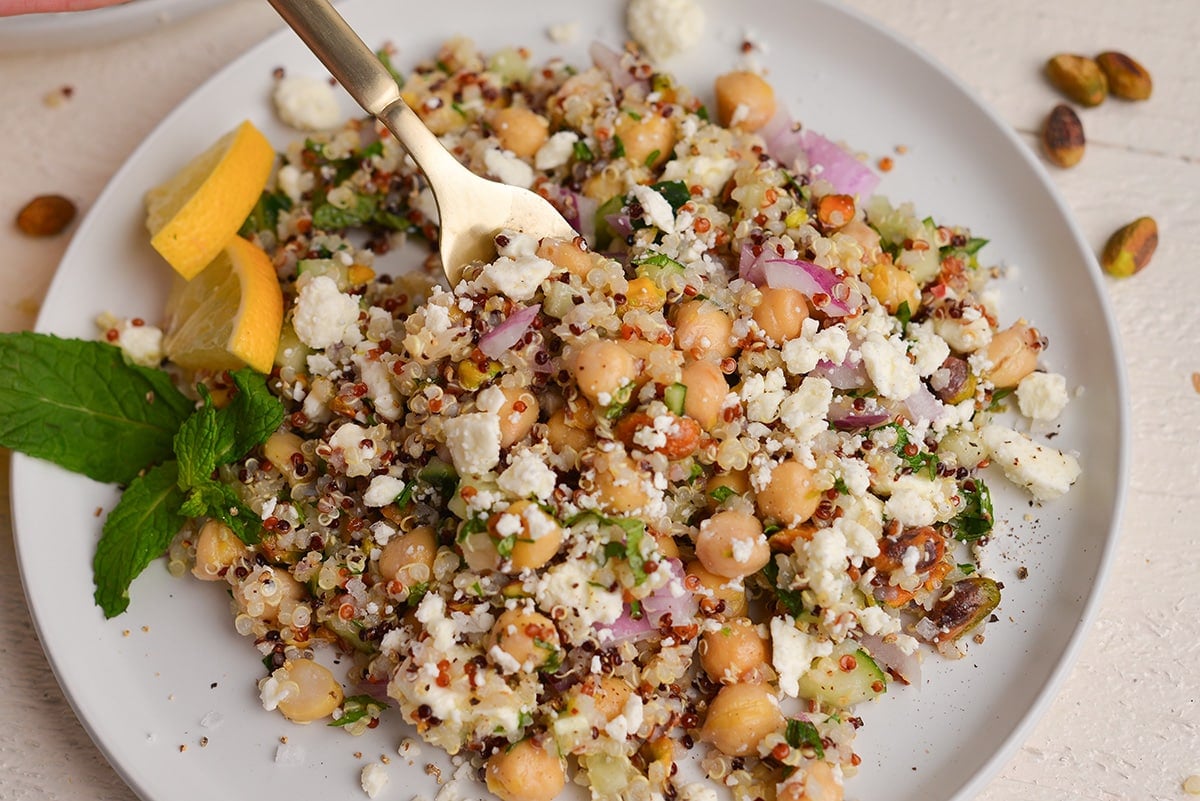 Variations
There are so many ways to customize this famous Jennifer Aniston salad. Of course, leave out or double any of the ingredients you love or hate, but here are a couple of other ideas.
Protein- Top or chop and stir in shrimp, cubed or shredded chicken, turkey bacon or even tofu.
Switch the nuts– Pistachios are lovely and add a nice crunch, but walnuts, pecans and almonds can also be used. Toasted nuts give even more flavor.
Swap the type of cheese– Crumbled cheese is pretty amazing, but you can get funky with a blue cheese or any other type of crumbly cheese. Vegan feta keeps it vegan.
Other add-ins like avocado, tomato, chopped olives or even sweet dried fruits like dried cranberries, raisins or cherries.
Fresh herbs– If you have trouble finding (or just don't like) parsley or mint, feel free to use…
Leafy green- While this salad doesn't use a bed of lettuce, feel free to add one. Massaged kale, romaine lettuce, butter lettuce or even plain iceberg.
Other types of grain– If white quinoa isn't your thing, swap it out for bulgar, couscous, rice or any other whole grain.
Salad dressing– If you don't like this simple dressing, you can use your favorite salad dressing instead.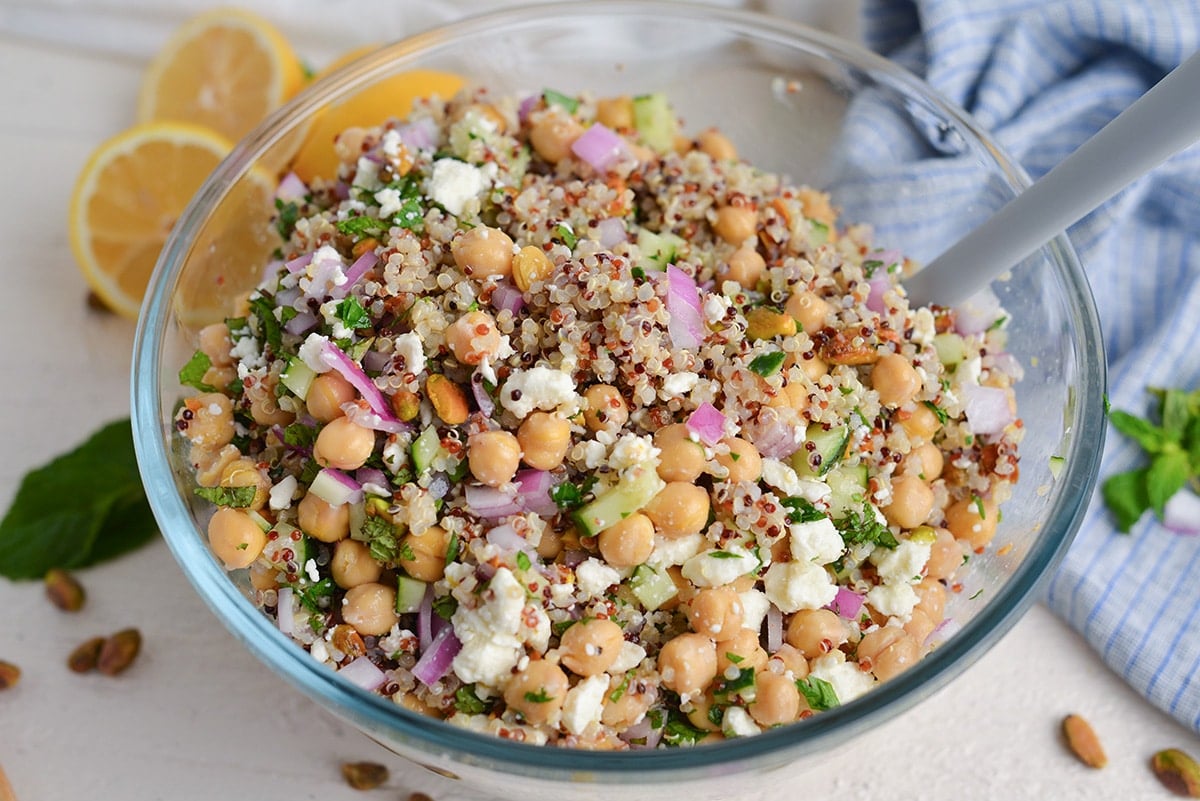 Make Ahead, Storage and Freezer
This viral Jennifer Aniston salad recipe is amazing for meal prep or as a side dish for a potluck, BBQ or meal train.
Can you Make the Jennifer Aniston Salad Ahead of Time?
Part of what I love about this salad recipe is that is it perfect for meal prep and making ahead, but here are a few tips to make sure each meal is just as good as the last.
Dress It Up: Prepare the dressing by combining fresh lemon juice, extra virgin olive oil, a pinch of and a sprinkle of salt and pepper. This dressing is the key to the salad's charm, but should be kept separate and adding when you are ready to serve.
Layer with Love: Create a beautiful layered effect by arranging the ingredients in a glass bowl or trifle dish, layering each and tossing when ready to serve.
Chill Like a Pro: Seal the salad bowl with an airtight lid and refrigerate. This will allow the flavors to meld together, giving you a taste of pure bliss when you're ready to indulge.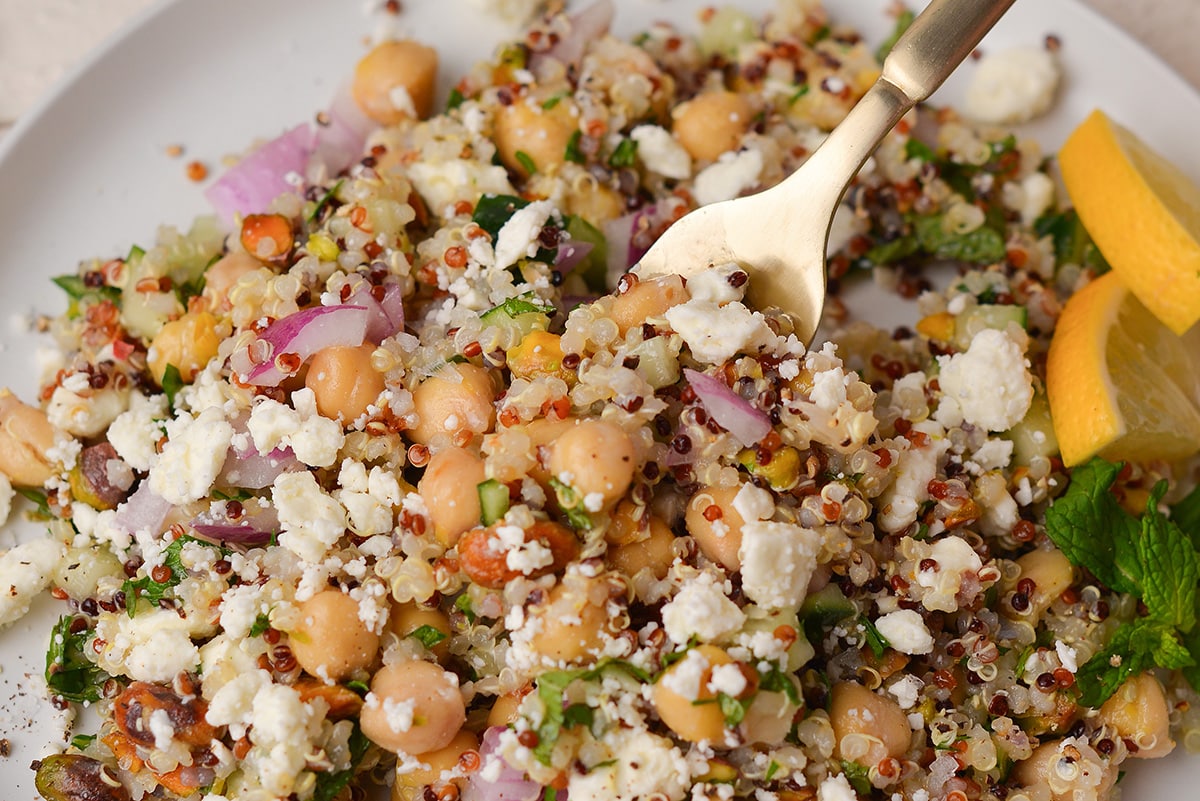 How to Store the Jennifer Aniston Salad
To preserve the essence of the Jennifer Aniston Salad and ensure its flavor supremacy, follow these storage tips:
Airtight Haven: Keep the salad in an airtight container to maintain its freshness and crispness. You don't want any unwanted guests like wilting or soggy textures!
Mind the Dressing: If you've dressed the salad already, store any leftover dressing in a separate container to avoid making it mushy.
Temperature: Place the sealed container in the refrigerator for up to 5 days. Beyond that, the ingredients may start to lose their luster. If over 1 day, leave the cheese out. It might need a dab of olive oil and fresh seasoning to liven it up. It can stay at room temperature for up to an hour.
Can you freeze the Jennifer Aniston Salad?
The Jennifer Aniston Salad is best enjoyed fresh, so sadly we do not recommend freezing.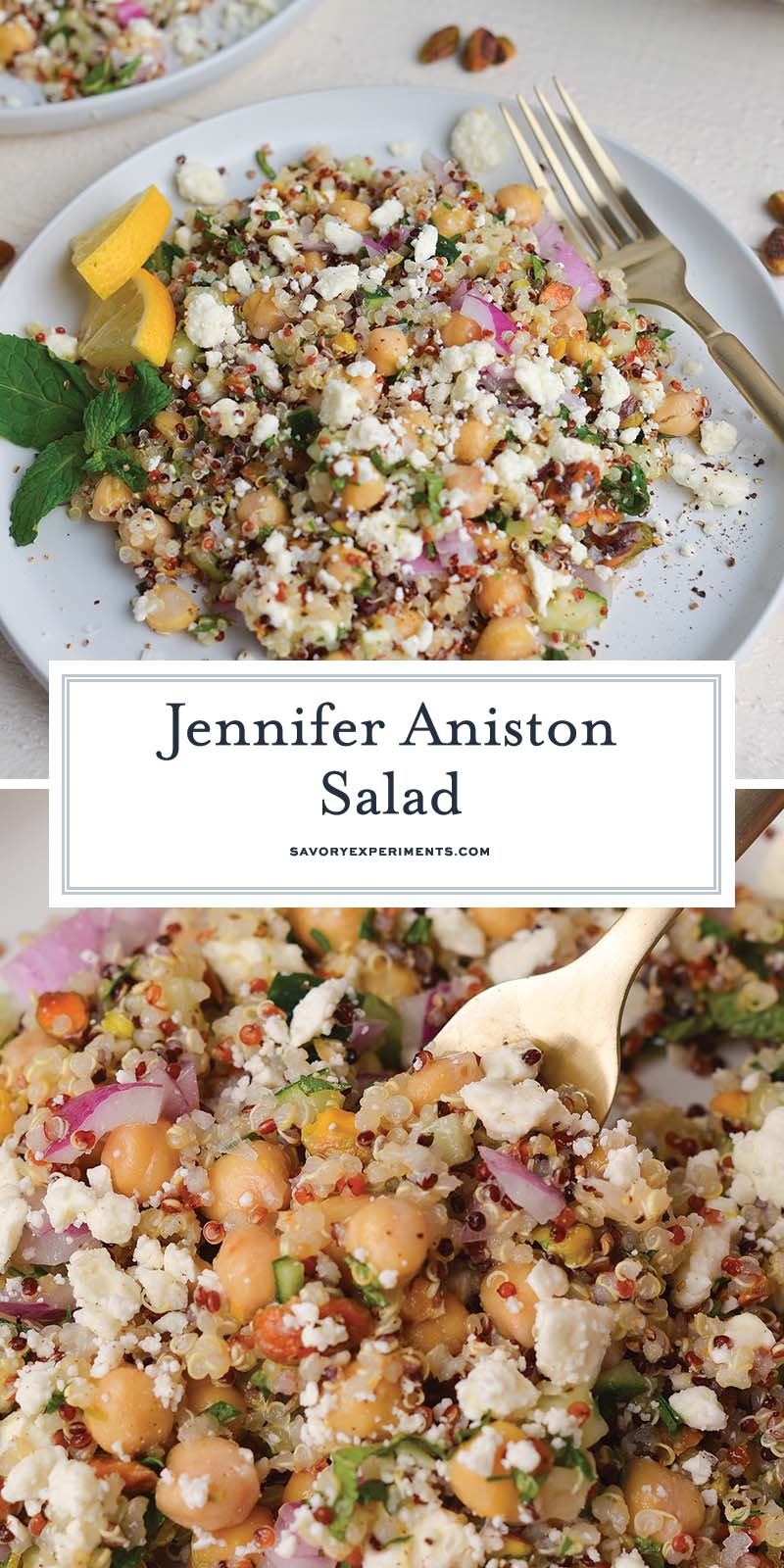 More Fresh Salad Recipes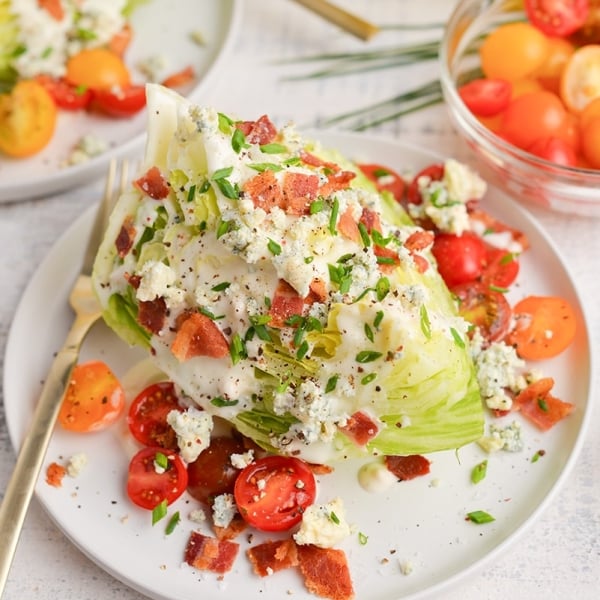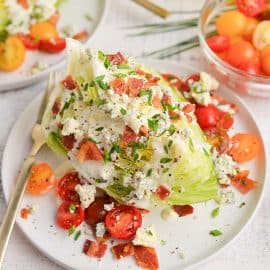 Classic Wedge Salad
This Wedge Salad replicates the steakhouse favorite with its towering lettuce, creamy blue cheese, crispy bacon and bright, juicy tomatoes!
See The Recipe!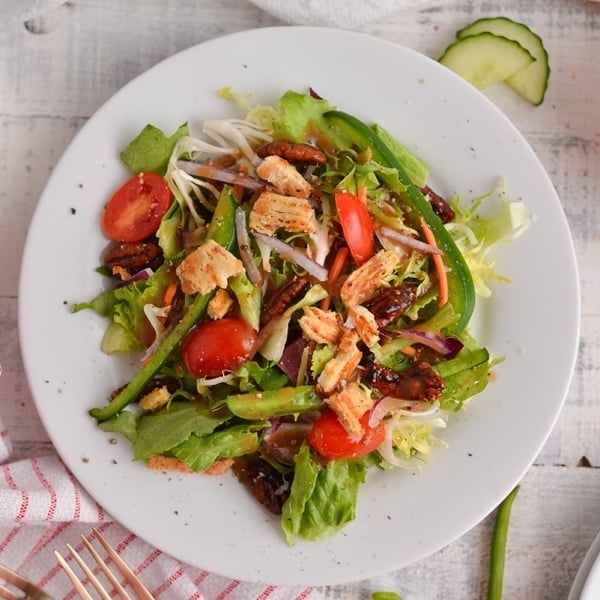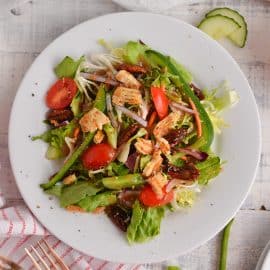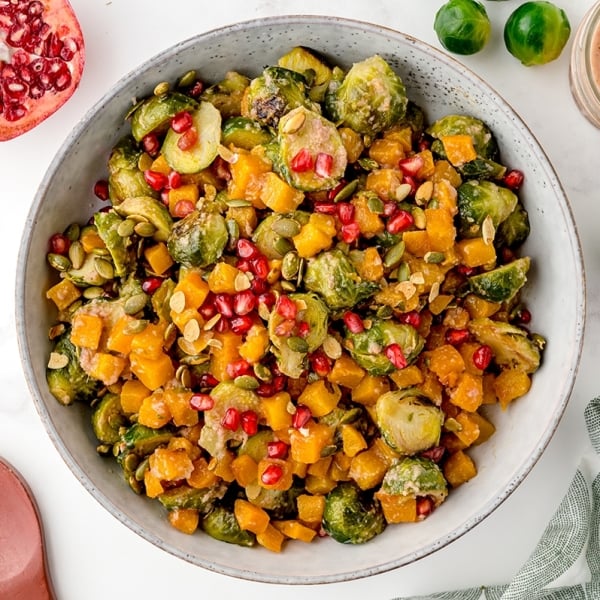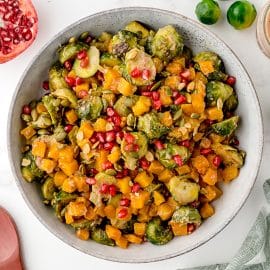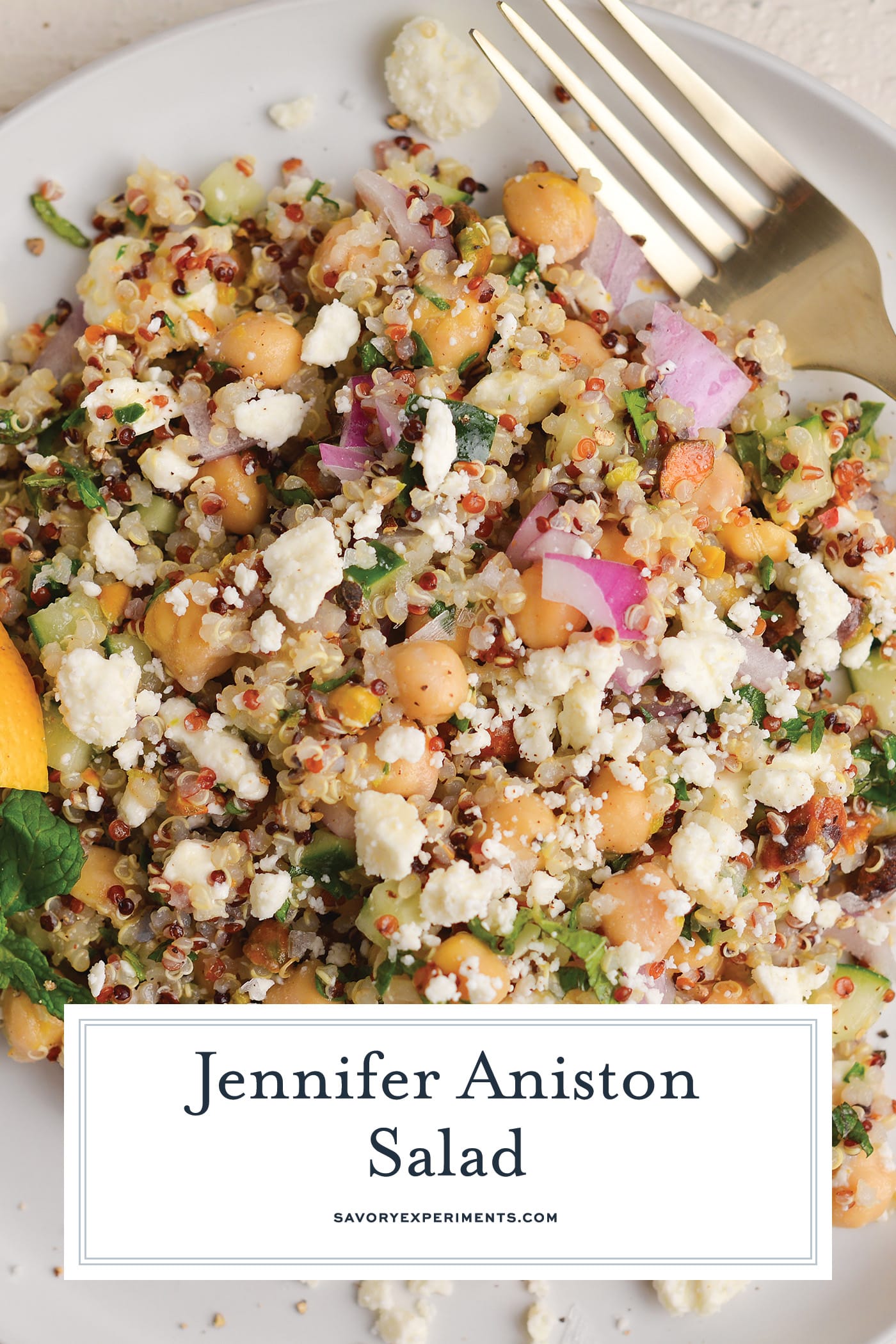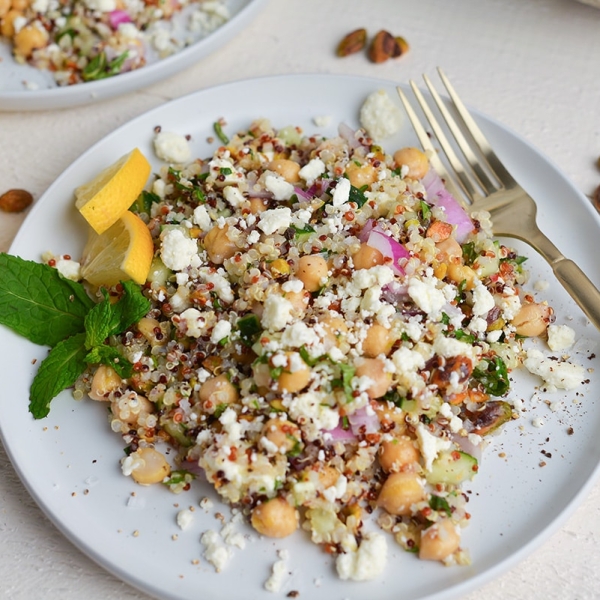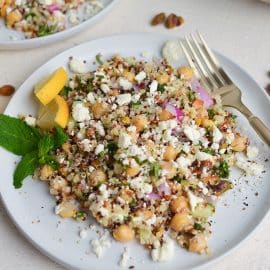 Jennifer Aniston Salad Recipe
Indulge in the delightful Jennifer Aniston salad! A fresh medley of superfoods and flavors that will leave you feeling satisfied and happy.
Instructions
Rinse the quinoa in a fine mesh sieve or fine colander.

Add the quinoa to a small saucepan with the stock. Bring to a rapid boil, then reduce to a low simmer and cover for 15 minutes until tender and chewy.

Transfer to a bowl or dish and chill uncovered for 30 minutes.

In a large mixing bowl, combine the chilled quinoa, chickpeas, cucumber, onion, parsley, mint, pistachios, feta, oil, lemon juice, lemon zest, salt and pepper. Gently toss.

Serve or store for later.

If you have tried this recipe, come back and let us know how it was in the comments or star ratings!
Nutrition
Calories:
403
kcal
,
Carbohydrates:
35
g
,
Protein:
14
g
,
Fat:
24
g
,
Saturated Fat:
5
g
,
Polyunsaturated Fat:
4
g
,
Monounsaturated Fat:
13
g
,
Cholesterol:
17
mg
,
Sodium:
532
mg
,
Potassium:
510
mg
,
Fiber:
7
g
,
Sugar:
4
g
,
Vitamin A:
567
IU
,
Vitamin C:
14
mg
,
Calcium:
158
mg
,
Iron:
4
mg