Maryland is known for its crab cakes, but also its inventive recipes utilizing crab in other ways. One of my favorites is Crab Dip Stuffed Artichoke Hearts.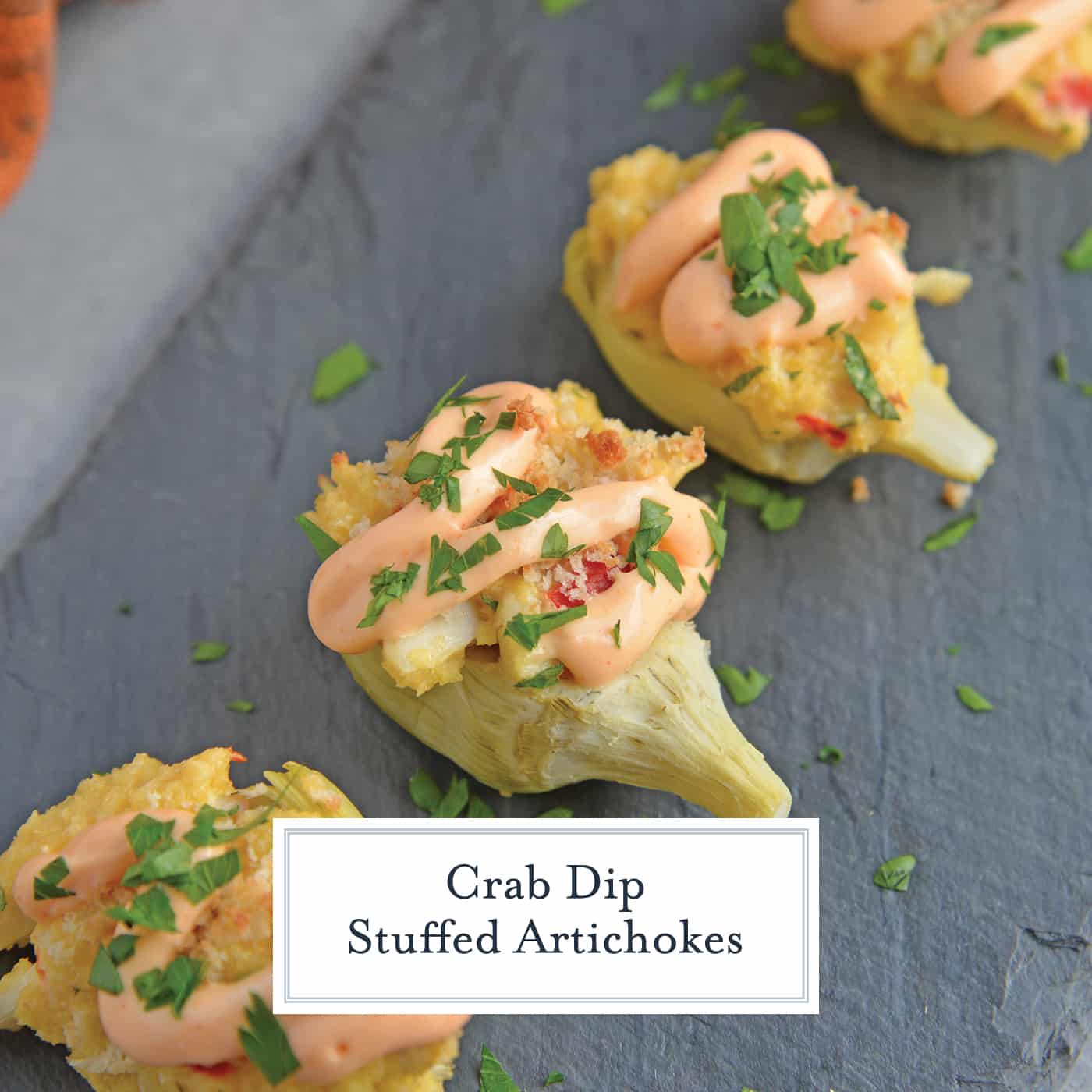 Stuff It
Crab Dip Stuffed Artichoke Hearts are almost like a crab cake inside of an artichoke heart. The hot crab dip filling takes only minutes to prepare and uses a small amount of less expensive crab, as to not break the bank.
If you are in a state that does have fresh blue crab readily available, you can substitute with imitation crab, snow or stone, but the flavor and texture will not be the same. Still good, but not the same, sadly.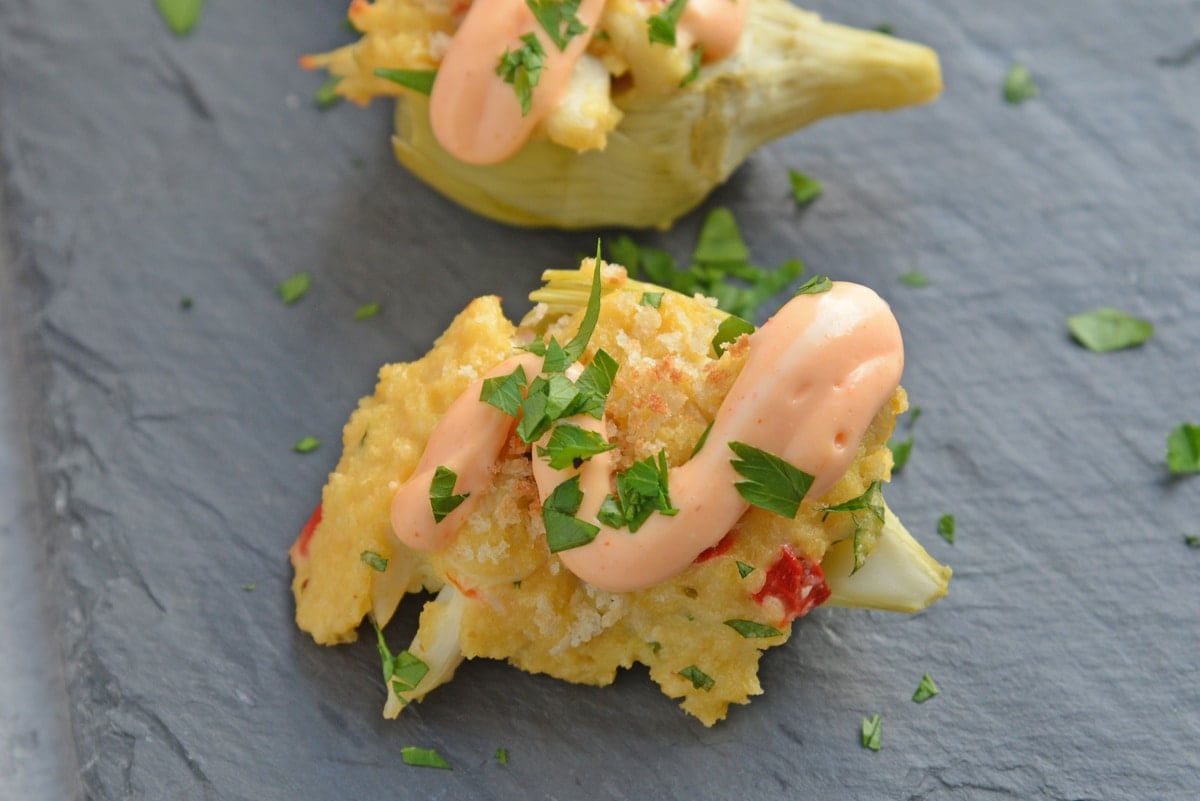 Crab Dip Stuffed Artichoke Hearts can be made ahead and then baked before serving. A dot of spicy Sriracha aioli gives each bite an extra edge against the sweet crab meat while adding color.
A sprinkling of panko elevates the texture profile for a simple, yet sophisticated hors d'oeuvre perfect for holiday parties.
Artichokes
I do love artichokes (and crab dip) so I am always trying to look for new ways to use them. Did you know that the artichoke is technically a flowering fruit, not a vegetable. It is a common mistake.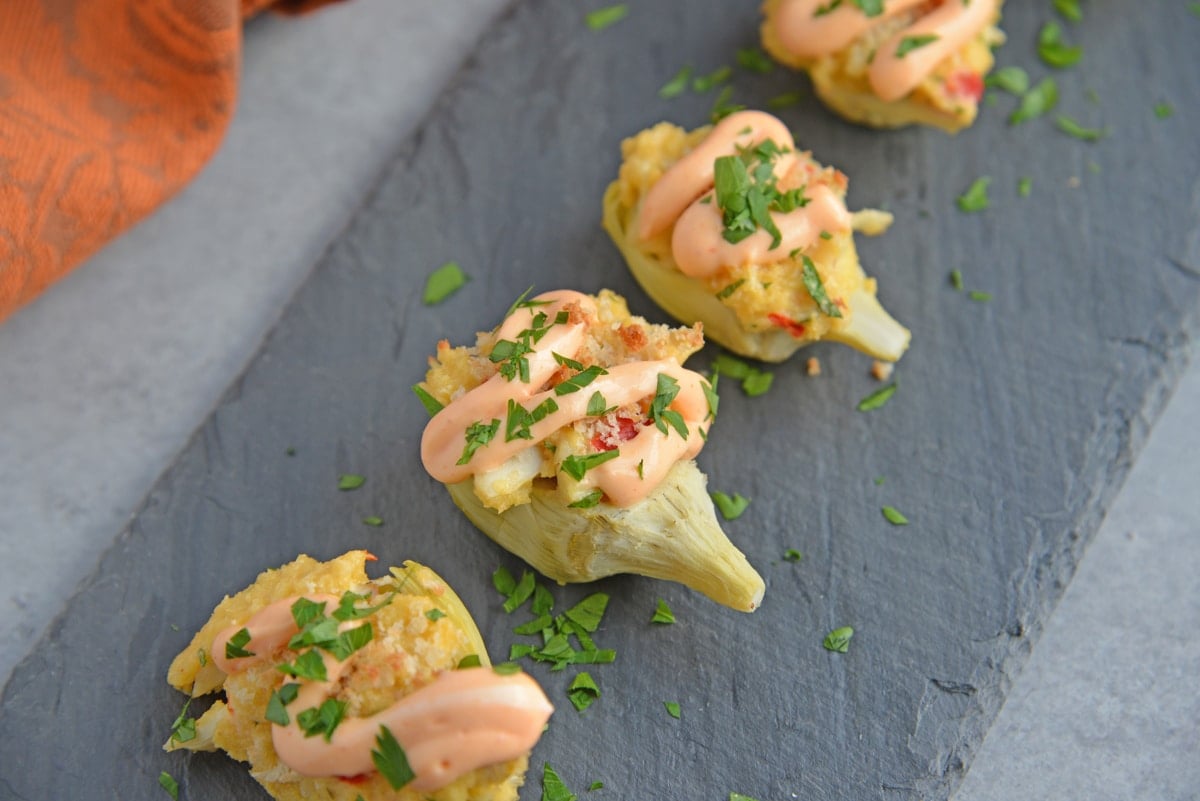 It is a thistle and if you've ever eaten the artichoke leaves (it is actually more of a sucking and teething off of the pulp) you'll understand. Only the center, the artichoke hearts, is wholly edible and still you might get a few tough pieces.
The Crab
Before you get started, be aware of the types of crab.
Claw– dark meat that comes from the claw, a little more stringy than other varieties.
Special– smaller pieces, comes from small little crevices or the "special" sections of the crab, good for flavoring and dips.
Backfin– some larger lumps coming from, you guessed it, the back of the shell, whiter meat, does well in crab cakes, feathery texture.
Jumbo lump– large, lumps of meat, the beauty is the large pieces used for crab meat cocktails or delicious to pop in your mouth plain, very tasty and moist.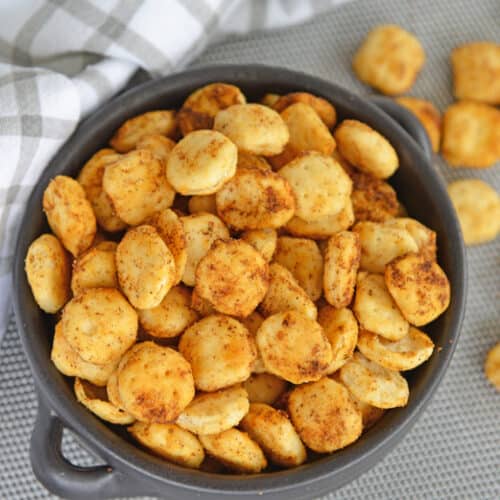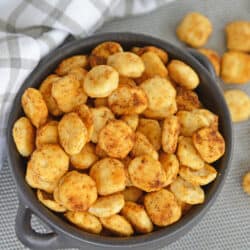 Cajun Oyster Crackers
Need an easy snack or a delicious way to add crunch to a soup or salad? These easy Cajun Oyster Crackers are the answer!
View this recipe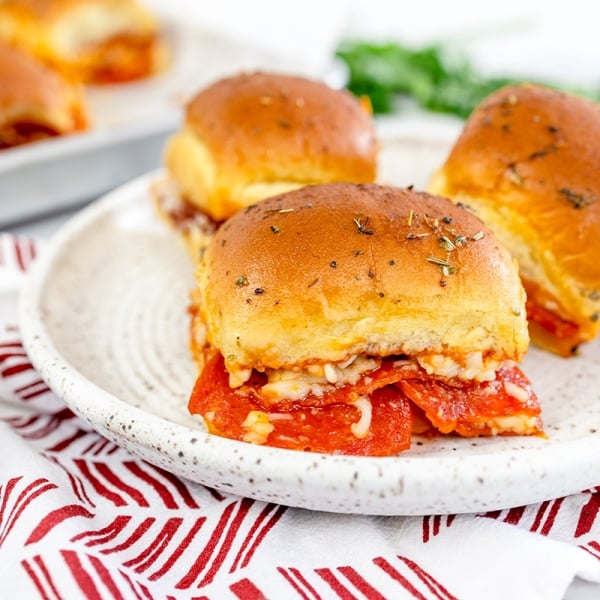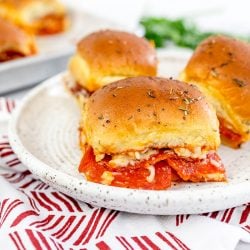 Pizza Sliders
Cheesy Pizza Sliders are easy to make with just 4 ingredients and the best for parties. Loved by kids and adults!
View this recipe
Chili Cheese Dip
If you are a fan of dips you need to make this 3 ingredient Chili Cheese Dip, whips up in under 10 minutes and is fool-proof!
View this recipe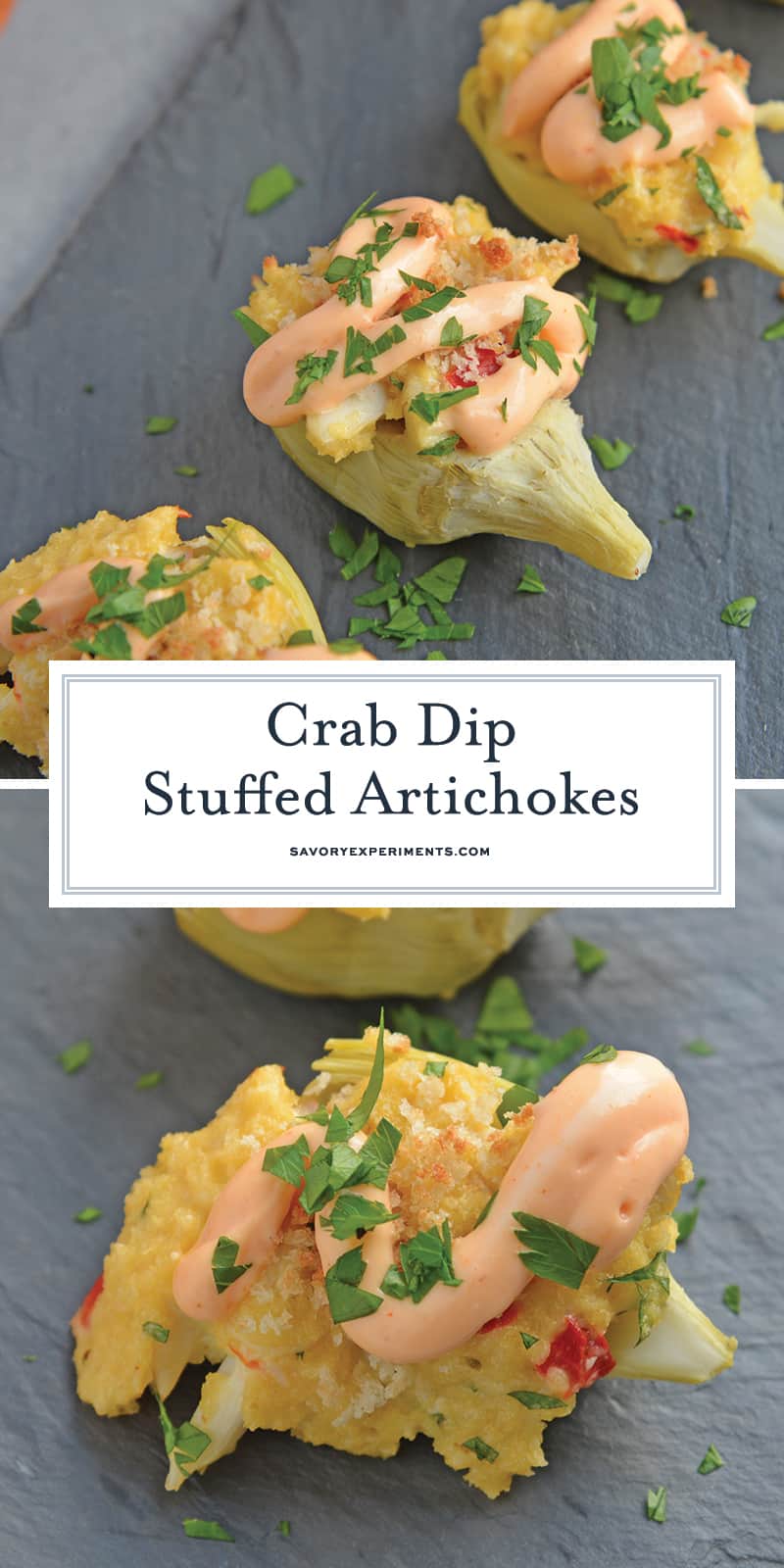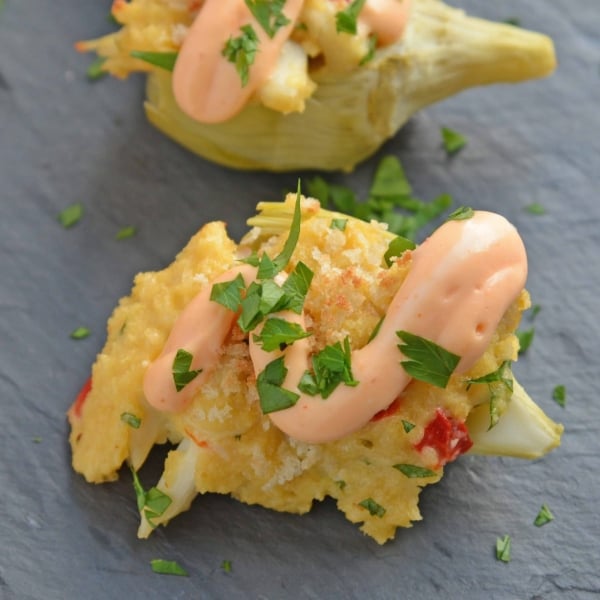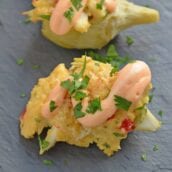 Crab Dip Stuffed Artichoke Hearts
Crab Dip Stuffed Artichoke Hearts takes traditional hot crab dip and bakes in an artichoke heart, topping it with crunchy panko and Sriracha Aioli.
Ingredients
For Crab Stuffed Artichoke Hearts:
Instructions
Preheat oven to 350 degrees. Drain artichoke hearts and cut in half. Drain, cut side down, on a paper towel lined baking sheet. Remove paper towels and flip artichoke hearts over (cut side up) and place in oven for 3-4 minutes. This will dry them out and allow the crab stuffing to stick. An alternative would be to cut the artichokes and allow them to dry out in the refrigerator for several hours prior to stuffing.

Using your hands, lightly toss together crab meat through Parmesan cheese. Be mindful to not stir and break apart larger pieces of crab meat.

Stuff the center of each artichoke heart with a heaping spoonful of crab mix. Top each with a small sprinkle of panko bread crumbs.

Bake for 10-12 minutes, or until tops are lightly browned.

While crab stuffed artichoke hearts are baking, mix together Sriracha aioli ingredients in a small bowl. Transfer to a small plastic bag. When ready to serve, cut a small hole in one corner and pipe a pearl size portion on to the top of each crab stuffed artichoke heart.

If you've tried this recipe, come back and let us know how it was!
Nutrition
Calories:
64
kcal
,
Carbohydrates:
1
g
,
Protein:
2
g
,
Fat:
5
g
,
Cholesterol:
13
mg
,
Sodium:
250
mg
,
Potassium:
26
mg
,
Vitamin A:
140
IU
,
Vitamin C:
4.4
mg
,
Calcium:
22
mg
,
Iron:
0.3
mg