This Spicy Crab and Sausage Soup recipe is the ultimate comfort food. Loaded with sausage, crab meat and tons of veggies, it is soul warming and totally delicious.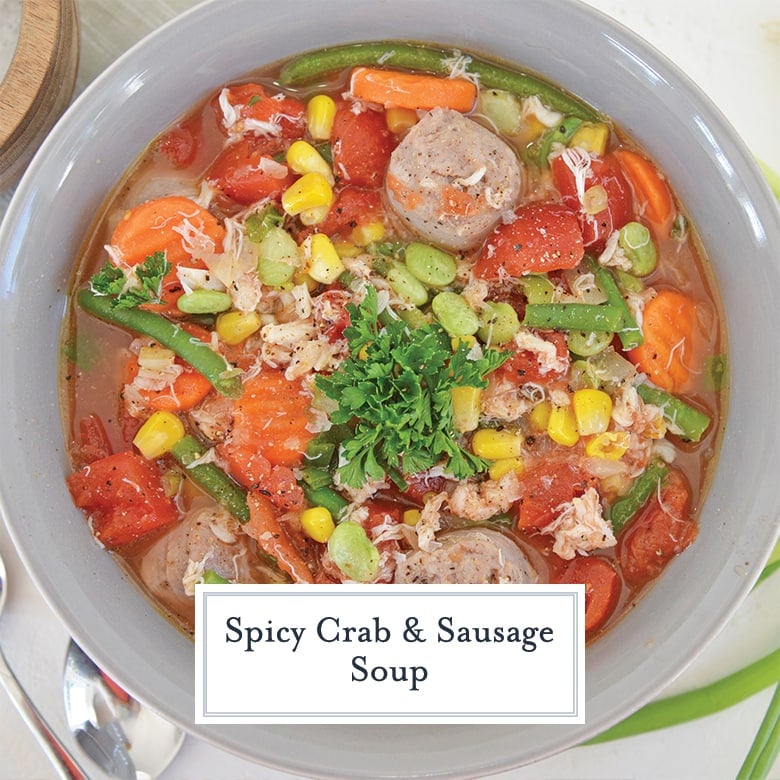 Winter Sausage Soup
There is nothing better than a piping hot bowl of vegetables, sausage and crab on a Sunday evening. Football on TV, the weather just perfect for the windows open and spending time with hubby and the kids.
I'm not sure why I associate sausages soups with milder weather. Maybe it is the subtle spice that comes with it or just the heartiness of sausage.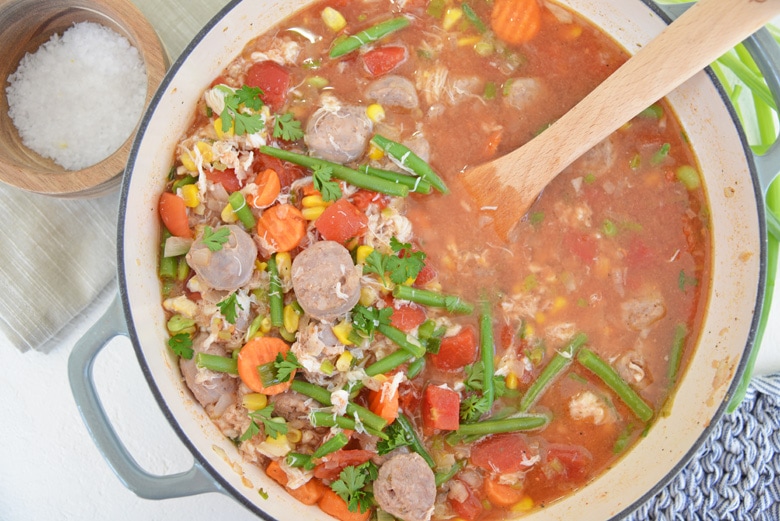 This particular recipe is rather for giving. As long as you have three essential elements: crab, sausage and veggies, you'll be just fine.
Seasonings make it a little on the spicy side, which I adore, but if you want it mild, omit paprika, cayenne and reduce seafood seasoning.
Around here Old Bay reigns king, but any will do and some are a little zestier than others. My advice would be to dip a finger in to taste before you decide how much to season your soup with.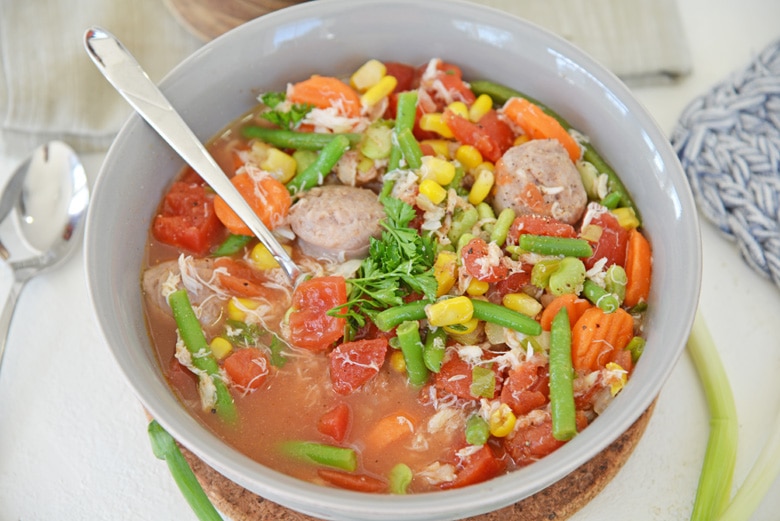 If you don't like any heat, simple add 1 teaspoon of Kosher salt instead and call it a day.
Sausage
Picking your sausage will also pick the flavor of your soup. Some are smokier, others sweet and others will amp up the spice.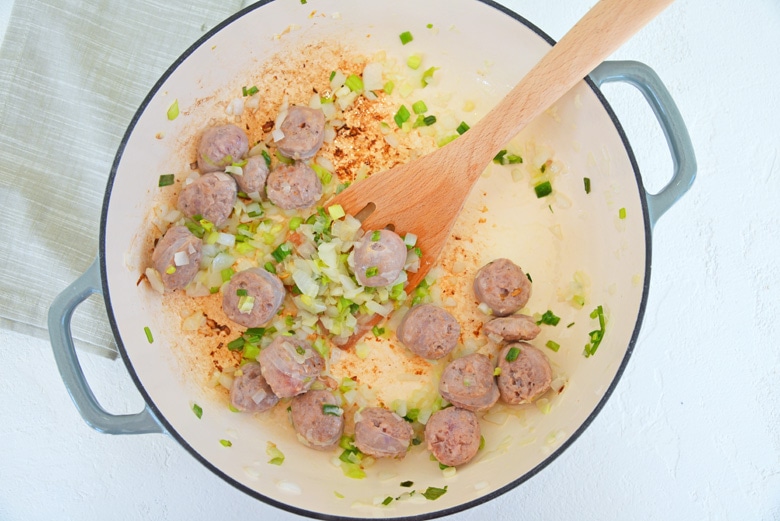 Here are some of my favorites picks:
Chorizo
Mild Italian
Hot Italian
Chicken- plain or flavored
Andouille
Ground pork
And then you have the choice on how to cut it. Hubby prefers his in larger pieces, so that is pictured here with a mild Italian sausage from our local butcher. It was heavy in fennel and other fresh herbs.
But you can also chop it up smaller or even use ground bulk sausage. If you do this, I recommend cooking the pork separately, draining excess fat and then adding it to the soup.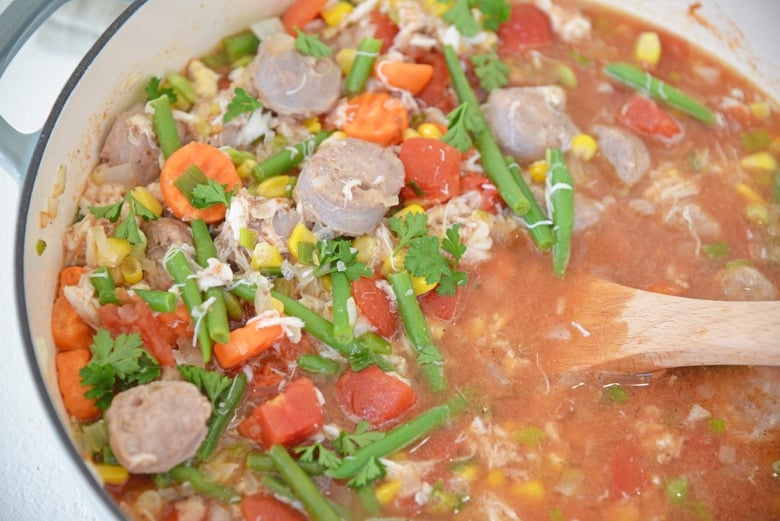 Crab
This soup uses blue crab meat. It comes in several varieties, but I find in soups that a "special" blend or backfin works just fine and it much cheaper. Unless you plan to add jumbo lump while plating, ay stirring will break apart those velvety little lumps into smaller bits anyhow.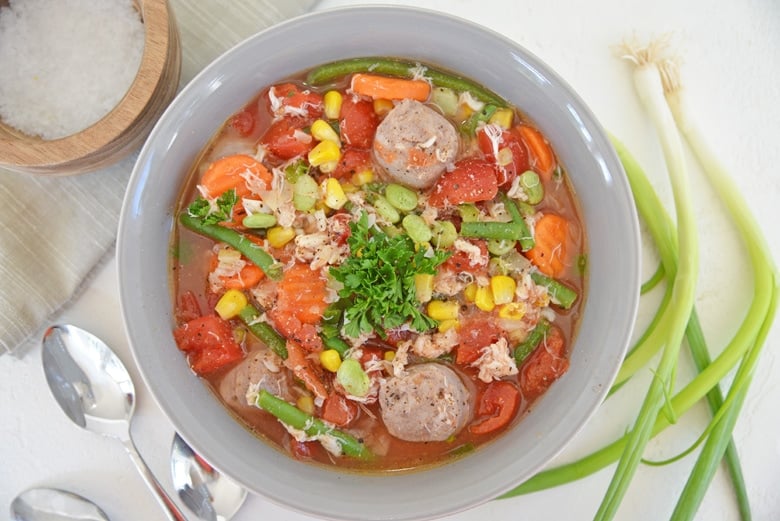 What I do not recommends is canned or imitation crab. Snow crab meat could be a good substitute, but King crab has a distinctly different flavor not well suited for this recipe.
Vegetables
Yes, I use frozen vegetables instead of fresh and there are a lot of benefits in doing so.
Frozen veggies actually have more nutritional value than fresh. They are frozen soon after harvesting and therefore retain more natural vitamins and minerals.
Less prep because you don't have to chop anything (other than the onion).
Less waste because you won't accidentally not get to the veggies you bought, let them go bad and have to throw them away. Not speaking from experience or anything….
No need to worry about them not being cooked or when to add them due to size.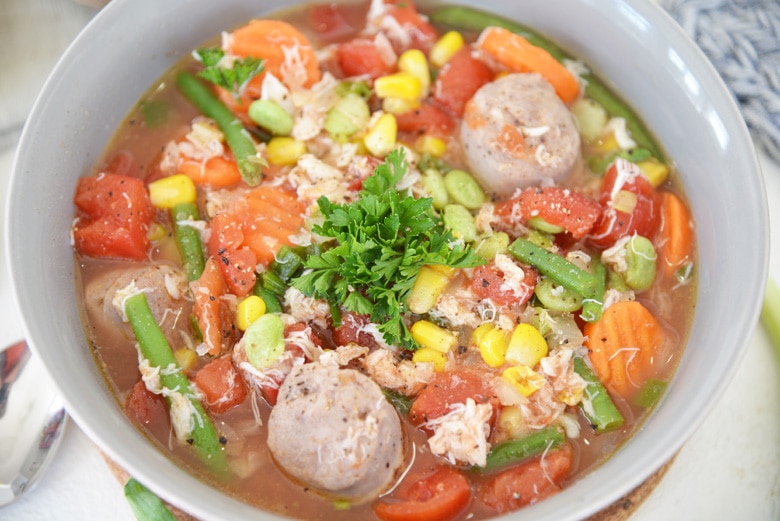 As long as the total volume is 4 cups, feel free to use whatever blends of colors, flavors, shapes and sizes you like.
Toppings
I used a little fresh parsley and really don't find that this soup needs anything, but if you really need toppings, here are my suggestions:
Freshly grated Parmesan cheese
Croutons
Saltine Crackers
Freshly ground pepper and Maldon sea salt
Slice of crusty bread
Crab Soups
Being a Marylander, we eat Maryland Crab Soup all the time, but I came across the addition of sausage in my newest cookbook: Maryland's Chesapeake: How the Bay and its Bounty Shaped a Cuisine.
I am a lover and collector of cookbooks, firmly believing that a good home chef goes far beyond being able to follow a recipe.
It is being educated about your food. Knowing its history, where it comes from and the chemistry behind its kitchen preparation.
My new favorite cookbook also happens to be authored by two of my local foodie friends, Kathy Wielech Patterson and Neal Patterson.
Maryland's Chesapeake: How the Bay and its Bounty Shaped a Cuisine is one of the rare cookbooks that not only provides regionally authentic recipes from local chefs, but also background.
A great gift and also a great read if you enjoy learning about your food.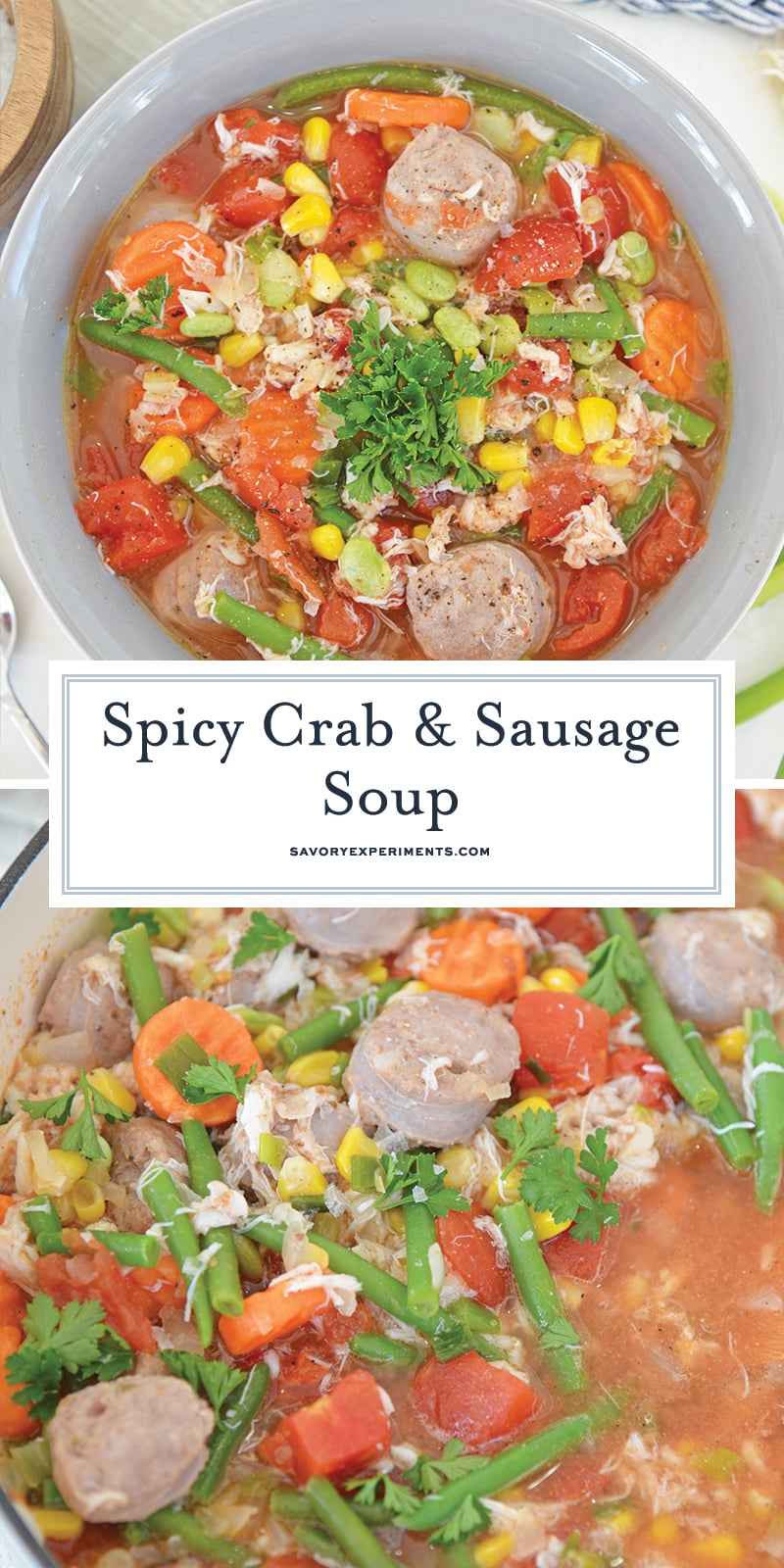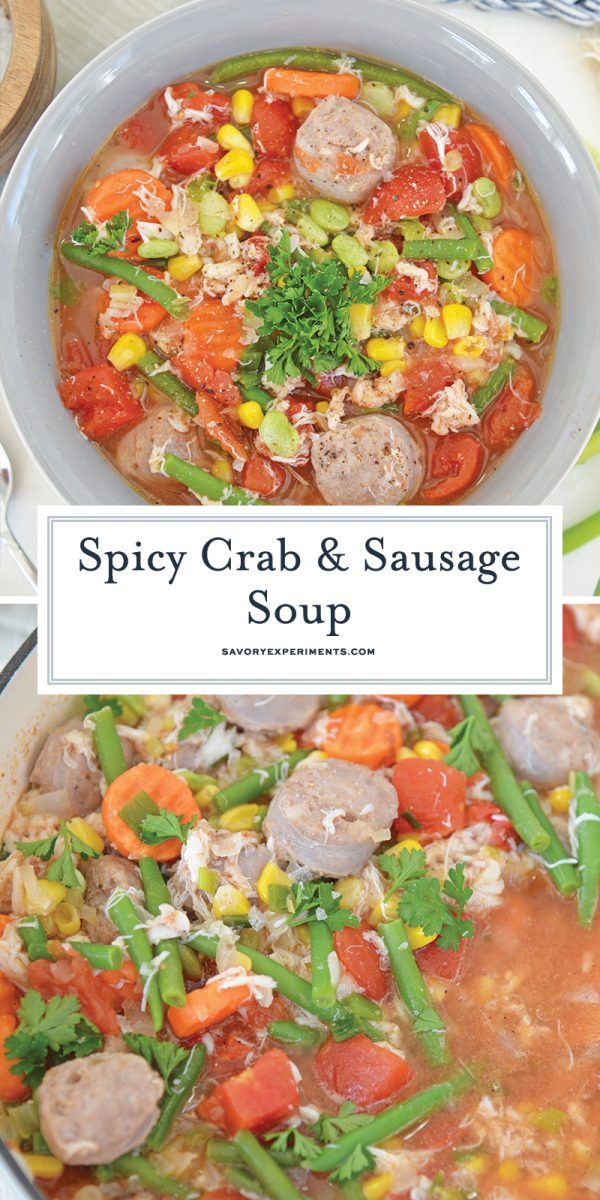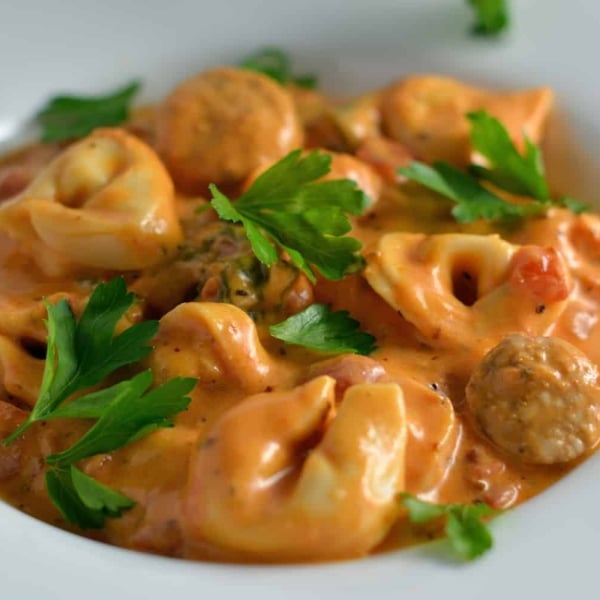 Creamy Sausage Tortellini Soup Recipe
Creamy Sausage Tortellini Soup can be made in the slow cooker, instant pot or on the stove top. Cheesy tortellini with zesty sauce in a tomato based soup!
View this recipe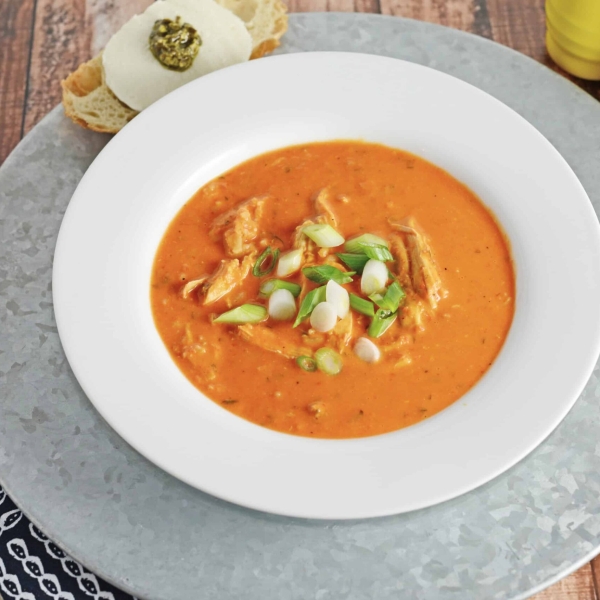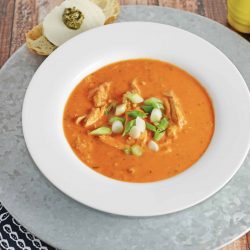 10-Minute Roasted Red Pepper and Hummus Soup
Gluten and dairy free soup made from pre-cooked items, only takes 10 minutes. Sub tofu for vegan version.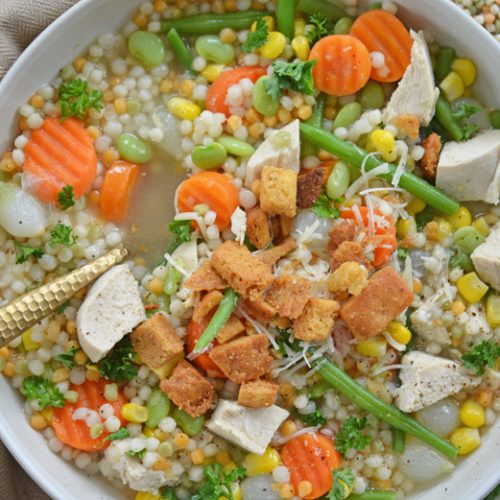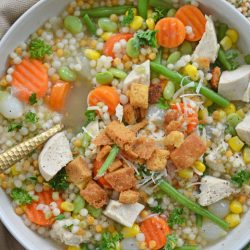 Turkey Noodle Soup
Turkey Noodle Soup is a warm and comforting classic filled with savory broth, tender turkey, lots of vegetables and a crunchy topping.
View this recipe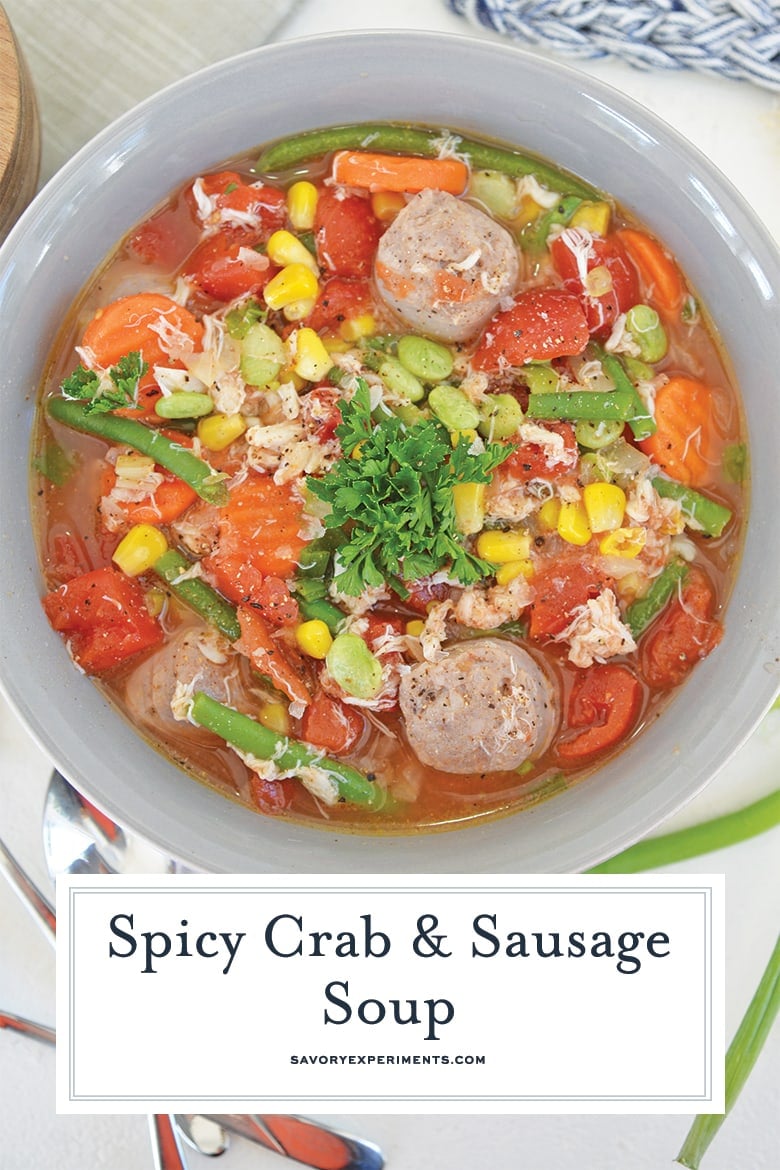 This spicy crab soup has become one of our favorites. We make it as a quick weeknight meal, but also for parties.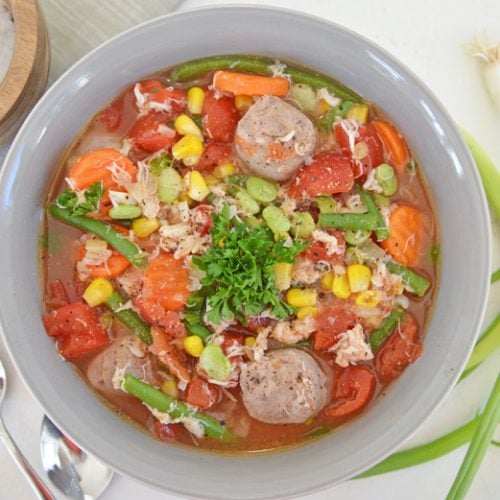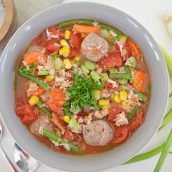 Spicy Crab and Sausage Soup
Spicy Crab and Sausage Soup is a quick, easy and flavorful appetizer or dinner recipes. Full of vegetables, sausage and crab, it is soul warming and super easy.
Instructions
In a Dutch oven or large enamel pot, heat extra virgin olive oil. Add chopped yellow onion and scallions, soften for 2-3 minutes.

Stir in canned diced tomatoes, liquid included, and chicken broth. Bring to a low simmer for 10 minutes.

Add seafood seasoning, black pepper, smoked paprika, garlic powder, cayenne and frozen vegetables. Cook until it comes back to a low simmer. Frozen veggies are like adding ice cubes. They will be hot when liquid resumes simmering, about 5 minutes.

Right before serving, add blue crab meat. Top with garnishes as desired.

If you've tried this recipe, come back and let us know how it was in the comments and ratings.
Notes
Recipe adapted from Maryland's Chesapeake: How the Bay and its Bounty Shaped a Cuisine
, 2016,Kathy Wielech Patterson and Neal Patterson.
* I used corn, lima beans, green beans and carrots. Okra, edamame, pearl onions and any other frozen vegetable is also welcome.
Nutrition
Calories:
464
kcal
,
Carbohydrates:
20
g
,
Protein:
35
g
,
Fat:
25
g
,
Saturated Fat:
9
g
,
Cholesterol:
93
mg
,
Sodium:
2259
mg
,
Potassium:
506
mg
,
Fiber:
5
g
,
Sugar:
5
g
,
Vitamin A:
835
IU
,
Vitamin C:
27.1
mg
,
Calcium:
59
mg
,
Iron:
4.1
mg