These Thanksgiving Turkey Burgers combine all of your Thanksgiving favorites and make them into one delectable sandwich. You'll never want a lettuce, tomato and onion burger again!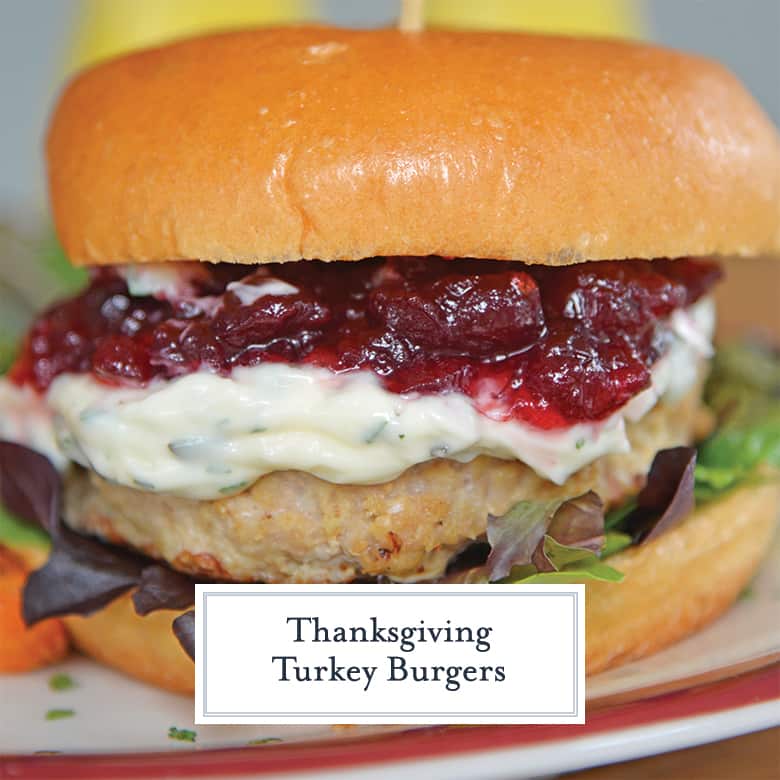 The BEST Turkey Burger!
What do you get when you combine cranberry sauce, turkey and a brioche roll? These amazing Thanksgiving Turkey Burgers!
From the stuffing to the cranberry sauce, and even the rolls, this burger has it all! And I don't just reserve it for fall holidays. Nope- these turkey burgers get made all year long.
Some folks do Christmas in July- we do Thanksgiving in June. Ha! AND you get to skip all the prep and cooking that goes along with a big family meal. Add this to our alternative Thanksgiving meal list, for sure.
You have to peel, cut, boil and mash the potatoes. Brine, roast and carve the turkey. Make dough, let it rise and then bake the rolls. That's a lot of work and time.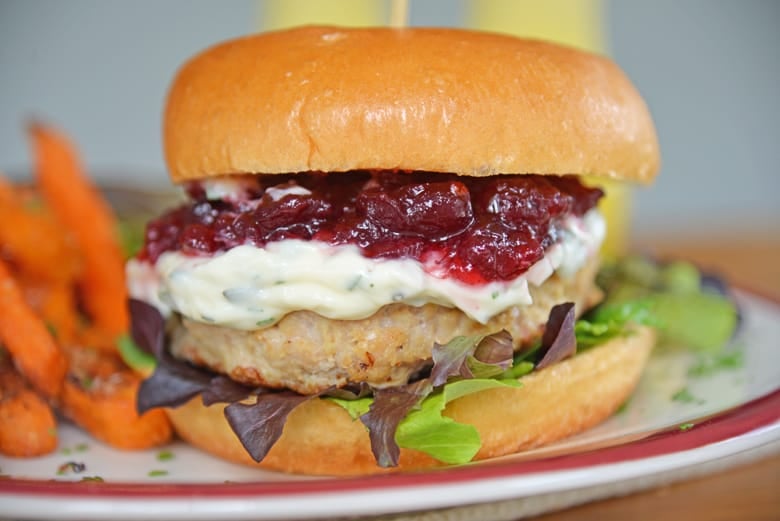 The Inspiration
These Thanksgiving Turkey Burgers are your saving grace! They have all of the best parts of a Thanksgiving meal wrapped up into a quick and easy sandwich.
The inspiration came while watching the show The Final Table on Netflix. One of the challenges when "visiting" the US was to create a non-traditional Thanksgiving meal.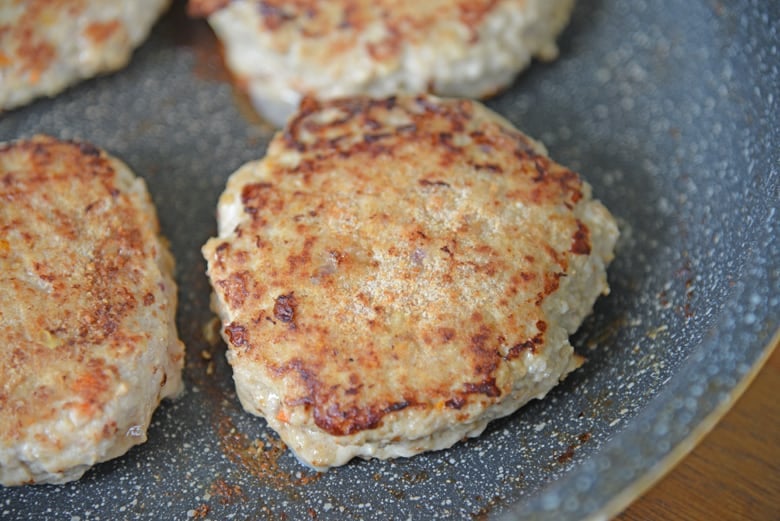 What better to combine than two iconic American dishes: the burger and Thanksgiving dinner.
Elements
For this turkey burger, the traditional stuffing comes in two places. First, blended into the homemade turkey burger patty with carrots and onion.
Instead of adding another semi-liquidy vegetable (even though they are sweat out), I opted for celery seed.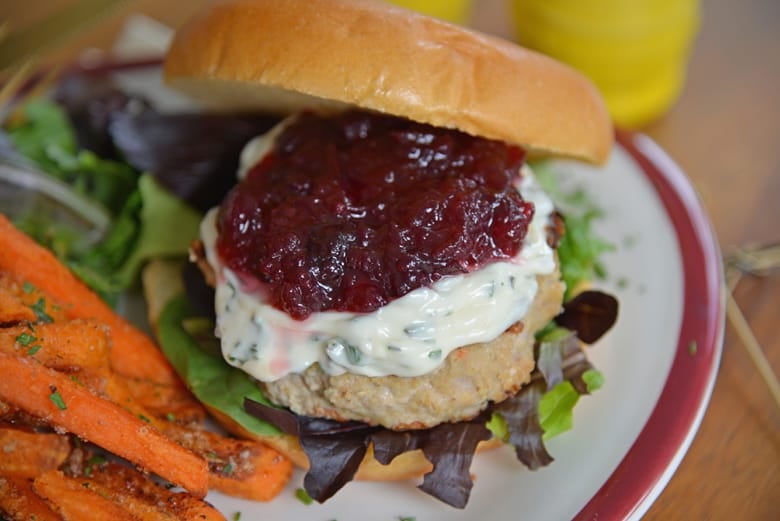 The trick to these Thanksgiving Turkey Burgers to make the pieces small enough that they will bind with lean ground turkey, which is already a tough element to form into patties due to it being so lean.
PRO TIP: Grate carrots and onion with a micrograter or give them a few spins in a mini food processor.
So you have to minced it up small, even grate it, and then sweat it out. Which is just a fancy word for cooking them so they lose water.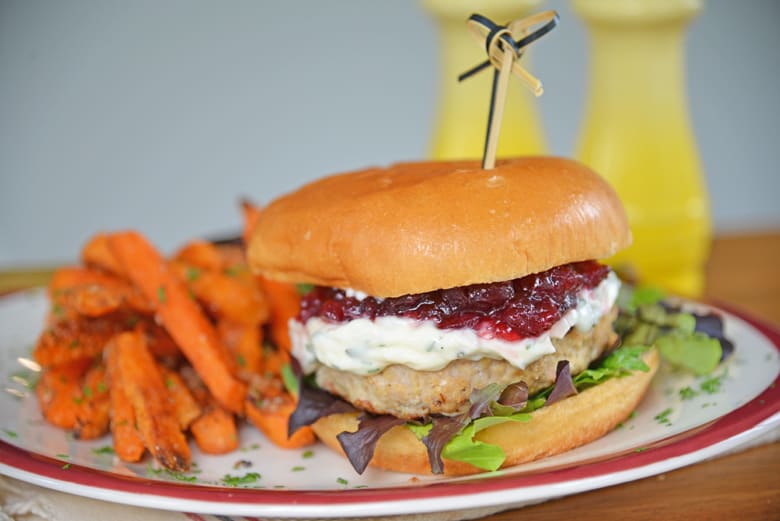 Next, the bread crumbs on the outside of the burger help to keep it's body, but also get a little crunchy, like the tops and edges of a good dressing casserole.
The fresh herbs that you'd typically find dressed on a bird or in the stuffing. I choose sage, rosemary and thyme. You can pick your own trifecta of herb deliciousness, if you choose.
Feeling Saucy
Then you add the sauce. It is basically a fresh herb aioli, but here we will call it herbed mayonnaise.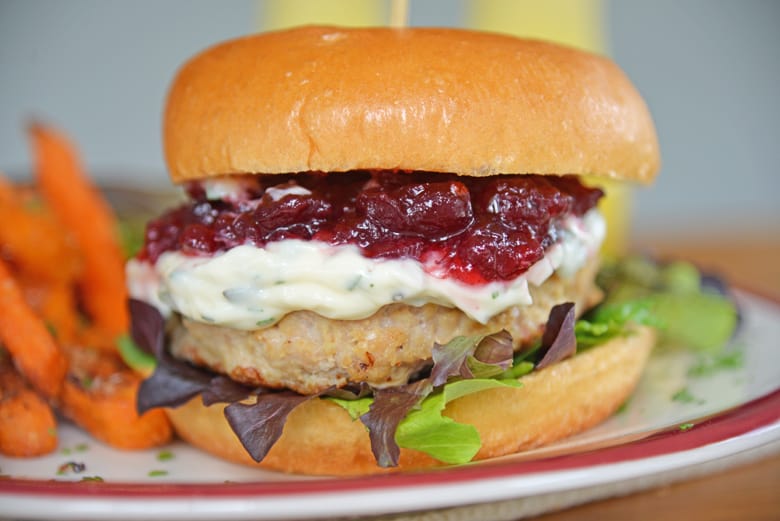 Next, the cranberry sauce, of course! Make it from scratch or buy it in a can, whichever you please.
There are two types of people in this world. Those that like a fresh, chunky cranberry sauce and those who enjoy a jellied sauce cut out of a can.
Lastly, the bread. I felt like a yeasty brioche was the best bet. Buttery and hearty, it makes for the perfect base and also mimics dressing.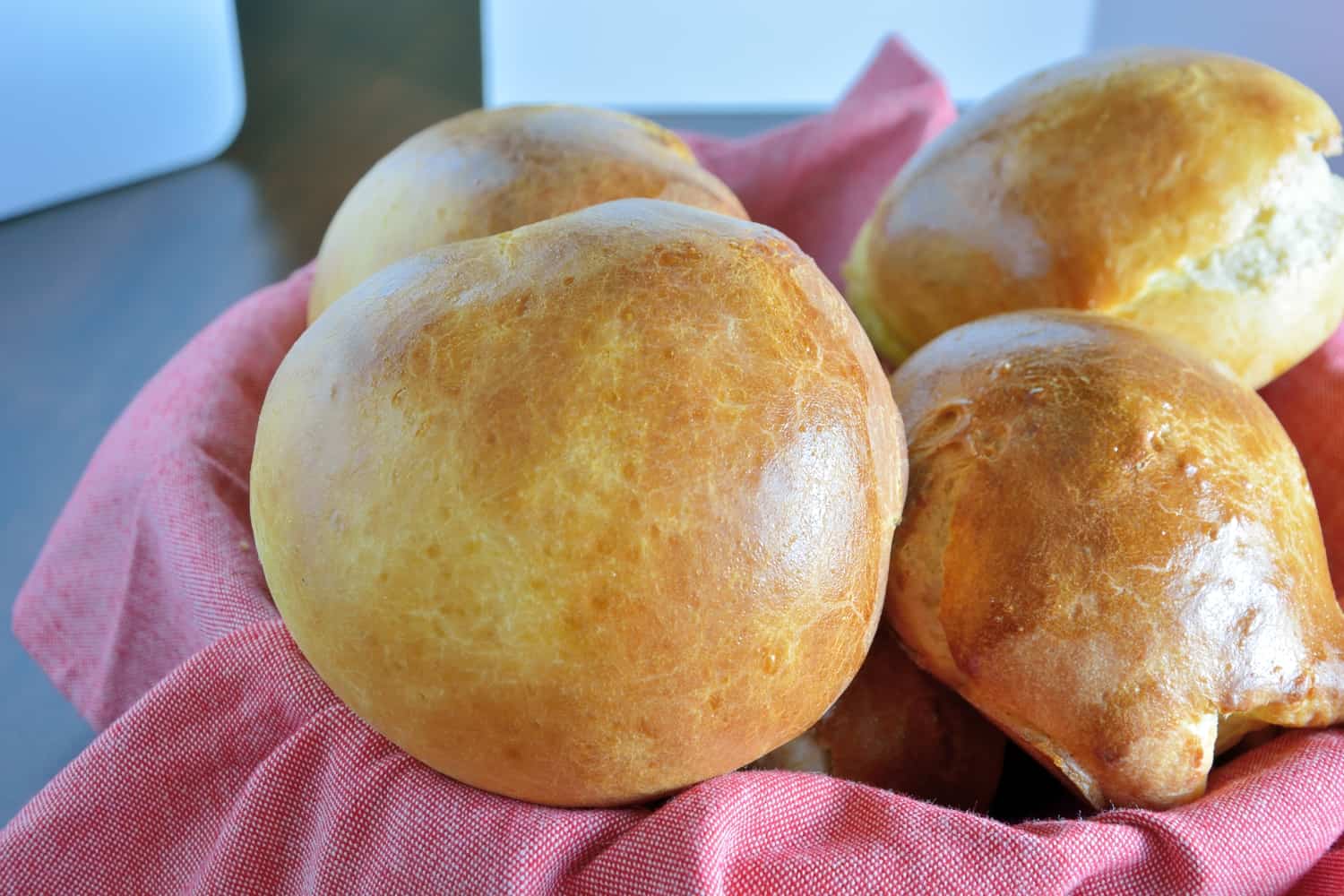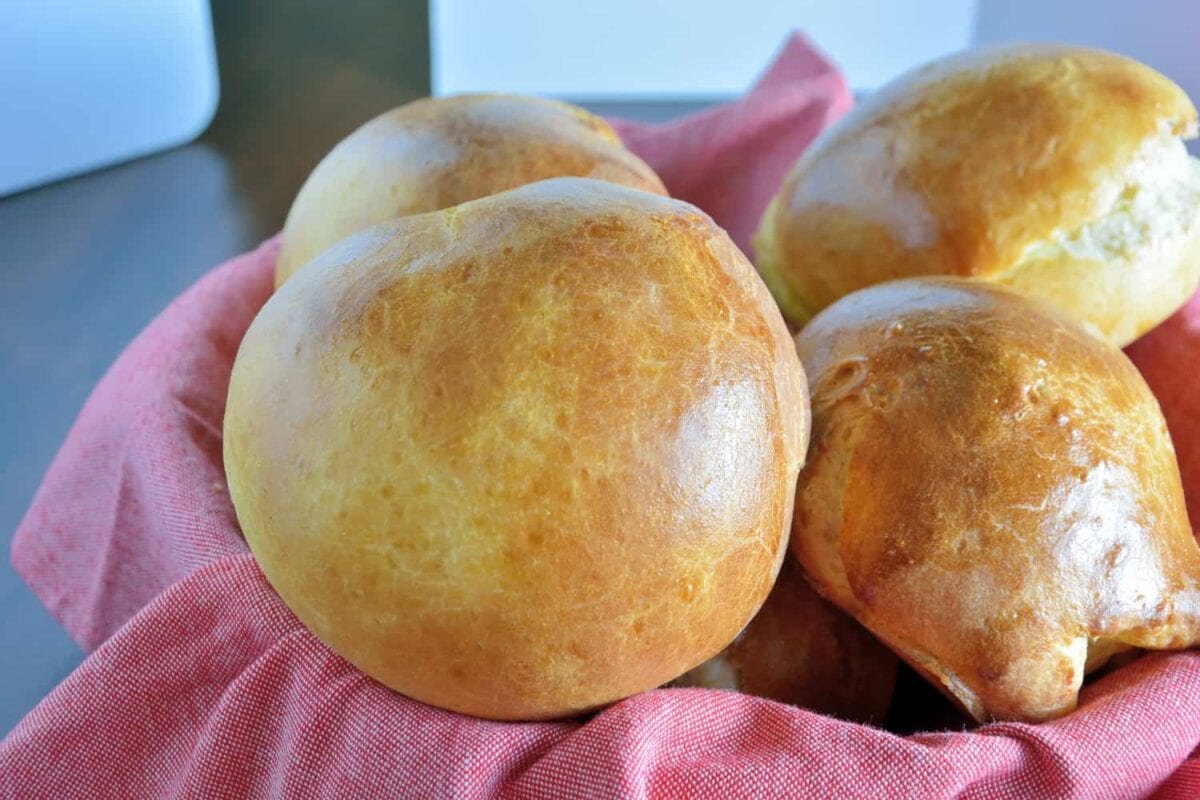 And there ya go- Thanksgiving dinner in one bite. Except the sweet potato casserole… For that, I made Brown Sugar Cinnamon Sweet Potato Fries. They really hit the spot!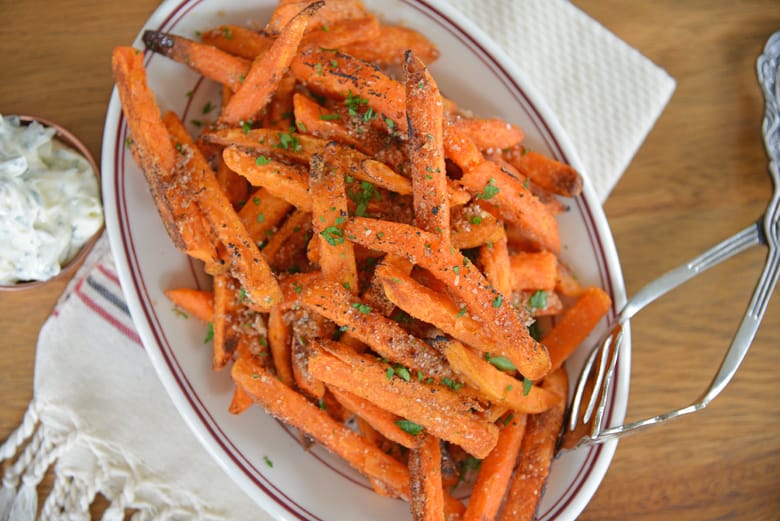 How to Make
To start making these juicy turkey burgers, you will want to add olive oil, grated onion and carrots to a skillet over medium high heat. Cook them until reduced in size, but keep their shape.
Then, in a large bowl, combine the ground turkey, carrots, celery seed, 1 tablespoon bread crumbs, garlic powder, pepper and egg. Be sure not to over mix! Form the mixture into four equal sized patties.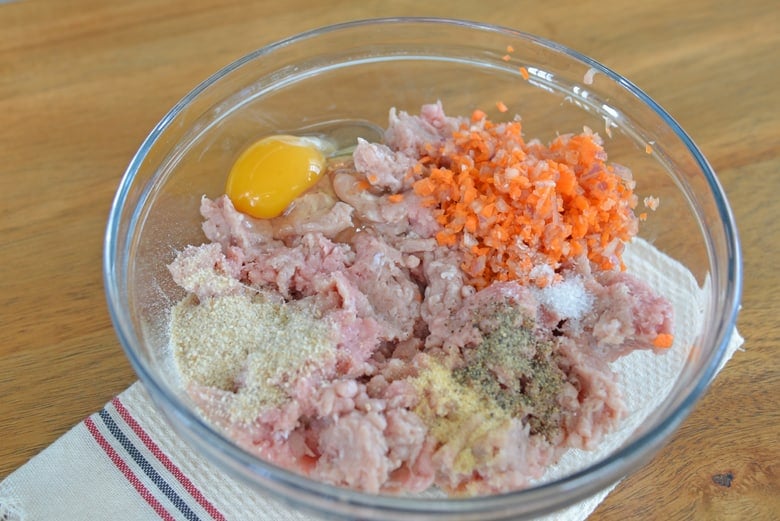 Pour the remaining bread crumbs on a plate, and cover each side of the patties with them. Cook the burgers on a skillet until internal temperature reaches 165 degrees.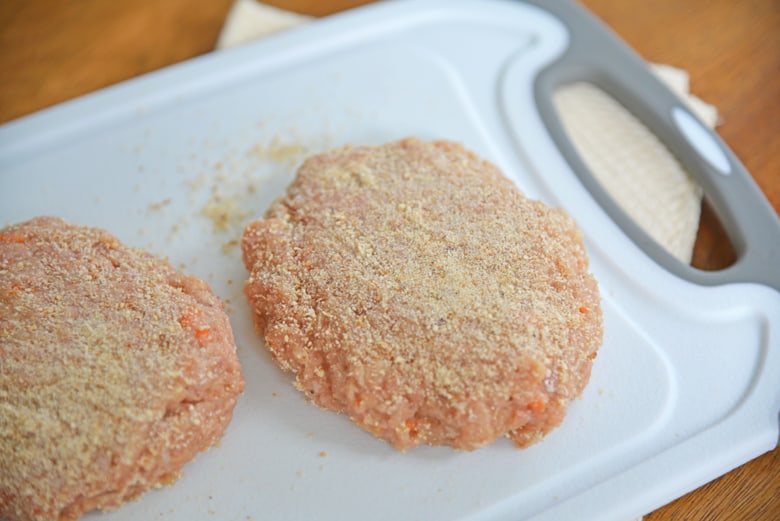 Then onto the herbed mayonnaise. It'a a simple blend of mayonnaise, sage, thyme, rosemary, salt and pepper. Combine all of those ingredients together in a small bowl. An herb aioli, really.
To assemble delicious Thanksgiving Turkey Burgers, simply put a layer of leafy greens on the bottom bun, top with a patty, slather on some mayo, and then the cranberry sauce.
Add the top bun, and you're done! Who knows, maybe you'll skip the whole Thanksgiving spread and just whip up a batch of these delicious turkey burgers!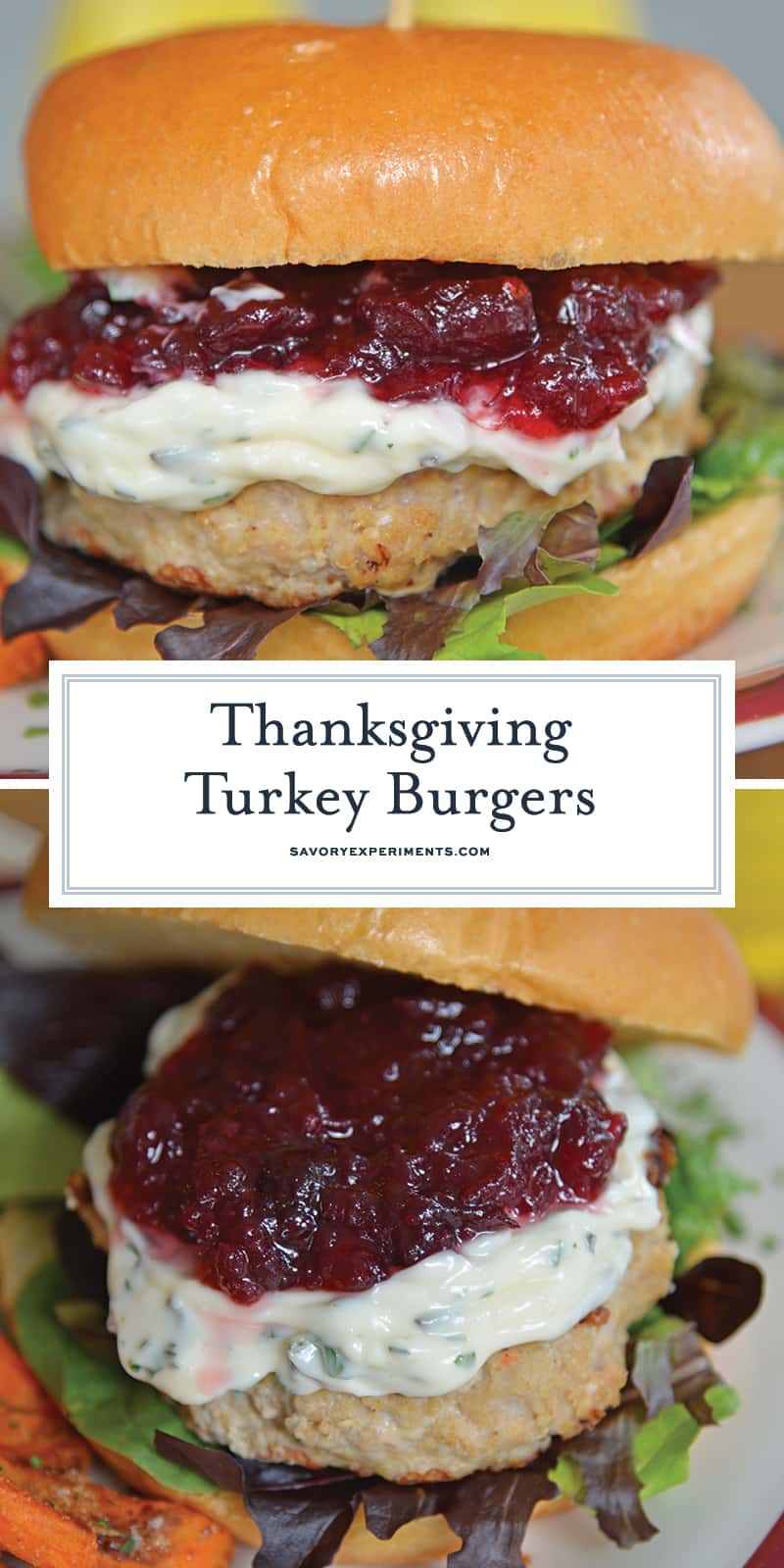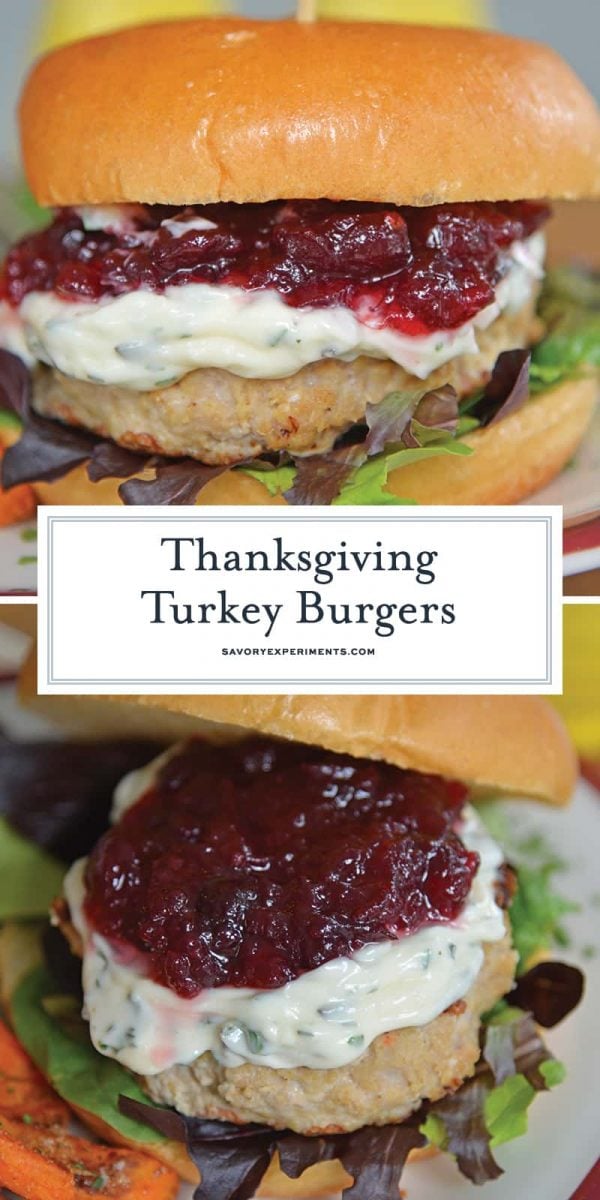 More Thanksgiving inspired dishes: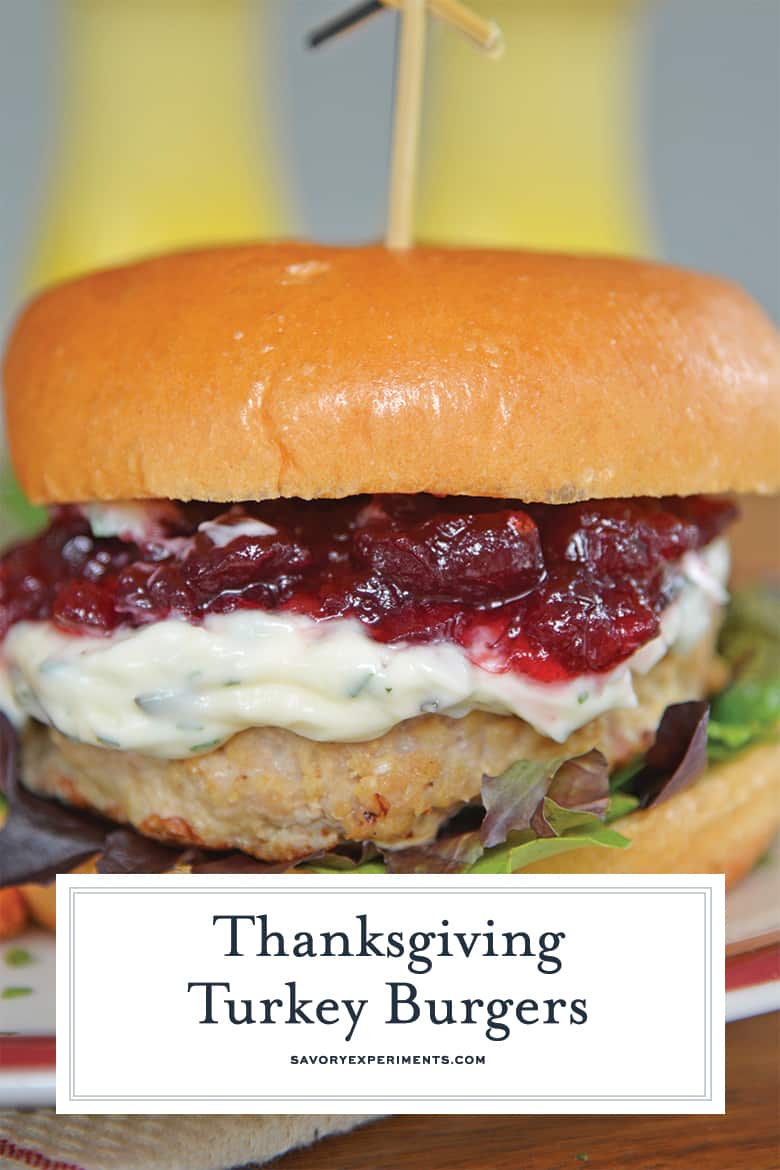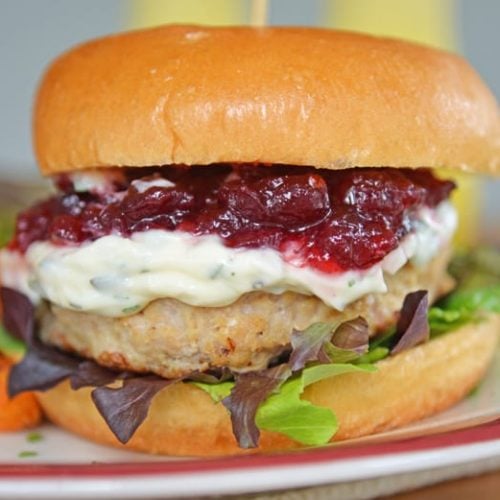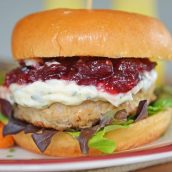 Thanksgiving Turkey Burgers
What do you get when you combine cranberry sauce, turkey and a brioche roll? These amazing Thanksgiving Turkey Burgers! So juicy and delicious!
Ingredients
Assemble:
½

cup

Cranberry Sauce

1

cup

leafy greens
Instructions
In a small skillet, heat 1 tablespoon olive oil with carrots and onion over medium heat. Cook until reduced in size and opaque.

In a large mixing bowl, combine ground turkey with grated carrots, onion, celery seed, 1 tablespoon seasoned bread crumbs, garlic powder, black pepper and lightly beaten egg. Incorporate ingredients, but do not over mix.

Form into 4 equal size burger patties.

Place remaining bread crumbs onto a plate or other shallow dish. Dredge each patty to cover it in bread crumbs.

Heat tablespoon olive oil over medium high heat in a skillet.

Working in batches, cook 2 of the turkey burgers, about 4 on each side, or until internal temperature reaches 165 degrees.

Cook next batch with last 1 tablespoon olive oil. You can do them together as long as you have a large enough skillet.

In a small bowl, combine all ingredients for herbed mayonnaise. This includes mayo, sage, thyme, rosemary and fine sea salt.

On each roll, place a small amount of leafy greens, followed by a cooked turkey burger patty, then herbed mayo and cranberry sauce.

If you've tried this recipe, come back and let us know how it was!
Nutrition
Calories:
629
kcal
,
Carbohydrates:
45
g
,
Protein:
35
g
,
Fat:
35
g
,
Saturated Fat:
6
g
,
Cholesterol:
115
mg
,
Sodium:
840
mg
,
Potassium:
472
mg
,
Fiber:
3
g
,
Sugar:
16
g
,
Vitamin A:
937
IU
,
Vitamin C:
5
mg
,
Calcium:
117
mg
,
Iron:
4
mg