I love having hamburger variations to choose from! I mean who doesn't love a good burger loaded with toppings?! This burger recipes is loaded with red wine shiitake mushrooms, caramelized onions, and swiss cheese.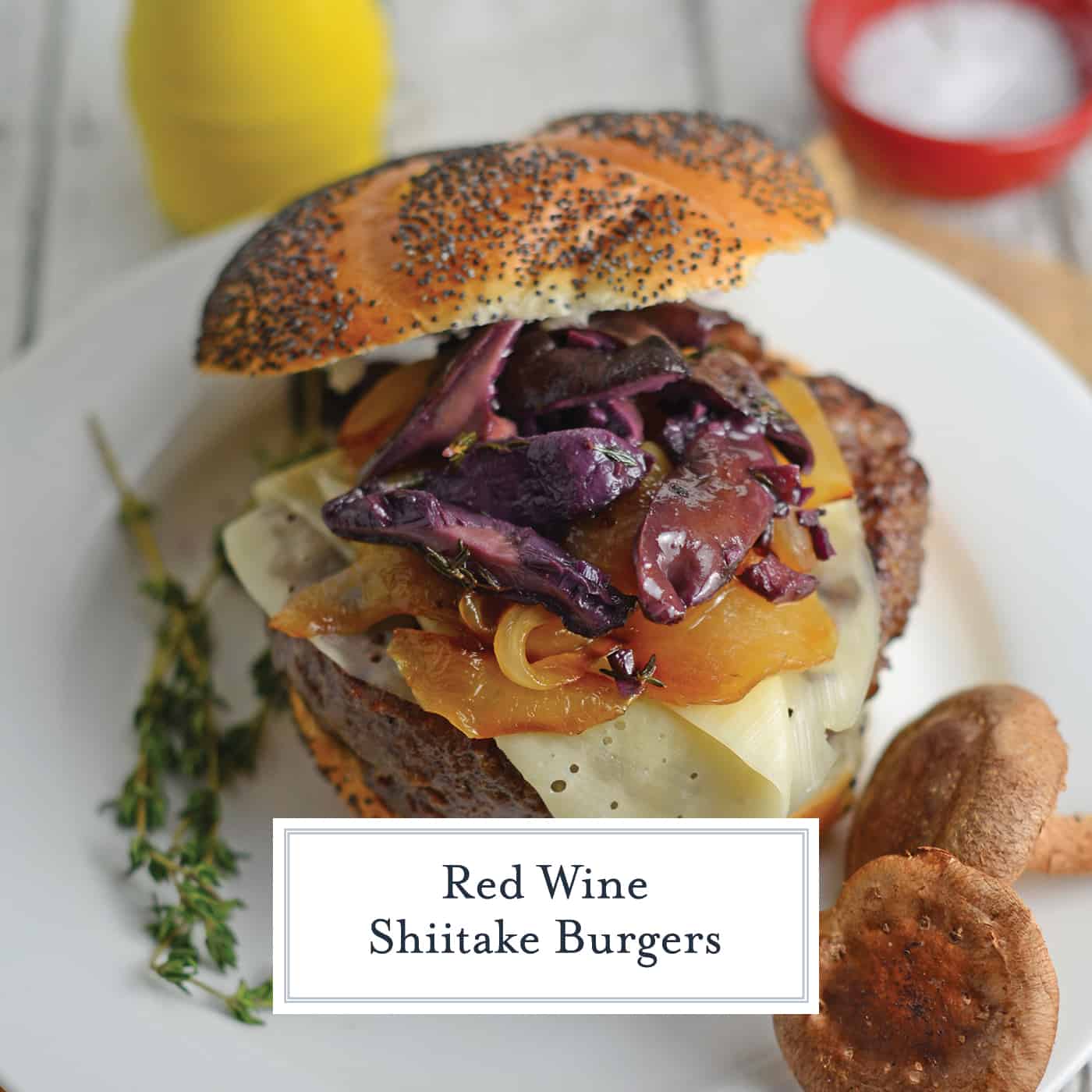 This Red Wine Shiitake Hamburger takes your typical burger recipes and turns it into so much more. With the combination of earthy and sweet, the toppings make this into the perfect artisan hamburger to enjoy at home!
The highlight of this monstrosity is the deep purple shiitake mushrooms, hence the name: Red Wine Shiitake Hamburgers. Shiitake mushrooms have a naturally hearty, rich and earthy flavor with a spongy texture.
Adding a robust red wine enhances the natural flavors while adding its own bite. Coupled with sweet caramelized onions and gooey Swiss cheese this burger is a knockout!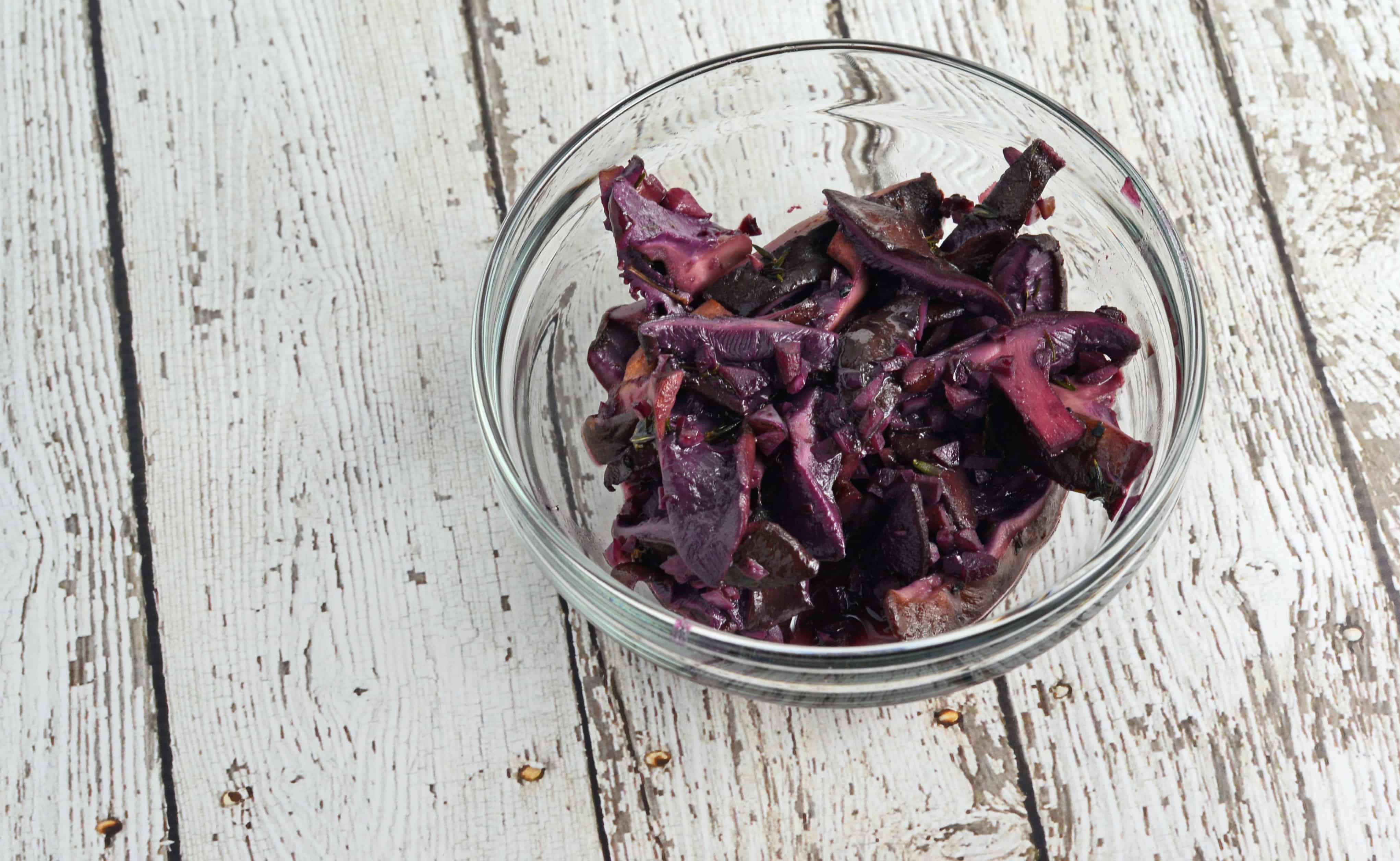 Here is my Red Wine Shiitake Hamburger pictured with a steak knife to hold in all of the stuffers, but in the words of my nephew it needs to be "tightened up" AKA smashed down, in order to eat it. Even after "tightening it up," it is a challenge to fit all the pieces in each bite. The struggle will be well worth it.
To make your life a little easier, make sure to read my 10 Tips for Better Burgers and also get a burger patty press
, to make sure you have uniform patties all the way around!
I decided to use a plain hamburger patty due to the complex flavors of the toppers. You can also substitute turkey for a healthier version.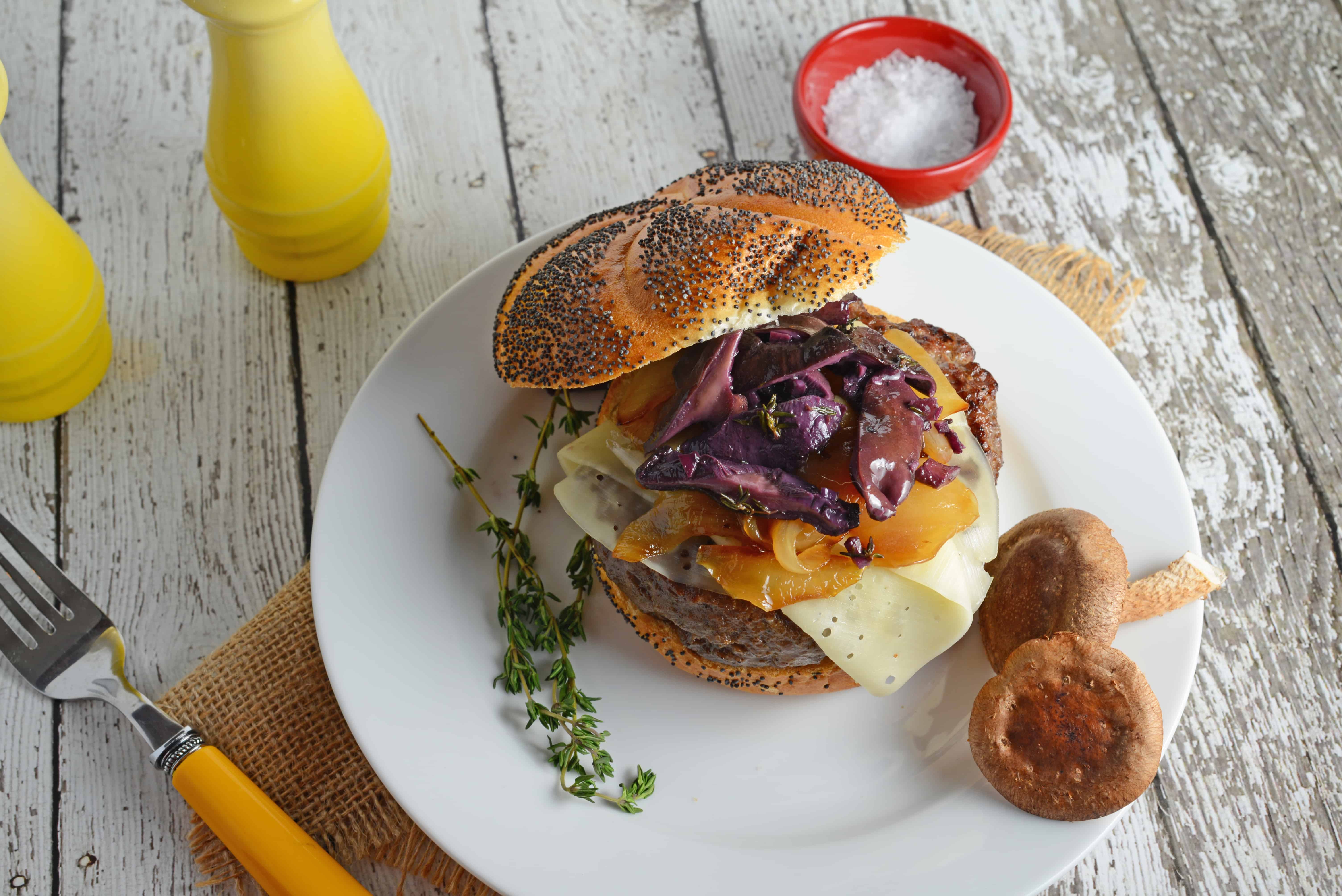 If you like recipes with hamburger meat, be sure to check out these other easy burger recipes: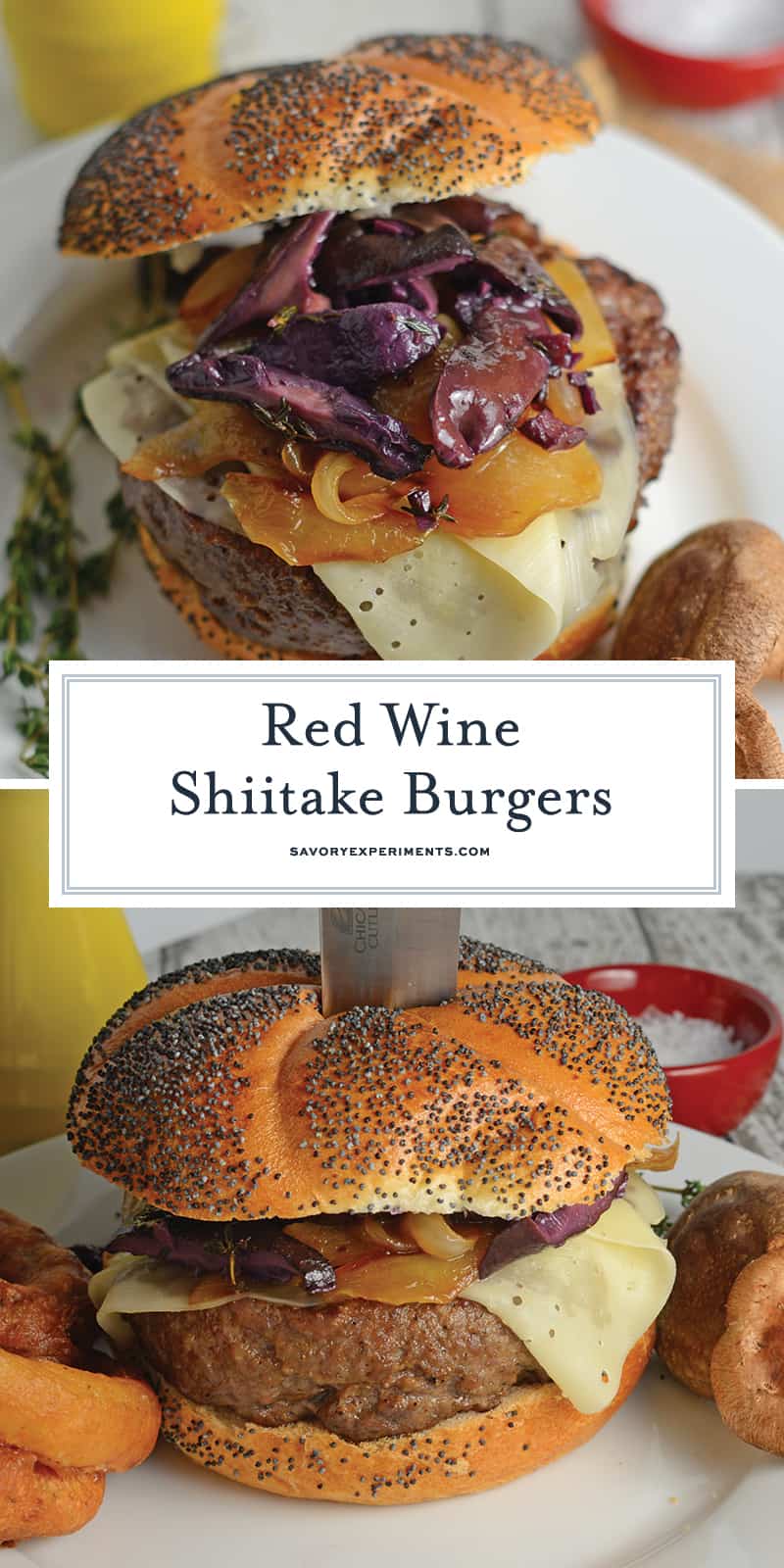 If you are looking for even more great beef recipes, snag a copy of my Easy Beef Recipes Mini-Cookbook. Available here for only $0.99, here is a small collection of delicious and easy beef recipes that will soon become your new family favorites, from Instant Pot recipes to quick one-dish casseroles!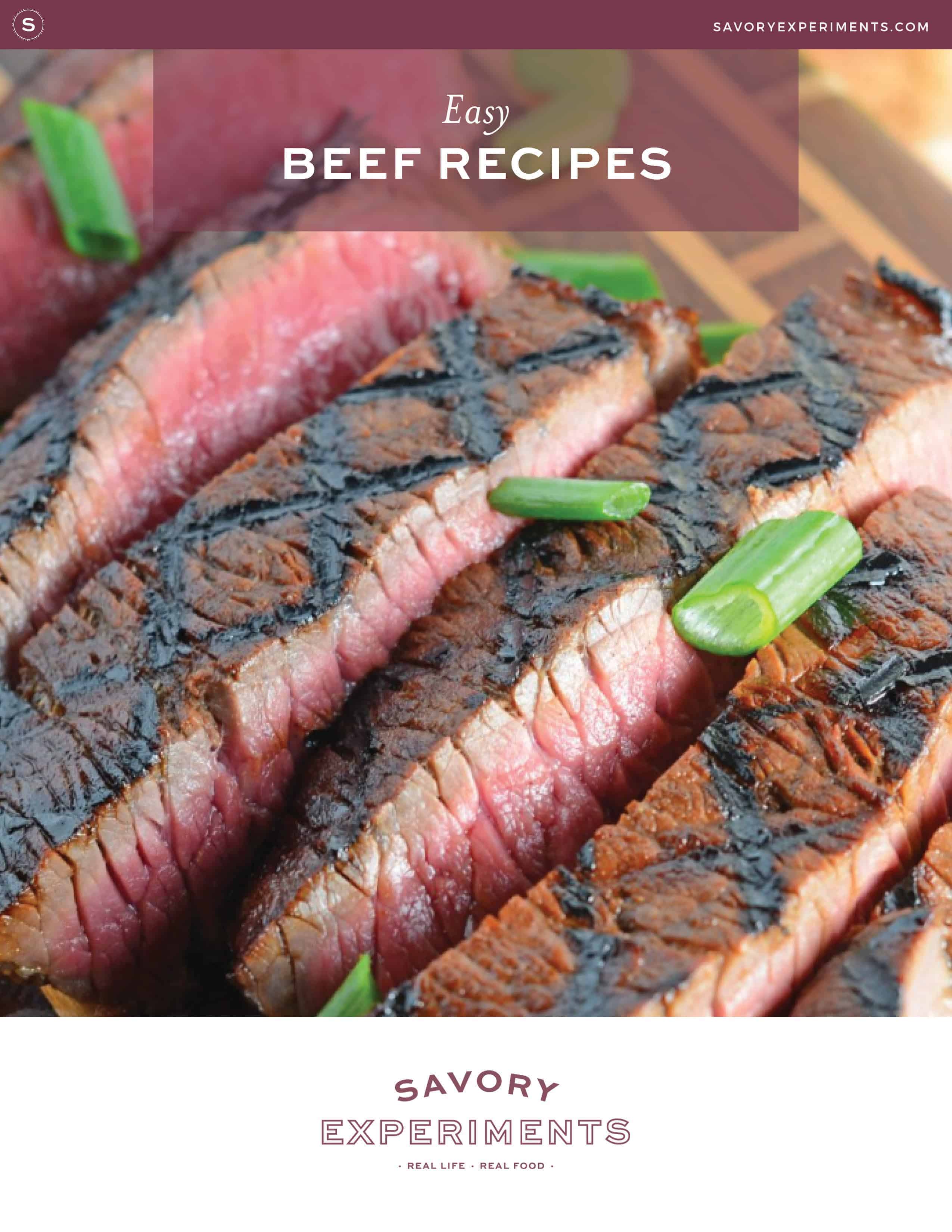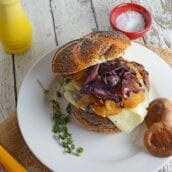 Print Recipe
Red Wine Shiitake Burgers
Red Wine Shiitake Burger- earthy and sweet, these toppings make the perfect artisan hamburger at home!
Ingredients
2

pounds

20/80 ground beef

1

cup

red wine wine

1

tablespoon

butter

1/2

cup

beef broth

1/2

teaspoon

fresh thyme

minced

4

ounces

Shiitake mushrooms

sliced

4

Kaiser rolls

4

slices

Swiss cheese

1/2

cup

caramelized onions
Instructions
Open bottle of red wine, measure 1 cup, set aside. Start drinking what remains in the bottle. (All said with sarcasm... or is it?)

Divide ground beef into 4 equal parts and form hamburger patties, make sure to read my "tips for a better burger). Stack into a tower (separated by wax paper) or put on a plate in a single layer and put into the freezer. Freezing will congeal the beef together and give you less probability of patty breakage (sounds official, huh?).

In a medium skillet, melt 1 tablespoon butter. Add sliced shiitake mushrooms, burgundy wine, beef broth and thyme. Coat mushrooms well in sauce and simmer until all liquids are absorbed or evaporated. Remove from heat and set aside. If at any point mushrooms get too dry, add a small amount of wine and put on a stove burner over low heat to re-moisten.

Remove hamburger patties from the freezer and season with salt and pepper. Do not over season with salt. It can dry up the natural juices resulting in dry patties.

Heat the grill to medium-high heat. Grill the burgers for 2 minutes on each side, then move them to a lower-heat area of the grill. Cook another 2-3 minutes for medium-rare burgers, 3-4 minutes for medium, or 5-6 minutes for well-done burgers. Remove and allow to rest for 3-4 minutes before assembling.

Toast Kaiser rolls in the over or toaster if desired.

Assemble your gigantic burger! Take one patty, one slice of Swiss cheese, a scoop of caramelized onions and a scoop of shiitake mushrooms to each burger.

If you've tried this recipe at home, please come back and let us know how it was!
Nutrition
Calories:
901
kcal
|
Carbohydrates:
29
g
|
Protein:
52
g
|
Fat:
57
g
|
Saturated Fat:
24
g
|
Cholesterol:
194
mg
|
Sodium:
563
mg
|
Potassium:
910
mg
|
Fiber:
2
g
|
Sugar:
5
g
|
Vitamin A:
320
IU
|
Vitamin C:
3.1
mg
|
Calcium:
348
mg
|
Iron:
6.4
mg