Sometimes I crave a Sweet Potato Casserole, but let's face it. I'm lazy and I am certianly not making one for no good reason.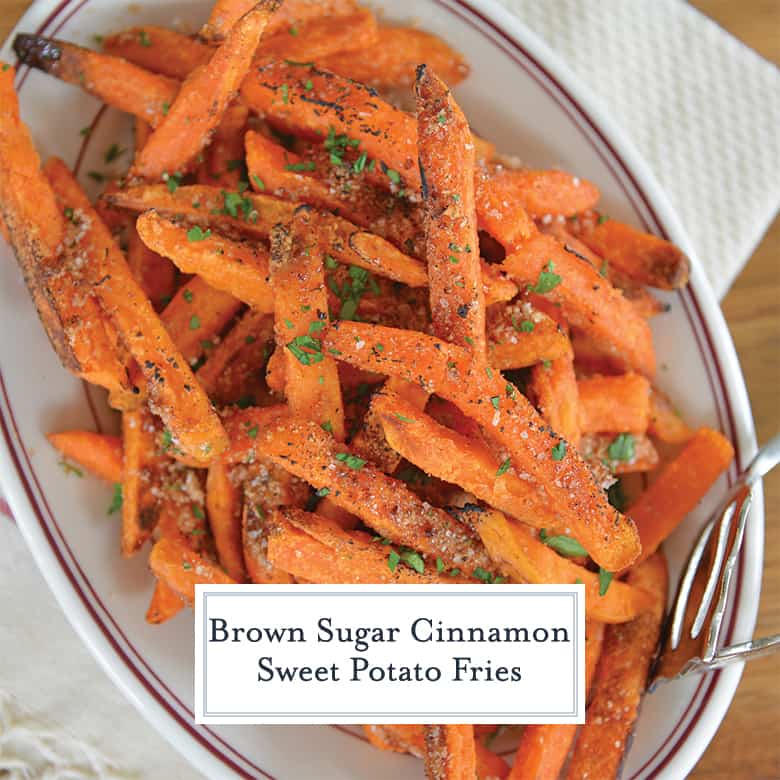 These Brown Sugar Cinnamon Sweet Potato Fries are the ultimate fall side dish! Perfect for serving with a burger, or as a delicious snack!
With only 4 ingredients, you are well on your way to making these delicious Brown Sugar Cinnamon Sweet Potato Fries. One of my favorite fall side dishes.
Fall spices like cinnamon and nutmeg make this dish fragrant and tasty. Just like Thanksgiving. Which is why they pair so well with my Thanksgiving Turkey Burgers!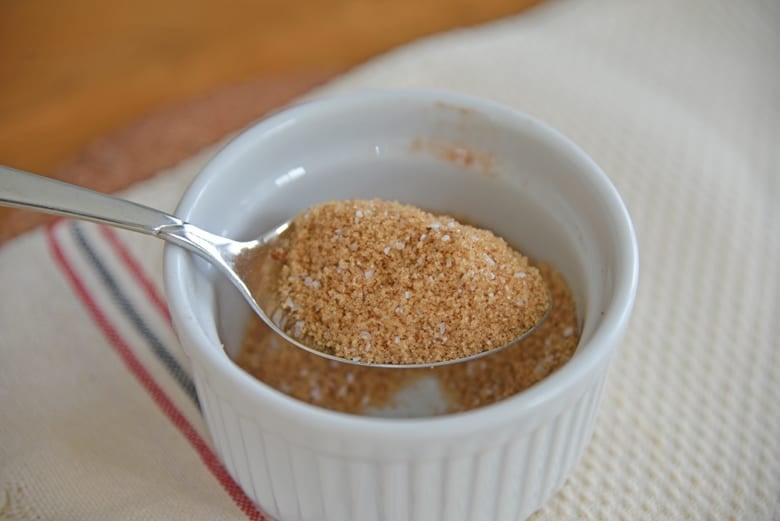 Although I do make them year round and with all sorts of dishes.
One of the things I like about these fries is how easy they are to make. No frying required and only 4 ingredients are needed. Easy peasy!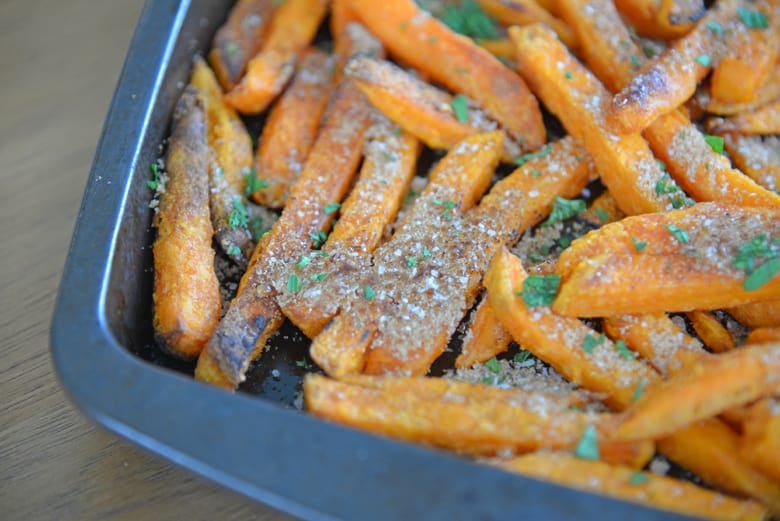 Truth be told, most of the time I use frozen sweet potato fries. Because of the starch and water levels, sweet potatoes actually don't make the best fries like Russets.
In fact, most people either deep fat fry them or toss them in a starchy coating, like corn starch, to and prevent them getting soggy. But if you just buy the frozen ones, all this difficult stuff is taken care of.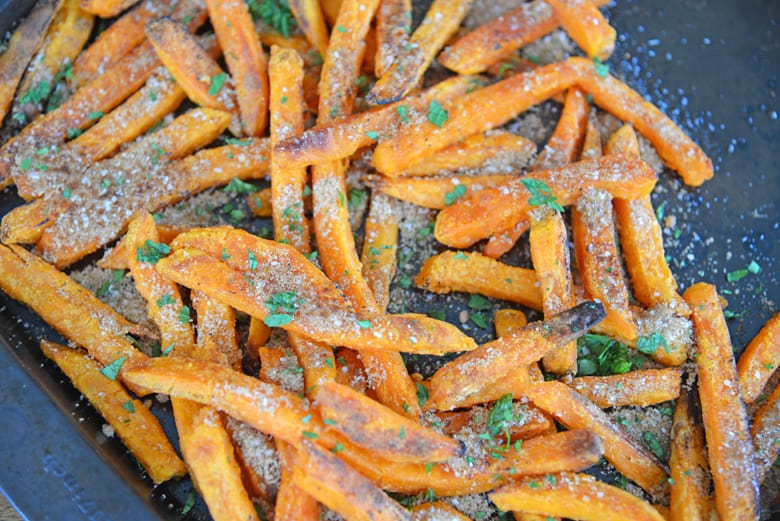 However, if you do want to make your own, start by peeling the sweet potatoes. Skins can be leathery, so we suggest taking them off.
Next, cut the sweet potatoes into 1/2 inch slices. You don't want them to be too thick or they will take too long to bake all the way through and the outside will be soggy.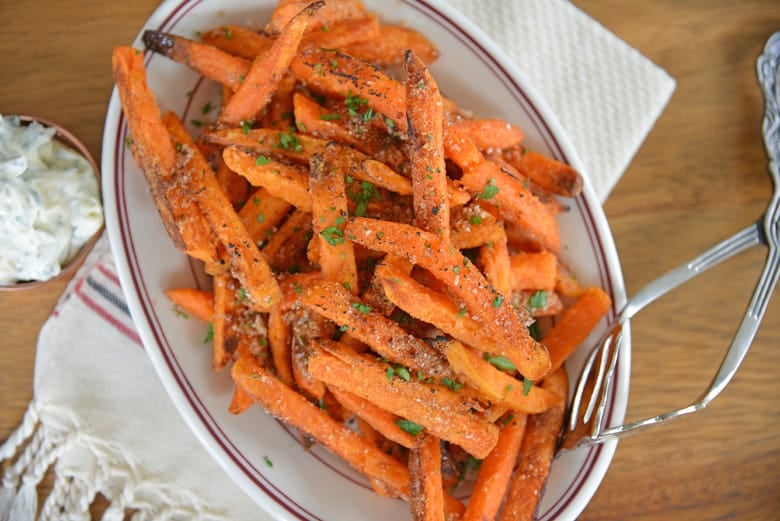 Set the potatoes aside and line a baking sheet with aluminum foil or parchment paper. This makes sure the potatoes don't stick to the pan while baking.
Next, in a large bowl toss the potato wedges with about two tablespoons of olive oil, making sure that every potato wedge is evenly coated with oil.
Spread the potatoes in a single layer into the prepared baking sheet. Make sure none of them overlap to ensure even baking!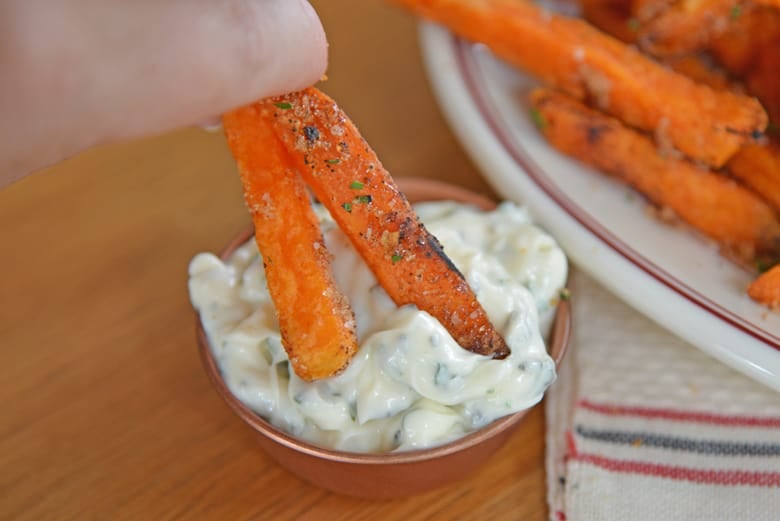 Bake the potatoes at 350 degrees for 20 – 30 minutes. Halfway through baking, flip the fries. You will know when they are done when a fork can easily pierce one of the slices.
Baking will never get you the same crunch as frying, so don't be disappointed when you don't get that.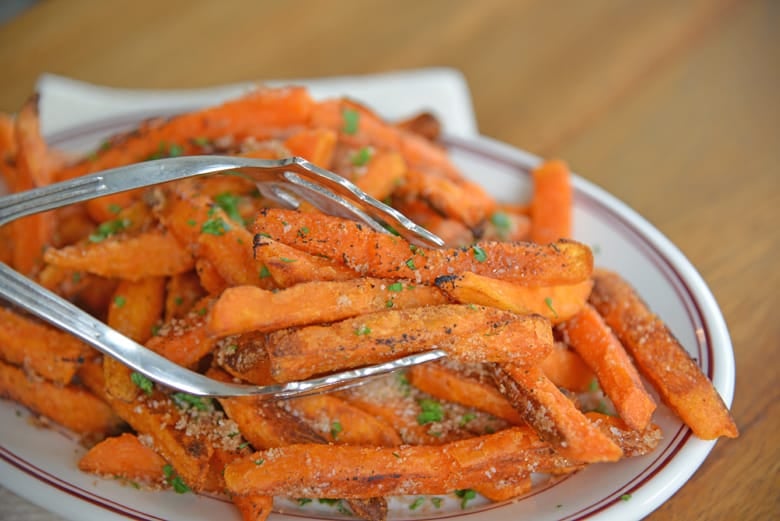 While the potatoes are baking (whether they are frozen or fresh), mix together the brown sugar, cinnamon and salt in a small bowl. Set aside for later.
PRO TIP: You must toss the fries while they are still hot so the residual heat caramelizes the brown sugar.
As soon as the potatoes are finished baking, add them to a large bowl. Sprinkle the hot fries with half of the brown sugar and cinnamon mixture, and then toss them to evenly coat.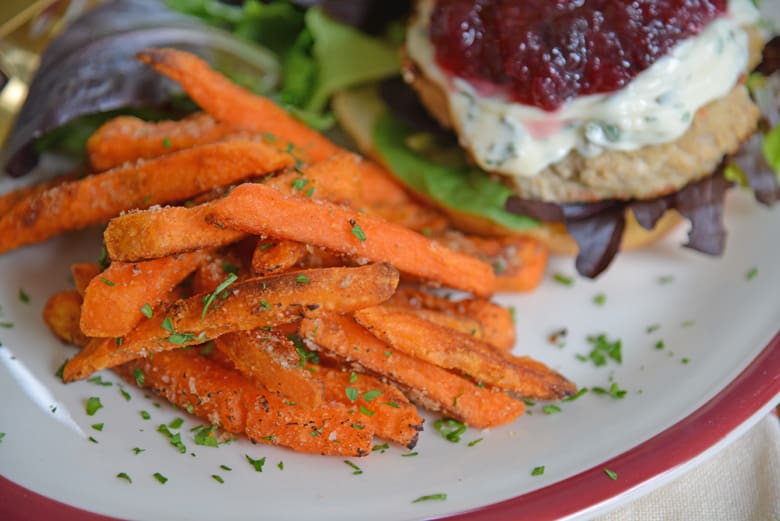 After tossing, sprinkle with the remaining seasoning mixture and toss again. Serve these babies hot, and everyone will enjoy!
Questions you may have about sweet potato fries:
What can you dip sweet potato fries in? Although they taste plenty delicious on their own, you can dip them in SO many different things!
If you're looking for something on the sweeter side, try dipping them in a little melted Cinnamon Honey Texas Roadhouse Butter!
If you are looking for something more savory, try one of my aioli recipes: Herb Lemon Aioli, Quick Garlic Aioli, or even this Easy Chipotle Aioli!
What to eat sweet potato fries with? Sweet potato fries go with almost anything, but I love serving them alongside a juicy burger the best. Grilled Chicken is also a favorite.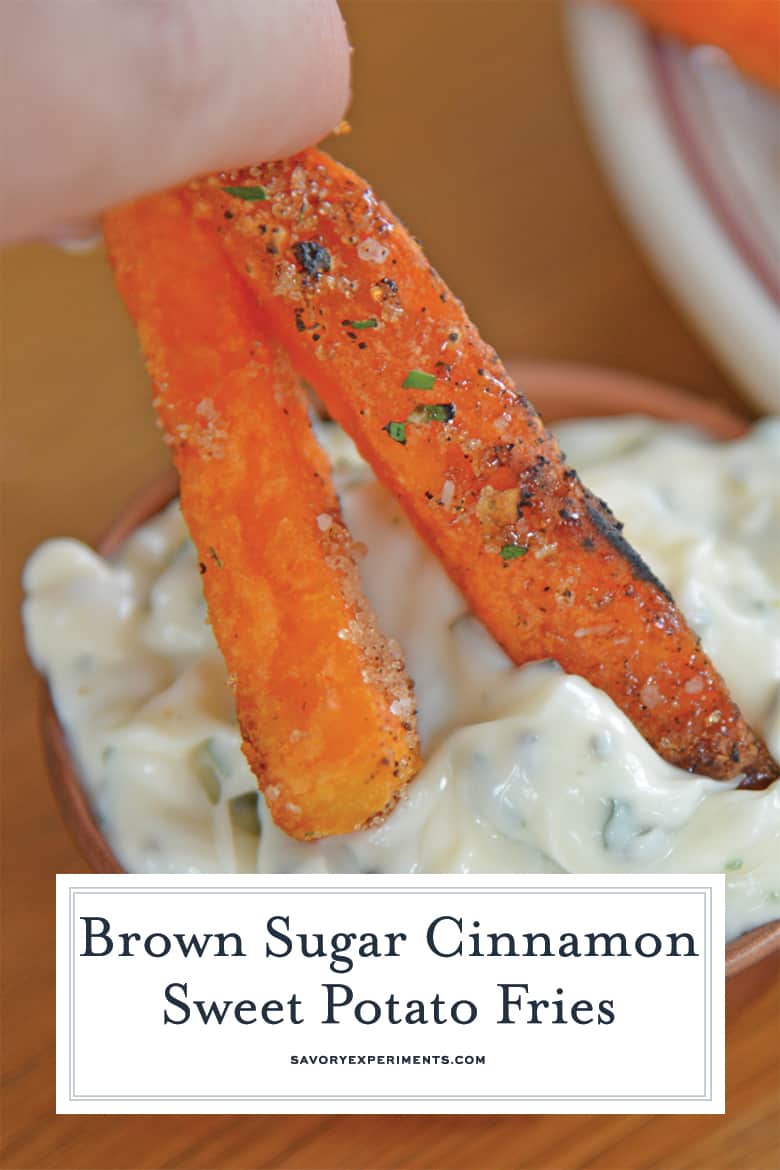 What to season sweet potato fries with? These particular fries are seasoned with a simple blend of brown sugar, cinnamon and salt. I feel that those flavors enhance the natural flavors of the sweet potatoes.
However, garlic powder and chili powder would be another great combo to try. More on the savory/spicy side, but equally delicious! Nutmeg and cinnamon also do the trick.
Are sweet potato fries healthy? As long as you bake the fries (and don't fry them) they can actually be fairly healthy, but these days everyone's definition of healthy is different.
They are high in fiber and Vitamin A, and low on calories. Definitely a much better option than regular fries. Also try our baked zucchini fries for a healthier option.
Are sweet potato fries gluten free? Yes, they are! As long as you aren't coating in flour before frying or baking, they will be gluten free.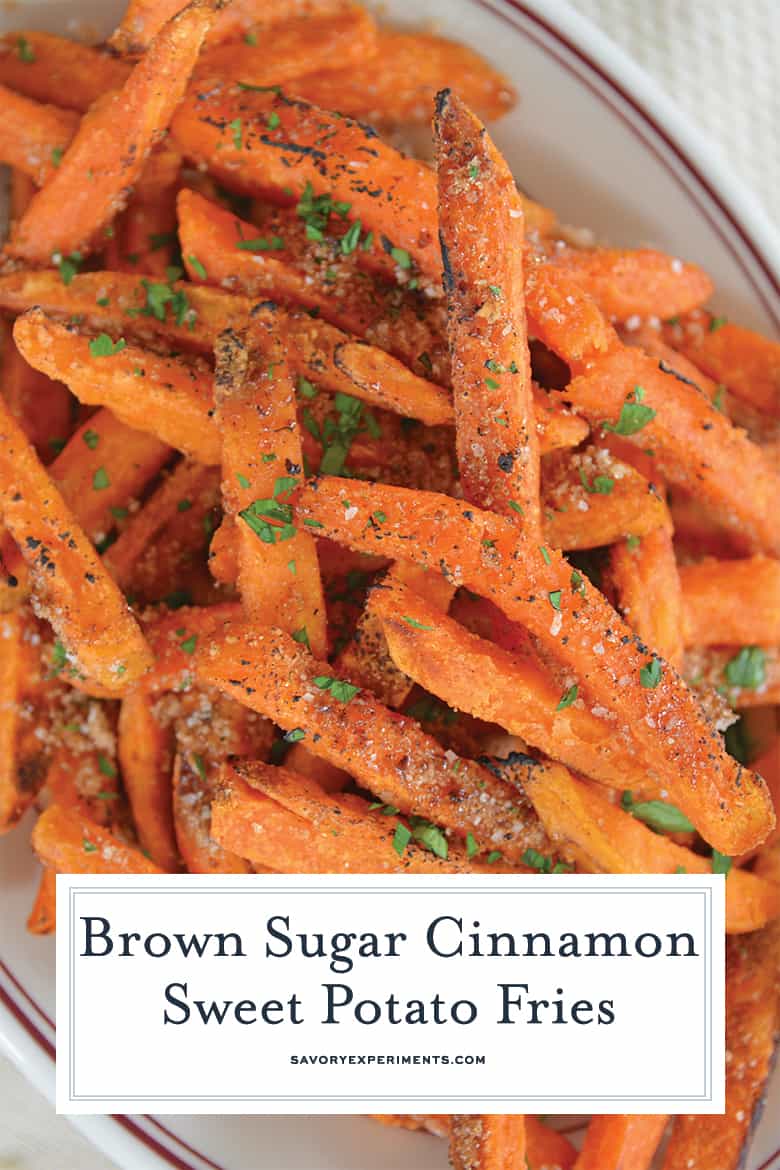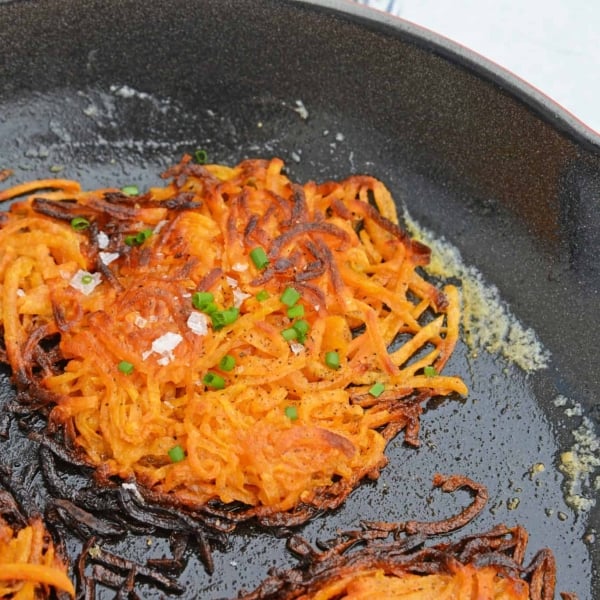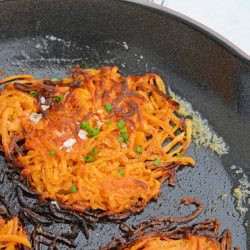 Sweet Potato Hash Browns
Sweet Potato Hash Browns are a simple breakfast recipe made with shredded sweet potatoes. Only 3 ingredients and a few minutes to cook!
View this recipe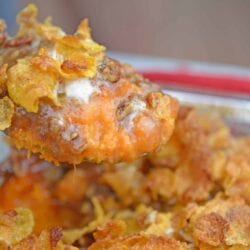 Sweet Potato Casserole
Sweet Potato Casserole with Pecans is the ultimate sweet potato souffle recipe using fresh sweet potatoes, pecan topping and marshmallows.

View this recipe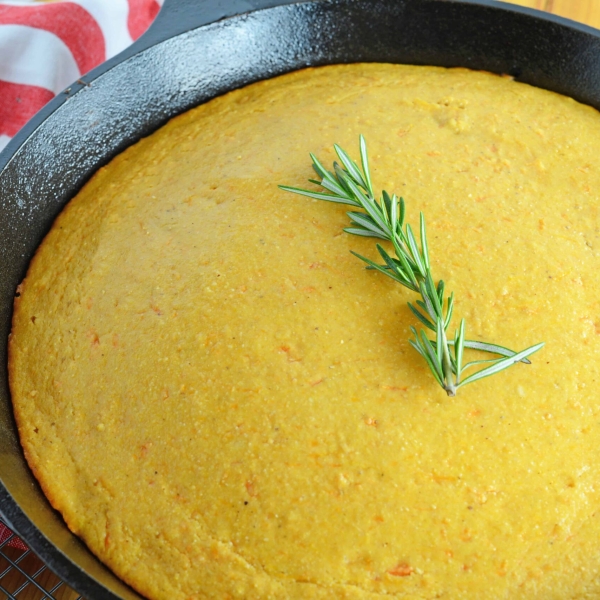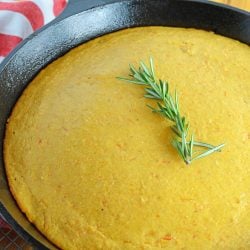 Sweet Potato Cornbread
Sweet Potato Cornbread is a sweet combination of two of my favorite fall foods: sweet potatoes and cornbread.
View this recipe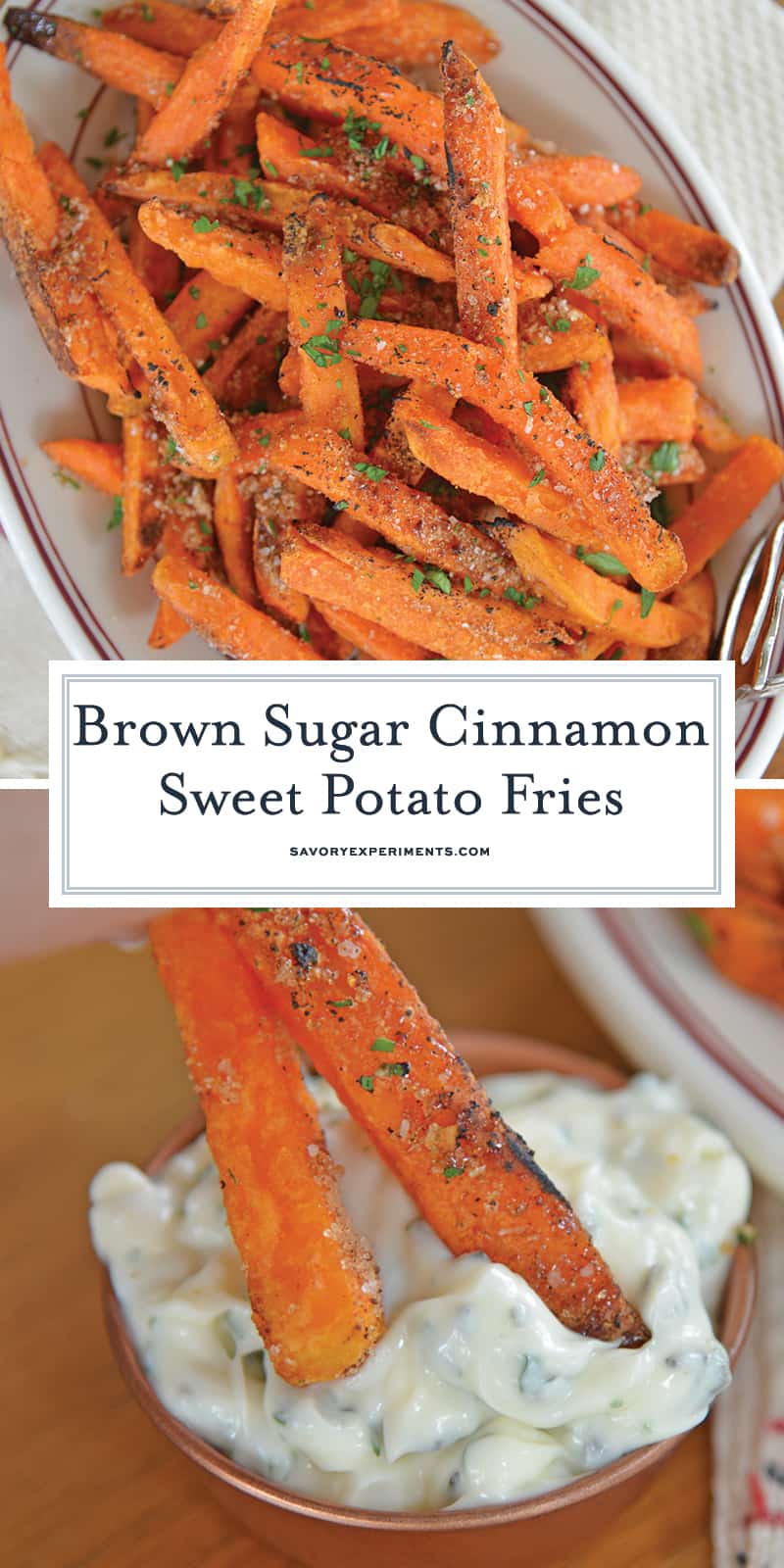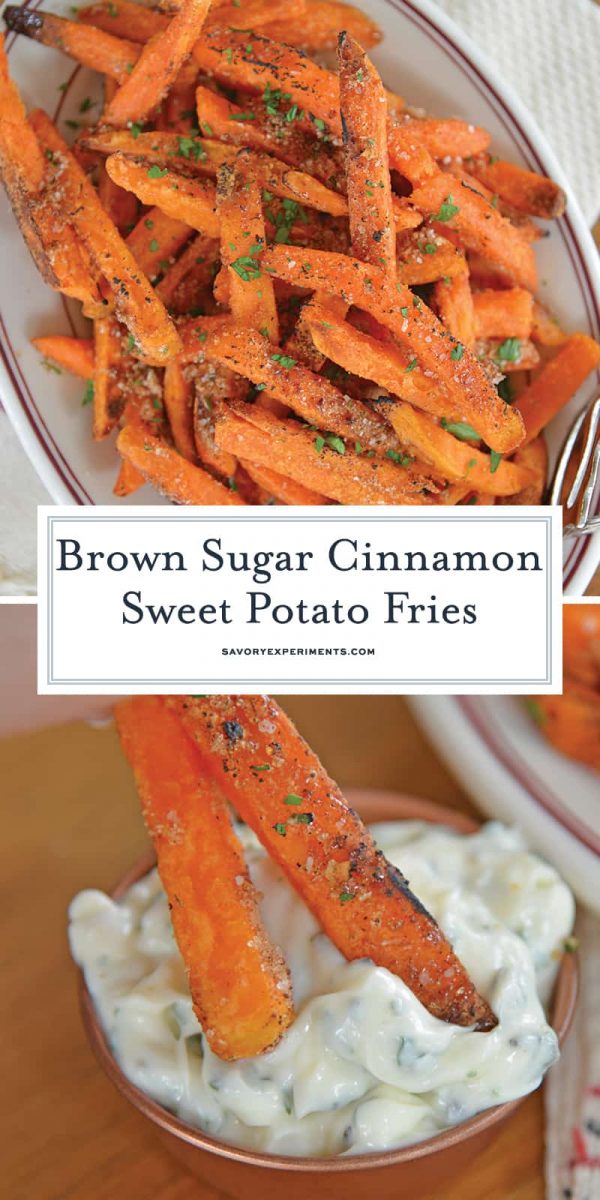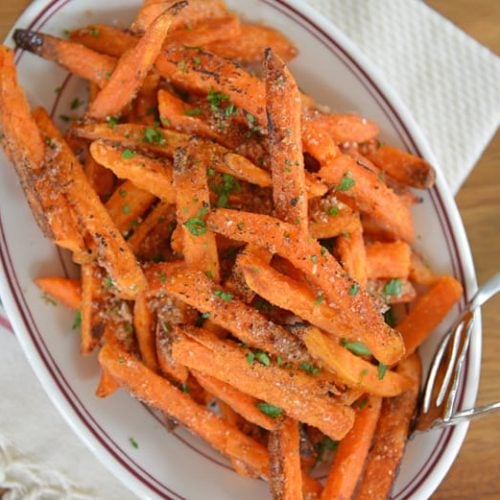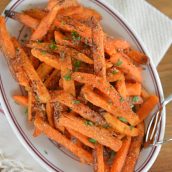 Brown Sugar Cinnamon Sweet Potato Fries
These Brown Sugar Cinnamon Sweet Potato Fries are the ultimate fall side dish! Perfect for serving with a burger, or as a delicious snack!
Instructions
In a small bowl, whisk together brown sugar, ground cinnamon and Kosher salt.

Place hot sweet potato fries in a large mixing bowl. Sprinkle half of the brown sugar seasoning over top. Toss. Top with remaining seasoning, tossing again.

Serve immediately.

If you've tried this recipe, come back and let us know how it was!
Notes
If fries aren't hot enough, the sugar won't melt or dissolve, you can place them back into the oven to melt the sugar. Bake at 350 for 5 minutes or give them a quick hit under the broiler.
Optional seasoning:
Sprinkle of chile powder
Sprinkle of fresh nutmeg
Sprinkle of allspice
Nutrition
Calories:
687
kcal
,
Carbohydrates:
83
g
,
Protein:
7
g
,
Fat:
38
g
,
Saturated Fat:
12
g
,
Sodium:
1833
mg
,
Potassium:
1097
mg
,
Fiber:
12
g
,
Sugar:
6
g
,
Vitamin C:
16
mg
,
Calcium:
32
mg
,
Iron:
3
mg