This delicious Pesto Sausage Pasta Bake recipe is great for a weeknight meal with the whole family! This pasta bake is loaded with amazing ingredients that will leave you satisfied!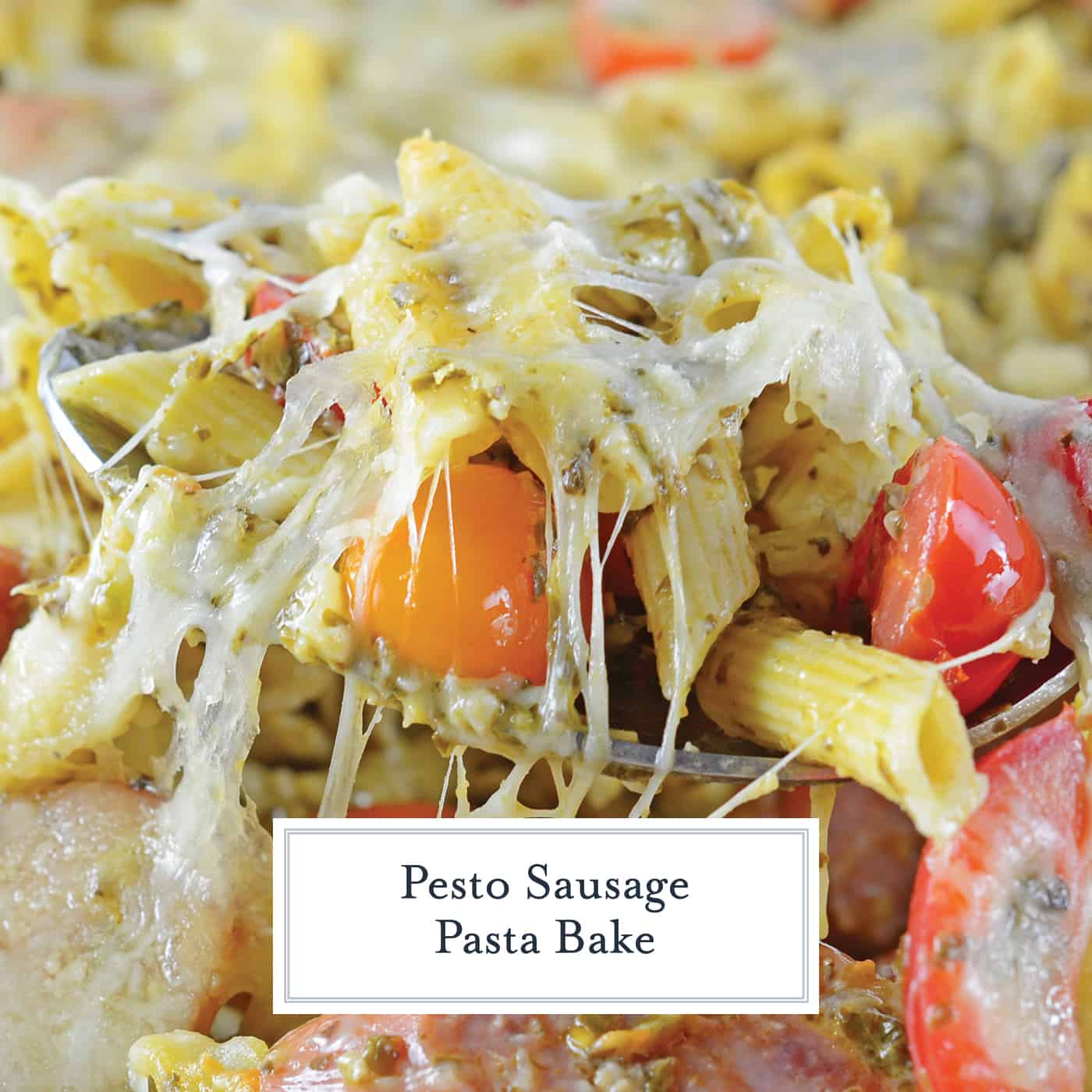 Pesto Sausage Pasta Bake is the perfect easy pasta dish! Creamy pesto sauce, pasta, smoked sausage and Italian cheese make this the ideal meal!
Pesto Sausage Pasta Bake has become one of the favorite one dish recipes that the whole family enjoys! It comes together in a snap, can be made ahead of time and easily freezes, what is not to love?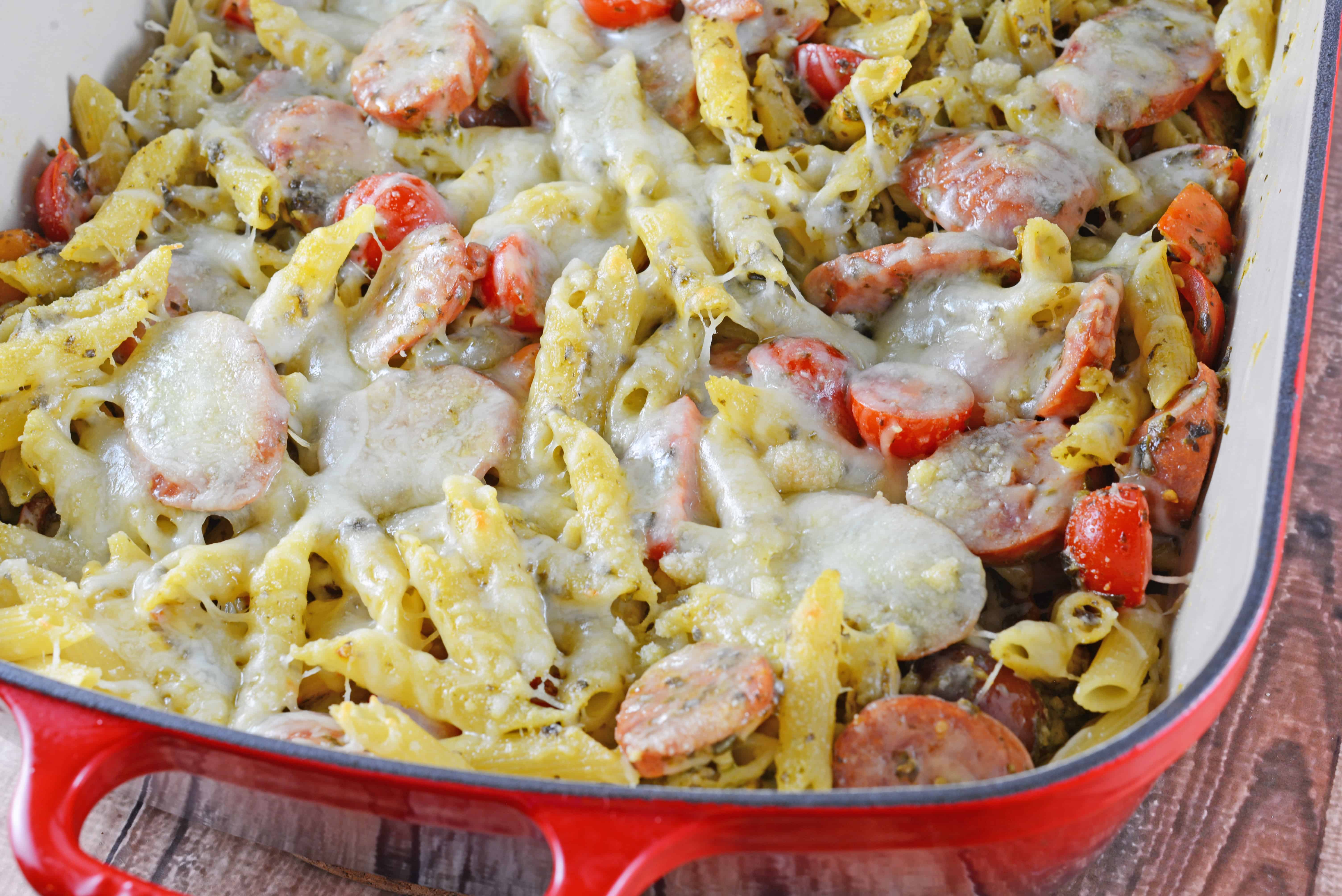 Even better, Pesto Sausage Pasta Bake is a budget friendly meal that can feed large families or groups. I sometimes make the whole recipe and divide it up into plastic containers to take for lunches.
Anything I don't use, I freeze!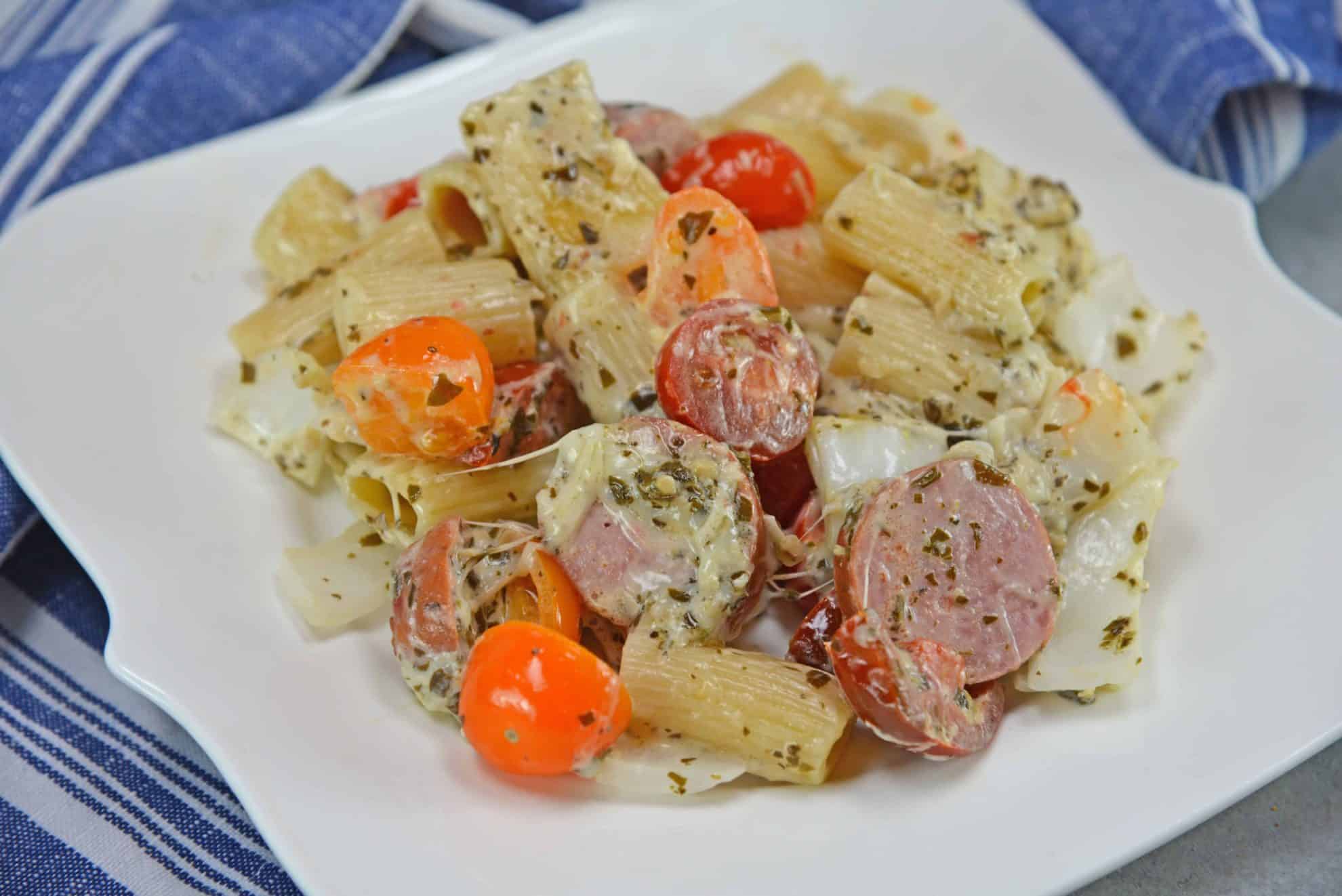 No one can complain about the delicious flavors in my Pesto Sausage Pasta Bake; pesto sauce blended with cream, cheese, onions and of course, tomatoes! You can either buy a bottle of jarred pesto at the store or easily make your own homemade pesto sauce.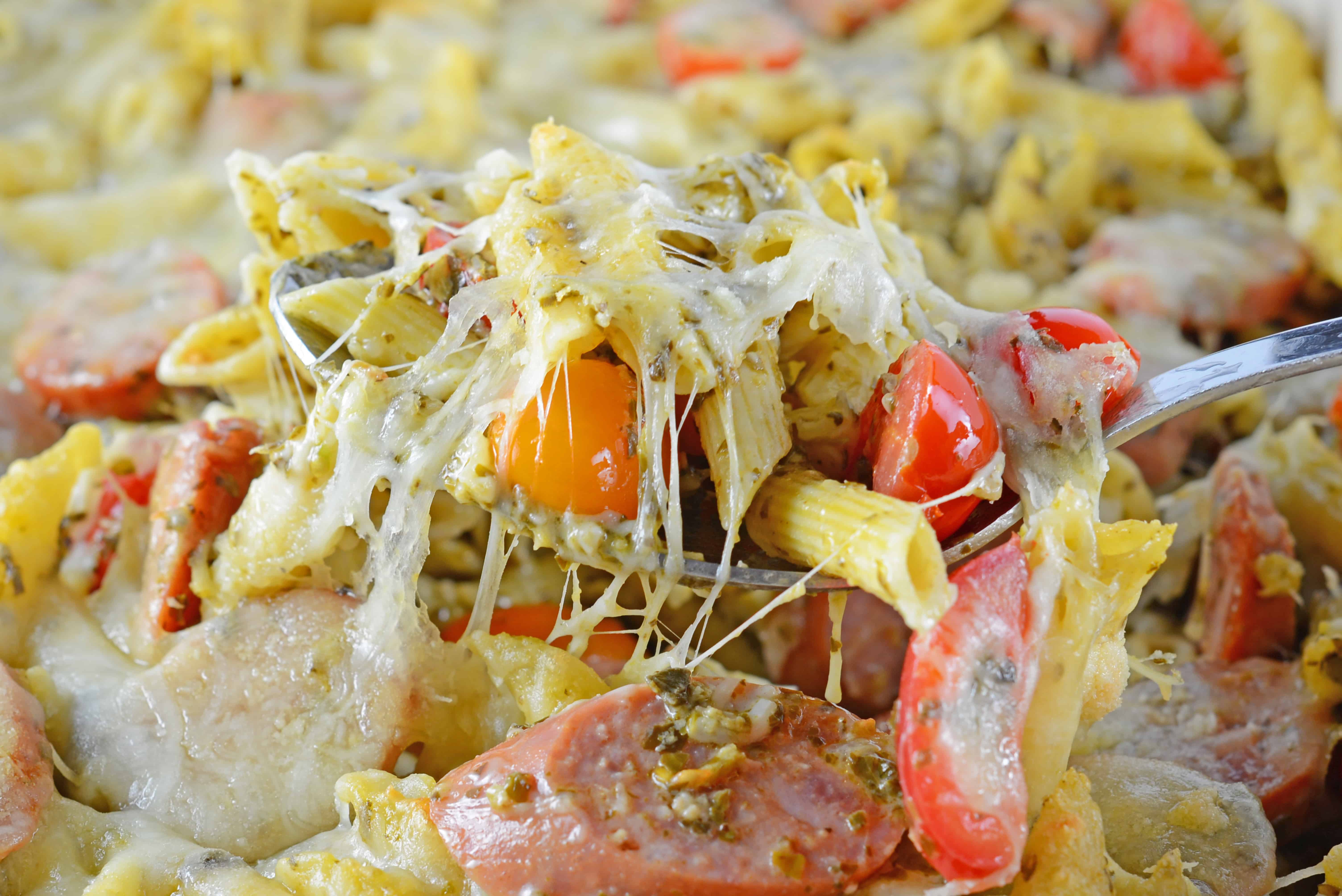 The add-ins I use vary depending on what is leftover from the week before, but I tend to always throw in tomatoes and onion. If your family isn't a huge fan of crunchy onion, either omit it or cook it down a little in the microwave before adding.
Since it only bakes for 20 minutes, the onion tends to stay on the al dente side.
Other ingredients I like to add to my Pasta Bake are sun dried tomatoes, additional garlic, diced bell pepper or zucchini or even artichokes. You can also change up what type of pasta you use, although I tend to prefer a thicker, tube shape like ziti, penne or rigatoni.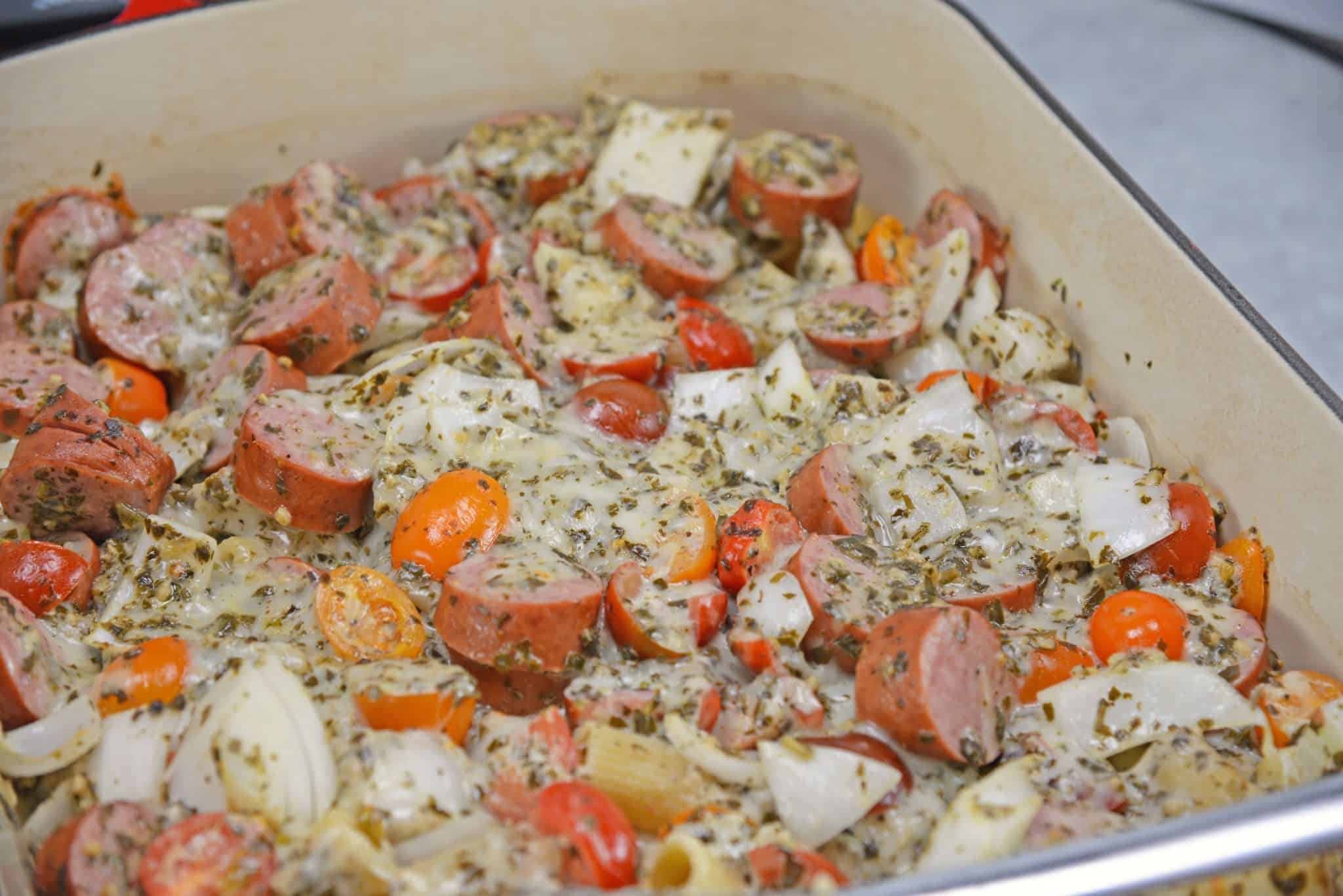 They just allow for so many more places for the pesto to hide and hold onto the cheesy sauce better since they have grooves. You can also substitute cooked diced chicken, shrimp or pork for smoked sausage.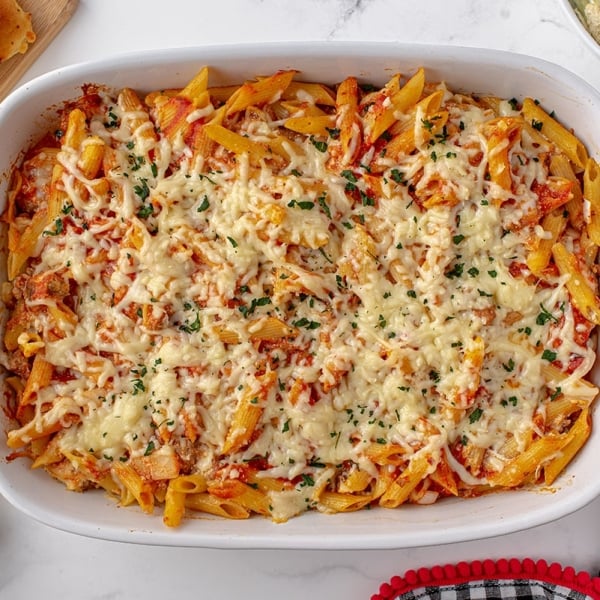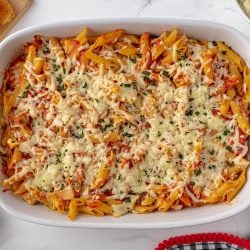 Baked Mostaccioli
A delicious one-dish meal with baked pasta, tomato sauce, cheese and sausage. Great for potlucks and as a freezer meal!
View this recipe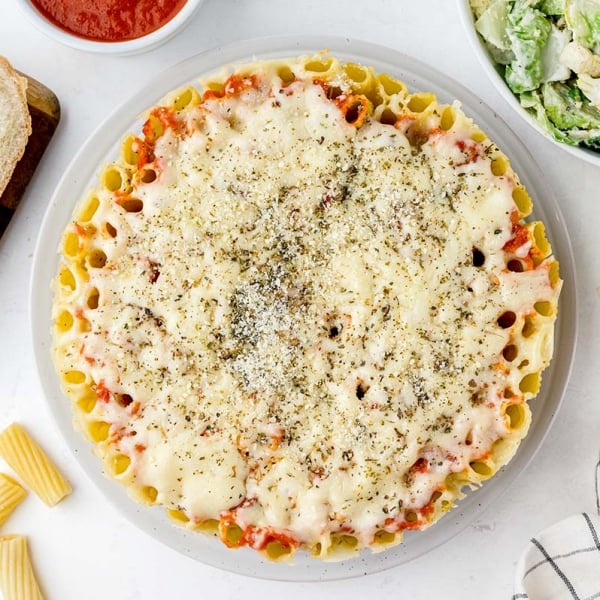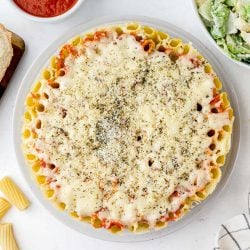 Honeycomb Pasta Recipe
Honeycomb Pasta is a new twist on an old classic. Ziti smothered in marinara and cheese, but in cake form! Serve with a side of Italian sausage or meatballs.
View this recipe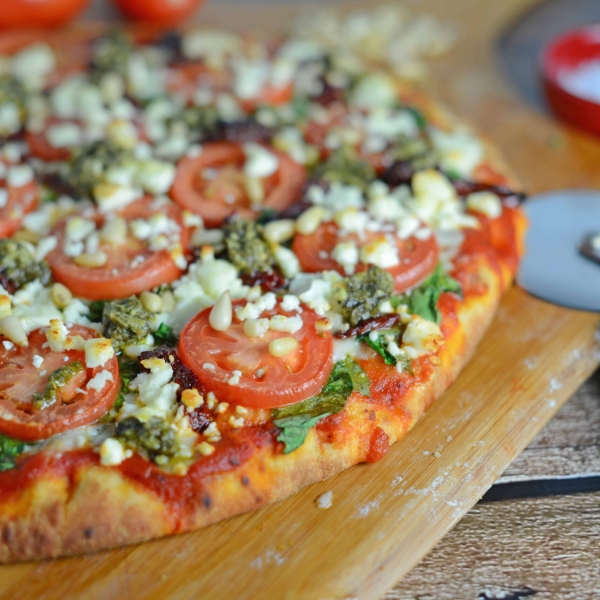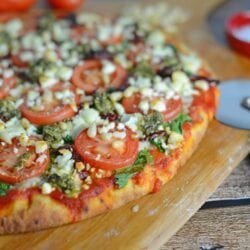 Tomato and Pesto Pizza
Tomato Pesto Pizza is an easy vegetarian pizza with fresh tomato slices, mozzarella and feta cheese, sun dried tomatoes, pesto and toasted pine nuts.
View this recipe
Tools for making Pesto Sausage Pasta Bake:
Deep Casserole Dish– You will use this giant casserole dish for everything from one-dish recipes to lasagna and marinating large amounts of meat.
Wood cutting board – wood won't dull your knives like plastic and if treated properly, has natural antimicrobial properties.
Good knife – Global is my favorite! They are worth the price, I promise. I am kind of obsessed with them and store them tucked away so no one else can use them. Including hubby. Hands off my good stuff!
Plastic Storage Containers – you can never have too many!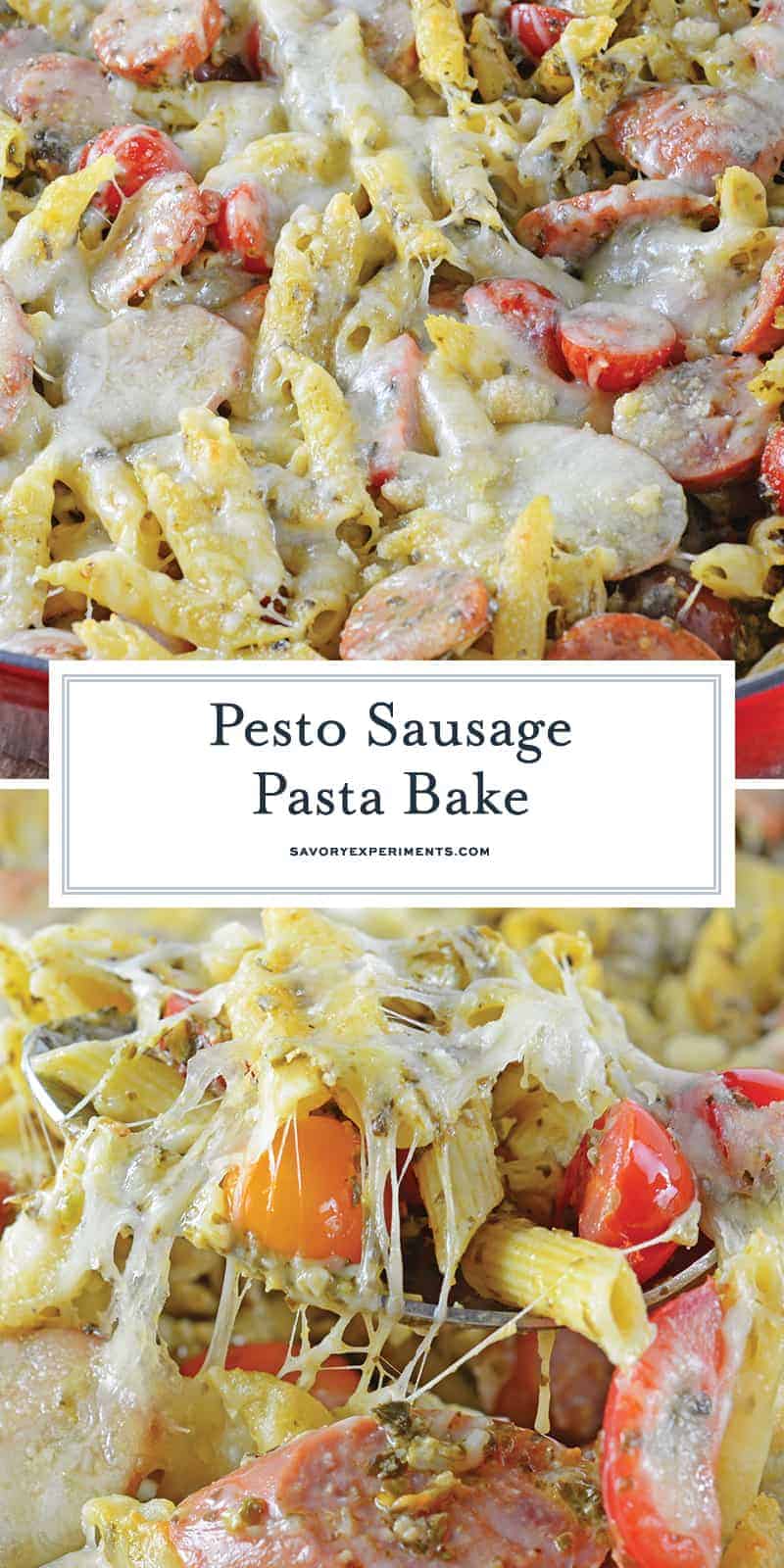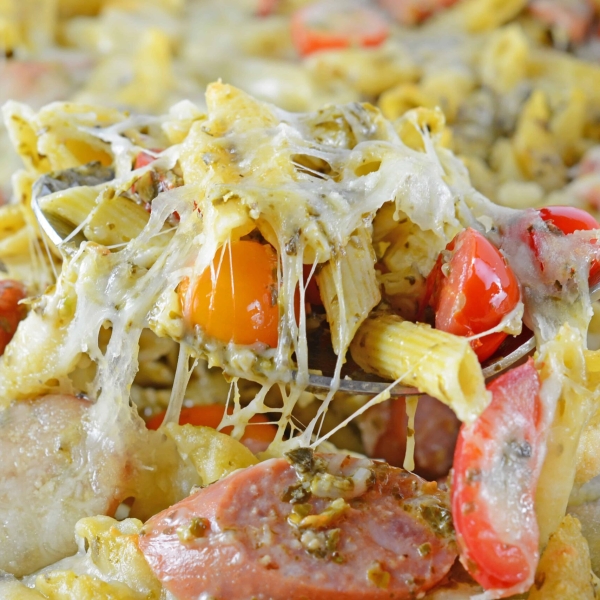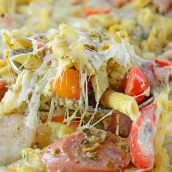 Pesto Sausage Pasta Bake
Pesto Pasta Bake is the perfect easy pasta dish for busy weeknights. Creamy pesto sauce, pasta, smoked sausage and Italian cheese make this the perfect meal.
Instructions
Preheat oven to 350 degrees.

In a small bowl, mix together Pesto Sauce with 1/2 cup heavy cream, tomatoes, onion, shredded cheese and sausage. Set aside.

Prepare a large baking dish (9×13 or larger) with cooking spray. Add cooked pasta. Top with vegetable and cheese mix.

Bake uncovered for 20 minutes. Remove and allow to sit for 5 minutes before serving Pesto Pasta Bake!

If you've tried this recipe, come back and let us know how it was!
Notes
You can substitute other types of meat for cooked chicken or shrimp, or add extra vegetables to make it a vegetarian dish.
Nutrition
Calories:
843
kcal
,
Carbohydrates:
66
g
,
Protein:
30
g
,
Fat:
50
g
,
Saturated Fat:
15
g
,
Cholesterol:
84
mg
,
Sodium:
1035
mg
,
Potassium:
443
mg
,
Fiber:
3
g
,
Sugar:
5
g
,
Vitamin A:
1370
IU
,
Vitamin C:
12.7
mg
,
Calcium:
184
mg
,
Iron:
2.3
mg