Have you ever had Mexican Street Corn, also known as elote, sold by street vendors throughout Mexico? It is the thing dreams are made of. Corn kernels drenched in butter, cheese, lime, spices, and crema Mexicana, it is a finger-licking good time.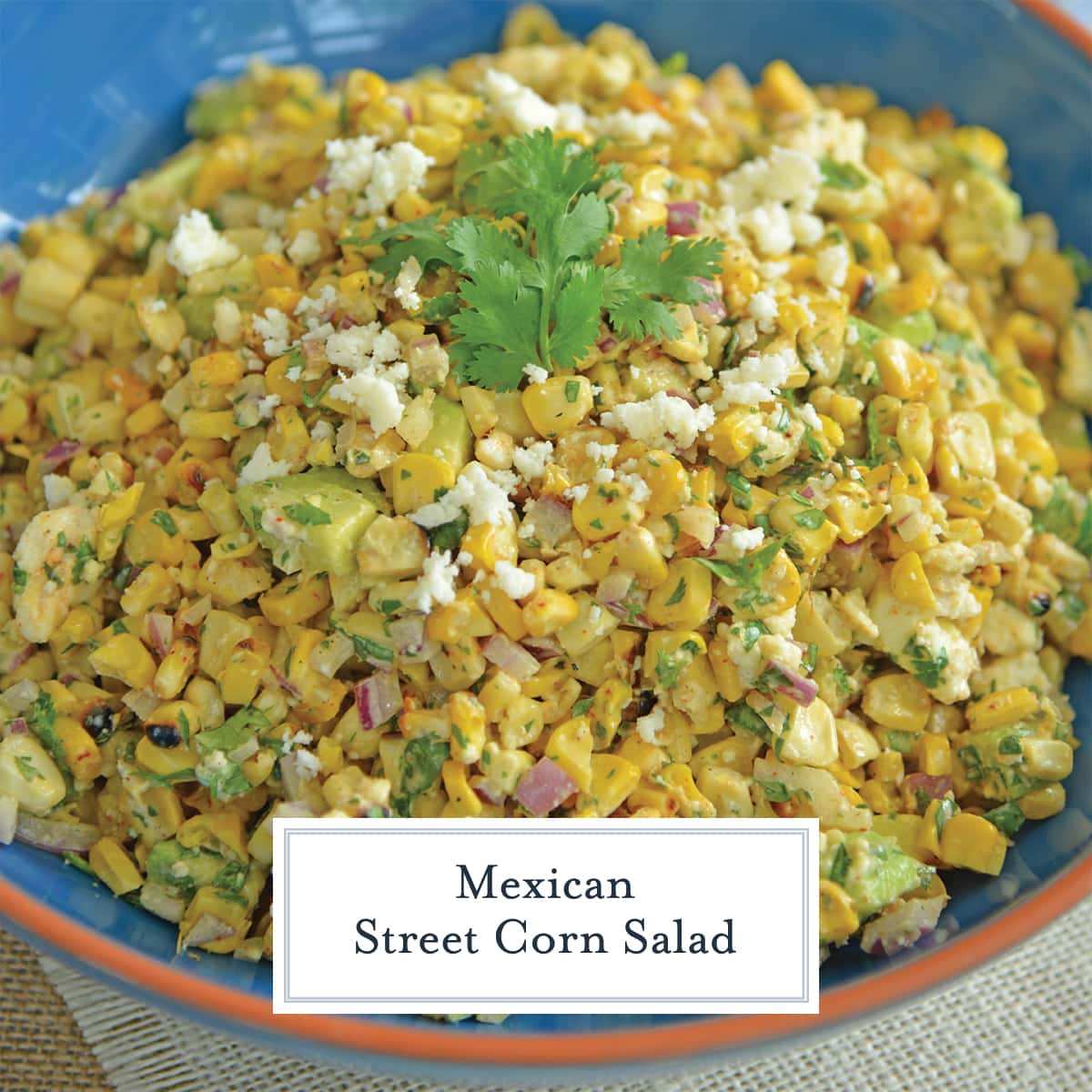 This recipe takes traditional Mexican street corn and turns it into a simple salad form (esquites). Lime, Mexican cheese with avocado, red onions, and crema Mexicana, all with a fork. The only thing I don't use is melted butter because it isn't really needed with the creamy sauce.
What is Esquites?
A traditionally made esquites recipes is made with fresh corn sautéed in butter with onions and chiles then mixed with mayonnaise and topped with with lime juice, chili powder, hot sauce and salt.
My version combines the flavors and ingredients of elote with esquites, swapping mayo with crema and adding other salad-y fresh ingredients such as avocado, onion and cilantro.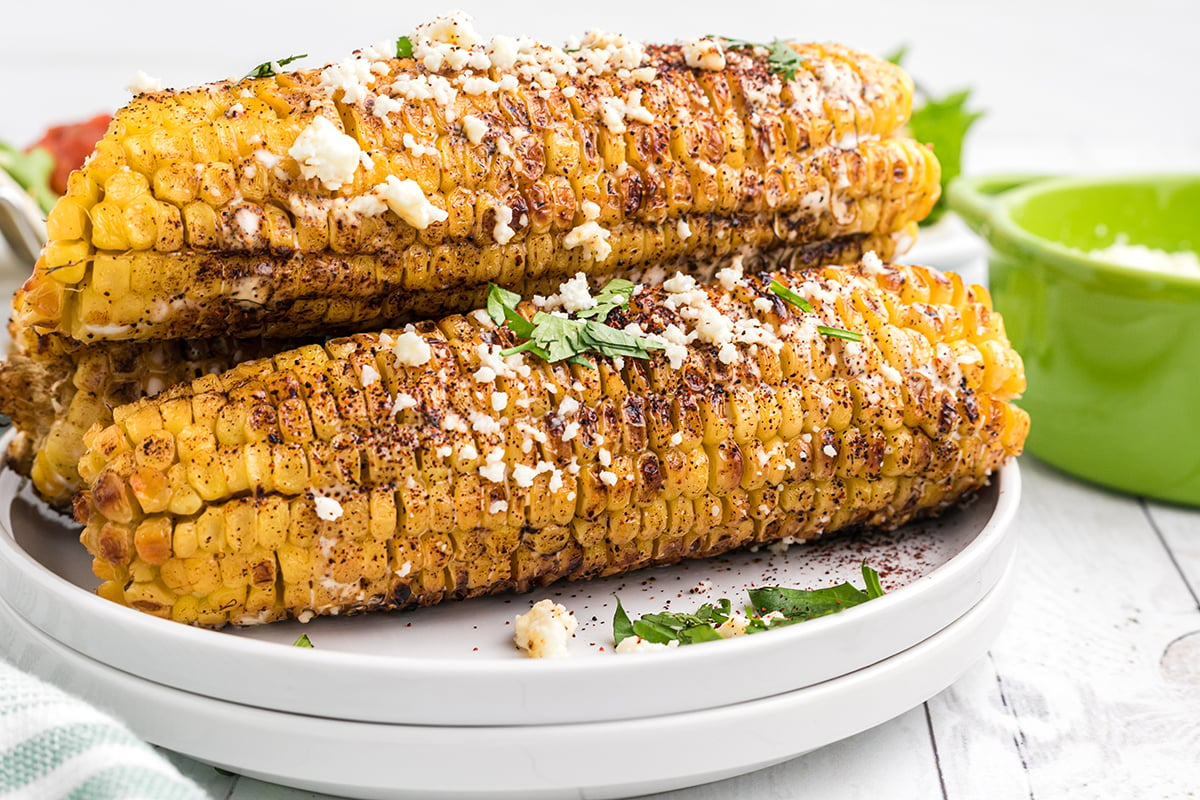 Corn Salad Recipe
What would happen if you took all of the goodness of Mexican street corn and put it into a salad that required nothing more than a fork? Mexican Street Corn Salad, foodie friends!
Magic. That is what this recipe embodies. Now I could have kept it classic, but instead of sticking with the traditional Mexican street corn ingredients, I took the liberty of adding a few extras.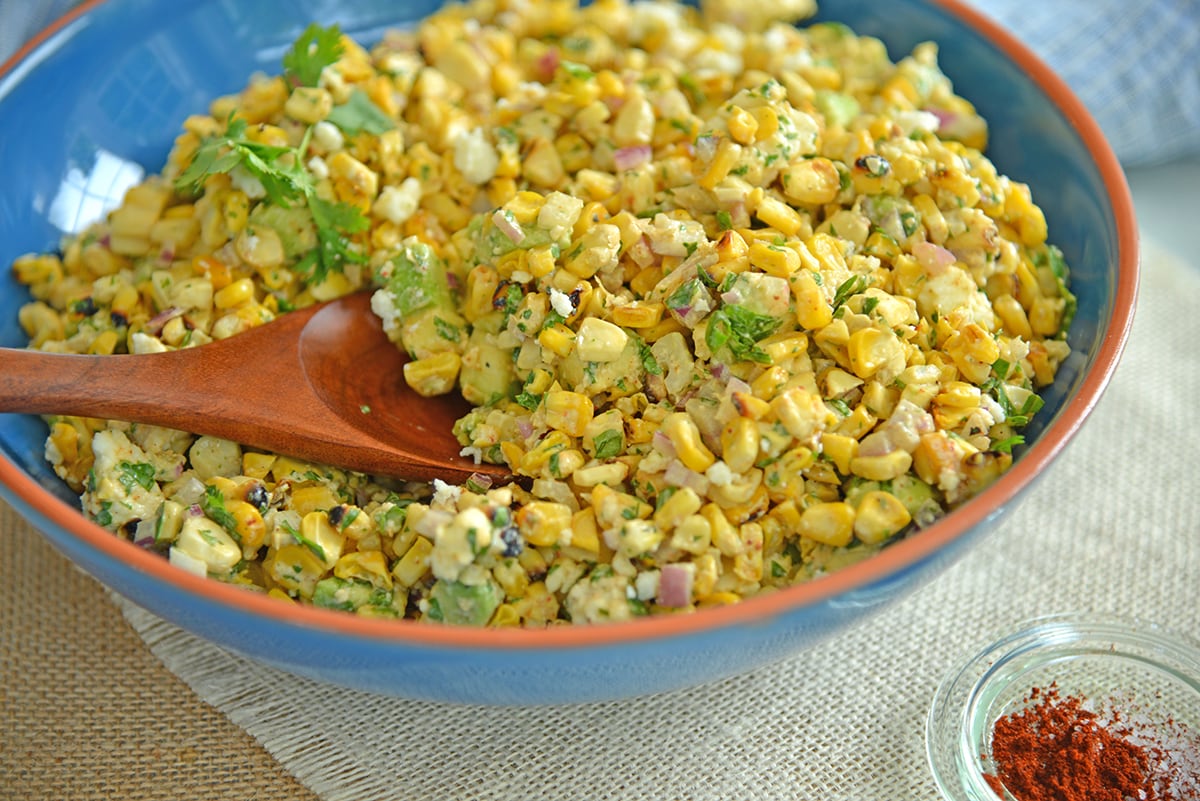 Hello there, avocado, red onion, and hot sauce. All fabulously delicious with the flavors of elote.
This dish is bright, sweet, spicy, crunchy, tart, and herbaceous. It hits all the notes you are hoping to have it hit.
Ingredients & How To Make
This corn salad recipe comes together in a jiffy. It takes longer to chop than it does to combine and all of the ingredients are vestile in volume.
Sweet Corn- The star of the show, you can't really do with the corn, however the amount you use can be adjusted depending on how much you have. Leftover ears of corn works well, I prefer the nice dark char on grilled corn, but you can also use oven roasted corn, frozen corn or even canned corn. Make sure it is thawed and well drained to not add any liquid to the mix.
Lime juice– Try your best to use fresh lime juice. Citrus starts to lose flavor the moment you juice it, so the bottled stuff often isn't as potent or uses artificial flavoring.
Avocado– Aim for a slightly hard avocado, one a little less ripe than you'd want to make guacamole. If the avocado is too ripe, the cubed pieces will just get mushy and fall apart.
Red onion– sweet, yellow or white also work. Green onions (scallions) are even an option.
Cheese– queso cotija or queso fresco are the best choices. Slightly hard and crumbly, they are also the most authentic. Feta cheese is a close third.
Crema Mexicana– Also known as Mexican sour cream or Mexican crema, it is a little thinner than the American counterpart. If you are using basic sour cream, thin it with 1 tablespoon of water, it should be pourable, but still thick. Grocery stores usually carry it near the sour cream or make your own. Creme fraiche is another food substitution. Another great alternative is plain Greek yogurt for the same tang, but less calories. This is also pretty thick and will need to be thinned with water.
Fresh Cilantro– We all know that cilantro is quite the divisive herb. Should you not know what your crowd's preference is, you can always serve it on the side for guests to stir in as they see fit.
Coarse Kosher Salt– if you are using a finer salt variety, cut the volume in half.
Chile powder– traditional will add a little bite, but for a smoky version opt for chipotle or adobe chile powders. This can also be omitted for a mild salad.
Hot Sauce– I used Sriracha, which messes up the whole Mexican theme, but tastes absolutely AH-mazing! Should you want to do something more the same culinary vein, try one of the Cholula brand bottles.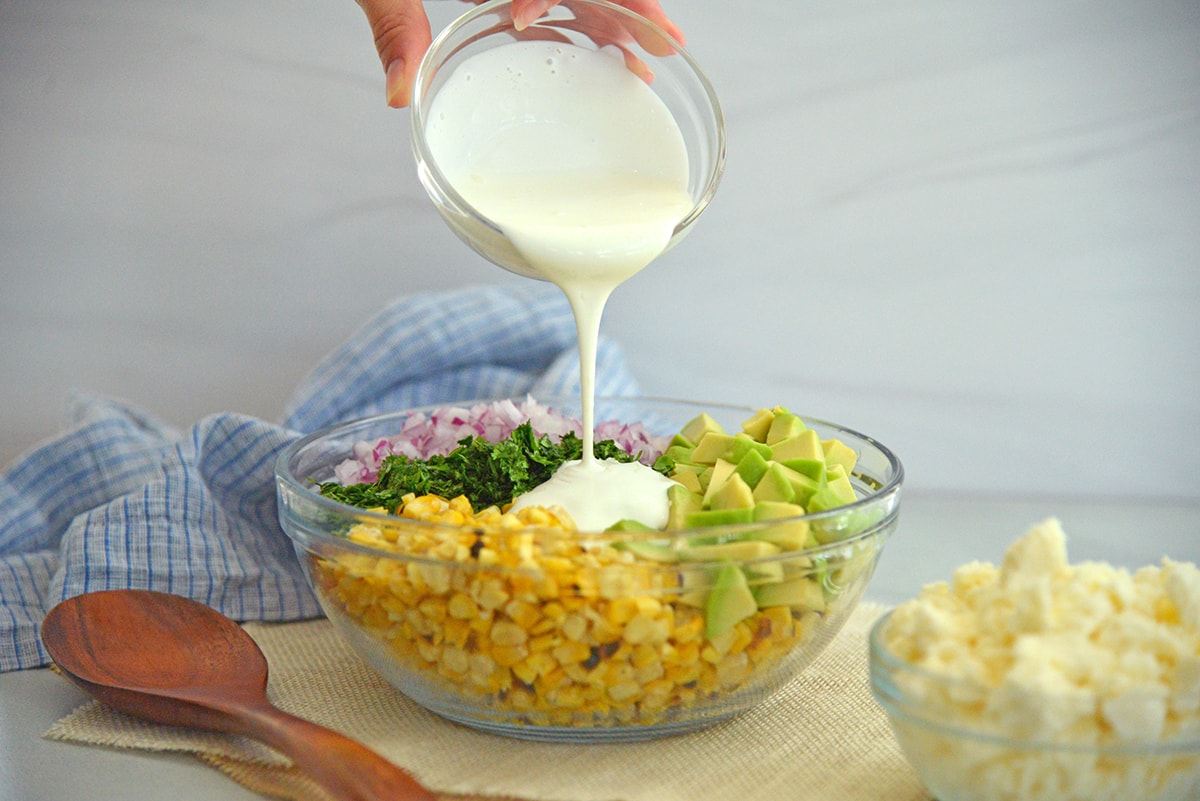 Some folks also like to added minced bell peppers or use a premade creamy lime dressing instead of crema. Black beans or chopped jalapeno peppers are also added.
Instructions
If you are using freshly grilled corn, using a sharp knife, cut all of the corn kernels off and discard the corn cobs.
Place all of the ingredients into a large bowl. Aime for glass or plastic, as metal is reactive and this recipe contains a good amount of acid. It can easily take on a metallic taste after sitting.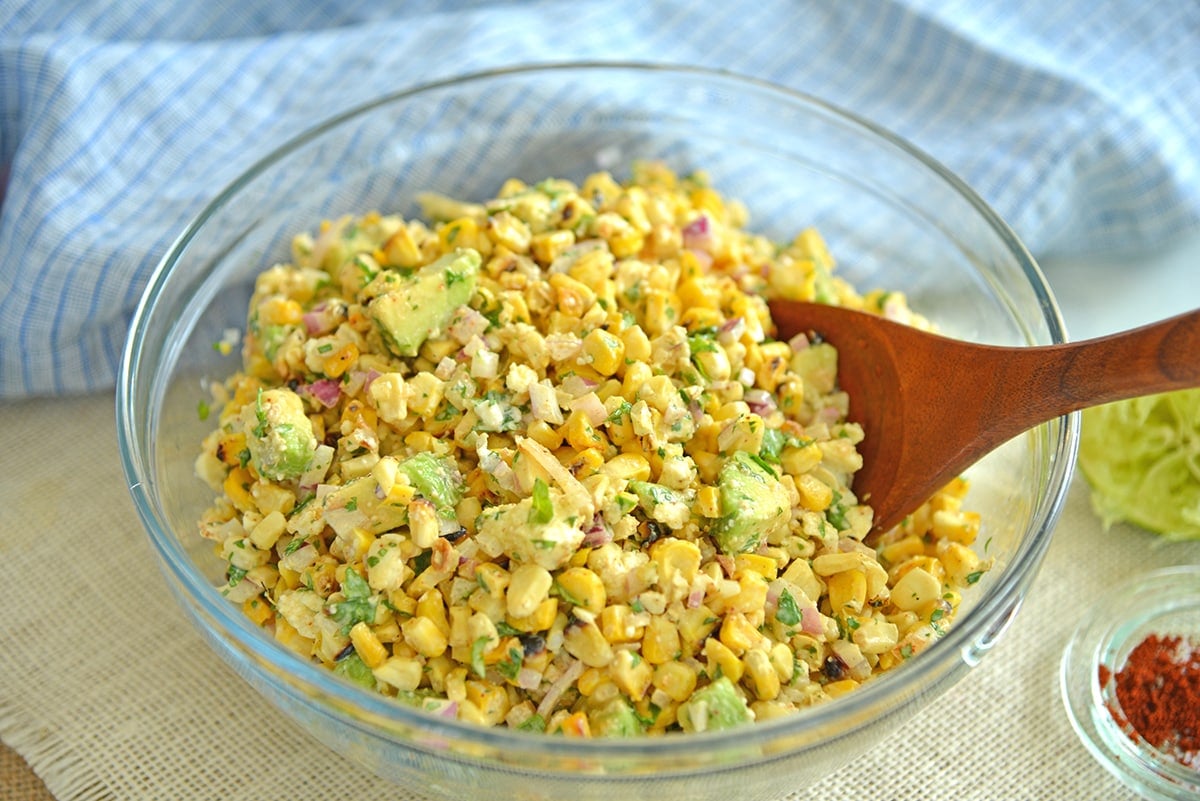 Toss well, but do not stir, this ensures the ingredients stay whole.
Cover with fitted lid or plastic wrap, avoid aluminum foil here too, and chill until ready to serve. This salad is best served freshly made, but can be made up to 2 hours ahead of time.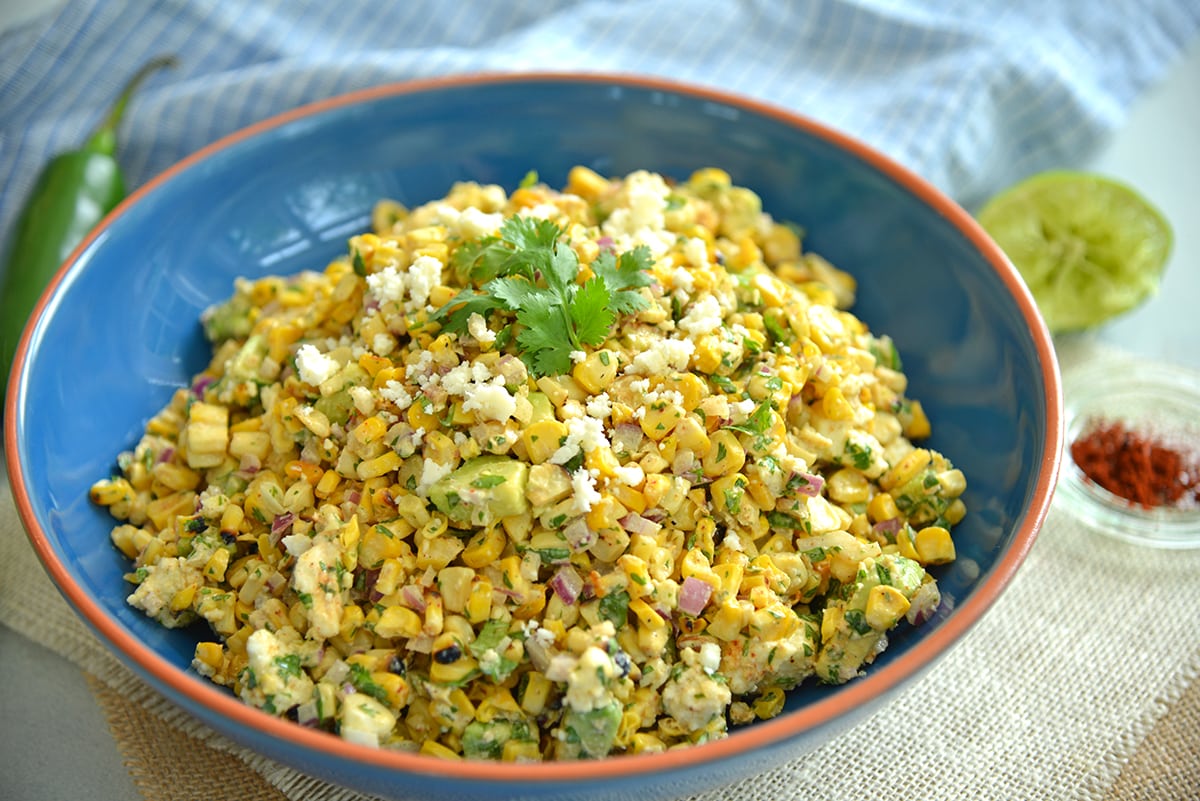 What To Serve It With
And you don't have to serve Mexican Street Corn Salad with Mexican inspired foods, it is the perfect side dish for nearly anything. Steak, burgers, grilled chicken, salad and more. You can even mix it into a leafy green salad, burrito or quesadilla, atop nachos or over grilled shrimp.
Heck, whip up a batch the next time you have a backyard cookout potluck or block party and everyone will be dying to know what the recipe is; fresh flavors in a delicious salad.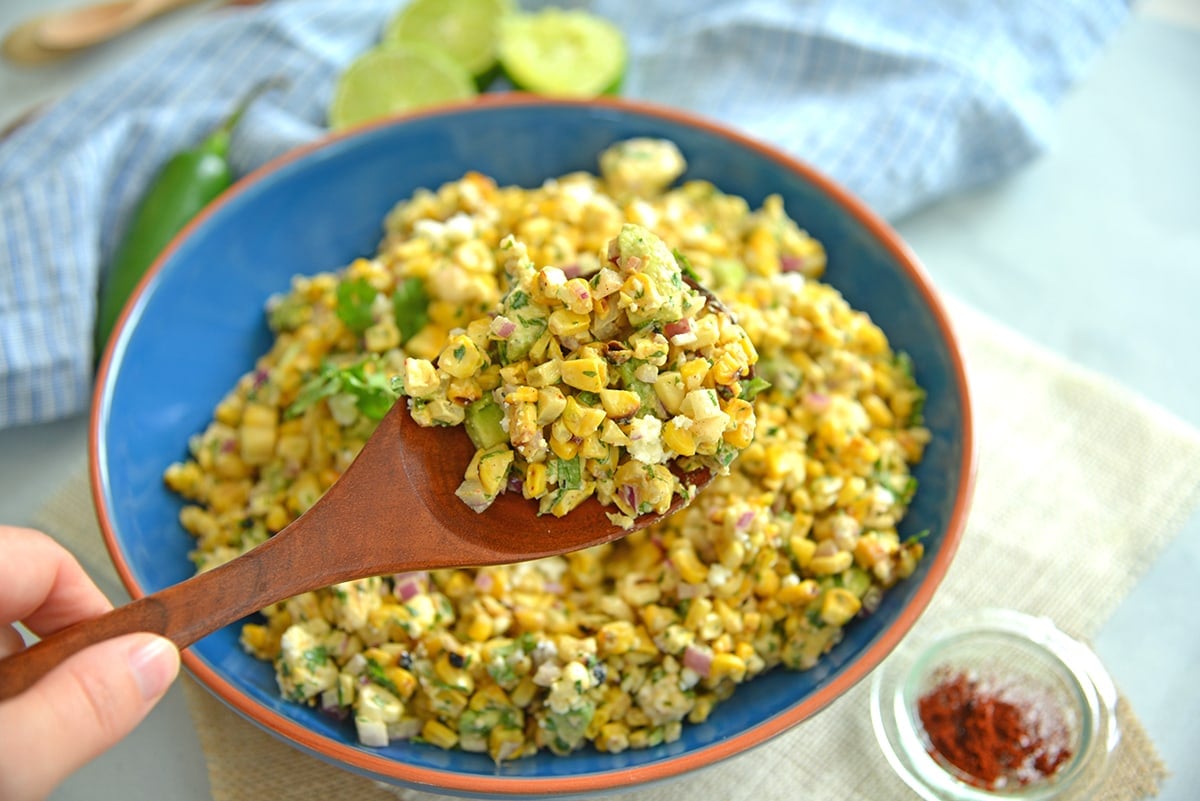 Make Ahead & Storage
You can make this salad ahead of time, but it does tend to get a little gummy so don't make it too far in advance. Toss it before serving to revive the flavors. If it is chilled for too long, you may need additional salt.
Store, in an airtight container, in the fridge for up to 5 days.
Unfortunately, Mexican corn salad doesn't freeze well so enjoy it while it is fresh!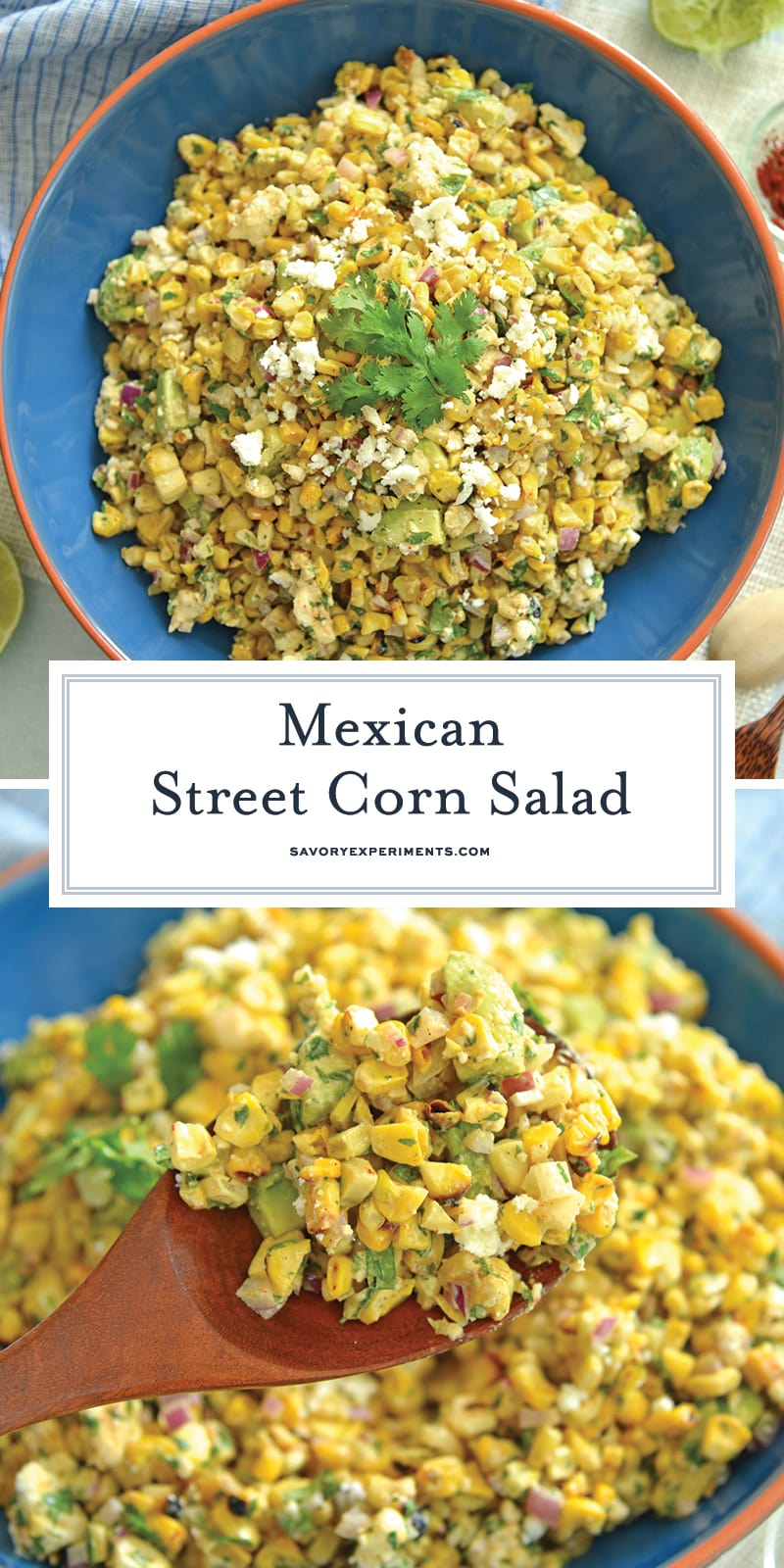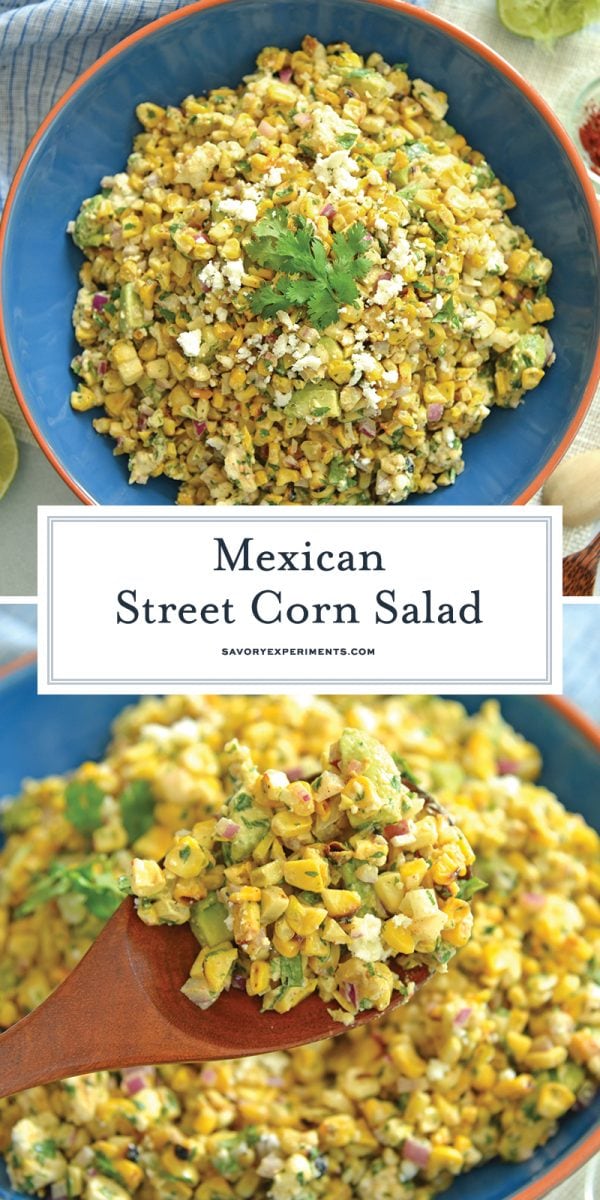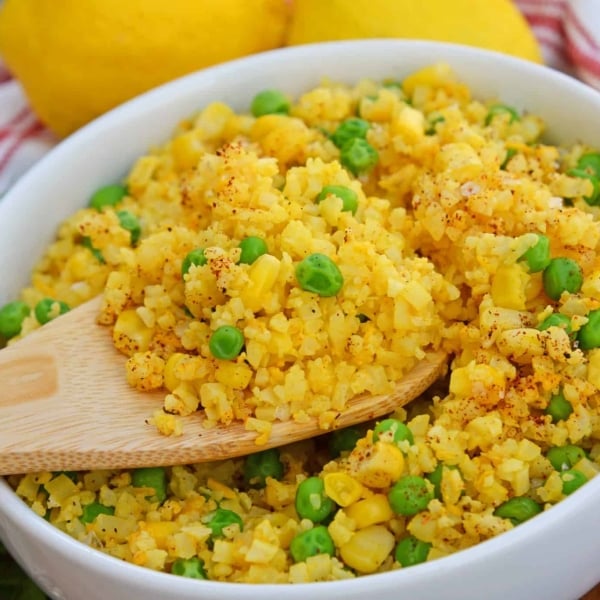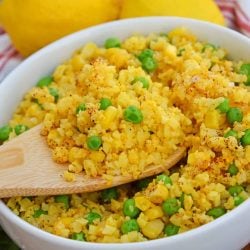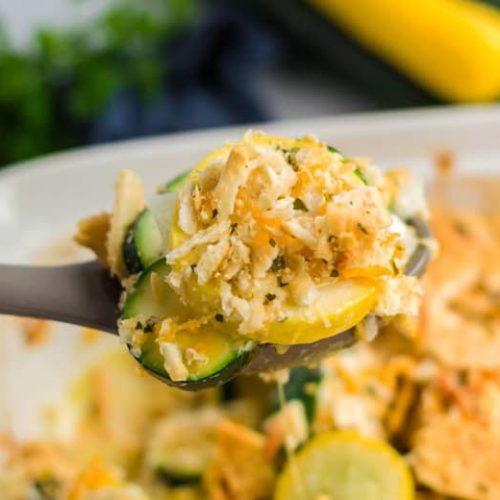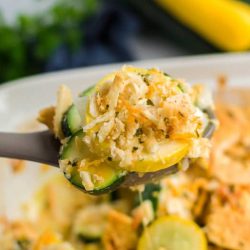 Cheesy Squash Casserole
The layers of freshly sliced squash with cheese and a buttery cracker topping in this Cheesy Squash Casserole are the easy side dish you having been searching for!
See The Recipe!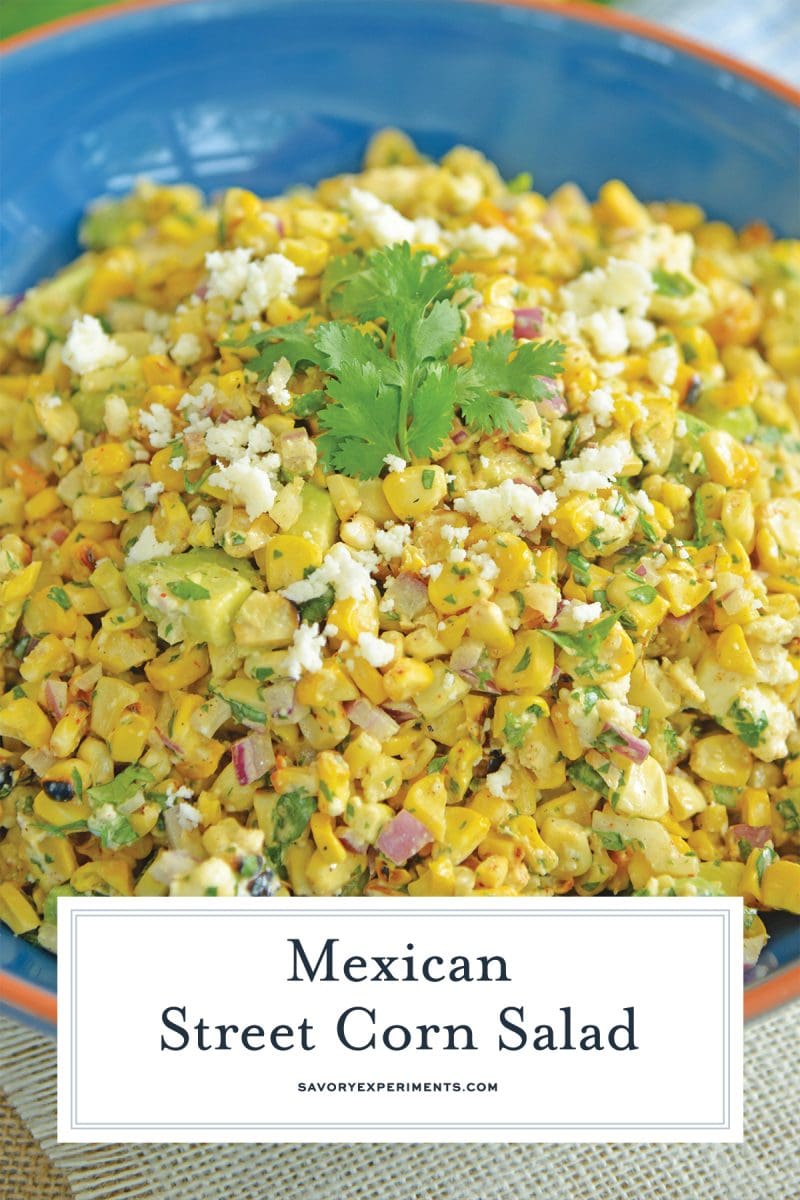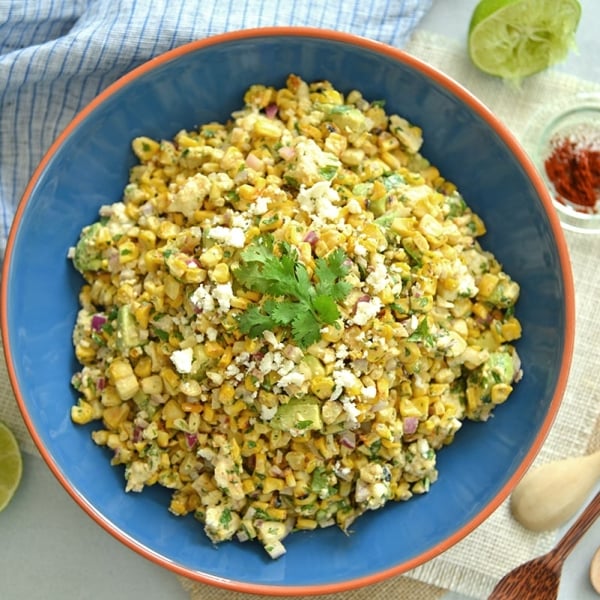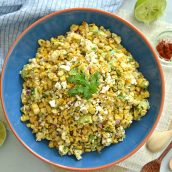 Mexican Street Corn Salad (Esquites)
Traditional Mexican street corn is turned into the best Mexican Street Corn Salad ever! Lime, Mexican cheese with avocado, red onions and crema mexicana.
Instructions
Cut the corn off cob and place in a large mixing bowl.

Add the avocado, cheese, onion, crema, cilantro, lime juice, salt and chile powder. Toss well, be sure to not stir.

Refrigerate until ready to serve. Toss before serving and then garnish with additional cilantro and hot sauce of choice.

If you've tried this recipe, come back and let us know how it was in the comments or ratings!
Notes
If using another type of corn, aim for 5-6 cups of corn kernels.
Nutrition
Calories:
170
kcal
,
Carbohydrates:
17
g
,
Protein:
5
g
,
Fat:
10
g
,
Saturated Fat:
3
g
,
Cholesterol:
21
mg
,
Sodium:
555
mg
,
Potassium:
330
mg
,
Fiber:
3
g
,
Sugar:
5
g
,
Vitamin A:
370
IU
,
Vitamin C:
9.2
mg
,
Calcium:
115
mg
,
Iron:
0.6
mg