Have you ever had Mexican Street Corn? It is the thing dreams are made of. Drenched in butter, cheese, lime, spices, and crema Mexicana, it is a finger-licking good time.
Traditional Mexican street corn is turned into the best Mexican Street Corn Salad ever! Lime, Mexican cheese with avocado, red onions, and crema Mexicana.
While I love Elote (pronounced e-low-tay,) this version of grilled corn is best eaten at a restaurant with someone who is kind enough to tell you you have something in your teeth.
True story, it is not the easiest thing to eat. Or at home.
I often resort to only eating them at home because of the mess they make when you are trying to chow down on one. I need a napkin, a little privacy to chow down, and then some handy dandy dental floss immediately to clean things out immediately.
Even with the fun little corn holders, you have to get your hands (and sometimes face) dirty. The last time I made them for hubby, the wheels started turning. What ways could you transform this dish?
What would happen if you took all of the goodness of Mexican street corn and put it into a salad that required nothing more than a fork? Mexican Street Corn Salad, foodie friends!
Magic. That is what this recipe embodies. Now I could have kept it classic, but instead of sticking with the traditional Mexican street corn ingredients, I took the liberty of adding a few extras.
Hello there avocado, red onion, and hot sauce. All fabulously delicious with the flavors of elote.
I used Sriracha, which messes up the whole Mexican theme, but tastes absolutely AH-mazing! Should you want to do something more the same culinary vein, try one of the Cholula brand bottles.
This dish is bright, sweet, spicy, crunchy, tart, and herbaceous. It hits all the notes you are hoping to have it hit.
Crema Mexicana can be found at most grocery stores or specialty stores. Should you not be able to find it or not have time to make it yourself, sour cream or creme fraiche are great, tangy substitutes.
We all know that cilantro is quite the divisive herb. Should you not know what your crowd's preference is, you can always serve it on the side for guests to stir in as they see fit.
And you don't have to serve Mexican Street Corn Salad with Mexican inspired foods, serve it with anything. Steak, burgers, grilled chicken, salad and more. You can even mix it into a leafy green salad, burrito or quesadilla.
Heck, whip up a batch for the next backyard cookout potluck or block party and everyone will be dying to know what the recipe is.
Mexican Cauliflower Rice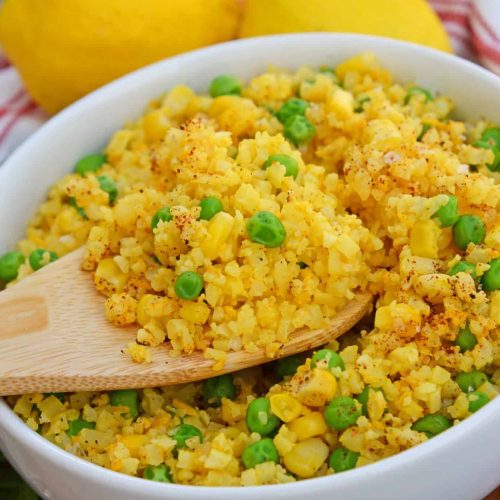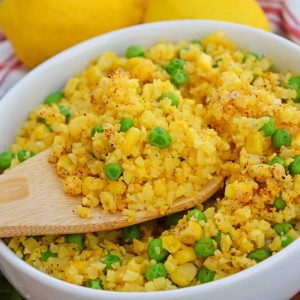 Mexican Cauliflower Rice is a healthy cauli-rice with zesty spices, shredded cheese and a twist of lemon. The perfect low-carb Mexican side dish!
Cheesy Squash Casserole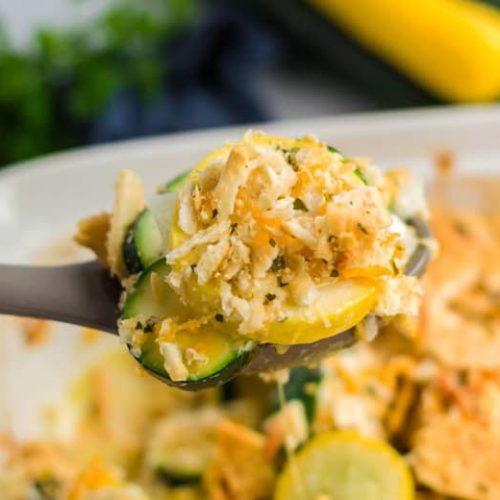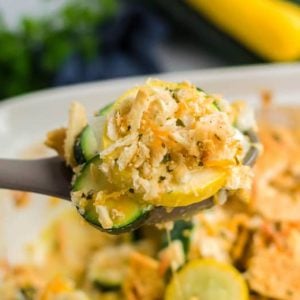 The layers of freshly sliced squash with cheese and a buttery cracker topping in this Cheesy Squash Casserole are the easy side dish you having been searching for!
Mexican Street Corn Salad
Traditional Mexican street corn is turned into the best Mexican Street Corn Salad ever! Lime, Mexican cheese with avocado, red onions and crema mexicana.
Instructions
Cut corn off cob and place in a large mixing bowl.

Add lime juice, cubed avocado, red onion, cheese of choice, crema Mexicana, chopped cilantro, Maldon sea salt and chile powder. Toss well.

Refrigerate until ready to serve. Garnish with additional cilantro and hot sauce, I used Sriracha.

If you've tried this recipe, come back and let us know how it was!
Nutrition
Calories:
170
kcal
|
Carbohydrates:
17
g
|
Protein:
5
g
|
Fat:
10
g
|
Saturated Fat:
3
g
|
Cholesterol:
21
mg
|
Sodium:
555
mg
|
Potassium:
330
mg
|
Fiber:
3
g
|
Sugar:
5
g
|
Vitamin A:
370
IU
|
Vitamin C:
9.2
mg
|
Calcium:
115
mg
|
Iron:
0.6
mg